HLTH Code is a keto-friendly meal replacement powder that I first stumbled across in 2020.
I've used HLTH Code over the past few years, and I'll tell you everything you need to know about the product in this in-depth review. I also gave some of the samples I received to my kids and my CrossFit buddies, and have incorporated their feedback into this article.
HLTH Code Complete Meal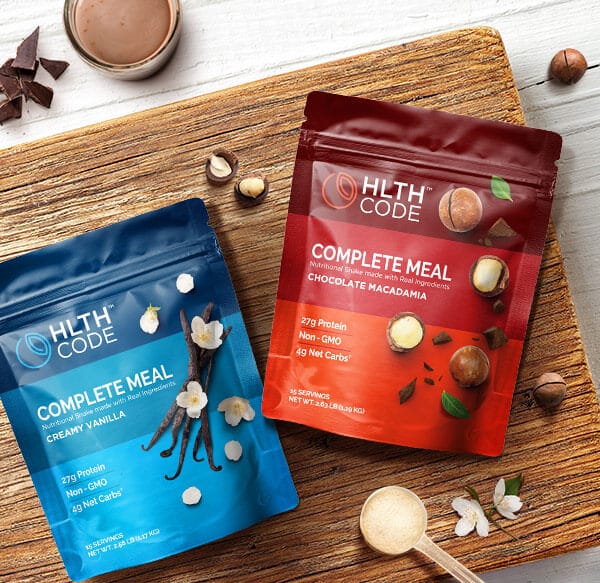 Ability to replace a full meal
What to Look For in a Meal Replacement Shake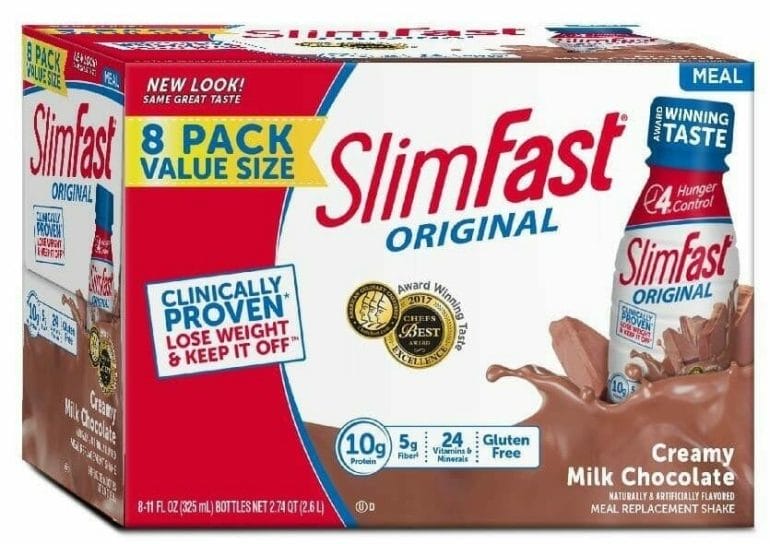 Meal replacement drinks have gained popularity ever since the launch of SlimFast, one of the unhealthiest products on the market.
That's because the idea of drinking a delicious beverage rather than shopping for healthy whole-food ingredients and preparing a meal from scratch sounds appealing to many people — especially those who have busy jobs or who struggle with losing weight.
Unfortunately, many brands have exploited that desire to find a quick fix or a shortcut to healthy eating by launching products that contain highly-processed and inflammatory ingredients. As a result, most meal replacement shakes on the market get in the way of a healthy dietary lifestyle and sustainable weight loss.
That's why it's essential to understand the basics of human metabolism and to be able to distinguish healthy ingredients from unhealthy alternatives.
I covered the basics in my comparison of the best low-carb meal replacement shakes, but below is a summary of what I look for when shopping for a meal replacement powder or shake:
Artificial ingredients: Stay away from products that contain artificial colors, flow agents, sweeteners such as sucralose, or corn fibers.
Calories: A meal replacement shake (as the name implies) should be able to replace a full meal. As a result, look for products that provide at least 400 calories per serving.
Carbohydrates: Carbs are one of the three macronutrients your body doesn't need. Moreover, most carbs cause an increase in blood sugar and the release of insulin. If that happens a lot (due to a constant intake of carbs), your cells can become less sensitive to insulin, you'll gain weight, and you'll set the stage for Type 2 diabetes.
Fat: One of the most important aspects of a meal replacement drink is its fat content because that's where most of its calories come from. So make sure the product you choose has enough fat from healthy sources. Avoid any products that contain vegetable oils.
Ingredients: Make sure you understand what each ingredient is. If it sounds unfamiliar, look it up or avoid the product. As a rule of thumb, if you can't pronounce the ingredients, it's probably not good for you.
Protein: Make sure the product you choose has enough protein (ideally from animal sources) to meet your individual needs.
In a nutshell, I always make sure the product I choose is compatible with my Paleolithic ketogenic way of eating.
HLTH Code Complete Meal Review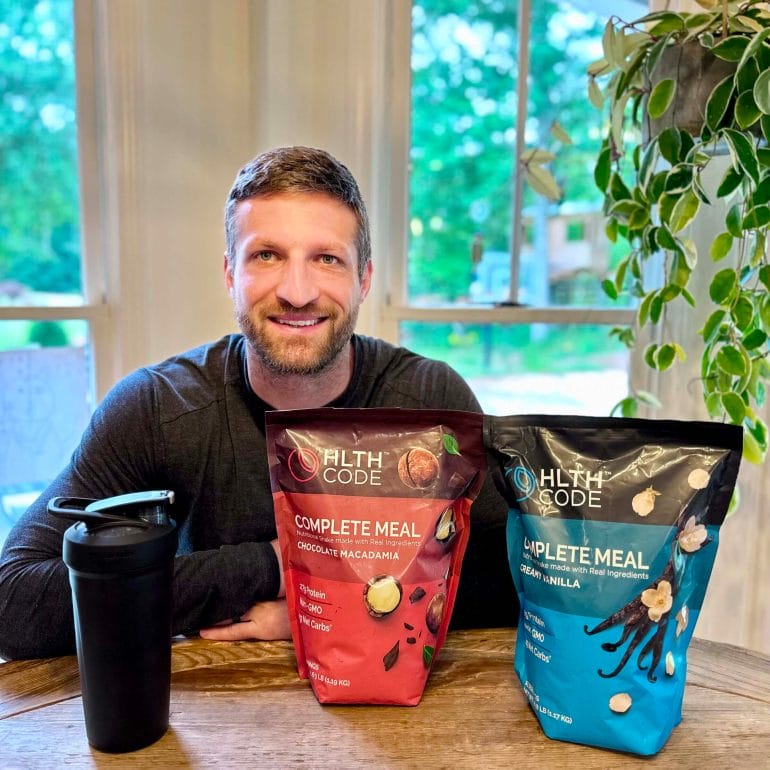 Pros
1:1 ratio of healthy fats and protein
No added sugars or artificial sweeteners
High in fiber
Includes healthy gut enzymes and probiotics
Balanced ratio of omega-3 to omega-6 fatty acids
Cons
Some of the vitamins and minerals are from synthetic sources
Contains whey protein concentrate instead of isolate
Conventionally-grown ingredients
HLTH Code is a complete meal replacement that's free of artificial ingredients, artificial sweeteners, added sugars, soy and gluten. Additionally, all its ingredients are non-GMO (but they aren't organic). The product was formulated by Dr. Ben Bikman, a metabolic scientist and associate professor at Brigham Young University's College of Life Sciences.

Nutrition equation solved for the busy professional! I have always struggled to consistently eat a balanced breakfast throughout the week. Racing out the door most days, stopping somewhere on the way to work/school to pick up a poor choice for breakfast. I've tried other shakes in the past but was always hungry by 11 a.m. and/or didn't like the taste. HLTH Code tastes great, and I'm full until lunchtime. It's been a great solution for my schedule and most importantly has helped me cut some of the hard to shed pounds I've been attempting to lose all year. Highly recommend!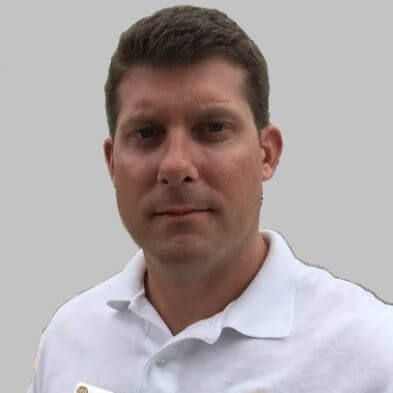 Luke Lindahl
CrossFit Buddy
What makes this meal powder different from other products on the market is the unique 1:1 ratio of healthy fats and protein. The latter supports improved muscle protein synthesis, which you might find appealing if your goal is to build lean muscle mass.
Flavors and Taste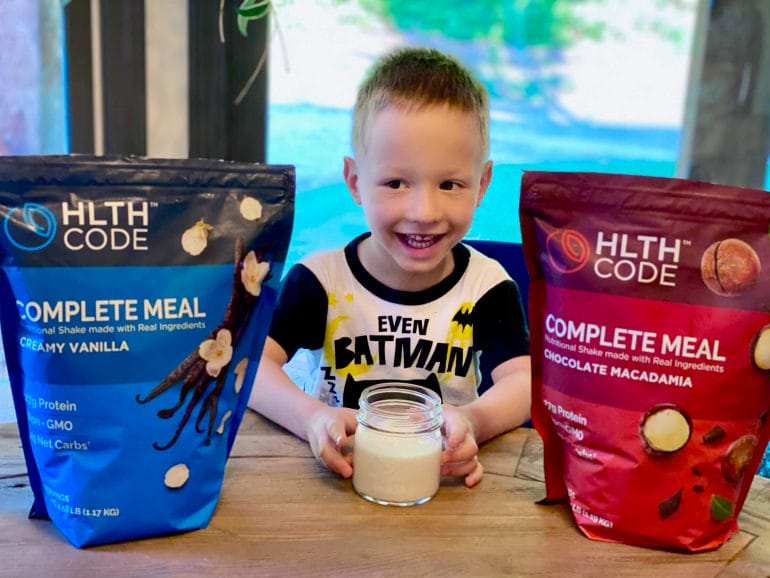 HLTH Code is available in two delicious flavors:
Chocolate macadamia
Creamy vanilla
I enjoyed both flavors but I usually gravitate towards chocolate.
What stuck out to me when drinking this meal replacement shake was the creamy and non-gritty texture. While I don't mind shakes with a gritty texture (usually caused by fibrous ingredients like psyllium husk powder), I assume that most people prefer a creamier texture.
Another issue with meal replacement powders that I've come across in the past is their level of sweetness. I don't like products that are overly sweet or that leave an aftertaste, which usually stems from the non-caloric sweetener(s) they contain.
I would describe the sweetness of both the chocolate and vanilla flavors to be balanced. I also appreciate that the formulators of the product chose a combination of monk fruit and stevia extract. Based on everything I've learned (and my own experiments), that appears to produce the best-tasting results when replacing real sugar.
Macronutrients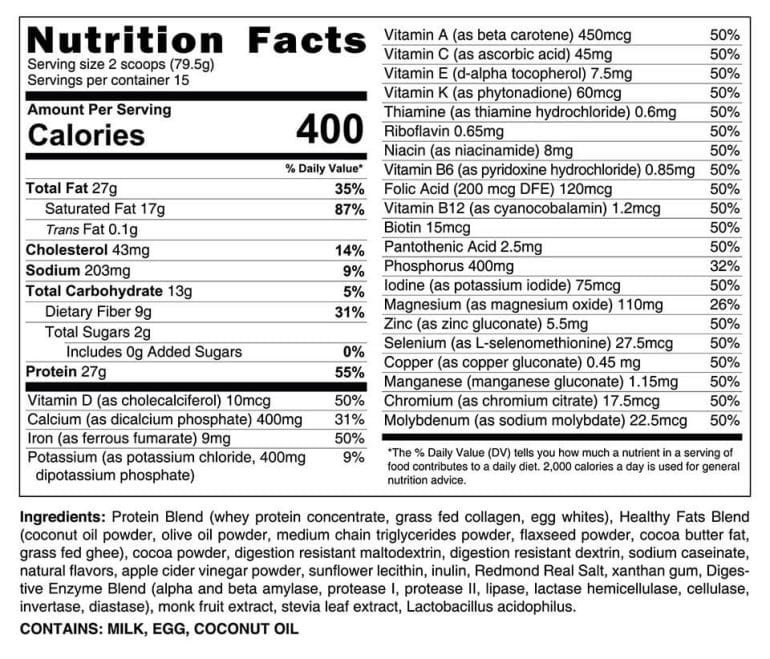 | Nutrition Facts | Per Serving |
| --- | --- |
| Calories | 400 |
| Total fat | 27 grams |
| Sources of fat | Coconut oil, olive oil, MCT oil, flaxseed, cocoa butter fat, grass-fed ghee |
| Total carbohydrates | 13 grams |
| Dietary fiber | 9 grams |
| Net carbs (total carbs – fiber) | 4 grams |
| Sugar | 2 grams (no added sugar) |
| Protein | 27 grams |
| Sources of protein | Whey protein concentrate, grass-fed collagen, egg whites |
One serving of HLTH Code delivers a 400-calorie meal with a whopping 27 grams of both fat and protein but only four grams of net carbs. That's the highest amount of protein I've ever seen in a keto-friendly meal replacement shake.
Some people who follow a keto diet believe that eating too much protein can kick them out of ketosis because of the body's ability to convert protein into glucose in a process called gluconeogenesis. But this metabolic process is demand-driven rather than supply-driven, as I've mentioned several times on this blog (here, here and here). In other words, eating large amounts of protein won't kick you out of ketosis (but it will likely make you pee more often).
Protein to Fat Ratio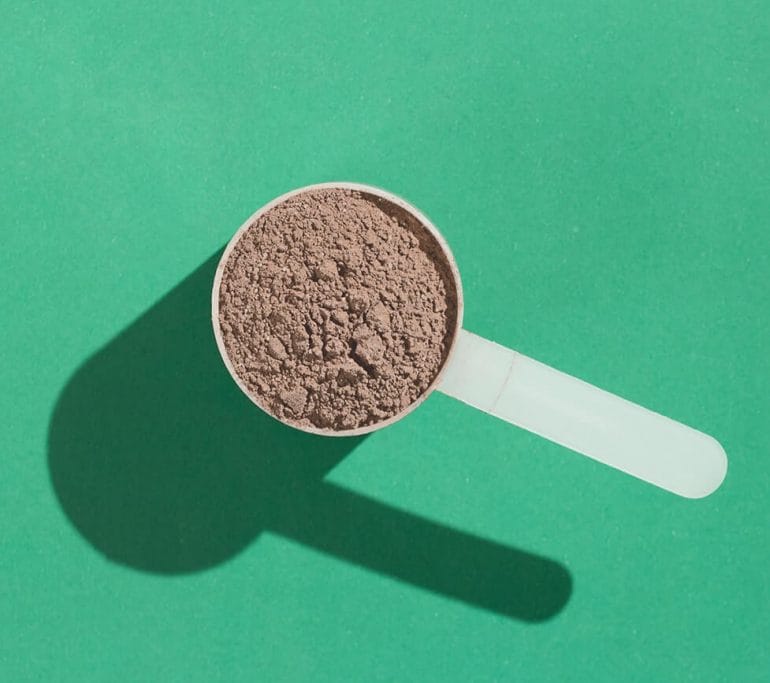 The reason why Dr. Bikman decided to add equal amounts of fat and protein to his meal shake is that this 1:1 ratio mimics what you can find in some of the most nourishing foods in nature, such as eggs.
He also believes that meals that include equal amounts of fat and protein can lead to improvements in cardiovascular health, insulin resistance, hypertension and more.
Additionally, one study has shown that this 1:1 ratio can improve muscle protein synthesis in young men — an important factor if your goal is to build lean muscle tissue.
Omega-3 to Omega-6 Ratio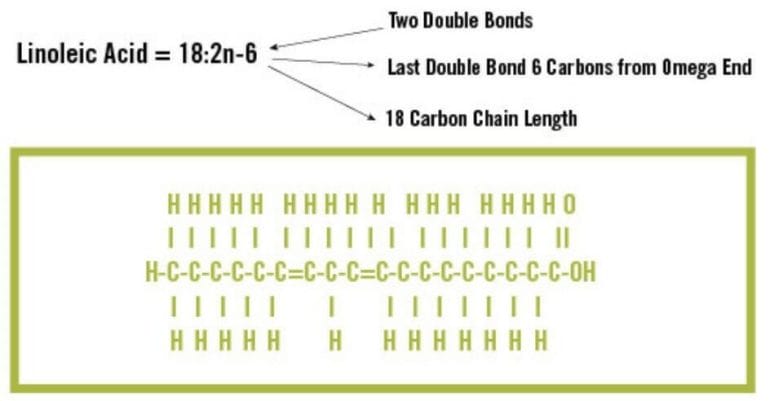 Another area where this complete meal powder is better than some of its competitors is the ratio of omega-6 to omega-3 fatty acids.
As you might know, both omega-3 and omega-6 are polyunsaturated fatty acids (PUFAs). That means they're chemically much less stable than saturated and mono-unsaturated fatty acids.
When they oxidize, they can form free radicals that can damage cells. Omega-6, in particular, has been shown to be pro-inflammatory as part of its oxidation process, which is why you should limit your intake of PUFAs (and of omega-6 in particular).
Interestingly enough, omega-3 fatty acids appear to have an anti-inflammatory effect that can counter some of the inflammatory processes triggered by omega-6. That's why some scientists recommend maintaining an even dietary ratio of omega-3 to omega-6.
Dr. Bikman added flaxseed powder to HLTH Code, a rich source of omega-3, to make sure this meal replacement powder has an ideal ratio of these two fatty acids.
You can learn more about this ratio and why it's important in my article about nuts and seeds — two sources of inflammatory PFUAs.
Types of Protein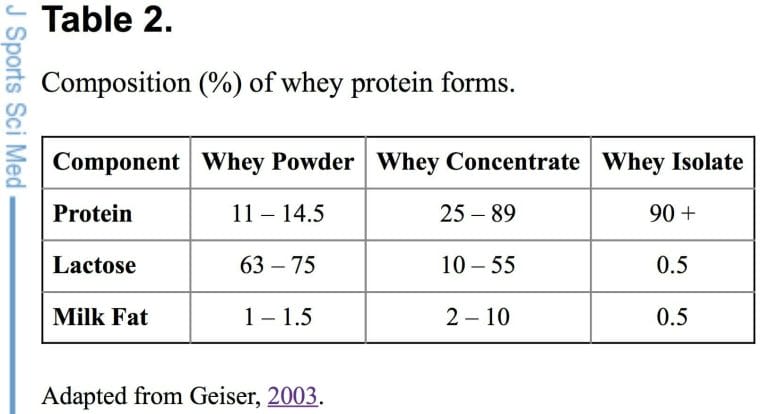 Many meal replacement powders rely purely on plant-based protein because it's trendy and many consumers associate "plant-based" with "healthy." HLTH Code relies primarily on an animal-based protein blend consisting of whey protein, grass-fed collagen and egg whites.
Generally speaking, animal protein is more compatible with human metabolism because humans evolved by eating animals as their primary source of protein.
In other words, plant-based protein has a lower bioavailability and absorbability. Plus, many plants are rich sources of omega-6 fatty acids and antinutrients, and they're often contaminated with heavy metals from the soil they grow in.
HLTH Code offers an excellent combination of various protein sources. For example, whey protein is one of the most bioavailable protein sources for humans, and the body can absorb it incredibly quickly.
Collagen is also highly absorbable because it consists mainly of peptides — the building blocks of protein. That means your gastrointestinal tract doesn't have to waste time breaking down the larger protein molecules and, instead, can focus on converting peptides into amino acids.
You can learn more about the pros and cons of supplementing with collagen peptides in this article.
The third source of protein in HLTH Code is egg whites — one of the most effective proteins for increasing body protein mass and stimulating post-exercise muscle protein synthesis.
These are some of the reasons why I usually favor animal proteins over plant-based sources of protein.
However, to slow down how fast I age on a cellular level, I have introduced no-protein/low-protein days as part of my dietary lifestyle. On those days, I try to avoid all sources of protein, and especially animal protein. You can read more about my reasons for this in my article about antiaging.
In a nutshell, restricting protein intake forces the body to recycle amino acids from senescent (dead) or damaged cells, triggering cell maintenance programs that can slow down the rate at which you age.
Summary
Overall, I think that the macronutrient profile of HLTH Code makes it a perfect choice for those who are physically active and can benefit from the extra protein.
I gave one bag of this meal replacement powder to one of my CrossFit buddies who has been struggling with finding a healthier alternative to his morning bagel from Starbucks. After a few weeks of using HLTH Code, he told me that he loves the product because he lost a couple of pounds and he feels so much better now that he's staying away from those bagels.
Micronutrients
HLTH Code has a robust micronutrient profile, thanks to the addition of digestive enzymes, minerals, probiotics and vitamins.
The added enzyme blend can help improve the digestion of fats, proteins and certain carbs, such as lactose. For example, lipase is a necessary enzyme required for digesting fats, protease helps with breaking apart proteins, and lactase is an enzyme that breaks down milk sugar (lactose).
Many adults lack sufficient amounts of lactase, which is why some of us get bloated or feel digestive discomfort after consuming dairy products.
HLTH Code includes whey protein concentrate that's derived from milk and which contains residual amounts of lactose. The addition of lactase ensures that you won't have any issues digesting this milk-derived protein, even if you're lactose-intolerant.
HLTH Code also includes a selection of probiotics that can help with supporting your gut health.
Last but not least, this meal powder includes numerous vitamins and minerals, albeit from synthetic sources. See below for my take on that.
Ingredient Quality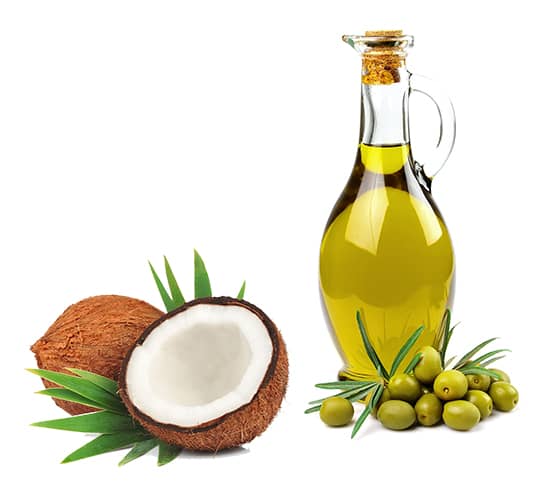 When deciding what type of ingredients go into a meal replacement shake, manufacturers have to balance quality with cost.
I think that HLTH Code has found a reasonable balance that meets the expectations of many consumers by excluding GMOs, added sugars and artificial ingredients while making sure the meal powder remains affordable (see below for pricing).
I like that some of the ingredients in HLTH Code stem from grass-fed sources, such as bovine collagen and ghee (clarified butter). But there is room for improvement.
What I Would Improve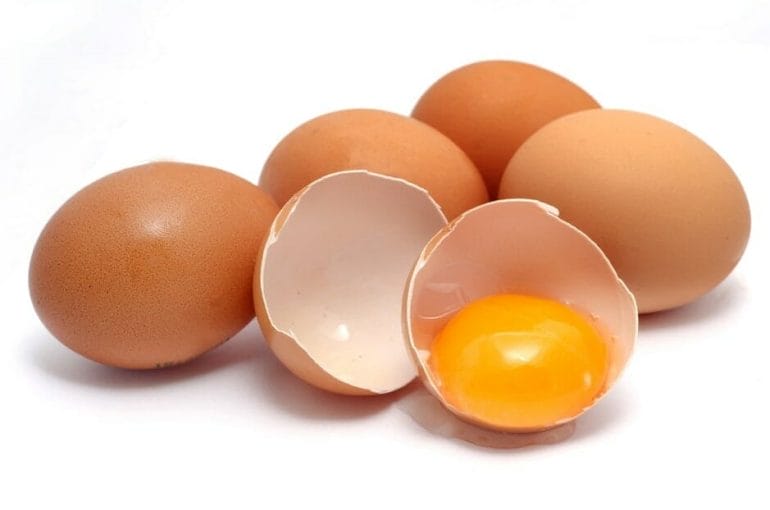 If I had a magic wand, and if the cost of the final product wasn't a concern, I'd make the following four improvements to HLTH Code:
Use grass-fed whey protein isolate and pastured eggs
Remove inulin as a source of fiber
Make sure all ingredients are organic (where applicable)
Replace synthetic vitamins (and reduce their quantity)
Grass-Fed Whey and Pastured Eggs
I prefer products from grass-fed animals (rather than corn-fed) because it's better for the animal, better for the planet, and better for humans. For example, meat from grass-fed animals has a more favorable omega-3 to omega-6 ratio.
I don't know if there are differences in the chemical structure of the amino acids in grass-fed vs. corn-fed whey protein that could impact their relative health benefits. But even if there aren't, I think we should push manufacturers to use grass-fed protein for animal welfare and environmental health reasons.
The same principles apply to eggs from pasture-raised hens. Check out my article on the differences between pasture raised eggs and traditional eggs to learn more.
Inulin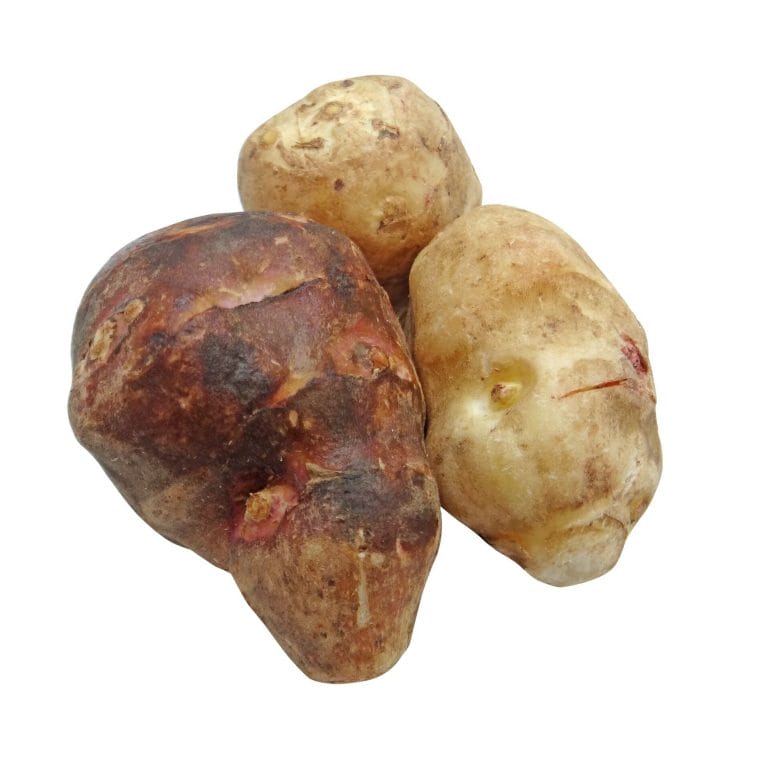 Inulin is an excellent source of fiber and a prebiotic that naturally occurs in leeks, asparagus, onions, garlic, Jerusalem artichokes and 36,000 other species of plants.
While there is nothing wrong with inulin from a nutritional perspective, it just so happens to make me bloated. That's a bummer, because I love eating some of these foods (including artichokes).
I can get away with eating some garlic and onions (especially the red kind), but I get uncomfortably bloated after eating artichokes or drinking too much of any meal replacement powder that contains this type of fiber.
As a result, I'd replace inulin with psyllium husk, another prebiotic fiber, that doesn't affect my gastrointestinal system. The problem with psyllium husk is that it adds a gritty texture to liquids that not everyone appreciates.
Organic Ingredients
While organic products aren't guaranteed to be 100% free of harmful chemicals like herbicides and pesticides, organic growing methods should help reduce the amount of those toxins that are present in the final product.
As a result, I would try to use organically-grown ingredients wherever possible. The good news is that, unlike green powders, HLTH Code doesn't have a lot of plant-based ingredients. So the lack of organic ingredients isn't a huge issue.
Synthetic Vitamins and Minerals
HLTH Code features a robust micronutrient profile, but most of its vitamins and minerals stem from synthetic sources.
One could argue that a meal replacement powder should have sufficient micronutrients because consumers use these products to replace fresh food — and thus, their primary source of micronutrients.
Based on the scientific research I've seen, there might not be a huge difference in bioavailability between synthetic and natural vitamins. However, history has taught us that just because we don't see the health implications right now, that doesn't mean there are none. Think about non-stick cooking pans and BPA-lined plastic bottles.
However, I'd argue that meal replacement powders (or any processed food for that matter) shouldn't replace all of your meals. In other words, you should aim to get as many vitamins and minerals as possible from real food. If you do, a meal replacement shake doesn't have to provide every single vitamin there is, including the ones you're unlikely to be deficient in.
Instead, I'd recommend focusing on a few, nature-identical micronutrients that many people are likely to be deficient in, such as vitamin D3, vitamin B12 and Iron.
Price
HLTH Code is available as a one-time purchase for $59.95 per bag ($4 per meal), or as a subscription. The latter knocks $10 off the price of each bag and lowers the price per meal to $3.33.
What's great about HLTH Code is that you can return the product within 60 days for a full refund if you don't like it. If you decide to sign up for a subscription, you can cancel at any time.
If you decide to give HLTH Code a try, make sure to use code MK to get 15% off your purchase.
Frequently Asked Questions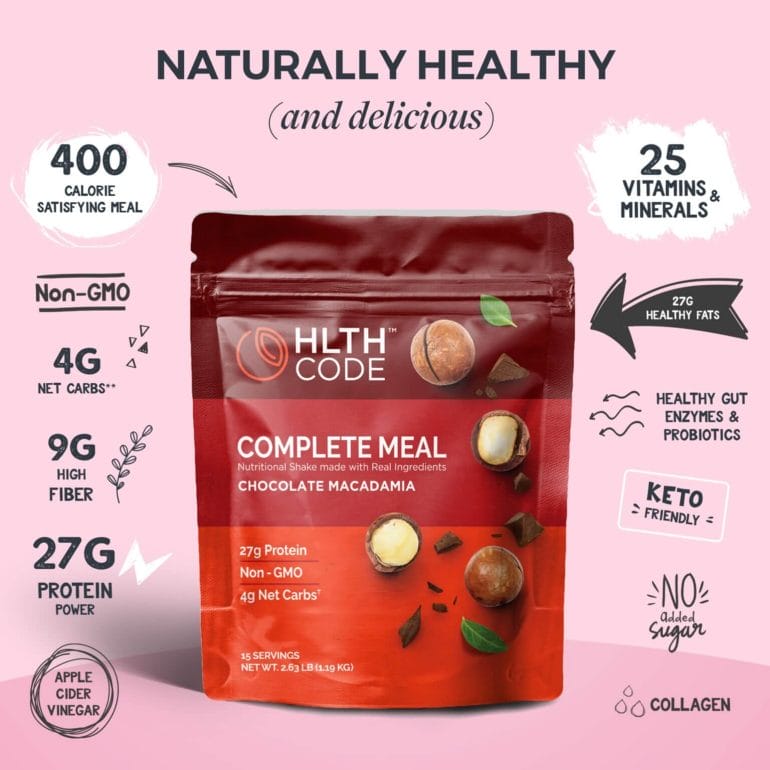 Can HLTH Code replace a full meal?
Each serving of HLTH Code's meal replacement powder has 400 calories. Depending on what type of meal you want to replace, you might need two servings to fill you up. Many people that I know use meal powders to replace breakfast or a smaller meal while on-the-go. In such cases, a regular serving should be enough to keep you satiated.
HLTH Code has a lot of protein. Is that a disadvantage if you're on a keto diet?
No, it's not. Many keto enthusiasts believe that consuming too much protein will kick them out of ketosis. But that's a misconception, because gluconeogenesis — the process of converting protein and other non-carb sources to glucose — is a demand-driven process, not a supply-driven process.
Can you use HLTH Code if you're diabetic?
If you have Type 2 diabetes, I see no reason why you couldn't use HLTH Code. Each serving contains only 4 grams of net carbs that won't have a measurable impact on your blood sugar.

I'd even argue that switching from a standard American diet to a low-carb diet like keto increases your chances of getting off your blood sugar medication. I'm convinced that keto-friendly meal replacement shakes, such as HLTH Code, can support such efforts.
Can you use HLTH Code as a post-workout shake?
You certainly can, depending on your fitness goals. Personally, I try to avoid food before, during and after workouts to allow my body to burn its own body fat for energy and to empty and replenish my glycogen stores. However, if your main goal is to build lean muscle tissue, then having a shake that's low in carbs but high in fat and protein can be advantageous.
Can you use HLTH Code instead of a regular breakfast?
Yes, you can! Some of my friends and workout buddies do exactly that! I usually don't eat breakfast because of my fasting protocol, which is why I no longer have many opportunities to make use of meal replacement shakes.
Do you have a HLTH Code discount code?
Use promo code MK to get 15% off your HLTH Code purchase!
Does HLTH Code contain sugar alcohol?
No, the product is free of sugar alcohols and only uses stevia and monk fruit as sweeteners.
HLTH Code Complete Meal Replacement Shake Review: Final Thoughts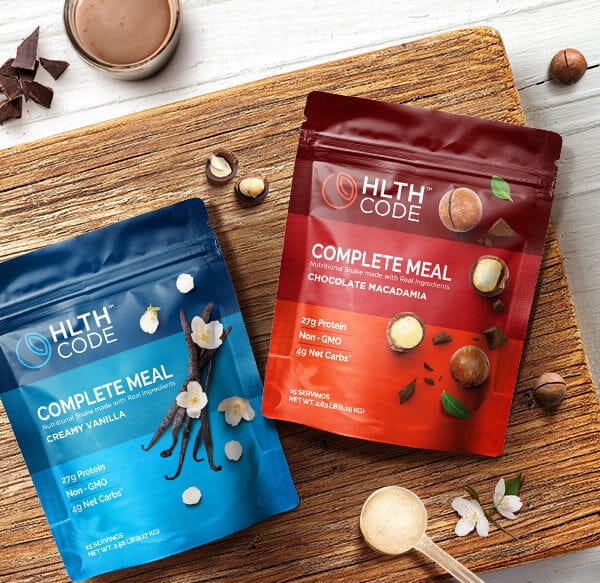 Eating healthy is difficult — especially if you've followed a traditional western diet for years or even decades.
I'm pretty radical when it comes to making lifestyle choices that I know will benefit me in the long run, but I've realized that most people (including my wife) aren't like that. They prefer to take smaller steps that build upon each other, as opposed to going all-in right from the start.
One of the easiest things you can do is to cut out unhealthy meals or snacks and replace them with a delicious yet healthy meal replacement shake.
That's what Luke, my workout buddy did. Instead of stopping at Starbucks every morning for a bagel that was full of highly-processed crap ingredients, he started using HLTH Code. Not only does he feel better in the morning, but he also lost a few pounds in just a couple of days.
I like HLTH Code because the product was formulated by a medical professional who specializes in human metabolism and who knows how each of the ingredients affects the body.
I also appreciate that the product contains plenty of protein from animal sources, including egg whites and a great combination of healthy fats to maintain a proper omega-3 to omega-6 ratio.
While there is certainly room for improvement (see above), I think HLTH Code is a well-rounded and complete meal replacement and I've recommended it to friends and family.

Michael is a healthy living enthusiast and CrossFit athlete whose goal is to help people achieve optimal health by bridging the gap between ancestral living and the demands of modern society.
Medical Disclaimer
The information shared on this blog is for educational purposes only, is not a substitute for the advice of medical doctors or registered dieticians (which we are not) and should not be used to prevent, diagnose, or treat any condition. Consult with a physician before starting a fitness regimen, adding supplements to your diet, or making other changes that may affect your medications, treatment plan or overall health. MichaelKummer.com and its owner MK Media Group, LLC are not liable for how you use and implement the information shared here, which is based on the opinions of the authors formed after engaging in personal use and research. We recommend products, services, or programs and are sometimes compensated for doing so as affiliates. Please read our
Terms and Conditions
for further information, including our
privacy policy
.