Keto meal replacement shakes are an excellent tool for anyone who follows a low-carbohydrate diet but doesn't always have time to prepare high-fat low-carb meals from scratch.
This article is one of the most comprehensive guides on keto meal replacement drinks and keto protein shakes, focusing almost exclusively on "clean" products that I have tried and would recommend to friends and family.
Why keto?
The United States and other developed countries are currently facing a health epidemic, as demonstrated by rising rates of metabolic and chronic diseases. That's one of the reasons why more and more people are trying to turn their backs on the Western diet and are opting instead for a high-fat low-carb lifestyle.
You can learn more about the benefits of a ketogenic diet in my ultimate keto guide.
The supplement industry has seized that opportunity by releasing a slew of ketogenic meal replacement drinks, shakes and exogenous ketone supplements.
If produced with high-quality ingredients and a focus on overall health, keto shakes and ketogenic meal replacement drinks can be an excellent way to stay satisfied and in ketosis when you don't have the time to prepare a proper snack or meal.
I use meal replacement drinks a lot while traveling and when I don't have access to healthy sources of food.
In this guide, I compare different types of low-carb high-fat shakes and other products that you can use based on your ketogenic lifestyle and caloric needs.
A few of the products I review here contain potentially unhealthy ingredients such as sucralose or sugar alcohols from GMO sources, and thus I do not recommend them. However, I included them for reference because you can find them in many grocery stores and readers have asked me about them.
Additionally, I also list my favorite low-calorie keto shakes, which you can use as a snack or to make a smoothie. By their nature, the products in that category do not have sufficient calories to replace a full meal.
How to Choose Keto Shakes and Meal Replacement Drinks
Choosing a keto shake or a keto meal replacement drink depends largely on your goals and dietary lifestyle. I was on a strict ketogenic paleo diet for over three years and I paid close attention to the ingredient quality of everything I ate. As a result, I avoided products with artificial or otherwise inflammatory ingredients that could negatively impact my health in the long run.
Note: These days, I follow an animal-based diet that includes more carbs than allowed on a strict keto diet — primarily from seasonal fruits and the least-toxic plants.
As far as keto meal replacements are concerned, I evaluate the following macronutrients and micronutrients before picking a product:
Total calories. If your goal is to replace a full meal, you need a keto shake that has enough calories. Depending on your daily calorie intake, you want to look for products that offer 400 to 600 calories per serving.
Grams of protein. A good keto shake should contain a reasonable amount of protein. Protein helps you maintain lean muscle tissue, but if you consume too much of it your body might respond by releasing insulin, and that can temporarily lower your ketone levels. I can eat a lot of protein without getting kicked out of ketosis (as I documented in this video), but everyone is different and your mileage may vary.
Total and net carbs. The goal of the keto diet is to limit your carbohydrate intake. Some keto replacement shakes contain a lot of fiber, which also increases the total amount of carbohydrates. However, your body doesn't use carbs from fiber as fuel, so don't worry about them. Instead, focus on the net carbs, which you can calculate by subtracting the fiber (and sugar alcohols) from the total carbs. For example, Ample (one of my favorite keto meal replacement shakes) has 15 grams of carbohydrates but 10 of those grams are fiber, resulting in only five grams of net carbs.
Fat content. A good keto meal replacement drink must contain high fat content. Why? Because fat is your primary source of energy while in ketosis. I usually get 60% to 75% of my calories from fat.
Other ingredients. Aside from the factors mentioned previously, there are additional ingredients in some keto drink mixes, such as the ketone body beta-hydroxybutyric acid (BHB), carnitine (an amino acid), chromium, creatine, hydroxymethyl butyrate, ECA stack, fish oil, magnesium, potassium, sodium and vitamin D. I prefer products that contain natural sources of these ingredients. For example, I prefer coconut oil as a natural source of medium-chain triglycerides (MCTs) over MCT powder.
Top 3 Keto Meal Replacement Drinks
Products in this category have sufficient calories to replace a full meal. These meal replacement products also provide enough fat and have a low amount of net carbs so you can stay in ketosis.
| Keto Meal Shakes | My Rating |
| --- | --- |
| Ample – Complete Meal Shake | ★★★★★ |
| HLTH Code – Complete Meal | ★★★★★ |
| Super Body Fuel – Keto Fuel | ★★★☆☆ |
Note that the products below are listed based on my personal preferences, dietary lifestyle and what I consider a species-appropriate diet for humans.
Ample (Formerly Ample K)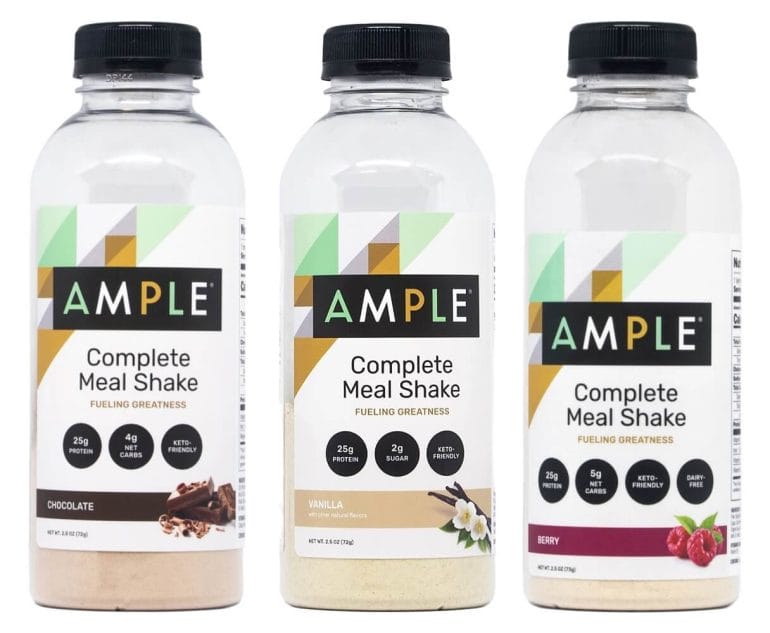 Pros
Available in three different sizes.
High-quality ingredients.
Available in three great-tasting flavors.
Has a vegan option.
Easy to prepare and bring along.
Excellent source of fiber (prebiotics) and probiotics.
Cons
Price.
Comes in plastic containers.
Ample is my go-to keto meal replacement drink when I travel. The all-natural shake comes in BPA-free bottles and contains no soy, GMOs or artificial flavors.
In a nutshell, Ample is an excellent source of healthy fats, fiber and protein, with only five grams of net carbs and no artificial ingredients.
Ample is easy to prepare: you just add water or milk into the bottle and mix. Each bottle gives you either 400 or 600 calories, so it's just enough to replace a full meal and keep you going.
Depending on the size you choose (400 calories or 600 calories), This drinkable meal contains 28/45 grams of fat, 25/34 grams of protein, and 11/15 grams of total carbs (including fiber); it's a balanced combination designed to meet your high-fat, low-carb needs, with enough protein to help build your lean muscle tissues.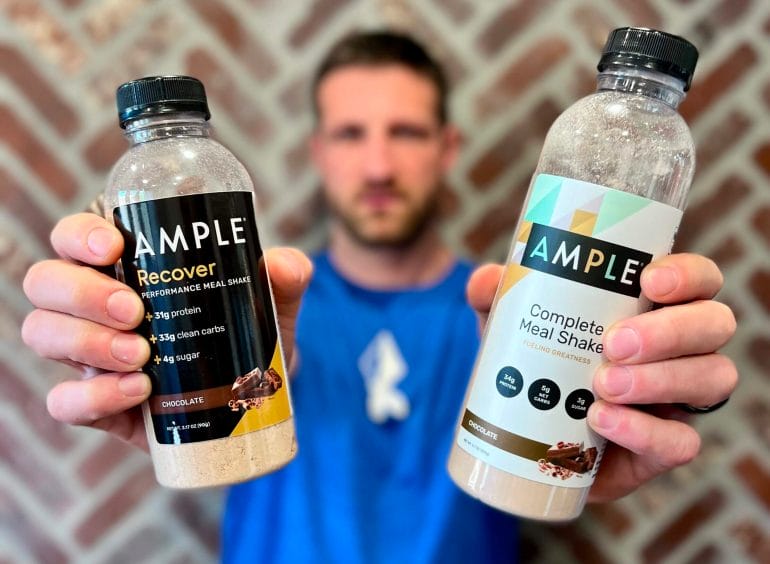 You should also know that Ample's berry flavor uses only plant-based ingredients and is thus suitable for vegan dieters.
Additionally, it's worth noting that you can also purchase bulk canisters of Ample that contain 15 400-calorie servings. I usually buy the pre-filled bottles because I consume Ample almost exclusively while traveling. But if I were to use Ample at home, I'd probably buy the bulk canister instead.
You can learn more about the different formulas and how I've been using this complete meal replacement shake in my in-depth Ample review.
Each serving of Ample costs between $4.48 and $9.00, depending on the meal size and whether or not you sign up for a subscription. Note that one of the reasons why Ample is a bit more expensive than other keto powders is because of the premium ingredients Ample uses in its products.
If you'd like to give Ample a try, make sure to use code MK15 to get 15% off your purchase.
HLTH Code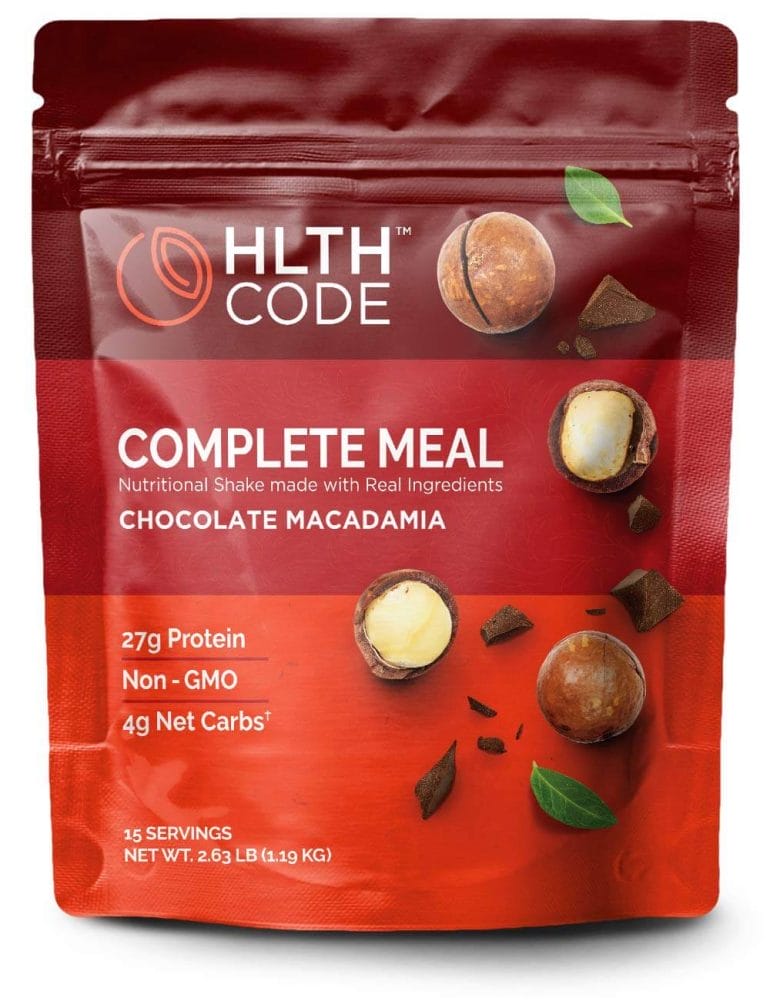 Pros
No added sugars.
High in fiber.
Includes healthy gut enzymes and probiotics.
Balanced ratio of omega-3 to omega-6 fatty acids.
Cons
Vitamins and minerals are from synthetic sources.
HLTH Code is a product that I stumbled across relatively recently. What I like about the company is that one of its co-founders is a metabolic scientist. That means the company has first-hand knowledge about how food influences the human metabolism.
The product features a variety of protein and fat sources. Specifically, this keto-friendly meal powder contains three different sources of protein (whey, egg white and collagen protein) and six different types of healthy fats, including coconut oil powder, olive oil powder, MCT oil powder, flaxseed powder (a good source of omega-3s), cocoa butter fat and grass-fed ghee.
I also appreciate that HLTH Code includes enzymes that can help aid digestion, as well as prebiotics and probiotics to support a healthy gut microbiome.
If you take a close look at the nutrition label, you'll realize that this complete meal powder has much more protein than most of the other products in this review. Don't be concerned about that, even if you've heard that too much protein can kick you out of ketosis.
The reality is that gluconeogenesis (the process of making glucose from non-carb sources) is demand-driven rather than supply-driven. In other words, eating (too much) protein won't kick you out of ketosis!
Additionally, some studies suggest that you can enhance muscle protein synthesis by consuming fat and protein at a ratio of 1:1. That could be an important factor for athletes or anyone who is trying to build lean muscle tissue.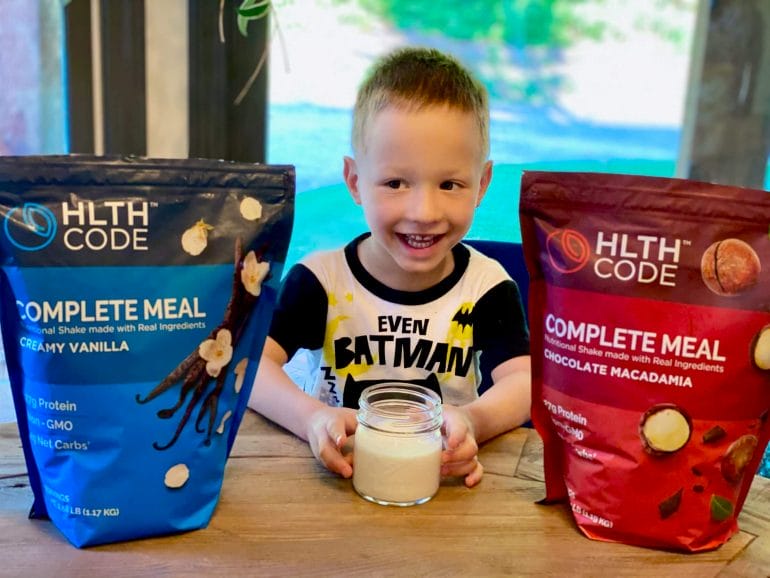 I had a chance to try both the chocolate macadamia and creamy vanilla flavors, and even though I consider myself a chocolate guy, I couldn't pick a favorite. Both taste absolutely delicious and have a creamy texture that makes you want more. I should also mention that I tried the powder with both plain water and camel milk, and both versions tasted great.
The only disadvantage (if you want to call it that) is that most of the vitamins and minerals in this product are from synthetic sources. And while some scientists suggest that synthetic micronutrients are absorbed just as well as their natural counterparts, others believe that natural vitamins may be superior to synthetic ones.
Since I don't live off meal replacement drinks exclusively, I don't really care about the absorbability of their micronutrients. Plus, I cover all of my micronutrient requirements by consuming fresh or freeze-dried organ meats.
Make sure to use code MK10 to get 15% off your purchase. To learn more, read my full HLTH Code review.
Super Body Fuel Keto Fuel
Pros
Vegan-friendly (no dairy).
70% fat calories.
Reasonable macronutrient blend.
Sugar-free.
Cons
Requires two tablespoons of oil.
Tastes best if left in the fridge for two hours before consumption.
Contains synthetic vitamins and minerals.
Keto Fuel is Super Body Fuel's keto meal replacement shake, offering fewer carbs and slightly higher amounts of fat (medium-chain triglycerides or MCTs) than their regular meal shakes. Similarly to its sister product Super Fuel, you have to mix Keto Fuel with two tablespoons of your favorite oil to bring the calorie count up to par with other meal replacement drinks.
I tried mixing Keto Fuel with almond milk and I loved the taste. The only downside to Keto Fuel is that you have to let it rest in the fridge for about two hours to get the optimal taste and texture. I usually prepare it in the evening and leave it in the refrigerator overnight before enjoying it for breakfast.
Additionally, all of the protein from Keto Fuel comes from brown rice, which is a less-than-ideal source of protein for humans because of its poor bioavailability and absorbability.
Last but not least, most of the added micronutrients (vitamins and minerals) in Keto Fuel are from synthetic sources and not from whole-food ingredients.
Top 3 Keto Shakes
Products in this category contain a lot of fat — usually medium-chain triglycerides (MCTs) — and low amounts of carbs and protein. These are the classic keto-friendly shakes that many people use to supplement their ketogenic lifestyle.
As delicious and healthy as these ketogenic shakes might be, keep in mind that consuming high amounts of MCTs can cause an upset stomach and lead to gas, bloating and diarrhea. Plus, these products will likely not keep you satiated for very long because of their lack of protein.
Still, high-fat keto shakes are an excellent snack replacement, and like exogenous ketone supplements they may help lessen the symptoms of the keto flu (if you just started your ketogenic journey).
| Keto Shakes | Rating |
| --- | --- |
| Perfect Keto MCT Oil Powder | ★★★★★ |
| Naked Nutrition – Naked Keto | ★★★★☆ |
| Fat Fuel Company Fat Fuel | ★★★★☆ |
Perfect Keto MCT Oil Powder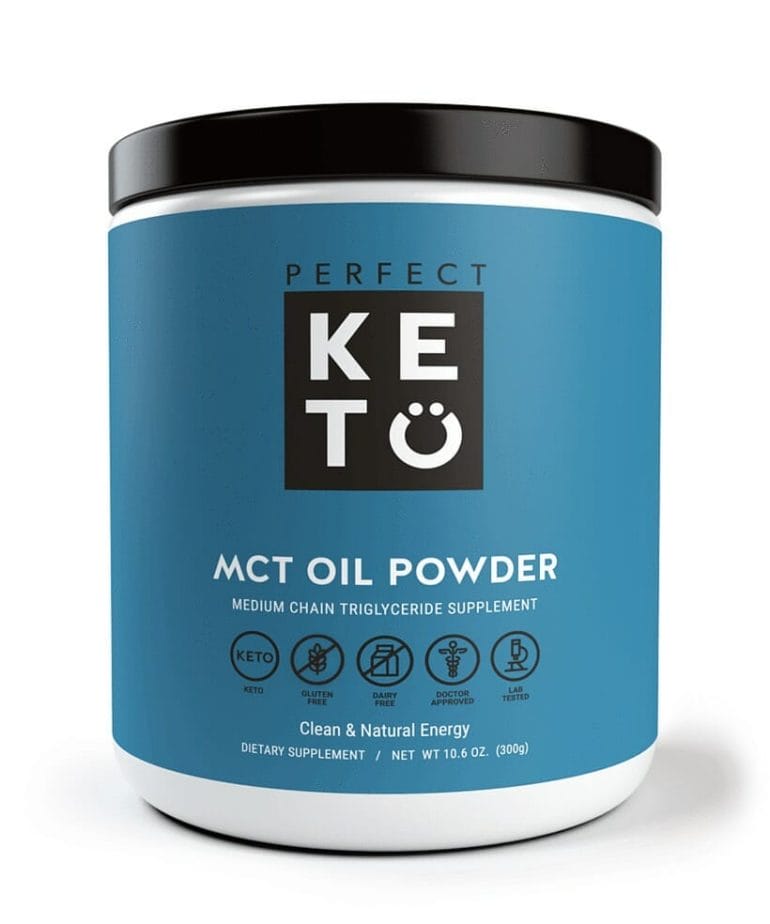 Pros
Stomach-friendly (low amount of MCTs).
Zero net carbs.
Zero protein.
Available in various flavors (including plain).
Perfect Keto's MCT Oil Powder is another great keto shake that's relatively stomach-friendly due to its moderate amount of medium-chain triglycerides (from coconut oil).
What I like about this formula is that it doesn't have any protein, and the only carbs it has are from acacia fiber. The unflavored formula of this keto shake is as plain as it gets, and contains only MCT oil powder and gum acacia (fiber). The latter helps keep you satiated for longer!
Additionally, Perfect Keto offers the following flavors, which the company sweetens with stevia leaf powder:
Chocolate
Cinnamon toast
Matcha latte
Peanut butter
Salted caramel
Strawberry
Vanilla
You can also buy a three-flavor or four-flavor combo box and save between 10-19% off the individual price. What's more, using the promo code michael20 at checkout will knock an additional 20% off the price.
Naked Nutrition – Naked Keto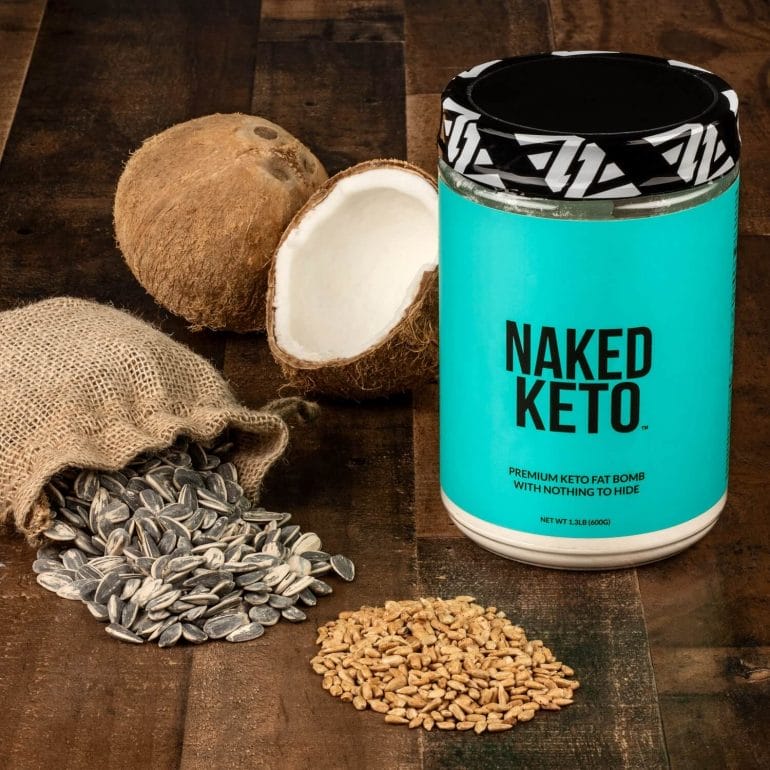 Pros
Certified gluten-free.
Available unflavored or flavored.
Cons
Contains fillers and flow agents.
Naked Keto is a premium keto fat bomb supplement (fat powder) that we used to use almost every day at the Kummer house, before we transitioned to an animal-based diet.
The unflavored version contains only two simple and clean ingredients: MCT oil powder and high-oleic sunflower oil powder.
Note that these powders are made with fillers and flow agents, including inulin (a fiber that can make you bloated), sunflower lecithin, silicon dioxide and others. None of these are necessarily inflammatory, but some of them have the potential to upset a sensitive stomach.
You can use Naked Keto to increase the fat content of shakes, smoothies, puddings and baked goods.
We used the chocolate-flavored version that's sweetened with stevia and monk fruit extract for making our keto chia pudding recipe. That improved the taste of the pudding, but it also massively increased the fat content (leading to a true keto fat bomb).
It's worth noting that I'm not a fan of vegetable or seed oils, such as sunflower oil, because they usually contain high ratios of unstable and inflammatory polyunsaturated fatty acids (PUFAs). However, Naked Keto uses what's called high-oleic sunflower oil, which has much lower concentrations of PUFAs in lieu of stable monounsaturated fatty acids (MUFAs).
As a result, I'm OK consuming high-oleic sunflower oil on occasion but I wouldn't want to make it a part of my daily food intake.
Fat Fuel Company Fat Fuel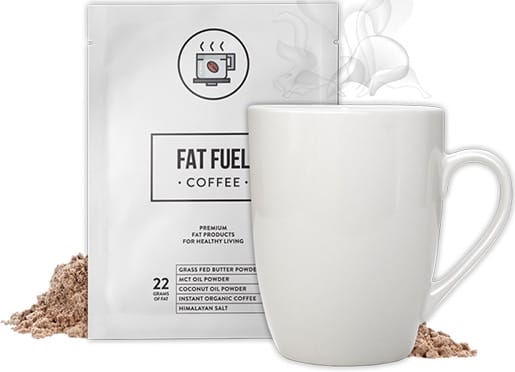 Pros
Available in single-serve pouches.
Clean ingredients.
Delicious taste.
Available in three flavors.
Cons
Cocoa flavor has small amounts of erythritol.
MCTs might cause an upset stomach.
I learned about Fat Fuel Company's keto shakes when I attended Paleo f(x) in March of 2019. The company makes keto shakes in powder form that you can easily mix with water or your favorite milk. You could also mix it with nut milk, but I'd recommend against that because of the inflammatory potential of nuts and seeds.
Fat Fuel is available in three distinct flavors, including:
Cocoa (a favorite among our kids).
Coffee (one of my favorites).
Matcha (if you're a tea drinker, you'll love it).
All three flavors contain coconut oil powder, grass-fed butter powder and MCT oil powder as healthy sources of fat. Additionally, all flavors also have Himalayan salt and organic stevia leaf.
Fat Fuel Cocoa has 0.1 grams of erythritol, a sugar alcohol that I usually try to stay away from. However, this keto shake has so little of it that I wouldn't worry too much about it. This is nowhere near the amount of sweetener normally found in cocoa powder.
What's convenient about Fat Fuel is that the powder comes in individual, single-serving pouches. That makes this product easy to bring along on trips. We always pack a few pouches when we travel with the kids. Considering that each shake has well over 200 calories, we can easily use it as a snack or to supplement a meal.
As mentioned before, be careful with MCTs and note that coconut oil is a natural source of them. Fat Fuel contains both, and if you drink too much of it you might experience an upset stomach.
Top 4 Keto Protein Shakes
Products in this category contain protein powder — usually grass-fed whey protein or collagen peptides — and lower amounts of fat. As a result, they lack the calories necessary to replace a full meal. However, you can use them to make your own shakes, smoothies or post-workout meals by adding extra fat or other ingredients.
| Keto Protein Shake | Rating |
| --- | --- |
| Ketond Keto Protein | ★★★★★ |
| LevelUp Grass-fed Keto Protein | ★★★★☆ |
| Perfect Keto – Keto Collagen | ★★★★★ |
| Real Ketones Keto Meal | ★★★★☆ |
Ketond Keto Protein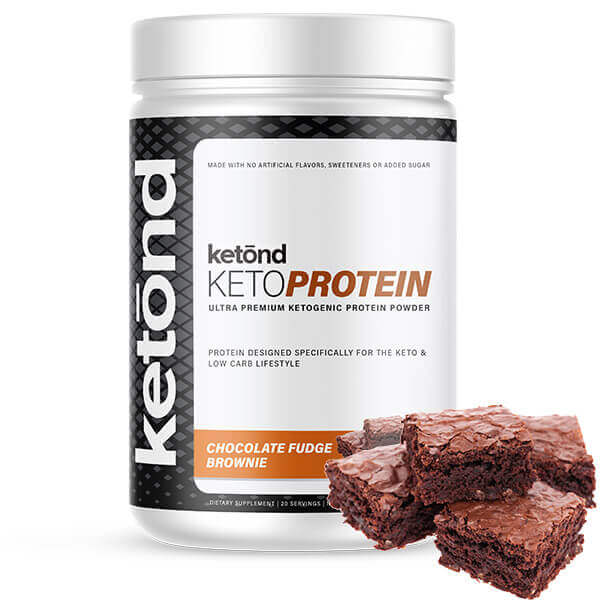 Pros
71% fat calories.
No harmful ingredients.
Contains goBHB and goMCT.
400 kcal per serving.
Cons
Contains five grams of sugar.
Contains synthetic vitamins and minerals.
This ketone supplement drink comes in two delicious flavors: chocolate fudge brownie and french vanilla creme.
The striking feature of this drink is that it contains six grams of the most potent ketone body, goBHB, which most keto meal replacement shakes lack.
goBHB are exogenous ketones, which some studies show can help your body achieve ketosis. Based on my research, exogenous ketones are most beneficial if you cycle in and out of ketosis often (either intentionally or unintentionally). However, if you maintain a strict keto diet, you may not need exogenous ketones.
The all-natural Ketōnd is easy to blend and has a delicious taste. The only downside to this product is that you need an extra shaker to mix the powder, which is an inconvenience for some people.
I use Ketōnd at home for making shakes and smoothies, and I like the chocolate fudge brownie flavor best.
If you'd like to give Ketōnd a try, make sure to use discount code MK15 and get 15% off your order!
LevelUp Grass-Fed Keto Protein Powder
Pros
Sugar-free.
No artificial ingredients.
Inexpensive.
Cons
Has only 95 calories.
Only 54% fat calories.
LevelUp Grass-Fed Keto Protein Powder is neither a potent protein powder nor a keto meal replacement. However, considering its premium ingredients, it can still have a place in your keto diet as a supplement.
It's a tasty shake that's easy to prepare, and it contains no chemicals or fillers. LevelUp is also a good source of cholesterol, thanks to the inclusion of grass-fed butter and C8 Caprylic MCT oil in the formula.
Note that dietary cholesterol doesn't clog your arteries or cause heart attacks. I busted that myth in this article if you want to learn more about the importance of cholesterol and saturated fats.
Instead of replacing a meal, I would recommend LevelUp Grass-Fed Keto Protein Powder (a non-GMO, 100% natural product) as a post-workout supplement to help you with muscle repair by leveraging the collagen it contains.
Perfect Keto – Keto Collagen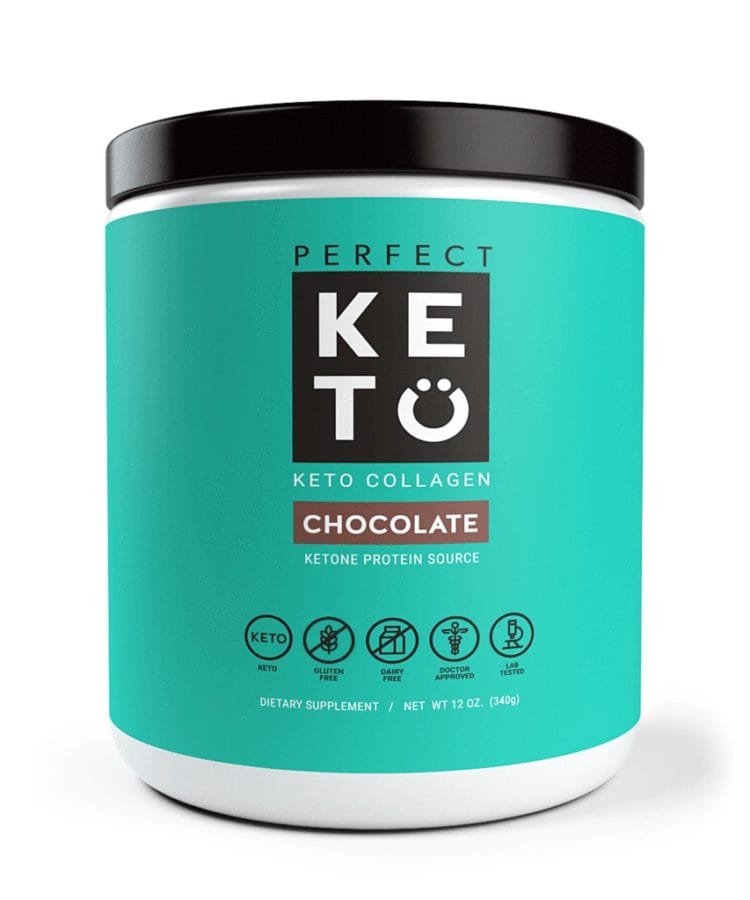 Pros
Stomach-friendly (only four grams of MCTs).
Zero net carbs.
10 grams of protein.
Available in different flavors.
Cons
Only 80 calories.
Incomplete amino acid profile.
What I like about Perfect Keto's collagen is that it doesn't contain anything except for hydrolyzed collagen powder and MCTs in moderate amounts. As a result, Keto Collagen shouldn't upset your stomach, even if you consume a few shakes throughout the day.
What's more, Keto Collagen is available in three flavors (chocolate, vanilla and salted caramel), plus an unflavored version that you can mix into your coffee or smoothies.
If you want to give Keto Collagen a try, make sure to use code michael20 and get 20% off your order.
Real Ketones (Kegenix) Keto Meal
Pros
Sugar-free.
Inexpensive.
Contains BHB (ketone bodies).
Good vitamin density.
Keto Meal is a ketogenic super meal that combines the strength and energy of proteins and ketones in one tasty, easy-to-mix powder.
The primary disadvantage of the Kegenix Keto Meal is that it delivers only 160 calories of energy per serving. Plus, the percentage of fat calories (56%) is lower than in other products.
Note: Kegenix recently rebranded itself and is now called Real Ketones.
If you want to try Kegenix, I'd recommend doubling the serving size so that you get at least 320 calories. However, doing so will also add 16 grams of carbs, which is a lot considering the 50-carb calorie limit of some keto dieters.
It comes in two flavors (vanilla and chocolate) and contains the necessary electrolytes, micronutrients (vitamins and minerals), and macronutrients that every good keto meal replacement drink should have.
Except for guar gum, Kegenix doesn't have any potentially gut-irritating ingredients and contains no added sugars or artificial sweeteners.
Keto Meal Shakes With Unhealthy Ingredients
The two products below contain unhealthy or irritating ingredients that I would rather stay away from. The worst shake, from a health perspective, is definitely Atkins. I would never recommend anyone consume that product.
Ketologie is a reasonable product, particularly if you're not on a strict paleo diet or if sugar alcohols don't upset your stomach.
Atkins Mocha Latte
Atkins is a popular high-fat and low-carb diet that's similar to the keto diet. While I appreciate the benefits of the Atkins diet (as I appreciate the general benefits of almost any low-carb diet), I do not recommend the Atkins protein-rich shakes as meal replacements because they lack the necessary calories and also contain unhealthy ingredients that you should stay away from, such as sunflower oil, soy protein, artificial flavors, acesulfame potassium and sucralose.
Ketologie Keto Shake
The Ketologie Keto Shake provides sufficient calories (300) to replace at least a small meal. But it also contains numerous potentially harmful ingredients that disqualify it from being part of a healthy diet.
The main offenders in Ketologie are sugar alcohols (erythritol), xantham gum and corn fiber.
The other disadvantage of the Ketologie Keto Shake is its high amount of carbs per serving. As a result, I would not recommend Ketologie, considering the availability of better and healthier alternatives.
Benefits of Keto Shakes
Staying in ketosis by forcing your body to use fat as its source of energy is incredibly tricky. If you have a meal that contains too many carbs, it'll knock you right out of ketosis and you'll have to start over.
If you're traveling a lot and don't have access to the right food sources, maintaining a ketogenic diet can be tough. Fortunately, there are keto shakes and meal replacement products that can make your life easier.
Some of the products in this review come as pre-bottled powders or in single-serve pouches, which makes it easy to get through airport security. Others come in liquid form, which may be more convenient for some users (especially those who don't travel by plane).
Downsides of Keto Shakes
Despite the fantastic benefits they provide, some keto meal replacement drinks also have disadvantages.
They can be expensive, especially compared to protein shakes. However, the price per serving is usually reasonable compared to a regular meal.
Some keto meal replacement shakes leave an aftertaste.
The transition period is usually marked with ketone breath.
Some lower-calorie replacement meal drinks are not as satisfying as actual food.
Many products contain potentially harmful ingredients like preservatives, sugars and artificial sweeteners.
Some keto shakes get their fat from dairy, which many people are sensitive to.
Potentially Irritating Ingredients
Some of the ingredients manufacturers use in their products have the potential to irritate your gut. In other cases, there's scientific evidence that they could be detrimental to your health.
Artificial Ingredients
The goal of the keto diet is to live a healthier life by making smarter food choices and by helping your body's metabolism. As a result, I try to avoid artificial ingredients; by definition, they fail to support my clean eating philosophy.
Sucralose and Acesulfame Potassium
As I mentioned in my review of artificial sweeteners, there's mounting evidence that some artificial sweeteners (such as sucralose) can negatively influence how your body reacts to glucose.
Guar Gum/Xantham Gum
Many gums are in natural products that are derived from plants, but some have the potential to cause stomach problems in people who are sensitive.
Corn Fiber
Corn has little nutritional value compared to other vegetables and fruits, and it contains certain types of proteins that your body can't properly break down. These prolamins can lead to or exacerbate leaky gut syndrome and the growth of harmful bacteria in your gut. In simple terms, corn is not worth it.
Keto Smoothie Recipes
If you're looking for keto smoothie or keto protein shake recipes to make at home, check out my article featuring my favorite recipes.
Where to Buy Keto Shakes
The most convenient way to buy keto shakes and meal replacement drinks is online. If you want to leverage any of my discount codes, you usually have to purchase the products directly from the manufacturer's online store.
However, some of the brands I mentioned above also sell their shakes on Amazon. Others sell exclusively on Amazon.
Brick and mortar options include Walmart, Whole Foods, Costco, Target and Publix, to name a few.
Keto Shakes at Walmart
Walmart sells numerous keto shakes online and in its stores. However, I haven't tried any of them and can only judge these products by their labels.
Keto Science – Ketogenic Meal Shake: Low-calorie shake but clean ingredients.
SlimFast – Keto Meal Shake: Highly-processed junk food.
ZonePerfect – Keto Shake: Low-quality protein and canola oil.
BPI Health – Keto Bomb: Has sugar and artificial ingredients.
Garden of Life – Keto Meal: Moderate calories and clean ingredients.
Keto Shakes at Whole Foods
Whole Foods also offers numerous keto products and supplements, including a limited selection of keto meal shakes:
Koia – Chocolate Brownie Keto Beverage: Moderate amount of calories, contains plant-based protein and otherwise clean ingredients.
Keto Shakes at Target
Target offers a ton of keto shakes. Unfortunately, most of them are from brands that make unhealthy products that I recommend you stay away from.
ZonePerfect – Keto Shake: Low-quality protein and canola oil.
Atkins – Nutritional Shake: Highly-processed junk food.
SlimFast – Meal Replacement Shakes: Highly-processed junk food.
Frequently Asked Questions
Do keto shakes work?
That depends on what your goals are and how you define "work." Keto shakes certainly work as an easy keto snack, and replacement shakes can stand in for a full meal if you don't have access to high-quality food.

In the case of exogenous ketones, they can temporarily boost your energy levels and even lessen the symptoms of the keto flu.

However, keto shakes are no miracle solution for losing weight and no shortcut for maintaining a proper ketogenic lifestyle that keeps you in nutritional ketosis.
What are the benefits of keto shakes?
Keeping your body in ketosis is challenging. It goes beyond just writing down your daily carb intake. For your ketogenic diet to work, you have to meet specific requirements. For instance, consuming too many carbs can knock you out of ketosis and thus ruin your weight loss efforts or keto lifestyle. Some people who follow the keto diet use meal shakes to supplement their regular meal plan.
What is the best keto shake?
That depends on a number of factors, including your dietary lifestyle and goals. Based on the research I've done, I'd argue that it's one of the shakes mentioned in this review. As noted below, my two favorites from this list are Ample and HLTH Code.
What are the best low carb meal replacement shakes to buy?
Ample and HLTH Code are, in my opinion, the best and healthiest options you have.
Do you need ketone supplements if you started a keto diet to lose weight?
You probably don't. I would focus all my energy on staying in nutritional ketosis to allow your body to burn its own fat. If you're new to keto and how to apply it in the context of weight loss, check out my ultimate keto guide.
What drinks can you have on keto?
To stay in nutritional ketosis, you can have any drink that doesn't contain high amounts of sugar or carbs. For a detailed list of drinks you can and can't have on a ketogenic diet, read my ultimate ketogenic diet guide.
Can you have a protein shake while on keto?
Yes, you can certainly have protein shakes on a ketogenic diet — particularly if you exercise. However, keep in mind that some people react to consuming large amounts of protein by releasing insulin. That might (temporarily) kick you out of ketosis.
Are SlimFast shakes good?
No. Similarly to Atkins, SlimFast makes highly-processed junk food that is neither healthy nor beneficial in the long run.
Are SlimFast Fat Bombs keto?
Technically, SlimFast Fat Bombs are keto. However, they're highly-processed junk food containing soy, peanuts and erythritol (sugar alcohol). So I'd stay away from them.
Can you have almond milk on keto?
You can have almost anything on keto as long as you stay below your individual carb limit. Almond milk has carbs that your body can convert quickly into glucose. So if you drink almond milk, do so in moderation.

More importantly, most nuts and seeds are rich sources of antinutrients that can be detrimental to your health. That's why I recommend staying away from them.
Can you use heavy cream instead of coconut milk for smoothies?
You can certainly use cream, but I'd recommend using cream from 100% grass-fed cows only because it has more nutrients. For the same reason, I'd also recommend raw over pasteurized cream.
What's the difference between protein and collagen?
Hydrolyzed collagen contains collagen peptides, which are the building blocks of protein. The advantage of collagen is that your body can absorb it incredibly quickly and efficiently and it helps to support hair, nail, skin, joint and digestive health.

However, it's important to understand that collagen has an incomplete amino acid profile. That means it's missing certain essential amino acids — the building blocks of peptides — that milk (casein) or animal protein have.

Practically, that means that collagen is an excellent supplement but no replacement for other sources of protein, such as beef, poultry or seafood. To learn more about the various types of protein (e.g., meat, grass-fed whey and plant-based protein that come from things like peas), check out this article on the best protein powders.
The Best Keto Meal Replacement Shakes
While there are plenty of shakes and supplements available that can assist you in maintaining a keto diet, there aren't many keto meal replacement shakes that provide enough calories from healthy ingredients to replace regular food. I hope this review can help you better understand the different types of keto shakes and their pros and cons.
My two favorite keto meal replacement drinks are Ample and HLTH Code. I love Ample because it offers the most calories, is made from premium ingredients, and comes as a pre-bottled powder that I can conveniently take through airport security when I'm traveling.
I like to use HLTH Code at home because it also offers clean ingredients and it's available in a pouch (rather than a plastic canister).
When it comes to lower-calorie products, you have plenty of options to choose from. Whatever brand and product you choose, pay attention to your MCT intake to avoid getting an upset stomach — particularly if you're new to those types of fatty acids.
What's your experience with keto shakes and meal replacement drinks, and what's your goal? Are you trying to lose weight, burn fat, improve your energy levels, or just try something new? Let me know by leaving a comment below, and please share any keto recipes for healthy, great-tasting shakes and smoothies!

I'm a healthy living and technology enthusiast.
On this blog, I share in-depth product reviews, actionable information and solutions to complex problems in plain and easy-to-understand language.
Medical Disclaimer
The information shared on this blog is for educational purposes only, is not a substitute for the advice of medical doctors or registered dieticians (which we are not) and should not be used to prevent, diagnose, or treat any condition. Consult with a physician before starting a fitness regimen, adding supplements to your diet, or making other changes that may affect your medications, treatment plan or overall health. MichaelKummer.com and its owner MK Media Group, LLC are not liable for how you use and implement the information shared here, which is based on the opinions of the authors formed after engaging in personal use and research. We recommend products, services, or programs and are sometimes compensated for doing so as affiliates. Please read our
Terms and Conditions
for further information, including our
privacy policy
.