About a year and a half ago, my wife gave me a temperature control mug from Ember as an anniversary gift. And I've been sipping my morning coffee out of it ever since.
A lot has happened during that time. For example, I returned the favor and bought her an Ember of her own, and I upgraded to the second-generation Ember (because the coating of my original mug started coming off).
The company calls that second-gen model the Ember Mug². Considering that I've had plenty of time to get hands-on experience with it, I figured it's time for an in-depth review!
Ember Mug²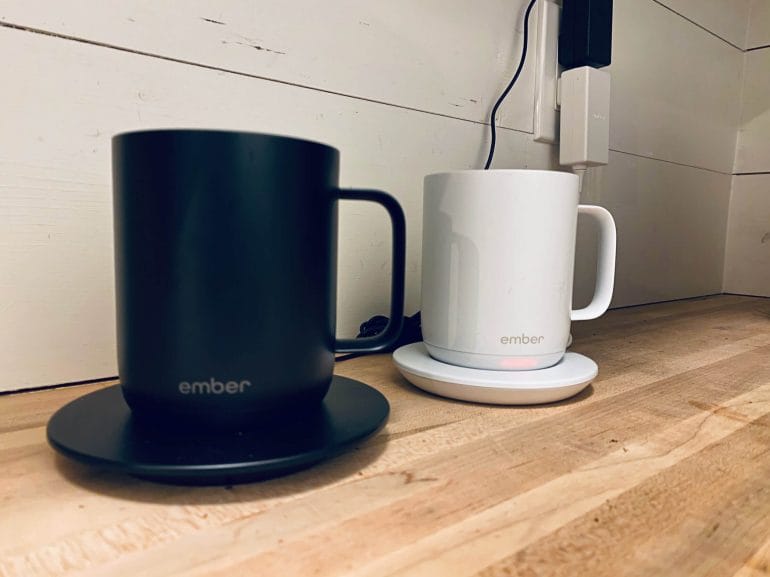 Ability to keep beverages hot
Pros
Maintains temperatures between 120° and 145° Fahrenheit for up to 90 minutes
LED lights indicate fill level, battery status and temperature
Automatically shuts down when the mug is empty
Easy to control using the Ember app
Available in different sizes, colors and styles
Cons
Quality issues related to ceramic coating and charging coaster
The Case for the Ember Temperature Control Mug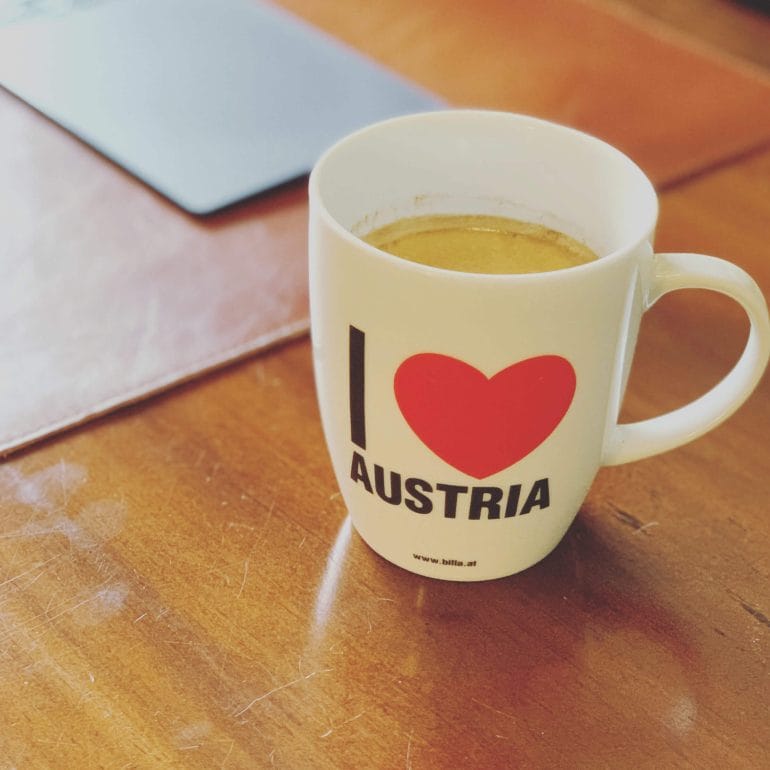 Heated mugs are one of those things you don't think you need until you have one. I used to drink hot beverages (mostly coffee, but sometimes tea) out of regular mugs. But those mugs don't maintain the temperature of whatever is inside for very long.
I drink more coffee than tea, so I'll use coffee as an example throughout the rest of this review. However, everything I say also applies to tea or any other hot beverage.
To keep coffee hot for longer, some people (and coffee shops like Starbucks) brew their coffee at mouth-burning temperatures. As a result, you typically can't enjoy the coffee right away. On the other hand, if you wait for too long, you'll end up with a lukewarm drink rather than a hot one.
You might not have experienced this problem if you drink your coffee within minutes of brewing it. But I enjoy sipping on my morning joe while writing new blog posts, such as this one.
As a result, it might take me an hour or longer to finish my first cup. Without a heated coffee mug, such as the Ember, most of my coffee would be cold before I could finish it.
Before I got Ember, I had a USB-powered plate with a built-in heating element that used to heat a normal mug. I also tried a Yeti cup for several weeks, but neither of these solutions would keep my coffee a perfect temperature. At best, they just slowed down the cooling process.
Ember solves this problem by keeping any liquid at your preferred temperature for up to one and a half hours.
Ember Ceramic Mug Review
Both my wife and I own the 10-ounce Ember mug. For us, that's a perfect size. I got the black one and she got the white one, so that we can tell each other's mugs apart.
Ember allows you to customize the color of the LED light on the front of the mug to make it easier to tell mugs of the same color apart.
Colors, Styles and Sizes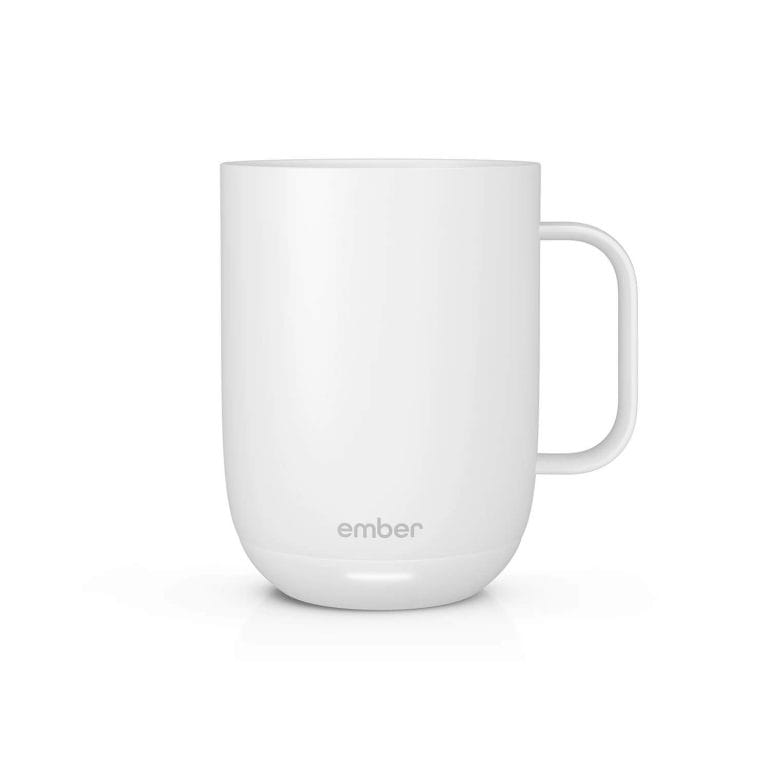 The Ember mug is available in two sizes and a variety of colors and finishes. The "classic edition" is available in black and white, and the metallic collection is available in gold, silver and copper.
| | | |
| --- | --- | --- |
| Color/Size | 10 fl oz | 14 fl oz |
| Black | x | x |
| White | x | x |
| Gold (metallic) | x | |
| Silver (metallic) | x | |
| Copper (metallic) | x | |
What's worth noting is that if you prefer the larger cup size, you can only pick between black and white because the mugs that are part of the metallic collection are only available in 10-ounce models.
The reason why my wife and I picked the smaller size is that we have a Jura espresso machine and usually drink café Americanos, which are a shot of espresso diluted with water. The amount of water it takes to fill the 10-ounce Ember is just enough for the coffee to retain most of its flavor.
Of course, I could simply do a double shot of espresso and use the larger Ember mug that holds more water, but I try to limit my daily caffeine intake and prefer having two cups in the morning over one stronger one.
Battery Life and Charging Time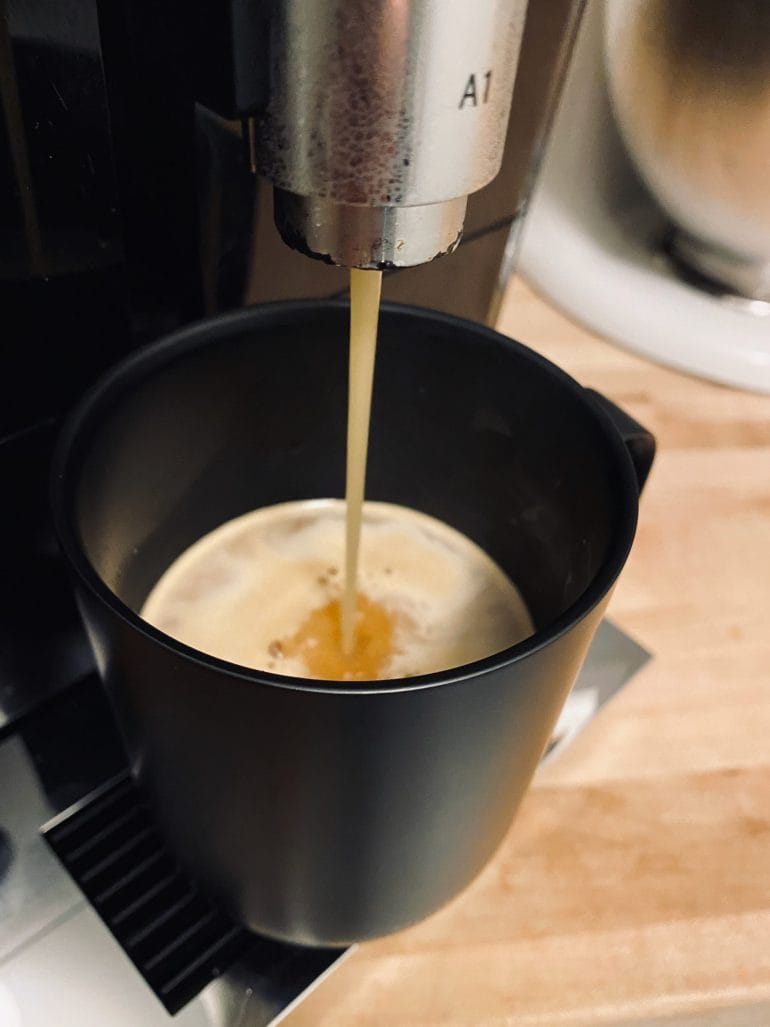 The Ember mug's battery lasts between 80 and 90 minutes, depending on the mug size. While you might expect the larger mug to keep your coffee hot for longer, the opposite is true.
That's because the larger mug has the same size battery as the smaller one, even though it has to heat a larger amount of liquid.
Of course, the exact battery life depends on numerous factors, including the volume and the starting temperature of your beverage, the speed at which you consume it, the external temperature and others.
Both my wife and I charge our Embers at night, and I have an extra charging coaster on the desk in my office. As a result, I never run out of battery (even if I leave my mug unattended for an extended period).
For example, I brew my first cup of coffee between 5:00 and 5:30 a.m., but usually don't finish it until 7:30, when I get back from dropping off our kids at school.
Related: I tried replacing my morning coffee with MUD\WTR, a mushroom/spice-based coffee alternative. Check out my MUD\WTR review to learn more.
Once the battery of your Ember is completely depleted, it takes about two hours to fully recharge it. And based on the official specifications, you can't charge Ember while it's heating your beverage.
In other words, if you place your mug on the charging coaster while it has liquid in it, the mug will hold its charge and the temperature of your beverage, but it won't recharge the battery.
Interestingly enough, I've had a different experience. I've seen the mug's battery level creep up from 92% to 96% while writing parts of this review, and while the mug was sitting on its charging coaster filled with coffee.
My suspicion is that the mug might charge under those circumstances, albeit much slower than usual.
The other thing that's important to mention is that the Ember Mug has an inactivity auto-shutoff feature that turns the mug off if the built-in accelerometer doesn't detect movement for two hours.
That automatic shutoff will kick in even if your mug is sitting on its charging coaster, so be aware of that.
Ember App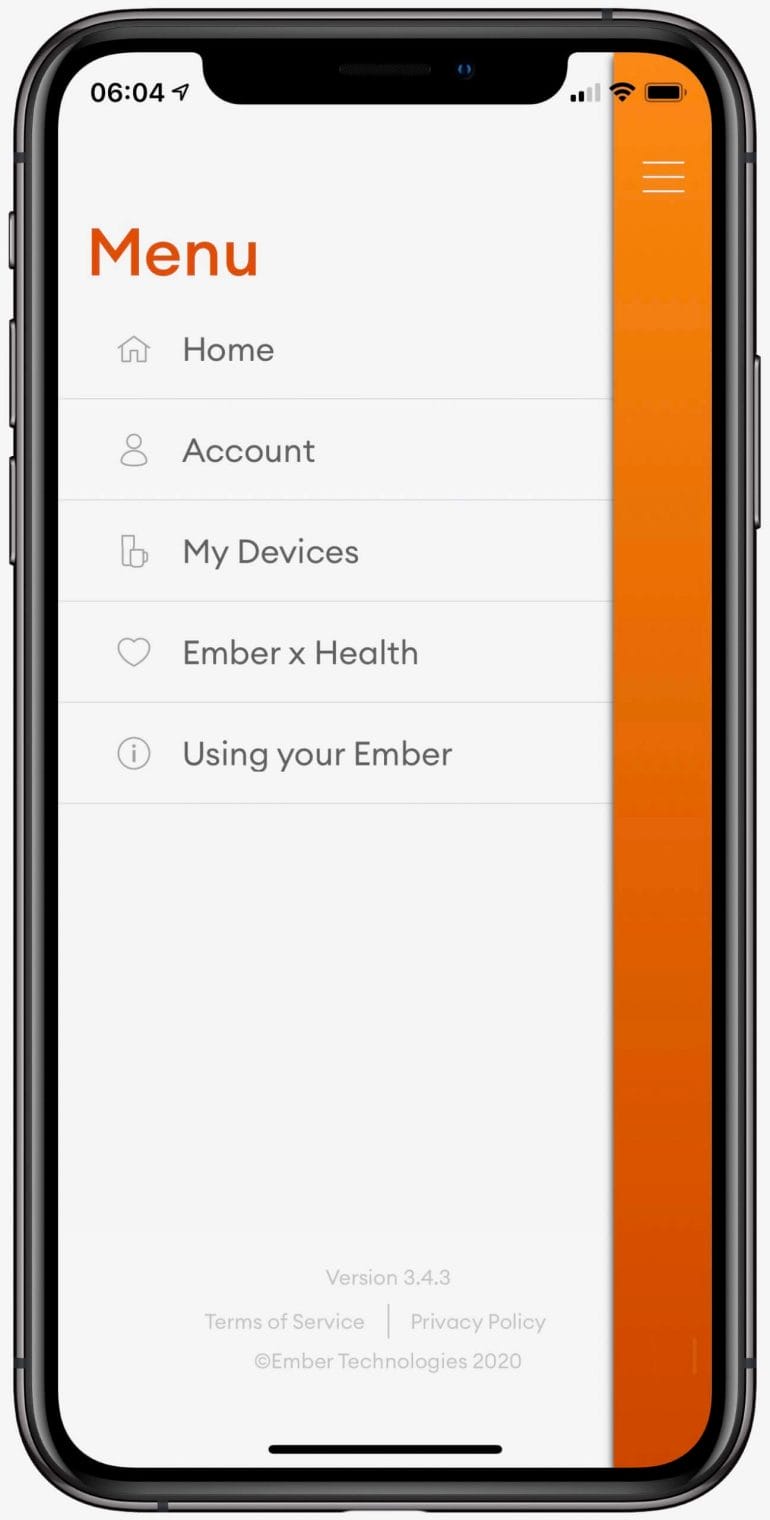 After initially pairing your mug to your device via Bluetooth, and setting your preferred temperature and other customization options, you likely won't spend a lot of time in the Ember app. I haven't opened the app since the last firmware update a few months ago.
The Ember app is available for iOS (Apple) and Android.
The main use of the Ember app is to set or change your desired temperature by using a horizontal slider. I have mine set to 135° Fahrenheit, but you could go as high as 145°.
Besides potential health risks, higher temperature settings might deplete the battery faster — particularly if the initial temperature of the beverage you pour is lower than the temperature set in the Ember app.
In other words, if the mug has to heat up your beverage as opposed to just maintaining the temperature, that will drain more energy.
The coffee I brew in our Jura espresso machine comes out at over 190°. So my Ember mug doesn't have to heat the coffee until it has cooled down to 135°.
The other thing you can do in the Ember app is change the color of the status LED that will show you when the mug is empty. That can help you identify your mug if you have multiple Embers of the same color in your household.
For more information about the various LED colors you might see on your mug, check out this link.
Other features of the Ember app include:
Set the brightness of the LED
View the battery level
Change the temperature unit (Fahrenheit or Celsius)
Turn notifications on or off (e.g., when your beverage has reached the perfect temperature)
Update the mug's firmware
Update account settings (email address and password)
Pair additional Ember mugs
Join the Ember x Health app program (see below)
View insights (if Ember x Health app integration is enabled)
View user manual
Ember Insights and Apple Health Integration
While writing this review, I discovered that the Ember app for iPhone integrates with Apple's HealthKit by storing information about my caffeine consumption in the Health app and reading heart rate and sleep data, captured by my Apple Watch.
I suppose the idea is to correlate caffeine intake with changes in heart rate and sleep patterns. Since I just discovered this feature, I haven't been able to draw any conclusions about its usefulness. However, I'll keep track of the insights inside the Ember app and will update this article in a few weeks with my findings.
Quality Issues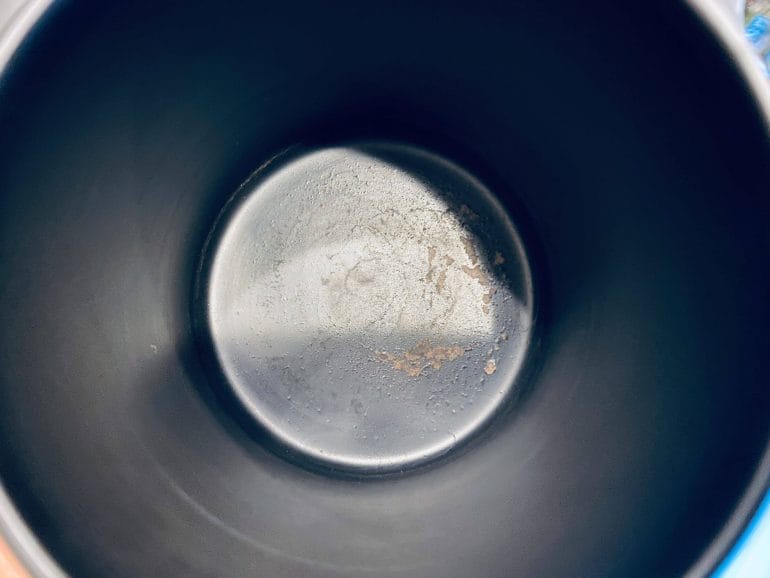 I was considering buying an Ember Mug long before my wife decided to give me one for our anniversary. At the time, the reason I decided not to pull the trigger was the bad reviews I read on Amazon, which said that the inside coating of the mug had a tendency to peel off within a few weeks of purchase.
Coincidentally, the coating of my first Ember started forming tiny bubbles before peeling off after about 14 months. At that point, my Ember was out of warranty and I didn't expect much when I submitted a ticket to Ember's customer care team.
To my surprise, they shipped me a new mug three days after I submitted the ticket. Better yet, I got the Ember Mug² as a replacement for the first-generation mug I had.
Two months before this incident happened, I noticed an issue with the charging pins of my coaster. One of the pins appeared to be stuck in a depressed position, thus preventing my mug from getting in good contact with both pins. As a result, my Ember was no longer charging reliably.
Ember replaced the charging coaster with a second-generation model within a few days. I still have the old coaster and use it to charge my Ember overnight, even though it doesn't always charge reliably.
Based on everything I've read from other Ember customers, the charging coaster issue appears to have been resolved with the release of the Ember Mug², but the coating issue remains — even though I haven't experienced it with my Ember Mug². (Neither has my wife, who has had her mug since December 2019).
Overall, I'd prefer a mug without these quality-control issues. But I've gotten so much use and value out of my Ember that I would definitely buy one again, despite the issues I've experienced. In fact, I already told my wife that the Ember Travel Mug would be a perfect Christmas gift!
Customer Care and Support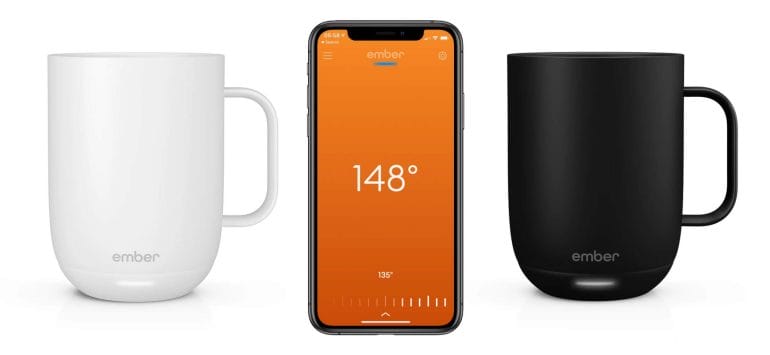 I've been nothing but satisfied with Ember's customer care team so far. I've reached out to them twice regarding the issues I described above. Each time, they asked for my mug's serial number and a photo of the damage, and then promptly sent me a replacement.
Price
You can buy the classic (black or white) 10-ounce Ember Mug² for $99.95. Both the metallic collection and the 14-ounce models are $129.95. The Ember Travel Mug has a price tag of $179.95.
You can buy the Ember Mug on either Amazon or directly on ember.com.
Frequently Asked Questions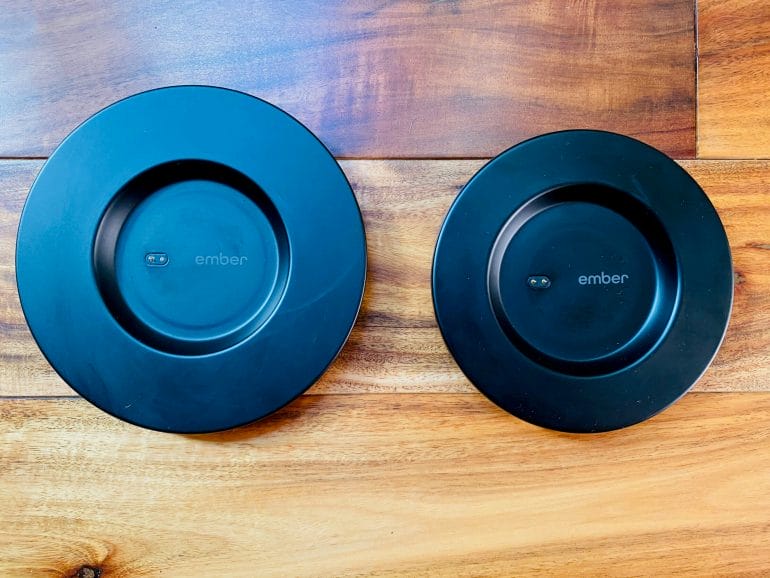 What's the difference between the original Ember Mug and the Ember Mug²?
The second-generation Ember Mug has a better battery life, features IPX7 water-resistance (so you can submerge it underwater up to 1 meter for 30 minutes), and has a smaller charging coaster that looks a bit slicker.

I also believe that Ember has fixed the coaster issue that would cause the charging pins in the first-generation coasters to get stuck. 
Does ceramic influence the flavor of the coffee?
No, unlike plastic, ceramic doesn't leach into the coffee or influence its taste.

Does the Ember Mug change the taste of the coffee by keeping it hot?
Coffee can change its flavor and aroma when it cools down. That's why iced coffee tastes different than hot coffee. By keeping your coffee hot, the Ember Mug retains as much of your coffee's flavor as possible.
Can I return Ember if I don't like it?
Yes, you can return any Ember within 30 days of purchase for a full refund, if you purchased your mug directly from ember.com. If you purchased from Amazon or another retailer, you'd have to check on the retailer's return policy.
What's the warranty on the Ember Mug?
Ember has a 12-month warranty but they replaced both my mug and coaster outside of that one-year window. 
Is Ember dishwasher safe?
No, you should not place an Ember Mug in the dishwasher because it might destroy its electronics. Instead, I recommend hand-washing your mug with warm water and mild soap. 
Is the metallic collection available outside of the U.S.?
Unfortunately, the Ember Mug metallic collection is only available in the United States.
My Ember isn't charging. What could be the problem?
If you've tried powering the device on and off using the power button on the bottom of the mug and it's still not charging, check if one of the charging pins on the coaster is stuck. If so, try to push it down a few times and see if it comes back out. If not, request a replacement coaster from Ember.
What temperature range does Ember support?
Using the Ember app, you can select a temperature between 120°F and 145°F.
How many charging cycles will be Ember battery last?
The Ember battery is designed to retain up to 70% of its original capacity at 500 complete charge cycles when operating under normal conditions. In the unlikely event that the battery in your Ember mug fails within one year, Ember will replace the mug. If it is out of warranty, Ember offers other replacement options for a fee.
Wrap-Up: Ember Smart Mug Review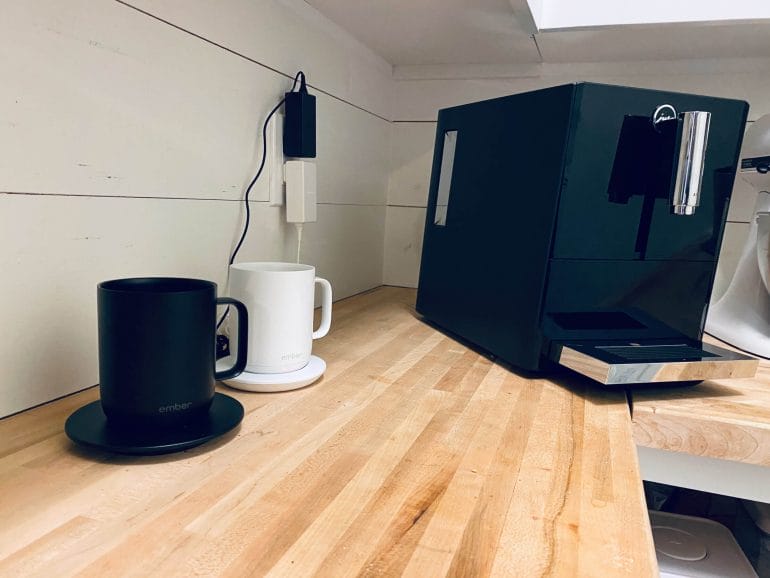 Both my wife and I love our Embers, and we can't imagine living without a temperature control mug.
The Ember Mug isn't perfect and I've had two issues with my first-generation model that required replacement of both the charger and the mug itself. But the bottom line is that I'd buy the Ember all over again because, for us, the pros clearly outweigh the cons.
In fact, I'm thrilled about the prospect of trying the Ember Travel Mug, so I don't have to pour the coffee back and forth between my Ember and Yeti every morning when driving the kids to school.
If you regularly enjoy drinking hot beverages, such as coffee or tea (that remain hot until the last sip), I encourage you to give Ember a try. If you do, let me know how you like it by leaving a comment below!

Michael is a healthy living enthusiast and CrossFit athlete whose goal is to help people achieve optimal health by bridging the gap between ancestral living and the demands of modern society.
Medical Disclaimer
The information shared on this blog is for educational purposes only, is not a substitute for the advice of medical doctors or registered dieticians (which we are not) and should not be used to prevent, diagnose, or treat any condition. Consult with a physician before starting a fitness regimen, adding supplements to your diet, or making other changes that may affect your medications, treatment plan or overall health. MichaelKummer.com and its owner MK Media Group, LLC are not liable for how you use and implement the information shared here, which is based on the opinions of the authors formed after engaging in personal use and research. We recommend products, services, or programs and are sometimes compensated for doing so as affiliates. Please read our
Terms and Conditions
for further information, including our
privacy policy
.