Many health-conscious consumers add collagen powder supplements to their diet hoping to improve skin health, relieve joint pain, prevent bone loss, boost muscle mass, promote heart health and more.
This article gives a brief overview of both how collagen works and its health benefits. That way, you can decide if supplementing with collagen powders makes sense for you. I'll also recommend some of the brands that I've used that don't contain unhealthy (or even potentially harmful) ingredients like sugar, soy and artificial sweeteners.
The brands covered in this review include:
Ancient Nutrition Multi Collagen Protein
Bubs Naturals
Bulletproof Collagen Peptides
Ketōnd Collagen Peptides
Mindbodygreen Grass-Fed Collagen+
Naked Nutrition Naked Collagen
Perfect Keto Collagen
Primal Kitchen Collagen Fuel
Sports Research Collagen Peptides
Click here to jump directly to the review.
What Are Collagen Peptides?
Collagen is a protein. In fact, it's the most abundant type of protein in your body and, in particular, in your connective tissue (such as joints, ligaments, tendons and muscles).
Think of collagen as a building block for tissue; without it, the body can neither build new tissue nor repair damaged tissue.
Collagen Types
Based on the current scientific research, there are at least 16 types of collagen. Most supplements contain one or more of the following main types:
Type I: 90% of the collagen in your body is Type I, which is used to provide structure to connective tissue, skin, tendons, etc.
Type II: Used for elastic cartilage to cushion joints.
Type III: Supports the structure of muscles, blood vessels and organs.
Type IV: Main component of the basement membrane in your skin. It acts as a barrier between tissue compartments.
Type V: Similar to Type IV, type V collagen is a fibrillar collagen that's found between the dermal and epidermal layers of the skin and placental tissue.
Type X: Found in specialized cells (hypertrophic chondrocytes) that are responsible for bone growth.
Where Does Collagen Come From?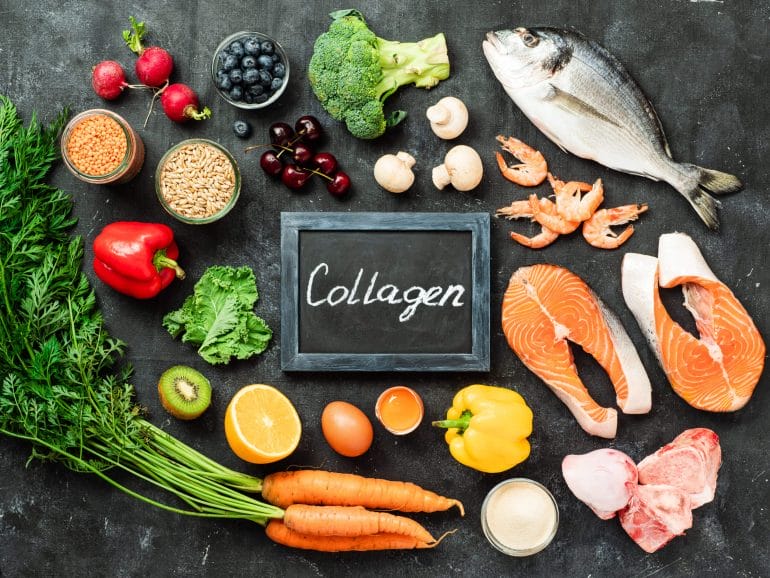 Collagen is vital for your body to function correctly. That's why it's important to consume sufficient high-quality protein as part of your diet.
Why?
Because the body makes its own collagen by breaking down protein from food into amino acids, which are then converted into peptides (larger chains of different amino acids).
Proteins consist of peptides, which are made out of amino acids.
In other words, if you're young and eat enough meat and seafood (or plants, for that matter), your body can make all the collagen it needs to grow nails, repair skin damage, and support your connective tissue.

If you don't eat enough protein, your body will use what you supply for more critical functions (i.e., to repair muscle tissue) and neglect less important areas, such as nails, skin and joints. As a result, you might suffer from brittle nails, unhealthy looking skin or joint pain.
The big question is this: If you already consume adequate amounts of protein through your diet, does supplementing with collagen powder offer any additional health benefits?
Purported Health Benefits of Collagen Supplements
Collagen supplement brands claim their products offer numerous health benefits — mostly in the popular area of anti-aging.
Some brands even claim that one scoop of their collagen powder can fight signs of aging by increasing skin elasticity and hydration, supporting cell regeneration, and increasing the tone and firmness of your skin.
It is true that collagen impacts all of these areas, as studies have shown that supplementing with collagen can improve skin elasticity and hydration.
However, many consumers mistakenly believe that the secret to slowing down aging lies in dietary supplements.
Unfortunately, that's not true.
While dietary supplements — such as collagen powder and green powders — certainly have a place in a healthy diet, there are other lifestyle factors that play a much more important role in anti-aging and overall well-being.
So if slowing down aging is your primary concern, here's what you should do first:
Stop eating carbs, including sugars. Instead, follow a ketogenic diet. Many carbs cause insulin resistance and inflammation, and they can damage collagen.
Stop smoking. Smoking causes inflammation and cell damage (among other things).
Expose your skin to sunlight responsibly. Too much UV light can damage your skin and speed up its aging process.
Start intermittent fasting, as this is where the real cell regeneration (which is called autophagy) happens.
While you're working on taking care of the basics I've outlined above, feel free to supplement with a high-quality collagen powder.
When and How to Use Collagen Powder
The rationale for supplementing with collagen should be similar to the rationale for using protein powders. If you think your body has higher demands than you can reasonably supply through food, then go for it.
For example, as I briefly mentioned above, your body becomes less efficient at producing collagen by breaking down dietary protein as you get older.
Aging increases the rate of protein catabolism (breakdown), while protein utilization decreases. Combined with often lower protein intake, many older adults suffer from a protein deficiency. And thus, they also suffer from a collagen deficiency.
So if you're over the age of 30, supplementing with hydrolyzed collagen (which is easy for the body to absorb), in addition to increasing your protein intake, might be beneficial.
Additionally, if you're an athlete or work out a lot, your body might have an increased demand for collagen. In such a case, I'd also recommend mixing a scoop of collagen powder into your coffee or post-workout shake.
My wife is pretty consistent with adding a scoop of flavorless collagen powder to the workout shake that she drinks to break her fast.
On the other hand, I try a lot of different products and write about them, but I'm not super consistent with using supplements. That's not because I don't believe in their benefits, but because I only eat once or twice a day (due to my fasting schedule). Since I always try to fulfill most of my body's nutritional needs with real food, I usually don't have room for a shake or a supplement that adds additional calories.
That said, I recently started experimenting with modifying my fasting schedule so I can have a shake right after working out. On those days, I have beef protein isolate mixed with hydrolyzed collagen peptides and either water or macadamia nut milk.
So now that you have some background on collagen and its benefits, let's talk about the best collagen products that I've used and would recommend to friends and family.
The Top Nine Collagen Powders
I know we all like rankings. They let us easily pick "the best" option and move on with our life. However, you can't go wrong with any of the top products mentioned in this review. So I decided to list them alphabetically rather than give them arbitrary rankings.
Ultimately, the best choice for you comes down to your personal preferences and budget.
1. Ancient Nutrition Multi Collagen Protein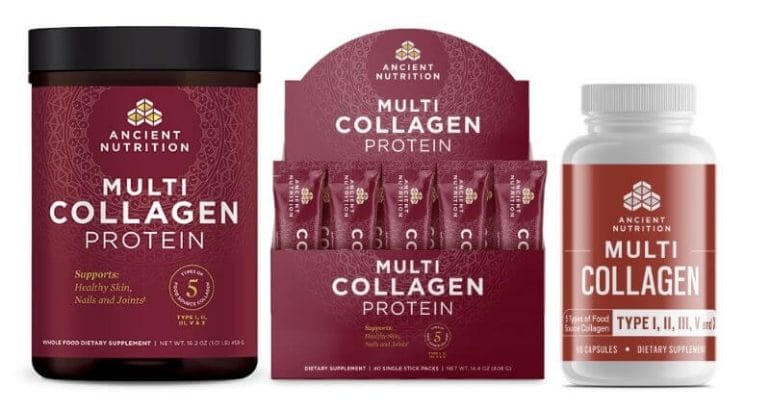 Pros
Includes different sources of collagen
Provides five types of collagen (albeit most of them in potentially insignificant amounts)
Available as a flavored or unflavored powder
Also available as capsules and travel sticks
10 grams of collagen per serving
Cons
Not from pastured chickens and eggs
What I like about Ancient Nutrition's Multi Collagen Protein is that it contains four different sources of collagen, including:
Hydrolyzed bovine collagen peptides from pastured cattle.
Chicken bone broth collagen concentrate from cage-free hens.
Hydrolyzed fish collagen peptides.
Eggshell membrane collagen.
Much as with regular protein powder, the body absorbs and metabolizes collagen powder from various sources at different rates. As such, getting a variety from a single product is a plus.
Additionally, Ancient Nutrition's collagen powder contains different types of collagen, including Type I, II, III, V and X.
Unfortunately, Ancient Nutrition doesn't divulge how much of each collagen type the product contains. When I asked them about the details, a representative for the company responded with the following statement:
I apologize, however, this information is deemed proprietary. We do not disclose the exact percentages. The ingredients are listed like a recipe; the first ingredient is the most and the last ingredient is the least on the label.

Ancient Nutrition
To me, that means the product likely contains only insignificant amounts of collagen types II, V and X.
Multi Collagen is available as an unflavored or flavored powder, or as capsules. A regular tub with 45 servings costs approximately $45.
To get Multi Collagen Protein for less, you can subscribe and save 15%. You can also find Ancient Nutrition at your local Whole Foods store and on Amazon*.
2. Bubs Naturals Collagen Protein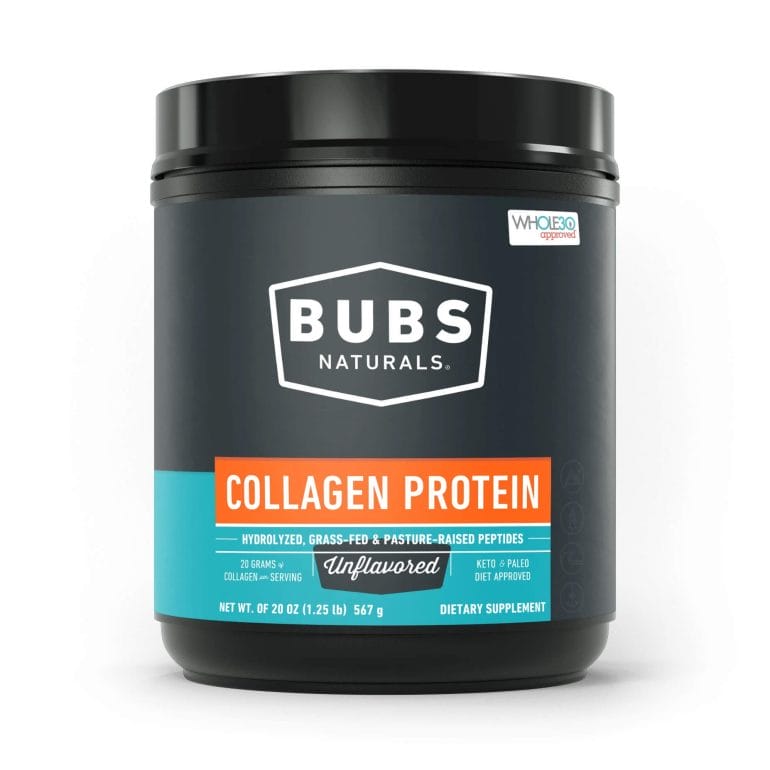 Pros
Made from pasture-raised cows
20 grams of collagen per serving
Whole30 approved
NSF certified
10% of proceeds go to charity
Cons
Only available unflavored
Contains Type I and III collagen only
Bubs Naturals collagen protein contains only a single ingredient (hydrolyzed bovine collagen from pasture-raised and grass-fed cattle) and mixes easily with both hot and cold liquids.
What I like about this product is that it's both Whole30 approved and certified by NSF. The latter is an important label if you're a professional athlete, as it ensures the supplement doesn't contain any potentially illegal or unsafe ingredients that could get you into hot water during a doping test.
The other thing I really like about this collagen protein powder is that Bubs Naturals donates 10% of the proceeds from sales to charity in honor of Glen "Bub" Doherty, a former Navy SEAL and CIA officer who was one of four people killed in the infamous 2012 Benghazi attack.

Doherty was a friend of the company's founders.
I've been using Bubs Naturals (both their collagen and MCT oil powder) for the past several weeks in my post-workout shakes.
20 servings of this collagen protein costs $43 with a one-time purchase. That means you'd pay about $1.50 per serving.
To get this collagen protein for less, you can subscribe and save 30% on your first order.
3. Bulletproof Collagen Protein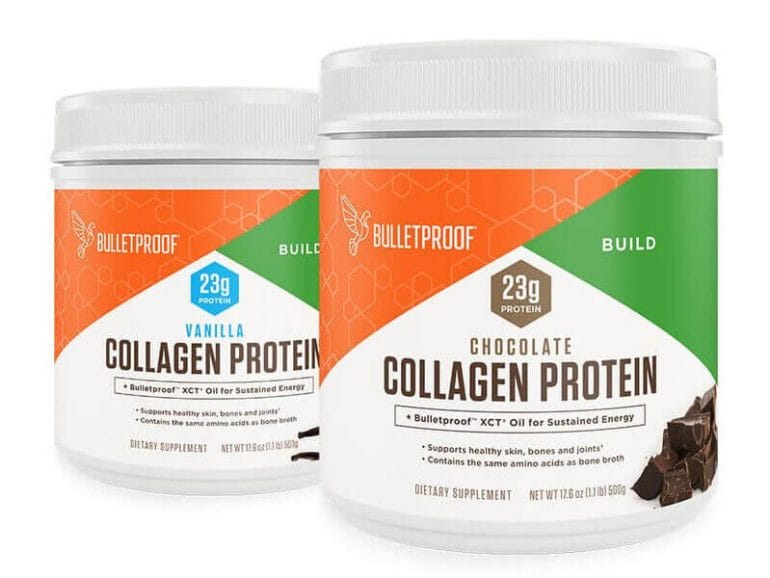 Pros
Made from pasture-raised cows
Available unflavored or flavored
Mixes easily and doesn't clump
Available as "Gopacks"
20 grams of collagen per serving
Cons
Contains Type I and III collagen only
Flavored versions contain erythritol and other less desirable ingredients
The unflavored version of Bulletproof Collagen Protein consists of 100% hydrolyzed Type I and III collagen from pasture-raised cows. Remember, Type I makes up the majority of all collagen in the human body.
What I like about Bulletproof's product is that it mixes easily, without clumping, and that the unflavored version doesn't contain any extra ingredients.
Personally, I'd stay away from the flavored versions because they contain a bunch of ingredients you don't need, including sugar alcohol, sugar and fibers.
If you buy the large, 60-serving container, each serving costs approximately $1.16.
To get this collagen protein for less, you can subscribe and save 15%. You can also find Bulletproof at your local Whole Foods store and on Amazon*.
Bulletproof was one of the first collagen powders we bought after we started with the paleo diet five years ago.
4. Ketōnd Collagen Peptides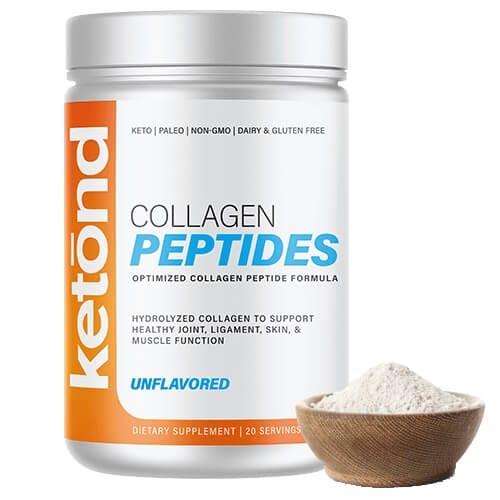 Pros
Made from grass-fed cows
Lab-tested
10 grams of collagen per serving
Cons
Contains Type I and III collagen only
Only available unflavored
Ketōnd's Collagen Peptides are another great choice if your goal is to mix the powder into coffee, a shake, or other beverages. That's because Ketōnd is only available as an unflavored powder.
Additionally, this supplement contains hydrolyzed Type I and III collagen peptides that are sourced from grass-fed and pasture-raised cows.
At the time of this writing, my wife is supplementing with Ketōnd Collagen Peptides. She swears that any time she does, her nails grow like crazy.
What I like about all the products from Ketōnd is that they're third-party tested and carry a certificate of analysis. That means you can rest assured that what's on the label is what's actually in the product.
A tub of Collagen Peptides containing 20 servings costs $29.95, which makes this supplement more expensive than some of the others in this roundup.
To get these collagen peptides for less, you can use discount code MK15 and save 15%.
5. Mindbodygreen Grass-Fed Collagen+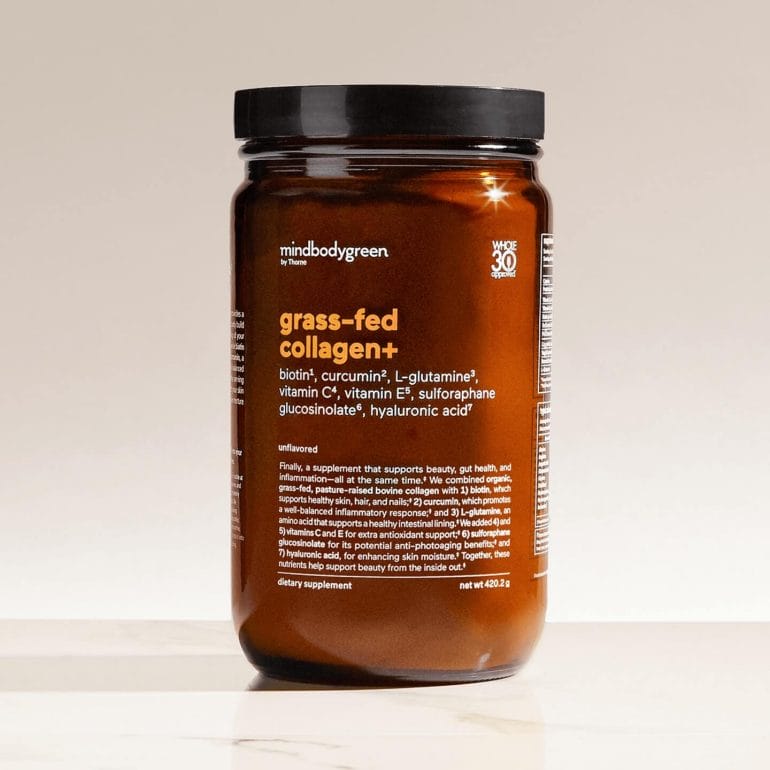 Pros
Made from grass-fed cows
Whole30 approved
Comes in a non-toxic glass jar
Includes additional vitamins and minerals
15 grams of protein per serving
Cons
Contains Type I and III collagen only
Price
Not carnivore friendly
Grass-Fed Collagen+ is arguably the fanciest collagen powder I've ever used. But what I really like about it is that it comes in a glass jar.
In the Kummer household, we've recently transitioned away from most plastic food storage containers because of their potential to leach estrogen-like chemicals into the food they contain.
While that "leaching" is not as likely with dry products such as supplements, I still appreciate that Mindbodygreen decided to use glass containers.
The other thing I like about Grass-Fed Collagen+ is that it contains additional vitamins and minerals that support my body while utilizing the collagen to improve skin repair and hair/nail growth.
The major downside to this product is its price. A jar containing 22 servings costs $90, which amounts to $4 per serving. While you can lower that price to $3.45 per serving if you subscribe, it's still more expensive than most of the other products in this roundup.
The other thing I have reservations about is the inclusion of curcumin and broccoli seed extract.
While both substances are hailed as antioxidants, they're also pro-oxidant and can cause oxidative stress. As a result, this collagen protein might not be suitable if you follow a strict carnivore diet that aims to exclude plant-based toxins.
6. Naked Nutrition Naked Collagen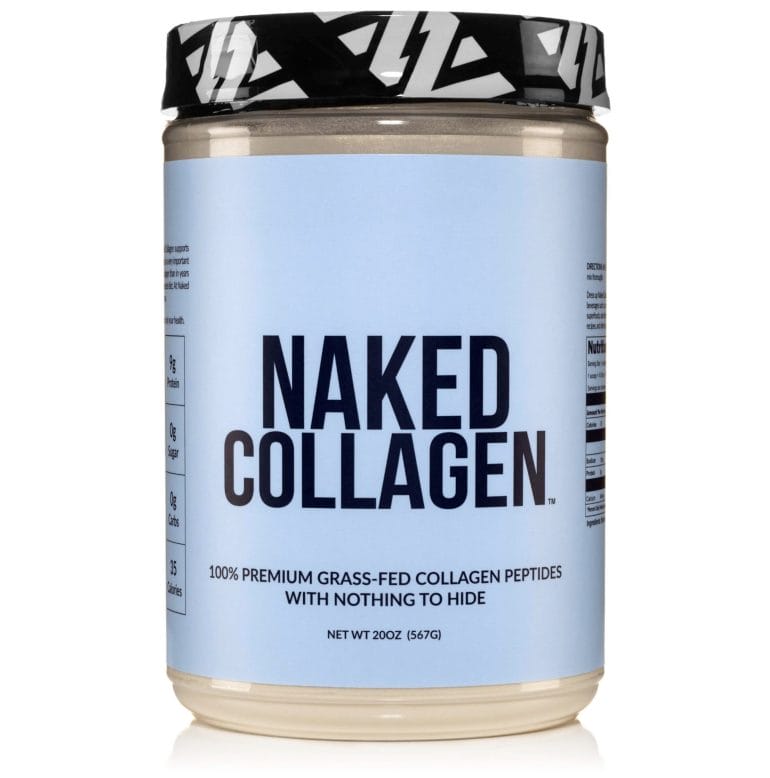 Pros
Sourced from pasture-raised, European cows
GMO Free
Rich source of calcium (46% DV)
Inexpensive
9 grams of protein by serving
Cons
Contains Type I and III collagen only
Over the years, I've used various products from Naked Nutrition because I appreciate the company's focus on high-quality products with simple ingredients.
Naked Collagen adheres to this philosophy by containing only a single ingredient: hydrolyzed collagen peptides from European pastured-raised and grass-fed bovine hides.
Naked Collagen is only available unflavored. That means the powder is pretty much tasteless and you can easily mix with any hot or cold beverage.
Besides the product's high solubility, it's also relatively affordable. One tub with 60 servings costs $41.99, which breaks down to less than 70 cents per serving.
You can also find Naked Collagen on Amazon*.
7. Perfect Keto Collagen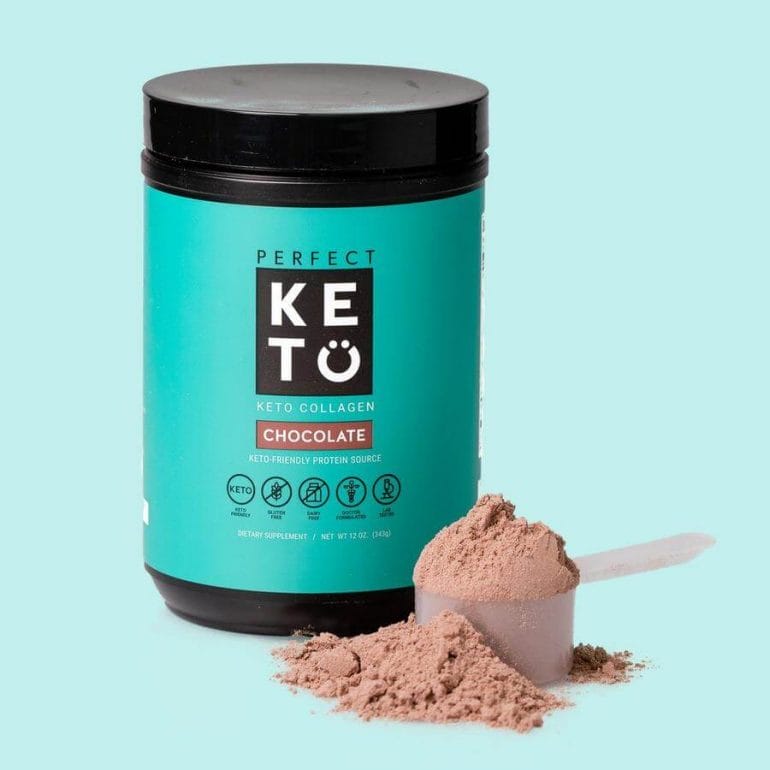 Pros
Made from grass-fed and grass-finished cows
Contains MCT oil powder
Made specifically for keto dieters
Available unflavored and flavored
10 grams of collagen per serving
Cons
Contains Type I and III collagen only
Price
Perfect Keto is one of my favorite keto supplements suppliers, and their collagen protein powder was specifically made for people who follow a ketogenic lifestyle.
What that means is that Perfect Keto added medium-chain triglycerides (MCTs), an excellent source of energy, to its Keto Collagen.
As a result, this collagen powder has more calories than other products in this review. Much like all the other products I mentioned in this article, Keto Collagen is made with hydrolyzed bovine collagen peptides from grass-fed cows.
Perfect Keto's collagen supplement is available unflavored and in six delicious flavors, including chocolate, cinnamon toast, peanut butter, salted caramel, strawberry and vanilla. Regardless of your choice, none of the flavors contain any harmful or inflammatory ingredients.
A tub containing 20 servings costs $36.99 (or $1.85 per serving). Considering that the product contains 5 grams of MCTs, I think the higher price is fair.
To get Keto Collagen for less, you can use the discount code michael20 and save 20%. You can also subscribe and score an additional 15% off.
8. Primal Kitchen Collagen Fuel
Pros
Made with grass-fed bovine collagen peptides
Available in several delicious flavors
Certified gluten-free and keto
10 grams of collagen per serving<
Cons
Contains Type I and III collagen only
Primal Kitchen Collagen Fuel is another super-clean supplement that contains nothing but Type I and III collagen peptides from grass-fed bovines.
The powder is available unflavored or in one of the following (most of which I haven't had a chance to try):
Chocolate coconut
Golden turmeric
Peanut butter
Vanilla coconut
I've only tried the chocolate coconut and vanilla coconut, but both tasted absolutely delicious when mixed with plain water or nut milk.
One tub of Collagen Fuel containing 24 servings costs $39.99 (or $1.67 per serving).
To get Collagen Fuel for less, you can use discount code MK10 and save 10%. You can also subscribe and score an additional 10% off.
9. Sports Research Collagen Peptides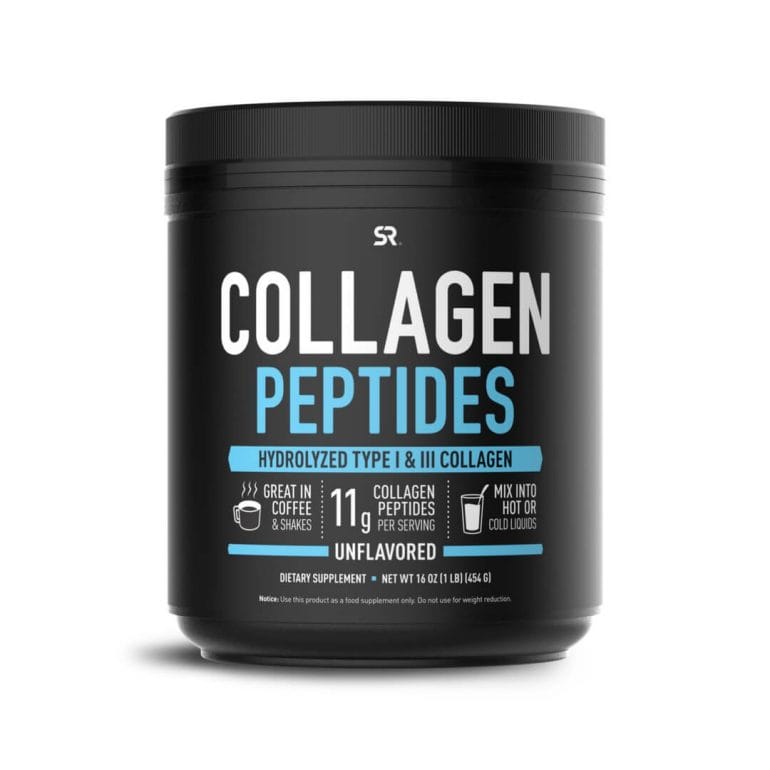 Pros
Third-party tested and certified
Available unflavored or flavored
Flavored version uses stevia and monk fruit extract
Inexpensive
11 grams of collagen per serving
Cons
Powdered version contains only Type I and III collagen
SR Collagen is a hydrolyzed Type I/III collagen supplement made from grass-fed and pasture-raised cattle sourced from Argentina, Australia, Brazil, New Zealand and/or the European Union.
While the cattle is imported, the final product is inspected and packaged in a GMP-certified facility in the United States. GMP stands for Good Manufacturing Practices and ensures a certain quality standard.
When my wife and I started using this product, it was only available unflavored. As a result, we used to mix it into shakes and smoothies. These days, you can choose from a dark chocolate and vanilla bean flavor. I haven't tried either, but SR adds stevia and monk fruit extract as natural sweeteners, so I can only assume that they taste delicious.
What's great about SR is that it's relatively inexpensive compared to some of the other products in this review. One tub with 41 servings costs $32, which comes out to just 78 cents per serving.
I should also point out that SR offers multi collagen pills that contain Type I, II, III, V and X collagen, which you can find on Amazon*.
Other Products Worth Your Consideration
Besides the products I mentioned above, there are plenty of other collagen supplements available that you can consider. I haven't tried them, but I'll mention a few of the more popular choices.
Make sure you carefully read the label before making a purchasing decision to avoid buying products with artificial or unhealthy ingredients (see How I Conducted This Review, below).
How I Conducted This Review
Most of my reviews are based on my hands-on experience with the mentioned products (unless explicitly stated otherwise). In the case of collagen protein, my wife and I have used these supplements on and off for the past several years.
All products we use follow these strict dietary requirements:
Keto-friendly. Low in net carbs (no added sugars or starches) and high in fat (if applicable).
Paleo-friendly. No inflammatory or highly-processed ingredients, such as artificial sweeteners.
Organic and non-GMO. To avoid ingesting unnecessary chemicals or genetically modified organisms.
Pasture-raised, grass-fed or wild-caught (if applicable). Animals raised in their natural environment are healthier and happier, and they make for more nutrient-dense products. That's why I try to avoid products that contain ingredients from feedlot animals.
Transparent labeling. I want to be able to understand what's in the product without having to contact the manufacturer.
If you find a collagen supplement you like and that's not mentioned in this article, I recommend applying the above criteria and avoiding products that don't fulfill those requirements.
Frequently Asked Questions
Is there vegan collagen powder?
There is no natural source of collagen from non-animal sources. By definition, collagen comes from animal tissue such as cartilage, egg shell membranes, etc.

However, researchers have managed to grow collagen by adding human genes to genetically-modified microbes (yeast or bacteria).

I would never consider, nor would I recommend, using lab-grown collagen if there are perfectly healthy and natural choices available. 

But if you're vegan and animal welfare is your top priority, then lab-grown collagen might be your only choice. 
What are collagen peptides?
Complete proteins consist of peptides, which in turn consist of amino acids. So consider peptides the larger building blocks of protein molecules.
What does hydrolyzed mean?
Hydrolyzed means "broken down" using a chemical reaction involving water. Hydrolyzed proteins or peptides are easier to digest because they've already been partially broken down.
How is collagen different from protein powders?
While both collagen and regular protein powder consist of individual amino acids, collagen has an incomplete amino acid profile.

In other words, collagen doesn't have all the essential amino acids your body needs to thrive. That means you shouldn't use collagen supplements as a replacement for dietary sources of protein, such as meat and seafood.
If a product doesn't say, what type of collagen does it usually have?
If a product doesn't spell out what type of collagen peptides it contains, it usually has Type I and Type III. However, to be certain, I'd contact the manufacturer.
What immediate benefits can I expect from using collagen supplements?
That depends on your dietary lifestyle and your body's collagen requirements. My wife swears that her nail and hair growth accelerate dramatically when she uses collagen powder in her post-workout shakes.

While that's obviously anecdotal evidence, it's possible that you'll notice that too — especially if you work out regularly and have higher protein and collagen requirements than someone who isn't physically active.
Is there any scientific evidence to back up the purported benefits of collagen supplements?
Yes, there is plenty of scientific evidence to suggest that increasing your collagen intake works.

For example, in a study published in the Journal of Medical Nutrition and Nutraceuticals, researchers concluded that "the oral nutritional supplement consisting of hydrolyzed collagen, hyaluronic acid, and essential vitamins and minerals, leads to a significant improvement in wrinkle depth. It is also able to induce noticeable improvement in elasticity and hydration of the skin."

As with most food-related studies, we don't know much about the dietary habits of the participants. I would argue that the effects of collagen supplements on someone who follows a ketogenic Paleolithic lifestyle are probably less than on someone who follows the standard American diet (SAD).
What foods are naturally high in collagen?
If your goal is to increase your collagen intake from real food rather than supplements, I recommend drinking bone broths and eating seafood, chicken, egg whites and berries. 

Besides eating enough animal protein to fuel your body with the ingredients it needs to make collagen, you should also stay away from sugar and processed carbs. Those cause inflammation and can damage collagen. 

That's one of the reasons why I follow a ketogenic Paleolithic diet.
Will collagen supplements break my fast?
Yes, collagen peptides have calories, and thus provide energy. As a result, they will break your fast. So use these supplements only during your eating window.
Should I pick a product with as many types of collagen as possible?
While products that contain more types of collagen sound like a better choice, I haven't seen sufficient scientific evidence to prove that such products have additional benefits.

It's entirely possible that more types of collagen leads to more benefits, but I haven't seen proof yet. 

So if you like a product that contains collagen beyond Type I and III, and it's within your budget, go for it. But I wouldn't get too hung up about it if you prefer a product that has only the most abundant types of collagen (I and III).
What is marine collagen?
In this context, "marine" means "found in or produced by the sea." Marine collagen is predominantly sourced from fish scales.
What's The Best Collagen Peptides Powder?
You can't go wrong with any of the products I mentioned in this article. If your goal is to mix collagen powder with other liquids, pick an unflavored product.
If you want to drink it straight up, a flavored version might be the tastier choice.
If you're on keto and are trying to increase your fat intake or energy levels, consider a product that has MCTs or other sources of fat.
More important than anything else is that the product you choose doesn't have artificial ingredients, added sugars or other (hidden) sources of carbs.
Everything else being equal, I usually go with the brand that I feel most comfortable with, even if that sometimes means that I have to pay a few dollars extra.

I'm a healthy living and technology enthusiast.
On this blog, I share in-depth product reviews, actionable information and solutions to complex problems in plain and easy-to-understand language.
Medical Disclaimer
The information shared on this blog is for educational purposes only, is not a substitute for the advice of medical doctors or registered dieticians (which we are not) and should not be used to prevent, diagnose, or treat any condition. Consult with a physician before starting a fitness regimen, adding supplements to your diet, or making other changes that may affect your medications, treatment plan or overall health. MichaelKummer.com and its owner MK Media Group, LLC are not liable for how you use and implement the information shared here, which is based on the opinions of the authors formed after engaging in personal use and research. We recommend products, services, or programs and are sometimes compensated for doing so as affiliates. Please read our
Terms and Conditions
for further information, including our
privacy policy
.