For this review, I compared the top vegan meal replacement shakes on the market, including products from Ample, Garden of Life, Vast, Super Body Fuel and UNICO.
Benefits of Meal Replacement Drinks
While I'm not vegan, I sometimes consume meal replacement drinks when I don't have time for a proper meal. That's usually when I'm traveling and don't have access to healthy sources of food.
Other people may leverage these products to lose weight, or if they're on a special diet (such as the ketogenic diet). While I recommend getting your nutrients from solid food whenever possible, meal replacement products can serve as a convenient alternative.
What Makes a Vegan Shake Healthy?
The vegan meal replacement shake market is saturated with unhealthy products. So when you look for healthy meal replacement options, make sure to check the label for the following ingredients:
Should Have
Balanced macronutrients (fat, protein and carbs).
Essential nutrients, such as vitamins and minerals.
Essential amino acids (vegan protein) to provide fuel for your muscles.
Healthy fatty acids (fat) to keep you satisfied.
Slow-digesting carbohydrates to control blood sugar levels.
Dietary fiber to help your digestive system.
Should Not Have
Artificial sweeteners, such as sucralose or sugar alcohols.
Soy and soy-based ingredients (see my article: Is Soylent Healthy?).
Added sugar.
Top Vegan Meal Replacement Shakes
Below is a list of the top vegan meal shakes and powders on the market, followed by a side-by-side comparison of the most popular brands.
1. Ample – Plant-Based Meal Replacement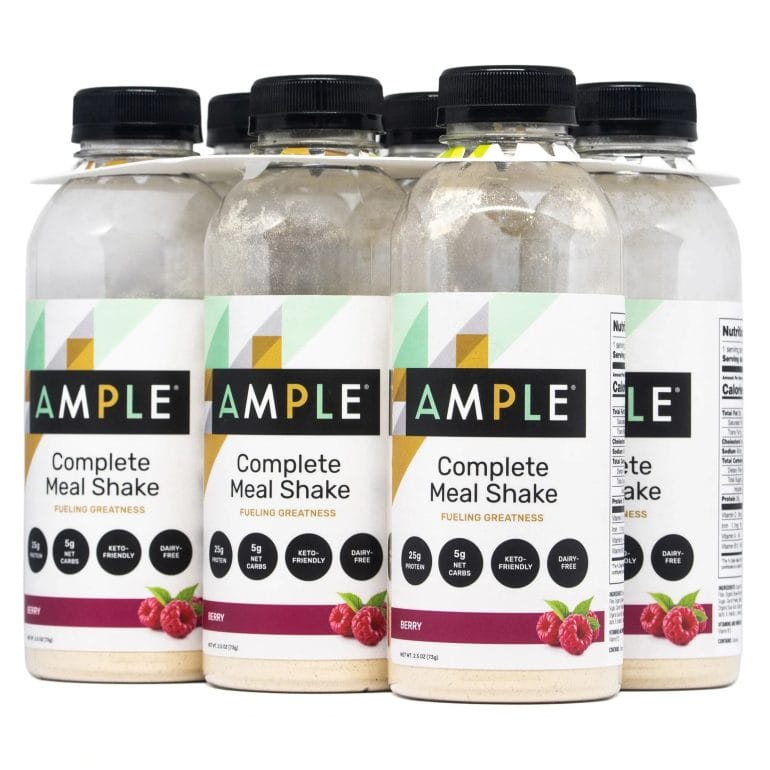 Pros
Uses only the highest-quality ingredients.
Balanced amounts of protein, fat and carbs.
Gluten-free and lactose-free.
Low in carbohydrates.
I'm not a vegan, but I recently had the chance to try Ample's vegan meal replacement shake. It was delicious!
The major difference between Ample's vegan formula (formerly known as Ample V) and their original formula is the source of protein. The human body absorbs plant-based protein (including pea protein) slower than animal protein. Plus, plant-based protein has, on average, a weaker amino acid profile than whey or egg white protein.
That said, pea and rice protein are viable choices, and they are certainly healthier than soy.
Nutrients In Ample
| Nutritional Info | 400 (600) Calories |
| --- | --- |
| Calories | 400 (600) |
| Protein | 20 grams (35 grams) |
| Fat | 26 grams (33 grams) |
| Carbohydrates | 23 grams (42 grams) |
| Sugar | 4 grams (6 grams) |
| Irritating ingredients | None |
| Cost per 100 kcal | $1.75 ($1.42) |
To save 15% off Ample, you can use Ample discount code MK15. You can combine that with Ample's subscription option, which saves you an additional 10%.
2. Vast – Plant-Based Keto Shake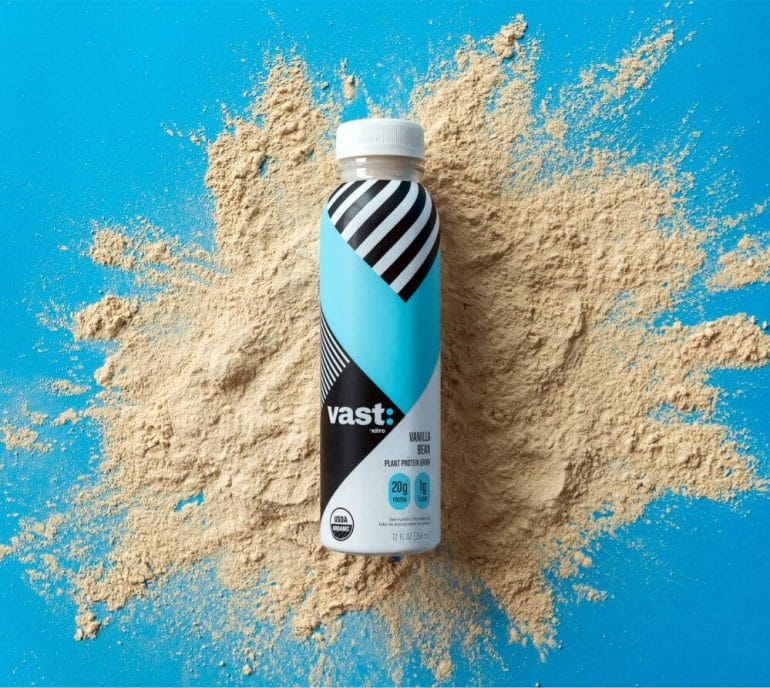 Pros
Keto-friendly.
USDA organic.
No artificial or inflammatory ingredients.
Ready to drink.
Pleasant taste (the kids agree).
Cons
Has to be refrigerated.
Provides only 220 calories.
Vast is a brand I just recently learned about. They make an interesting meal shake that's both ketogenic and vegan — not something you see a lot, since most vegan meal replacement shakes contain too many carbohydrates to be classified as keto-friendly.
Vast is different, which is what sparked my interest in the product (and why I accepted their PR department's offer to send me a sample pack to try).
The shipment arrived in a well-insulated cardboard box, because Vast is ready to drink and contains perishable ingredients — which means it has to be refrigerated.
That fact limits its use cases. For example, you can't simply toss a couple of bottles into your suitcase when you travel. At the same time, it means that Vast doesn't require any preservatives (natural or otherwise) or special processing methods to keep the product shelf-stable.
We've used Vast as a snack replacement. One bottle has about 220 calories, which means it won't replace a full meal and I can have one either in lieu of a snack or after a light lunch.
I let the kids try most of the products I receive for testing, and I'm happy to report that both of them liked Vast.
Speaking of taste, Vast is available in three flavors:
Cookies and Cream
Dark Chocolate
Vanilla Bean
Chocolate was my favorite but all the ones I tried tasted delicious.
Nutrients In Vast (Dark Chocolate)
| Nutritional Information | |
| --- | --- |
| Calories | 230 |
| Protein | 20 grams |
| Fat | 13 grams |
| Carbohydrates | 4 grams |
| Sugar | 1 grams |
| Irritating ingredients | None |
| Cost per 100 kcal | $2.40 |
If you'd like to try Vast you can use discount code MIKEK15 to get $15 off a six-pack or MIKEK30 to get $30 off a 12-pack!
3. Super Body Fuel – Super Fuel
Pros
Contains zero sugar.
Excellent blend of macronutrients.
Cons
Requires two tablespoons of oil to increase the fat and calories.
Price indicates the company might use lower-quality ingredients.
Should be refrigerated for two hours before consumption.
Super Fuel uses a combination of oats and brown rice as its primary source of protein. To bump up the calories and to increase the amount of protein it contains, you have to add two tablespoons of olive or avocado oil before mixing it with water.
The nutritional information below assumes two tablespoons of olive oil, the cost of which I did not include in the cost per serving.
Nutrients In Super Body Fuel
| Nutritional Info | |
| --- | --- |
| Calories | 500 |
| Protein | 25 grams |
| Fat | 31 grams |
| Carbohydrates | 31 grams |
| Sugar | 0 grams |
| Irritating ingredients | None |
| Cost per 100 kcal | $0.50 (without added oil) |
4. UNICO Gemini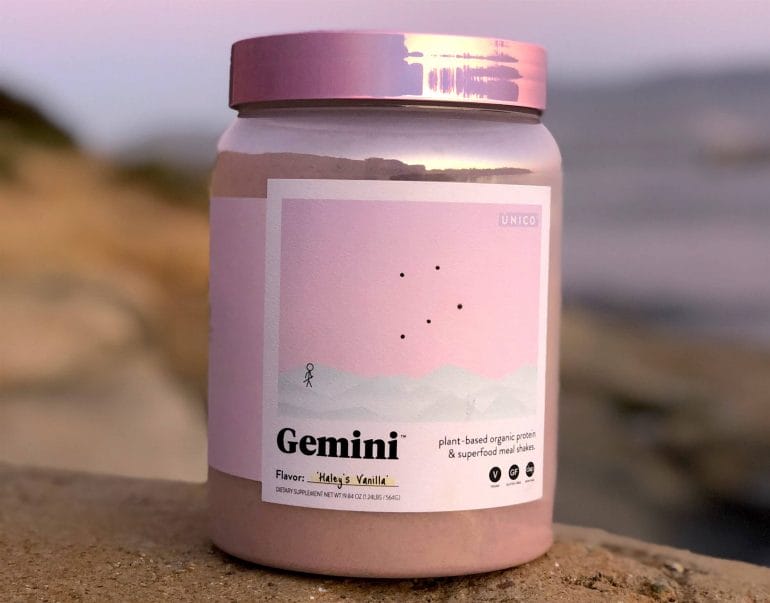 Pros
Delicious flavor options.
Quality formulation.
Beautiful packaging.
Hypoallergenic (soy-free, gluten-free, dairy-free, nut-free and non-GMO).
Cons
Relatively high price point.
Carb content is higher than most other options.
Low in calories.
Gemini is a brand-new, plant-based vegan meal replacement solution from the Los Angeles boutique wellness brand UNICO Nutrition.
What I like about Gemini is its delicious taste — I tried the chocolate version — and its utilization of three different protein sources.
Gemini is relatively expensive and doesn't have a lot of calories because it's lacking fat. However, the latter can be easily fixed by just mixing it with a few tablespoons of avocado oil.
Overall, I like Gemini and would recommend it to anyone who follows a vegan lifestyle. To learn more about the product, check out my UNICO Gemini review.
Nutrients In UNICO Gemini
| Nutritional Info | 2 Scoops |
| --- | --- |
| Calories | 180 |
| Protein | 16 grams |
| Fat | 6 grams |
| Carbohydrates | 16 grams |
| Sugar | 6 grams |
| Irritating ingredients | None |
| Cost per 100 kcal | $2.55 |
If you want to give UNICO Gemini a try, make sure to use code MK10 to get $10 off your purchase.
Products I Don't Recommend
Below are some popular products that I do not recommend because of the ingredients they contain, the lack of calories they provide, or both.
Garden of Life – Organic Shake
Pros
Plant-based protein shake
Raw organic, gluten-free and lactose-free.
Rich in micronutrients.
Cons
Does not replace a meal.
Contains sugar alcohol as a sweetener.
Low in fat and carbs.
I'm a fan of Garden of Life products — especially the probiotics they developed together with Dr. David Perlmutter, author of Grain Brain: The Surprising Truth about Wheat, Carbs, and Sugar.
As far as their Organic Shake & Meal Replacement powder is concerned: I think it's a good vegan protein shake, but it doesn't replace a meal due to a lack of calories and fat.
For example, you'd have to consume five servings to get the same amount of fat as found in other vegan meal replacement shakes.
To work around that issue, you can certainly add a few teaspoons of olive or avocado oil. That will increase both the fat and calories to acceptable levels.
Nutrients In Garden of Life Organic Shake
| Nutritional Info | |
| --- | --- |
| Calories | 120 |
| Protein | 20 grams |
| Fat | 2 grams |
| Carbohydrates | 8 grams |
| Sugar | Less than 1 gram |
| Irritating ingredients | Erythritol (sugar alcohol) |
| Cost per 100 kcal | $1.10 |
Huel – Vegan Meal Replacement Powder
Pros
High in protein and low in sugar.
Non-GMO.
Low cost per serving.
Gluten-free and lactose-free.
Cons
Contains artificial ingredients.
No organic ingredients.
With 500 calories per serving, Huel (one of the primary Soylent competitors) offers a filling meal replacement drink that's vegan-friendly and doesn't contain lactose.
Huel also provides a gluten-free formula, which is the one I reviewed. The primary sources of protein in Huel are oats, peas, flaxseed and brown rice, which reduces its paleo score slightly.
If mixed with water, the unflavored version of Huel tastes like oatmeal (when made with water). I consider the taste of oats to be somewhat neutral, but I appreciate that others may want to add some flavor by blending Huel with fruits or cocoa powder.
You could also use nut milk instead of water, but doing so decreases the convenience factor of using Huel while traveling. The Starter Kit comes with a booklet that contains a couple of recipes that can help you add different tastes to the shake.
Huel is also available in a variety of flavors, but I prefer the unflavored and unsweetened version because the flavored ones contain sucralose.
Both the flavored and unflavored versions also have:
Artificial flavors.
Guar and xanthan gums.
Here is a detailed list of Huel ingredients for the unflavored and gluten-free version, and here is a list of Huel ingredients for the vanilla-flavored version.
I can handle the artificial ingredients and gums, but I have an aversion to artificial sweeteners such as sucralose. Contrary to popular opinion and previous research, sucralose may change how the body reacts to glucose — for example, after eating carbohydrates.
Nutrients In Huel Powder
| Nutritional Info | |
| --- | --- |
| Calories | 500 |
| Protein | 37 grams |
| Fat | 16 grams |
| Carbohydrates | 47 grams |
| Sugar | 1 gram |
| Irritating ingredients | Yes |
| Cost per 100 kcal | $0.53 |
It's worth noting that Huel launched a ready-to-drink version to complement its powdered cousin. I haven't tried that yet, and I probably won't. That's because — just like the flavored Huel powder — the pre-bottled drink has sucralose.
Soylent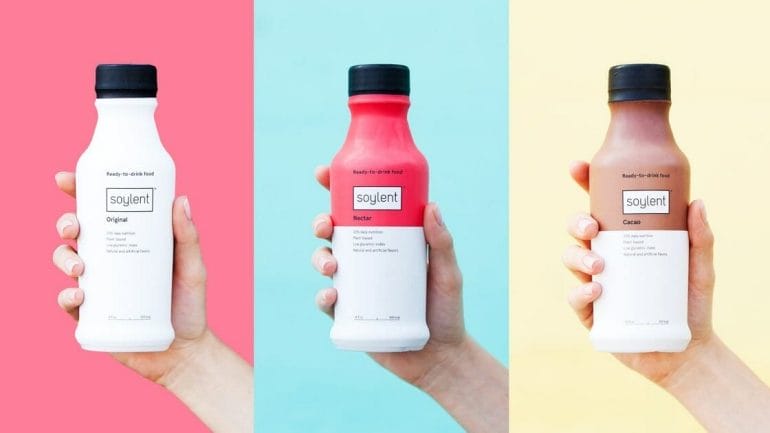 Pros
Low cost per serving.
Available ready-to-drink or as powder.
Cons
Contains cheap and unhealthy ingredients.
Uses soy as its primary source of protein.
Has artificial ingredients, including sweeteners.
Soylent was originally pioneered by Rob Rhinehart. Conceptually, it's based on the idea that one can make nutrition simple, cost-effective and comprehensive.
In practice, Soylent is a vegan meal replacement drink that asks, "What if you never had to worry about food again?" It's become a successful Silicon Valley business that manufactures an "all-you-need" nutritional shake.
The mission of Soylent is to expand access to quality nutrition through food system innovation. Unfortunately, the company fails miserably in the "quality nutrition" department, as you'll learn in a moment.
Soylent offers its meal replacement drink in liquid or powdered form. Plus, Soylent is available in three different flavors and a caffeinated version:
Original
Nectar
Cacao
Café Coffiest (original + coffee)
The powder comes in either a resealable pouch with five 400-calorie servings or a tub with a dozen 400-calorie servings.
For traveling by plane, the powder would be my first choice as you can't bring liquids in your carry-on luggage. But for other types of travel, one could comfortably bring the bottled version of Soylent as it doesn't have to be refrigerated prior to being opened.
For this comparison, I only tried the original formula.
Nutritional Facts
Soylent is very transparent when it comes to its labeling. The company spells out what rules and regulations its ingredients are compatible with (and which ones they aren't).
Soylent is:
Vegan, animal-free.
Lactose-free (Soylent doesn't contain milk protein).
Nut-free.
Certified for Good Manufacturing Practices (GMP).
Made in the U.S.
Soylent is not:
Organic.
Certified kosher.
GMO-free.
Free of artificial flavors.
Allergen-free (it contains soy and gluten, albeit less than 20 PPM of the latter).
Unfortunately — and despite the company's laudable transparency — Soylent is not a healthy product, as you can read in my Soylent review.
Ample vs. Soylent
Comparing Ample and Soylent is like comparing a grass-fed burger in a lettuce wrap to a Double Quarter Pounder with Cheese from McDonald's. The products are similar, but not the same by any stretch of the imagination.
Ample makes an effort to use only healthy ingredients, which tend to be expensive to source and process. Soylent, on the other hand, tries to achieve the same goals with cheaper ingredients (such as soy). When it comes to nutrition, cheap ingredients are often unhealthy, and Soylent is no exception.
From a cost perspective, a 400-calorie serving of Ample is more than twice as expensive as Soylent. But for the higher price, you get healthy ingredients.
I like the earthy taste of Ample, but Soylent arguably tastes better. That's most likely due to the extra sugar it contains, which I would rather not drink. On the bright side, Soylent comes in various flavors and even has a caffeinated version.
When I travel, I usually do so by plane. So, I like the fact that Ample's powder is pre-bottled and I can easily take it through airport security in my carry-on luggage.
My good friend Felipe, who initially introduced me to Soylent, has a slightly different travel pattern. For him, the ready-to-drink option Soylent offers is quick and easy.
Ultimately, it depends on your circumstances what delivery option is more convenient: powder or ready-to-drink.
I absolutely recommend Ample over Soylent. That said, there are certainly unhealthier breakfast options available to you, like a sugar-laden bowl of cereal. If you find yourself turning to that type of unhealthy meal, Soylent is a less-bad choice.
However, living a healthy lifestyle means changing your habits and placing a priority on nutrition, and Soylent should not be viewed as a long-term or regular part of a healthy diet.
Huel vs. Soylent
Huel vs. Soylent seems to make for an interesting comparison, because both products offer vegan meal replacement drinks. But their similarities are only superficial.
The unflavored and unsweetened version of Huel beats Soylent from a health perspective, because Huel uses oats, pea protein and brown rice protein instead of soy. Even if you're on a paleo diet, you can likely get away with Huel's protein sources for the benefit of getting an otherwise clean product.
From a taste and texture perspective, the products are on different ends of the spectrum. Huel's texture is influenced by the milled oats, and that's how it tastes and feels in your mouth. Soylent is available pre-bottled or as a fine powder, and thus tastes more like a silky shake than a meal with wholesome ingredients.
I like the taste of oatmeal and have no problems with Huel. If you're not a fan of oats, just add some fruit. Or, instead of using water, mix Huel with cashew or almond milk.
The flavored versions of Huel use sucralose (an artificial sweetener) so I would recommend against those. From a health perspective, that additive drops the product to the level of Soylent.
Learn more about why artificial sweeteners are so bad for you.
Ample V vs. Huel
Ample V offers higher-quality ingredients, which you can see reflected in its price. Both products use oats, but the texture of Ample V is smoother than that of Huel, which relies mostly on milled oats.
Honestly, I don't have a clear preference when it comes to taste and texture between Ample V and Huel, but I'd consider Ample V the overall winner due to its healthier ingredients and the lack of artificial flavors.
Depending on your diet, Ample V has a more favorable ratio of macronutrients, including higher amounts of protein and fat with lower amounts of carbohydrates.
Soylent vs. Ensure
As much as I'm not a fan of Soylent, it beats Ensure's crappy shakes any day of the week. Ensure shakes "shine" through either high-carb or low-fat formulas, and neither one is what you should be looking for.
Soylent, on the other hand, provides the right balance of all three macro-nutrients (protein, fat and carbs) and is overall the less-bad choice, in my opinion.
Vegan vs. Traditional Meal Replacement Drinks
In case you're new to the vegan lifestyle, let me clarify what the characteristics of a healthy vegan meal shake are.
In a nutshell, vegans don't use products from animal sources. From the perspective of a plant-based diet, that means avoiding such things as:
Animal protein (whey, beef or egg white).
Animal-based sweeteners, such as honey.
In comparison to traditional meal replacement drinks, vegan meal shakes contain plant-based protein from soybeans, brown rice or peas, as well as alternative sweeteners such as maple sugar.
Frequently Asked Questions
Is a meal replacement the same as a protein powder?
No, they are not the same. Protein powders are just that — protein. They don't contain any fat and they shouldn't contain carbs. As a result, you can't use protein powder as a substitute for a meal. Here's my list of the best vegan protein powders.
How is vegan protein different from animal protein?
Plant-based protein has an incomplete amino acid profile. In other words, vegan protein doesn't have all the amino acids your body needs to thrive and build muscle. As a result, many vegan meal shakes contain a mix of different protein sources in an attempt to mitigate that issue.
Can you get all the vitamins and minerals your body needs from meal replacement shakes?
It is very unlikely! Even though meal replacement shakes can be a helpful addition to your dietary tool belt, they aren't meant to be used as an exclusive source of nutrients. I always recommend trying to get all the minerals, vitamins and other micronutrients you need from real food.
Do vegan meal shakes raise your blood sugar?
Any food that contains carbohydrates (starches and sugars) raises your blood sugar. Most vegan meal replacement drinks are relatively high in carbs, which is why I prefer keto meal shakes. Unfortunately, keto meal replacement shakes are usually not dairy-free and thus not vegan-friendly.

The good news is that plant protein doesn't raise your blood sugar the same way carbs do. So don't worry about how many grams of protein your shake has.
Why do so many meal shakes contain chia seeds?
Chia seeds are an excellent source of fat, and omega-3 fatty acids in particular. However, chia seeds are also a source of antinutrients, which mitigate some of their benefits.
How healthy is soy protein?
Soy protein is highly-processed and inflammatory, and is an overall poor choice for a healthy vegan diet. The reason why many brands use it is because it's so cheap to manufacture. I recommend staying away from all soy products, including soy protein.
Is Huel non-GMO and organic?
Huel is transparent about the fact that it uses conventionally grown (as opposed to organic) ingredients. The primary reason why the company decided to go the conventional route is cost. Huel's goal is to deliver a nutritious meal at a low price.

By using only organic ingredients, Huel would have to charge more for its product. I appreciate that not everyone can afford pasture-raised meats and organic produce, and consider Huel an excellent alternative to products containing only those ingredients. It's also worth noting that Huel is non-GMO, even if they don't advertise that fact.
Best Vegan Meal Replacement Shakes
Maintaining a vegan lifestyle can be challenging — especially in situations where you don't have access to healthy food choices that meet your dietary requirements, or when you're trying to count calories for the purpose of losing weight.
In all of those cases (and others), vegan meal replacement shakes can help keep you nourished and satisfied. While I don't follow a vegan diet, I often recommend Ample, which contains premium ingredients at a reasonable price.
If you're looking for less expensive options, try Huel or Super Body Fuel.
What I can't recommend are Garden of Life and Soylent.
The former doesn't have sufficient calories to replace a meal, and it contains sugar alcohols (which upset my stomach). Soylent is a combination of unhealthy and cheap ingredients and should have no place in a healthy diet.
If you decide to give some of the products from this review a try, I'd appreciate if you shared your feedback with other readers and me by leaving a comment below.

Michael is a healthy living enthusiast and CrossFit athlete whose goal is to help people achieve optimal health by bridging the gap between ancestral living and the demands of modern society.
Medical Disclaimer
The information shared on this blog is for educational purposes only, is not a substitute for the advice of medical doctors or registered dieticians (which we are not) and should not be used to prevent, diagnose, or treat any condition. Consult with a physician before starting a fitness regimen, adding supplements to your diet, or making other changes that may affect your medications, treatment plan or overall health. MichaelKummer.com and its owner MK Media Group, LLC are not liable for how you use and implement the information shared here, which is based on the opinions of the authors formed after engaging in personal use and research. We recommend products, services, or programs and are sometimes compensated for doing so as affiliates. Please read our
Terms and Conditions
for further information, including our
privacy policy
.