Beef organ supplements are a convenient way to make organ meat a regular part of your diet without having to worry about sourcing and preparing it. The capsules are tasteless and easy to swallow, making them an excellent alternative to fresh organs for the entire family.
In this article, I'll share my favorite grass-fed beef organ supplement brands and product recommendations.
I've also written about the health benefits of consuming organ meat, and I encourage you to check out that article for a deep dive into the individual benefits of the various organs, including a detailed breakdown of their micronutrients.
If you don't have time to read that article, just know that organs (and especially beef organs) are among the absolute best sources of highly-bioavailable and easily-absorbable minerals, vitamins, cofactors and coenzymes available. They're packed with heme-iron, selenium (an antioxidant), choline, vitamin B12, retinol (the real vitamin A) and many other beneficial and essential nutrients.
What Are the Most Important Organs to Eat (Where to Start)?
My recommendation is to start with beef liver, because liver is the most nutrient-dense food on the planet, containing more than 25 vitamins, minerals and coenzymes that are crucial for brain health, energy levels and more.
Next on my list of recommended organs are heart and spleen, because they're also rich in micronutrients and contain higher amounts of certain vitamins and minerals than liver. For example, the spleen has the highest amount of heme-iron of any organ, whereas the heart is rich in vitamin C and other nutrients critical for optimal heart health.
After heart and spleen, I recommend pancreas, because it's the best source of enzymes (e.g., amylase, lipase, protease and trypsin), coenzymes (e.g., colipase) and peptides (e.g., gastrin-releasing peptide) to support optimal digestion.
Beyond that, you can consider other organ meat supplements (or combinations thereof) based on your individual health goals or ailments.
How to Choose a Beef Organ Supplement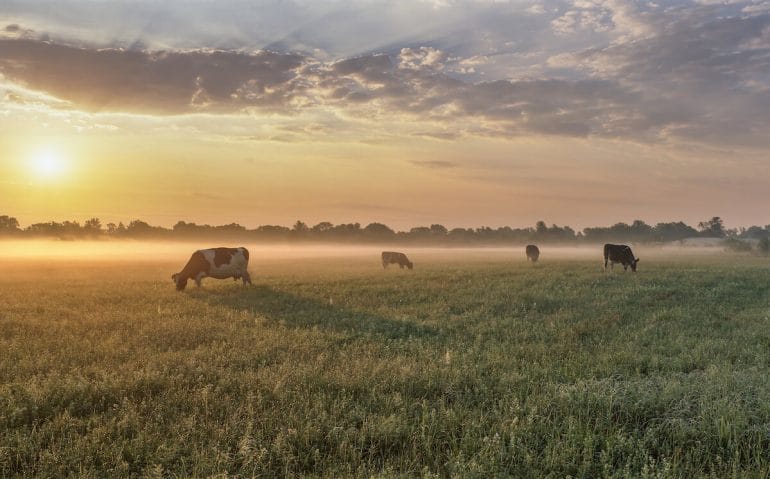 When shopping for organ meat supplements, there are certain criteria you should take into account (as I explain in detail in my comparison of the best beef liver supplements).
Here's a quick summary of all the factors I encourage you to consider when purchasing a supplement:
100% grass-fed, pasture-raised and free of pesticides. Raising cattle exclusively on pasture yields more nutritious organ meat. Plus, it's better for both the animals and the environment.
Potency. Make sure the product you're picking delivers at least 3,000 mg of organs per serving to provide high enough concentrations of micronutrients.
Processing method. Stick with freeze-dried (desiccated) supplements instead of heat-dried products because the latter has fewer micronutrients.
Third-party testing. Make sure the brand you choose tests each lot for heavy metals, glyphosate and other contaminants. If in doubt, ask for a copy of the test report.
Other ingredients. I recommend sticking with products that don't contain any additional ingredients or additives besides organs. Some brands use fillers, flow agents and other substances that are potentially irritating and which provide no nutritional value.
Servings. Make sure you're getting at least 30 servings per bottle and compare the cost per serving between brands. Comparing the number of capsules per bottle can be misleading because some products require six capsules per serving while others require only four.
Eco-friendliness. Most dietary supplements come in plastic bottles because they're cheaper to manufacture and ship. I prefer glass bottles with metal lids over plastic because it's better for the consumer and the environment.
Manufacturing facilities: Make sure the supplements you purchase were manufactured in a GMP and FDA-certified facility. A lot of brands claim those certifications but use manufacturing partners that have only the warehouse operations but not the manufacturing facility fully certified. Using an FDA-certified manufacturing and encapsulation facility reduces the risk that you end up buying a product that contains expired ingredients that the manufacturing partner relabeled and sold at a cheaper price, in many cases, without the brand's knowledge. The brands recommended in this article use only fully certified manufacturing partners.
Price. Cheap supplements usually contain cheap ingredients. So if you see a product that is significantly cheaper than others, there is likely something fishy. Since I started my own supplements company, I've learned that many products on the market contain low-quality ingredients that might already have expired before they hit the shelf. Apparently, it's common practice among manufacturing companies to relabel expired lots and sell it to unknowing brands at a lower price. That explains why some beef organ complexes I've come across cost half of the premium brands.
Top 5 Grass-Fed Beef Organ Supplements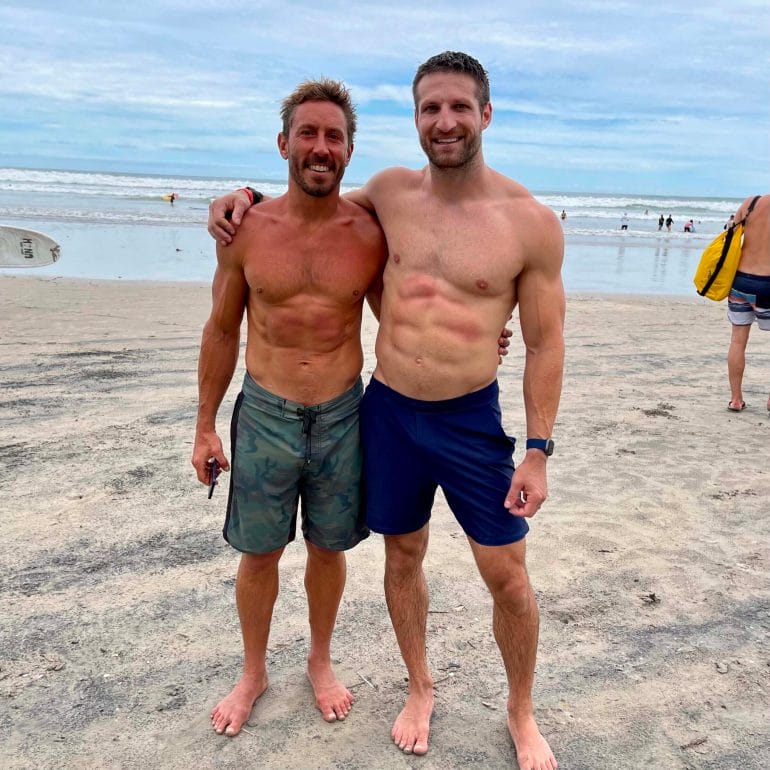 While there might be other brands on the market that deliver organ meat supplements of equal quality, my three brands of choice are MK Supplements (my own brand), Ancestral Supplements and Heart & Soil. I've used them in the past, and I personally met Dr. Paul Saladino (the guy behind Heart & Soil) at an animal-based gathering in Costa Rica in 2021.
MK Supplements
MK Supplements is the brand I founded in 2021, together with my wife. Our goal is to offer the highest-quality beef organ supplements on the market, at an affordable price and made with eco-friendly packaging (such as glass bottles and metal lids).
All our ingredients are sourced from 100% grass-fed and grass-finished New Zealand cattle, and the final product is manufactured in an FDA-certified facility in the USA. In other words, the organs we use are of the same high-quality as the organs used by the other brands recommended in this review.
However, one big thing that sets MK Supplements apart is that we offer 45 servings per bottle instead of the 30 servings everyone else offers. That means you get 50% more product for the same price or less.
Pros
100% grass-fed and finished.
Sourced from New Zealand cattle.
45 servings per bottle.
Tested in a third-party lab.
Non-defatted, freeze-dried and non-GMO.
Uses glass bottles with metal lids.
Has a fulfillment center within the European Union.
Family-owned business.
Cons
Has a small product portfolio.
The downside to MK Supplements is our brand's small product portfolio. As of this writing, we only sell four products:
Our Beef Organs supplement contains nature-identical ratios of the top five beef organs, including liver, heart, kidney, spleen and pancreas.
That's because, if you think about, it doesn't make much sense to consume equal amounts of each of those organs, considering how their size and weight differs in the live animal.
If you decide to give my supplements a try, make sure to use code BLOGLOVE10 to get 10% off your first order.
Note that MK Supplements has fulfillment centers in both the United States and Austria. As a result, orders from within the European Union won't be subject to import duties and taxes.
You can also find MK Supplements on Amazon.
Heart & Soil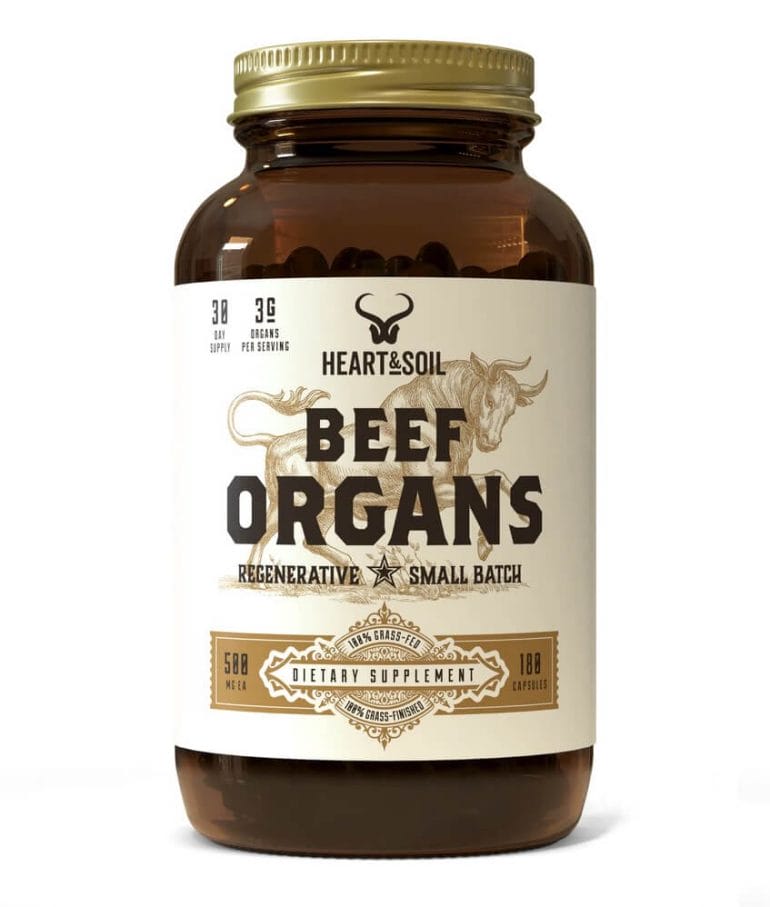 Heart & Soil was founded by Dr. Paul Saladino (aka Carnivore MD). What I like about the brand is that it offers clever combinations of desiccated beef organs based on individual health goals.
For example, if your goal is to spark weight loss, then Heart & Soil's Fire Starter might be the right supplement for you. Or if you want to improve your immune function, then the company's Histamine & Immune supplement might be the right choice for you.
Of course, Heart & Soil also offers a classic beef organ mix that contains liver, heart, kidney, pancreas and spleen.
Pros
100% grass-fed and finished.
Sourced from New Zealand cattle.
Tested in a third-party lab.
Freeze-dried and Non-GMO.
Uses glass bottles with metal lids.
Cons
Doesn't offer individual organ supplements.
Price.
The only downside to Heart & Soil is that the company doesn't sell individual organs (i.e., they do not offer a dedicated beef liver capsule).
On the bright side, Heart & Soil uses glass bottles and metal lids for all of their products.
You can also find Heart & Soil on Amazon.
Here's a list of the bovine organ supplements that Heart & Soil currently sells:
Warrior (heart and liver)
Beef Organs (liver, heart, kidney, pancreas and spleen)
Fire Starter (suet and perinephric [kidney] fat)
Bone Marrow & Liver
Whole Package (testicle, Liver and blood)
Gut & Digestion (tripe/stomach, intestines, pancreas, liver and spleen)
Skin, Hair & Nails (cartilage, bone marrow and liver)
Lifeblood (whole blood extract, spleen and liver)
Histamine & Immune (thymus, lung, kidney, spleen and liver)
Mood, Memory & Brain (brain, bone marrow and liver)
Her Package (reproductive organs, liver and kidney)
Joint Strength & Repair
Ancestral Supplements
What I really like about Ancestral Supplements is the variety of high-quality organs the company provides. As of this writing, they offer 29 different products — mostly beef organ meats (and combinations thereof), but also fish eggs, blood, bone marrow, minerals and more.
All of Ancestral Supplements' organs are sourced from 100% grass-fed New Zealand and/or Australian cattle (and sheep in some cases) and come in gelatin capsules.
Pros
100% grass-fed and finished.
Sourced from New Zealand and Australia.
Tested in a third-party lab.
Freeze-dried and Non-GMO.
Cons
Uses plastic containers.
The large number of product choices can be overwhelming.
Owner has questionable ethics.
The challenge with the company's massive product portfolio is that you may not know where to start. Unless you decide to purchase all 29 supplements the company sells, you'll have to make a decision about which options give you the most bang for your buck.
I recommend starting with beef liver (which I consider nature's ultimate vitamin) because it provides most of the vitamins and minerals you need on a daily basis. Then, you can add in other organs based on any health concerns you might have.
For example, if you have issues with your heart, consider supplementing with freeze-dried heart and spleen — a concept known as "like supports like."
Alternatively, you could consider Ancestral Supplements' beef organ complex, which contains liver, heart, kidney, pancreas and spleen.
The downside to combo products is that they contain only small amounts of the organs that have the most nutrients, especially the liver.
Shop Ancestral Supplements on Amazon
You can also buy directly from Ancestral Supplements, though you'll pay for shipping on any order under $120.
Here's a list of the bovine organ supplements the company currently sells:
Adrenal
Bladder Restore (bladder, kidney and liver)
Brain
Eye
Female Enhancement (reproductive tissue, liver and bone marrow)
Gallbladder
Heart
Intestines
Kidney
Liver
Lung
Male Optimization (testicle, prostate, heart, liver and bone marrow)
Organs Mix (liver, heart, kidney, pancreas and spleen)
Pancreas
Prostate
Spleen
Thyroid
Trachea
The only thing I don't like about Ancestral Supplements is that its founder (Brian Johnson, aka the Liver King) lied to everyone, including his customers and followers, about his use of anabolic steroids.
Enviromedica
I first stumbled across Enviromedica while attending the Paleo f(x) trade show in 2018, and then came across the brand again while doing research for an article about the best spore-based probiotic supplements. Impressed by the company's focus on ingredient quality, I decided to give their organ mix a try.
Much like the other products in this round-up, Enviromedica's organ mix checks all the key boxes: it's sourced exclusively from 100% grass-fed New Zealand cattle, it's freeze-dried, and it's manufactured in a GMP-certified facility.
Pros
100% grass-fed and finished.
Sourced from New Zealand cattle.
Tested in a third-party lab.
Freeze-dried and non-GMO.
Price.
Cons
Uses plastic containers.
Only one organ mix is available.
While attractively priced, Enviromedica's supplements ship in plastic bottles (which is the main downside of this product).
I should also mention that in early 2023, Enviromedica updated its formulation.
The original version of the company's organ mix didn't contain spleen, which is a rich source of iron. Instead, the old product contained more than twice the amount of liver as the others on this list.
Considering that liver is the king of organs, I didn't think the omission of spleen was a major downside. However, I think most consumers appreciate the inclusion of spleen because it leads to a more diverse micronutrient composition.
From a dosage perspective, each 3,000 mg serving contains 600 mg each of freeze-dried liver, heart, kidney, pancreas and spleen.
If you want to give Enviromedica's Organ Complex a try, make sure to use code HEALTHTECH10 to get 10% off your purchase.
You can also buy Organ Complex on Amazon, but you won't be able to use the discount code if you purchase it there.
Side-By-Side Comparison
The table below provides a convenient side-by-side comparison of the products covered in this review.
| | MK Supplements | Ancestral Supplements | Heart & Soil | Enviromedica |
| --- | --- | --- | --- | --- |
| Servings | 45 | 30 | 30 | 30 |
| Containers | Glass | Plastic | Glass | Plastic |
| Free Shipping | Orders over $100 ship for free | No | Orders over $120 ship for free | Orders over $75 ship for free |
| Available on Amazon | Yes | Yes | No | Yes |
| International Shipping | Yes | Yes | No | Yes |
| International Fulfillment Center | Yes | No | No | No |
| Price per Serving | $1.31 | $1.60 | $1.73 | $1.33 |
Side-by-side comparison of the top beef organ supplements.
Fresh Organ Meat vs. Freeze-Dried Organ Supplements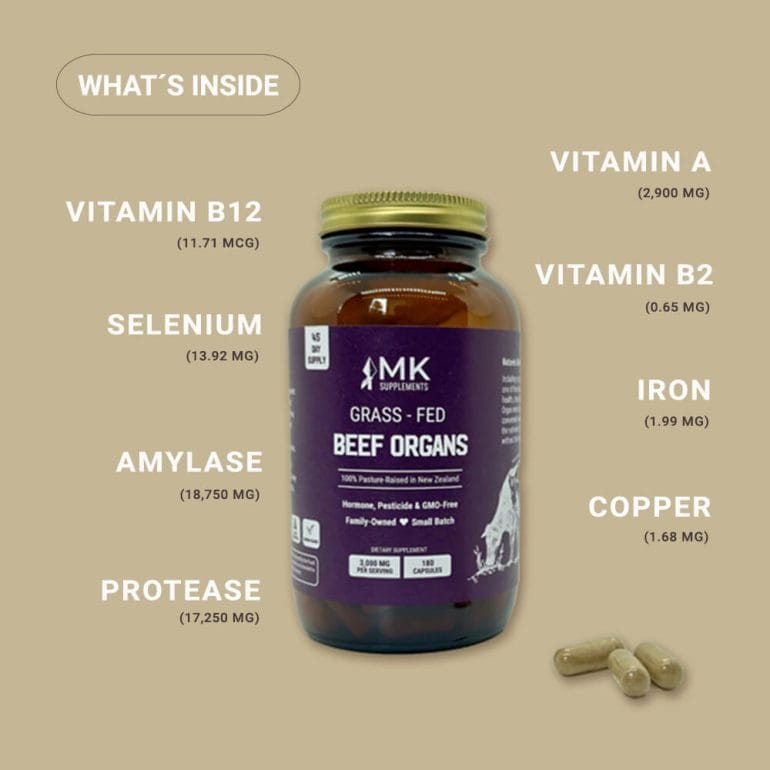 As both an advocate for organ meat consumption and the founder of an organ meat supplements brand, I'm often asked about the nutritional difference between fresh and freeze-dried organ meat.
If your goal is to get the absolute maximum amount of vitamins and minerals from organ meat, you'll need to consume it raw. Cooking degrades (or destroys) some of organ meat's heat-sensitive nutrients, such as most B vitamins.
However, consuming raw organ meat comes with the risk of food-borne illnesses, so you have to be careful about food handling and trust your source. Plus, at the end of the day, consuming raw animal organs isn't everyone's cup of tea.
If that's true for you, then I recommend treating beef organs like a steak: brown the outside while leaving the center of the meat red (or at least pink).
In comparison, freeze-drying preserves most of the nutrients found in the organs. Based on the studies I've seen, the freeze-drying process results in a loss of less than 5% of an organ's micronutrients, making freeze-dried supplements an excellent alternative.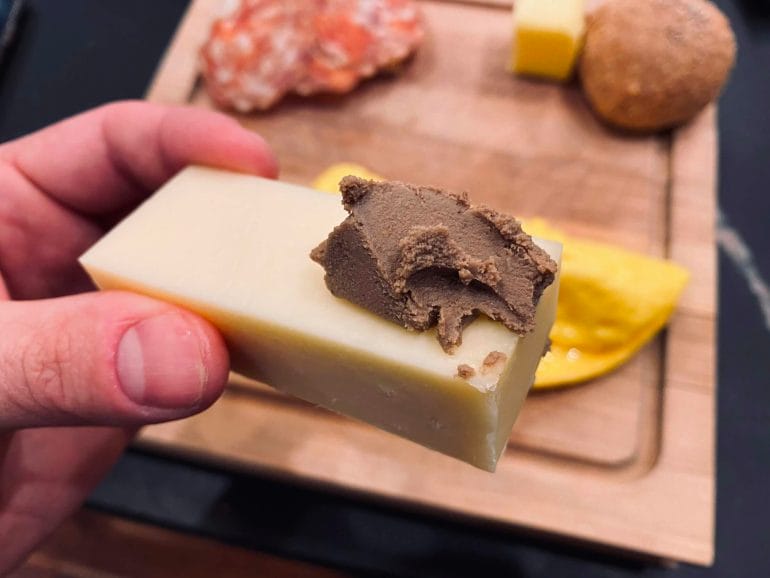 Personally, I consume a combination of raw, freeze-dried and processed (e.g., liver pâté) organ meat several times per week, whereas my wife and kids stick to freeze-dried beef organ capsules almost exclusively.
Frequently Asked Questions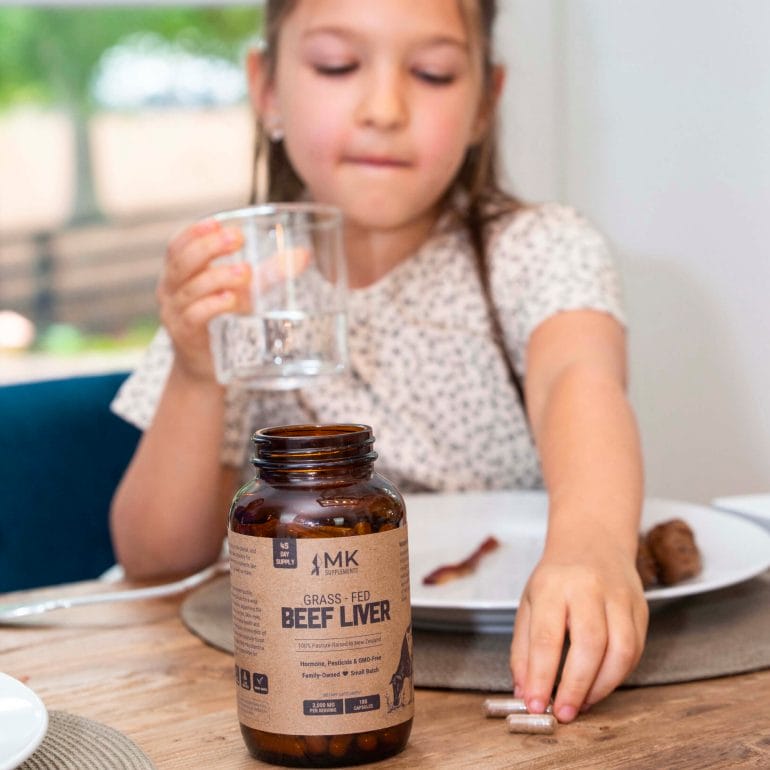 Can an organ meat supplement replace a standard multivitamin?
Not only can organ meat supplements replace a standard multivitamin, they're the far superior option — although you might not know that from comparing the labels.

That's because standard multivitamin supplements often contain significantly higher concentrations of vitamins and minerals, and it's easy to think that "more is better."

Unfortunately, most of the nutrients in standard multivitamins are synthetic and have poor bioavailability, which means that your body doesn't absorb them very well. On the other hand, the nutrients in freeze-dried organ meats are highly bioavailable and easily processed by your body, so you don't need excessive amounts.

For this reason, I consider freeze-dried beef organ supplements nature's ultimate multivitamin.
Who should use freeze-dried organ meat supplements?
I strongly believe that everyone can and should make fresh or freeze-dried organ meat a part of their diet. After all, our ancestors relied on organ meat as a primary nutrient source for millions of years. Heck, even my grandparents ate organ meat (and pig blood), growing up in Austria in the early 20th century.

By removing organs from modern diets, we have eliminated the best source of micronutrients available to us, leading to a higher rate of vitamin deficiencies and chronic diseases.

That's in large part because plants aren't a great substitute for organs when it comes to nutrient availability and absorbability. Plus, the nutrient content in plants has been on the decline, due to soil depletion and other factors associated with industrial farming practices.
Do organ meat capsules taste bad?
No, organ meat capsules are tasteless.
What is the difference between organ meat capsules from grass-fed animals and those from grain-fed animals?
Grain-fed cattle are often metabolically sick by definition. After all, cows are fed grains specifically so they'll fatten up quickly. And we know that both humans and animals who are obese suffer from a host of metabolic issues and chronic diseases. 

That's the primary reason why I recommend staying away from supplements that were harvested from grain-fed animals.

The second argument against the consumption of grain-fed beef is animal welfare. 

I don't want to support an industry that keeps animals in feedlots, and which feeds them a diet that is inappropriate for their species.
Can you get sick from consuming freeze-dried organ meat supplements?
Consuming freeze-dried organ meats is generally safe. Just make sure you purchase from brands — such as the ones listed above — that have their ingredients tested by a third-party and that use GMP-certified manufacturing facilities. If you do, you can rest assured that you're not exposing yourself to any food-borne pathogens.
Can consuming beef liver capsules cause vitamin A toxicity?
Liver is indeed a rich source of vitamin A, but unless you're swallowing an entire bottle of liver capsules at a time there's no real risk of ingesting toxic levels of vitamin A.

My wife and I take 3-6 grams of freeze-dried liver per day, and I often add fresh liver or liver pâté to one of my meals. Our kids get a third of that (usually in the form of capsules).

To put that into perspective, 3 grams of freeze-dried liver contains approximately 5,000 IUs of vitamin A. That's about 116% of the recommended daily allowance (RDA) and well within the "safe limits." 
Are organ meat supplements good for iron deficiency?
Organ meat supplements (and liver and spleen in particular) are a great option if you suffer from iron deficiency or anemia, because both organs have high amounts of bioavailable heme iron that can support the body in making red blood cells.
Should kids consume organ meat supplements?
Yes, but in lower amounts than adults. As I mentioned earlier in this article, our kids (ages six and eight as of this writing) consume approximately a third of the amount of liver as me and my wife. 
What organ meat supplements do you recommend to support the immune system?
Liver, thymus, lung, kidney and spleen all contain specific amino acids and peptides that help support the immune system to better fight off allergens, viruses and other pathogens.
What organ meat supplements do you recommend to support cardiovascular health?
Beef liver and beef heart are excellent sources of coenzyme Q10 (CoQ10) and other nutrients that can help support your heart.
Is organ meat more nutritious than muscle meat?
Yes! Pound for pound, organ meat has a higher nutrient density than muscle meat.
Are desiccated organ meat supplements keto/paleo friendly?
Yes, freeze-dried (desiccated) organ meat supplements are both keto and paleo friendly.
What organs can help lower elevated homocysteine levels?
Elevated homocysteine levels are often caused by low levels of vitamin b9 (folate), vitamin B6 and vitamin B12. Liver and heart are excellent sources of those B vitamins and can help lower homocysteine levels.
What organ meat supplements do you recommend to improve energy levels?
Energy levels are closely related to optimally functioning mitochondria (the cells' power plants), and optimal levels of iron to make red blood cells. I recommend liver and spleen because they're rich in heme iron and the minerals that help make new red blood cells.
What's the best alternative to beef organs?
If you're allergic or sensitive to beef, or can't consume beef for religious reasons, the best alternative is bison. I recently came across Folsom Point Nutrition — a company that specializes in freeze-dried bison organ supplements — and I recommend their Paleo-Plex bison organ mix to anyone who can't consume beef.
Are organ meat supplements a good source of vitamin D?
While organs such as beef kidney and heart have some vitamin D, it might not be enough if you have low blood levels. If you're vitamin D deficient and want to increase your levels, I recommend exposing your naked eyes and skin to natural sunlight daily (without wearing sunscreen or sunglasses), even when it's cold and cloudy outside.
The Best Freeze-Dried Beef Organ Supplements: Final Thoughts
Animal organs are a nutritional superfood and the most nourishing whole food source of micronutrients available to humans and other carnivorous species. As such, I firmly believe they should be at the center of your diet if you care about supporting your overall health and wellness.
Do you make organ meats (fresh or freeze-dried) a regular part of your diet to improve your well-being? Let me know about your experience in the comments section below!

Michael is a healthy living enthusiast and CrossFit athlete whose goal is to help people achieve optimal health by bridging the gap between ancestral living and the demands of modern society.
Medical Disclaimer
The information shared on this blog is for educational purposes only, is not a substitute for the advice of medical doctors or registered dieticians (which we are not) and should not be used to prevent, diagnose, or treat any condition. Consult with a physician before starting a fitness regimen, adding supplements to your diet, or making other changes that may affect your medications, treatment plan or overall health. MichaelKummer.com and its owner MK Media Group, LLC are not liable for how you use and implement the information shared here, which is based on the opinions of the authors formed after engaging in personal use and research. We recommend products, services, or programs and are sometimes compensated for doing so as affiliates. Please read our
Terms and Conditions
for further information, including our
privacy policy
.