In this article, I'll tell you the surprising truth about beef protein powders, explain how they're different from other types of protein powders (such as whey), and share my favorite beef protein powder brand: Equip Prime Protein.
I'll also recommend other brands you can consider and highlight a few products you should stay away from.
Beef protein powder is one of my favorite sources of amino acids — at least as far as supplements are concerned. That's because it's most compatible with my Paleolithic lifestyle.
Think about it: During the Paleolithic period that spanned over 2.6 million years, our ancestors got most of their protein from the meat of the animals they hunted (or from eggs they gathered) while seasonal veggies, nuts and seeds filled the gaps.
Whey protein was accidentally discovered in about 5500 BC, but it wasn't used as a dietary supplement until a few hundred years BC. So while milk-based protein powders, such as whey and casein, offer certain advantages (more on that later), they might not be an optimal protein source for humans from an evolutionary and genetic perspective.
However, beef protein powder also comes with a problem: it's often not made from 100% muscle meat, as you might expect. Instead, it's usually made from the same ingredients as bovine collagen peptides, which you can tell by comparing their amino acid profiles.
As a result, most beef protein isolates have lower concentrations of certain essential amino acids that strength athletes rely on to build lean muscle mass.
As a result, beef protein powder might not be the best choice for everybody. But if your mind is set on it and you just want to get the best product on the market, I recommend giving Equip a try. It's a super-clean product that's paleo and keto-friendly, and it tastes delicious.
If you're not sure whether beef protein supplements are the right choice for you, let's dig a bit deeper. Then I'll tell you more about my favorite supplement (and which products to stay away from).
Equip Prime Protein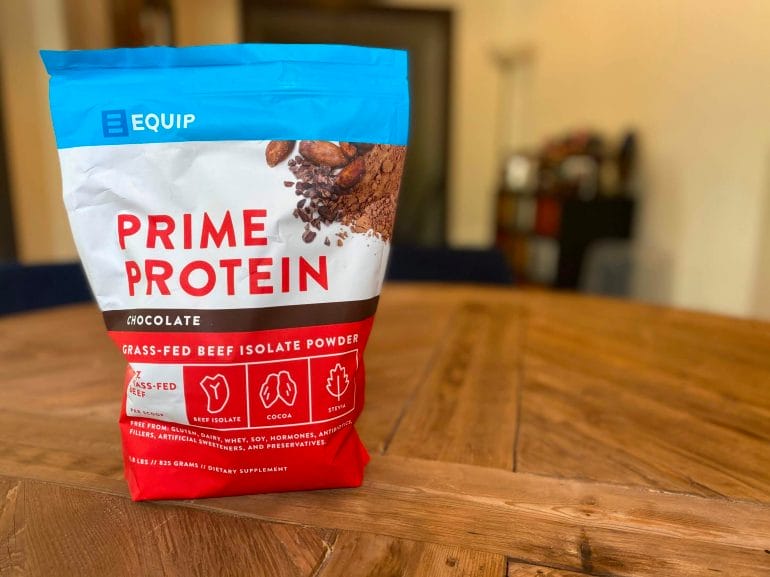 Summary
Equip Prime Protein is the first beef protein isolate I've tried since Paleoethics discontinued their product a few years ago. One of the first things I noticed was how easy it is to mix, despite the absence of emulsifiers or other artificial ingredients often found in similar products. The second thing I noticed was this protein powder's incredible taste. Of course, that didn't exactly come as a surprise because I love chocolate and Prime Protein contains a mix of cocoa and stevia leaf powder. The company also offers a vanilla flavor, but I haven't tried it yet.

Pros
Clean and simple ingredients
Free of gluten, dairy, soy, hormones, antibiotics, artificial flavors and preservatives
100% grass-fed
Paleo and keto friendly
Sweetened with stevia (no sugar)
Cons
Amino acid profile less robust than that of whey
Why You Should Consider Beef Protein Powder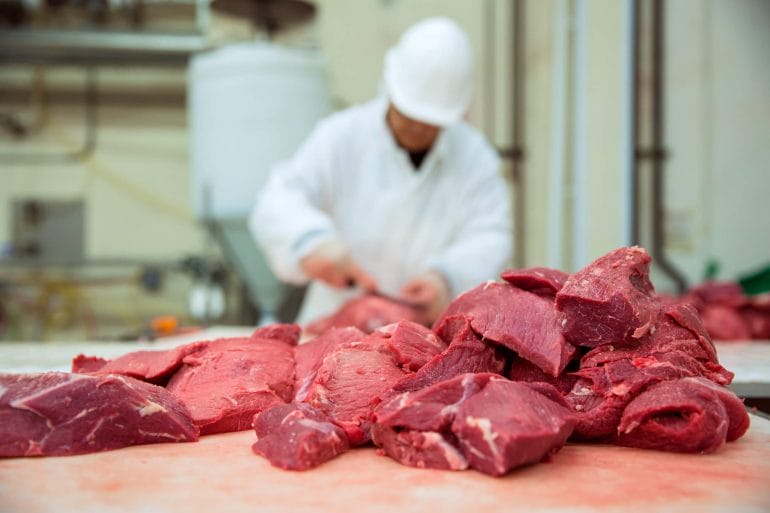 As you might have noticed, there aren't many beef protein powders on the market. There are a handful, but you won't find the same variety that you see with whey or some of the other types of protein powder I have reviewed.
There are a couple of reasons for that, including a lack of demand and manufacturing challenges. I recently had a chat with the CEO of Ample Meal, my favorite meal replacement powder, and he suggested that making clean beef protein powder is incredibly difficult and expensive — much more so than making clean whey protein at a reasonable price.
Making whey protein is relatively easy. In simplified terms, all manufacturers have to do is filter milk to extract the protein molecules.
Beef protein is different because you can get protein from different parts of the animal, including:
Muscle meat (think steak)
Organ meat (which is also super dense with micronutrients)
Connective tissue and skin (collagen)
Bone marrow (the reason why bone broth is a source of protein)
As you can imagine, making beef protein powder from pasture-raised, grass-fed and grass-finished muscle meat is expensive. In fact, it's so expensive that most people wouldn't be willing or able to pay for it.
So what manufacturers use instead are other (less expensive) parts of the animal to make protein powder, including connective tissue and skin.
I know what you're thinking: that sounds a lot like how collagen powder is made. And you're right! Most of the beef protein powder on the market is very similar to collagen powder (or gelatin) if you compare their amino acid compositions.
If you're looking for beef protein to build muscle mass, you want a type of protein that has ample amounts of essential amino acids and, in particular, branched-chain amino acids (BCAAs).
Compared to whey or casein, beef protein powder isn't a great source of BCAAs (especially leucine).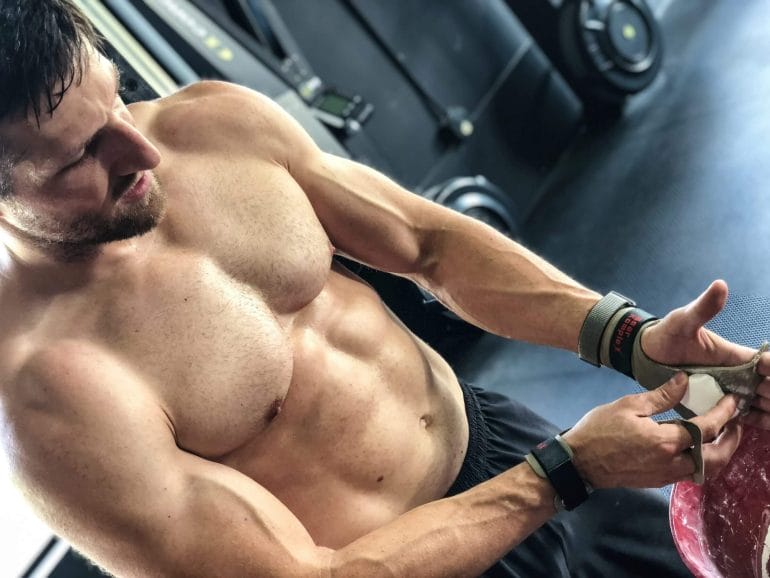 However, if your goal is to supplement a healthy dietary lifestyle that's geared towards longevity and well-being, and not to look like the next Arnold Schwarzenegger, then beef protein might be a great choice.
Why?
Because amino acid restriction, and BCAA restriction in particular, has been shown in studies to activate some of our ancient survival circuits. These circuits trigger cell maintenance programs that repair cells and DNA.
In other words, restricting your intake of certain essential amino acids can help you live longer and be healthier.
That's why I like using collagen peptides and beef protein powder — because they induce a healthy form of stress to my body and, together with intermittent fasting and a low-carb diet, force my cells' survival circuits to turn on and repurpose amino acids and proteins from damaged cells (instead of getting them from food).
That doesn't mean I never eat complete sources of protein. I do. But they usually come from fresh food sources like pastured meats (including organ meats like liver pâté) and seafood.
So where does that leave us with beef protein powder?
If longevity is your primary concern and you need an easy way to supplement your protein intake, beef protein powder is an excellent option.
If you're a weightlifter, bodybuilder or strength athlete, building lean muscle mass likely takes priority over your overall health and well-being. In that case, beef protein in powdered form isn't a great option because it lacks sufficient amounts of the essential amino acids your muscles need to grow.
In that case, I'd go with whey or egg protein instead. Check out my review of the best natural protein powders for product recommendations.
If you're still with me and are convinced that beef protein powder is the right choice for you, let me introduce you to my favorite brand: Equip.
Equip Prime Protein (Beef Protein Isolate)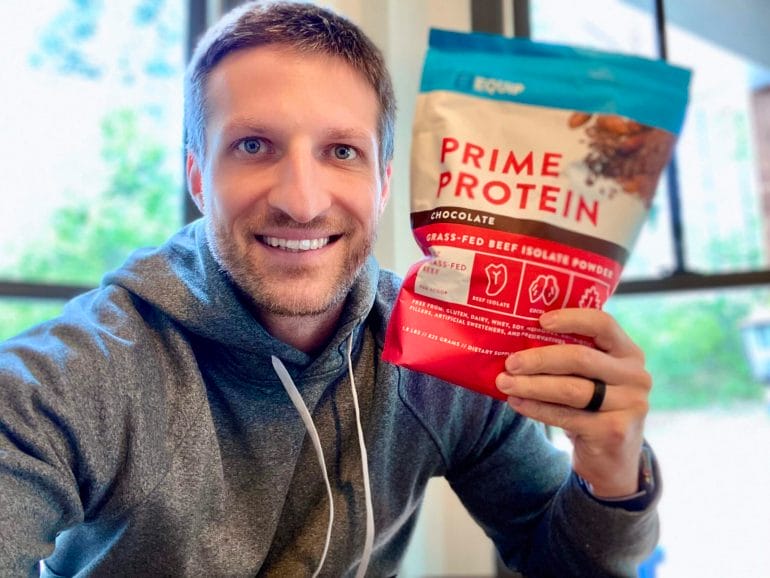 Equip Prime Protein is the first beef protein isolate I've tried since Paleoethics discontinued their product a few years ago.
One of the first things I noticed was how easy it is to mix, despite the absence of emulsifiers or other artificial ingredients often found in similar products.
The second thing I noticed was this protein powder's incredible taste. Of course, that didn't exactly come as a surprise because I love chocolate and Prime Protein contains a mix of cocoa and stevia leaf powder. The company also offers a vanilla flavor, but I haven't tried it yet.
Lastly, I appreciate that Equip doesn't use sucralose or other artificial sweeteners to make the product taste "better."
What's in Prime Protein?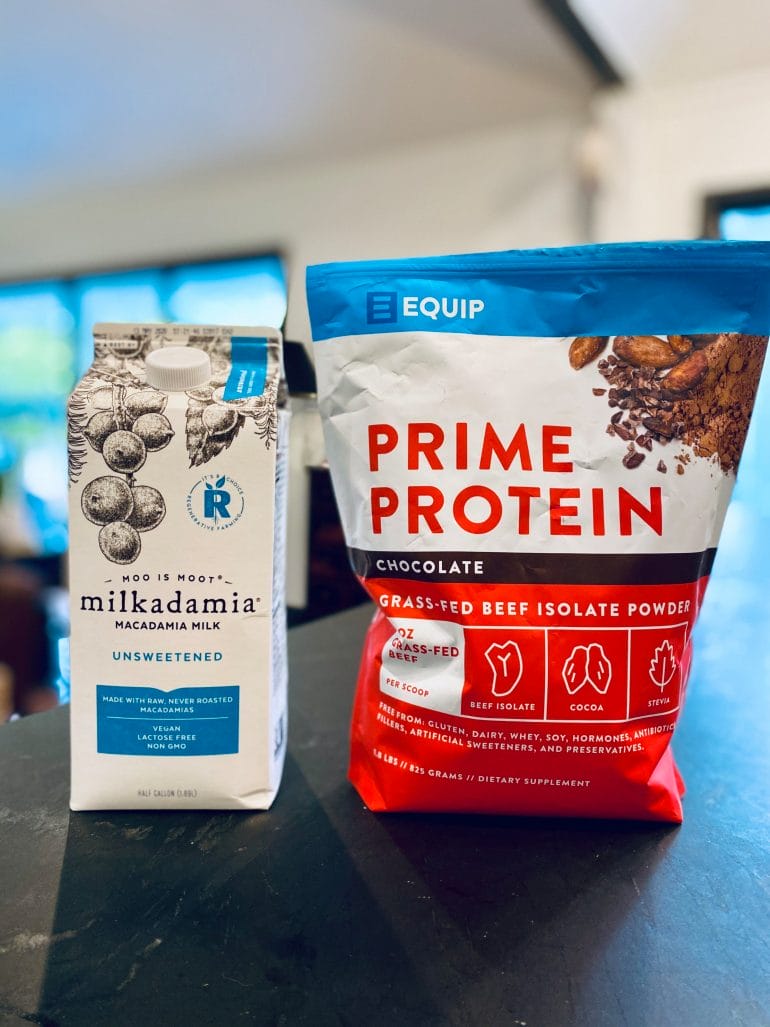 Prime Protein contains three to four ingredients, depending on the flavor you choose. The chocolate-flavored version contains grass-fed beef protein powder (BeefIso), cocoa powder and stevia leaf extract. The vanilla flavored version has both organic vanilla powder (instead of cocoa powder) and coconut milk powder.
Here's a side-by-side comparison of the nutritional information of both flavors.
| | | |
| --- | --- | --- |
| Nutrients | Chocolate | Vanilla |
| Total fat | 0.5g | 2g |
| Total carbohydrates | 1g | <1g |
| Dietary fiber | 1g | 1g |
| Sugars | 0g | 0g |
| Protein | 24g | 24g |
| Vitamins and minerals | Potassium (230mg), vitamin B12 (8%), magnesium (6%), phosphorus (6%), iron (4%), vitamin C (2%) | Potassium (230mg), vitamin B12 (8%), magnesium (6%), phosphorus (6%), iron (4%), vitamin C (2%) |
As you can see, both flavors have a similar nutrient profile. But you could argue that the vanilla flavor is slightly more keto-friendly because it has more fat and fewer carbs.
Both flavors have 24 grams of protein.
How is Prime Protein Made?
If you read the introduction to beef protein powder at the top of this article, you might be wondering which parts of the animal are used to make this beef protein isolate.
Since I couldn't find that information on Equip's webpage, I reached out to them to inquire. What I learned is that Equip uses BeefIso, a product from Prinova (which is one of the world's largest distributors of ingredients used by the supplement industry).
Prinova boils down the bones, as well as the adhering connective tissue and muscle meat, to make protein powder. As a result of that process, the final product contains approximately 30% collagen.
What's the Amino Acid Profile of Beef Protein?
The amino acid profile of Prime Protein (and most other beef protein isolates) is very similar to collagen and gelatin. Below is a comparison table that illustrates what I mean by that.
| | | | | |
| --- | --- | --- | --- | --- |
| Amino Acids | Beef Protein Isolate | Gelatin | Bovine Collagen | Whey Protein Isolate |
| Alanine | 8.8 | 8.9 | 9.5 | 4.0 |
| Arginine | 7.3 | 7.8 | 7.4 | 1.43 |
| Aspartic acid | 6.2 | 6.0 | 5.7 | 8.78 |
| Cysteine | 0.5 | 0.0 | 0.0 | 1.83 |
| Glutamic acid | 11.3 | 10.0 | 9.9 | 13.57 |
| Glycine | 20.1 | 21.4 | 23.0 | 1.43 |
| Histidine | 1.2 | 0.8 | 0.6 | 1.3 |
| Hydroxylysine | ~0.3 | ~1.0 | 1.0 | 0.0 |
| Hydroxyproline | ~3.8 | ~11.4 | 11.4 | 0.0 |
| Isoleucine (BCAA)* | 1.7 | 1.5 | 1.3 | 4.7 |
| Leucine (BCAA)* | 3.9 | 3.3 | 2.9 | 8.09 |
| Lysine* | 5.1 | 3.5 | 3.6 | 6.87 |
| Methionine* | 1.2 | 0.7 | 0.5 | 1.74 |
| Phenylalanine* | 2.3 | 2.4 | 2.0 | 2.3 |
| Proline | 11.1 | 12.4 | 13.2 | 4.26 |
| Serine | 3.4 | 3.6 | 3.1 | 3.52 |
| Threonine* | 2.1 | 2.1 | 2.0 | 5.35 |
| Tryptophan* | 0.3 | 0.0 | 0.0 | 1.43 |
| Tyrosine | 0.9 | 0.5 | 0.2 | 2.35 |
| Valine (BCAA)* | 2.8 | 2.2 | 2.4 | 4.48 |
Values are grams per 100 grams of protein. Source: Equip Foods and others. * mark essential amino acids.
If you look at the table above, you'll see that beef protein isolate, gelatin and collagen have a few things in common. Most notably, they all have high amounts of the non-essential amino acid glycine and lower amounts of branched-chain amino acids (leucine, isoleucine and valine), compared to whey protein.
Considering that BCAAs are the key amino acids for muscle growth, beef protein isolate often isn't the first choice for bodybuilders and strength athletes. However, as I discussed in this article, collagen peptides have numerous health benefits in other areas, including tissue growth and repair. That's one of the reasons why I like beef protein powder and, in particular, Equip Prime Protein.
How to Use Prime Protein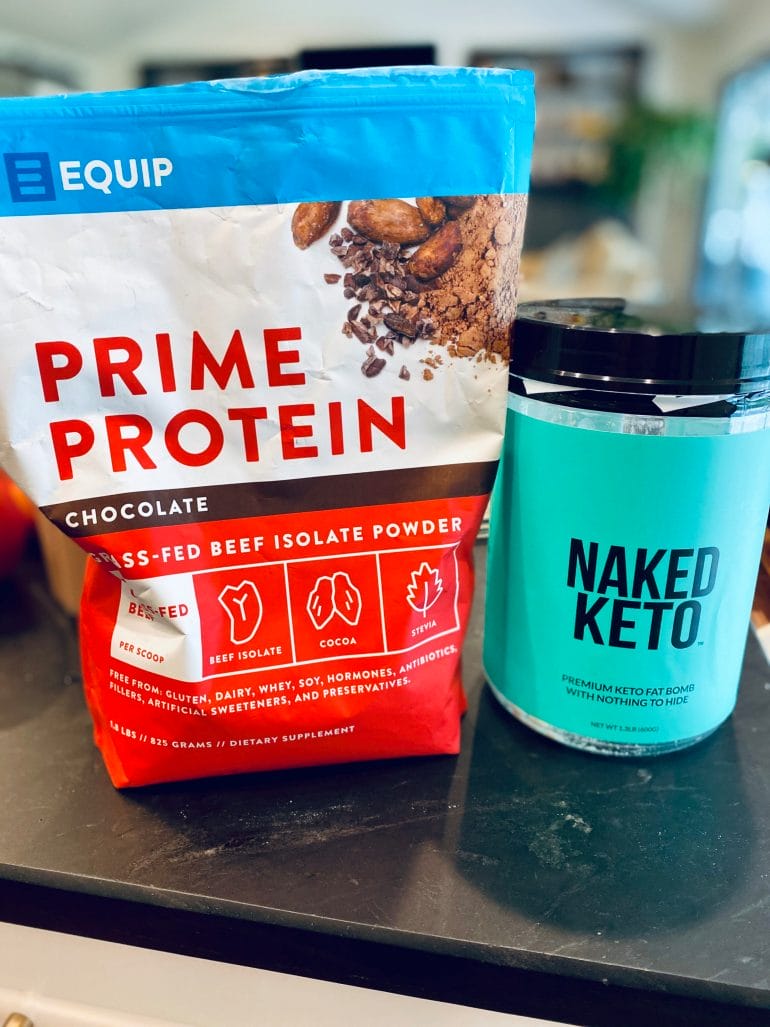 Prime Protein mixes well with both cold and hot liquids, including water and nut milk. I assume it mixes equally well in regular milk, but since I'm on a ketogenic paleo diet (and thus avoid dairy) I haven't tried that.
My wife uses Equip beef protein powder to make smoothies by combining the powder with other powdered supplements, including a green powder and collagen peptides.
I either mix Prime Protein with water or add it to a large serving of keto chia coconut pudding.
If mixed with liquid, I recommend something like a blender bottle to achieve the best results.
How Much is Prime Protein?
A pouch of Equip beef protein isolate is $59 if you buy it one time. That boils down to about $2 per serving, as each pouch contains 30 servings. While that isn't cheap, I think it's reasonably priced for the quality of ingredients you get.
To save some money, you can sign up for a 15, 30 or 60-day subscription and get 15% off. Of course, you can cancel any time or delay a shipment.
You can also use my promo code (MK15) and get an extra 15% off. When combined with a subscription, you can bring the price per serving down to a very reasonable $1.42.
Another Beef Protein Brand
Besides Equip's product, I also recommend PaleoPro (for "paleo protein"). It's not a pure beef protein isolate but rather a mix of beef and egg white protein.
Products I Would Avoid
If you Google the phrase "best beef protein powder," you'll find a lot of recommendations for products that I'd stay away from.
That includes products such as MuscleMeds Carnivore Beef Protein Isolate Powder and Olympian Labs PSN Beef Protein Powder. These products often contain unhealthy and/or inflammatory ingredients such as sugar, maltodextrin (more sugar), artificial flavors and other chemicals.
That said, if I had to choose between the two brands noted above, I'd go with Olympian Labs because its product contains "only" sugar and none of the other crap that MuscleMeds puts into its powder.
Frequently Asked Questions
Is there a beef protein that's made from pure muscle meat?
I haven't found one yet. I'll update this article if and when I do.
Does beef protein isolate contain creatine monohydrate?
No, unless the manufacturer adds it to the formula. Fresh meat does have creatine and other micronutrients, but they're lost during the filtration process that makes the protein isolate.
Is beef protein gluten-free?
Obviously, animal protein isn't a natural source of gluten, but some manufacturers make their products in a shared production environment. That can lead to cross-contamination. So if you have celiac disease, always check with the manufacturer and see if the product carries a gluten-free certification.
Should protein powders have vitamins and minerals?
I prefer protein powders that consist of only one thing: protein.

Some brands add "extras" to their protein powders, including synthetic vitamins and proprietary anabolic nitrogen retention blends. 

The problem is that synthetic vitamins are poorly absorbed by the body, making them relatively useless. You can learn more about that in this article.
Can protein shakes replace a meal?
Protein shakes aren't complete meals because they lack fat — the other essential macronutrient besides protein — and micronutrients. You can certainly have a shake or smoothie as a snack or to replace an occasional meal, but I wouldn't get into the habit of using protein powder as meal replacements.
Can I consume too much protein?
If you consume much more protein than your body can use, you might end up with digestive issues, nausea, headaches and other symptoms. 

Chronic overconsumption can even lead to more serious issues, such as liver and kidney problems.
Wrap-Up: Why I Use Equip Beef Protein Powder
Despite the fact that I only eat one or two meals a day and work out six times a week, I try to satisfy my nutritional requirements with fresh food. But I'm fortunate in the sense that both my wife and I work from home and we get to make every meal from scratch.
Still, my life isn't perfect and I'm sure my nutrition has gaps. That's why I selectively use gap fillers like green powders, collagen peptides and beef protein powder to supplement my relatively healthy lifestyle.
When I do use those substances, I look for clean products that have only a handful of healthy ingredients and that do not contain added sugars, artificial sweeteners or colors, or other inflammatory compounds.
Equip Prime Protein perfectly fits that bill, and I recommend it to anyone who is looking for the best beef protein isolate on the market.
If you've tried Equip or any of the other brands out there, let me know how you liked them by leaving a comment below. If you have any questions or concerns before committing, let me know as well!

I'm a healthy living and technology enthusiast.
On this blog, I share in-depth product reviews, actionable information and solutions to complex problems in plain and easy-to-understand language.
Medical Disclaimer
The information shared on this blog is for educational purposes only, is not a substitute for the advice of medical doctors or registered dieticians (which we are not) and should not be used to prevent, diagnose, or treat any condition. Consult with a physician before starting a fitness regimen, adding supplements to your diet, or making other changes that may affect your medications, treatment plan or overall health. MichaelKummer.com and its owner MK Media Group, LLC are not liable for how you use and implement the information shared here, which is based on the opinions of the authors formed after engaging in personal use and research. We recommend products, services, or programs and are sometimes compensated for doing so as affiliates. Please read our
Terms and Conditions
for further information, including our
privacy policy
.