By a show of hands, who likes the taste of liver? Unless you're a cat, you probably don't.
Honestly, I'm not a huge fan of liver either. But today I'm going to give you a delicious recipe for liver pate that's incredibly quick to make and that (best of all) doesn't actually taste like liver — or least only tastes a little bit like liver.
Now, you might be wondering: if liver tastes so bad, why even bother with it?
Well, it turns out that liver is one of the most nutrient-dense foods on the planet. If there's such a thing as a superfood, then liver is it. This organ meat is packed with vitamins A, B3, B5, B6, B12, D, E, K2, choline, cofactor Q10, copper, iron, potassium, zinc… you name it, it's got it.
The problem is that organ meat isn't always what most people would describe as delicious. As a result, few people eat it on a regular basis. Even those who are laser-focused on optimizing their health and nutrition tend to avoid it in favor of tastier animal parts.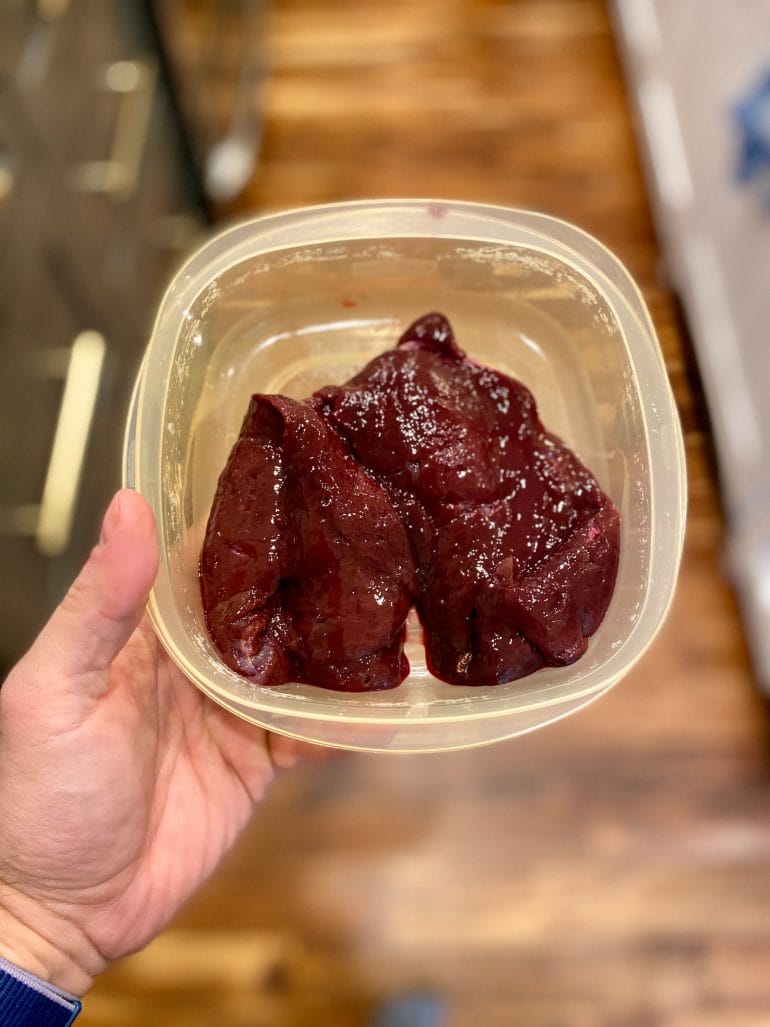 That's why I've been looking for better ways to increase my liver intake. I've found pâté to be the perfect vehicle for doing just that.
The advantages of pâté are that it's delicious, doesn't taste a lot like liver (depending on how you season it), can be prepared in less than 10 minutes, and only requires a handful of readily-available ingredients.
Keto/Paleo Liver Pâté
Liver is one of the most nutrient-dense foods on the planet and pâté is a delicious way to increase your intake of this organ meat. This liver pâté recipe takes less than 10 minutes and a few simple ingredients to prepare.
Diet: Diabetic, Gluten Free
Equipment
Pan
Scale
Containers (i.e., ramekins)
Ingredients
0.5 lb beef liver pastured, chopped into small pieces
1/3 cup bacon fat
2 tbsp coconut cream organic (optional)
1/4 onion minced
1 clove garlic minced (or 1 tsp garlic powder)
1 tbsp thyme fresh or dried (without the stalks)
0.5 tsp sea salt* unrefined
0.5 tsp black peppercorns ground
0.5 cup water filtered
Instructions
Trim any white connective tissue from the liver.
Melt some bacon fat or butter in a pan over medium heat.
Sautee the onion and garlic for 1-3 minutes, or until you can smell them.
Add the liver, salt, black pepper, thyme and water to the pan.
Let everything simmer over medium/high heat until the liver has a pink center and is lightly browned on the outside. I recommend using a lid to cover the pan.
Drain the liquid, turn off the heat and leave the liver covered in the pan for another 5 minutes.
Transfer everything from the pan into a food processor and puree while slowly adding the bacon fat and coconut cream.
Once the pate has a creamy and consistent texture, transfer it into individual containers (or ramekins), cover them with a lid, and place them into the fridge or freezer.
Video
Nutrition
Serving: 1tbsp | Calories: 1138kcal | Carbohydrates: 17g | Protein: 48g | Fat: 97g | Saturated Fat: 43g | Cholesterol: 699mg | Sodium: 1441mg | Potassium: 890mg | Fiber: 2g | Sugar: 1g | Vitamin A: 38657IU | Vitamin C: 18mg | Calcium: 40mg | Iron: 13mg
Ingredients You Need
From an ingredients perspective, you need raw liver (ideally from a pasture-raised animal), bacon fat (or pastured unsalted butter), an onion (red, yellow or sweet), garlic, thyme, sea salt, cracked black pepper, coconut cream (optional) and filtered water.
Besides that, feel free to use any other spices (nutmeg, allspice, bay leaves, etc.) to season your pate to taste.
I get raw liver (the main ingredient in this recipe) from either Whole Foods (look for a jar of chicken livers in the butcher's section) or from the grass-fed cow we purchase every year from a local farmer.
Obviously, we don't purchase a live cow — we purchase all of the animal's meat, organs and bones, and keep the bounty in a large chest freezer.
For the fat in the recipe, I often use the fat that's left over in the pan after frying the strips of pastured bacon. I just let it cool down and solidify, and then scrape it into a container. Alternatively, you can also pour the still-liquid fat into a heat-resistant container and let it cool down there.
If you don't have bacon fat, you can also use pastured butter.
The type and amount of onions you use is entirely up to you. Some people prefer shallots, but I just use whatever we happen to have at home. That's usually 1/4th of a large red onion. But you can use as much as a whole onion of any kind, based on your personal preferences.
The same goes for the garlic; I prefer freshly-minced garlic, but if you don't have that you can substitute with onion powder.
We grow thyme and other herbs in our garden, so we use those. If you don't have fresh thyme leaves, feel free to use dried thyme from the store.
As far as salt and black pepper are concerned, I recommend an unprocessed salt (such as Redmond Real Salt) and freshly-ground peppercorns. Some of the nutrients in black pepper oxidize after grinding the peppercorns, which means that ground pepper from the store might not be as nutrient-dense as the pepper you grind at home.
The coconut cream in this recipe is simply there to make the pâté creamier, so it's optional. I've made liver pâté with and without coconut cream and have never been able to tell much of a difference.
Equipment You Need
The main piece of equipment you need for this recipe is a food processor, which you'll use to turn the chunks of liver and other ingredients into the creamy paste that is the pâté.
In addition to that, you'll need a frying pan with a lid, measuring spoons (or a good eye), and containers to store the final product.
I use little glass bowls that each hold approximately four servings of pâté. That way, I can keep one portion in the fridge and the others in the freezer. You can also use ramekins and cover them with a cloth or plastic wrap if they don't come with a lid.
How to Make Beef or Chicken Liver Pâté
This recipe should take you less than 10 minutes to prepare, and there isn't really much opportunity for error — even if you don't get the measurements or ingredients exactly right.
In fact, I encourage you to experiment and try different seasonings and fats to make this pâté turn out exactly to your taste.
Case in point: while I like the pâté as described in this recipe, my wife prefers it with more salt and seasonings, which helps to better mask the taste of the liver.
To get started, melt a spoon of bacon fat or butter in a pan or skillet over medium heat. Then add the garlic and onions and saute them until they smell good. That shouldn't take longer than a minute or two.
Next, add the liver, black pepper, salt, thyme and water. Cover the pan with a lid, and let the mix simmer for a couple of minutes. When the center of the liver turns pink and the outside looks lightly browned, you can turn off the heat and let everything rest for another 4-5 minutes.
Then, transfer all the ingredients from the pan into a food processor and puree everything as you slowly add the remaining fat and coconut cream — plus any extra salt or black pepper you want to add.
Process the mix until the texture becomes creamy like a mousse and the onion is totally integrated into the puree.
While still hot, transfer the pâté into individual containers, cover them, and refrigerate or freeze them.
Once the pâté has solidified — typically after about four hours in the fridge — you can enjoy it with grain-free crackers or cheese.
Frequently Asked Questions
What types of fat can I use to make liver pâté?
You can use any fat that solidifies below room temperature. Examples include bacon fat, tallow, duck fat, butter or even olive oil.
Why does liver have so many carbs?
Because of the glycogen that both humans and animals store in their liver. Live muscle tissue has glycogen too. However, when the animal is butchered, the glycogen gets released from the muscle tissue — but not from the liver. That's why steak doesn't have any carbs.
If liver has carbs, should you eat it on keto?
I'd argue that the micronutrients in liver outweigh the glycogen you'd consume by eating it. Plus, I usually only eat a tablespoon or so of pâté, not a whole liver.
What if I don't like the taste of pâté but would like to increase my liver intake?
Instead of liver pâté, you can also grind the liver and mix it with regular ground meat to make meatballs.

Our kids don't like pâté but they eat the meatballs as if they didn't have any liver in them.

Alternatively, you can also find capsules that contain dried liver but that don't taste like liver at all.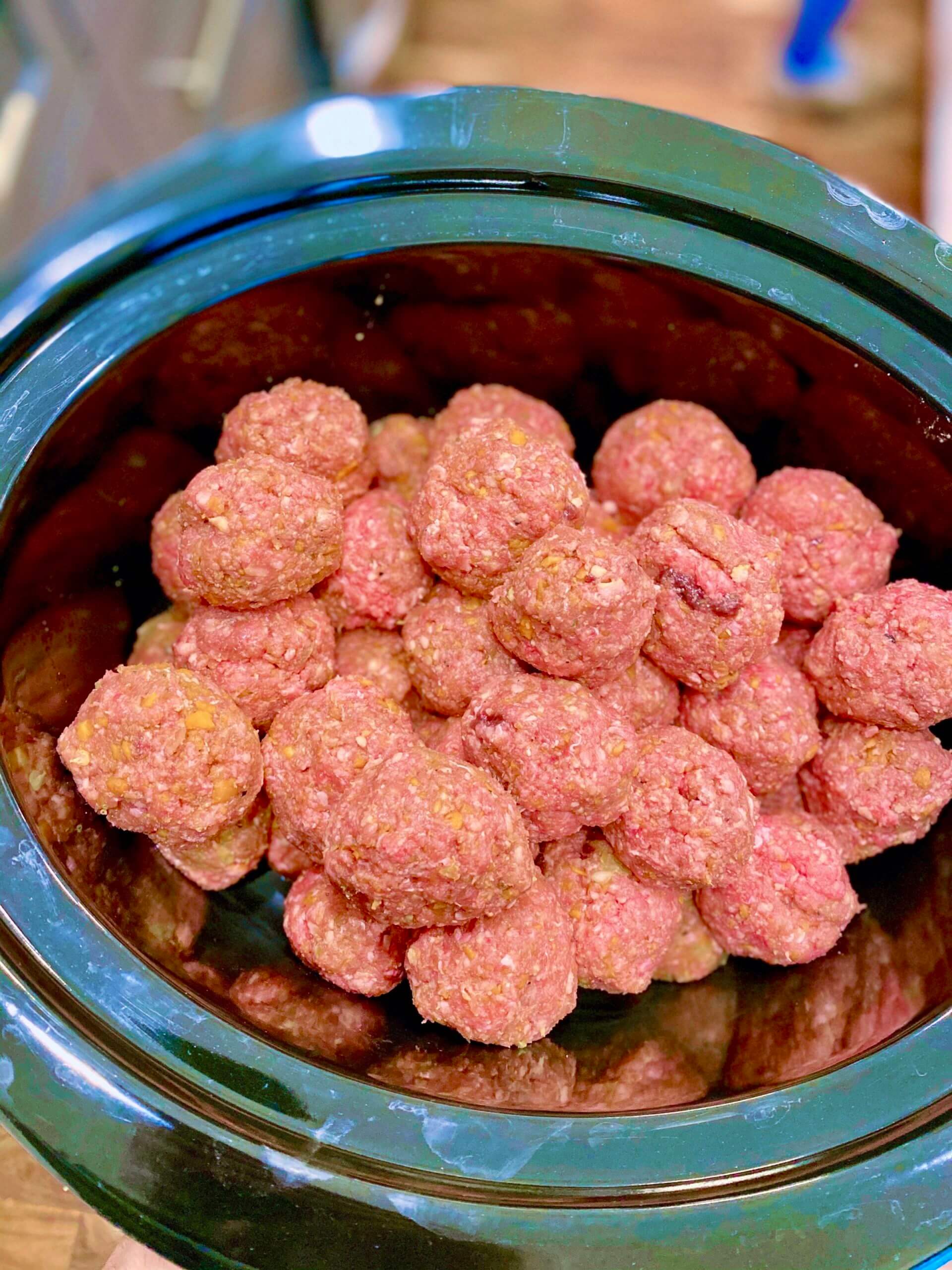 Can you add cognac or red wine to your pâté?
Absolutely! I sometimes add a splash of organic red wine when sauteeing the liver for extra taste.
Wrap-Up
Up until a few decades ago, people would regularly eat organ meat because they knew how nutritious it was. Plus, the liver, heart, kidneys and intestines are often considered animal by-products — which makes them relatively inexpensive.
Considering that organ meat is the most nutritious part of an animal, that's great news. Why spend $20 to $30 on a pound of steak when you can get a pound of pastured chicken livers for less than half of that price?
If you're not convinced by the nutritional advantages of liver, I hope this recipe motivates you to explore different ways to prepare organ meat so that taste and smell aren't an issue. And if you're looking for more evidence, read through my guide on why you should include organ meat in your diet.
Try it out and let me know how you liked it by leaving a comment below.

I'm a healthy living and technology enthusiast.
On this blog, I share in-depth product reviews, actionable information and solutions to complex problems in plain and easy-to-understand language.