While many people associate red light with treating skin issues such as fine lines and wrinkles, athletes and scientists have discovered that red light therapy can be an effective tool for improving performance and speeding up recovery.
The scientific name for red light therapy is photobiomodulation (PBM). It often involves a combination of red and near-infrared light, and it uses low-level lasers, light-emitting diodes (LEDs), or a combination thereof to alter cellular function and physiological processes.
For the purpose of this article, I'll use the terms PBM and red light therapy interchangeably as I explain both its direct and indirect benefits on exercise performance, based on the latest scientific evidence and my own hands-on experience with red light devices.
If you've never heard about red light therapy in the context of athletic performance, consider the following quote from a 2016 study:
"Both pre-conditioning (light delivered to muscles before exercise) and PBM applied after exercise can increase sports performance in athletes."

— "Photobiomodulation in human muscle tissue: an advantage in sports performance"
The paper goes so far as to "raise the question of whether PBM should be permitted in athletic competition by international regulatory authorities."
In other words, the authors of this meta study suggest that the evidence in support of red light's positive impact on athletic performance is so significant that it should be regulated similarly to performance enhancing substances.
How Red Light Improves Athletic Performance
As I alluded to in the introduction, the use of red light therapy can directly and indirectly improve athletic performance based on several mechanisms, including the following:
Increased energy metabolism and ATP synthesis. Adenosine triphosphate (ATP) is your body's energy currency, and the more ATP your mitochondria produce, the better your muscles perform. (Mitochondria are essentially your cells' power plants.)
Protection against oxidative stress. Prolonged or high-intensity exercise causes oxidative stress, damaging skeletal muscle fibers and accelerating muscle fatigue. Improving your body's response to oxidative stress speeds up recovery and delays muscle fatigue.
Prevention and repair of tissue damage. Red light therapy increases the flow of oxygenated and nutrient-rich blood to the affected area, thus reducing your risk of injury and speeding up the recovery of damaged muscle tissue (the latter is a normal part of exercise).
Modulation of gene expression by activation of transcription factors. PBM has been shown to modulate the expression of genes related to inflammation, cell proliferation (essential for muscle growth), and tissue healing.
Potential increase in the excitability of muscle fibers. While the exact mechanisms aren't fully understood, red light therapy improves mitochondrial function, reduces oxidative stress and increases blood flow (among other things), all of which positively influence the excitability of muscle fibers. The more muscle fibers you can recruit during a contraction, the more force the muscle can exert, and the more the muscle will grow.
Keeping these mechanisms in mind, let's discuss red light therapy's most promising benefits for improving exercise performance.
1. Supports Muscle Growth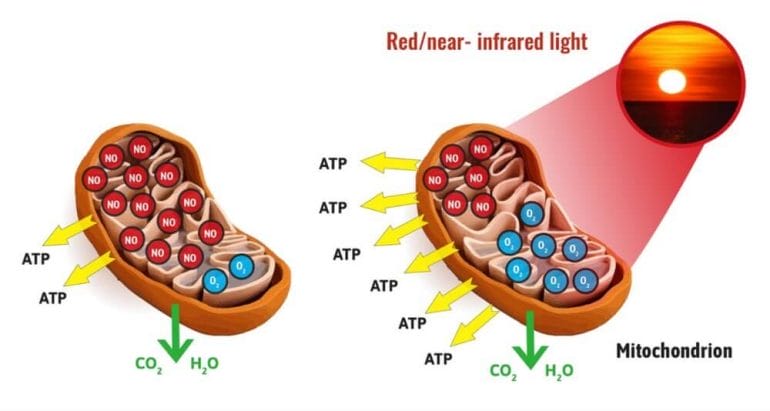 If you paid attention in biology class, you might remember that mitochondria produce ATP through a process called respiration.
Studies have shown that photobiomodulation therapy increases mitochondrial respiration and ATP production.
Here are some of the key reasons why that's beneficial for athletic performance:
Muscles require energy in order to contract and relax, and this energy is primarily derived from ATP.
After exercise, your muscles need to recover and grow. ATP provides the energy necessary for the active transport mechanisms that bring nutrients into the muscle cells for recovery.
Synthesizing new proteins, which is crucial for muscle growth, is also an energy-consuming process requiring ATP.
Improved mitochondrial function can increase insulin sensitivity in muscle cells, facilitating the uptake of nutrients like amino acids and glucose, which are essential for growth and repair.
Better mitochondrial function means more efficient energy use, allowing for more intense and prolonged workouts, leading to greater muscle growth stimuli.
How to Use Red Light to Promote Muscle Growth
I recommend using red light therapy an hour before, and within an hour after, exercise to improve energy production in your muscle tissue, nutrient uptake, protein synthesis and recovery. The protocols vary depending on the treatment area and the specific red light therapy device you're using, but I recommend a treatment time between 15 and 20 minutes. If you're treating a larger area, consider treating each section of the overall treatment area for 15 to 20 minutes.
The ideal red light therapy device to use for promoting muscle growth depends on several factors, including the type of muscle and the overall treatment area you want to target. For smaller areas such as your biceps or calves, I recommend a wearable red light therapy device such the Kineon Move+ Pro. For larger areas, you can consider a red light therapy belt or a high-quality panel (such as the MitoPro 1500 I have in my office).
2. Improves Endurance
Stored ATP, and your body's ability to regenerate ATP, are critical for optimal muscle endurance. If you run out of ATP, your muscles lose their ability to contract effectively, leading to fatigue. PBM can enhance mitochondrial function and ATP production to ensure more ATP is available for your muscle cells to tap into.
For example, a study in exercise-trained mice has shown that light-emitting diode therapy increases ATP availability, which can delay fatigue and improve endurance performance.
A systematic review published in Lasers in Medical Science concluded that phototherapy (with lasers and LEDs) improves muscular performance and accelerates recovery mainly when applied before exercise.
Meanwhile, a 2014 randomized double-blind crossover trial published in Photomedicine and Laser Surgery found that using low-level laser therapy during rest intervals and after intense exercise can improve fatigue resistance.
How to Use Red Light to Improve Your Endurance
Considering that there doesn't appear to be a consensus among scientists as to when you should leverage red light therapy in the context of improving endurance, I recommend using it both before and after exercise, with treatment sessions of between 15 to 20 minutes.
I recommend a wearable device, such as the Kineon Move+ Pro for smaller muscle groups or a high-quality red light therapy panel such as the MitoPro 1500 for treating larger areas or your entire body. For whole body treatments, you could also consider a full-spectrum infrared sauna with red light such as the Sunlighten mPulse Smart Sauna we have.
3. Treats Injuries and Reduces Injury Risk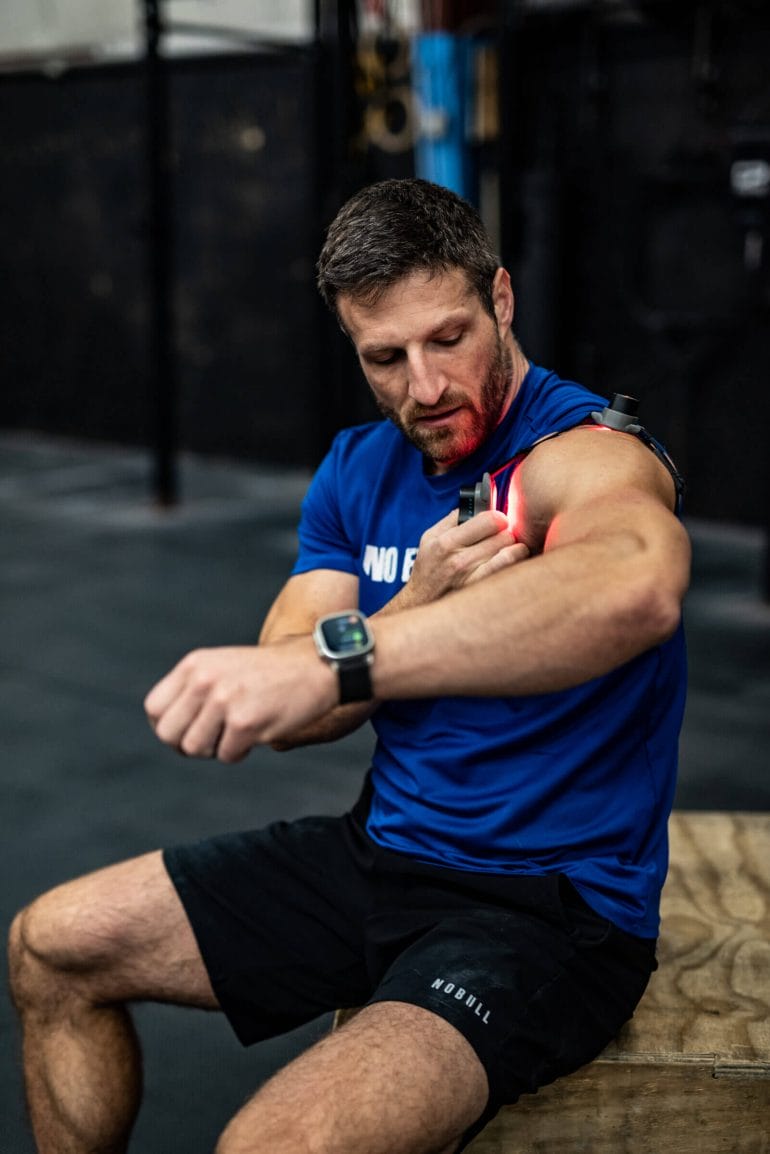 There is strong scientific evidence that red light therapy can increase oxygenated blood flow, decrease inflammation and pain, and even trigger the regrowth of cartilage tissue.
I've written about those mechanisms in detail in my articles about the top red light therapy benefits and using photobiomodulation to treat knee and joint pain.
It works because PBM improves microcirculation and perfusion in injured tissue via vasodilation and angiogenesis (the creation of new blood vessels). In other words, PBM increases oxygenated blood flow, which brings nutrients to the affected tissue, thus speeding up the healing process.
Additionally, PBM triggers the release and activation of several growth factors, including nerve growth factor (NGF) and vascular endothelial growth factor (VEGF), which are both important for speeding up tissue and nerve repair.
PBM also induces biochemical changes in the mitochondria of the affected tissue. Specifically, it triggers an increase in electron transport and ATP production (among other things), promoting cellular proliferation, wound healing, decreased inflammation and pain inhibition.
While it's relatively clear how PBM can help you recover quicker from injuries, another question is whether (and if so, how) it reduces your injury risk in the first place.
The answer to that lies in PBM's ability to increase circulation, nutrient delivery and waste removal. Properly oxygenated tissue is less prone to injury, and optimal nutrient delivery ensures normal, microscopic injuries can heal quickly instead of leading to more severe injuries down the line.
How to Use Red Light to Reduce Your Risk of Injury
To reduce injury risk, I recommend using red light therapy 15 to 30 minutes right before a workout, and within an hour after a workout. In the event of an acute injury, 15 to 20 minutes daily is what I'd recommend. My wife and I have been using this simple protocol to speed up our recovery after sustaining injuries as part of our CrossFit workouts.
Arguably the most effective red light therapy device for preventing and treating injuries is a wearable that uses high-quality LEDs or, better yet, a combination of lasers and LEDs. My red light therapy device of choice for treating injuries is the Kineon Move+ Pro.
4. Speeds Up Recovery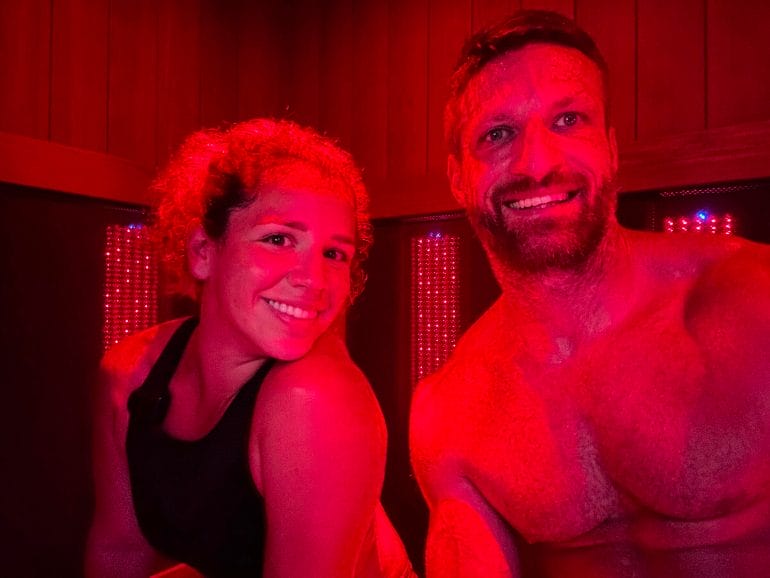 As I discussed in my article about the overall health benefits of red light therapy, PBM can help your body recover from microscopic tears in muscle fibers that are a natural and necessary aspect of growing muscle tissue and improving exercise performance.
For example, a 2010 study published in the European Journal of Applied Physiology found that using low-level laser therapy (a form of red light therapy) before certain types of exercises reduces muscle damage markers. And lower levels of those muscle damage markers indicates that your body needs less time to recover after a workout.
Another double-blind randomized placebo-controlled study, published in Lasers in Medical Science, found that using infrared light after exercise moderately decreased inflammatory markers in water polo players.
Aside from reducing muscle damage, studies have also shown that using red light therapy as part of a post-workout regimen can accelerate muscle recovery and can reduce muscle soreness, muscle strength loss and range of motion impairments for up to 96 hours after exercise.
Here's the thing: a moderate decrease in inflammatory markers and muscle soreness might not be a big deal if you're a hobby athlete. But if you're a professional athlete, even a minor decrease can lead to meaningful gains and a reduced risk of injury over time.
How to Use Red Light to Speed Up Recovery After a Competition or Workout
For optimal muscle recovery, I recommend treating the target area for 15 to 20 minutes about an hour before and within an hour after the workout using a wearable (e.g., the Kineon Move+ Pro), a red light therapy panel (e.g., the MitoPro 1500) or even a full-spectrum infrared sauna with red light such as the Sunlighten mPulse Smart Sauna.
5. Improves Sleep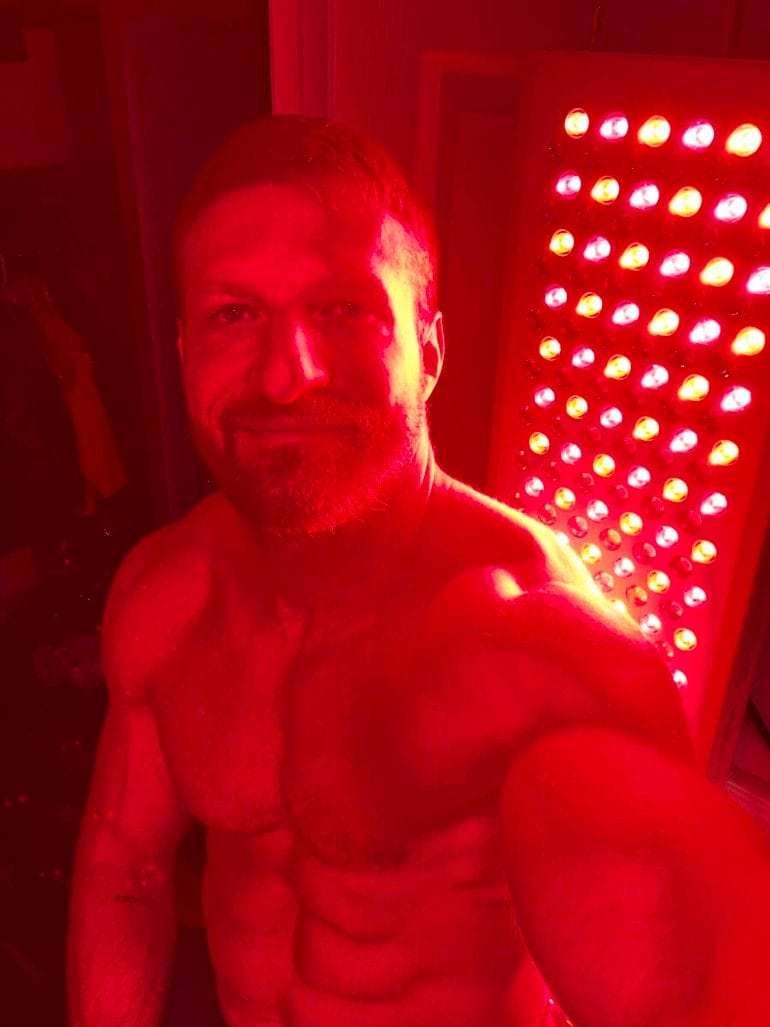 A key health benefit of red light therapy that not everyone knows about is improved sleep quality.
While there's still a lot we need to learn about specifically how red light impacts sleep, studies show that it can reduce the symptoms of certain mental health conditions like anxiety, which is one of the most common reasons why people have trouble falling asleep.
One specific study, involving 10 elite basketball players, found that full-body red light therapy increased serum melatonin levels, sleep quality and endurance performance. As you may know, melatonin is important for inducing sleep in general and for REM sleep in particular. The latter occurs predominantly during the second half of the night and is important for memory consolidation (among other things).
Another benefit of red light therapy is that it decreases sleep inertia, which is the grogginess you feel right after waking up. So if you're having trouble getting moving in the morning, red light therapy while sleeping or when you wake up might help.
How to Use Red Light to Improve Your Sleep
To improve sleep quality, I recommend using red light therapy in the morning and before bedtime for 20 to 30 minutes each. I have a full-size red light therapy panel in my office that I turn on every morning for about 20 minutes (see my review of various Mito-brand red light panels to learn about sizes and options). Additionally, I use a red light face mask or a wearable for 10 to 30 minutes in the evening, usually while watching TV with my wife.
Good Red Light Tools for Athletes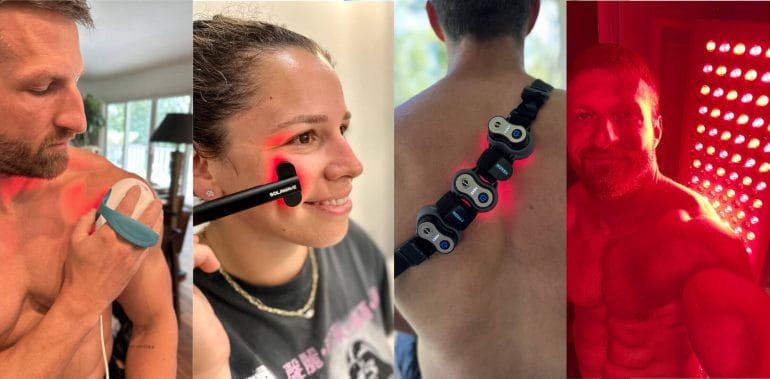 Red light therapy devices exist in all shapes and forms, ranging from wearables to walk-in infrared saunas. What's important to understand is that not all devices are equally effective, depending on the benefits you're after.
For example, a red light therapy panel and an infrared sauna (with red light) are great for improving recovery and sleep, but not for regrowing cartilage tissue in an injured knee joint. For that, you need a powerful wearable that emits the proper frequencies of red and infrared light.
Here's a quick comparison chart of the benefits provided by the three main types of devices, with more context about each provided in the sections below.
| Benefits | Saunas | Panels | Wearables |
| --- | --- | --- | --- |
| Muscle growth | ★★☆ | ★★☆ | ★★★ |
| Improve endurance | ★☆☆ | ★☆☆ | ★★★ |
| Treat and prevent injuries | ★★☆ | ★★☆ | ★★★ |
| Speeds up recovery | ★★★ | ★★★ | ★★☆ |
| Improve sleep | ★★★ | ★★★ | ★★☆ |
The ratings in the comparison table above take the effectiveness and convenience of the devices into account.
Red Light Saunas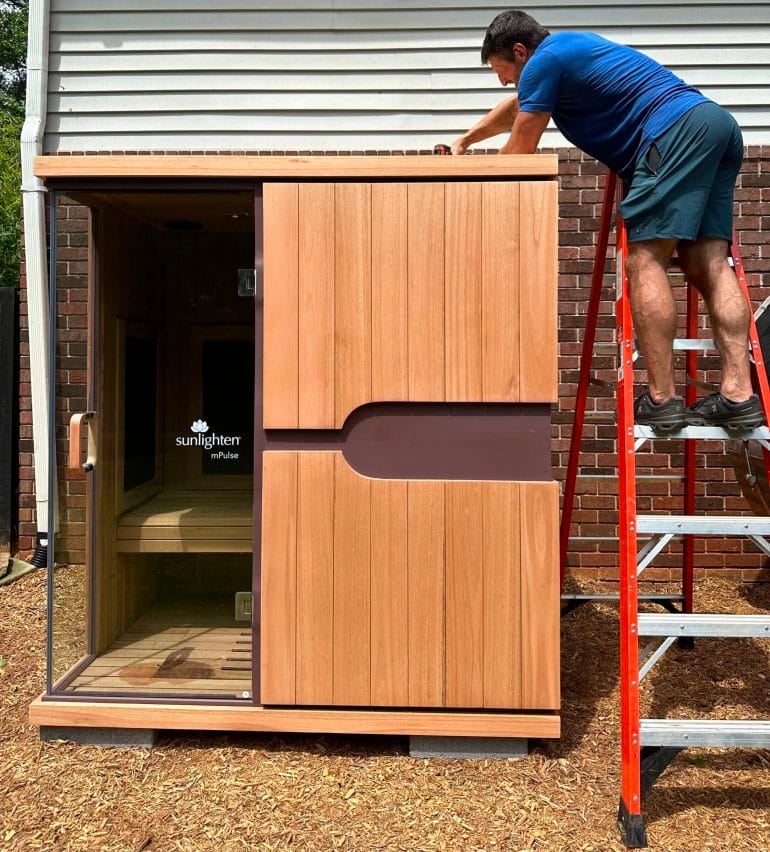 I'm a huge fan of full-spectrum infrared saunas to improve sleep and help with muscle recovery. The advantage of a high-quality infrared sauna is that its rays can penetrate almost your entire body. That's incredibly helpful if you're trying to recover from full-body workouts.
The downside to red light saunas is that you can't maintain a consistent distance between the LEDs of the heater and the target tissue. As a result, the healing rays in the near-infrared and red light spectrum won't penetrate your tissue deeply, making saunas a less-than-ideal choice for improving muscle growth and treating injuries (depending on the location of the target tissue).
Additionally, full-spectrum infrared saunas with red light aren't exactly cheap, as they can cost thousands of dollars. If you have the budget for such a sauna, I recommend the Sunlighten mPulse Smart Sauna, which we have in our backyard.
Read my Sunlighten mPulse review to learn more, and check out my article on the health benefits of infrared saunas for a deeper dive into the science behind these devices.
Red Light Panels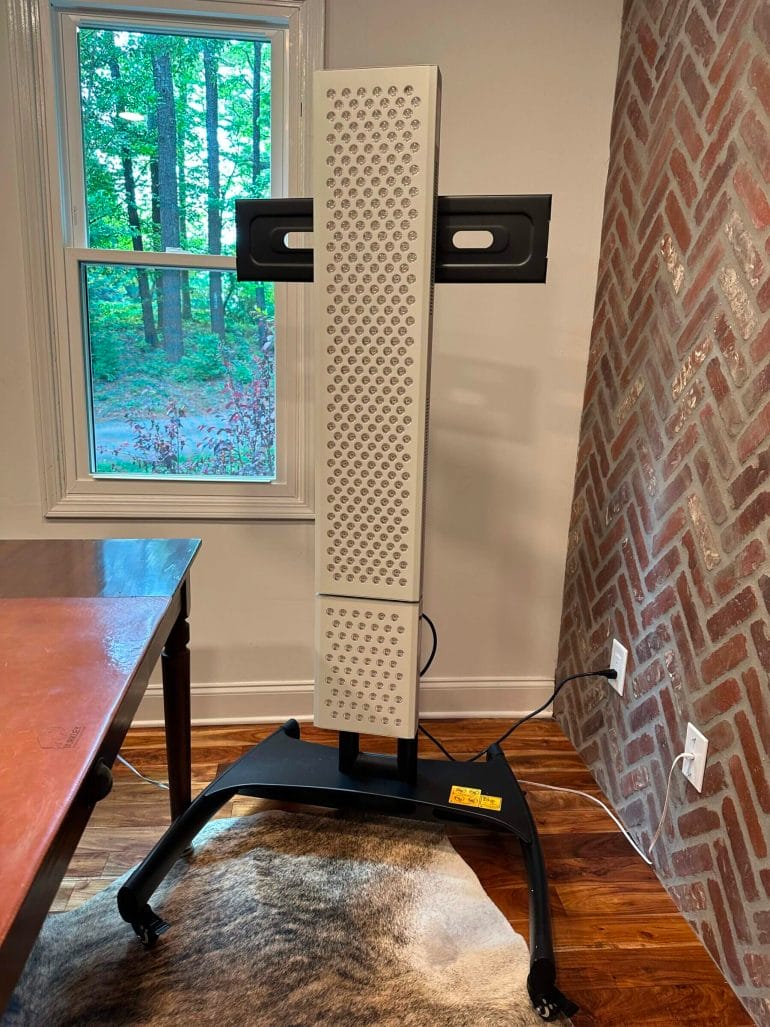 Compared to saunas, red light panels are a much more affordable and convenient way to treat large areas, making them an attractive alternative if muscle growth and recovery are your target use cases.
We own several MitoPro red light panels, including the ones I use every morning in my office.
The downside to red light panels is their relatively shallow penetration depth (similar to saunas), making them less effective in treating certain injuries than wearables.
Wearables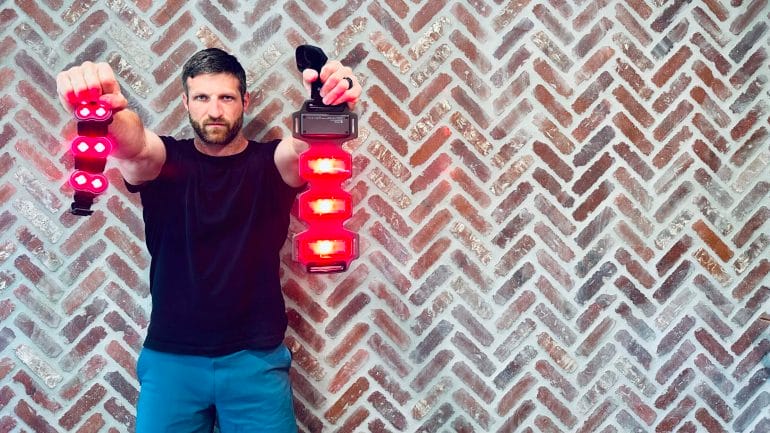 Arguably the most effective devices for treating injuries are wearables, because they ensure a consistent distance between the light source and the target tissue, a crucial factor that determines how much of the light's energy reaches the target.
The other advantage of high-quality red light therapy wearables is that they use wavelengths best suited for triggering tissue (re)growth and repair. My favorite red light therapy wearable is the Kineon Move+ Pro which both my wife and I have used to improve our CrossFit performance and recovery. The Recharge FlexBEAM doesn't have quite as robust of technology, but as shown in the photo above, it's bigger and can cover a wider treatment area.
Learn more about these devices in my Kineon Move+ Pro review and my Move+ Pro vs. FlexBEAM comparison article.
Key Questions About Red Light Therapy and Athletic Performance
Should you do red light therapy before or after a workout? 
Based on the available scientific research and anecdotal evidence from my own testing, I recommend using red light therapy both before and after a workout for maximum benefits. 

Using red light therapy before a workout primes your muscle tissue and reduces your risk of injury. Using red light therapy after a workout improves muscle growth and speeds up the recovery process.
Are there any restrictions on red light use in competitive athletics?
While there have been discussions about banning or limiting the use of red light therapy devices in competitive sports, there are currently no restrictions on the use of such devices. Personally, I believe that banning something as wellness-promoting as red light therapy in competitive athletics is not only counter-productive but also almost impossible to enforce. 
Is there any scenario in which red light might negatively affect athletic performance?
Red light therapy is a mild hormetic stressor that can help improve your performance and recovery. However, there is such a thing as inducing too much stress (of any kind). That's why I recommend using red light therapy for not more than 30 minutes per session and 60 minutes per day. 

For example, using a wearable red light therapy device to treat an injury for longer than recommended can trigger an inflammatory response that can slow down the healing process, much like staying for too long in an infrared sauna when you're sick can further weaken the body and delay recovery. 

The goal with red light therapy is to stress the body just enough to solicit a mild response that can speed up healing and recovery without causing too much stress and weakening the body.
Red Light Therapy for Athletic Performance: Summary and Final Thoughts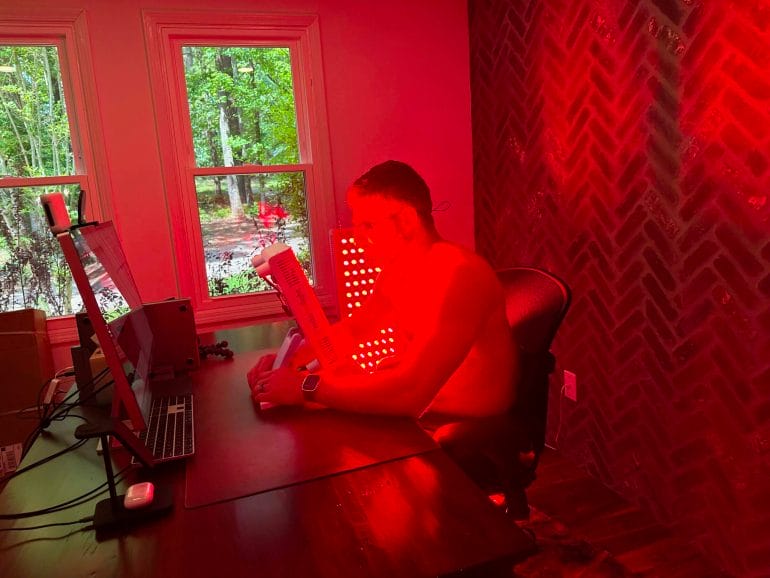 Light carries energy, and our cells need energy to function. Special enzymes inside the mitochondria's electron transport chain called cytochrome c oxidase are thought to absorb light in some of the red and near-infrared spectrum. Cytochrome c oxidase plays a critical role in cellular respiration, helping to produce adenosine triphosphate (ATP), which is the cell's main form of energy.
Scientists have discovered that if you expose tissue to the correct frequencies and intensities of red and infrared light, the mitochondria in those cells work better. In other words, you can leverage red light therapy to directly improve athletic performance by improving muscle growth and endurance.
Additionally, you can indirectly improve your exercise performance by speeding up muscle recovery, reducing the risk of injury and improving your sleep.
Combining the direct and indirect benefits of red light therapy can lead to meaningful performance improvements, especially if you're a professional athlete. But even if you're a hobby athlete or fitness enthusiast like I am, the benefits are likely worth it. I certainly appreciate recovering quicker after intense workouts, being less sore, and having a reduced risk of injury.
Have you leveraged red light therapy to help improve your athletic performance before? If so, what tools have you used and how effective were they? Let me know by leaving a comment below.

Michael is a healthy living enthusiast and CrossFit athlete whose goal is to help people achieve optimal health by bridging the gap between ancestral living and the demands of modern society.
Medical Disclaimer
The information shared on this blog is for educational purposes only, is not a substitute for the advice of medical doctors or registered dieticians (which we are not) and should not be used to prevent, diagnose, or treat any condition. Consult with a physician before starting a fitness regimen, adding supplements to your diet, or making other changes that may affect your medications, treatment plan or overall health. MichaelKummer.com and its owner MK Media Group, LLC are not liable for how you use and implement the information shared here, which is based on the opinions of the authors formed after engaging in personal use and research. We recommend products, services, or programs and are sometimes compensated for doing so as affiliates. Please read our
Terms and Conditions
for further information, including our
privacy policy
.