While searching for the best green powders on the market, I noticed that most products don't meet my clean and ancestral eating requirements. There is only a handful I would consider buying and recommending to others.
Out of the many that I've researched and tried, the half-dozen listed below are the best.
In a nutshell, the products above are free of artificial sweeteners, fillers, wheat, soy and other inflammatory ingredients. Instead, they're packed with fruits, vegetables and other plant-based ingredients like chlorella, kale, spirulina, wheatgrass and more.
This article covers the pros and cons of each of the products mentioned below, but I also recommend reading my article on the potential health benefits of green powders, which digs into the question of whether these products are even worth taking in the first place.
Also, I should mention that I stopped using green powders in favor of consuming more organ meats, which are arguably the best way of getting the micronutrients the body needs. Additionally, I've decided to make my own freeze-dried and grass-fed beef organs capsules, which my family and I supplement with every day. You can learn more about that on my MK Supplements page.
Comparison of Green Powders
Below is a quick comparison table of all the green powders I tried or researched for this roundup.
| | Athletic Greens | Equip Foods | Naked Nutrition | Organifi | Sunny and Green | SuperGreen TONIK |
| --- | --- | --- | --- | --- | --- | --- |
| Micronutrient Density | ★★★★★ | ★★★★☆ | ★★★☆☆ | ★★★☆☆ | ★★★☆☆ | ★★★★★ |
| Organic Ingredients | Some | Yes | Yes | Yes | Some | Some |
| Vegan | Yes | Yes | Yes | Yes | ? | Yes |
| Absorbability | ★★★★☆ | ★★★★★ | ★★★★☆ | ★★★☆☆ | ★★★★☆ | ★★★★☆ |
| Calories | 50 | 25 | 25 | 30 | 20 | 40 |
| Net Carbs | 4 g | 1 g | 4 g | 3 g | 2 g | 5 g |
| Probiotics | Yes | No | Yes | No | Yes | No |
| Third-Party Tested | Yes | No | Yes | No | No | Yes |
| Price per Serving | $3.23 | $4.21 | $0.86 | $2.33 | $1.30 | $2.97 |
The price per serving is based on a single purchase (not a subscription).
Due to the size of the table, you might have to scroll horizontally to see all the information.
1. Athletic Greens
Pros
High micronutrient density
Third-party tested
Includes probiotics
Cons
4 grams of net carbs
Absorbability
Price
Athletic Greens is packed with 75 vitamins, minerals and whole-food-sourced ingredients. I learned about this product when I attended the Paleo f(x) trade show in 2019 and had a chance to sample it at the company's booth.
Athletic Greens offers the most diverse ingredients and highest micronutrient density of all the products in this roundup. However, not all of the ingredients the company uses are from organic sources.
Plus, the powder doesn't include any sources of fat or digestive enzymes to maximize the absorbability of its ingredients. So I recommend adding a few drops of your favorite oil to each serving to improve the absorbability of the powder's fat-soluble vitamins.
In my opinion, another thing that could be improved is the sweetness, as the product has too much stevia for my taste. However, other people — including my wife — seem to love it, so it's definitely a personal preference.
You can also order directly from Athletic Greens.
2. SuperGreen TONIK
Pros
Mostly organic ingredients
Third-party tested
High micronutrient density
Cons
Price
5 grams of net carbs
SuperGreen TONIK is a recent addition to my list of recommended green powders. I like this product because the team behind it was incredibly transparent and forthcoming when I asked them about individual ingredients and processing methods.
Besides that, SuperGreen TONIK features organic greens, a nootropic blend to boost mental performance, and an immune blend to help support your immune system.
Unlike most other products I've tried, SuperGreen TONIK lists the individual vitamins and ingredients on its label. I'm sure many of you will appreciate that.
Taste-wise, this green powder is comparable to Organifi. All three contain stevia, which gives each of the products a lightly sweet taste.
My wife noted that by adding a sweetened green powder to her post-workout protein shake, she can omit the banana she used to use as a natural sweetener. That cuts down on carbs and sugar!
Also worth noting: this product's formula was updated in early 2021 to make it fully vegan. Previously, it contained a non-essential amino acid (l-tyrosine) that was derived from duck feathers.
If you want to give SuperGreen TONIK a try, make sure to use discount code KUMMER10 to get 10% off your purchase. You can also purchase SuperGreen TONIK on Amazon.
If you want to learn more about the product, make sure to check out my dedicated SuperGreen Tonik review.
3. Naked Nutrition Naked Greens
Pros
100% organic ingredients
Only 10 ingredients
Certified vegan and gluten-free
Low cost per serving
Cons
Lacks fat to help with absorbability
Micronutrient density
Naked Nutrition is one of my favorite supplement brands because they make products that contain only a few super-clean ingredients.
Naked Greens is no different. It has only 10 all-organic ingredients, including some green vegetables, fiber (prebiotics), ashwagandha, ginseng and bacillus subtilis (a probiotic).
The other thing I really like about Naked Greens is that it doesn't contain any sweeteners. That means you can easily mix it into smoothies or shakes without negatively impacting their taste.
Of course, that lack of sweeteners means you'll taste the actual ingredients. I found that to be a pleasantly herbal taste.
Considering the fact that Naked Greens is certified vegan, gluten-free and consists of only organic ingredients, you might expect a high price tag. However, one tub (which includes 35 servings) costs only $29.99 (or $0.86 per serving). That makes it by far the least expensive product in this round up — and one of my favorites!
The only two downsides to Naked Greens are its limited micronutrient density (due to the limited number of ingredients) and a lack of fat to assist with the absorbability of the product. However, you can easily compensate for that by enjoying this greens powder together with a meal that has fat.
Buy Naked Nutrition Green Powder on Amazon
You can also purchase Naked Greens directly from Naked Nutrition.
4. Organifi Green Juice
Pros
Taste
All organic ingredients
Good value
Cons
Lower nutrient density and absorbability
Organifi is arguably one of the better-known green powder brands on the market, and its products meet all of my dietary requirements. It's USDA Organic, gluten-free, soy-free, dairy-free and non-GMO.
Plus, it tastes good and is not overly sweet. Organifi claims that its superfood powder is the best-tasting one on the market, but that's obviously a rather subjective assessment.
The only downside to this green juice is its lower micronutrient density and absorbability, compared to some of the other brands.
I should also mention that the tub I got shows a Prop65 warning for cadmium. At first, I found that irritating, until I learned more about the law and its labeling requirements.
You can also purchase Green Juice directly from Organifi.
5. Sunny Green Cleansing Green
Pros
Price
Some organic ingredients
Only 2 grams of net carbs
Includes probiotics
Cons
Lower nutrient density and absorbability
Sunny Green is another brand that I really like, just based on the ingredients. It's also the least expensive product in this roundup.
What's cool about Sunny Green is that they offer both green food powders as well as powders made from individual plants, such as organic beetroot or blue-green algae.
I have a few of their supplements in my pantry and really like them.
Despite the attractive pricing, the downside to this product is its lower nutrient density and absorbability. Plus, not all the ingredients are organic.
My recommendation is to use Sunny Green if you enjoy drinking some of some of your greens without necessarily needing a green powder to fill gaps in your diet.
6. Equip Foods Micro Greens (Discontinued)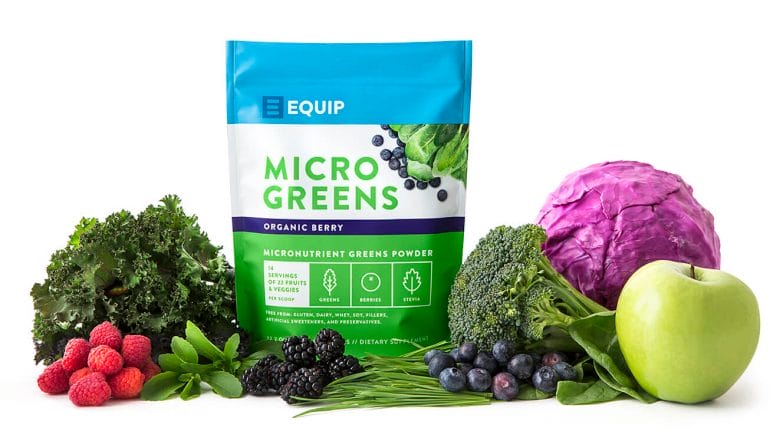 Pros
Good micronutrient density
All organic ingredients
Excellent absorbability
Super clean ingredients
Equip Foods Micro Greens is currently my favorite green superfood powder because of its good micronutrient density and outstanding absorbability.
Remember, the nutrients contained in a green powder are only as good as the body's ability to absorb them. To help with that, Equip added special enzymes and medium-chain triglycerides (MCTs). The latter helps with absorbing fat-soluble vitamins, such as vitamin A.
I also really like the taste of Micro Greens — it's just sweet enough but without the distinct "stevia taste" some of the other green powders have.
The only major downside to Micro Greens is the price. However, if you use my promo code MK15, you get 15% off.
Even better, if you combine that with a subscription, you'll get another 15% off, lowering the price significantly and bringing it in line with some of its less-expensive competitors.
Update: It looks like as if Equip Foods has stopped making Micro Greens.
Other Recommended Products
Other products that I haven't tried yet but that seem to meet my requirements include Nested Naturals and Amazing Grass. The latter I'd recommend only based on the product's ingredients. However, given the company's shady policy of including sugar in their kids' products, I'd avoid buying from them.
Nested Naturals Super Green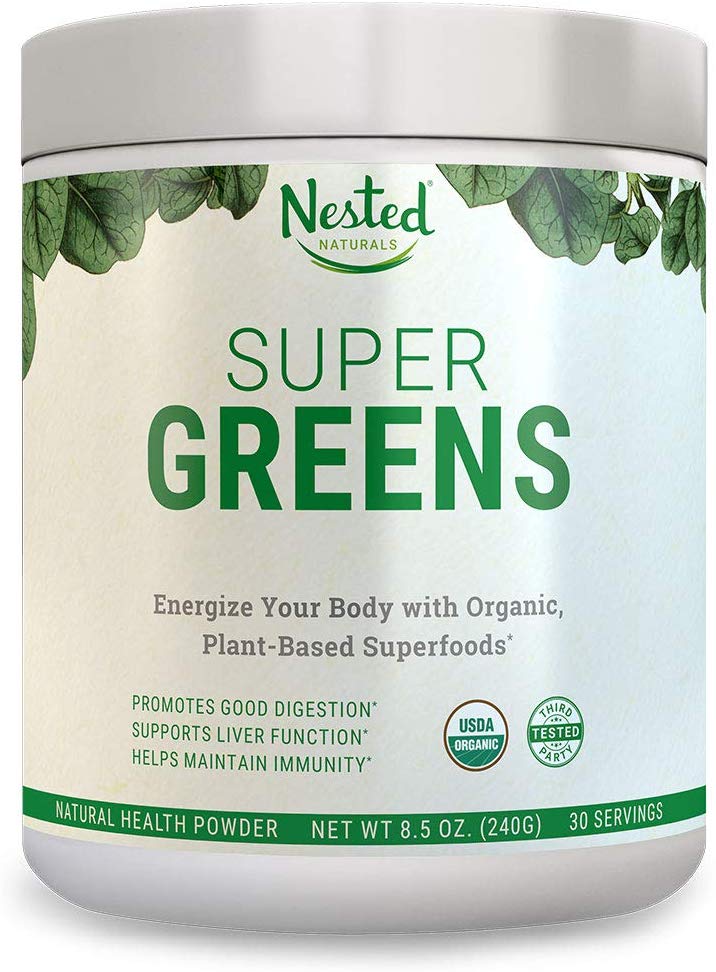 Nested Naturals is another brand that offers a high-quality product without any undesirable ingredients or fillers.
I haven't had a chance to try the company's Super Greens yet, but other users have complained about its taste. Your mileage may vary.
Green Products I Would Not Recommend
The following products all look pretty good on the surface, but there are some issues that prevent me from recommending them.
Amazing Grass Green Superfood
This green superfood powder checks all the boxes and is available in three different flavors.
The only thing I don't like about it is the inclusion of an arguably unnecessary filler (an anti-caking agent) called silica.
It's also worth mentioning that this is the brand that adds sugar to its formula marketed to kids — see below.
Amazing Grass Kidz Superfood
I've noticed that most products marketed to kids are less healthy than their adult counterparts. Amazing Grass Kidz Superfood is no exception.
Believe it or not, it contains cane sugar. I don't care what else it has — they've lost me by including sugar.
Purely Inspired Organic Greens
You can find Purely Inspired at Walmart for a very reasonable price. The problem with the product is that it contains too many crappy ingredients, including wheat, corn starch, silicon dioxide (filler), maltodextrin and more.
Vibrant Health Green Vibrance
At first glance, Vibrant Health seems to offer a solid product that might even compete with Athletic Greens as far as breadth of ingredients is concerned.
Unfortunately, Green Vibrance contains trace amounts of milk and soy, and a highly-processed vanilla flavor made from non-GMO rice.
Frequently Asked Questions
Can I mix different powder supplements?
You can certainly mix different greens powders, but I recommend looking at the food label to make sure you don't exceed the recommended dosage. Even too much of the healthiest food can cause an upset stomach, diarrhea and other symptoms.
What basic ingredients should a greens powder contain?
Most greens powders contain a mix of greens, fruits and other plants (such as mushrooms).

Common ingredients you may find in such products include barley grass, blueberries, broccoli, chlorella, kale, raspberries, spirulina and wheatgrass (among others).

Some have more exotic ingredients, such as açaí, turmeric, moringa and more.
Can I use greens powders to make smoothies?
Absolutely! My wife uses greens powder for her post-workout shake, which often includes almond milk, protein powder and a low-carb fruit.
Can I add greens powder to my protein shake?
Sure! Mixing greens powder with a natural protein powder makes for an excellent pre-workout meal or post-workout shake, packed with phytonutrients.
How many servings of fruits should I eat each day?
According to the American dietary guidelines, men should consume 2 cups and women 1.5 cups of fruit each day. These and other government recommendations are why more than 71% of Americans are overweight or obese.

The truth is that fruits are loaded with sugar (fructose) and provide only small amounts of bioavailable micronutrients. As a result, I recommend staying away from most fruits, with the exception of avocados, berries and a few other low-carb options.
Can the enzymes in powdered greens improve digestive health?
Enzymes undoubtedly play an important part in the digestive process. If you're suffering from digestive issues or have an imbalance in your gut microbiota, supplementing with probiotics and enzymes can certainly help.

More importantly, digestive enzymes and fat in greens powders can help your body absorb micronutrients. Without them, you might not be able to absorb all the vitamins and minerals.

That's one of the reasons why I like Equip Food's product so much — it contains pancreatic enzymes and MCTs (fat).
Should my greens supplement contain amino acids?
Amino acids are the building blocks of proteins. Because your body can't make them, you have to eat enough protein from high-quality sources. While I have seen some powdered greens that contain amino acids, I don't think that's necessary — especially plant-based protein, which is poorly absorbed by your body.
Why do many products not show the vitamins and minerals on the food label?
I've noticed that as well, and I think it's simply because there isn't enough room to list all the vitamins and minerals that come with the included ingredients. Still, I prefer products that spell out what micronutrients they contain.
What's the difference between non-GMO and organic greens?
Non-GMO means that the organism (i.e., the plant) was not genetically modified. However, just because something is non-GMO doesn't mean the manufacturer didn't use chemicals (such as pesticides) to grow the plant. That's why I recommend products that are both non-GMO and organic.

However, you should know that farmers are still allowed to change the characteristics of plants via cross-breeding and other methods. So the fact that something is non-GMO doesn't mean it hasn't been materially modified.

Additionally, the label USDA Organic doesn't mean that no pesticides were used. Under USDA regulations, farmers are still allowed to use certain chemicals that don't violate the program.
Are greens powders meal replacements?
In most cases, greens powders can't replace a meal (or even a snack). That's because they lack calories and other essential macronutrients, such as protein (amino acids) and fat (fatty acids).

However, you can certainly mix greens powders with traditional meal replacement powders. One of my favorites is HLTH Code, but you can also refer to my lists of the best vegan meal replacement drinks and the best keto meal replacement shakes.
My stomach got upset after trying a greens drink powder. Is that normal?
Any time you introduce your body to new foods, you might impact your digestion and even upset your digestive tract.

Chances are that you just need to get used it. But if your stomach issues don't go away after a few days, you might be sensitive to one or more of the ingredients.

If that's the case, try switching brands and see if the situation improves.
Does drinking green tea have the same health benefits as drinking a greens powder?
Green teas, like matcha, are packed with antioxidants (such as polyphenols). However, they don't have the same breadth of nutrients as greens powder.
Can greens powders help with weight loss?
If you're trying to lose a few pounds, superfood powders can certainly assist with that process. But they aren't the most important factor. Weight loss is a byproduct of a healthy lifestyle that includes a proper diet (high-fat and low-carb), quality sleep and regular exercise.
Best Super Greens Powder
If you've decided to start supplementing with a greens powder, the question becomes are greens powders worth the money, and if so, which product you should spend your money on.
The truth is that all of the products in this roundup are viable options, depending on your nutritional requirements, dietary lifestyle, budget and any other supplements you might be taking.
But if you don't want to spend the money on a product that includes fat, digestive enzymes and other bells and whistles, consider using a less expensive super greens powder and consuming it together with digestive enzymes or a meal that contains fat.
Better yet, opt for organ meat or organ meat supplements — they have a better micronutrient profile along with a host of other benefits.
What's your take on greens supplements? Do you use them? And, if so, what's your favorite brand? Let me know by leaving a comment below.

Michael is a healthy living enthusiast and CrossFit athlete whose goal is to help people achieve optimal health by bridging the gap between ancestral living and the demands of modern society.
Medical Disclaimer
The information shared on this blog is for educational purposes only, is not a substitute for the advice of medical doctors or registered dieticians (which we are not) and should not be used to prevent, diagnose, or treat any condition. Consult with a physician before starting a fitness regimen, adding supplements to your diet, or making other changes that may affect your medications, treatment plan or overall health. MichaelKummer.com and its owner MK Media Group, LLC are not liable for how you use and implement the information shared here, which is based on the opinions of the authors formed after engaging in personal use and research. We recommend products, services, or programs and are sometimes compensated for doing so as affiliates. Please read our
Terms and Conditions
for further information, including our
privacy policy
.