In this article, I share with you my favorite keto smoothie and keto protein shake recipes. Assuming you have all the right ingredients at hand, none of the shakes should take you more than five minutes to prepare.
For the sake of transparency, I should say that I don't consume a ton of keto shakes and smoothies because I usually don't eat breakfast. I fast intermittently based on a 16/8 protocol and only have lunch and dinner.
In between, I'm normally not hungry so I don't have much of a need for snacks and smoothies. However, I enjoy making the occasional exception on weekends, and will sometimes whip up a delicious breakfast shake that I can enjoy with the kids.
If you're on a keto diet and enjoy supplementing your dietary lifestyle with smoothies and shakes, continue reading and discover some of my favorite keto smoothie recipes.
What You Need to Get Started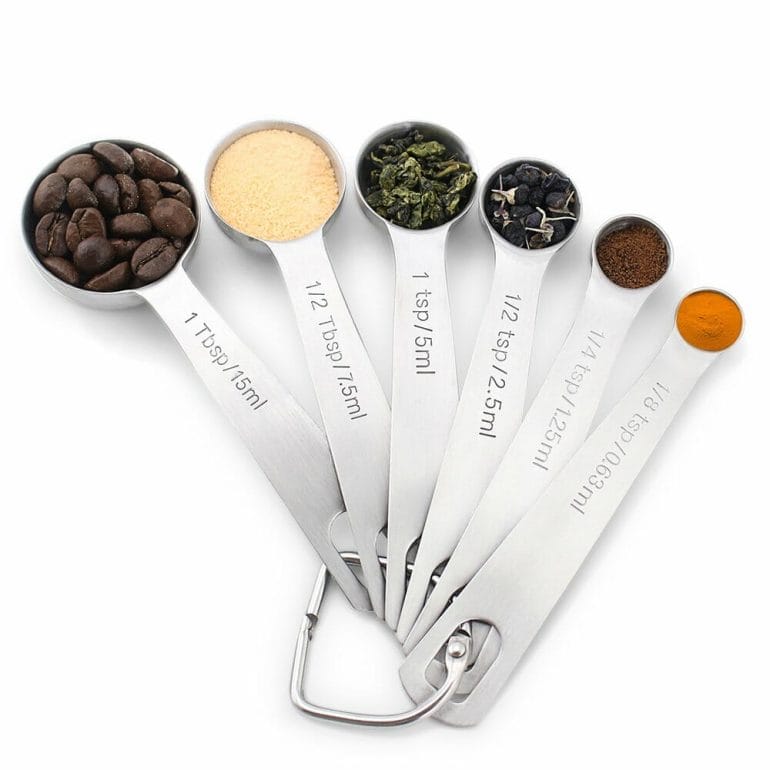 You won't need much equipment to whip up delicious keto smoothies. For some of the recipes below, all you'll need is a blender bottle with a wire whisk inside. It also helps to have measuring spoons or a measuring cup.
However, if the recipe calls for fruits, nuts, seeds or ice cubes, I recommend a high-speed blender. Additionally, a high-powered blender is also required to achieve a creamy, milkshake-like texture.
We have a Vitamix E320 that we found at Costco, and we love it. If you're not a Costco member, Amazon sells the E series too. Before we purchased the Vitamix, we had a NutriBullet immersion blender, which also did an excellent job of making smoothies.
However, I will say that the Vitamix is much more powerful and has a larger container. That's why I'd recommend it over the NutriBullet.
What Makes a Smoothie Keto-Friendly?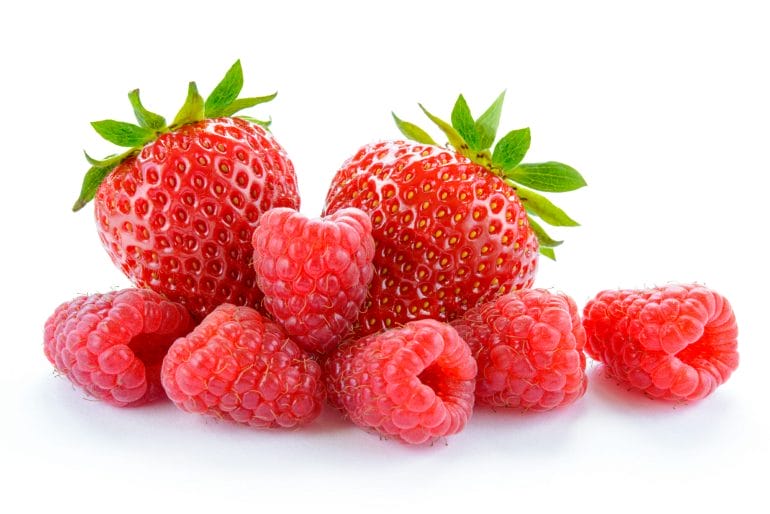 The goal of the ketogenic diet is to use fat for energy rather than glucose. Doing so allows your body to enter into (and remain in) a state called nutritional ketosis.
The simplest way to reach nutritional ketosis is by eating a lot of (healthy) fat and avoiding most carbohydrates.
For keto smoothies or keto shakes, that means using fruits that have a low glycemic index (GI), avoiding dairy milk, and avoiding nutritional sweeteners such as sugar, honey and maple syrup.
Some of the best fruits for keto shakes are berries. Raspberries in particular are a good option because they're low in fructose (fruit sugar) yet still taste delicious.
You can find other popular fruits for smoothies in the table below, together with their net grams of carbs and sugar content.
Speaking of net carbs — most fruits have fiber, which is a type of carbohydrate that the body can't use for energy. It's only used as food by the bacteria in your gut. That's why we subtract the carbs of fiber and non-nutritive sweeteners from the total carbs to calculate the net carbs.
Only net carbs increase your blood sugar level. That's why they're important to consider in keto smoothies and on the ketogenic diet in general.
The table below reflects the nutritional data of the raw fruits listed, including the skin (where applicable).
| | | | |
| --- | --- | --- | --- |
| Fruit | Serving Size | Net Carbs | Sugar |
| Avocado | 1 | 3g | 0g |
| Raspberries | 1 cup | 6.7g | 5.4g |
| Blackberries | 1 cup | 7.1g | 7g |
| Strawberries | 1 cup | 8.7g | 7.4g |
| Apples | 1 cup | 14.3g | 13g |
| Peach | 1 | 14.7g | 14.7g |
| Blueberries | 1 cup | 17.8g | 14.7g |
Besides traditional fruits, I also encourage you to experiment with avocados (one of my favorite fruits) because they're naturally high in fat and are packed with micronutrients. Best of all, a whole avocado has zero sugar and only 3 grams of net carbs.
To learn more about what fruits and veggies are best-suited for a low-carb lifestyle, check out my ultimate guide to the ketogenic paleo diet.
Top Ingredients for Keto Shakes
Besides the fruits mentioned above, the recipes that follow rely on a few common ingredients — see the list below. However, I encourage you to experiment and substitute ingredients as you see fit.
Chia seeds or flax seeds
Cocoa powder, cacao nibs or dark chocolate
Coconut milk, heavy cream or cacao butter
Kale or spinach
MCT oil or avocado oil
Nut butter (made from almonds, pecans, hazelnuts or macadamia nuts)
Nut milk
Protein powder or collagen powder
Stevia or monk fruit extract
Spices — cinnamon, turmeric, ginger
To make it easier for you to come up with your own recipes, I've created a spreadsheet with all of the ingredients mentioned in this article, including their macros.
That way, you can quickly and easily play with different ingredients and see how many calories, fat, carbs and protein your new creation has.
Note that, in my opinion, smoothies and shakes always taste better if you use coconut milk instead of almond milk. That's because coconut milk has a lot of fat and a creamy texture.
Unfortunately, some of the fat in coconut milk (MCTs) has a laxative effect on many people. If you can handle it, I encourage you to use coconut milk. If not, substitute with another unsweetened nut milk and add an avocado and more stevia.
Top 6 Keto Smoothie Recipes
Smoothies are creamy beverages made with pureed fruits and vegetables. To achieve that creamy texture, most traditional smoothies contain a source of dairy, such as milk or ice cream.
Unfortunately, both milk and conventional ice cream contain a lot of sugar. That's why you shouldn't use regular dairy in low-carb smoothies. Also, milk sugar (lactose) isn't the only reason why you should avoid dairy. Casein, one of the milk's proteins, is highly inflammatory and can wreak havoc on your gut.
You can learn more about the inflammatory properties of certain milk proteins here.
Fortunately, there are plenty of keto-friendly alternatives to regular milk, including heavy cream or coconut milk. The latter is my personal favorite because it adds a creamy texture and it's compatible with my Paleolithic lifestyle.
Keto Chocolate Smoothie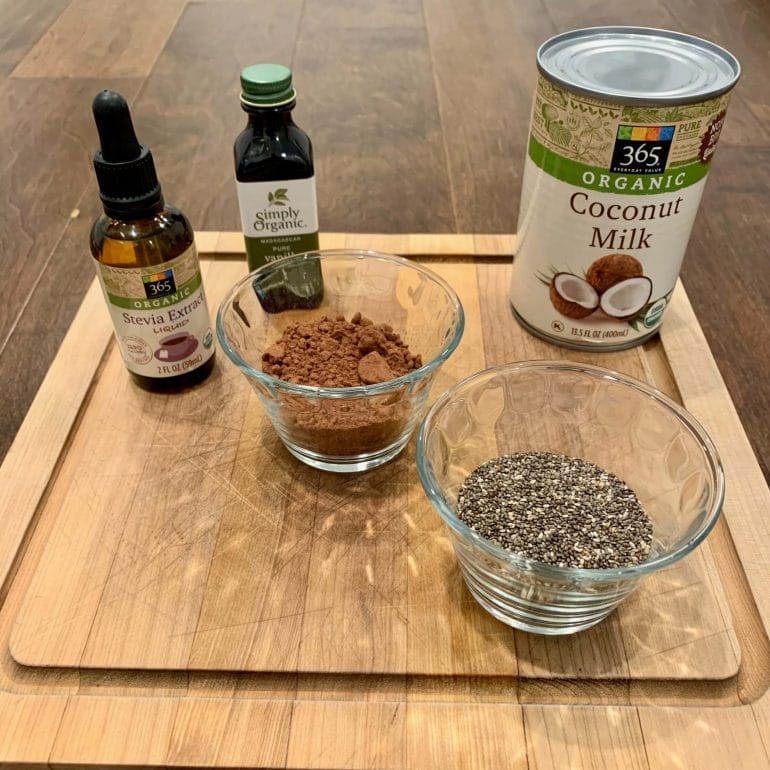 Serves: 2 | Calories: 900 | Fat: 81g | (Net) Carbs: 10g | Protein: 10g | Fiber: 16g
I created this Keto Chocolate Smoothie from a chia pudding recipe my wife makes. As a result, the consistency of this smoothie is relatively thick. If you don't like that, just add some almond milk to make it thinner.
Note that many of the chocolate smoothie recipes I've come across use chopped chocolate with less than 100% cocoa. While that certainly increases the sweetness, it also adds unnecessary sugar and other carbohydrates.
However, since we're using stevia, a natural and non-nutritive sweetener, I don't see the need for the sugar in semi-dark chocolate. I started with two drops of stevia, which gave the smoothie a hint of sweetness. If you'd like it to be sweeter, just add another two to four drops.
Sarah Bond over at liveeatlearn.com has a variation of this smoothie with nut butter that I really like as well.
Ingredients
Instructions
Place all the ingredients, except for the ice, into a blender and mix until smooth. Then add the ice and blend again.
Keto Berry Smoothie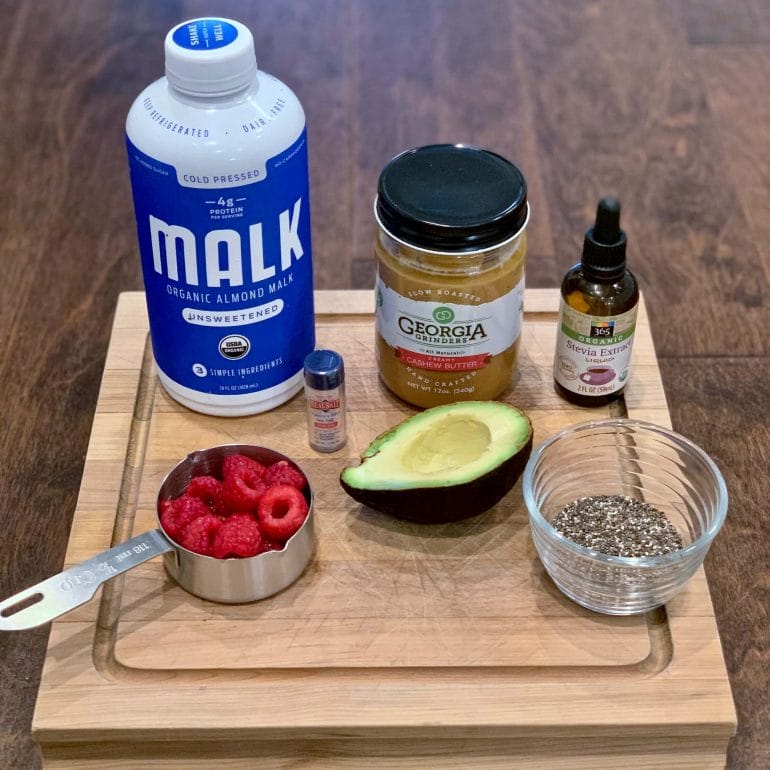 Serves: 2 | Calories: 399 | Fat: 30g | (Net) Carbs: 8g | Protein: 15g | Fiber: 15g
Aside from chocolate and cocoa, berries are my second-favorite ingredient for making sweet keto smoothies.
Depending on your personal preferences, you can substitute the raspberries with blackberries or strawberries. Theoretically, you could also use blueberries, but they have much more sugar than raspberries — so use them in moderation.
You can also play with different nut butters. I recommend almond, macadamia or hazelnut, and I'd avoid peanut butter because peanuts are a source of toxins and antinutrients (learn more about that in the FAQ section below).
If you like berries, you might also enjoy this low-carb strawberry smoothie from my friends at Wholesome Yum. Just use stevia or monk fruit extract instead of erythritol.
Ingredients
Instructions
Place all the ingredients, except for the ice, into a blender and mix until smooth. Then add the ice and blend again. If the smoothie is too thick, just add some water or more almond milk.
If it's not sweet enough for your taste, use strawberries or add a few more drops of stevia.
Chocolate Green Smoothie Bowl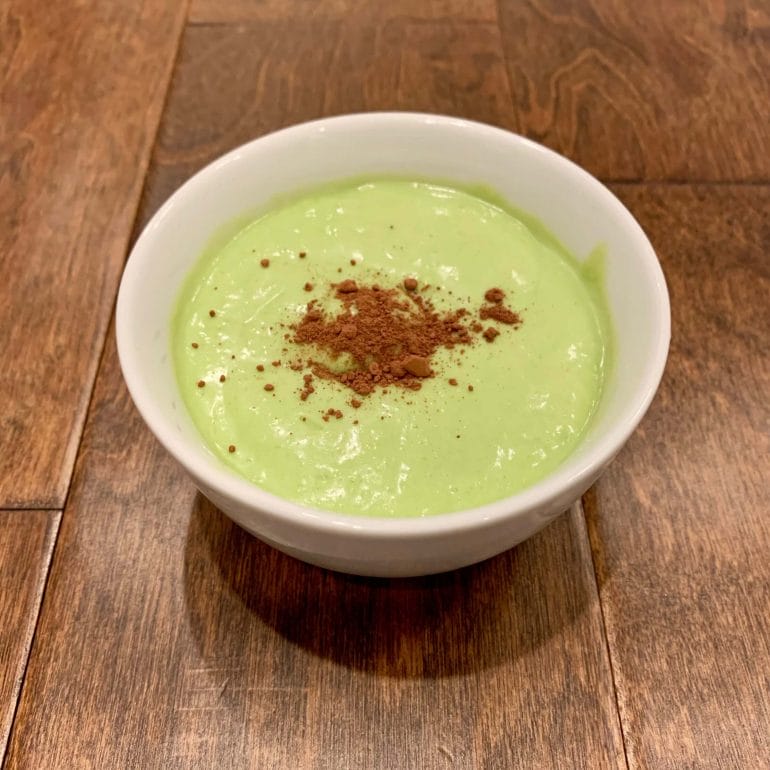 Serves: 2 | Calories: 887 | Fat: 84g | Net Carbs: 10g | Protein: 4g | Fiber: 10g
Leafy-green vegetables are incredibly healthy. Unfortunately, most kids don't like them. This recipe offers an excellent way to sneak some spinach into your kids' diet without them even noticing.
Note that raw spinach contains oxalates, which is an antinutrient that can impact your body's ability to absorb nutrients from other food.
If you're concerned about that, I recommend steaming the spinach for a few minutes before throwing it into the blender. If that's too much of an inconvenience, I'd recommend steaming a large batch of spinach and then freezing it in single-serving portions.
That way, you can just grab a serving of your frozen spinach next time you make this keto smoothie.
Ingredients
Instructions
Place all the ingredients, except for the ice, into a blender and mix until smooth. Then add the ice and blend again. If the mixture is too thick, simply add some water and blend again.
Keto Turmeric Latte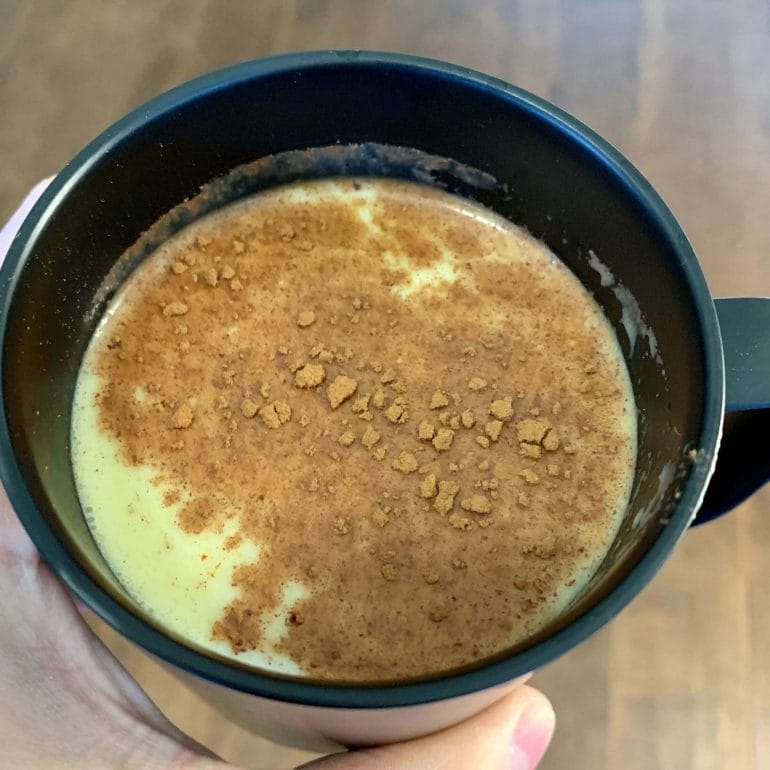 Serves: 2 | Calories: 720 | Fat: 72g | (Net) Carbs: 6g | Protein: 0g | Fiber: 0g
Turmeric is a spice that's known for its numerous health benefits, but we don't use nearly enough of it. That's why I got so excited when I learned about a turmeric latte mix that blends perfectly with heated coconut milk.
Ingredients
Instructions
Heat the coconut milk up over low heat on the stove. When it's completely liquid, add the turmeric latte mix and stir well.
Then pour the mix into a cup and sprinkle some cinnamon on top of it. If you prefer a cold beverage, throw the coconut fat, turmeric latte mix and two cups of ice into a high-speed blender and mix until smooth.
Triple Chocolate Breakfast Smoothie (Perfect Keto)
Serves: 1 | Calories: 380 | Fat: 25g | Net carbs: 6g | Protein: 26g | Fiber: 9g
This recipe is from Perfect Keto, one of my favorite keto supplement brands.
The reason why I think you might love this chocolate shake is because it's more like an ice cream milkshake — but loaded with health-boosting ingredients. If you prefer, add some whipping cream to top it off.
Ingredients
Instructions
Add all ingredients (except the Perfect Keto Bar chunks) to a high-speed blender. Mix on high until smooth. Add ice cubes if desired, and blend. Top with whipped cream and Perfect Keto Bar pieces if desired.
Keto Smoothie Modifications
Below are some modifications you can play with, based on your personal preferences.
Add Protein Powder
To turn any of the above smoothies into a keto protein shake, simply add a few scoops of your favorite protein powder. I recommend natural protein powders that don't have any added sugars, artificial sweeteners or other artificial ingredients.
Depending on your personal preferences, I'd recommend egg or whey protein powder. Some of my favorite protein powder brands are Do Vitamins and Naked Nutrition.
By adding protein, you can turn any smoothie into a homemade meal replacement drink that you can enjoy instead of cooking breakfast.
Avoid the Ice
If you don't like to drink cold beverages — especially in the morning — simply omit the ice and use water instead.
Convert Into Pudding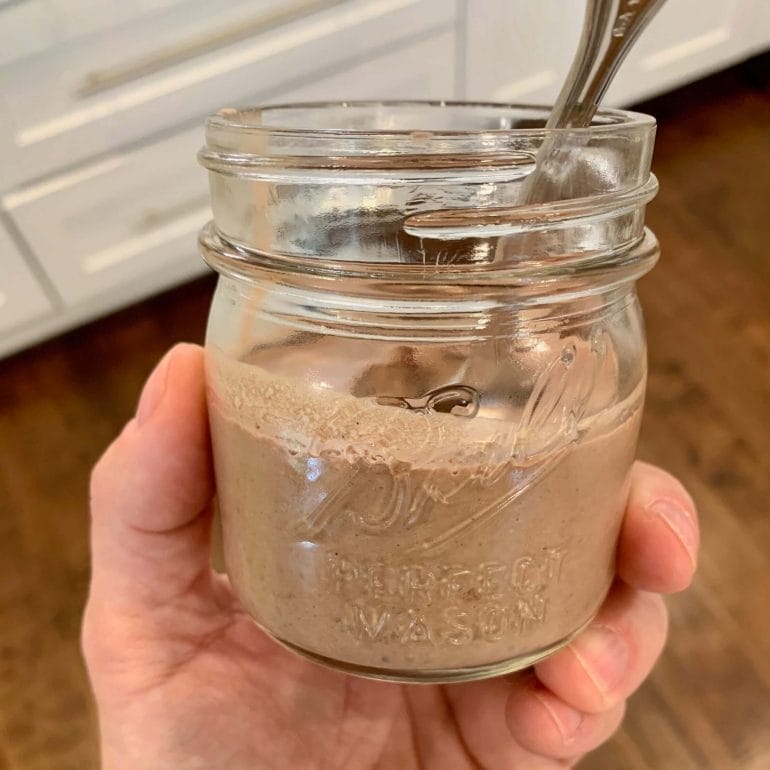 Also, if you'd like to turn a smoothie that contains chia seeds into a pudding, simply stick it in the fridge overnight and let the chia seeds coagulate.
Top 5 Keto Protein Shake Recipes
Keto protein shakes are a perfect post-workout meal to ensure your body gets the protein it needs to recover and grow muscle tissue.
The question is where to get the necessary protein from. If you're old school like Arnold Schwarzenegger, you might consider throwing a steak, a few eggs and a cup of avocado oil into a blender… and then drinking the mix. For the rest of us, there are protein powders.
Most of the recipes below use natural protein powders and collagen peptides. However, if you're a fan of real food and you have a trusted source of pastured eggs, you might enjoy my egg-based recipe.
If you're not sure what type of protein you should use, check out the FAQ section (below) to find more information.
Keto Chocolate Protein Shake
Serves: 1 | Calories: 630 | Fat: 50g | (Net) carbs: 8g | Protein: 29g | Fiber: 16g
Ingredients
Lazy Man's Keto Chocolate Protein Shake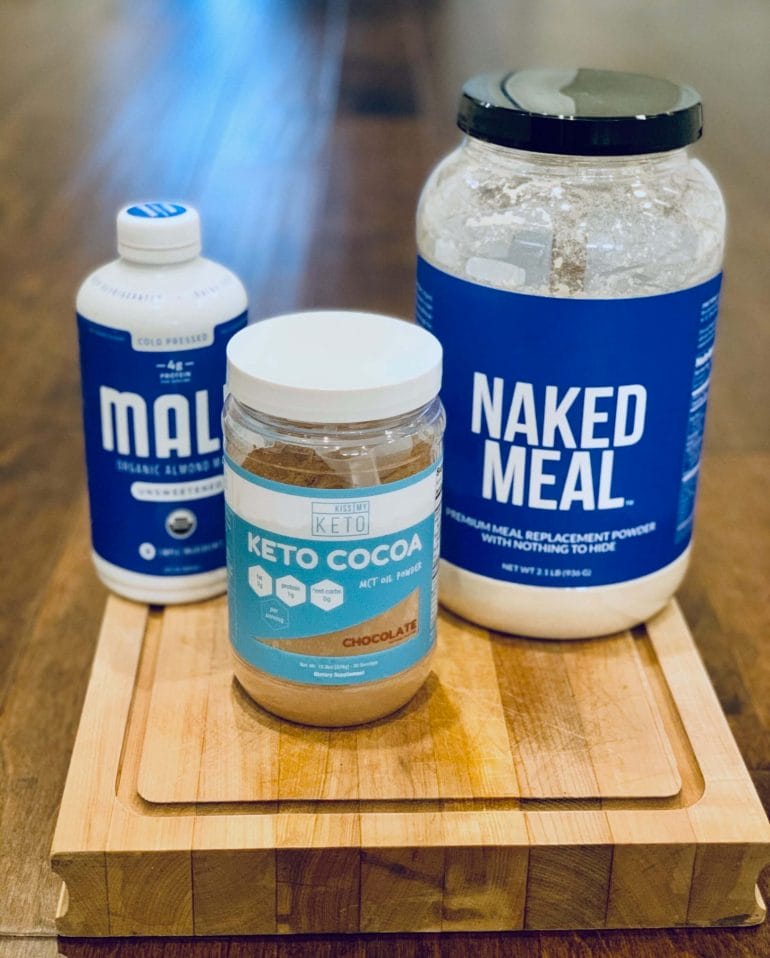 Serves: 1 | Calories: 320 | Fat: 21g | (Net) carbs: 3g | Protein: 25g | Fiber: 8g
If you don't have time for any elaborate mixing or blending and need a quick yet delicious keto protein shake, then this shake is for you. You don't need any extra sweeteners for this recipe because Kiss My Keto's Cocoa is already sweetened.
Speaking of Keto Cocoa — our kids love it for breakfast if mixed with plain water. If your kids like sugar-laden chocolate milk, Keto Cocoa offers a perfect alternative. Try it out!
Ingredients
Instructions
Simply add both powders into a blender bottle, top off with almond milk (or even water) and shake vigorously.
Vanilla Chia Seed Protein Smoothie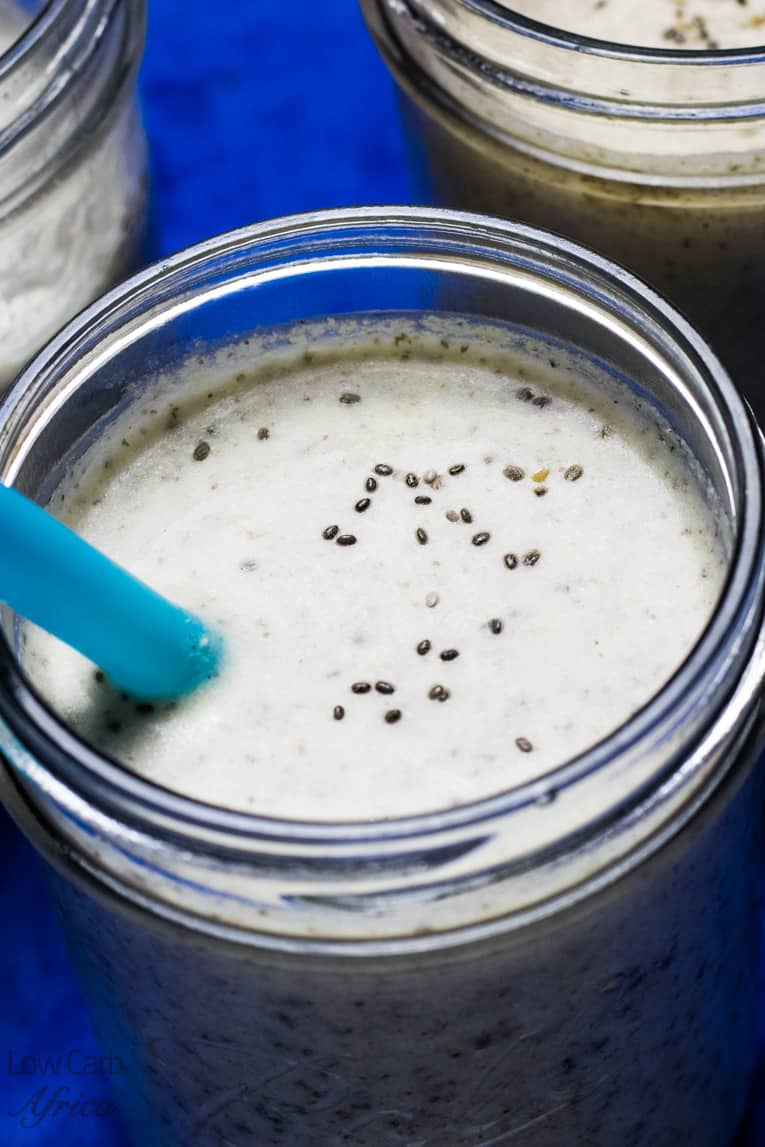 Serves: 1 | Calories: 538 | Fat: 39g | (Net) Carbs: 3g | Protein: 28g | Fiber: 3g
This delicious smoothie recipe idea was contributed by Tayo from lowcarbafrica.com. It's an excellent option for all those who prefer vanilla over chocolate.
Tayo loves that this protein smoothie comes together in two minutes and can even be prepared the night before, with a quick run through a blender before you head out the door.
Another major plus is that it fits into most special diets out there — paleo, gluten free, vegan, dairy free, sugar free and low carb — while still packing in bold and delicious flavors without compromising on nutrition.
Ingredients
Instructions
Combine all ingredients together and blend using a smoothie blender for about a minute.
Keto Egg Protein Shake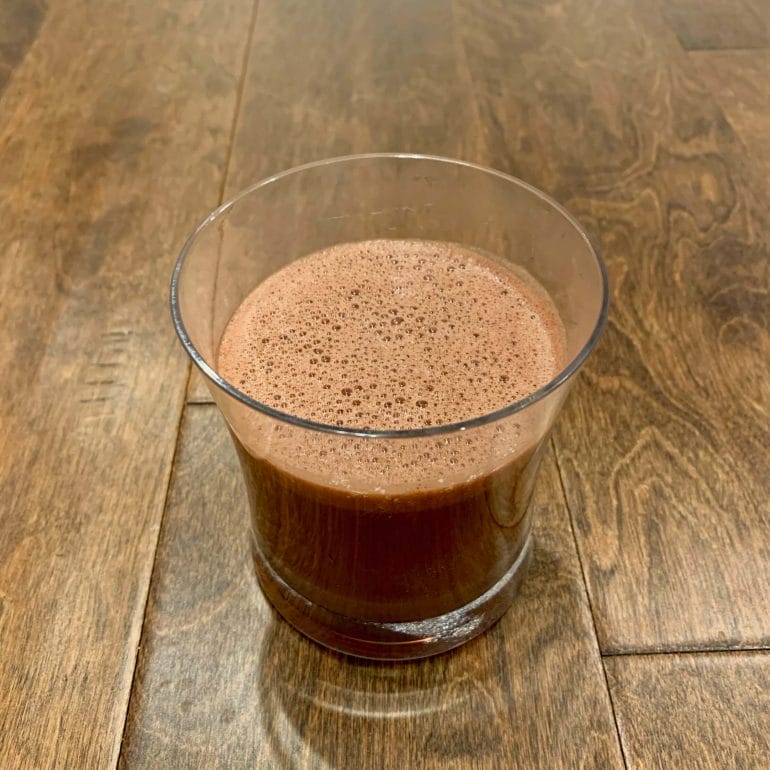 Serves: 2 | Calories: 623 | Fat: 53g | (Net) carbs: 5g | Protein: 23g | Fiber: 7g
If you trust the source of your eggs, I encourage you to leverage the healthy fats and protein that you can find in raw eggs. Just be aware that consuming raw eggs can make you sick if they're contaminated with bacteria. So pursue this recipe at your own risk.
Ingredients
Instructions
Place all the ingredients into a blender and mix until smooth.
Chocolate Low-Carb Protein Shake (Perfect Keto)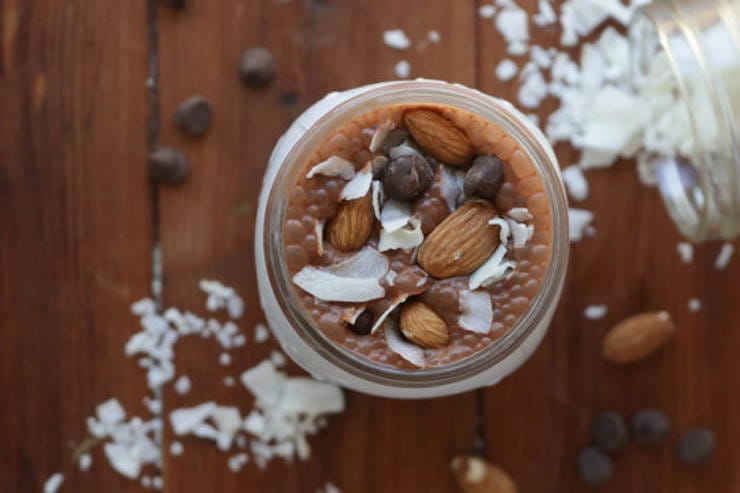 Serves: 1 | Calories: 273 | Fat: 20g | (Net) carbs: 4g | Protein: 17g | Fiber: 1g
This is another delicious recipe from my friends at Perfect Keto. I like it a lot because it uses both almond and coconut milk
A creamy, chocolate, low-carb protein shake for mornings on the go. Make this in 5 minutes or less for pre-workout or post-workout support with chocolate whey protein, almond milk, coconut milk, and more for just 4 net carbs per serving.

Perfect Keto
Ingredients
Instructions
Add all ingredients to a high-speed blender, blending on high until smooth. Top with Perfect Keto Nut Butter or almond butter, cacao nibs, coconut flakes, and nuts (if desired).
Top 4 Keto Shake Recipes Using Ample Original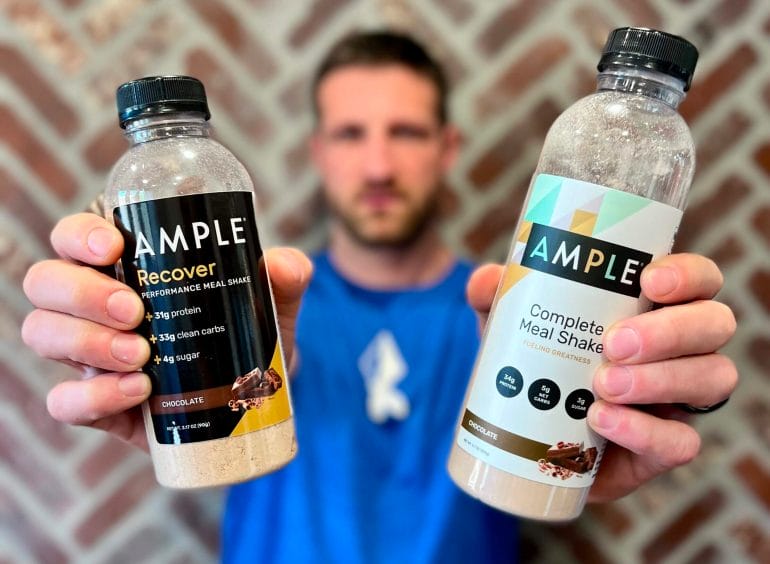 I'm a fan of the Ample meal replacement drink and use it a while traveling or when I don't have time to prepare a proper meal.
While you can certainly enjoy Ample as-is, you can also use this meal replacement powder as a base to make your own keto smoothies that have enough calories and macros to replace a full meal.
To save on plastic waste, I recommend getting the Ample bulk pouch instead of individual bottles if you intend to use Ample as a base for your own creations.
You can also learn more about this product (and how the formula has changed over the years) in my Ample review.
Ample Coffee Latte
Serves: 1 | Calories: 400 | Fat: 34g | (Net) carbs: 4g | Protein: 12g | Fiber: 10g
Ingredients
1-2 teaspoons instant coffee
2 level scoops Ample
1 1/3 cups water and ice
Instead of the instant coffee and water, you can also use cold brewed coffee.
Raspberry Ample
Serves: 1 | Calories: 448 | Fat: 35g | (Net) carbs: 9g | Protein: 13g | Fiber: 16g
3/4 cup frozen raspberries
2 level scoops Ample
1 cup water
Blend until smooth. Raspberries have little sugar and a low glycemic index. That makes them excellent choices for ketogenic smoothies and desserts.
Avocado Greens Ample
Serves: 1 | Calories: 536 | Fat: 45g | (Net) carbs: 7g | Protein: 23g | Fiber: 17g
2 cups organic spinach or kale
1/2 organic avocado
1/4 teaspoon ginger
1/8 teaspoon organic turmeric powder
2 level scoops Ample
1 cup water and ice
Blend until smooth. You can substitute fresh ginger for the ginger powder, if you have it.
Hazelnut Almond Ample
Serves: 1 | Calories: 591 | Fat: 52g | (Net) carbs: 7g | Protein: 18g | Fiber: 13g
Blend until smooth. While Ample's original recipe calls for peanut butter, I recommend substituting in another nut butter, such as hazelnut.
Frequently Asked Questions
What's the difference between keto meal replacement shakes and keto smoothies?
Keto meal replacement shakes contain all the macronutrients and micronutrients you need to replace a full meal. In comparison, keto smoothies often have fewer ingredients (and thus fewer vitamins and minerals), are higher in fat, and are often lower in protein.

As a result, their macronutrients are less balanced and they might not have sufficient calories to replace a meal.

If you've been following my blog, you know that I'm a huge fan of keto meal replacement shakes and ready-to-drink keto shakes. The reason why I like those products so much is because I only have to add water before I enjoy them.

However, it's sometimes more fun to get creative and to make milkshake-like keto smoothies from scratch — especially on weekends when I have the time to get the kids involved in the process.
What coconut milk should I use?
I recommend organic, full-fat, and unsweetened coconut milk that doesn't have any "extra" ingredients, such as guar gum. The organic coconut milk I used for the smoothies above is from Whole Foods.

Note that the fat of raw coconut milk tends to solidify, so don't be surprised when you open the can.
Where do you buy the fruits and veggies?
Most of the organic berries and the organic spinach are from Costco, but you can also find them at Whole Foods or even on Amazon.
Why should I avoid peanut butter?
Peanuts are legumes and not nuts, and they're covered in a human carcinogen called aflatoxin. Unfortunately, there's no way to avoid aflatoxin when growing and storing peanuts and corn, so the FDA introduced "safe limits."

While you could argue that the occasional spoonful of peanut butter won't kill you, why take the risk considering the abundance of healthier nut butter options?
What brand for nut butters do you recommend?
My favorite brand for nut butters is Georgia Grinders. They offer a variety of organic nut butters and they make their products in my home state (Georgia). If you decide to give them a try, use discount code MK10 to get 10% off your order.

Besides Georgia Grinders, we also often buy organic almond butter from Costco.
My coconut milk doesn't properly blend. What can I do?
The fat in coconut milk tends to solidify, even at room temperature. When using it in smoothies, I recommend blending all the ingredients on high speed first, before adding in the ice.

By adding the ice later, you allow the fat of the coconut milk to fully blend with other ingredients. If you add the ice too early, it further solidifies the fat in the coconut milk and it might leave chunks of fat in the mixture.
Should I use xanthan gum or guar gum to improve the texture?
While both xanthan gum and guar gum are natural ingredients, they can irritate your gut if you're sensitive to them. Personally, I try to stay away from gums.

If you want to give them a try, I recommend using organic and non-GMO products, such as the ones you can find on Amazon.
What can I use instead of cacao powder?
Instead of cacao powder, you can also use cacao nibs or 100% dark chocolate. By using nibs or chopped chocolate, you'll add a bit of a gritty texture to your keto protein shake or smoothie.
What's the best keto protein powder?
All protein powders that don't contain added sugar or other sources of carbs are keto-friendly. If you go with milk-based protein, such as whey, I recommend sticking with brands that offer unflavored grass-fed whey protein that was carefully processed. Stay away from crazy flavors like birthday cake and other crap.

I'd also recommend staying away from bovine casein protein because it's highly inflammatory. You can learn more about that here.

If you prefer plant-based protein, I recommend going with a mix of different proteins, such as pea, hemp or rice. The reason for that is that plant-based proteins don't contain the full profile of amino acids that your body needs.
Can I use keto smoothies or keto protein shakes for weight loss?
Losing weight is a byproduct of a healthy dietary lifestyle, quality sleep and regular exercise. A high-fat diet paired with intermittent fasting is certainly an excellent method for losing weight, but only if you make it a lifestyle. Keto smoothies or keto protein shakes can definitely assist in that process, but they're no shortcut or miracle potion.

If you're trying to shed pounds, I recommend reading my article on the best diets for weight loss, as well as this list of common reasons people struggle to lose weight.
Can a low-carb diet negatively impact my goals of building muscle mass?
Low-carb diets such as keto are perfectly suitable if your goal is to improve your fitness and grow muscles.
Should I use meal replacement shakes instead of making my own smoothies?
That's really a choice based on personal preference. I use keto meal replacement shakes a lot while traveling.

On the other hand, my wife — a stay-at-home mom and passionate CrossFitter — prefers whipping up protein shakes every day for her post-workout meal.

When I'm at home, I also like to make my own shakes because I can precisely control the ingredients, flavor, texture, grams of protein, etc.
Can too much protein kick me out of ketosis?
No, because the process of making glucose from non-carb sources, such as protein, is demand-driven rather than supply-driven.

In other words, your protein intake doesn't directly influence your blood glucose levels. So, if you'd like to add an extra scoop of protein powder to your shake or smoothie, feel free to do so.
Why can I have heavy cream but not whole milk on keto?
Besides the milk fat in heavy cream, whole milk also contains proteins — such as whey and casein — and lactose. The latter is sugar that (upon consumption) raises your blood sugar levels and can kick you out of ketosis.

While the milk proteins don't impact nutritional ketosis, one of them (casein Beta-A1) is highly inflammatory.
Why am I getting soft stools after consuming MCT or coconut oil?
Medium-chain triglycerides (MCTs) in coconut oil are known to have a laxative effect. That's why I recommend increasing your consumption slowly and over a few days.
Keto Protein Shakes and Smoothies
I hope you've found some inspiration from these recipes. If you made any of them, feel free to tag @mkummer82 on Instagram or leave a comment below about how they turned out.
If you'd like to share your favorite recipe, shoot me an email and I might include it in this post.

Michael is a healthy living enthusiast and CrossFit athlete whose goal is to help people achieve optimal health by bridging the gap between ancestral living and the demands of modern society.