Pre-workout supplements can boost your athletic performance and endurance during intense workouts. Unfortunately, the sports nutrition and supplement markets are flooded with cheap, unhealthy and ineffective products, and many consumers lack the expertise necessary to differentiate between junk and supplements that actually work.
For this review, I analyzed and tested the best natural pre-workout supplements that contain only ingredients that have been scientifically proven to work.
Additionally, I've restricted this list to only supplements that have zero carbs per serving. So, if you're following a ketogenic diet, know that none of these pre-workout products will kick you out of ketosis.
To learn more about individual pre-workout ingredients and their effectiveness, check out this article, in which I answer the following questions:
Do pre-workout supplements work, and are they safe?
What is the role of amino acids (and specifically branched-chain amino acids) in pre-workout drinks?
Who benefits from pre-workout supplements?
Pre-Workout Supplement Benefits
Pre-workout supplements are products you can take prior to high-intensity workouts. If selected and used properly, they can help you to:
Increase your exercise performance, endurance, strength and power.
Improve your strength and help you build lean muscle mass.
Heighten your alertness, mental focus and overall cognitive function.
Reduce muscle fatigue and lactic acid build up.
Improve blood flow.
Key Ingredients of Pre-Workout Powders
The benefits of pre-workout powder (and other pre-workout supplement formats) stem from a few naturally-occurring ingredients. According to scientific research, the most effective ones are:
Amino acids
Caffeine
Creatine
To learn more about these (and other) components and how they work, check out my ingredient analysis.
As part of my research, I tested what I consider the best natural pre workout products from brands that I trust. The order below is alphabetical and doesn't reflect a rating or personal preference.
Pre-workout supplements are essential for CrossFit to improve an athlete's energy levels and to boost mental focus before a tough workout. However, most of the over the counter pre-workout supplements today are built for an athlete that is searching a "pump." That "pump" is not a good thing for an athlete participating in CrossFit. You don't want your muscle to have more blood flow than necessary as any athlete can attest to who has felt their forearms or lower back blow up due to blood flow during a workout. Try to stick to pre-workout supplements that are designed for the application or sport you are taking part in.

Justin Tway, Owner of CrossFit Alpharetta
Note that the type of exercise you do may influence what kind of pre-workout supplement is best for you. For example, I prefer a product with a lower amount of caffeine — or no caffeine at all — for metabolic conditioning to keep my heart rate in check.
If I do strength exercises, such as weightlifting, I may opt for a pre-workout drink with more caffeine.
Best Unflavored Pre-Workout Supplements
Do Vitamins – PurePump
Do Vitamins' PurePump pre-workout nutrition powder delivers an excellent mix of the most promising ingredients in a workout supplement, including beta-alanine, citrulline malate, and caffeine.
Ingredient quality is a big deal, and so we use branded ingredients when we can. Branded ingredients come with clinical trial data that prove what they do; our 3rd party testing proves that what's in there is in there, in the amounts we tell you.

Do Vitamins
What I like about Do Vitamins is that they use almost exclusively brand-name ingredients. Despite that, PurePump is the least expensive product I tested. The only negative mark I can assign to PurePump comes from the modest amount of creatine it contains. I would have liked to see 3 to 5 grams, instead of only 1 gram.
PurePump Ingredients
PurePump does not contain any other ingredients, and is also:
Certified vegan
Certified paleo friendly
Non-GMO
KETO certified
Gluten free
Third-party tested and verified
Made in the U.S. with natural ingredients from the U.S., Europe, Japan and China (green tea only)
How Does PurePump Taste?
PurePump doesn't have flavoring because there is no way to flavor a pre-workout purely, according to our standards.

Do Vitamins
Since PurePump doesn't contain any sweeteners, it tastes slightly bitter. However, you don't have to mix PurePump with 30 ounces of water. Think of it as a shot instead of a drink, and the taste won't be an issue.
Naked Nutrition – Naked Energy
As the name implies, Naked Nutrition offers a product without many bells or whistles. Instead, you get a reliable pre-workout supplement that contains the essentials, including 2 grams of beta-alanine and 200 milligrams of caffeine. I just wish Naked Nutrition would have added more creatine to its formula, as that's important for muscle growth.
Naked Energy Ingredients
Naked Nutrition uses high-quality amino acids from CarnoSyn (beta-alanine) and AjiPure (L-arginine) in its Naked Energy supplement to ensure their effectiveness.
Naked Energy does not contain any other ingredients, and is also:
Made in the U.S.
Vegan-friendly
Non-GMO
Third-party tested for heavy metals
How Does Naked Energy Taste?
Naked Energy doesn't contain any sweeteners or other ingredients that try to mask the taste of the acids. As a result, the powder tastes a little bitter. Personally, I don't mind the taste.
Best Flavored Pre-Workout Supplements
Ascent – Pre-Workout
Ascent Protein just recently launched a line of natural pre workout supplements. Prior to the release of this product, the company focused solely on protein powders. But considering that one of the primary ingredients in most pre-workout supplements is amino acids (the building blocks of protein), it makes sense to also have a pre-workout product in the lineup.
What I like about Ascent's natural pre workout mix is that it contains whey protein, which means a complete amino acid profile. Unfortunately, Ascent doesn't spell out how much of that is beta-alanine, which is arguably the most important amino acid for a pre-workout supplement.
But considering that the pre-workout mix only has 4 grams of protein, I suspect the amount of beta-alanine is likely less than 1 gram.
Instead, Ascent Pre-Workout has 2.5 grams of leucine, the primary branched-chain amino acid (BCAA). But according to my research, leucine has fewer studies that back up its performance-enhancing characteristics than beta-alanine.
Ascent's pre-workout product comes in two flavors:
Watermelon
Raspberry Lemonade
Both flavors share the same ingredients, except for the natural flavors.
Ascent Ingredients
I'm still waiting for more information on the exact amino acid profile from Ascent, and I will update the above table once I have it. What I don't understand is why Ascent opted to put vitamin D2 in the product, instead of the more valuable (for the body) vitamin D3.
Ascent Pre-Workout is also certified gluten-free and informed sport approved.
How Does Ascent Taste?
Ascent makes clever use of monk fruit extract, instead of using stevia as a sweetener. As a result, if you mix the Ascent product into a pre-workout drink, you won't have the bitter taste of unsweetened products.
Instead, you can choose from a sweet (Watermelon) or tarty flavor (Raspberry Lemonade). I like the fact that Ascent offers two different tastes, but I wish they had an unflavored version, too.
Old School Labs – Vintage Blast
Vintage Blast is a great-tasting pre-workout supplement with premium ingredients that it delivers in two stages. While its amino acid profile is nothing to be embarrassed by, it is a little light on beta-alanine and doesn't have any creatine at all (which is not ideal if you're looking to build muscle mass). What I do like about Vintage Blast is its staged delivery ⁠— especially the caffeine.
Few companies can say that they hand-pick each of their ingredients, carefully and patiently waiting for that ingredient's prime season of maximum potency; harvesting and processing each ingredient carefully to ensure that only the most premium and bio-available ingredients make the cut into their products.

Old School Labs
Vintage Blast Ingredients
Vintage Blast doesn't deliver all its ingredients at once. The two-stage formula ensures a steadier delivery rate, which works against dependency and helps you power through your workout session and/or competitive events from start to finish.
The stage one ingredients help to give you a physical and mental boost to start your workout strong, and include:
The stage two ingredients help to alleviate stress and increase alertness levels, and include:
One thing I noticed with Vintage Blast is that I had less of an urge to pee. I assume that's because the two-stage formula doesn't deliver all the caffeine at once. Vintage Blast is also:
Vegetarian-friendly
Non-GMO
Gluten free
No artificial substances
CGMP certified
Third-party tested
Manufactured in the U.S.
How Does Vintage Blast Taste?
Vintage Blast has the best-tasting product in the mix, due to the stevia and natural pineapple juice powder.
If you'd like to try Vintage Blast, use discount code MIKE12OSL and get 12% off your entire order!
Rari Nutrition – Infinity
Rari Nutrition's Infinity offers a reasonable mix of natural ingredients, including 3 grams of citrulline malate and 175 milligrams of caffeine. It also has piperine to improve the absorption rate of its components. The only downsides of Infinity are the small amount of beta-alanine it contains and its lack of creatine, as those two substances are helpful in building lean muscle.
Our objective in creating Infinity was to develop a pre-workout [supplement] that provided not only a great energy matrix but also a great pump complex while delivering vital elements to the working muscles. Most pre-workout [supplements] on the market are usually underdosed especially in the nitric oxide formulations, and we wanted to make a clinically dosed pre-workout while keeping everything 100% natural.

Rari Nutrition
Infinity Ingredients
Rari Nutrition uses BioPerine (a well-known brand of piperine).
The product is also:
GMP Certified
Non-GMO
Gluten free
Made in the U.S.
Taste
Infinity has a sweeter taste compared to some of the other products I tested. That's because the product contains the natural sweetener stevia extract. I tried the Blue Raspberry flavor, but it also comes in Sour Gummy Worm and Strawberry Lemonade.
Strong Man Supps – Pure Power
Strong Man Supps developed a natural pre-workout supplement that is explicitly targeted at competitive weightlifters and powerlifting athletes. Dr. Ray Hope, an Australian National Champion powerlifter (and pound-for-pound Australia's strongest man) supports and guides the company.
Strong Man Supps' product, Pure Power, is one of the most potent natural pre-workout supplements on the market.
What I like about Pure Power is its focus on scientifically-supported ingredients, including beta-alanine, creatine and caffeine.
I tried Pure Power over the last few weeks, prior to my early-morning CrossFit workouts, and I can confirm that it wipes off the last signs of "pillow face." In other words, it contains a potent mix of naturally-occurring stimulants, which can be an advantage for weightlifting types of exercises (which are part of most CrossFit workouts and high-intensity interval training sessions).
Plus, the high caffeine content makes your heart beat faster, which could encourage fat loss. But if you're sensitive to caffeine ⁠— or to stimulants in general ⁠— you may want to reduce the amount of Pure Power you take before metabolic conditioning (met-con) workouts.
Otherwise, your heart rate may go up too far and you won't recover during those short breaks that are common in met-con workouts. I would also discourage you from using any other stimulants together with Pure Power ⁠— especially those with caffeine content (even if that's just a cup of coffee).
Pure Power is available in two versions:
Unflavored
Raspberry Limeade
Pure Power Ingredients
Both the flavored and unflavored versions of Pure Power have the following ingredients in common:
The flavored version has the following additional ingredients:
Stevia leaf extract (sweetener)
Pineapple fruit powder (flavor)
Citric acid (flavor)
Grape fruit powder (flavor)
Strong Man Supps manufactures Pure Power in a GMP certified facility in the United States.
How Does Pure Power Taste?
The unflavored version of Pure Power tastes pretty harsh, but no worse than some of the other unflavored supplements in this review.
I don't mind that taste. But if you do, you can just mix it with a bit of your favorite fruit juice. Alternatively, you can opt for the flavored version of Pure Power, which tastes good but uses stevia as a sweetener.
Best Pre-Workout Supplement Without Caffeine
Genius – PRE
Genius PRE is unique because it takes both mind and body into account. That's a smart strategy because workout performance is as much a mental issue as a physiological one.
As a result, PRE contains not only a potent mix of amino acids, but also a clinically-proven blend of ingredients that can help unlock the power of your mind.
PRE Ingredients
What I really like about PRE is that it improves cognitive function without the use of strong stimulants, such as caffeine.
Instead, it contains an advanced choline compound that enhances brain metabolism, as well as huperzia serrata — a natural nootropic (a cognitive enhancer) often used in Chinese medicine.
How Does PRE Taste?
PRE is available as Grape Limeade or Sour Apple, and both taste delicious.
Ketōnd – Ketōstax
Ketōstax Strength & Endurance is currently my favorite formula for pre-workout drinks because it contains plenty of key amino acids and creatine but no stimulants.
To me, the lack of caffeine is an advantage because I'm trying to keep my heart rate low during CrossFit workouts. The good news is that ketōstax is also available as a metabolic accelerator formula that contains caffeine and other stimulants (which can be helpful if your goal is fat loss).
Ketōstax Ingredients
How Does Ketōstax Taste?
Ketōstax is delicious, despite its subtle vanilla flavor! Personally, I don't mind vanilla… but I wouldn't be upset if they introduced a chocolate flavor.
Make sure to use Ketōnd discount code MK15 to get 15% off your order.
Download Comparison Table
So which of these is the best pre workout choice? Well, that depends on your specific goals and preferences. To make the choice easier, I created a reference table as shown below.
Given the size of the table and the available screen space, especially on mobile devices, I decided to create a more detailed PDF that you can download it here.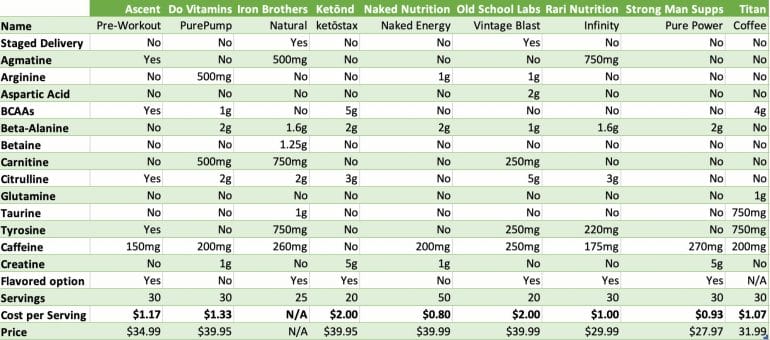 What Is the Best Pre Workout Supplement?
There may not be a "best pre workout supplement," because every athlete is different and has their own preferences. Plus, as you can tell from the table above, many of the best natural pre workout options are quite similar in composition.
Based on the research I conducted, you can't go wrong with any of the products in this review. In the end, it boils down to your taste preferences, the type of exercise you do, and your overall lifestyle.
Considering my requirements and dietary lifestyle, I usually go with Ketōnd. When I need a product with caffeine, I choose Do Vitamins or Naked Nutrition.
Before discovering Ketōnd, if I wanted a stimulant free supplementation for high-intensity workouts, I mixed my own pre-workout shake using creatine powder and beta alanine. See below for dosage recommendations.
How to Make a Pre-Workout Drink at Home
Making a pre-workout shake, smoothie or drink at home is merely a matter of sourcing the individual ingredients you would like and mixing them. If you're not sure where to start or what ingredients to pick, here are my two recommendations for pre-workout drinks. Caffeine is optional with both.
Basic Preworkout Drink
Complete Pre-Workout Drink
Note: The cost per serving is an estimate based on the price of the product divided by the number of servings it contains if you use the amount in the table above. For some products, I chose a larger container size to lower the price per serving.
Pros and Cons of a Home-Made Pre-Workout Supplement
The advantage of making a pre-workout drink is that you control the amount of each element.
For example, all the pre-workout supplements I tested contained caffeine. As such, I can't take them when I work out in the evening, because otherwise, I wouldn't be able to sleep. (And as regular readers of this blog know, I protect my sleep like my life depends on it.)
Being able to skip or (at least) reduce the amount of caffeine in my pre-workout drink is a huge advantage for me.
Pre-Workout Ingredients to Avoid
Most pre-workout supplements have, to varying degrees, at least a couple of extra ingredients that I don't particularly care for, including:
Artificial flavors and/or artificial colors
Sucralose (an artificial sweetener)
Acesulfame-potassium (another artificial sweetener)
Maltodextrin (sugar ⁠— note that the carbs will kick you out of ketosis)
Gums (xantham gum, etc.)
Additionally, some of the products don't declare in detail how much of each ingredient they contain. For example, the label of Optimum Nutrition Amino Energy shows a 5-gram amino blend, without spelling out how much of each amino acid it contains.
Inspecting and carefully reading the labels of the products we buy is part of the routine we established when we started with the paleo diet a few years ago.
As a result, I not only look at the "active ingredients" list, but I also pay special attention to the "extra ingredients" on supplement labels.
Artificial Flavors and Artificial Colors
While artificial flavors and colors may be harmless, it's a sign that the manufacturer didn't care about using exclusively natural ingredients, which are usually more expensive.
Artificial Sweeteners
Artificial sweeteners have long been thought of as safe for human consumption because they don't cause an insulin response or increase blood glucose levels.
However, a recent study (full PDF abstract) has shown that the use of sweeteners, such as Sucralose or acesulfame-potassium, may change how the body reacts to glucose (for example, after eating carbohydrates).
In layman's terms, if you consume a lot of sweeteners, your body may get used to the fact that "sweet" doesn't mean it needs to release insulin. So, when you eat carbohydrates and your body converts them into glucose, it may respond inappropriately by not releasing enough insulin.
That can increase the risk of developing Type-2 diabetes. As a result, I recommend staying away from artificial sweeteners and any products that contain them.
Sugars
⁠I think that, no matter your particular dietary persuasion, we can all agree that added sugars (like maltodextrin) are bad for your health
Unhealthy Pre-Workout Powders
The supplement industry is highly unregulated. That means manufacturers can claim pretty much anything they want to claim regarding the benefits of their products and their ingredients.
If you combine a lack of regulation and oversight with high profit margins, you end up with a lot of cheaply-made products that contain ingredients that are often of low quality and ineffective. That's why you have to be careful when buying supplements.
Avoid products with proprietary blends and other components that manufacturers cannot back up with scientific evidence of their effectiveness.
Now, let's look at some of the most popular pre-workout supplements you can find on Amazon, and why you should stay away from them.
Cellucor C4
BSN Endorush Energy & Performance
Six Star Explosion
Optimum Nutrition Amino Energy
Frequently Asked Questions
Best Natural Pre-Workout Supplements: Summary & Final Thoughts
Before I started writing this article, I knew very little about pre-workout supplements (or most other types of supplements, for that matter). But I can say that I have learned a lot about the effects of individual ingredients and why they make sense in performance boosting supplements.
I have also confirmed what should have been clear from the beginning: supplements are only effective if you work hard and push your body to its limit. Also, you get what you pay for. Cheap products usually contain cheap and often ineffective ingredients.
Now that I know what I know, I will stick to natural pre-workout supplements as part of my CrossFit routine and avoid any products with artificial ingredients.
Last but not least, keep in mind that workout supplements, as the name implies, supplement your diet. As such, they are no replacement for bad dietary habits!
If you're a manufacturer of natural workout supplement and think your product should be listed here, please drop me a note.