I started CrossFit a few years ago, after ending my career as a professional track and field athlete. My goal was to get back in shape and to improve my functional fitness. And one thing I learned quickly was that I needed a high-quality set of gymnastic grips to prevent tearing my hands during bar movements like pull-ups, toes-to-bar and even kettlebell swings.
Based on recommendations from fellow athletes at my local CrossFit box, I got a pair of Bear KompleX three-hole leather grips that I later replaced with the company's Carbon Comp grips.
During that period, my wife had been working out without any grips at all — until she badly ripped her hands and started looking for solutions. Instead of blindly following my advice as to what grips to get, she did her own research and ordered both the Bear KompleX Carbon Comp (which was my recommendation at the time) and the women's Tactical three-finger grips from Victory Grips.
After trying both grips during workouts involving kipping pull-ups and toes-to-bar, she immediately told me that the Victory Grips offered better grip and contact with the pull-up bar than the Bear KompleX — it wasn't even close.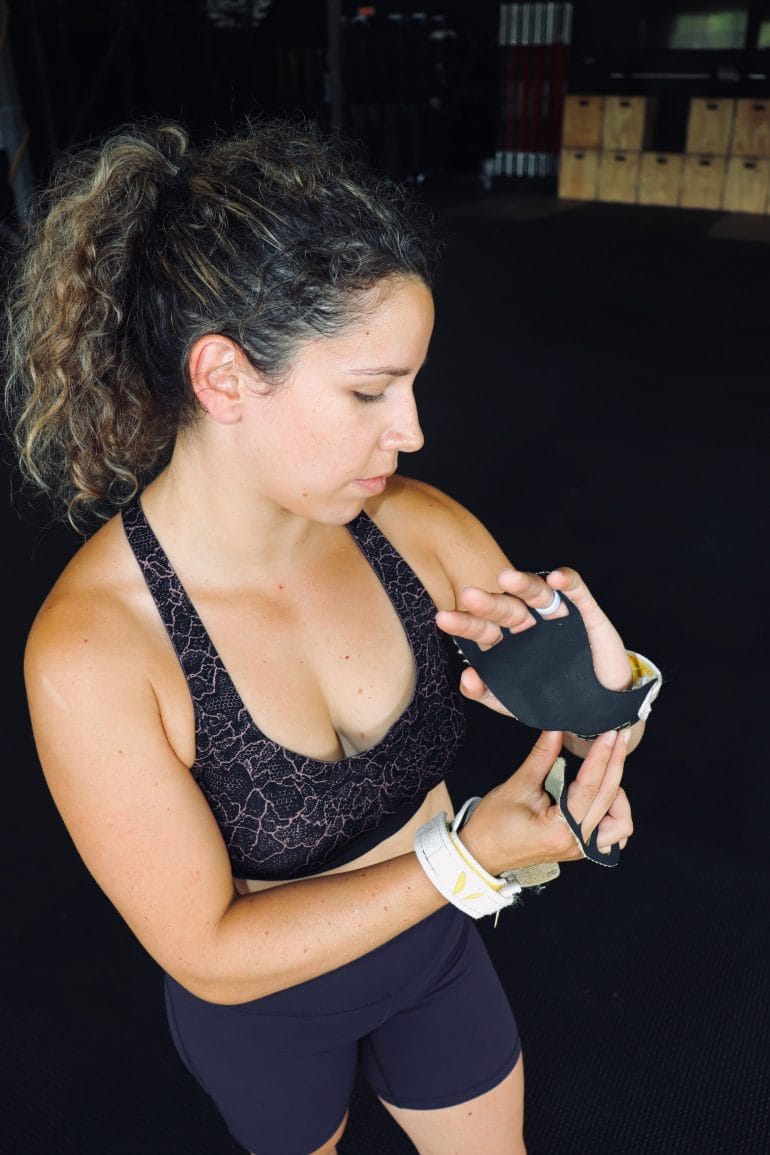 Impressed by her findings, I reached out to Victory Grips and asked if they could send me a cross-section of their product line, so I could try them all and see for myself how their grips compared to the ones I had been using for years.
Vic, the owner of the company, was kind enough to send me five pairs of grips, a false grip strap, and wristbands to try out and review. It's been a few weeks since I received the package and I've had a chance to try most of the grips during intense CrossFit workouts to find out how they perform on the bare steel bars in our box.
In a nutshell, I can tell you that Victory Grips performed exceptionally well. And one model of grips in particular just blows the competition out of the water. To learn why that is and which model of grips has become my favorite, continue reading!
Victory Grips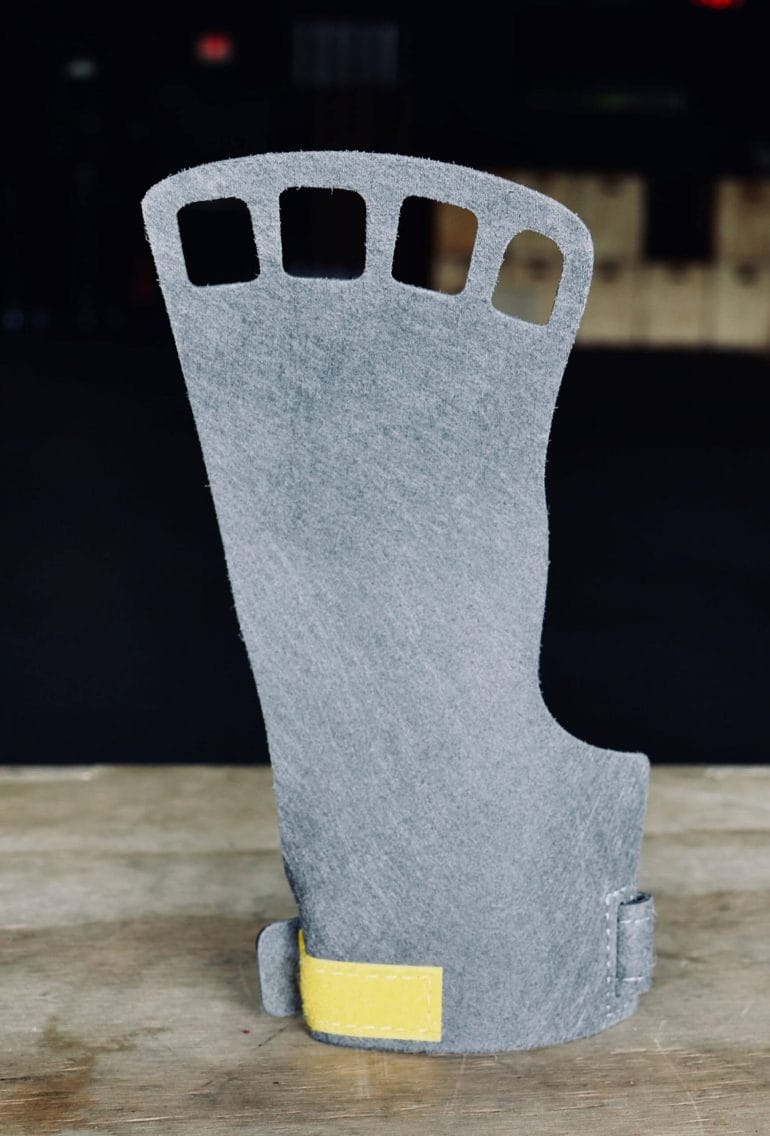 Pros
Cut from a single piece of leather/fabric
No metal pieces (loops) that could dig into your wrist
Ergonomic design
Perfect length to achieve dowel effect
Extra protection when using a false grip
About Victory Grips
Victory Grips was founded by Victor (Vic) Pellegrino, who is an enthusiastic CrossFitter and the guy who designed all of the grips from the company's headquarters near Savannah, Georgia.
What makes Victory Grips different is that all of their products are the result of an ongoing collaboration with athletes of all levels — not just the pros who compete at the CrossFit Games.
Every grip is designed and manufactured in the United States using carefully-selected materials of the highest quality.
Victory Grips Overview
Victory Grips offers gymnastics grips in four different materials and styles. That makes it easy to pick a pair of grips that best matches your personal preferences (i.e., desired level of protection) and the environment you're in (i.e., the type of pull-up bar you have to use).
The matrix below shows the available material and model combinations.
| | | | | |
| --- | --- | --- | --- | --- |
| Material | Freedom | Two Finger | Three Finger | Four Finger |
| Leather | ✓ | ✘ | ✓ | ✓ |
| Stealth | ✘ | ✘ | ✓ | ✓ |
| Tactical | ✓ | ✘ | ✓ | ✓ |
| X2 | ✓ | ✓ | ✓ | ✓ |
Victory Grips offers four different material and style options.
Gymnastic Grips Materials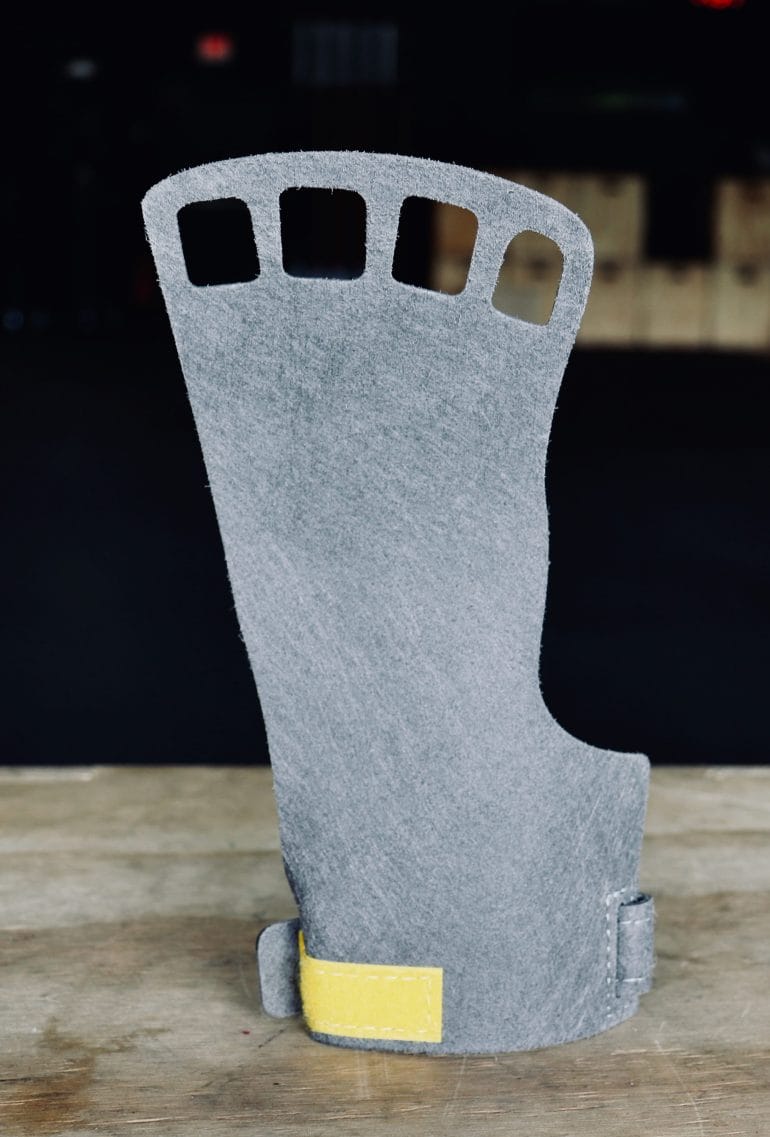 Victory Grips offers one natural and three synthetic materials, including:
Leather: The classic hand grip material that works great on bare steel bars (speal bars) and in combination with chalk.
Stealth: A synthetic microfiber that's vegan and washable. It works best on powder-coated bars, especially for low and medium rep counts (the thinner fabric provides less cushion than other materials).
X2: Another synthetic microfiber that offers excellent protection, especially for high-rep counts, on both speal and powder-coated bars.
Tactical: A combination of rubber on the outside and woven Kevlar on the inside. It's my favorite type of material, but it can get rough for higher rep count workouts — especially if you don't use chalk.
Victory Grips Styles
Besides having a choice of material, you can also choose from four different grip styles, including:
Four finger holes: Offers the best protection because the grip covers the entire palm of your hand.
Three finger holes: Offers reasonable protection while still allowing for some contact of the bar with the skin. I've been using three-finger grips for most of my CrossFit career and have never had issues with protection.
Two finger holes: Two-finger grips are great for WODs involving rings or kettlebells, where wider grips might get in the way.
Fingerless: Some athletes prefer a fingerless style because it allows them to quickly transition to movements where grips would get in the way (e.g., jumping rope).
As you can see, Victory Grips offers plenty of grip choices. And depending on how seriously you take CrossFit, you might even end up with more than one pair of grips in your gym bag. For a complete comparison matrix of all available grip materials and styles, check out this page.
What Makes Victory Grips My Grips of Choice?
In addition to the material quality and outstanding craftsmanship, Victory Grips offers a couple of features that sets their products apart from the competition, making them the best gymnastic grips you can buy for CrossFit.
Comfort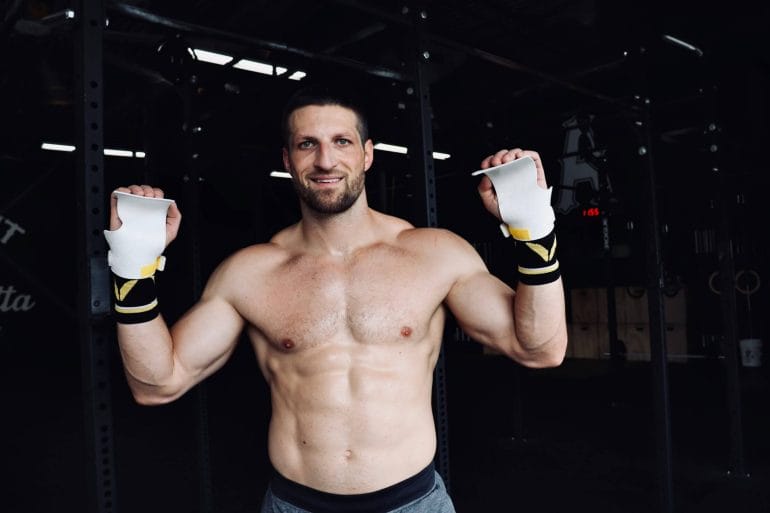 The first thing I noticed when putting on the grips was their ergonomic design. It naturally follows the shape of my palm, which means the fabric doesn't bend or fold in odd places when gripping a bar.
Additionally, Victory Grips doesn't use metal (or similar materials) to strengthen the loop where the velcro strap goes through. That's important to avoid anything from digging into your skin. With my Bear KompleX grips, I have to use wristbands to protect my wrists from the metal loops. If I don't, I look like I just got out of jail (thanks to the cuff marks) after a set of toes-to-bar.
Note that Victory Grips sent me a pair of wristbands to further increase the comfort of their grips. But even without them, they're so much more comfortable to wear during workouts than the Bear KompleX.
Protection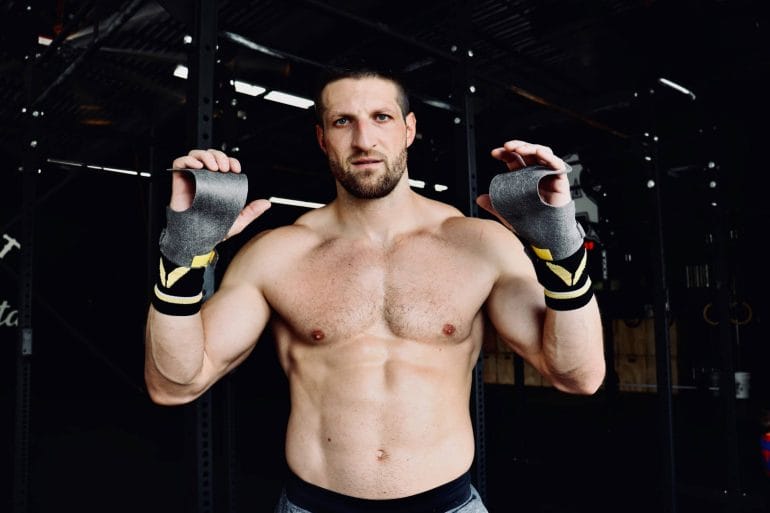 One of the reasons athletes wear grips is to protect their skin. If you're a professional athlete, ripped palms will impact your ability to train and compete. But even if you're an amateur or hobby athlete (like I am), torn skin can impact your personal life by impeding your daily activities.
Just imagine a surgeon or someone who uses their hands to perform their job, and who can't risk injuring them.
That's why it's important to protect your hands. Tears are not a sign of strength, just a sign of bad protection.
Victory Grips offers different models of grips based on the level and area of protection you need. You can get the best protection from either the three-finger or the fingerless styles, because they cover your entire palm.
The two-finger and three-finger models provide slightly less protection, depending on your grip and the areas you are prone to tear at.
I've used three-finger grips for most of my CrossFit career and only ripped where my bare skin was exposed once or twice.
The other unique feature Victory Grips offers is false grip protection. The extra fabric that protects the outside of your palms when performing ring muscle-ups makes the movement a lot more comfortable (especially if you're not used to it).
Performance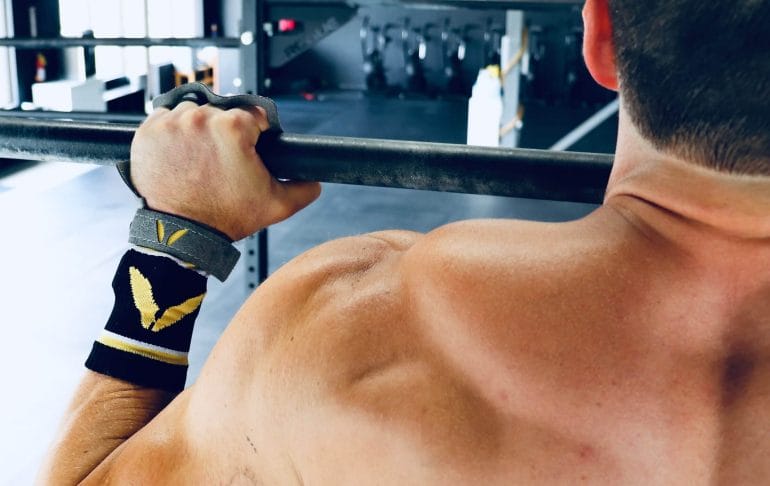 Aside from being comfortable and providing protection, performance is another important factor when choosing grips.
A good set of grips can help you perform more reps by taking some of the load (from your body weight) off your fingers and shifting it to the straps around your wrists, while allowing you to maintain close contact with the bar.
For that to work, your grips have to be long enough to create a fold that wraps around the bar. That's called the dowel effect.
Most of the grips that I've seen or used from other brands aren't long enough to create a dowel effect; they don't provide the fold you need in order to wrap the grip around the bar and take the load off your fingers.
Victory Grips are longer than competing designs to ensure that you have enough fabric to create that fold.
Note: Make sure to use Victory Grips' sizing chart. And if you're in between sizes, go with the larger one. I ended up with mostly 2XL (and some XL) grips, which look gigantic but provide the best dowel effect for the size of my hands.
Price
The leather and synthetic Victory Grips cost $45, while the Tactical grips (made out of rubber and woven Kevlar) cost $55. That's pretty much in line with other brands (Bear KompleX runs between $40 and $50) and very reasonable considering the grips are made in the U.S. using high-quality materials and craftsmanship.
Victory Grips Review
Here's a detailed review of each of the grips I've been using over the past few weeks. Keep in mind that some of the factors I mention below are based on my individual workout style and environmental factors (such as the inability to use chalk).
Men's Tactical Three-Finger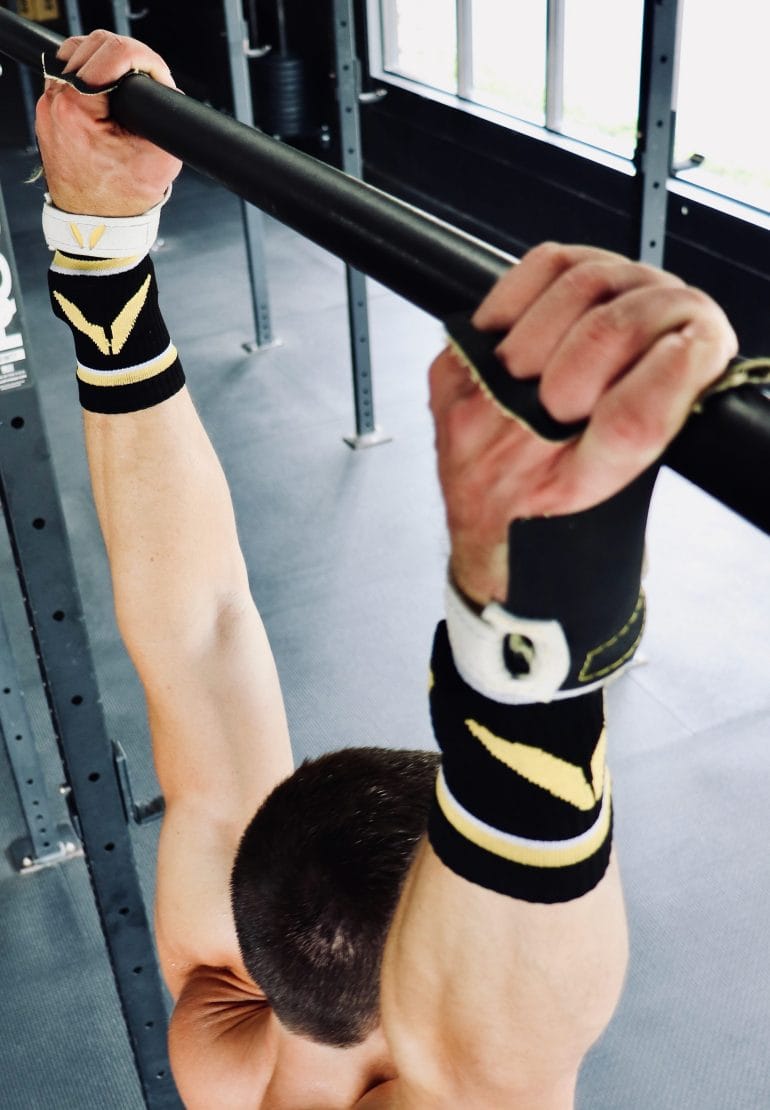 Pros
Incredible grip thanks to the use of rubber
Kevlar for abrasion resistance and moisture-wicking
Super thin (1.3 mm)
Works with or without chalk
Cons
Not ideal for high-rep workouts (especially when used without chalk)
I absolutely love Victory's tactical grips and consider them the best grips I've ever used. The primary reason for that is because they literally stick to the bar, even without the use of chalk.
To accomplish that feat, Victory uses rubber as the primary outside material. That significantly increases friction and improves your grip. The inside is covered with woven Kevlar, which is not only abrasion-resistant but also moisture-wicking.
The problem with combining non-slip rubber on the outside and abrasion-resistant Kevlar on the inside is that your skin can suffer during high-repetition workouts, especially if you don't apply chalk to your skin before putting on the grips.
Think about it; the non-slip rubber on the outside transfers most of the rotational energy to the inside where your skin will start rubbing against the Kevlar as you fatigue and your grip weakens. The resulting sliding movement of your palms against the inside of the grips can cause friction and abrasions (without the use of chalk).
I haven't had any issues. But I loaned the grips to my workout buddy for a high-rep WOD, and he ripped his hands towards the end. On the bright side, he never felt like his grip was weakening — only his skin was.
So if I had to do a workout like Murph or Cindy, I'd use chalk on the inside of the grips or switch to another material (such as leather).
The only problem I had with these gloves occurred during a workout where I accidentally got a ton of sweat onto the grips. When that happened, they started getting slippery and I didn't have any chalk or a towel available to remedy the issue. So make sure to keep them dry on the outside, especially on bare steel bars!
Shop Tactical Three-Finger Grips
Men's Stealth Three-Finger
Pros
Very thin and light with a bare-handed feel
Breathable and handles sweat well
Washable
Synthetic microfiber material that's vegan
Cons
Requires chalk and a short break-in period for optimal performance
Not ideal for bare steel bars (too slippery)
If you're looking for grips that offer an almost bare-handed feel while providing full protection, the Stealth grips are a great option. What I really like about them is that I can throw them in the washing machine (on the gentle cycle) and hang them to dry.
The downside of the Stealth grips is that you need chalk for optimal performance. I've tried them without chalk on a bare steel bar and the performance was below that of the Tactical grips (as I had expected). But if you're allowed to use chalk, both the three-hole and four-hole versions of these grips offer excellent performance and protection, especially on powder-coated bars.
(Note: This item has been discontinued).
Men's X2 Freedom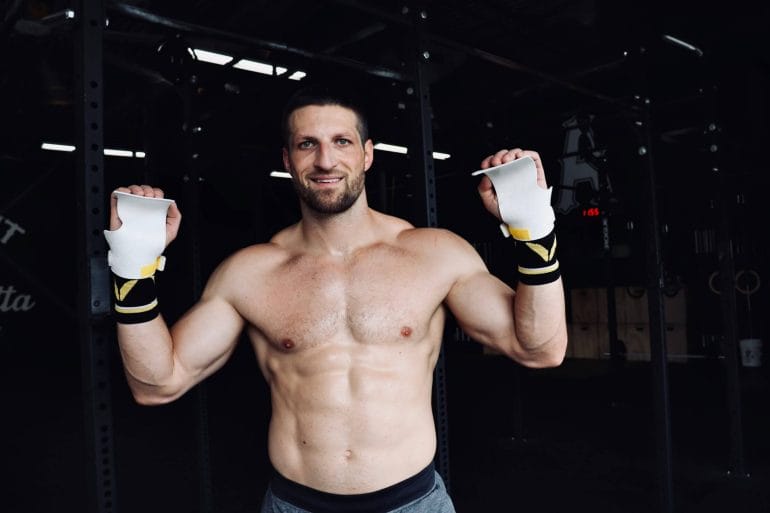 Pros
Thicker material that offers extra compression, comfort and protection
Breathable and handles sweat well
Washable
Synthetic microfiber material that's vegan
Great performance on any bar type
Enables quick transitions
Cons
Requires chalk for optimal performance
The X2 is very similar to the Stealth and shares many of its characteristics. However, the microfiber material of the X2 is thicker (2.2 mm vs. 1.7 mm), but compresses down to 1.7 mm when you hang on the bar.
That extra thickness and compression increases the comfort and protection of the grips, especially during workouts with high rep counts.
The other difference between the X2 and the Stealth grips is that the X2 performs better on bare steel bars because of a higher coefficient of friction.
What I liked about the X2 Freedom grips is how quickly I could transition between movements by simply folding them back with the opposite hand, thanks to the thick X2 fabric.
Two-Finger X2 (Unisex)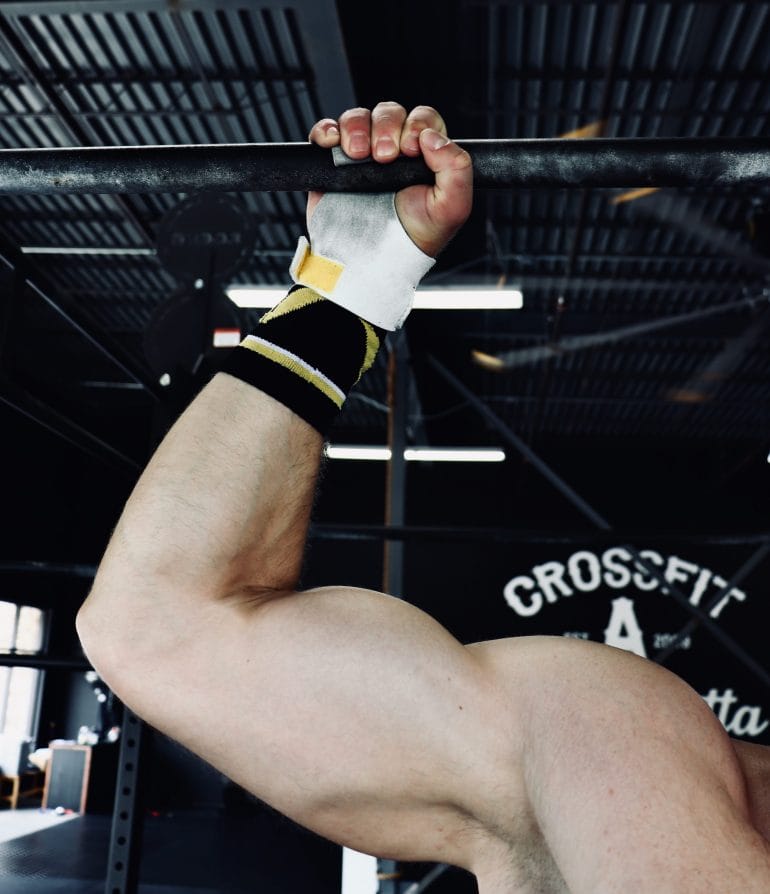 Pros
Thicker material that offers extra compression, comfort and protection
Breathable and handles sweat well
Washable
Synthetic microfiber material that's vegan (for those who care)
Great performance on any bar type
Enables quick transitions
Allows greater skin contact with the bar
Cons
Requires chalk for optimal performance
The two-finger X2 shares the same material as the X2 Freedom but offers two finger holes. This makes the grips look more like traditional gymnastic grips.
I recently used these grips for a workout that involved burpee pull-ups and kettlebell swings, and they performed exceptionally well — even without the use of chalk.
What's so great about these grips is that they allow parts of your palm to come into direct contact with the pull-up bar. Some athletes like that because they feel like they have more control over their grip and the movement.
I also like that the narrower X2 grips don't get in the way at all during kettlebell swings where you have both hands on the curved handle.
My recommendation is to use the two-finger X2 grips for movements involving rings, kettlebells or fast transitions (you can also fold them back relatively easily).
Men's Leather Freedom

Pros
Incredibly comfortable against your skin
Thicker material that offers a cushier feel than synthetic materials
Offers great performance on bare steel bars
It's the classic grip material that many athletes love
Cons
Will stretch over time
Has a shorter lifespan than synthetic materials
I love leather because it's a natural material that feels great on my skin. After the initial break-in period, it almost becomes one with my palm. It's also the traditional grip material that many athletes have come to love.
One of the reasons why leather is such an excellent material for gymnastics grips is because it provides excellent protection for beat up and sore hands. Plus, it performs exceptionally well on bare steel bars.
The downside of leather is that it stretches over time (up to half an inch) and thus has a limited lifespan of about six months, depending on the workout volume. On average, I use grips only two times a week, so I expect mine to last much longer than half a year.
Note that leather grips have a short break-in period. The best way to expedite that process (besides using them) is to apply chalk inside and out and then rub your hands together to loosen the fibers.
Speaking of chalk and fibers, Victory Grips recommends using a wire brush from time to time to remove any chalk that has accumulated in the leather.
My recommendation is to use leather grips if your box has steel bars and if you like how leather feels on your skin.
False Grip Strap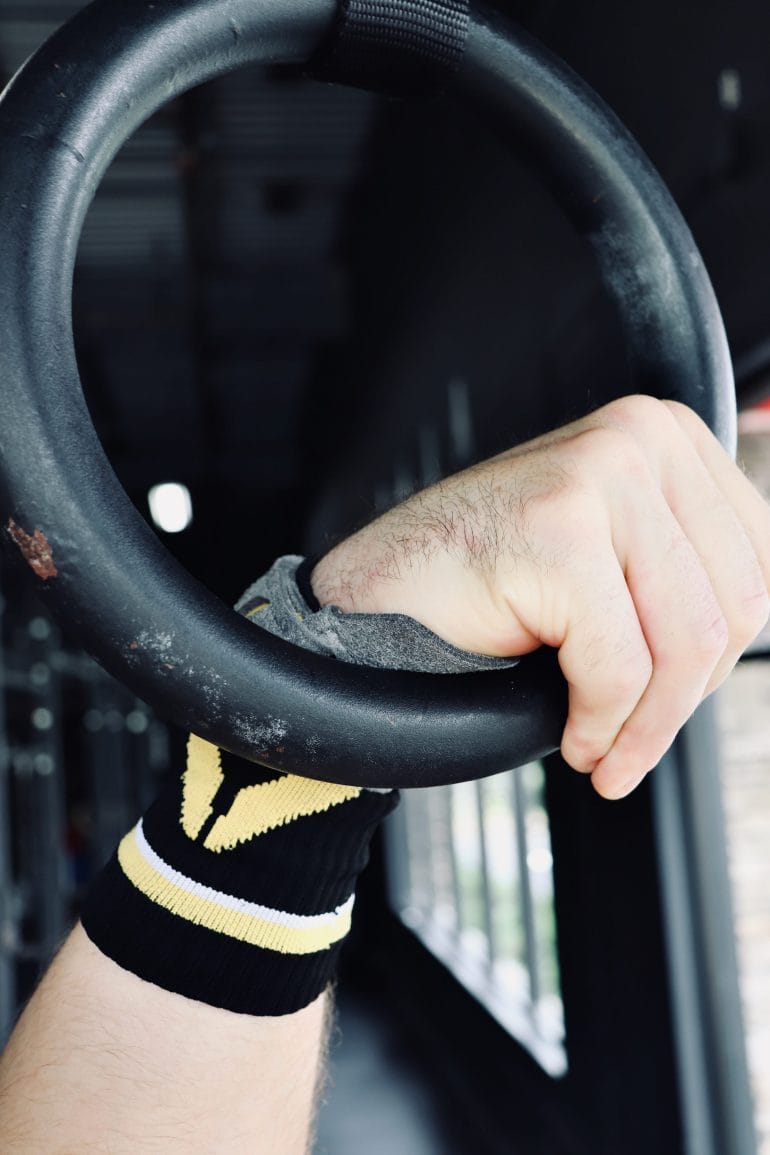 While they're not actual grips, I also wanted to mention the false grip straps Victory Grips offers.
They look like someone cut off a pair of grips and left only the velcro loop and a small patch of fabric. That small patch protects the side of your palm that's in contact with the rings during movements that benefit from a "false grip," such as ring muscle-ups.
But you might be wondering why you wouldn't just use regular gymnastics grips. Well, ring muscle-ups are a technically difficult movement and many athletes prefer direct contact with the rings. However, using a false grip can be very uncomfortable and painful, especially if you're not used to it.
That's where false grip straps can help. They offer a bit of a cushion and protection while still allowing you to grip the rings with your bare hands.
I recommend using these wrist straps if you're just learning how to perform ring muscle-ups using a false grip.
Frequently Asked Questions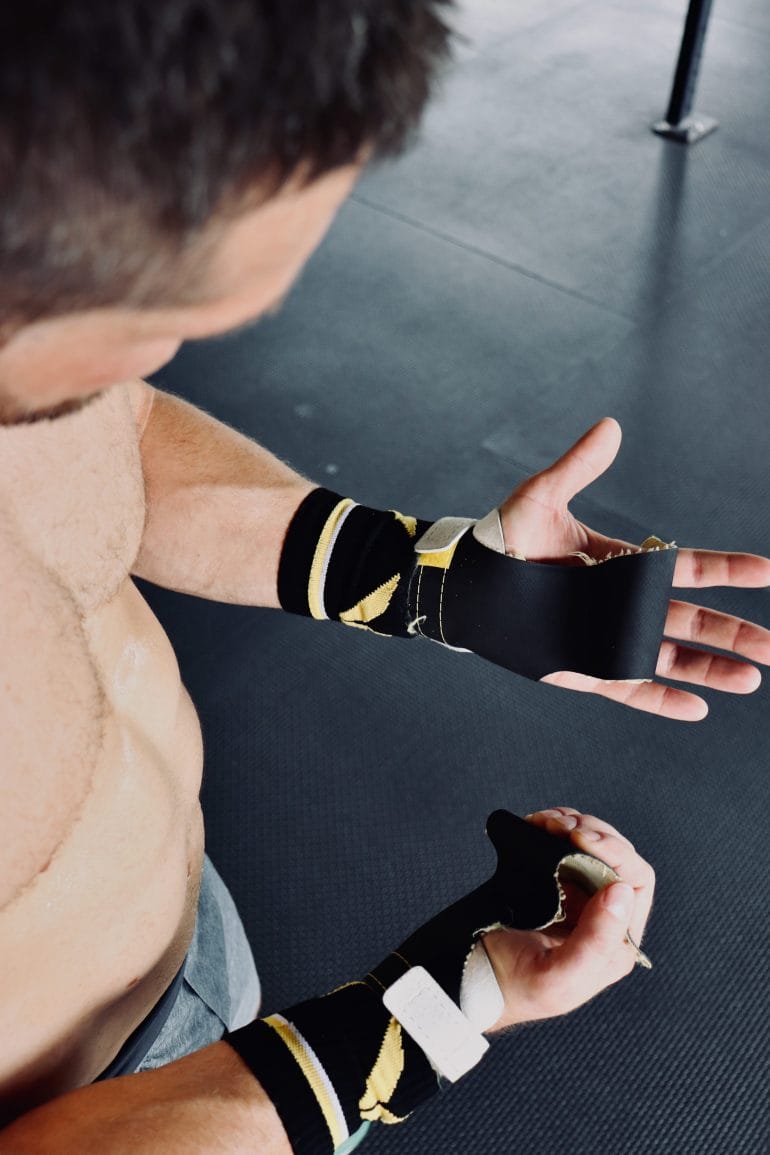 Finger holes or fingerless — what's the better choice?
I think that depends on the type of workout and your personal preferences. The pros of fingerless grips are that you can quickly turn them around or fold them back for movements where you want direct skin contact, such as rope jumping. 

Some people also prefer how fingerless grips feel on the bar while doing pull-ups or toes-to-bar. 

Personally, I think the dowel effect that finger holes offer makes grips that have them much more efficient for high-rep movements on the pull-up bar. So I would choose finger holes over fingerless, unless I know that the workout calls for quick transitions to movements where grips would be in the way.
Should I choose two, three or four finger holes?
The more finger holes the grips have, the better they protect your palms from tears and calluses. However, more finger holes also means that you have less skin contact with the bar, and some athletes don't like that. Also, the wider the grips are (more finger holes usually equals a wider grip), the less comfortable they might be during certain movements, such as kettlebell swings or ring muscle ups.

My recommendation is to use four finger holes if you can't afford to injure your palms (e.g., if you're a surgeon). For movements that involve rings or curved equipment (e.g., kettlebells), I recommend two finger holes. 

Personally, I prefer a middle ground and usually use grips with three finger holes.
If you could choose one, what grips would you pick Mike?
If I could only choose one pair of grips, I'd go with the three finger Tactical grips! The primary reason is because I value performance over comfort, and they're super grippy while providing sufficient palm coverage. 

Also, I've been doing CrossFit for three years and my hands have gotten used to the bar. That means I have calluses and rough skin, and I don't mind that the woven Kevlar of the Tactical grips is a bit rougher on my hands than leather or synthetic grips would be.

I regularly remove my calluses in the shower using a callus remover that's meant for feet. By doing so, I significantly reduce the chance of tearing. In fact, since I've started using the Tactical grips, I haven't injured my hands. 
The fold (dowel effect) feels uncomfortable. Should I get shorter grips?
I wouldn't do that; you'll get used to it. When I got my first pair of grips three years ago, I told everyone that I didn't like the fold because it pinched me while performing pull-ups. 

At the time, I didn't even know what a dowel effect was, let alone how I could leverage it. Also, my grips at the time weren't long enough to get a good fold. So I didn't have the dowel effect, just extra fabric to be in the way. 

My recommendation is to get grips that are long enough to provide a good fold. Once you've gotten used to leveraging the dowel effect, you'll appreciate how much it prevents your grip from fatiguing.
Can you use these grips for barbell work?
Yes, you certainly can. I usually don't do that for regular weightlifting workouts but I normally keep my grips on during WODs that include squats, cleans or similar movements that involve a barbell.
Can you buy Victory Grips on Amazon?
I haven't seen them on Amazon and I encourage you to buy directly from victorygrips.com. That way, more of the profits remain with the company and you're supporting a local business.
Do you recommend getting wrist wraps?
Yes, I do recommend getting wrist wraps — especially if you also wear a watch or fitness tracker. I wear an Apple Watch on my left wrist and a WHOOP strap on my right wrist. 

By using wrist wraps, I ensure those gadgets won't get in the way and that they remain in close contact with my skin (important for the heart rate sensor to maintain a good reading).
Why You Should Get a Pair of Victory Grips
For the past three years, I've been recommending Bear KompleX to anyone who asked me what grips I use. They were the best grips that I knew of.
When my wife got a pair of Victory Grips, she told me, after her first workout with them, that she'd be returning her Bear KompleX because the Victory Grips were so much better.
I couldn't believe it — until I got to use Victory Grips myself. The difference was like night and day! I admit that under perfect conditions, including powder-coated bars and a brick of chalk to dig your hands and grips into, the difference might be less severe.
But guess what: we don't have perfect conditions all the time. That's particularly true when you participate in competitions at other gyms that might have the most slippery bars you've laid your hands on, or that don't allow community chalk.
Performance aside, I've found no grips that provide the same level of comfort and ergonomic design as Victory Grips. I've become a true believer in this brand and its products, and I'll be wholeheartedly recommending Victory Grips going forward.
If you have any questions about Victory Grips or how I use them, feel free to leave me a comment below or shoot me an email and I'll get back to you as soon as I can.

Michael is a healthy living enthusiast and CrossFit athlete whose goal is to help people achieve optimal health by bridging the gap between ancestral living and the demands of modern society.
Medical Disclaimer
The information shared on this blog is for educational purposes only, is not a substitute for the advice of medical doctors or registered dieticians (which we are not) and should not be used to prevent, diagnose, or treat any condition. Consult with a physician before starting a fitness regimen, adding supplements to your diet, or making other changes that may affect your medications, treatment plan or overall health. MichaelKummer.com and its owner MK Media Group, LLC are not liable for how you use and implement the information shared here, which is based on the opinions of the authors formed after engaging in personal use and research. We recommend products, services, or programs and are sometimes compensated for doing so as affiliates. Please read our
Terms and Conditions
for further information, including our
privacy policy
.