The Apple Watch had been my primary workout companion for a number of years, until a friend recommended that I try the WHOOP Strap — a high-tech fitness tracker that was different from anything I had seen before.
I've now been wearing WHOOP since January 2019, and the data it has provided has been incredibly insightful.
So in this WHOOP review, I'll share with you some of the insights I've gained from this smart wearable over the past few years, including:
Stress and other lifestyle factors measurably impact my heart rate variability (HRV), resting heart rate (RHR), recovery and sleep quality.
My HRV is a reliable indicator of when I'm about to get sick (and when I recover).
Alcohol ruins my sleep (no surprise there).
Late meals decrease the quality of my sleep (they result in less slow-wave and REM sleep).
Reading a book before going to sleep (instead of reading on my iPhone or iPad) helps me sleep better and longer.
Intermittent fasting dramatically impacts my sleep and recovery.
While some of the information in this review applies to all WHOOP Strap generations, including the WHOOP Strap 2.0 and 3.0, some of it only applies to the latest-generation (WHOOP 4.0), which I received in October 2021. If you're still using WHOOP 3.0 and are wondering whether you should get the latest release, I provide a side-by-side comparison down below, along with my recommendation.
Based on feedback from my readers, I've also taken a closer look at the Apple Watch, Biostrap, Fitbit and Oura. Scroll down to learn how those popular fitness trackers stack up against WHOOP, or use the links above to read my in-depth comparison articles.
WHOOP gives you insight into exercise performance, recovery, rest and sleep in a way that no other device can.
As an enthusiastic CrossFit athlete and healthy living advocate, I'm always on the lookout for ways to hack my performance and improve my sleep quality and post-workout recovery. That's one of the reasons I was such a fan of the Apple Watch.
While I appreciate that Apple has turned its wearable device into an excellent fitness companion, it still has many limitations:
Detailed sleep tracking (even in the Apple Watch Series 8/Ultra and watchOS 9) is unreliable based on my testing.
It offers no useful analysis and reporting around exercise performance and recovery.
However, it's not just the Apple Watch that struggles with those issues. Other wearables, such as Fitbit and Android-based smartwatches, also suffer from the same shortcomings.
WHOOP founder and CEO Will Ahmed, a Harvard graduate, must have felt similarly when he decided to develop a solution that fills all of the above gaps and more.
WHOOP accurately tracks cardiovascular strain, as well as exercise and sleep performance. It also tells you how well you recovered overnight, and how hard you can push it that day.
The result is WHOOP, a clever combination of wearable technology (the WHOOP Strap) with a membership that provides professional-quality analytics of your data, paired with a community of like-minded users that includes professional athletes (e.g., NBA players), coaches, trainers and Fortune 500 CEOs.
What Is WHOOP?
Contrary to what you might think, WHOOP is not just another fitness tracker, like Fitbit. It's also a membership that connects you to a community of like-minded health enthusiasts.
More importantly, it enables you to "unlock the secrets your body is trying to tell you." What that means is that WHOOP provides insights into your performance, recovery and sleep data that go way beyond what most consumer-grade fitness trackers offer.
WHOOP is a high-tech gadget that can guide you through exercise, recovery and sleep. For example, it tells you if your body has recovered sufficiently to push it during your next workout, or if it's better to take it easy for a day. It also lets you know how much sleep you'll need tonight, based on your level of activity during the day and any sleep debt you might have accrued.
WHOOP Hardware and Sensors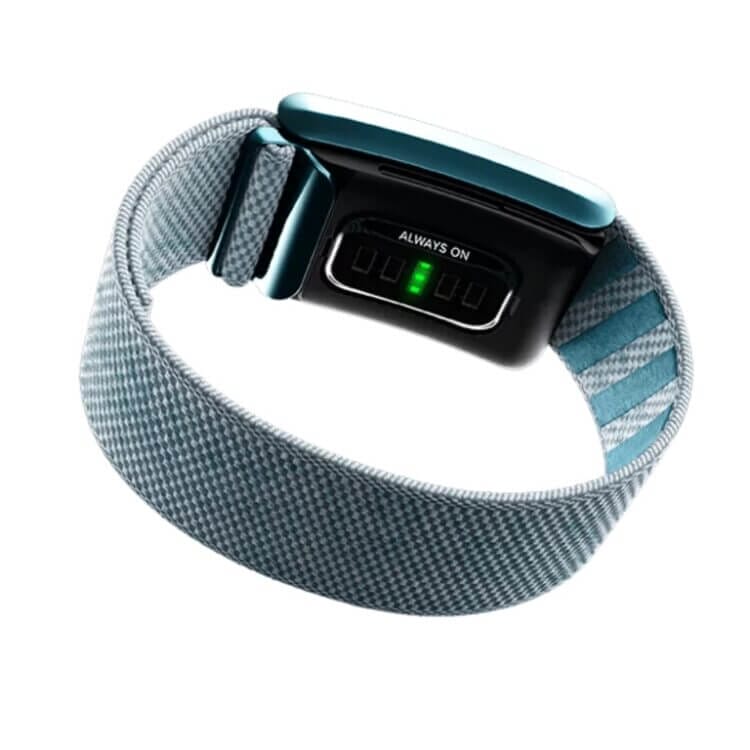 One of the things I immediately noticed when I put the strap on for the first time was that WHOOP doesn't have a display or buttons. In fact, it can't even tell you the time. There's no way to interact with the device, other than double-tapping it to see the remaining battery life via a tiny LED on the side.
But don't be fooled by WHOOP's simplicity! The wearable device contains a ton of sophisticated sensors that can measure your heart's beats per minute, heart rate variability (HRV), electro-dermal activity (EDA), skin temperature, blood oxygen saturation (SpO2), movement and 3D acceleration.
I'll explain what all that means and why it's important in a bit, so hang tight!
How Is WHOOP Different?
The key differentiator of WHOOP is that all those sensors collect data 100 times per second (and 24/7), as long as you wear the strap. In comparison, the Apple Watch only collects heart-rate data at a high frequency during workouts. Otherwise, it only samples your heart rate every few minutes. The same is true for many of the other fitness trackers I've reviewed, including the Fitbit Versa.
By collecting such an incredible amount of data, WHOOP can detect minuscule changes in how your body responds to exercise, rest and other stimuli throughout the day and overnight.
Heart rate variability (HRV) is the difference in timing between heart beats expressed in milliseconds and a proxy of the balance between your sympathetic and parasympathetic nervous systems. You can learn more about HRV and how to improve it in this blog post and YouTube video.
Besides collecting an incredibly large amount of data, WHOOP can also correlate changes to your core biometrics (such as resting heart rate and heart rate variability) and sleep quality to lifestyle choices, such as a late meal or alcohol consumption. That enables you to improve your sleep and performance by making adjustments to those lifestyle factors.
Since so much of the information you get from WHOOP relies on its sensors and their accuracy, let's talk about the hardware in more detail.
Optical Heart Rate Sensor
The WHOOP 4.0 features an optical heart rate sensor with green LEDs that shine light through the blood vessels underneath your skin and four photodiodes that collect the reflected light. The technology behind WHOOP's HR sensor is called photoplethysmography (PPG), and it enables WHOOP to measure your heart rate and heart rate variability.
While WHOOP 3.0 leveraged the same technology, the old strap only had two green LEDs and one photodiode. In theory, the additional LEDs and photodiodes should improve WHOOP's HR measurements, especially under less-than-ideal conditions. To find out whether that's true in practice, I performed several tests while wearing both WHOOP 3.0 and WHOOP 4.0. You can scroll down to my side-by-side comparison to see how the devices compare.
Pulse Oximeter
In addition to the standard optical heart rate sensor, WHOOP 4.0 uses pulse oximetry to reach deeper blood vessels and differentiate between oxygen-carrying and non-oxygen-carrying hemoglobin. That enables WHOOP to track blood oxygen saturation (SpO2) using a combination of one red and one infrared LED.
Aside from unlocking SpO2 monitoring, pulse oximeters are more reliable when used on darker skin tones, pigmentation and tattoos. The downside of red LED-based sensors is that they're more prone to interference, especially when there is movement involved (i.e., during exercise). That's why WHOOP only uses its pulse oximeter for sleep tracking. During the day, WHOOP relies on its green LEDs to track your heart rate and any cardiovascular strain you might accumulate.
Skin Conductance Sensor
The skin conductance sensor keeps tabs on changes in how your skin conducts electricity. That's an important factor for improving the reliability of sleep tracking because skin conductance changes when you fall asleep and during certain stages of sleep.
Interestingly enough, electrodermal activity also changes under stress and during epileptic seizures. For example, a study from 2010 showed that epileptic seizures induce a surge in EDA. So I'm curious if WHOOP has any plans to add stress and seizure monitoring to its platform in the future.
Skin Temperature Sensor
Much like EDA, your skin temperature changes in certain conditions, such as during strenuous exercise, when you have a fever, or during certain parts of the menstrual cycle. WHOOP can monitor and correlate data from its various sensors to understand when and why your skin temperature deviates from your baseline, which is helpful for predicting the onset of a fever or a menstrual cycle.
Additionally, the body also undergoes changes in core temperature (which are often also reflected on the skin) during sleep onset, and as it transitions from one stage of sleep to another (e.g., when transitioning from deep to REM sleep).
3D Accelerometer and Gyroscope
The 3D accelerometer built into WHOOP detects any movement. That's obviously important for workout detection and exercise tracking. However, WHOOP also uses the accelerometer to assist with heart rate monitoring (the sensor is sensitive enough to pick up individual heart beats) and to keep tabs on your respiration rate while sleeping.
The gyroscope detects any changes in WHOOP's orientation triggered by wrist movement. Together with the 3D accelerometer, the gyroscope is an essential tool for helping WHOOP differentiate between types of movements.
Battery Life
According to the company, WHOOP 4.0's battery should last for approximately five days. That's the same battery life as the WHOOP 3.0 and it lines up with my hands-on experience.
While the WHOOP app gives you an exact indication of how much juice you have left, you can also double-tap the device and get a visual indication via an LED on the side:
Solid green = 50-100% charge.
Solid yellow = 20-49% charge.
Solid red = 1-19% charge.
On a side note, WHOOP 4.0's battery pack has the same color indicators as the sensor (red, yellow and green). In comparison, the WHOOP 3.0 (and its battery pack) had three LEDs that provided a more fine-grained indication (eight charge levels) of how much battery you had left.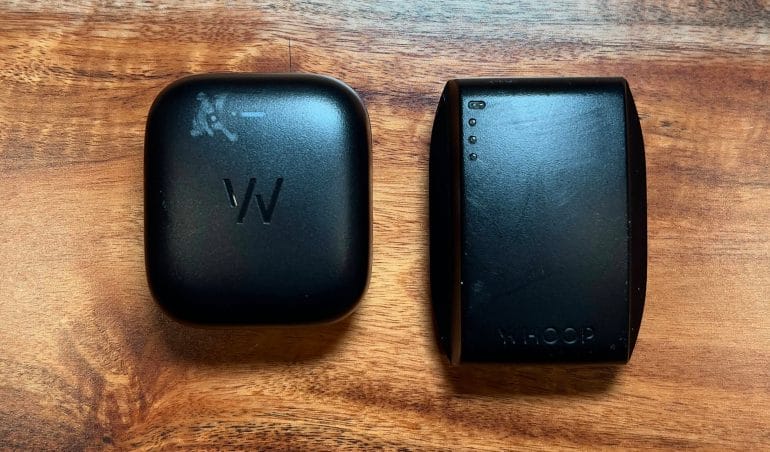 You can find more information about battery life on WHOOP's support page.
With every other fitness band I've used — including the Apple Watch, Oura Ring, Fitbit Versa and Biostrap — I had to take the device off for charging. WHOOP has figured out a way to recharge the strap without having to remove it from the wrist.
WHOOP comes with a charger in the form of a small battery pack that you can slide on top of your strap to charge it. A complete charge takes between 120 and 180 minutes. After charging the strap, you have to charge the battery pack using the included USB-A to USB-C cable.
The previous-generation WHOOP 3.0 used a micro-USB cable, and I'm glad WHOOP decided to make the switch to USB-C.
I've gotten into the habit of cycling through this charging routine every four to five days, or when my strap reaches 20% remaining battery charge.
Note that as of the WHOOP 4.0, both the sensor and the battery pack are IP68 dust-proof and water-resistant at depths up to one meter for two hours. That means you can easily take your WHOOP with you into the shower while it's charging.
That's a welcome improvement from the WHOOP 3.0 battery pack, which wasn't waterproof. Some WHOOP users damaged their battery pack when they forgot to remove it before jumping into the shower.
Note: If your WHOOP 4.0 battery drains quickly (i.e., in less than two days), try restarting it via the mobile app (Device Settings > Advanced > Reboot Device). That fixed the issue for me!
Design and Comfort
The latest WHOOP SuperKnit strap is incredibly thin, lightweight and comfortable to wear 24/7. It's arguably the best wrist strap I've ever used in any device.
WHOOP's straps have come a long way since the WHOOP 2.0. The first review unit I received came with two bands: the Tecnica and the Hydroband. The Tecnica was incredibly soft and elastic (similar to Apple's Sport Loop) and it's the one I wore most of the time. Unfortunately, it stretched so much that I had to tighten it every couple of days to ensure the sensor stayed in close contact with my skin.
The Hydroband didn't stretch, but I didn't like it very much for two reasons: it was less comfortable and I couldn't quickly move it out of the way when a workout called for gloves or grips.
When I got the WHOOP 3.0, I started using the new ProKnit strap and fell in love with it. The ProKnit strap offered the perfect compromise between comfort and function, allowing the WHOOP's sensors to remain in constant contact with the skin without feeling too tight or uncomfortable.
With the launch of WHOOP 4.0, the company also released a new flagship band called the SuperKnit strap. It's my favorite strap yet and even more comfortable than the ProKnit.
The only downside to any of WHOOP's bands is that they're not as easy to keep clean as straps made from food-grade silicone. While I don't care about that (I just rinse my bands whenever I take a shower), it could be an issue for those who work in the medical field, where contamination with germs can be a problem.
That's one of the reasons why companies like Biostrap stick with silicone bands, even though it renders their bands less comfortable and more difficult to adjust.
Exercise and Fitness Tracking
Since the WHOOP Strap doesn't have any buttons or a display, you can't tell the device to start tracking a workout routine. The good news is that you don't have to. Remember, WHOOP measures your heart rate 100 times per second, all the time. That allows the device to detect when you're working out.
WHOOP can automatically detect over 80 types of exercises, as long as they last longer than 15 minutes or result in a strain score of eight or higher. (I'll explain what a strain score is in a bit, so hang tight!
Additionally, WHOOP uses a classic accelerometer and gyroscope to detect movement. That's helpful for certain types of exercises, like lifting weights, that increase your heart rate only moderately. Alternatively, you can use the WHOOP app on your smartphone to start or log an activity instead of relying on the tracker's automatic detection capabilities.
What's crucial is that WHOOP uses the collected data to calculate your daily strain. In other words, the device can tell you how hard your cardiovascular system worked on a given day. That's important because it directly influences your recovery and sleep requirements (but not your recovery score).
WHOOP measures your daily accumulated strain score using a scale from 0 to 21:
0 – 9.9: Light
10 – 13.9: Moderate
14 – 17.9: Strenuous
18 – 21: All out
Note that WHOOP calculates strain from your max heart rate, which means the score is highly personalized. The same workout performed by different people (or even pro athletes) might result in different strain scores, so don't compare your results to someone else's.
By default, WHOOP detects activities if they last for 15 minutes or longer. So it won't recognize those 20-second sprints on CAROL, the REHIT bike I've been using to complement my CrossFit workouts.
However, even strain endured during shorter physical activities — such as carrying heavy grocery bags from the store to your car — adds to your daily strain score.
Why You Might See Low Strain Scores
Some people, including my wife and I, often see less than optimal strain scores reported by WHOOP — even after intense types of workouts such as CrossFit.
There are a couple of reasons why you might see lower strain scores than anticipated, including:
A loose-fitting strap that prevents the sensor from maintaining good contact with the skin.
Physical activity that didn't increase your heart rate (long) enough.
The first issue can be easily fixed by either making sure your WHOOP Strap is tight enough, by moving the strap farther away from your wrist bone, or by wearing WHOOP on your bicep using a bicep strap or sleeve.
The second issue is usually influenced by the type of activity you perform. For example, endurance training — such as running, biking or swimming — often causes your heart rate to stay elevated for extended periods. That makes it easier for WHOOP (and other wrist-worn devices) to capture your HR readings.
But high-intensity workouts like CrossFit often cause massive HR fluctuations (combined with wrist movements) that can make it difficult for any wrist-worn device to get a good reading. As a result, you can expect lower strain scores for these types of workouts.
Additionally, some HIIT workouts are relatively short. The ones I do are often in the 10-20 minute range, and while they might be exhausting they don't cause my heart rate to be elevated for extended periods. That's a crucial factor because WHOOP tracks strain based on how long your HR remains elevated above your "baseline."
WHOOP starts accumulating strain when you reach 30% of your HR reserve, which is calculated based on the following formula: Max HR – Resting HR = HR Reserve.
So if your max HR is 200 bpm and your resting HR is 50 bpm, then your HR reserve is 150 bpm. As a result, WHOOP would start tracking strain when your HR reaches 95 bpm (50 + 0.3 * (200-50)).
The problem is that strength training and shorter CrossFit-type workouts usually don't cause a lot of (cardiovascular) strain (they might cause muscular load instead) and thus you won't see a high strain score in the WHOOP app.
For reference, I usually accumulate a strain level of 8 to 12 during CrossFit workouts. But building a chicken coop for our Homestead caused a massive 20.2 strain level — the highest I've ever recorded.
The good news is that WHOOP recognized that shortcoming and added a feature called Strength Trainer to better capture muscular load from olympic lifting and resistance training exercises.
According to WHOOP, Strength Trainer quantifies the muscular load of your workouts by tracking weights, reps and sets to calculate the most complete strain score yet.
How Strength Trainer Works
Using Strength Trainer, you can build your own workout or choose pre-built options to make sure you get accurate strain scores. Strength Trainer then quantifies the muscular and cardiovascular load of your workout based on its volume and intensity.
Why You Might See Higher Than Expected Strain Scores
While some people have complained about lower-than-expected strain scores, others have experienced the opposite.
As mentioned above, I recorded my highest-ever strain score while building a chicken coop. While I'm sure using a hammer and drill and lugging lumber around for several hours increased my heart rate, I didn't have to go all out. In other words, I was much less exhausted building a chicken coop than I usually am after completing much shorter (but more intense) CrossFit workouts that lead to a much lower strain score (usually between 8 and 15).
So what's going on here?
The problem is that certain movements cause WHOOP (and other wrist-worn devices that use optical heart rate sensors) to incorrectly report a higher heart rate than you actually have. For example, clapping your hands for several minutes or tapping them on a table as if you're playing a drum set leads to inflated heart rate readings, and thus higher strain scores.
I did the "tap test" in my office while wearing WHOOP and a Polar chest strap. While WHOOP showed a heart rate of over 110 beats per minute, my chest strap accurately reflected my heart rate, which hovered around 70 beats per minute.
That explains why preparing food, chopping onions or performing other common household chores can lead to high strain scores.
I don't know exactly if the root cause of this problem is that the motion sensor confuses the force of the impact (i.e., the tapping) with a heart beat, or if it's because the optical heart rate sensor shifts around and thus doesn't get a good signal. Either way, if this was an easy-to-fix problem, someone would have solved it already. So far, every fitness band I've tested suffers from it.
Update: I can confirm that moving the sensor from my wrist to larger body parts (by leveraging WHOOP Body — the company's new line of functional garments) has fixed the problem. In other words, if I wear WHOOP on my hip, then chopping onions, clapping or tapping no longer causes inflated heart rate readings and strain scores.
How I Leverage WHOOP's Strain Score
To be perfectly honest, I don't care much about my strain score or the calorie burn reported in the WHOOP app.
That's because the type of workouts I perform aren't conducive to tracking cardiovascular strain. I explained the problem with tracking the strain of CrossFit workouts in the previous section, but I wanted to give you another example.
I have an AI-powered reduced-exertion high-intensity interval training (REHIT) bike called CAROL. Each ride on CAROL lasts for only 8 minutes and 40 seconds, but my heart rate only spikes during the two 20-second sprints that are part of the workout.
However, those two short sprints empty 30% of my muscle glycogen stores and activate certain metabolic pathways (such as AMPk) that improve my cardiorespiratory fitness at the same rate as a 45-minute run.
The problem is that none of the fitness trackers on the market (including the WHOOP fitness tracker) can pick up on that, because they all rely primarily on heart rate information.
As a result, I build very little cardiovascular strain. That's why I don't bother with WHOOP's strain scores.
As I explained in my article comparing WHOOP with the Apple Watch, calorie tracking is a gimmick because it relies on relatively unreliable data models and estimates of how many calories someone with your height, weight and gender might burn at rest.
It's not WHOOP's fault that the calorie burn the app reports might be way off; it's just that you can't determine actual calorie burn without telling the device what your basal metabolic rate (BMR) is (i.e., the calories you burn without any physical activity).
Determining your BMR requires special equipment and a standard test on a bike ergometer. I've done that in the past and I hope that at some point in the future, WHOOP will allow me to enter my BMR data via the app.
Recovery Tracking
I'm incredibly competitive (primarily with myself), and I'm in a constant battle with my mind during workouts. For example, if my brain tells me to slow down, I speed up. Moreover, if I'm not on the floor at the end of a workout, or on the verge of throwing up, I feel like I didn't push it hard enough.
The issue with such a strategy is that it can take an incredible toll on your body. Sometimes, I feel like although my mind is getting stronger my body isn't — or at least not at the rate I'm expecting.
Over time, I've come to realize that there needs to be a balance between strain and recovery. If your body endures too much strain without sufficient opportunity to recover, you end up with what's called a recovery deficit. The result? You don't improve, but you do increase your risk of injury.
Aside from "listening to my body," I haven't had a means by which to evaluate how recovered I was on a particular day. That's where WHOOP can help.
Every morning, the WHOOP app gives me a recovery score, expressed as a percentage (e.g., 75% recovered), based on key metrics from my heart, nervous system and sleep performance. Depending on my recovery percentage, WHOOP suggests my optimal strain for that day to prevent over-training and to lower the risk of injury.
Considering what I wrote above about the limitations of tracking cardiovascular strain, I use WHOOP's recovery percentage as a general guideline for my training load and how much stress I should expose my body to.
By "stress," I mean anything that stresses my body, either mentally or physically, including exercise, intermittent fasting or even the consumption of coffee and alcohol.
What's interesting is that you can use the recovery score for much more than planning your next workout. For example, having a low recovery score for a few days in a row without an obvious reason (i.e., strenuous workout sessions) has been an incredibly reliable indicator that my body is fighting off a virus.
On the flip side, my recovery score improved immediately as soon as I started to feel better.
For example, the picture above shows my friend's recovery scores in the week that she got diagnosed with COVID-19.
What I'm trying to say is that you can benefit from the WHOOP Strap even if you're not an athlete!
What's important to understand is that a low recovery doesn't mean you should stay home instead of going to the gym, much like a green recovery score doesn't mean you should go all-out if you know you have an important competition coming up in a couple of days.
WHOOP's recovery score is merely a reflection of how your central nervous system is responding to the stimuli and lifestyle choices of the previous day(s). You can use that information, combined with how you feel and what you have planned for the coming days, to structure your training and exposure to stress.
Said differently, I've had days where I crushed a workout despite having a low recovery score, and days with a high recovery where I didn't feel like my best.
On the flip side, listening to your body and taking heart rate variability (the core metric WHOOP uses to calculate its recovery score) into account has been shown in several studies to improve athletic performance, and cardiorespiratory fitness in particular.
One of the most useful features of WHOOP's recovery tracking is the WHOOP Journal, because it enables you to answer a few questions every morning (about lifestyle choices and medical conditions) that WHOOP can then correlate with changes in your recovery and sleep scores.
That's how I found out, among other things, that eating a late meal negatively impacts my HRV and slow-wave sleep. I'll cover the WHOOP Journal in more detail below, but in a nutshell, understand that it enables you to make better lifestyle choices to improve your sleep and recovery.
How Does WHOOP Know How Recovered I Am?
In a nutshell, the WHOOP analysis engine uses three key metrics to measure recovery:
Resting heart rate (RHR).
A high heart rate variability and a low resting heart rate, compared to your baseline, indicate that your body is recovering well. A low HRV and high RHR indicate that your heart is working harder to supply nutrients via the bloodstream. It also means that your nervous system is busy trying to meet your body's "physiological demands, such as musculoskeletal recovery, stress, illness, and fatigue" (source).
Of course, your sleep performance also plays a crucial role in recovery. The more quality sleep you get, the quicker you recover.
What's important to understand is that the recovery score WHOOP calculates is not correlated with the previous day's strain. In other words, a high strain score doesn't necessarily lead to a lower recovery score if your body is able to handle the strain well.
WHOOP-Induced Anxiety
I've heard from several WHOOP members (including my wife when she first started wearing WHOOP) that they would get anxious when WHOOP reported a "red" recovery.
What's important to understand is that being in the red isn't necessarily a bad thing — much like being in the green all the time isn't necessarily a good thing.
You have to see your recovery score in the context of what you're trying to achieve. For example, if you're trying to improve your fitness, you need to functionally overreach. In other words, you have to stress your body enough (i.e., incur muscle damage) to become stronger and fitter.
When you do, your body has to work hard to repair and recover, and you'll end up with a yellow or red recovery score. That's part of the process.
If you're always in the green, you're most likely not improving. So don't get stressed out over your recovery score. Rather, take it as a clue of how your nervous system is adapting to stressors from the previous day.
On the flip side, you shouldn't be in the red for two weeks in a row. If you are, you're either overtraining or something else is going on that requires your attention.
Sleep Tracking
One of the features I was most excited about when I learned about WHOOP was sleep tracking. I had tried various apps and gadgets in the past, such as the now-obsolete Jawbone UP and Sleep++, but none were reliable.
Thanks to the advanced sleep monitoring technology in WHOOP, the device can not only measure how much time I spend in bed, but also how much time it takes me to fall asleep (sleep latency), how long I sleep, how much time I spend awake after sleep onset (WASO), and what stage of sleep I'm in.
A typical sleep cycle consists of four stages:
Slow wave sleep (SWS, which is also known as deep sleep).
Light sleep.
Wake.
WHOOP uses its sensors to detect changes in my heart rate, the ambient temperature, electrodermal activity and movement patterns.
Every morning, I get a detailed report telling me how much time I spent in bed, how long it took me to fall asleep, how long I spent in each stage of sleep, and how many times my sleep was disturbed.
Additionally, you can also check your respiration rate (how many breaths you take per minute). That number should be relatively stable from night to night. If you see significant changes, it could indicate an underlying issue, such as a viral infection.
Sleep Efficiency
In February 2019, WHOOP launched a new sleep-related metric called Sleep Efficiency.
Sleep Efficiency is therefore a measure of sleep quality, and when considered alongside the rest of the WHOOP Sleep Pillar metrics, provides actionable insight into where your sleep could improve.

WHOOP
While sleep efficiency is an excellent metric to track, WHOOP also keeps tabs on wake time after sleep onset (WASO). That's the amount of time I'm awake after falling asleep and an excellent indication of sleep quality.
How Accurately Does WHOOP Track Sleep?
According to WHOOP, their sleep metrics are 95% accurate compared to the calibration tests the company has done in sleep labs. The University of Arizona recently published a study on sleep trackers and called WHOOP "highly accurate."
I have read numerous studies suggesting a relationship between an increase in electrodermal activity and skin temperature during slow-wave sleep. I found another study that outlined the accuracy of various monitoring devices, including electroencephalography (EEG), skin conductance (SC), skin temperature (ST) and accelerometers (ACC).
You can see the results below:
EEG showed 91% accuracy.
EEG plus other features boosted the accuracy to 95% (EEG + SC + ACC).
EEG + ACC + SC + ST boosted the accuracy to 96%.
It shouldn't be surprising that EEG-based monitoring is relatively accurate, especially when paired with additional (wrist-worn) sensors.
Note: The reason why even the gold standard of sleep tracking (EEG) isn't 100% accurate is because brain-wave information is subject to interpretation by the medical professional analyzing the data.
However, even without an EEG, scientists have confirmed the relatively high accuracy of wrist-worn devices:
ACC + SC + ST showed 86% accuracy.
SC + ST or ACC + ST showed 84% accuracy.
So, based on those findings, I expect the WHOOP Strap to be about 86% accurate. From an observational perspective, I woke up feeling groggy a few times lately, and I always suspected that I must have been in the middle or at the end of a deep-sleep cycle.
The other day, I woke up in the middle of a dream (or at least that's how it felt). More than that, I felt like I was dreaming the whole night, and I have vivid recollections of my dreams.
After each of those events, I compared my suspicions with WHOOP's sleep performance report and it was always spot on.
What's important to understand is that while most advanced sleep trackers, including WHOOP, are relatively accurate at differentiating between light sleep and deep sleep, they're less accurate at differentiating between deep sleep and REM sleep.
That's because these two restorative stages of sleep look relatively similar from the outside. That's why you need an EEG to monitor electrical brain activity to get an accurate indication of REM sleep.
That's one of the reasons why Biostrap decided to lump both deep and REM sleep into a single metric instead of trying to differentiate between the two.
Considering that the body spends as much time as it requires in either deep or REM sleep, I usually look at how much time I spend in both stages combined. As long as I've spent 40% or more of my total sleep in those two stages, I'm OK.
Sleep Coach and Silent (Smart) Alarm
In addition to my sleep performance report, WHOOP offers a sleep coach via its mobile app that suggests when I should go to bed based on my level of expected athletic performance the next day, the accumulated strain, any sleep debt I might have accrued, and how long it usually takes me to fall asleep.
Thanks to the haptic engine in the new WHOOP 4.0, you can also set non-audible alarms based on the following characteristics:
Wake up once you've hit your sleep goal.
Wake up once you've achieved a green recovery score.
I've set my WHOOP Strap to gently vibrate when I've reached my sleep goal for the day, as suggested by the Sleep Coach. My sleep goal is set to "peak" or 100% of my sleep need. Once I've reached that, WHOOP wakes me up. If I don't reach 100% of my sleep need by 6:30 a.m., WHOOP wakes me up anyway.
Of course, you can also set an exact time when WHOOP should wake you up. That's useful, if you have an early flight to catch or an appointment in the morning you can't miss.
What I'd like WHOOP to add is the ability to set your own sleep goal in hours and minutes. In other words, instead of relying on Sleep Coach, I'd like the option to be woken up once I've slept for 7 hours and 30 minutes (the amount of sleep I know I need on an average day).
Coincidentally, that's pretty much in line with what Sleep Coach recommends anyway. However, my wife feels best with 8 to 9 hours of sleep — much more than Sleep Coach recommends. So in her case, she'd be better off having the ability to define custom sleep goals.
It's worth noting you can create your own schedule to customize your wake time by day of the week.
Health Monitor
One of WHOOP 4.0's most exciting new features is Health Monitor, which gives you a daily report of your five most important health metrics, including:
Respiratory rate.
Resting heart rate (RHR).
Heart rate variability (HRV).
Blood oxygen saturation (SpO2).
Skin temperature.
Any deviation from the baseline of these metrics could be an indication of a potential health issue or lifestyle choice your body was struggling with during the night.
Blood oxygen and skin temperature are metrics exclusive to WHOOP 4.0, while the other three are also available with WHOOP 3.0.
For example, after having consumed two glasses of red wine relatively close to my bedtime, my resting heart rate increased to 60 beats per minutes (which is relatively high for me). As a result, I got a warning right on the home screen of the WHOOP app.
While I was already aware of the negative impact alcohol has on my biometrics and sleep quality, I consider the Health Monitor an invaluable tool for the early detection of infections.
Skin Temperature Monitoring
Skin temperature monitoring is a new feature of WHOOP 4.0, thanks to a new sensor that wasn't present in the previous generation.
In a nutshell, monitoring skin temperature can give you insights into your sleep quality and overall wellness.
Additionally, if you menstruate, being aware of sudden increases in skin temperature can give you a heads up as to when your period is about to start.
What's cool is that you can tell the WHOOP app (via the WHOOP Journal) if you're sick or menstruating, so the algorithm can learn how these conditions impact your skin temperature. As a result, WHOOP can more reliably predict the onset of an illness or menstrual cycle in the future.
But that's not all. WHOOP can also correlate skin temperature measurements with sleep quality and recovery scores. For example, if you're too hot under the sheets, that might impact how fast you can fall asleep or how deep you sleep.
Your skin temperature may reflect that, which is one of the reasons why I use a mattress cooling solution to ensure I support my body by regulating its core temperature during sleep.
What's important to understand is that your skin temperature is usually a bit lower than your core temperature. As a result, skin temperature fluctuates during the day, while your core temperature remains stable at around 98.6 degrees Fahrenheit (or 37 Celsius).
Blood Oxygen Monitoring
Keeping tabs on your blood oxygen saturation (SpO2) is a new feature that is made possible by the new blood oximeter built into WHOOP 4.0. Specifically, the new WHOOP Strap now includes red and infrared LEDs and additional photodiodes to penetrate the skin deeper and to differentiate between oxygenated and non-oxygenated hemoglobin.
From a technical perspective, the light reflected by those hemoglobin proteins has a different wavelength depending on if they carry oxygen or not. That's how WHOOP's photodiodes can tell how much of your hemoglobin is oxygenated.
If you asked your doctor, he'd tell you that a normal blood oxygen saturation is between 95% and 100%, and a deviation from that can indicate a potential health issue. For example, if you suffer from snoring or sleep apnea, your SpO2 levels might drop below 95%.
However, I recently learned on a podcast with Dr. Paul Saladino that lower SpO2 levels of 90-95% are actually a sign of improved CO2 tolerance (an indicator of cardiovascular fitness) and that levels closer to 100% can be a sign of low CO2 tolerance. I regularly see SpO2 levels of 93-97% in my WHOOP app and started to wonder what was going on.
That said, it's worth noting that SpO2 levels below 90% can be a sign of a problem. For example, I've heard reports of low oxygen saturation in patients who were diagnosed with a respiratory infection, such as pneumonia or COVID-19.
Last but not least, monitoring blood oxygen saturation is useful for athletes who train in high-altitude conditions. I'm currently training with LiveO2, an oxygen deprivation system that mimics high altitude to improve my cardiorespiratory fitness and red blood cell count.
In other words, it's important to monitor blood oxygen saturation at night to detect potential health issues before they lead to more severe problems.
What's cool is that you can share your 180-day health report with your doctor, physician, trainer or anyone of your choosing directly from within the app.
Note: Read my LiveO2 review and learn more about the benefits of altitude and intermittant hypoxic training.
Stress Monitor
In April 2023, WHOOP introduced a stress monitor feature that I had been testing as part of a beta program for a few weeks leading up to the official launch.
What's cool about this feature is that it gives you real-time information about how stressed you are based on relative changes to your heart rate and heart rate variability (HRV), compared to your baseline.
WHOOP's stress score goes from zero to three, with zero indicating no stress and three indicating high stress. Based on your individual stress score, the WHOOP app recommends science-backed breathing sessions that the company developed in partnership with Dr. Andrew Huberman, a neuroscientist and one of my favorite biohackers.
In addition to providing a real-time stress score, you can also get a daily summary of your cumulative stress.
One thing worth noting is that WHOOP can't differentiate between good or bad stress, or between physical or mental stress. It simply measures how "activated" the sympathetic branch of your nervous system is.
For example, it's perfectly normal (and healthy) to show a stress response during and after intense exercise, or in the middle of an important presentation at work. After all, our stress response helps us perform optimally.
However, if your stress levels are constantly elevated, you're likely dealing with chronic stress, which is detrimental to your health. WHOOP can help you keep tabs on that and suggest counter-measures in the form of breathing exercises.
During my testing, WHOOP's stress monitor has been spot-on. My wife has also been testing the feature and has discovered that parenting is her number one contributor to elevated stress levels.
WHOOP Application
The WHOOP app offers a treasure trove of information, and you might find it intimidating at first.
That's because the WHOOP app supports various input options, including taping and swiping to reveal different information. I admit that doesn't always make it easy to find what you're looking for. But once you get the hang of it, navigating the WHOOP app becomes second nature.
Here are a few examples of how you can navigate the home screen:
Swipe up to reveal a graphical representation of your weekly strain and recovery scores.
Swipe left and right to toggle between the overview, strain, recovery and sleep screens.
Tap on any recorded activity to reveal more details. For example, tapping on the recorded sleep activity jumps directly to the sleep screen.
Today View
The home screen offers you an excellent overview of your most important metrics, including:
Recovery score.
Day strain.
Heart rate variability.
Calories burned.
Any detected activities, including sleep, naps or workouts.
Health Monitor.
Battery life and cloud connectivity status.
You can also manually log an activity right from the home screen, or edit your WHOOP Journal entries.
As mentioned above, you can swipe left and right to switch between different "Today" views, including the home, strain, recovery and sleep screens.
On each of those screens you can swipe up to get a graphical representation of your data that spans multiple days.
In addition to the weekly trends, the WHOOP app also now gives you insights into your monthly trends. That's useful to see the bigger picture of how your metrics change over time. The monthly trend view is available for the following metrics:
Day Strain
Average Heart Rate
Calories
Recovery
Heart Rate Variability
Resting Heart Rate
Respiratory Rate
Sleep Performance
Hours vs. Need (Sleep)
Time in Bed
Athlete Profile
You can access your athlete profile by clicking on your profile image in the upper left corner of the home screen. In addition to allowing you to update your personal settings (e.g., name, birthday, gender, etc.) you can also change your profile picture, weight and height.
Additionally, you can get an overview of your key metrics from the last 30 days, as well as some all-time stats. Examples include the number of recoveries you logged using WHOOP; your average strain, HRV and RHR; your recent activities; and your sleep performance.
Shortcuts (Menu Bar)
On the bottom of the screen inside the WHOOP app, you can see a couple of icons that represent shortcuts to commonly used functions.
The first icon gets you back to the home screen from anywhere in the app. The second icon is a shortcut to WHOOP's coaching features, including the strain and sleep coach (which we'll discuss further down).
From within the coaching section, you can also access your weekly and monthly performance assessments, which provide you with an overview of how your lifestyle choices (as tracked by the WHOOP Journal) have influenced your sleep and recovery over the past week or month.
The camera icon in the middle of the menu bar opens WHOOP Live, a feature that allows you to record workouts while overlaying your heart rate, strain, calorie, recovery and sleep information.
It's a fun way of recording short workout videos and publishing them on social media.
The community icon allows you to create or join teams of fellow WHOOP owners and to share strain, recovery and sleep metrics with them. I don't use WHOOP teams a lot but I'm a member of several teams and enjoy sharing my WHOOP data with family members and close friends from my CrossFit box.
A relatively new addition to WHOOP Teams is the ability to exchange images and messages via the built-in chat function.
Application Menu
The application menu is the fifth and last icon in the menu bar and it enables you to make changes to your WHOOP account, change activity detection settings, explore app integrations with Strava or TrainingPeaks, update the Strap's firmware and more.
Strain Coach
Strain Coach provides you with live data — including your strain, heart rate and calories burned — that you can leverage during a workout. That way, you can make instant adjustments to your workout activity, based on your recovery.
I used Strain Coach just once (to see how it works), because I don't think it adds any value to my exercise regimen. I usually plan my workouts based on how I feel on a given day. More importantly, WHOOP isn't good at tracking strain for the type of workouts I perform, as I noted earlier in this article.
If you're new to fitness and recovery tracking and predominantly perform cardio-types of exercises, I think Strain Coach can be a valuable tool to avoid overtraining.
Some reviewers are under the impression that Strain Coach can or should replace a real coach. Obviously, that's an unrealistic expectation — much like it's unrealistic for a Tesla to operate entirely autonomously. Maybe we'll get there at some point, but we aren't there yet as of this writing.
So if WHOOP's Strain Coach suggests that you push it hard during a workout on a given day, but you know that you have a race coming up, maybe don't follow the recommendation and use your brain instead.
Sleep Coach
The WHOOP app's Sleep Coach feature gives you personalized recommendations on how to leverage sleep to increase your performance.
To get started, you can tell Sleep Coach what level of performance you're aiming for, including "peak," "perform" or "get by." I always go for "peak" performance!
Additionally, you can tell the app what your desired wake-up time is. In my case, that's 5:30 a.m. From there, Sleep Coach tells you when you should go to bed and how many hours of sleep you'll need.
Regardless of your desired wake-up time, Sleep Coach also tells you when you should go to bed and when you should wake up for maximal sleep consistency and to achieve 100% of your sleep needs.
When I first installed the app, I didn't know that I could choose my desired performance level and wake-up time, and was surprised when Sleep Coach suggested a bedtime that was much later than I was used to.
Some people get discouraged when WHOOP suggests earlier-than-expected bedtimes or a much higher-than-anticipated sleep need. But based on everything I know about how WHOOP calculates your sleep need (and based on my personal experience), I think you should follow WHOOP's recommendations.
In many cases, extensive strain and sleep debt cause a much higher sleep need than you might like. However, it's important to reduce your sleep debt by sleeping longer — otherwise, you'll never reduce it.
While I've never seen WHOOP overestimate my sleep need, my wife's WHOOP Strap 3.0 keeps telling her that she sleeps too much. But she feels better and more rested by sleeping longer than what WHOOP recommends.
WHOOP Journal
The reason the regular performance assessments are so useful is that they give you an indication of what lifestyle factors might have impacted your recovery and sleep scores.
For example, by answering a few simple questions every day, WHOOP can tell you how alcohol use impacts your sleep performance and/or resting heart rate.
While the first iteration of the WHOOP app wasn't incredibly granular in collecting that important information, newer versions allow you to select only the questions you want the app to ask you. Additionally, you can also tell the app exactly how much alcohol you had (and when you had it).
Overall, the app knows dozens of behaviors, from the consumption of your last paleo meal to air travel and everything in between. Plus, WHOOP keeps adding new journal entry "behaviors" every couple of months.
I absolutely love the granularity and I can't wait to see the results as part of my next performance assessment.
What I'd really like to see is the ability to add custom journal entries. For example, if I try a new sleep supplement, I'd love to log that using the WHOOP Journal. Unfortunately, WHOOP doesn't allow that.
I assume the reason is data consistency, so that WHOOP can continue aggregating journal information across its entire user base to fine-tune its algorithm and better understand how certain behaviors impact users.
WHOOP Performance Assessment
Once you've worn your WHOOP tracker for 28 consecutive days, you'll get a weekly performance assessment. The report visualizes your current training state based on your daily strain, your rate of recovery, and your sleep performance. You'll also get an indication of how you compare to other members of the WHOOP community.
My first weekly performance assessment report told me that both my training state and sleep performance were optimal. However, my daily strain was 8% lower than the average male WHOOP user in the 35-50 age bracket. (That's likely because of the factors I've mentioned several times throughout the article.)
In addition to the weekly performance assessment, WHOOP also offers a monthly (and even a yearly) report that turns a huge volume of data into actionable insights.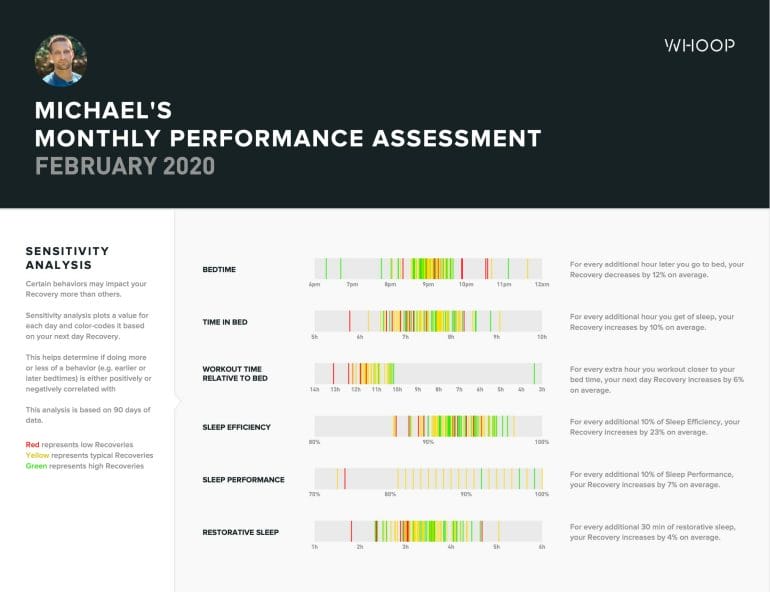 How Much Is WHOOP?
When the WHOOP fitness tracker first launched, it had a hefty $500 price tag. While that's in line with what I paid for my Apple Watch, it's still a lot of money.
These days, you don't have to pay for the hardware up-front. Instead, you can sign up for a WHOOP membership in the form of a monthly or annual subscription.
Monthly membership: $30 per month.
Annual membership: $219.08 (used to be $239.00).
24-month membership: $382.38 (used to be $399.00).
Lifetime membership: $399 one-time payment (only available to founding members).
If you'd like to give WHOOP a try, you can use the link below to get a free one-month trial. If you decide to keep your membership, you'll also get one free month added to whichever subscription you choose.
Note that if you opt into the one-month free trial, you'll receive a pre-owned WHOOP device. If you'd rather get a brand new device, you have the option to skip the free trial and just sign up for your preferred membership (and you'll still get a free month added to your subscription).
I know there are pros and cons to WHOOP's subscription model vs. paying for the hardware up-front. Based on my experience over the past three years, I can say that WHOOP has constantly improved the platform for its paying members. In other words, I've gotten a lot of value out of my membership. Additionally, hardware upgrades are free. As a result, I consider the WHOOP membership model a win-win for both the company and its customers.
In case you're wondering, the WHOOP Strap is not available on Amazon.
WHOOP 3.0 vs. WHOOP 4.0
If you're still using WHOOP 3.0, you might be wondering if it's worth upgrading to WHOOP 4.0. Considering what I told you about the cost of upgrading above — it's free if you have six or more months left on your current membership — I see no reason why you shouldn't get the new Strap.
Compared to the previous generation device, the new WHOOP 4.0 takes up less room on your wrist (something everyone with smaller wrists ought to appreciate). It packs additional sensors to enable more comprehensive health monitoring. And the battery pack is finally water-resistant, so you won't damage it when you (accidentally) take it into the shower with you.
Additionally, WHOOP has made it super easy to swap bands, thanks to the new Fast Link system. With previous generations of the WHOOP strap, swapping bands was a little bit of a pain. Plus, many users (including yours truly) often weaved the band through the loop of the sensor incorrectly, resulting in potential reliability issues.
So I'm thrilled that WHOOP introduced a slider mechanism that makes it incredibly easy to swap bands. I usually wear my strap until it's so dirty that it has to be replaced anyway, but others (e.g., my wife) prefer using different band colors for different occasions. If you fall into the latter category, you'll appreciate the Fast Link slider!
Is WHOOP 4.0 More Accurate than WHOOP 3.0?
A question that's on the mind of many current WHOOP 3.0 owners is whether the new sensor is more accurate than the old one. In theory, WHOOP 4.0 should be more accurate than WHOOP 3.0 because of the additional LEDs and photodiodes. But how does that translate into real-life accuracy?
We see on average across all of the different activities we collected on (over 30 different types) on over 20k data sets a 10% improvement [in accuracy]. We also saw a significant reduction in "outliers" – or really bad data spikes/data points. We saw particular improvements with cycling and weightlifting.

WHOOP
To find out, I wore both WHOOP 3.0 and WHOOP 4.0. Here are my findings.
Sleep Tracking Accuracy
You can see in the table below that both generations of the WHOOP Strap reported relatively similar results when it came to sleep tracking. However, I've seen a trend of WHOOP 3.0 reporting more time asleep and time spent in various stages of sleep than WHOOP 4.0. I don't know for certain which sensor is right, but I'm leaning towards WHOOP 4.0 just based on my own assessment.
The comparison table above shows an example of WHOOP 3.0's potential over-reporting. In case you wonder why I'm awake for more than an hour every night, it's because we recently got a German shepherd puppy who still needs to pee once or twice a night.
Recovery Tracking Accuracy
Considering that WHOOP's ability to accurately capture heart rate data at rest (i.e., without movement involved) has always been excellent, I didn't expect any major differences in recovery tracking.
As you can see, the data captured by the devices is pretty consistent. During some nights, I noticed a difference in HRV of 1 ms, but that was likely due to differences in capturing time. Remember, WHOOP captures HRV during the last five minutes of deep sleep. Any variation in detecting deep sleep between the two sensors would explain a slightly different HRV.
Activity Tracking Accuracy
My first workout while wearing both WHOOP sensors was a recovery bike ride on CAROL. I didn't even think about logging that activity (I wanted to wait for my next CrossFit workout instead). But coincidentally, both sensors automatically detected the bike ride, and logged it.
As you can see, the sensors recorded pretty much the same data as far as heart rate and calorie burn are concerned.
Then it was finally time for a CrossFit workout…
As you can see, there is a significant difference in the data reported by the devices.
Based on my experience with WHOOP tracking my heart rate during CrossFit workouts, and previous data captured by chest straps, I'd say that WHOOP 4.0 is much better at reflecting my actual heart rate during those challenging workouts.
For example, I'm convinced that my heart rate during the workout in question was much higher than 154 (what WHOOP 3.0 reported) — just based on how exhausting it was and how heavy I had to breathe. As a result, I firmly believe that WHOOP 4.0 more accurately captured my HR data, calorie burn and cardiovascular strain.
That's great news because, frankly, I didn't expect improved data collection!
Over the next few weeks, I'll do more side-by-side comparisons between WHOOP 4.0 and my Polar chest strap to see how aligned those devices are. I'll make sure to update this review and my "how accurate is WHOOP" article.
What's Missing in WHOOP 4.0
While I'm excited about all the new features introduced in WHOOP 4.0, there are still a few things missing that could improve the overall platform.
Specifically, I'm referring to…
Support for third-party chest straps (for even more accurate HR monitoring).
The ability to enter my basal metabolic rate (BMR).
Airplane mode.
Integration with Apple Health.
My number one request for WHOOP is to support airplane mode to reduce my exposure to EMFs while I'm sleeping. All the other fitness trackers I own already support airplane mode, including Oura, Biostrap and my Apple Watch Ultra. WHOOP is the only holdout (and the reason why I wear WHOOP on my ankle these days).
What I'd like to see is a smart implementation of airplane mode that gets enabled automatically when WHOOP detects that I'm sleeping and disabled automatically when I'm awake. That way, I wouldn't have to do it manually like I have to with my Oura Ring and Apple Watch.
I'd also like to see additional integration with third-party platforms, such as Levels Health (continuous blood glucose monitoring) and Eight Sleep (my temperature-controlled smart mattress).
Customizable WHOOP Journal entries would also be a welcome addition because it would enable me to correlate new supplements, medication or lifestyle choices (that aren't currently covered) with improvements in sleep quality and recovery.
Last but not least, live HRV monitoring would be cool, so I could see how deep breathing or meditation impacts my HRV.
Update: After months of begging WHOOP to integrate with Apple's HealthKit, the company has released exactly that. Orginally, WHOOP only supported reading information (i.e., Mindful minutes) from HealthKit, but the ability to write data to HealthKit was added in March 2022. You can learn more about WHOOP's integration with Apple Health in this knowledge base article.
WHOOP Accessories
In addition to various strap designs and colors, WHOOP also offers several accessories you might find useful, including a bicep strap, a biceps sleeve and a Hydrosleeve (for athletes who compete in water sports).
However, I'm most excited about WHOOP Body, a new line of activewear that features built-in pockets that allow you to wear the WHOOP sensor on your hip or upper arm.
That's useful for exercises that make it difficult to wear something around your wrists, such as boxing or other forms of martial arts. Other examples include NFL players who might be prohibited from wearing a wrist strap for safety reasons.
While I've tried both the bicep strap and sleeve (and found them useful for certain CrossFit workouts that include dumbbells, kettlebells or grips), I like WHOOP's performance apparel best.
The only downside to using wearable methods is that it takes a few seconds to transition the sensor from your wrist to its new location.
I wouldn't want to do that five times a week for every workout, but I do it on days that I wear workout gloves.
WHOOP vs. Other Popular Fitness Trackers
Over the past few years, I've had the chance to test and review many popular fitness trackers and compare them to WHOOP. The table below gives you an overview of how the WHOOP Strap compares to the Apple Watch, Biostrap, Fitbit Sense and Oura Ring.
Below the table you'll find links to in-depth comparison articles and YouTube videos I recorded along the way.
WHOOP vs. Apple Watch
Considering that I'm a die-hard Apple fan and love my Apple Watch, I wasn't sure if I would continue wearing the WHOOP Strap after I was done testing it for this review. But a couple of weeks with the device had me hooked, and I haven't looked back since. Today, I wear both devices.
In my opinion, each one fulfills a purpose by bridging the other device's gaps — although there are a few areas in which their features overlap.
I use my Apple Watch primarily as a timekeeping device, as a notification center, to send and receive messages, and to interact with Siri and HomeKit-enabled devices.
I also use it to track most of my workouts, because I have other apps that integrate with Apple's Health app to correlate the data with my blood glucose levels and other biometrics.
What I don't use the Apple Watch for is sleep, HRV or recovery tracking, because the features either don't exist or are too rudimentary to be useful.
Check out my in-depth comparison of the differences between WHOOP and the Apple Watch to learn more.
WHOOP vs. Biostrap
Much like WHOOP, the goal of Biostrap is to measurably improve your sleep, recovery and performance.
But despite their similarities, there are plenty of differences between these two wearable fitness trackers. To learn all about how these devices are different, check out my in-depth review and comparison of Biostrap vs. WHOOP.
If you don't have time to read the full comparison article, below is an overview of the major differences:
Biostrap's battery lasts less than two days and you can't recharge the device without taking it off.
I really like Biostrap's support for chest strap HR monitors and the shoe pod to capture leg movement (especially while sleeping).
I found WHOOP's ProKnit strap to be more effective and comfortable at keeping the sensor in close contact with my skin.
Biostrap uses a pulse oximeter (red light), which allows for additional data capturing but is prone to interference.
Overall, I can say that Biostrap has a couple of interesting features, such as blood oxygen monitoring and support for chest straps. What's missing from Biostrap is recovery tracking and the actionable insights I get from WHOOP.
That said, I'm currently testing the Biostrap Evo, which came out after I published my initial WHOOP vs. Biostrap review. So stay tuned for updates over the next few weeks.
WHOOP vs. Fitbit
Fitbit offers numerous fitness straps and smartwatches. Not all of them use the same technology to track activity and sleep, and it's difficult to compare apples to oranges.
So instead of trying to compare the WHOOP Strap to a particular Fitbit model, I decided to compare the underlying technologies. That's the same approach I took in my review and comparison of the best sleep trackers.
The top-of-the-line Fitbit straps, such as the Fitbit Versa 2 and the Fitbit Ionic watch, include the following (fitness or sleep-related) sensors:
3-axis accelerometer.
3-axis gyroscope.
Optical heart rate monitor.
That's pretty standard, and assuming a correct fit of the strap, it's good enough to monitor heart rate and track physical activity (especially arm movements). As a result, I'd argue that Fitbit can keep relatively accurate tabs on calories burned and other standard metrics.
Note: After this review was published, I decided to write a detailed comparison of WHOOP and Fitbit's flagship smartwatch, the Fitbit sense. The article covers how the two devices stack up and takes a deep dive into Fitbit's fitness tracking platform.
From a pure fitness tracking perspective, Fitbit is like my Apple Watch: both provide some value, but if it wasn't for things like notifications, timekeeping and Apple Pay, I wouldn't be wearing it. Instead, I would use WHOOP exclusively.
WHOOP adds real value by giving you insights into what your body is trying to tell you. That's valuable, regardless of whether you're an athlete or just someone who wants to perform better at the gym, at work, or generally in life.
WHOOP vs. Oura Ring
The Oura Ring is a fascinating device that packs numerous wearable technologies into a tiny form factor.
Oura's goal is to provide you with daily feedback you can use to improve your health. Specifically, Oura analyzes your biometric data to calculate a sleep score, activity score and readiness score.
The latter is similar to WHOOP's recovery feature, taking into account such parameters as:
Previous night's sleep score.
Sleep balance over the past two weeks.
Activity and strain on the previous day.
Activity balance over the past five days.
Body temperature.
Resting heart rate (RHR).
Heart rate variability.
I really like the form-factor of Oura Ring and the data it provides, even though its sleep tracking appeared to be less accurate in my tests compared to WHOOP.
Check out my in-depth comparison article to learn more about how the Oura Ring stacks up against WHOOP.
WHOOP 4.0 Issues (Growing Pains)
As with every new product or major release, there is always a chance for bugs and issues that have to be ironed out. Unfortunately, WHOOP isn't immune to such growing pains. So here's a list of issues that I've come across (or that others have reported to me).
WHOOP 4.0 Battery Drains Quickly
During the first couple of days of using the new WHOOP strap, I noticed that the battery would drain within a day or two. To fix the problem, I restarted the sensor via the WHOOP app and Device Settings > Advanced > Reboot Device.
WHOOP Sensor Doesn't Turn Off
WHOOP normally recognizes when you remove the strap from your wrist. When that happens, the heart rate sensor turns off (as indicated by the green LEDs, which turn off as well). Unfortunately, there appears to be a bug (in the software, I assume) that prevents the HR sensor from turning off when you remove WHOOP from your wrist.
The problem is that while "off wrist," WHOOP keeps recording what it believes is your heart beating at around 150 beats per minute. As a result, leaving your WHOOP lying on a table causes the sensor to record a workout and strain that might not reflect your physical activity at the time.
If you experience this issue, just reach out to WHOOP membership services via the mobile app and they'll send you a new sensor. That's what I did and I haven't had any more issues since I got my sensor replaced.
WHOOP 4.0 Battery Pack Stops Charging
While I haven't had any issues with my WHOOP 4.0 battery pack, I have heard from some users whose battery packs suddenly stopped working. The good news is that rebooting the battery pack fixed the problem in all instances.
The bad news is that you can't reboot the battery pack from within the WHOOP app. Instead, you have to use an app that can send raw commands to the battery pack via the USB cable. If you're on a Mac, you can download SerialTools from the App Store, connect it to the battery pack and send it a random command (e.g., a test) to force the device to reboot.
Update: WHOOP released a Battery Pack 4.0 Updater that you can download to update the firmware of your battery pack. Check out this knowledge base article for more information and download links to the update program.
Frequently Asked Questions About WHOOP
WHOOP 4.0 Review: Closing Thoughts
I have become a huge fan of WHOOP, and I'm thankful to the folks at NCFit Alpharetta (formerly known as CrossFit Alpharetta) who introduced me to the platform.
WHOOP is an excellent tool to help you understand the secrets your body is trying to tell you, and I've used it for almost three years to improve my overall health, sleep patterns and stress levels.
Until recently, there were two major things I wanted WHOOP to fix: the missing airplane mode and the lack of integration with Apple's HealthKit, which is the central hub for all my fitness and health data.
Fortunately, WHOOP just released an update for its app with support for Apple Health, so I can no longer complain about that. I'm still hopeful that WHOOP will follow up with a smart airplane mode feature.
Beyond that, there's not much to complain about. But if I were in charge of product development at WHOOP, I'd push for supporting third-party chest straps (or even launch a WHOOP chest strap), and I'd update the mobile app to better visualize certain biometrics on a timeline.
For example, I'd like to see all of my HRV and SpO2 readings throughout the night, instead of just getting a single metric that likely reflects an average.
Custom WHOOP Journal entries would also be nice to have.
Beyond that, there isn't much to complain about! I've been using WHOOP for a long time and it has helped me learn a lot about my body and better understand what it's trying to tell me.
I'm looking forward to testing out the new stress management features and breathing exercises WHOOP is developing in partnership with Dr. Andrew Huberman, which are supposed to be released in 2023.
Do you use WHOOP? If so, I'd love to hear your experience with it. So leave me a comment below, regardless of whether you're a health-conscious consumer or one of the many elite athletes using the strap.