The Sunlighten mPulse 3 in 1 is the only full-spectrum infrared sauna on the market that allows you to customize each wavelength to better achieve your desired health benefits.
In this review, I'll tell you everything you need to know about the Sunlighten mPulse, including why we decided to buy it and how we have incorporated sauna bathing into our family's wellness routine.
Pros
Dedicated near, mid and far infrared heaters.
Customizable wavelengths.
Easy to assemble.
Non-toxic materials (low VOC).
Built-in tablet and speakers.
Includes light therapy feature and stereo speakers.
Cons
Price.
Android tablet could be more responsive.
The Sunlighten mPulse is an excellent full-spectrum infrared sauna that provides dedicated heaters for each region of the infrared spectrum (far, mid and near). The sauna is easy to assemble and is made with high-quality, non-toxic materials. Our entire family has been enjoying this sauna on a regular basis, and we appreciate how much it has improved the quality of our lives.
If you're new to sauna bathing, you might be wondering about the benefits of exposing your body to higher-than-normal temperatures.
There are several scientifically-validated positive outcomes, including:
Relieves stress and tension.
Improves recovery and circulation.
Offers temporary pain relief.
Mimics a cardiovascular workout.
Burns calories.
Increases resistance to illness.
Helps get rid of toxins.
Helps lower blood pressure.
Helps build muscle and increases flexibility.
Improves skin health.
If you'd like to learn more, read my in-depth list of the top infrared sauna health benefits.
Why We Chose Sunlighten
When I grew up in Austria in the early 1980s, infrared saunas weren't a thing yet. However, I did get exposed to traditional steam saunas during my time as a professional track and field athlete, when I was in my 20s.
Our athletics club had several saunas that we used in winter after intense workouts to relax and speed up muscle recovery. But that was almost 20 years ago, and it wasn't until the summer of 2021 that I re-discovered the benefits of sauna bathing.
I was attending a biohacking conference where Sunlighten was exhibiting their full-spectrum infrared saunas. I was intrigued and started researching to see if it was something I wanted to invest in. Once I realized how many health benefits IR saunas offer, I wanted to get one and started comparing the different brands on the market.
Based on my findings, I decided to give Sunlighten a try because they seemed to offer the most advanced product (as far as the technology is concerned), because they use only non-toxic materials, and because they test all of their saunas for EMF levels.
More importantly, Sunlighten's top-of-the-line sauna (the mPulse) is a true full-spectrum infrared sauna. That means the sauna has dedicated heaters for each of the three infrared wavelength segments. Additionally, Sunlighten added a touchscreen to the mPulse, which allows me to customize each wavelength depending on the specific benefits I want to achieve.
The combination of these factors made Sunlighten the winner over some of the competing products on the market, including Clearlight.
I should also mention that the mPulse wasn't the first Sunlighten infrared sauna we had at home. The company sent me a review unit of their one-person sauna (the Sunlighten Solo) for several weeks, before I committed to purchasing the mPulse. Check out my in-depth Sunlighten Solo review if you'd like to learn more about it.
Sunlighten mPulse 3 in 1 Infrared Sauna Review
Sunlighten's product portfolio consists of three different sauna cabins, including the Signature series, the Amplify series and the mPulse series. The latter is the company's top-of-the-line product and features dedicated heaters for each of the three infrared light spectrum segments (near, mid and far infrared), as well as customizable wavelengths to obtain the maximum benefits.
Additionally, the mPulse includes a fully-featured Android touchscreen tablet that allows you to select from a list of predefined sauna programs, create your own custom program, schedule sauna sessions, watch Netflix shows and much more. The built-in stereo sound system and light therapy features turn the mPulse into your personal wellness oasis and help you relax and recharge after a stressful day or an intense workout.
To learn more about the differences between the various saunas Sunlighten offers, check out the comparison table below.
Capacity, Size and Dimensions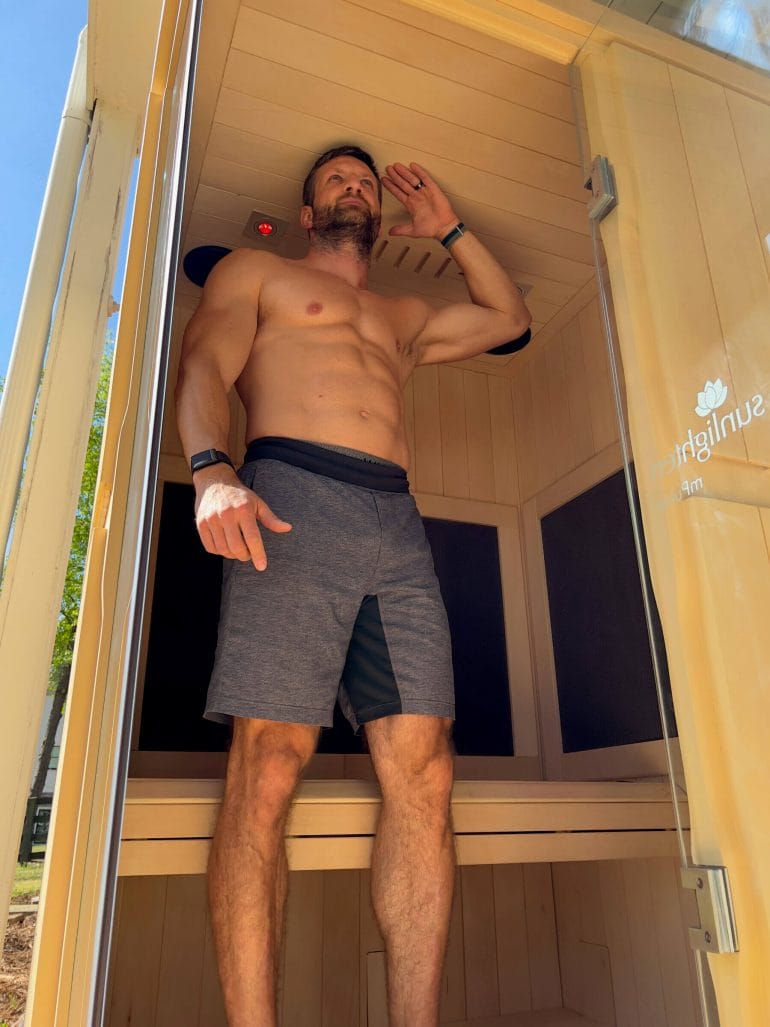 The Sunlighten mPulse is available in five different capacities, providing space for up to five people.
The image below illustrates four of the five cabin sizes. We chose the two-person mPulse Believe because its 52" x 48" footprint was a perfect fit for the available space next to our Cold Plunge.
Plus, my wife and I are the primary users of the sauna, but since our busy schedules don't always allow for a joint session, we usually have room for one of the kids to join us.

Before pulling the trigger and spending a couple thousand dollars on an infrared sauna, I was afraid that a two-person model would end up being like a two-car garage — technically big enough for two vehicles, but not practically big enough for two people to sit comfortably next to each other. Most families end up with only one car in their two-car garage, and I didn't want to spend the extra money on something that would amount to a roomier single-person unit.
Fortunately, my concerns were unfounded! The mPulse Believe is wide enough to accommodate two people side-by-side without any issues. For reference, I'm 6 feet tall (182 cm) and my buddy is four inches taller (193 cm). Both of us have fairly broad shoulders and we have more than enough room to relax in the mPulse Believe.
In a pinch, you can even fit two adults and a kid on the sauna bench. It's tight, but we've done it on a few occasions and didn't mind it.
Here's a quick overview table comparing the dimensions of the different cabin sizes.
| | Capacity | Width x Depth | Bench (Length) |
| --- | --- | --- | --- |
| mPulse Aspire | 1 | 43.6" x 41.6" | 37.8" |
| mPulse Believe | 2 | 51.7″ x 47.6″ | 45.9″ |
| mPulse Conquer | 3 | 70.6″ x 47.6″ | 64.8″ |
| mPulse Discover | 4 | 70.6″ x 70.6″ | 64.8″ |
| mPulse Empower | 5 | 85.6″ x 70.6″ | 79.8″ |
Note that all mPulse saunas are 78.5" tall, including the 2" feet on the bottom. I should also mention that the number of heaters goes up with the capacity of the sauna. For example, the one-person mPulse Aspire has five far infrared, four mid infrared and three near infrared heaters (for a total of 12 heaters), whereas the five-person mPulse Empower features a whopping 32 heaters.
To get more details on the individual specs of each sauna model, check out this mPulse overview page and click on the capacity you're interested in.
Materials and Craftsmanship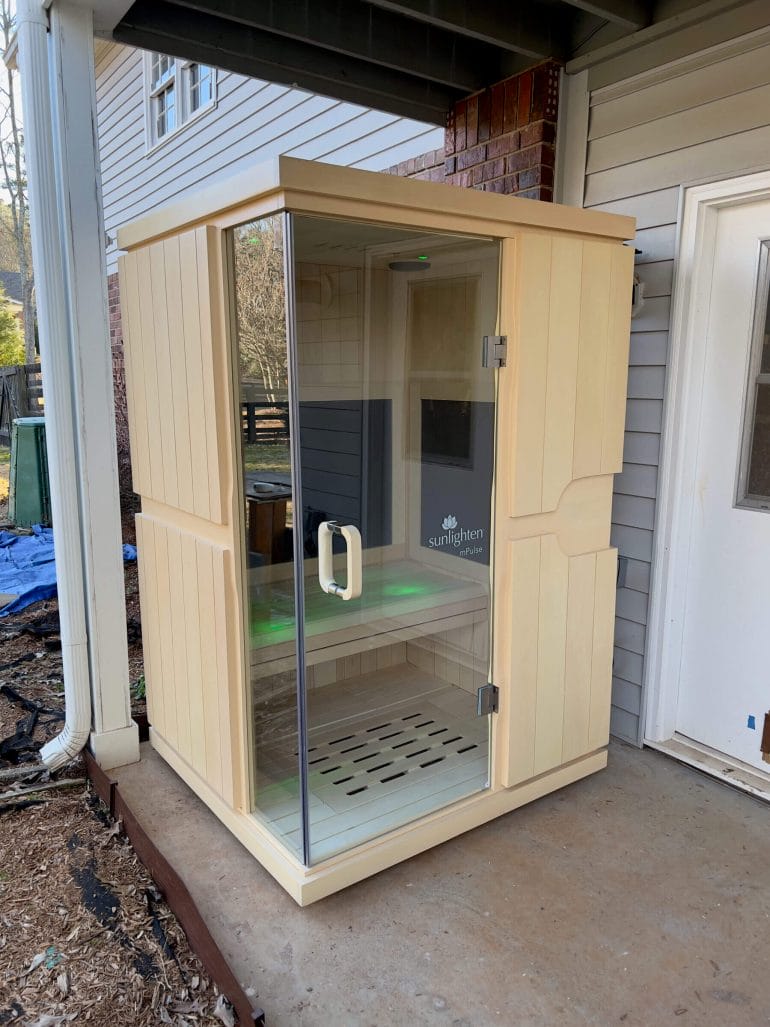 In addition to the capacity options, the Sunlighten mPulse also comes in a variety of wood finishes, including:
Eucalyptus
Basswood
Eucalyptus outside/cedar inside.
The materials from all three options come from responsibly-managed forests and look great. We decided to go with basswood because it was reasonably priced, hypoallergenic and fragrance-free.
In comparison, eucalyptus is slightly more durable and darker in appearance. The eucalyptus/cedar option is also darker in appearance and offers noise-reducing benefits. Plus, cedar wood has a pleasant, natural fragrance to it.
If you plan on using your mPulse sauna outdoors, you should get a model that has eucalyptus wood on the exterior and purchase Sunlighten's sauna cover so as not to void your warranty.
Note: Since I had an existing relationship with Sunlighten, I didn't go through the normal sales process when purchasing my mPulse. That's why I didn't realize that I should have gotten the Eucalyptus model, considering that our plan was to use the sauna outdoors. Fortunately, Sunlighten agreed not to void my warranty as long as I ordered the sauna cover to protect the sauna from the elements.
In case you're wondering, for the two-person mPulse Believe, there is roughly a $600 difference between the basswood (cheapest) and eucalyptus/cedar (most expensive) models.
Infrared Heaters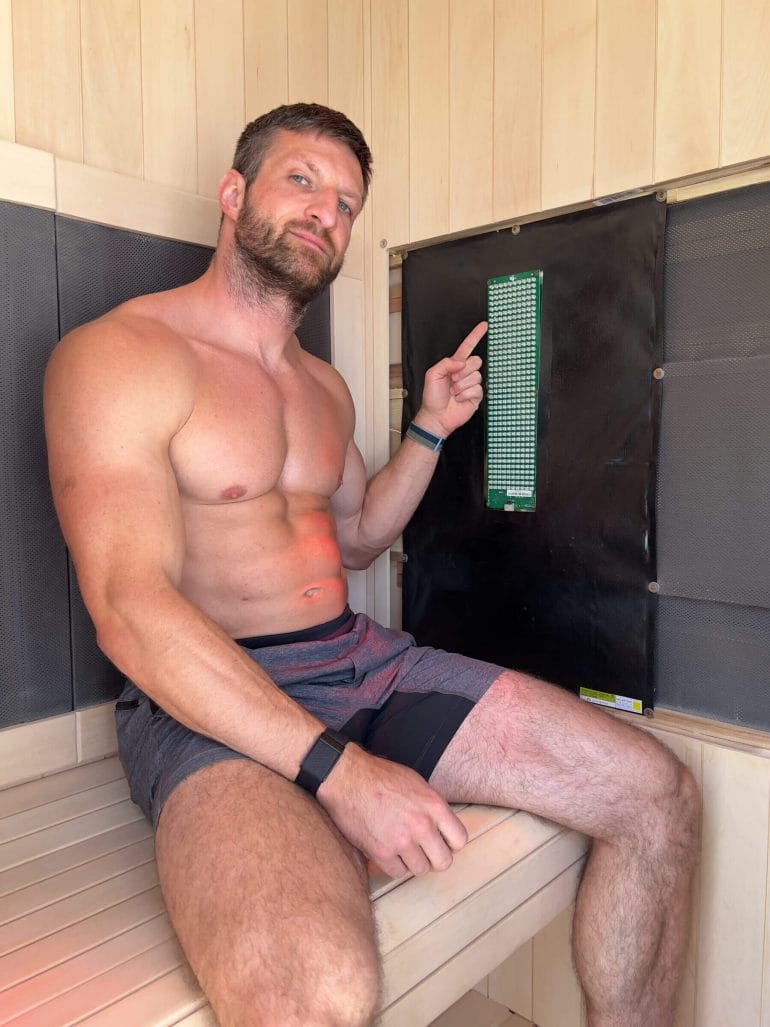 Two of the features that set the mPulse apart from all of the other infrared saunas I've looked at (including the Sunlighten Amplify) are the dedicated heaters for each of the infrared light spectrum segments and the ability to customize each wavelength based on what benefits you want to achieve.
In comparison, most other "full spectrum" infrared saunas have only far infrared heaters that just happen to also emit some residual mid and near infrared radiation.
However, this residual radiation might not be sufficient to achieve the benefits that mid and near infrared light has to offer, including improved skin health, increased energy production in the mitochondria, faster wound healing and increased collagen production.
Each mPulse sauna has between 12 and 32 SoloCarbon heaters, depending on the size of the sauna. For example, the mPulse Believe we have at our home features six far infrared, five mid infrared and four near infrared heaters hidden behind seven (mostly fabric-covered) panels.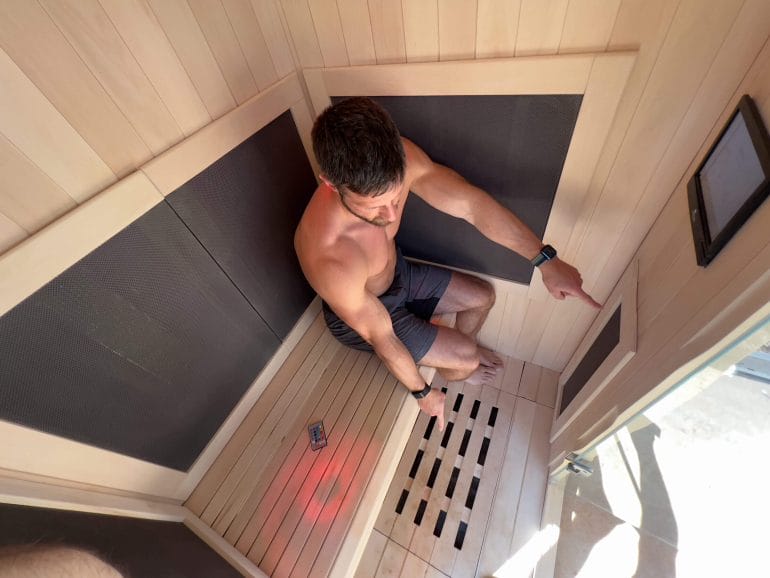 The fabric Sunlighten uses to cover its SoloCarbon heaters is made from highly-emissive materials that are easy to clean using a damp cloth.
Our two-person sauna has heaters on the back and side walls, in the floor, and on the front panel next to the glass door. As a result, you get almost 360 degrees of exposure to infrared radiation. However, I should mention that the left side of the bench (which has the door in front of it) doesn't get quite as hot as the right side (which has a heater right in front of it). That's why I usually sit on the right side when I use the sauna together with my wife; while she is less sensitive to heat, I prefer to sweat as much as possible and usually claim "the hot seat."
Speaking of temperature: Sunlighten mPulse's heaters can go up to 145 degrees Fahrenheit. While that's much lower than you'd experience in traditional steam saunas, it's plenty hot — as you can see by how much I'm sweating in the picture above.
More importantly, the temperature inside an infrared sauna isn't the most important factor as far as health benefits are concerned. What matters is how deeply the infrared radiation penetrates your tissue, and how well your body absorbs that radiation. In other words, the emissivity of the panels and their exact wavelength (as measured in microns) are the key factors.
Sunlighten's infrared heaters are 99% emissive and most of the emitted far infrared radiation is in the 9.4 micron range (which is best absorbed by the human body). That's why Sunlighten's SoloCarbon heaters are so effective at delivering their numerous health benefits — even at temperatures way below 165 degrees Fahrenheit.
In comparison, most of the less-expensive infrared saunas on the market have heaters with a much lower emissivity. For example, a friend of mine wanted to purchase this infrared sauna cabin from Costco. Upon further investigation, we discovered that the heaters built into that sauna are only 86% emissive, translating into less tissue penetration and health benefits.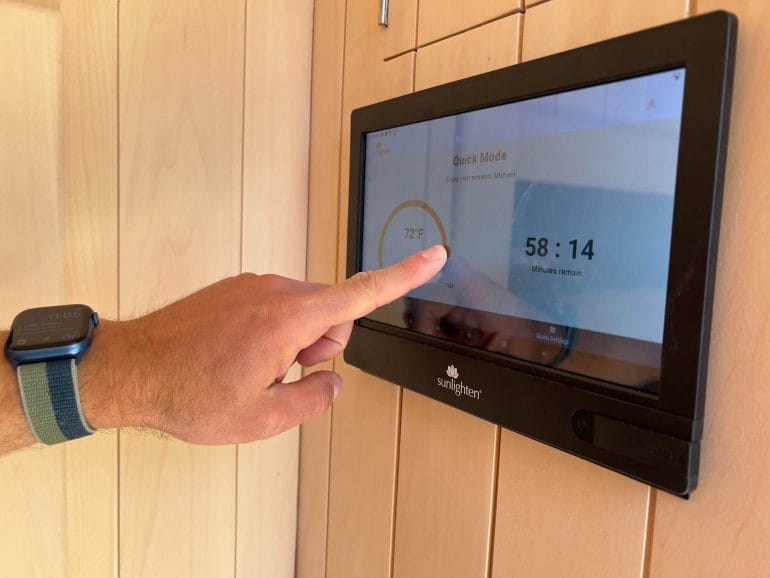 According to Sunlighten and the tests they conducted, you get the most benefit out of an infrared sauna session at temperatures between 100.4 and 129 degrees Fahrenheit (38-54 Celsius) — or as long as you're sweating. That's because it's not the temperature of the ambient air that elicits the health benefits of saunas but the infrared radiation that penetrates the skin and heats the body from the inside.
However, if your goal is to increase your sensitivity to infrared heat — to reduce your overall heat sensitivity and to make you more resilient — I recommend gradually increasing the temperature until you reach 145 F.
Sauna Programs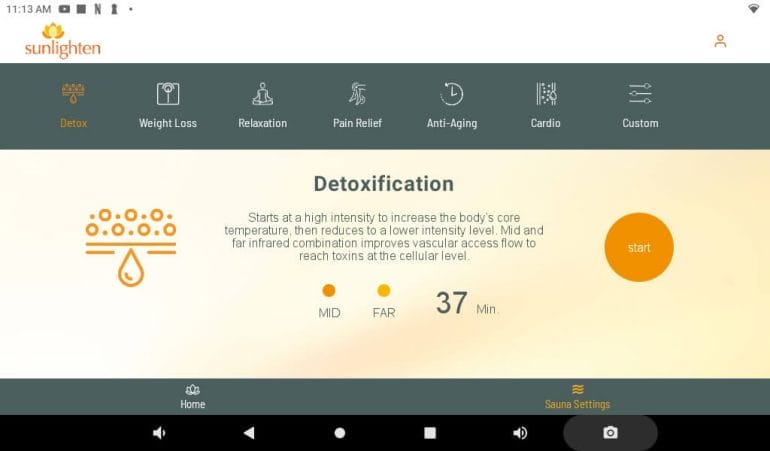 Using the Sunlighten mPulse's 10.1-inch touchscreen, you can select from several predefined sauna programs, including:
Detoxification
Weight Loss
Relaxation
Pain Relief
Anti-Aging
Cardio
Each of the programs uses different wavelengths and intensities to deliver the optimal benefits.
Here's a quick comparison table that illustrates the differences between the programs:
| | Time | IR | Intensity |
| --- | --- | --- | --- |
| Detoxification | 37 min | Far + Mid | High > Low |
| Weight Loss | 30 min | Far + Mid | High > Medium |
| Relaxation | 40 min | Far + Mid + Near | Low |
| Pain Relief | 30 min | Far + Mid + Near | Medium |
| Anti-Aging | 30 min | Far + Mid + Near | Low |
| Cardio | 45 min | Far + Mid + Near | High > Medium |
As you can see in the table above, some of the predefined programs start at a high intensity but then lower it to maintain a certain heart rate or level of circulation.
Additionally, you can create up to eight custom programs that can vary in length (up to 60 minutes), temperature and type of heaters used. In fact, you can customize the intensity of both the far and mid infrared spectrum of each of the panels in your sauna and decide whether or not to enable near infrared radiation on panels that support it.
Besides using a predefined or custom program, you can also just turn on the sauna and set it to a certain temperature. Doing so will engage all of the built-in heaters and infrared spectrums.
Assembly and Installation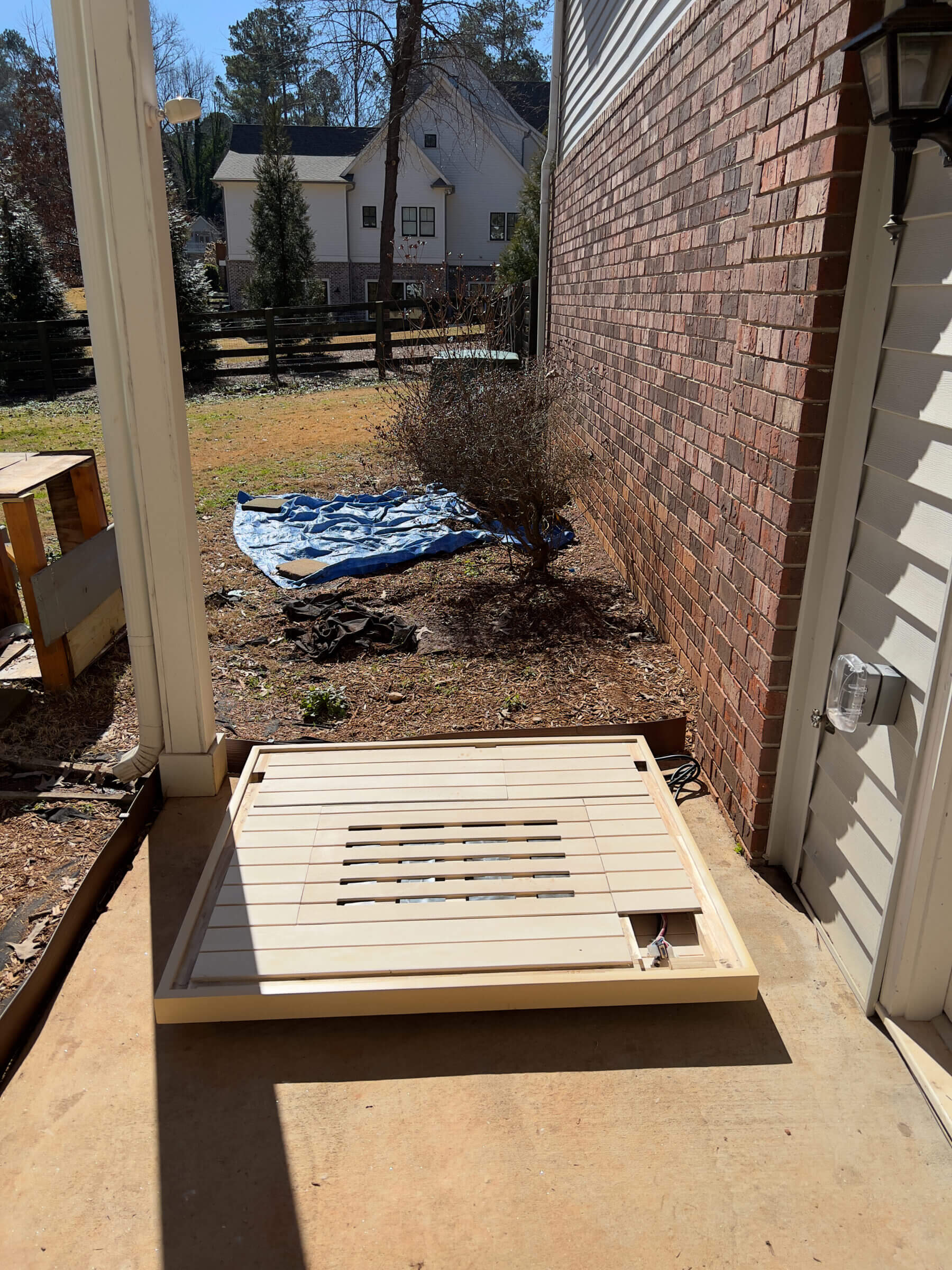 After my wife and I built a chicken coop in our backyard for our 16 chickens, I figured we wouldn't have an issue putting together the infrared sauna over a weekend. To our surprise, it took nowhere near that much time, requiring just a bit more than two hours to assemble all the pieces.
In fact, taking the individual components out of the two big boxes they arrived in, and carrying them one by one from the driveway to the backyard, took almost as much time as assembling the sauna.
It is worth noting that the reason we had to carry the sauna components to their final location one by one was that each box weighed over 700 pounds. And while I had help from a friend (and although I can deadlift over 500 pounds), the size and shape of the boxes made it impossible to carry them.
Once we had all of the pieces in our basement, my wife and I had no issues putting everything together. The only thing we had to do before setting everything up was to have our electrician install a dedicated 120V 20A circuit with an outdoor-rated GFCI outlet.
What made the assembly so easy was the fact that we didn't have to use any power tools. All of the panels interlock using wooden dowels, magnets and hooks. The only few screws we used were for the feet on the bottom of the floorboard and the door handle — nothing else required screws or nails.
The one thing we should have done before putting everything together was to level the sauna floor. We decided to place the sauna on our lower patio, right next to the exterior wall of our basement, and I didn't realize that the slab there is slightly slanted to allow water to run off and away from the house.
As a result, the bottom of the sauna cabin wasn't level, making it more difficult to hang and adjust the glass door. Fortunately, we were able to fix that problem after the fact by using a couple of shims that we wedged between the slab and the feet.
Once the structure was set up, I powered up the tablet and registered the sauna using the Sunlighten app and the serial number that was printed on a tag attached to one of the panels.
Maintenance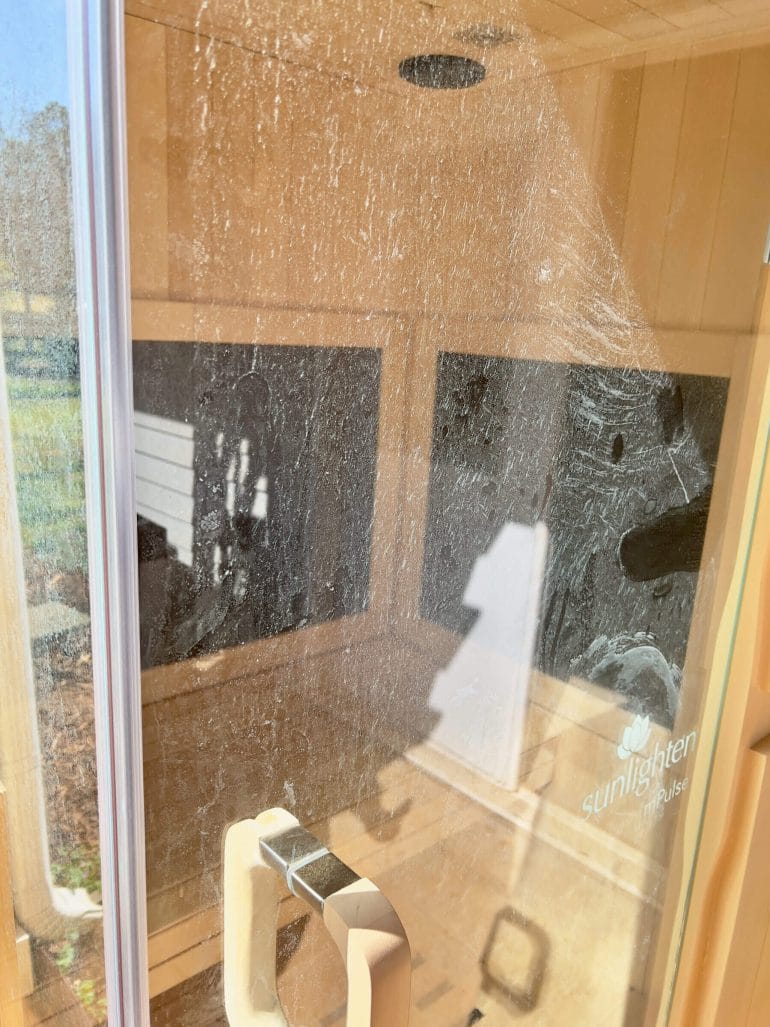 The ongoing maintenance for Sunlighten saunas is relatively straightforward, depending on whether you have your sauna outdoors or indoors.
Our mPulse sauna is located outdoors, under the porch near our backyard. That means we constantly bring in debris that sticks to our feet and needs to be vacuumed every so often. If you have your sauna indoors or use a floor mat (we haven't gotten around to getting one) in front of the entrance door, there shouldn't be a need for regular vacuuming.
Additionally, every few weeks you might have to wipe the fabric covering the heaters with a damp cloth to keep it free of any dust that might have accumulated.
One part of the sauna that you might be cleaning more often is the glass door, because it attracts fingerprints and smudges. Sunlighten sells a natural cleaning kit you can use for the glass and wood interior, but any natural cleaner should do. Just don't use any harsh chemicals on the inside of your sauna because you don't want to inhale those toxins or get them onto your skin (especially with your pores wide open). Plus, the chemicals might damage the wood.
Sunlighten also suggests using light sandpaper to remove stains from the wood interior. The idea is to remove a very thin layer of the stained wood without damaging it.
Ventilation
The mPulse features ventilation slots in the ceiling that you can open or close to allow stale air and humidity to escape from the cabin. We usually keep the slots closed during sauna sessions, and we open them before we get out. I also recommend keeping the sauna door open for a few minutes after each session to allow any residual moisture from your sweat to evaporate. Taking these steps can help prevent odors from building up inside the cabin.
Touch Screen and Speakers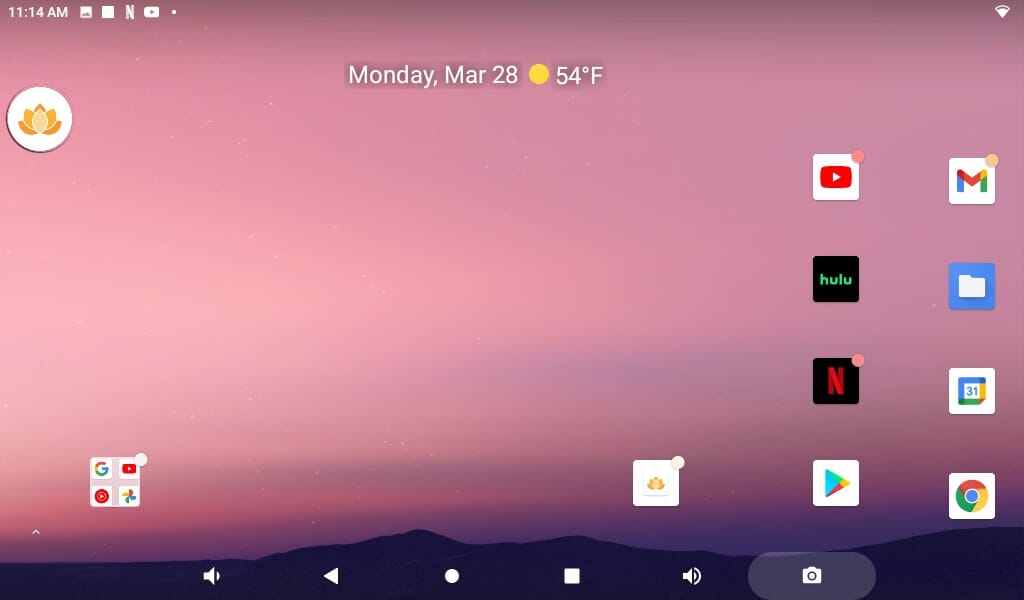 The Sunlighten mPulse is equipped with a 10.1-inch tablet powered by Android and a Blaupunkt stereo system with two speakers.
The tablet works just like any other Android-powered device, which means you can download apps, listen to music, watch videos and browse the internet (assuming you connect it to your home WiFi network).
I'm an Apple guy and don't have much experience with Android, but if you've ever used a tablet, you'll figure it out pretty quickly. One thing I've noticed is that the tablet Sunlighten built into the sauna isn't comparable to the iPad Pro I'm used to, in terms of performance and responsiveness. In other words, launching apps or switching between apps just takes a second longer than I expect.
Out of the box, the tablet's brightness also makes the screen hard to read if there's sunlight hitting the screen (as is often the case in the afternoons at our home). Fortunately, cranking up the brightness to 100% via the display settings mitigated that issue for the most part.
It's worth noting that Sunlighten added a USB-A port right underneath the screen of the tablet so you can open files (music, videos, documents, etc.) that are stored on a USB stick.
Regarding the sound system, I found it surprising that Sunlighten went with Blaupunkt, a traditional German brand that I grew up with. I remember that when I was a kid, everyone wanted to have a car stereo made by Blaupunkt because the brand was known for high-quality car audio.
Aside from the brand Sunlighten chose, I was also surprised to find out that the company actually added a fully-featured car stereo into the mPulse, including a slot for CDs and a removable cover (to deter thieves from stealing the stereo).
None of that is bad — the audio coming out of the stereo actually sounds really good — I was just surprised to find an actual car stereo inside of my sauna. Obviously, if you're a lover of high-end audio equipment, don't expect the Sunlighten mPulse to blow you away. But for the average user, the sound is certainly good enough to listen to a podcast or to watch your favorite series on Netflix.
Chromotherapy
One feature that I learned to appreciate while I was testing the Sunlighten Solo System is chromotherapy, which is also known as color therapy.
I won't repeat everything I wrote about chromotherapy in my Sunlighten Solo review, but in a nutshell, color therapy can positively impact the release of certain hormones (such as serotonin) that have calming effects, and offers a host of other benefits.
Sunlighten has implemented chromotherapy via two ceiling-mounted LEDs that you can operate using a remote. For example, you can set a specific color (depending on the benefits you want to achieve), or enable a mode that alternates between different colors.
Is the Sunlighten mPulse Series Worth It (Pricing)?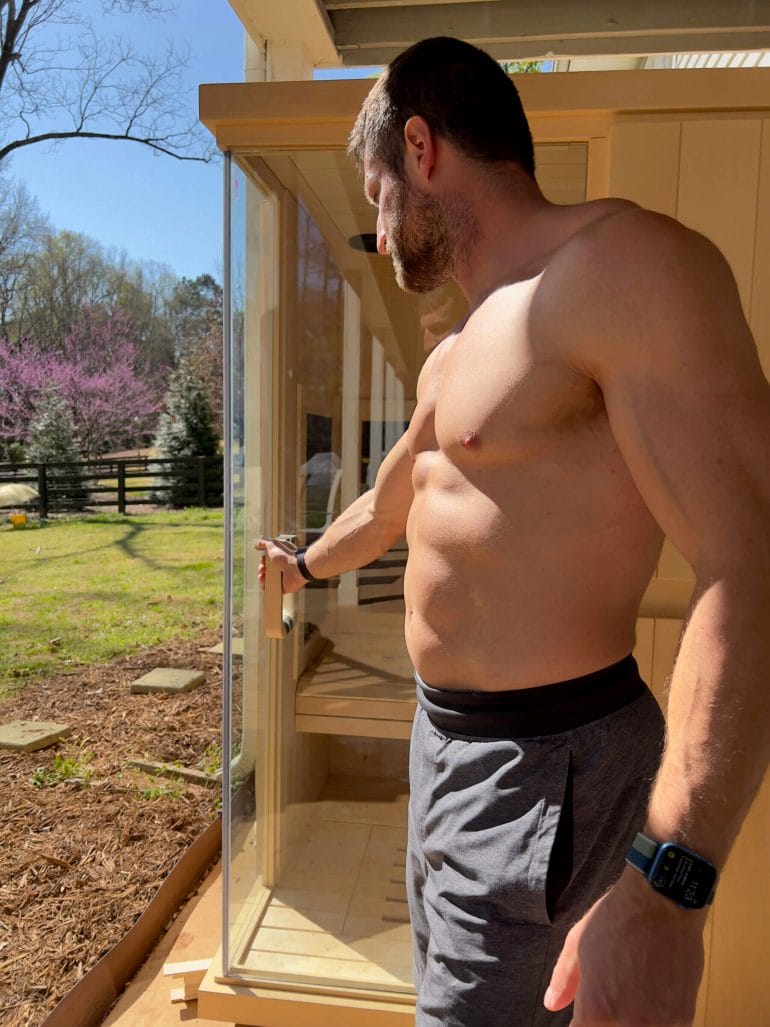 The Sunlighten mPulse is the company's top-of-the-line product and the price tag reflects that fact.
While the company doesn't release pricing because each system is configurable based on the customer's specific needs, the least expensive Sunlighten Sauna (the Sunlighten Solo) begins at $2,600.
However, I consider it a good investment in my health — one that I expect to have a positive impact on my well-being for years to come.
If you want to receive a quote for the exact Sunlighten sauna you're interested in, you can use this link. When you do, make sure to mention promo "Michael Kummer." That will knock either $500 or $600 off your quote (depending on the size of sauna you choose).
I should also mention that Sunlighten offers 0% financing options that you can explore after you receive the quote.
What I Would Improve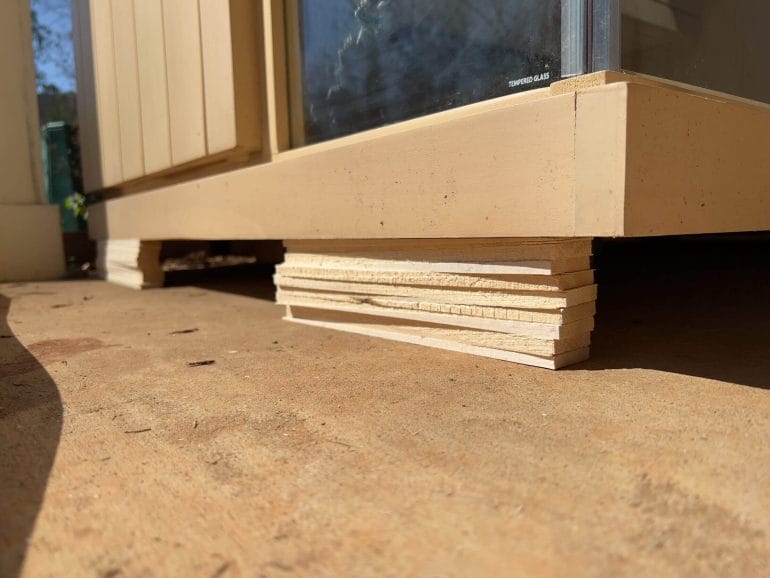 Overall, I'm really happy with our infrared sauna and don't think there's a whole lot I'd improve.
The only two things I'd like for Sunlighten to change are:
Add adjustable feet to make it easier to level the sauna.
Upgrade the Android tablet to a more powerful device to improve the responsiveness of the screen.
The other feature that would be nice to have is the ability to turn on the sauna remotely using a mobile app. That way, it would be possible to heat up the sauna in advance — while you're on the way back from the gym, for example — instead of turning it on and then having to wait up to an hour for it to get hot.
The good news is that Sunlighten is working on enabling this very type of remote access. A recent update allows you to control the sauna (including the temperature, lighting and schedule) via a web interface.
Unfortunately, you can only use that interface if you're on the same WiFi network as the sauna itself. A more advanced version of this feature is in the works, which will allow you to control the sauna from your smartphone anywhere in the world.
On a side note, I should mention that I had some issues connecting to our sauna via its web interface (mysauna.sunlighten.com) that were caused by the Android operating system running on the tablet killing the Sunlighten app due to memory constraints. To fix this issue, I had Sunlighten's support team disable the tablet analytics remotely, which freed up more memory for the Sunlighten app.
Sunlighten mPulse EMF Emissions
I know Sunlighten has conducted third-party tests to measure the EMF emissions of their sauna cabins. However, I decided to conduct my own tests to verify the company's claims.
The table below shows EMF readings before and after turning on the sauna. Keep in mind that I don't have access to an EMF-free lab environment, so the readings below include the normal EMF levels around my patio (such as those caused by wireless access points and other devices in proximity).
| | mPulse Off | mPulse On |
| --- | --- | --- |
| Magnetic | 0.4 mG | 0.5 mG |
| Magnetic (Peak) | 0.5 mG | 0.6 mG |
| Electric | 5 V/m | 95 V/m |
| Electric (Peak) | 6 V/m | 101 V/m |
| RF | 0.017 mW/m2 | 0.033 mW/m2 |
| RF (Peak) | 0.733 mW/m2 | 0.414 mW/m2 |
I took the readings using a Trifield TF2 EMF meter by holding it right next to the control board of one of the heaters. As you can see, with the exception of electric emissions (from the heater control board), the mPulse adds very little to the overall EMF exposure in the area.
How We Use the Sunlighten mPulse 3 in 1 Infrared Sauna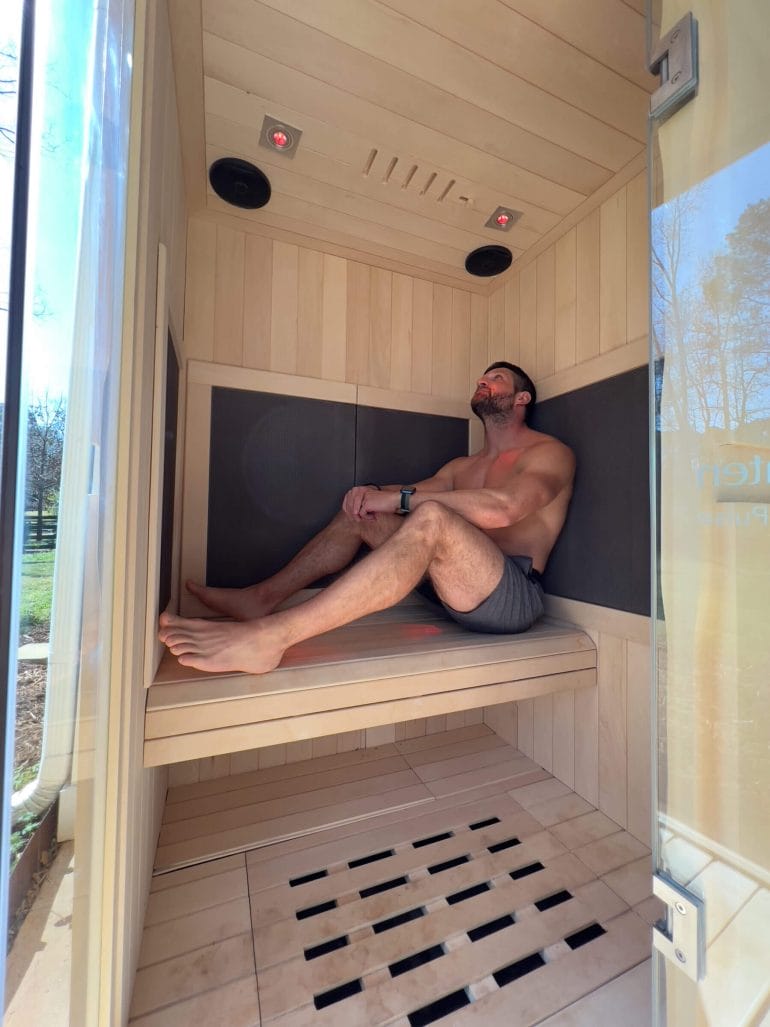 My wife, our kids and I all use our infrared sauna several times a week. We don't have a fixed schedule — we just hop in whenever we feel like it.
However, I should mention that it takes up to an hour for the sauna to heat up (depending on how hot you like it), so you can't just jump in and expect it to be ready immediately.
The good news is that you can also schedule your sauna sessions using the integrated tablet. So if you know that you want to jump into the sauna in the afternoon, you can program it to turn itself on ahead of time.
We schedule our sauna sessions only occasionally. Most of the time, we just turn it on and wait for 45-60 minutes before getting in.
Beyond that, we've enjoyed sauna sessions at various times of the day, including in the evening to relax and get ready for bed.
I've also started combining sauna bathing with cold plunging, and you can read more about the benefits of doing that in this article.
Out of all of the health benefits infrared saunas offer, improving recovery after intense workouts (and pain relief), balancing the immune system, and relaxing are the driving factors behind why my wife and I spend 30-40 minutes, several times a week, in our infrared sauna.
We just feel good, relaxed and rejuvenated after each session — especially after a stressful day of parenting two kids (and a puppy), writing blog posts, recording YouTube videos, cooking all of our meals from scratch, hitting the gym hard, caring for our chickens and bees and keeping everything in between running smoothly.
Sunlighten mPulse vs. Amplify vs. Signature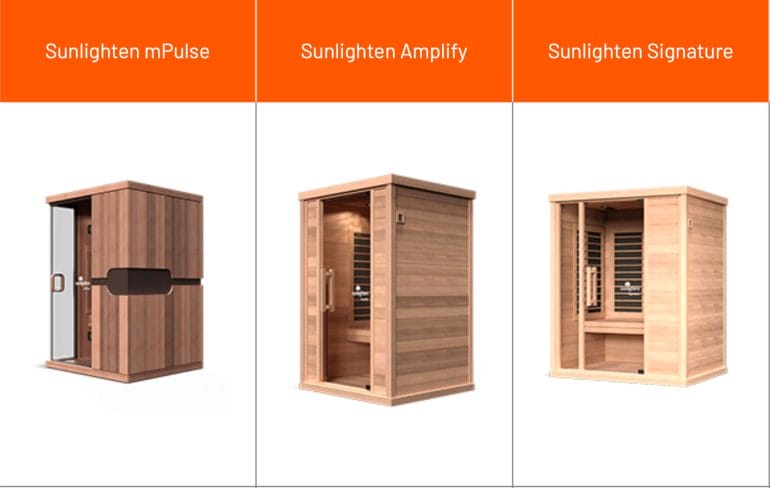 After having had a chance to use the portable Sunlighten Solo sauna for several weeks, I decided that I wanted to purchase a walk-in sauna that my wife and I (or the kids) could use together.
Browsing through Sunlighten's product page made me realize that there were several options I could choose from, and I wasn't entirely sure which model to get based on our requirements and the health benefits we wanted to achieve.
To make it easier for you to pick the right type of Sunlighten infrared sauna, here is a side-by-side comparison table.
| | mPulse 3 in 1 | Amplify II | Signature II |
| --- | --- | --- | --- |
| Price | 💰💰💰 | 💰💰 | 💰 |
| Capacity | 1-5 | 2-3 | 1-4 |
| Temperature | Hot | Hotter | Hot |
| IR spectrum | Full (dedicated near/mid/far IR heaters) | Full (no dedicated near/mid IR heaters) | Far IR only |
| Customizable programs | Yes | No | No |
| Sound system | Yes | Yes | Yes |
| Acoustic resonance therapy | Optional | Optional | Optional |
| Chromotherapy | Yes | Yes | Yes |
| Android tablet | Yes | No | No |
| Low VOC/EMF | Yes | Yes | Yes |
| Finishes | Basswood, eucalyptus, eucalyptus/Cedar | Basswood, eucalyptus | Basswood, eucalyptus |
In a nutshell, the Sunlighten Signature series is the most affordable full-size far infrared sauna out of the company's lineup. It features multiple SoloCarbon far infrared heaters that produce infrared radiation of the highest quantity and quality. The Signature II gets as hot as the mPulse (Sunlighten's most expensive sauna) and is available in one to four person capacities.
You also get the same Blaupunkt sound system and chromotherapy features as in the more expensive models.
I'd recommend the Sunlighten Signature to anyone who is on a budget and wants to get the biggest bang for their buck.
The Sunlighten Amplify II is a mix between the Signature and mPulse in the sense that it does have heaters that emit full spectrum infrared radiation but to a lesser degree than the dedicated panels in the mPulse (as far as near and mid infrared radiation is concerned). In other words, you get some near and mid infrared radiation but not to the extent you get with the mPulse.
Additionally, the Amplify II doesn't have a tablet that allows you to choose from different programs or customize each wavelength based on the benefits you want to achieve.
However, the Amplify II does get hotter than both the mPulse and the Signature, and it heats up quicker too. For comparison, if we heat up our mPulse for 60 minutes, the air temperature inside of the sauna reaches up to 145 degrees. The Amplify II will heat up the air to 165 degrees in the same timeframe.
For most people, that doesn't make a measurable difference as far as health benefits are concerned. But if you want to use sauna bathing as an alternative to a regular cardio workout, or if you're a professional athlete who wants to maximize muscle recovery, then Amplify II might be a good option.
The mPulse is Sunlighten's signature product that has all the bells and whistles you might expect, including dedicated heaters for each of the infrared spectrum segments (near, mid and far infrared). As a result, it offers the most health benefits, including anti-aging, collagen production, wound healing and more.
The mPulse also features an Android-based control panel you can use to pick from any of the predefined sauna programs, watch Netflix movies or listen to your favorite music.
Frequently Asked Questions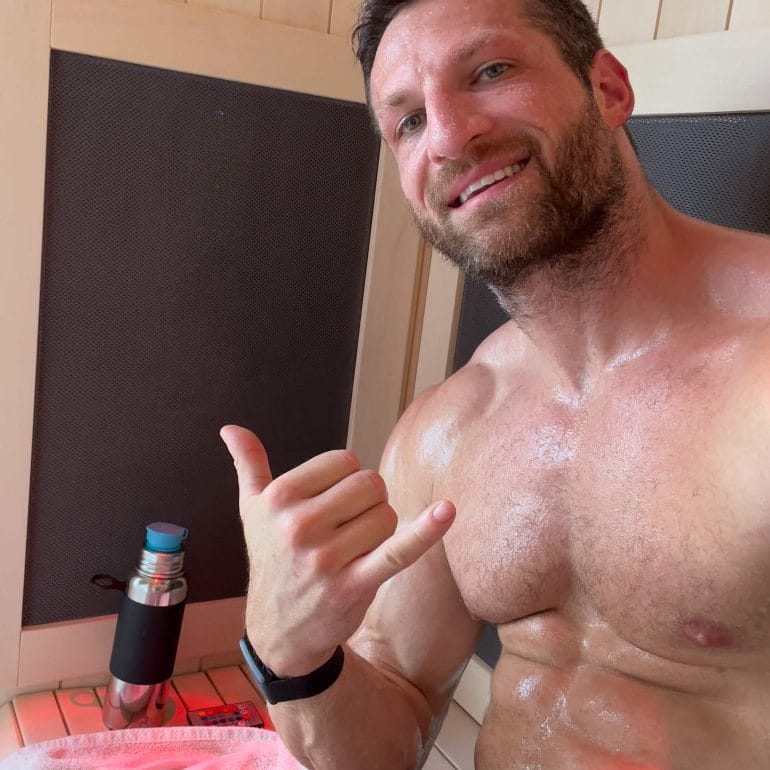 Below is a list of the most frequently asked questions I've come across, including some of the questions I had before I decided to purchase the mPulse.
Does the Sunlighten mPulse offer the same health benefits as a traditional steam sauna?
While it's true that infrared saunas and traditional saunas offer a different sauna experience, they provide similar health benefits. I would even argue that infrared sauna therapy offers more health benefits (e.g., improved skin health) as compared to steam saunas.

For example, infrared rays can trigger an increase in collagen production in the skin, which can help improve overall skin health, including reductions in the appearance of stretch marks and wrinkles. That's an added health benefit that you won't get from a traditional (steam) sauna.

At the same time, infrared and steam saunas provide similar health benefits in the areas of immune support, the release of growth hormones and testosterone, and the release of heat shock proteins.

The misconception many people have is that infrared saunas are less effective because they don't get as hot as traditional saunas. The truth is that infrared rays deliver the same energy (heat) into your tissue as hot and humid ambient air. It's just that the latter doesn't penetrate your skin and soft tissue nearly as well as infrared radiation, so steam saunas have to be hotter to deliver the same benefits as their infrared cousins.
Can infrared sauna use improve your heart health?
Yes, infrared radiation improves blood flow and heart health by exposing your body to heat stress. When your core body temperature rises, your nervous system reacts by dilating your blood vessels and increasing your heart rate in an attempt to cool you down.

That natural response to heat stress has similar benefits to regular exercise.

In other words, subjecting yourself to the infrared rays in your sauna mimics a mild cardio workout, which is an excellent way to improve your heart health.
Can you use a Sunlighten sauna outdoors?
Yes, you can use most Sunlighten saunas outdoors (including the mPulse) if you pick the appropriate wood finish (eucalyptus). The basswood finish isn't meant to be used outdoors and doing so might void your warranty. Regardless of what sauna you choose, make sure you also get the Sunlighten Sauna Cover that fits your sauna to keep it protected from the elements (and to keep your warranty valid).
Do you need a dedicated power circuit to operate a Sunlighten sauna?
Yes, you need a 120V 2400W 20A NEMA 5-20R, 5-20P dedicated 120V 20A circuit and outlet for your Sunlighten sauna.
Does the Sunlighten mPulse emit electromagnetic radiation?
Yes, all infrared saunas emit electromagnetic fields (EMFs). However, Sunlighten tests all of their infrared saunas using a third-party testing facility to ensure ultra-low EMF radiation. You can check out the results of a test conducted by a third-party lab here.
Does the Sunlighten mPulse get hot enough?
While your sensitivity to heat might be different than mine, I'd say the Sunlighten mPulse gets hot enough to deliver the maximum possible benefits. I'm soaked in sweat every time I step out of our mPulse.

However, it's important to understand that the air temperature inside an infrared sauna isn't a critical factor in determining its health benefits. Rather, it's the quality and quantity of the infrared radiation (and how deeply it penetrates your tissue). 
Can you assemble the Sunlighten mPulse by yourself? 
Yes, the Sunlighten mPulse is relatively easy to assemble, even if you're not a handyman — but you will need help from a second person. It took me and my wife less than two hours to set it up and get it fully operational. You don't even need any tools!
Should you stain the exterior of your Sunlighten sauna?
No, because doing so might void your warranty. Also, make sure to get Sunlighten's Sauna Cover if you plan on using your sauna outdoors.
How long does it take for the mPulse to heat up?
The sauna takes 45-60 minutes to warm up at a rate of approximately one degree per minute. If it's really cold outside, the sauna might take even longer to warm up. 
How long should you stay in the Sunlighten mPulse?
Based on the benefits you want to achieve, 30 to 45 minutes appears to be the sweet spot. If you're new to sauna bathing, stay as long as you feel comfortable to allow your body to get used to the intense heat.  
Can you rest your back against the fabric that covers the heaters?
Yes, you can — just be careful not to damage the infrared LEDs behind it. I usually try to rest my back only against the wood and avoid leaning on the fabric.
How much does it cost per month to operate the Sunlighten mPulse?
The mPulse operates at 2,400 watts (roughly the same as a blow dryer) and costs approximately 14 cents per hour (here in Georgia). Depending on how much electricity costs where you live, it might be a bit more or a bit less.
What time of day should you use the Sunlighten mPulse to get the maximum health benefits??
As far as I'm concerned, there is no specific "ideal" time to use your Sunlighten sauna. I'm opportunistic and use our sauna whenever I have time. Generally, I enjoy sauna bathing after intense workouts to speed up muscle recovery, and in the late afternoon or evening to help relax and prepare my body for sleep.

If you just want to get a good cardio workout and support your body's detox pathways, you can use the sauna any time of the day.
How do Sunlighten saunas compare to Clearlight saunas?
I don't have any hands-on experience with Clearlight saunas, so I can only go by the information published on the company's webpage. In a nutshell, the Clearlight Sanctuary full-spectrum infrared saunas are similar to the Sunlighten Amplify series in regards to their IR heaters. 

In other words, Clearlight uses far infrared heaters that also emit some near and mid infrared radiation instead of offering dedicated heaters for each of the IR segments.

On the bright side, Clearlight's saunas emit even lower EMF levels than Sunlighten's saunas. However, Clearlight doesn't use non-toxic materials that are low in VOCs.

Overall, I'd say that both Sunlighten and Clearlight offer great products and it'll boil down to personal preference (and pricing) to determine which sauna is the best choice for you.
Wrap-Up: We Love the Sunlighten mPulse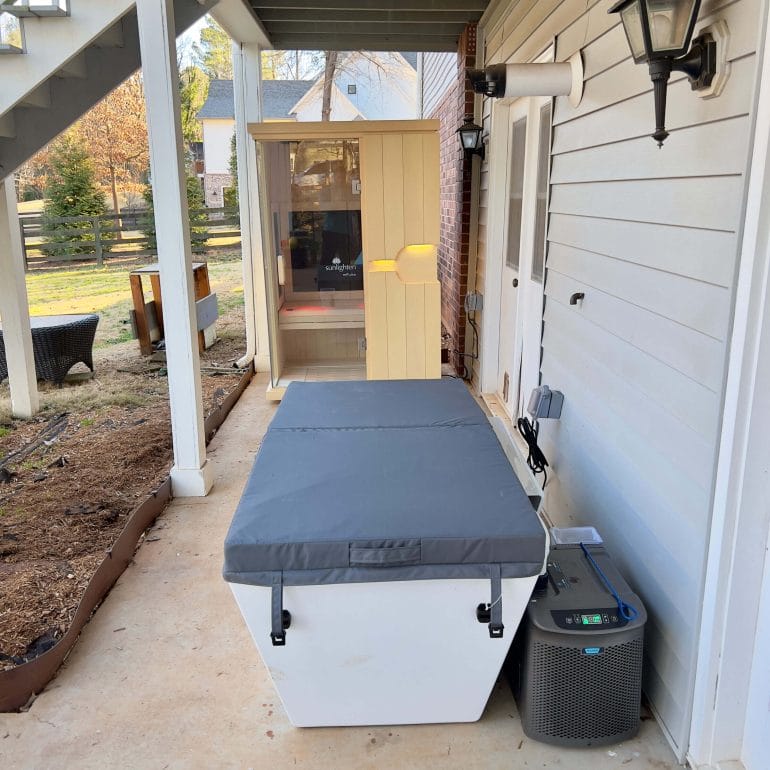 Based on the research I've done, I consider the Sunlighten mPulse series the best infrared sauna on the market. Its infrared panels have an incredibly high emissivity, thus delivering infrared radiation in the right quantity and quality necessary to achieve the desired health benefits.
The mPulse is well-built from high-quality, non-toxic materials, and the wood is sourced from regenerative sources. Combined with the built-in tablet, the sound system and chromotherapy features, the Sunlighten mPulse is a premium sauna that has all of the bells and whistles you could ask for.
We've had our mPulse since early 2022 and absolutely love it. However, I should mention that we recently added a traditional steam sauna to the spa area in our backyard, so that I can learn more about the differences between these two sauna types.
That said, as much as I love sweating at 220 degree and high humidity, I frequently opt for our mPulse instead of the steam sauna — particularly when I'm sore or injured, or when I want to catch up on the latest videos from the homesteading channels I follow on YouTube.
If you're considering purchasing an infrared sauna to improve the quality of your life and you have additional questions, don't hesitate to ask by leaving a comment below! And if you're not sure you have the space for a walk-in sauna like the mPulse, check out my review of the one-person alternative from Therasage, the Thera360 PLUS, which is a portable full-spectrum infrared option that we currently have set up in our family room.

I'm a healthy living and technology enthusiast.
On this blog, I share in-depth product reviews, actionable information and solutions to complex problems in plain and easy-to-understand language.
Medical Disclaimer
The information shared on this blog is for educational purposes only, is not a substitute for the advice of medical doctors or registered dieticians (which we are not) and should not be used to prevent, diagnose, or treat any condition. Consult with a physician before starting a fitness regimen, adding supplements to your diet, or making other changes that may affect your medications, treatment plan or overall health. MichaelKummer.com and its owner MK Media Group, LLC are not liable for how you use and implement the information shared here, which is based on the opinions of the authors formed after engaging in personal use and research. We recommend products, services, or programs and are sometimes compensated for doing so as affiliates. Please read our
Terms and Conditions
for further information, including our
privacy policy
.