My wife and I love sauna bathing and recently decided to add a traditional Finnish sauna to our home spa, which currently includes an infrared sauna and two different types of ice baths.
After significant research, we chose the six-person Thermowood Barrel Sauna with Porch from Redwood Outdoors.
In this article, I'll share how well this barrel-style sauna has been performing, how relatively easy it was to assemble, how hot it gets, and everything else you need to know.
Redwood Outdoors Thermowood Panorama Sauna
It's worth noting that Redwood Outdoors makes outdoor saunas of different shapes and sizes, as well as cold plunges. Much of what I share about the barrel sauna we purchased also applies to the other saunas in the company's lineup.
Redwood Outdoors Thermowood Panorama Sauna Review
Pros
Easy to assemble.
Uses high-quality (non-toxic) materials.
Gets hot relatively quickly.
Looks fantastic.
Cons
Price.
The six-person sauna only fits four people comfortably.
May require electrical work.
The spa area in our backyard currently consists of an infrared sauna cabin, a cold plunge (tub) and an ice barrel.
So when my wife and I decided to add a traditional Finnish sauna to our backyard, I really wanted to go with a barrel sauna (primarily because of the off-the-grid cabin vibe I associate those designs with).
Fortunately, my wife agreed and we narrowed our options down to the eight different barrel saunas Redwood Outdoors offered at the time.
Since our existing infrared sauna only has space for two people, we wanted to go with something larger so we could enjoy the sauna together with the kids, or when we have friends over.
Since we figured the heater would take up some space, we decided to go with a six-person model. That way, we would be able to comfortably sit four adults without having to get too close to the heater (and risk getting burned).
In hindsight, that was a smart choice because at maximum capacity, two people would have to sit right in front of the piping hot heater.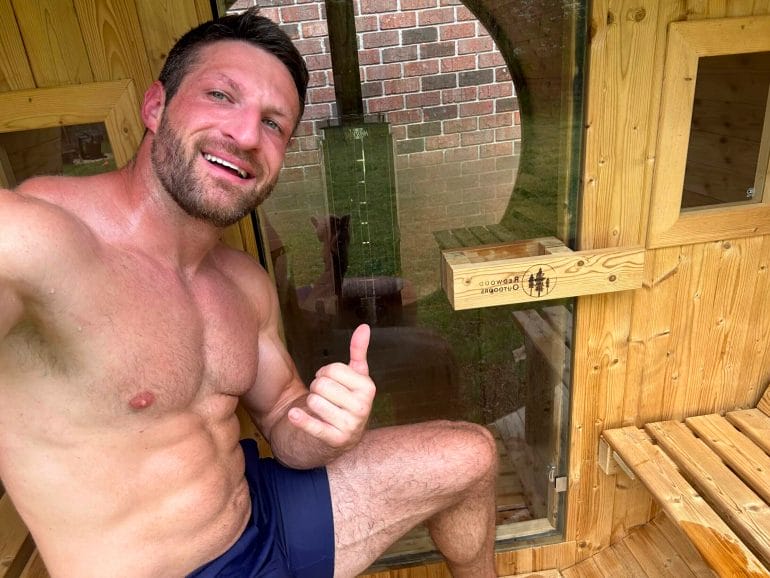 The final two decisions we had to make were whether or not we wanted to get a sauna with a panorama window and/or a porch to cool down on after a sauna session.
I liked the idea of having a huge window to oversee the backyard, but my wife and I agreed that we wouldn't need a porch. Unfortunately, the six-person panorama sauna without the porch was out of stock, so we decided to get the porch too.
In retrospect, I'm glad we got the porch because I use it every time I get out of the sauna to cool down and relax.
Redwood Outdoors Sauna Assembly and Setup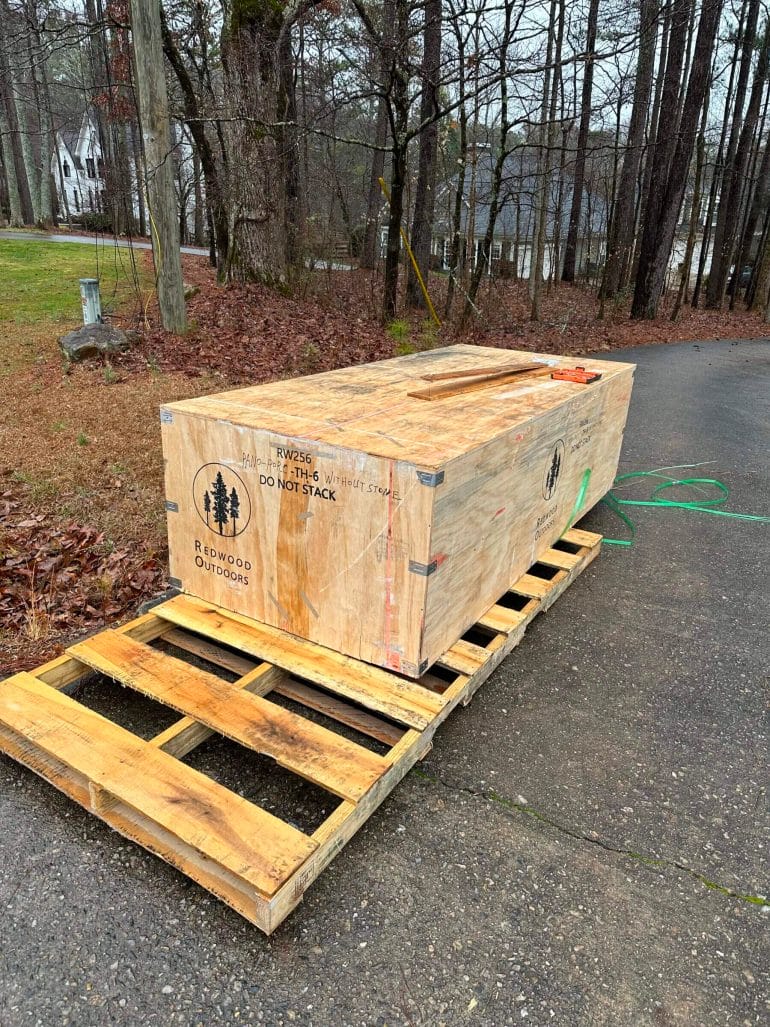 Our Redwood Outdoors sauna arrived via truck in a huge wooden crate. It was supposed to be a curbside delivery, which means the driver was supposed to unload the freight at the beginning of our driveway instead of dropping it off in front of the house.
That's exactly what happened. However, whenever I've received curbside deliveries in the past, I've always been able to talk the driver into using their pallet jack to move the item down my driveway and place it in front of my garage.
Unfortunately, the delivery driver wasn't in a good mood that morning and refused to cooperate. Since the crate weighed 800 pounds (and we don't own a pallet jack), we had to open it and move the individual sauna pieces into our basement using our lawn tractor.
To make matters even more complicated, it was raining hard on the day of delivery and we couldn't start the sauna build right away. So we moved the sauna pieces into our basement and, while we were waiting for the weather to improve, we began leveling the area in our backyard that we had decided to build the sauna on.
I also stained the base of the sauna using a non-toxic whey-based wood finish that we had used successfully for our beehives.
Once the sun came back out, we started assembling the sauna with the help of the entire family, including the kids. The assembly process was fairly straightforward and did not require serious woodworking skills, but it did require a few tools, such as a mallet and hammer.
The entire assembly process took a couple of hours.
Electrical Requirements for the Sauna Heater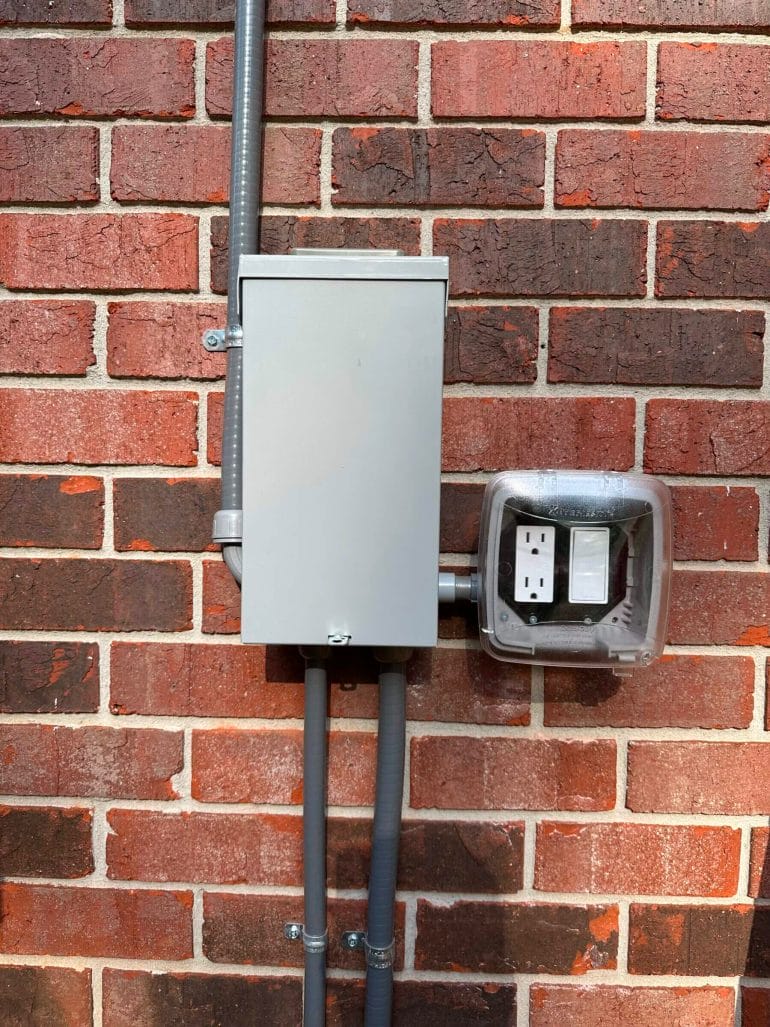 Once the sauna body was set up, we had our electrician come out to install a 50 amp breaker box and hook up the 9kW Harvia Cilindro heater and interior light.
It's worth noting that Harvia heaters don't have a simple power plug that can connect to an existing outlet. Instead, our electrician had to hardwire the heater to a dedicated service line with a sufficient amp rating based on the heater size we got.
The 9kW model we chose meant installing a dedicated 50 amp line and an outdoor breaker box to meet our city's electrical code requirements. Once you've decided on the type of heater you'd like for your sauna, share the heater specs with a local electrician and get a quote for the electrical work to avoid surprises.
Note that Redwood Outdoors offers several different heater types for many of their saunas, including two types of electrical heaters (ranging from 6-9 kW), and even a wood-burning stove.
While I like the idea of a wood-fired stove, I didn't think it was practical. Of course, if you're building a sauna off-grid, the wood stove would be an excellent choice and you won't have to worry about the electrical requirements we had to figure out.
On a side note, we consciously decided to not get the available Wi-Fi enabled heater to reduce our exposure to EMFs while sauna bathing.
To learn more about how easy it is to assemble your Redwood Outdoors sauna kit, check out the company's YouTube channel for detailed assembly videos.
Quality of Materials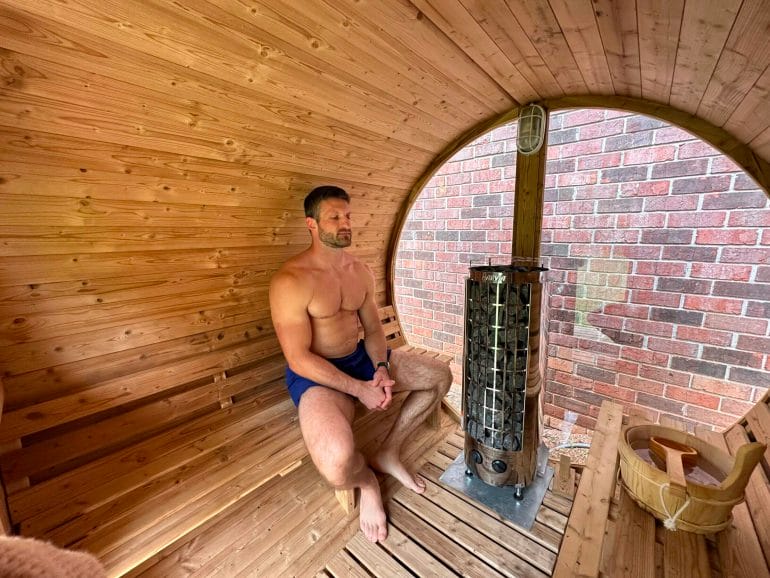 Aside from the heating performance, the most important aspect of any sauna is the quality (and lack of toxicity) of the materials used for construction.
Redwood Outdoors uses only natural materials, such as cedar and Thermowood, that do not emit VOC or other toxins.
Note: Thermowood is wood produced using heat and steam to make it more rot and fade-resistant. The other materials used for this sauna are glass, nails and screws – none of which are detrimental to your health.
Optional Upgrades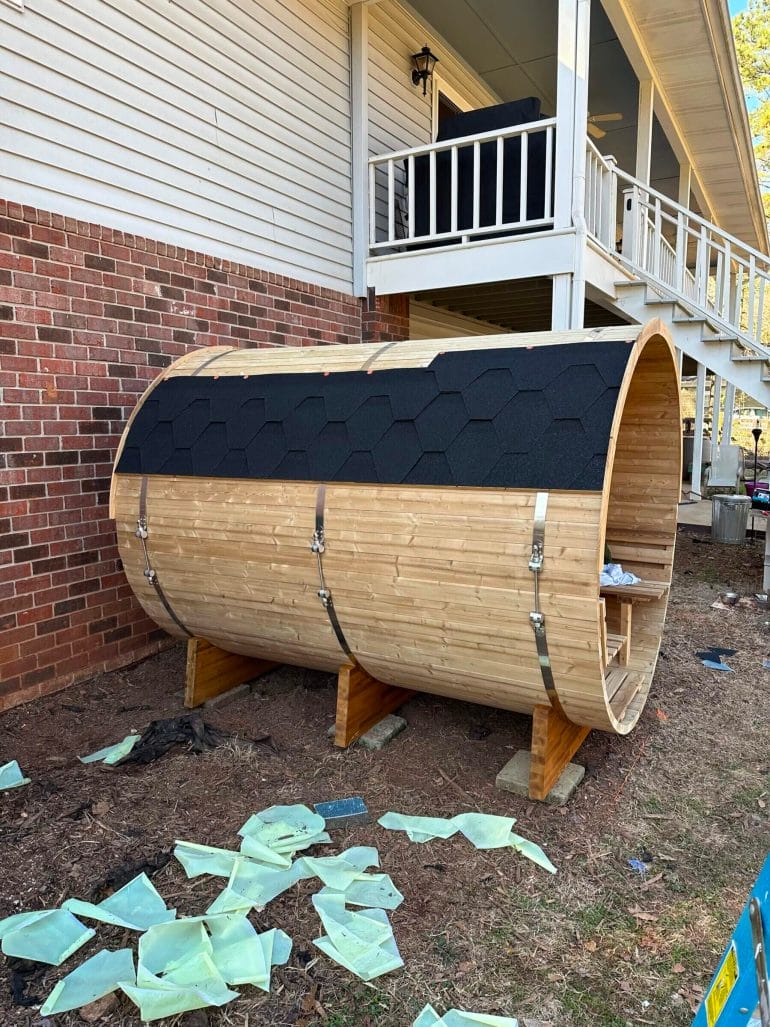 Redwood Outdoors offers a couple of optional upgrades to make your sauna experience even more convenient or to extend the life of your sauna.
We decided to add roof shingles to protect the wood from the elements, as well as a flat flooring kit to make walking and sitting in the sauna a bit more comfortable.
We also got the adjustable sauna recliner, but haven't installed it yet.
Besides the upgrades we got with our sauna, the company also offers an outdoor shower and an Alaskan cold plunge tub as optional add-ons. We already have two cold plunges that we use to leverage the health benefits of ice bathing, but I'm considering adding an outdoor shower in the future.
Heating Performance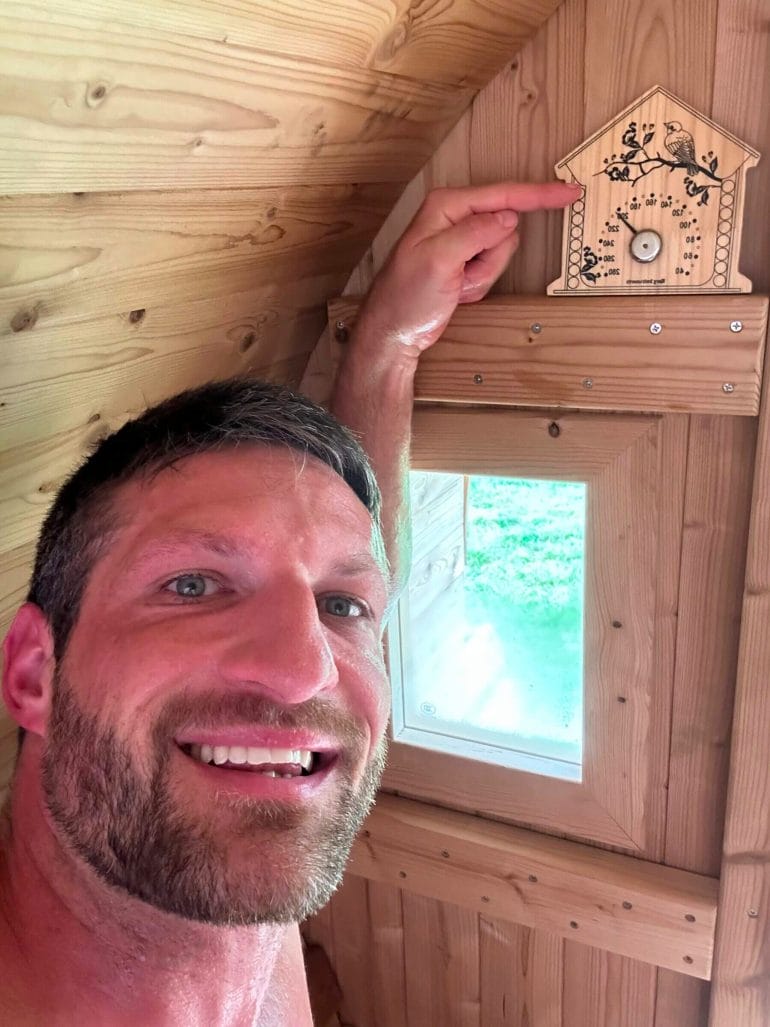 Arguably the most important aspect of a Finnish sauna is the heat (and humidity) it produces.
The 9kW Harvia Cilindro electric heater we have can reach theoretical temperatures of 230 F (110 C). I've measured almost 220 F right above my eye level in our sauna. At my chest level, I measured about 180 F. That's definitely hot enough to reap all the benefits of sauna bathing.
As far as warm-up time is concerned, I usually heat the sauna for about 45 minutes before jumping in.
In case you're new to Finnish saunas, it's worth explaining how sauna heaters work and how they produce steam.
Electrical heaters (such as the one we have in our sauna) have rods that get hot and transfer heat to special sauna rocks that surround them. When the rocks heat up, they emit a soft heat that warms up the ambient air.
Once the rocks are hot enough, you can pour water over them. That water evaporates instantly to create hot steam, which increases the humidity in the sauna. The more frequently you pour water over the rocks, the more the humidity and temperature levels will rise inside the sauna.
The ability to control the humidity level is important, because the hot steam — not just the heat itself — contributes to some of the health benefits of traditional sauna bathing.
For example, steam causes the pores in your skin to open up, which helps flush out toxins (through sweat) and improves circulation. Hot steam also helps with skin hydration, because it promotes oil production. And it's great if you suffer from respiratory issues or congestion.
Pricing
Redwood Outdoors saunas retail for between $5,000 and $8,000 depending on size, materials and add-ons. Our six-person barrel sauna cost $8,576 with all the add-ons we chose. Shipping adds another $499.00 to the cost.
The good news is that Redwood Outdoors has teamed up with Affirm to offer low monthly payments with 0% APR. Using the monthly payment option would mean paying $299 per month instead of a huge one-time payment.
Additionally, you can use discount code MK250 to get $250 off any order over $3,500.
What I Like About This Sauna (And What I Don't)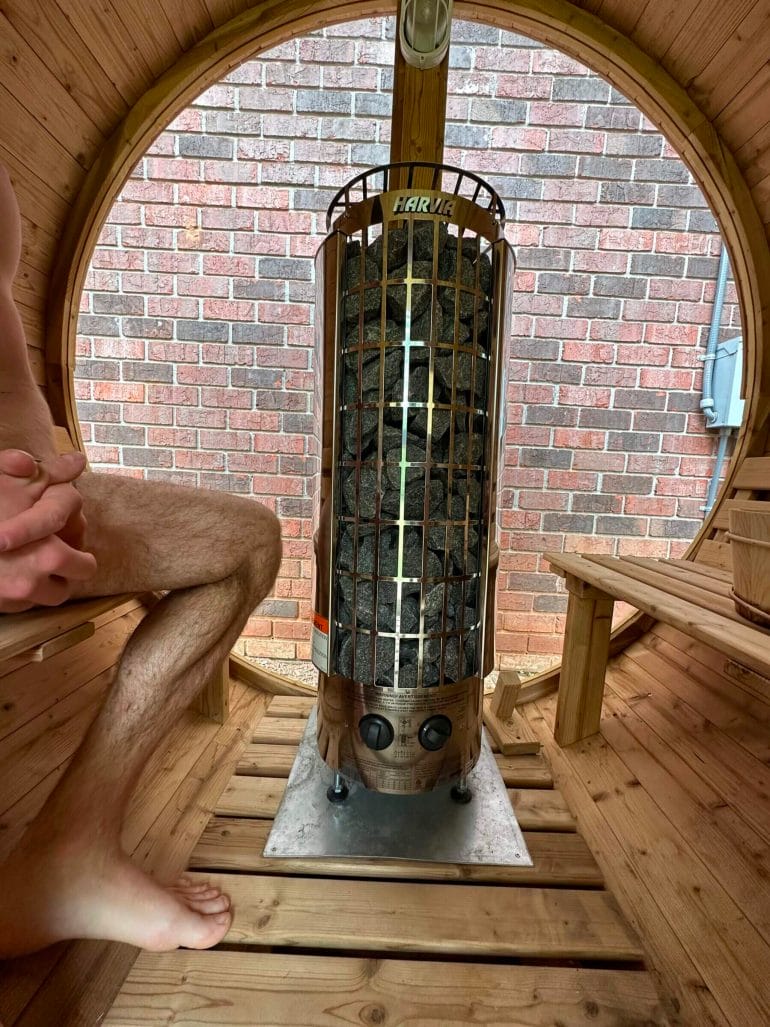 Overall, I have very little to complain about with this barrel sauna. It was easy to assemble, it looks great, and I don't have to worry about exposing myself to the many toxins — such as glues, stains and coatings — that are often found in the materials used by some (cheaper) sauna manufacturers.
I also appreciate the performance of the heater. It heats up quickly and it gets hot enough for even the most seasoned sauna users.
The benches inside the sauna are comfortable, but (depending on the model you have) you can also get the optional reclining chair to make your sauna sessions even more comfortable.
One thing that took some getting used to is the heater's control knob.
I initially thought that I could turn on the heater and let it run for several hours. However, the heater can't run for more than an hour before you have to turn it back on. While that can be an inconvenience (e.g., if you get sidetracked and need more than 60 minutes to start your sauna session), the automatic shut-off feature is a safety measure that can help prevent a fire.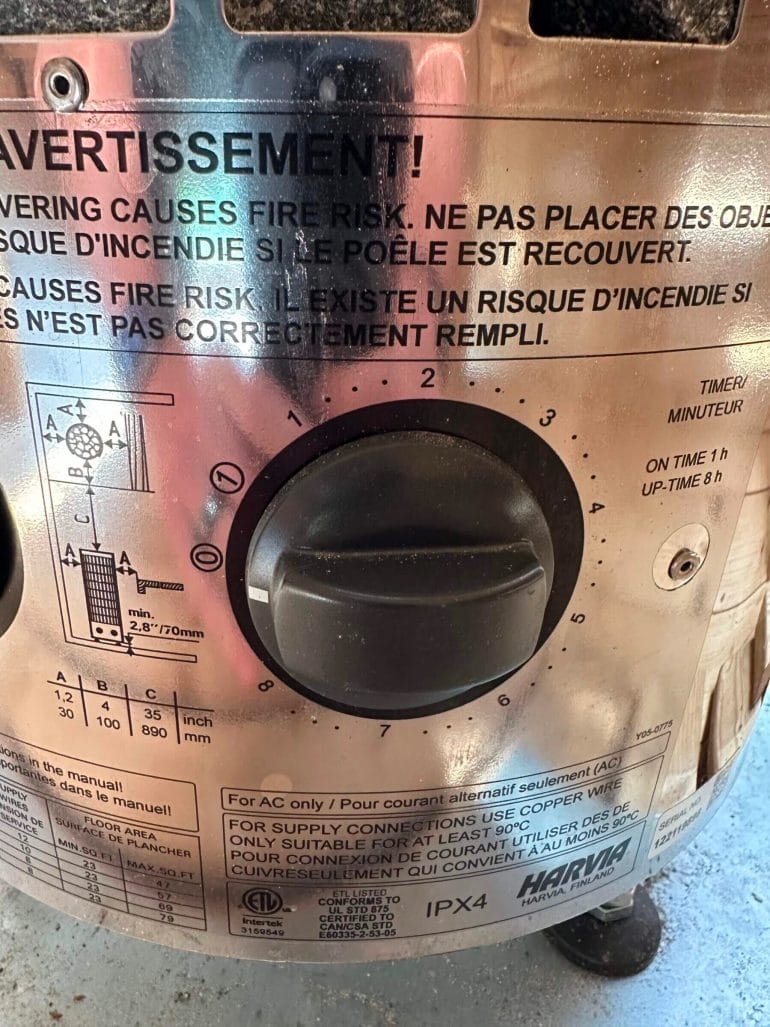 When I first started testing the heater, I didn't realize that turning the knob beyond the "1" mark would cause the heater to turn on with a time delay. When I set the heater to "2" and it didn't turn on, I thought the electrician had failed to hook it up correctly. So I placed the wooden water bucket on top of the heater and walked away.
An hour later, the timer reached the "1" mark and turned on. Fortunately, it turned off an hour later — thanks to the auto shut-off feature — which prevented the bucket from (potentially) catching fire.
The second inconvenience I've noticed is related to the placement of the heater.
The type of heater we chose is mounted on the floor, and that impacts how many people can comfortably (and safely) use the sauna at the same time.
That hasn't been an issue for us, because we haven't had more than four people use the sauna at the same time. But if you have a larger family or want to use the sauna with a group of friends, you might want to consider getting a larger sauna or a wall-mounted heater.
Which Redwood Outdoors Sauna Is Right for You?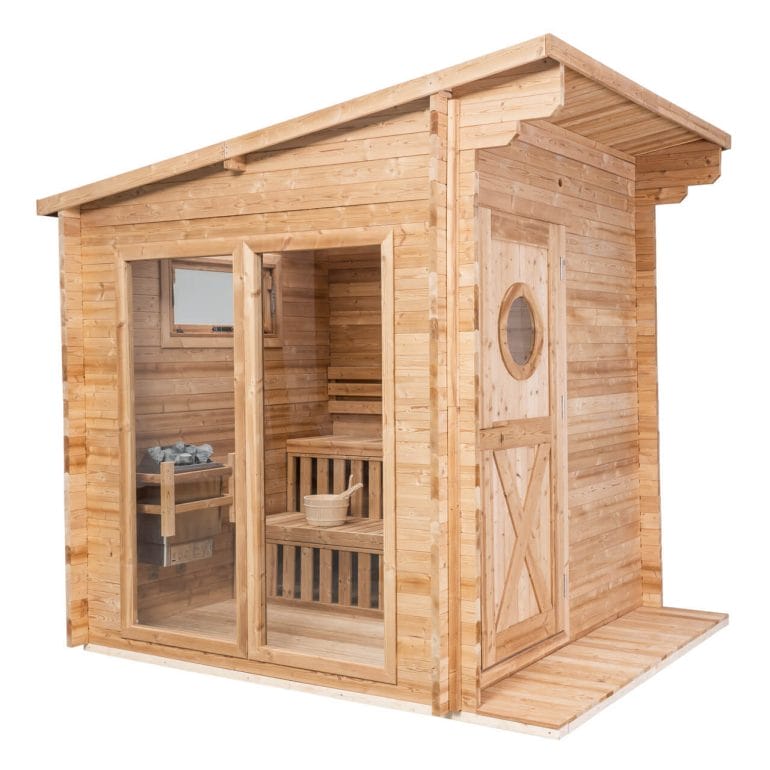 Redwood Outdoors offers a variety of outdoor sauna styles, which could make it a challenge to pick the one that's right for you.
While everyone's circumstances, goals and budget are slightly different, here is some information that can help you make the right choice.
If you want the most practical sauna with the most interior (head) space, I'd go with a traditional or cube sauna cabin. The straight walls mean you can comfortably lean back and enjoy enough headroom when standing up. Some of the sauna cabins from Redwood Outdoors also offer two-level benches so you can cycle between high and low heat. Plus the roomier interior of these cabins means you can pick from a wider variety of heaters.
Barrel saunas are a little tighter in the interior (unless you get an extra-wide option) but might heat up quicker because of that. I also like the style of barrel saunas (especially when combined with a large panorama window), as well as the fact that barrel saunas offer benches on both sides, so you can face each other while sauna bathing with your spouse or friends.
If I had to order another Scandinavian-style sauna, I'd probably go with an extra-wide barrel sauna to have a bit more room and a second level of seating.
Steam vs. Infrared Sauna: What's the Better Choice?
There is an endless debate about whether steam or infrared saunas are better and deliver more health benefits. One of the reasons I decided to purchase a Finnish (steam) sauna was to try and settle that debate myself, using a combination of hard data and personal experience.
First, it's important to understand that both sauna types offer comparable health benefits, including:
Immune system support (via the release of heat shock proteins).
Mild cardiovascular workout (by increasing your heart rate).
Detoxification (via profuse sweating).
Temporary reduction of blood pressure (by dilating your blood vessels).
Release of growth hormones.
Relaxation.
Increased blood flow to help with tense muscles and recovery after workouts.
One reason some people argue that steam saunas are the superior choice is because they (presumably) get hotter than infrared saunas. Theoretically, more heat leads to more health benefits.
That's only partially true.
While steam saunas can get much hotter than infrared saunas, there is no significant difference in how much of that heat transfers into your tissue.
That's because infrared radiation can penetrate your skin and muscle tissue and transfer heat into it. Steam saunas only increase the ambient temperature, and only some of that heat makes it into your body.
In other words, both types of saunas trigger a similar heat stress, which I've confirmed by monitoring how much my heart rate increases (an indirect indication of heat stress) in each type of sauna.
I conducted several tests using WHOOP (one of my favorite fitness and sleep trackers) to visualize how my heart rate would change over the course of a 30-minute sauna session. Both the steam and infrared saunas elevated my heart rate to about 70 beats per minute above my resting heart rate. In other words, both sauna types triggered similar heat stress on my cardiovascular system.
Since we have an infrared and a steam sauna at home, you might be wondering which one we use more often.
The truth is that we use both, depending on the goals we're trying to achieve. If I want to get a good sweat and get my heart pumping without any distractions, I use our barrel sauna. It doesn't have any electronics inside (except for the sauna heater and the lamp), so it offers a quiet place to meditate, think and relax. I also like the feeling of hot steam on my skin, which opens my pores and makes me sweat even more.
However, when I'm sore or injured, I opt for the deep-penetrating rays of our infrared sauna, combined with the chromotherapy feature.
There are also practical reasons why I might use one sauna type over the other. For example, during the day when the sun is out, I'm more likely to jump into the steam sauna because I know that our 11 kW solar panels will supply the electricity needed to operate the electric heater.
At night (when our solar panels aren't producing), I'm more inclined to jump into the infrared sauna, which uses less than 3 kW (which our Tesla PowerWalls can easily cover).
Funnily enough, any time we have friends over and give them the choice between using the steam sauna and the infrared sauna, they almost always opt for the steam sauna. I suppose the inviting look of the barrel and the idea of a traditional, Scandinavian sauna session are more appealing than the idea of sitting in front of infrared panels.
If you're interested in learning more, check out my article about the similarities and differences of steam and infrared sauna.
Fsrequently Asked Questions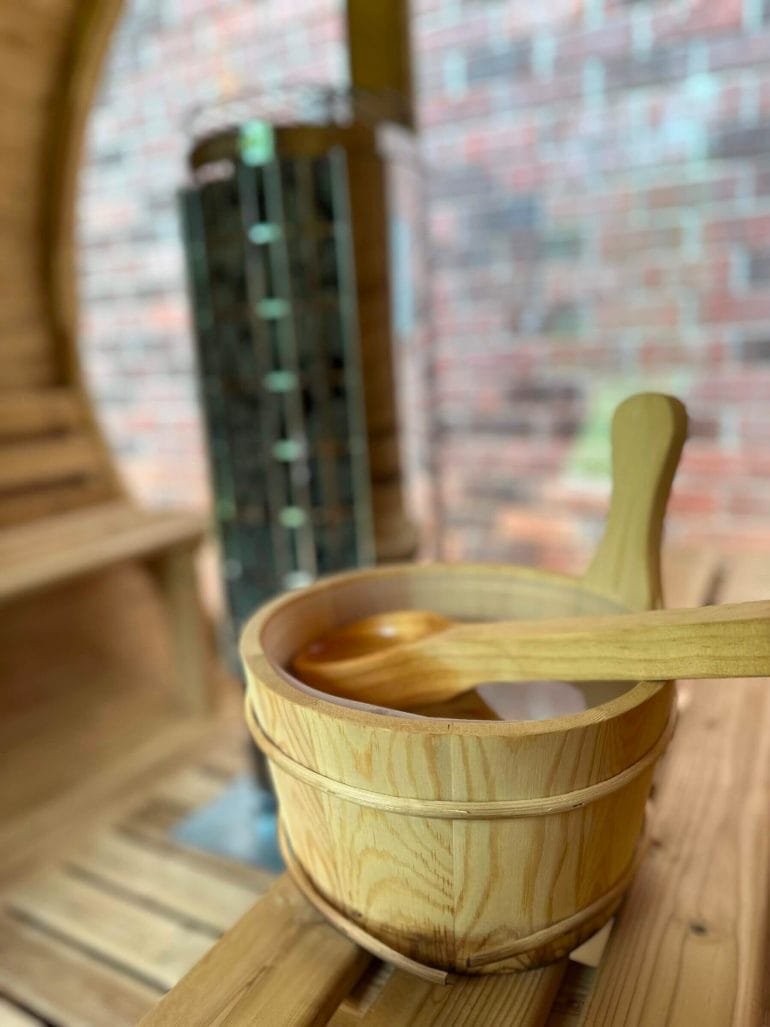 Do you need to treat the wood of the sauna to prevent rotting?
You can, but doing so is not necessary. Both types of wood Redwood Outdoors uses (cedar and Thermowood) are naturally rot-resistant and hold up very well to the elements. That's particularly true if you add singles to the roof (which allows water to run off easily).

The only parts of the sauna I recommend staining are the ones that come in direct contact with the ground (to prevent rotting).
How hot does the Redwood Outdoors barrel sauna get?
How hot the sauna gets depends on the type of heater you use and the size of the sauna. The 9 kW heater in our six-person barrel sauna heats the air to almost 220 F within an hour.
How do you keep the sauna clean?
Redwood Outdoors saunas are relatively low maintenance, and the high heat they generate typically prevents the growth of mold, mildew and bacteria. But we wipe down the bench and windows with Total Clean (a non-toxic cleaner from HypoAir) every so often. Just don't use regular household cleaners, because they're loaded with toxins and you won't want to expose your lungs and skin to that stuff while sauna bathing.
Can you assemble the Redwood Outdoors barrel sauna yourself?
Assembling a Redwood Outdoors barrel sauna is relatively straightforward, but I recommend working with a partner. Some of the pieces — such as the door and windows — can be heavy and awkward to carry by yourself.
How does the sauna create steam?
Each sauna comes with a water bucket and ladle, and you create steam by pouring fresh water over the sauna rocks in the heater. When the water hits the hot stones, it evaporates and creates hot steam. 
Can this be used as a dry sauna rather than a steam sauna?
If you don't pour water over the stones in the heater, you can effectively use your steam sauna as a dry sauna. Just keep in mind that the perceived heat in the sauna will be less at lower humidity levels.
Can you use a Redwood Outdoors sauna indoors?
You can use Redwood saunas indoors if you have proper ventilation that removes the humid air after each sauna session. Without proper ventilation, I don't recommend using steam saunas indoors because it increases the risk of mold and mildew. Redwood Outdoors offers dedicated indoor saunas that are made with less-expensive fir instead of weather-resistant wood options. 
What brand of heaters does Redwood Outdoors use?
The electrical heaters Redwood Outdoors offers are made by Harvia in Finland. They're high-quality heaters made with stainless steel to offer excellent performance and safety.
Should you get a sauna made with Canadian red cedar or Thermowood?
You can't go wrong with either type of wood. Canadian red cedar is an excellent choice that hasn't been treated but offers natural rot resistance. Thermowood has been treated with steam and heat to improve dimensional stability, longevity, rot and fungi resistance, and insulation. Thermowood performs better in the long run, but if you're a purist you might want to go with a cedar barrel sauna instead.
What warranty does Redwood Outdoors offer?
Redwood Outdoors offers a 30-day money-back guarantee and a one-year limited warranty. You can learn more about the details of Redwood Outdoor's warranty here.
Does Redwood Outdoors make their saunas in the USA?
No, the materials for the saunas are sourced in Canada and Scandinavia, and the woodworking is done in China and Estonia.
Is the sauna a fire hazard? 
In general, no, because the heater automatically turns off after an hour and — considering that it takes 30-45 minutes to heat up — it's unlikely to cause a fire hazard even if you accidentally leave the wooden water bucket on top of the heater and walk away. In fact, that's what I did when I tried to test if the electricians had hooked everything up correctly.
Redwood Outdoors Barrel Sauna Review: Summary and Final Thoughts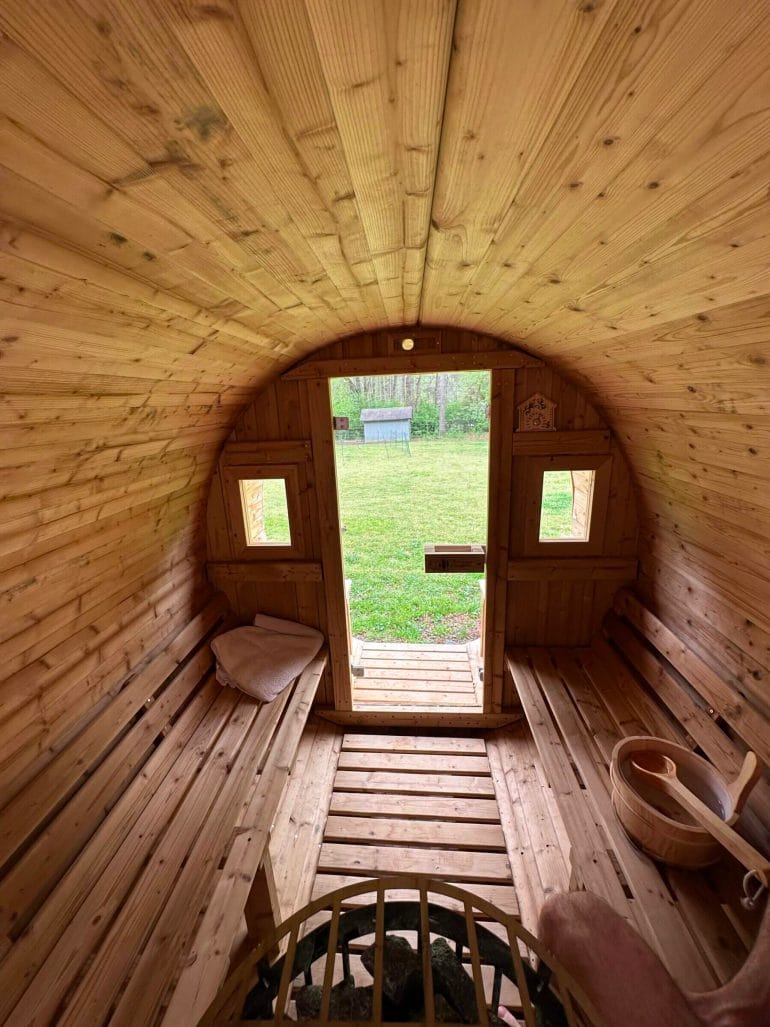 I've always wanted a traditional Scandinavian steam sauna, and I had high expectations before pulling the trigger on this one from Redwood Outdoors. I'm thrilled to say that I have not been disappointed: the Thermowood Panorama offers everything we had hoped for, and we love using it.
The sauna heats up quickly, and the 160 pounds of sauna rocks hold heat for quite some time (even after turning off the heater). The barrel sauna also looks stylish and inviting, making you want to step in and sweat.
The only downside to choosing the cylindrical heater over the wall-mounted option Redwood Outdoors offers is the extra floor space it requires. While that doesn't make it impossible to fit six people in the sauna, I wouldn't want to sit right in front of the heater.
But considering that we're only a family of four and the kids aren't big into sauna bathing (yet), our barrel sauna offers more than enough space for what we need.
Are you in the market for a sauna? If so, let me know in the comments what you're looking for and if you have any questions I can help answer.

Michael is a healthy living enthusiast and CrossFit athlete whose goal is to help people achieve optimal health by bridging the gap between ancestral living and the demands of modern society.
Medical Disclaimer
The information shared on this blog is for educational purposes only, is not a substitute for the advice of medical doctors or registered dieticians (which we are not) and should not be used to prevent, diagnose, or treat any condition. Consult with a physician before starting a fitness regimen, adding supplements to your diet, or making other changes that may affect your medications, treatment plan or overall health. MichaelKummer.com and its owner MK Media Group, LLC are not liable for how you use and implement the information shared here, which is based on the opinions of the authors formed after engaging in personal use and research. We recommend products, services, or programs and are sometimes compensated for doing so as affiliates. Please read our
Terms and Conditions
for further information, including our
privacy policy
.