OneSkin offers a line of skin longevity treatment products that leverage the proprietary OS-01 peptide, which the company claims can extend skin health on a molecular level.
For this review, I used OneSkin's OS-01 face and body lotions for several months to see if they could change the appearance of my skin. Additionally, I dug into the scientific literature to find out more about the mechanisms of action behind the OS-01 peptide.
Continue reading to find out how effective OneSkin OS-01 was and to see my before and after photos.
OneSkin OS-01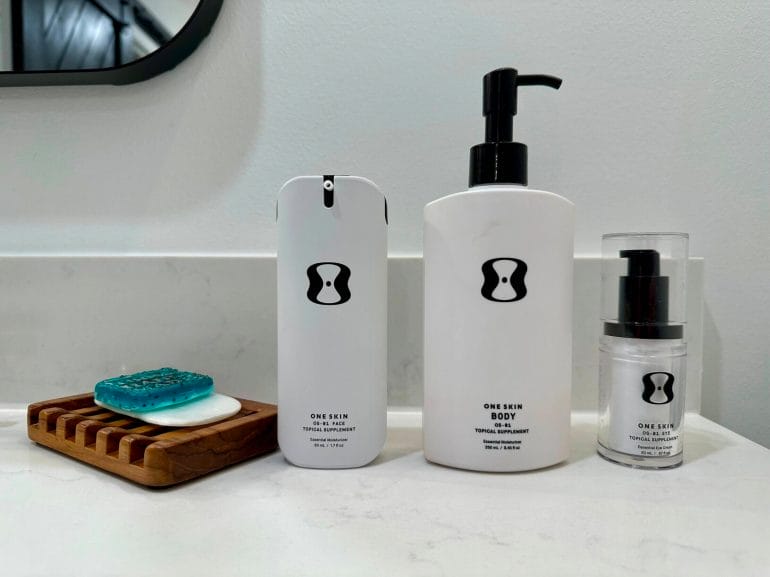 Why Skin Health Is Important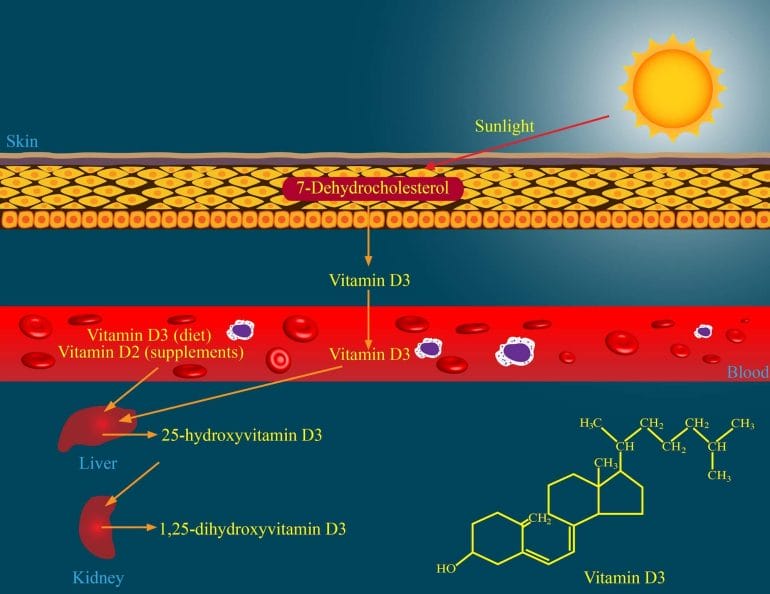 Having healthy skin isn't just about how you look. The skin is the human body's largest organ, and much more than a mechanical barrier; it also helps to regulate body temperature, is part of the respiratory system, and is involved in hormone production (including vitamin D production). As a result, it's critical to keep your skin healthy and functioning optimally.
Additionally, your skin is quick to show you when something inside your body isn't working correctly. For example, smoking, chronic exposure to stress, poor sleep or consuming inflammatory foods such as processed carbohydrates, industrial seed oils (e.g, canola oil) or vegetables (all plants have toxins) can negatively impact the appearance of your skin.
In other words, if you suffer from acne, eczema, dry skin or similar conditions, it's likely due to one or more of the factors mentioned above.
Aside from inflammatory skin diseases that should be treated by implementing appropriate lifestyle changes, the natural process of aging can lead to the appearance of wrinkles, fine lines and so-called "age spots."
Scientists have yet to figure out how to stop the aging process, but there has been significant progress in determining what happens in our bodies on a cellular level when we age. This progress has led to the development of certain treatments that can slow down some of the common signs of aging.
In my article on how to slow down aging (which outlines my anti-aging regimen), I touch on the fact that cell death (cell senescence) and the accumulation of senescent cells is one of the hallmarks of aging.
Preventing cell senescence and helping the body clean up senescent cells in your skin is what OneSkin is trying to do with its OS-01 peptide. That's what got me so excited about giving OneSkin a try.
OneSkin OS-01 Review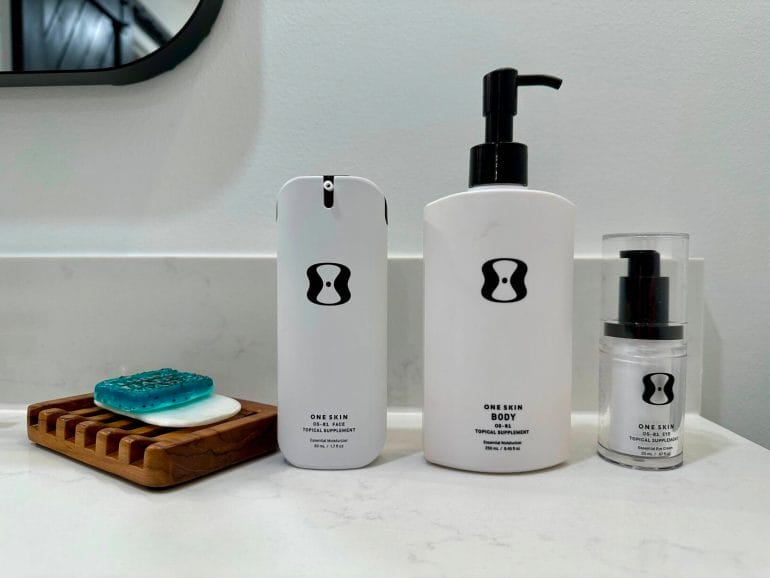 Pros
Scientifically proven to work.
Effective at reducing age spots, fine lines and wrinkles.
Easy to apply (e.g., feels lightweight on your skin).
Clean ingredients.
Available for eyes, face and body.
You can see results in as little as four weeks.
As of this writing, OneSkin offers three different products as part of its skincare lineup:
Face lotion (OS-01 FACE).
Body lotion (OS-01 BODY).
Topical eye supplement (OS-01 EYE).
I've been using OneSkin's face (OS-01 FACE) and body (OS-01 BODY) lotions for more than two months, but for the remainder of this review, I'll be focusing on OneSkin's flagship product, OS-01 FACE.
Benefits of the OneSkin OS-01 Peptide
OneSkin claims that its proprietary OS-01 peptide offers the following skin health benefits:
Increased epidermal thickness, leading to fewer wrinkles and more protection against external stressors.
Improved collagen production, leading to increased skin firmness and strength.
Reduced DNA damage and improved overall cell function.
Improved skin texture and smoothness, making your skin feel and look better.
Reduced accumulation of aged and dead cells (senescent cells).
Increased skin hydration (by preventing water loss and increasing the production of hyaluronic acid).
To back up the benefits OneSkin observed in the lab using skin models grown from donor cells, the company teamed up with a third-party contract research organization (CRO) and researchers from the School of Pharmaceutical Sciences at the University of São Paulo and the Spanish National Cancer Research Center (CNIO) to design a 12-week clinical study involving 22 female test subjects between the ages of 22 and 65 years with various skin types.
The study confirmed that the OS-01 peptide was effective in reducing both the visible and invisible signs of aging.
Specifically, the scientists concluded that OneSkin's topical supplement:
Improved the skin barrier by 15% on average.
Improved skin elasticity in 90% of users.
Improved skin evenness, radiance, pores and firmness in 95.5% of users.
Reduced the appearance of fine lines and wrinkles in 87% of users.
Improved skin smoothness and overall appearance in all test subjects.
The results were measured using a combination of instrumental evaluation (vapor meter analysis) and a double-blind expert clinical grader evaluation.
For example, the scientists used a vapor meter to objectively measure transepidermal water loss. However, changes in cosmetic appearance (e.g., reduction of fine lines and wrinkles) was evaluated by comparing before and after photos (much like what I did for this review).
I know what you might be thinking at this point: the study was sponsored by OneSkin, so the results might be skewed in the company's favor.
There is obviously a conflict of interest here, but based on what I've read about how the study was designed and conducted — combined with the results of my own testing — I believe OS-01 to be effective.
Ingredients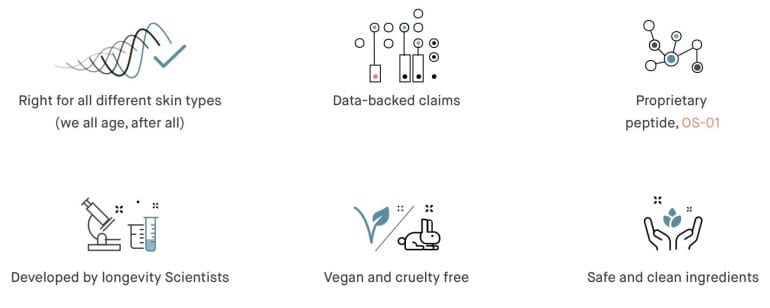 OneSkin contains a combination of active and inactive ingredients. The seven active key ingredients in OneSkin include:
OS-01 peptide (the company's secret sauce).
Pracaxi oil, which has moisturizing, anti-inflammatory, antioxidant, antibacterial and antifungal properties.
Andiroba oil, which promotes collagen production and has anti-inflammatory properties.
Niacinamide, which also has moisturizing, anti-inflammatory, antioxidant, antibacterial and antifungal properties.
Oleic pau mulato extract, which heals skin abrasion and smooths wrinkles by making skin more stress resistant.
Allantoin, which helps moisturize skin and reduce irritation.
Three sizes of hyaluronic acid to help stimulate collagen and elastin production and maintenance, and to aid in epidermal regeneration, stem cell maintenance and moisture retention.
Aside from these active ingredients, OneSkin's face lotion also contains a few dozen inactive ingredients, including thickeners and preservatives.
Any time I pick up a skincare product, I pay especially close attention to the list of (often cryptic) inactive ingredients, because that's how most skincare manufacturers sneak in chemicals that can be detrimental to your health.
While you can look up the ingredients list on the OS-01 FACE product page, I only noticed one ingredient that looked suspicious: phenoxyethanol, an antimicrobial preservative. If you've read my article about the endocrine-disrupting properties of xenoestrogens, you might remember to steer clear of any ingredients that contain the prefix "phen."
So I dug a little deeper and found out that phenoxyethanol can be problematic in very high doses. However, you'd need about 200 times the amount of what OneSkin put into its lotion to trigger any adverse systemic effects. That's why the European Scientific Committee on Consumer Safety declared phenoxyethanol safe for all consumers. Knowing that Europe is much stricter when it comes to banning potentially unhealthy ingredients in cosmetic products, I feel at ease putting phenoxyethanol on my skin.
Speaking of endocrine-disrupting chemicals, I really appreciate that OneSkin decided not to use any fragrances, which are often a source of phthalates (another class of endocrine disruptors).
Overall, I consider OneSkin's skincare products safe for daily use thanks to their clean ingredients.
Packaging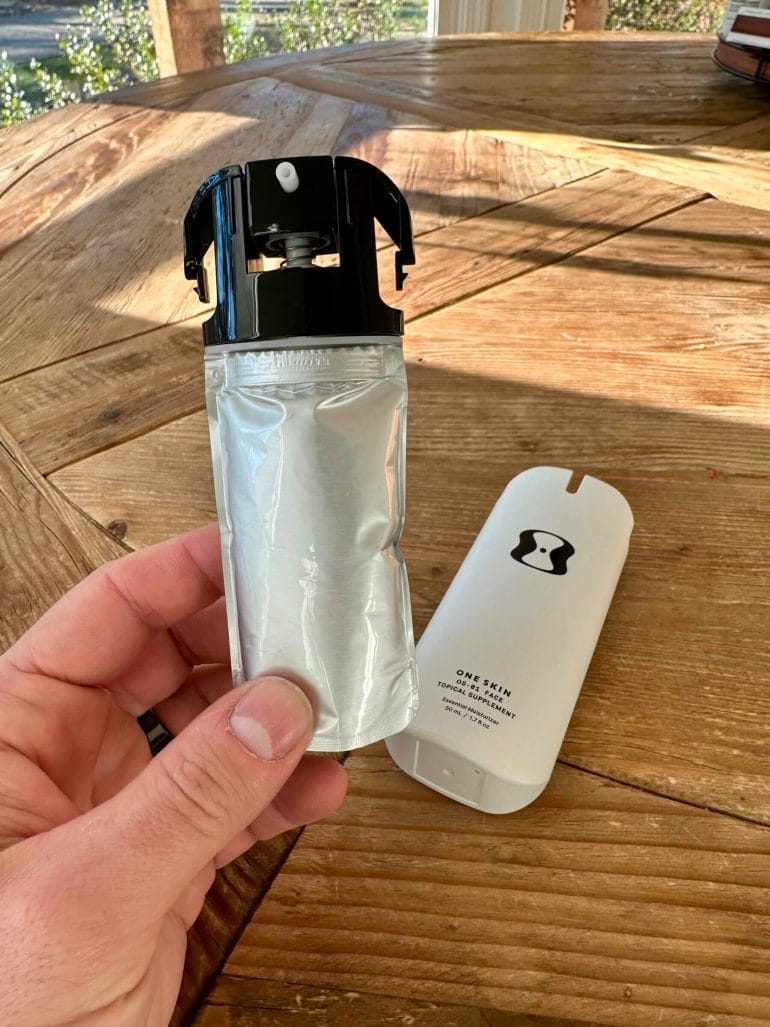 One complaint I have about expensive skincare products is that they often come in packaging that makes it impossible to use the entire contents. That's particularly true for products that come in a hard plastic shell with a pump.
Fortunately, OneSkin decided to use sustainable packaging that gives you visibility into the amount of remaining product and the ability to squeeze out every last drop of the pouch. As a bonus, you can help reduce plastic waste by keeping the outer hard-plastic shell when you order refill pouches.
I wish more skincare companies would follow in OneSkin's footsteps to increase their product value and reduce plastic waste.
Pricing
The only downside to OneSkin's OS-01 skincare product is the price tag. At $120 for a starter kit (the refill pouch costs $117), it's not exactly cheap compared to the products you'd find at your local Walmart or Walgreens.
However, comparing OneSkin to drugstore skincare products wouldn't be fair. It'd be more appropriate to compare OneSkin to other high-end products, including Chanel's Hydra Beauty Micro Crème (which retails for $100) or the Sublimage La Crème, which Chanel claims is the ultimate skin regeneration product. The latter retails for a whopping $420 and contains a cocktail of endocrine-disrupting chemicals that are anything but healthy for your skin.
So from that perspective, I consider OneSkin reasonably priced. Additionally, you can sign up for a 30, 60 or 90-day subscription and save 17% over the one-time purchase price.
Additionally, OneSkin agreed to offer my readers an extra 15% discount if you use code MKUMMER. The code is valid for your first order and applies to the entire cart.
Test Results (Before and After Photos)
If you've come this far, you probably want to see some before and after photos of my skin. I'm 41 years old and I didn't expect OneSkin to turn my skin into that of a 20-year-old. In fact, I didn't really know what to expect, because I'm happy overall with the appearance of my skin.
Keep in mind that I consume a relatively healthy diet that's devoid of inflammatory foods such as seed oils and processed carbohydrates. I've also never smoked, but I don't wear sunscreen.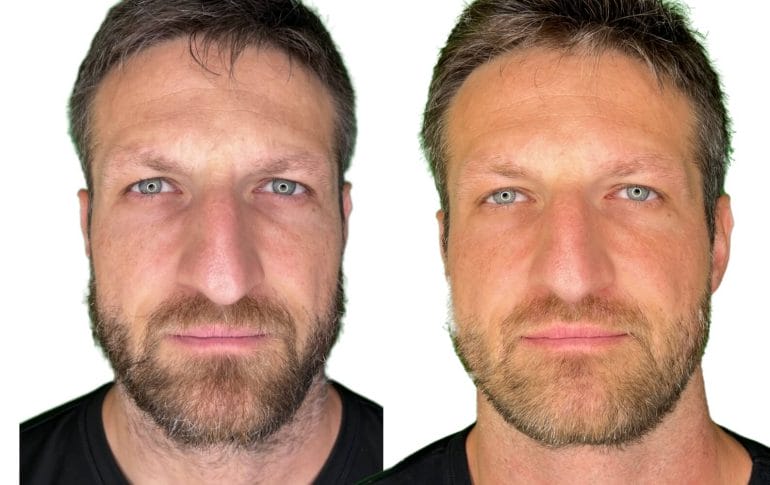 As you can see, OneSkin managed to reduce the fine lines on my forehead quite a bit.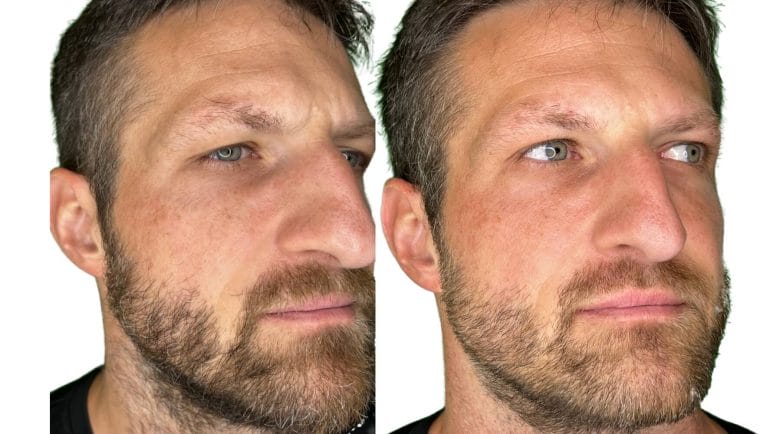 Overall, I didn't expect miracles but I was quite impressed by the noticeable improvements in my skin's appearance. Since then, I've had several people tell me that I have a more youthful appearance, even though nobody could pinpoint exactly what had changed.
Looking in the mirror, my skin appears to be a bit firmer and smoother, with softened fine lines and fewer age spots.
I'm satisfied with the results and will continue using OneSkin, paired with appropriate dietary choices, proper stress management, red light therapy and everything else I'm doing to mitigate the effects of aging.
How to Make OneSkin Even More Effective
If you want to further boost the effectiveness of OneSkin, I recommend using a high-quality red light therapy device (such as the MitoPRO 1500 I use) right after applying the OS-01 peptide. Anecdotal evidence suggests that the increased blood flow and oxidative stress from red and near-infrared light helps topical skin supplements to better penetrate through the skin and thus be more effective.
Frequently Asked Questions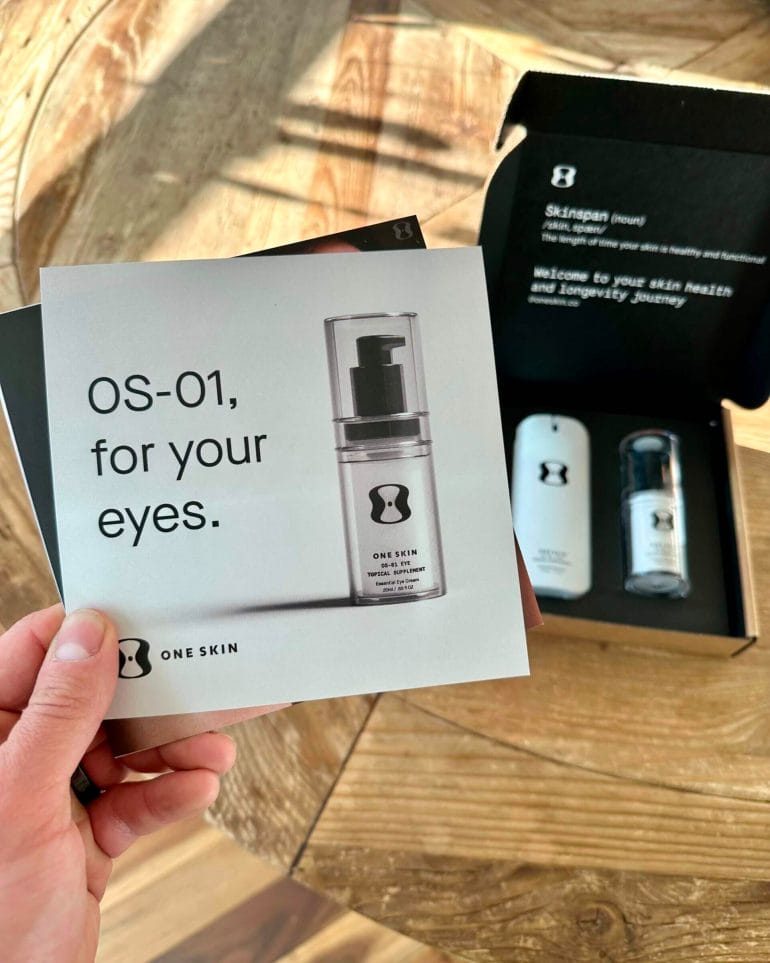 Can you use OneSkin's body lotion on your face?
I don't recommend doing so, because the amount of OS-01 peptide in each formulation varies. The OneSkin face lotion has a higher OS-01 concentration than the body lotion, because the face's skin usually shows more signs of aging than the skin in other areas of your body (which are less exposed to environmental stressors, including UV radiation). In other words, using the skin lotion on your face won't likely offer the same benefits. However, you could use the face or eye product on other parts of your body. 
How well does OS-01 EYE work?
OS-01 EYE is the latest addition to the company's lineup, and I just started testing it while writing this review. While I don't have enough data yet to determine how well it works, it's worth mentioning that OS-01 EYE has the highest concentration of the OS-01 peptide, followed by OS-01 FACE.

That's because the skin around the eyes is incredibly thin, sensitive and prone to showing visible signs of aging. On the flip side, the company's body lotion has the least concentration of the OS-01 peptide.
How is OneSkin different from other premium skincare products?
OneSkin differs from other premium skincare products because of its effectiveness, its ability to actually penetrate the skin, and its lack of toxic ingredients and fragrances.

Many skincare products include ingredients that have a larger molecular weight than what can be absorbed through the skin. As you know, the skin acts as a barrier and doesn't let everything through. As a rule of thumb, the molecular weight of any compound must be under 500 Dalton to penetrate the skin.

For example, the ginger root extract in Chanel's moisturizer has a molecular weight of 568.8 and is thus unlikely to penetrate the skin.

Besides containing ineffective ingredients, most of those premium products also contain toxic ingredients, including artificial colors, microplastics and endocrine disruptors.
Can you use OneSkin if you have sensitive skin?
Yes, OneSkin is perfectly compatible with sensitive skin and all skin types, thanks to the lack of inflammatory ingredients and fragrances.
Does OneSkin test its products on animals?
No, OneSkin doesn't test its products on animals. As a result, its products are considered vegan.
Does OneSkin offer a money-back guarantee?
Yes, OneSkin offers a 30-day money-back guarantee if you're not satisfied with the results.
How do you use OneSkin?
You should use OneSkin twice a day (e.g., in the morning and evening) on clean skin. OneSkin's lab testing has revealed that using the product on clean skin can improve the absorption rate by 50%. You can use OneSkin PREP or a non-toxic cleanser of your choice.
Can you find OneSkin OS-01 on Amazon?
No, unfortunately, OneSkin doesn't sell its lotions or cleansers on Amazon. You have to go directly to oneskin.co to purchase their products.
Is OneSkin more effective than retinol?
Prescription-grade retinol creams are a popular treatment option to improve the appearance of aging skin by neutralizing free radicals and boosting the production of elastin and collagen. However, retinol doesn't help remove senescent cells, so it doesn't improve your skin's longevity.

Additionally, too much retinol can cause side effects, including dry skin, flaking and redness. As a result, I consider retinol less effective than OneSkin.
Wrap-Up: Is OneSkin Worth It?
I'm not a beauty influencer and I'm not too concerned about the normal signs of aging. However, I've realized that despite my best efforts, my modern lifestyle exposes my skin to environmental stressors and toxins that can speed up the normal aging process.
While I do my best to mitigate those issues by following an animal-based diet, avoiding processed foods and seed oils, using a combination of natural sunlight and red light therapy devices and limiting my alcohol consumption, to name a few of the things I do, there is room to improve my skin's biological age by addressing the root cause of skin aging: senescent cells.
That's why I've made OneSkin a regular part of my skincare routine with the goal of supporting my body in removing senescent cells.
Dead skin cells are like a bad apple in a basket full of good apples. The one bad apple can cause the surrounding apples to spoil quicker. Senescent cells behave in a similar fashion, as they excrete inflammatory substances that can negatively affect the surrounding cells.
OneSkin's face topical supplement (FACE OS-01) helps me to get rid of those senescent cells in my skin before they can cause damage, thus supporting my skin's natural rejuvenation and skinspan.
So far, OneSkin appears to have been effective in doing exactly that. At least, I've seen positive changes in how my skin looks within a few weeks of treatment.
If you're trying to improve the appearance of your skin and you've already laid the foundation for healthy skin (proper diet, stress management, good sleep…), I'd recommend you give OneSkin a try. Just don't expect miracles if your lifestyle isn't in line with your skin health goals.

I'm a healthy living and technology enthusiast.
On this blog, I share in-depth product reviews, actionable information and solutions to complex problems in plain and easy-to-understand language.
Medical Disclaimer
The information shared on this blog is for educational purposes only, is not a substitute for the advice of medical doctors or registered dieticians (which we are not) and should not be used to prevent, diagnose, or treat any condition. Consult with a physician before starting a fitness regimen, adding supplements to your diet, or making other changes that may affect your medications, treatment plan or overall health. MichaelKummer.com and its owner MK Media Group, LLC are not liable for how you use and implement the information shared here, which is based on the opinions of the authors formed after engaging in personal use and research. We recommend products, services, or programs and are sometimes compensated for doing so as affiliates. Please read our
Terms and Conditions
for further information, including our
privacy policy
.