Red light therapy is a popular and effective treatment method for improving skin health and reducing the appearance of fine lines and wrinkles.
However, numerous studies have shown that when combined with frequencies adjacent to the red light spectrum (i.e., near-infrared light), red light therapy is also incredibly effective for lowering inflammation, reducing joint pain, improving blood flow and speeding up muscle recovery after injuries or intense workouts.
Over the past few years, I've been using various red light therapy devices to leverage many of these benefits. In this article, I'll share my top picks based on the technology included in each device, the scientific evidence supporting their effectiveness, and my own hands-on experience.
This article is broken down into categories so that you can jump directly to more information about the specific type of device you're looking for:
One thing to keep in mind before diving into the details below is that proper light dosage is critical for achieving the desired health benefits. Unfortunately, the red light therapy market is swamped with cheap, ineffective devices that don't produce sufficient amounts and/or intensities of light. As a result, these devices are unlikely to give you the results you're looking for.
As a general guideline, red light devices that rely solely on LEDs are sufficient for skincare applications as long as they emit enough light (a metric known as irradiance). For skin treatment, look for devices with an irradiance of 40+ mW/cm2.
If you're looking for a red light device to treat joint pain, I recommend laser-based devices with an irradiance of 700 mW/cm2 or higher.
It's also worth noting that some of the most effective red light devices use a combination of red and near-infrared light to improve their effectiveness. That's because the invisible rays in the near-infrared spectrum offer deeper tissue penetration and are more effective at treating muscle and joint pain.
In other words, by combining red and infrared light, therapy devices can cover tissue at various depths, thus improving their likelihood of success.
Types of Red Light Devices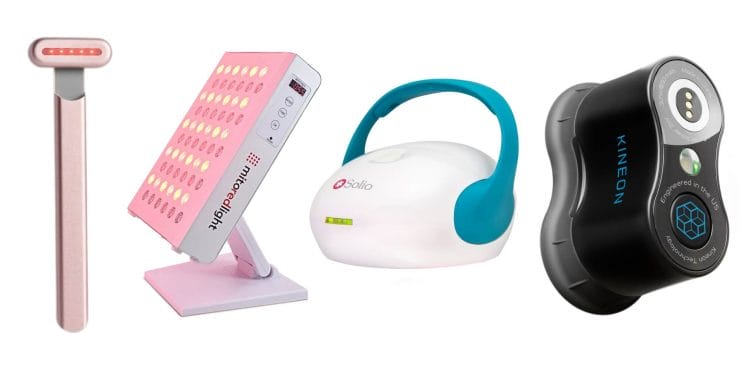 There are several types of red light therapy devices on the market, and it's important to pick the type that's most effective for achieving your desired goal. Here's an overview of the different red light devices I've used or have come across:
Saunas. Some manufacturers of full-spectrum infrared saunas have started including red light therapy panels or bulbs to increase the sauna's overall health benefits. We own several full-spectrum infrared saunas that we've been using to improve the appearance of our skin and help with muscle recovery.
Panels. Depending on their size, red light therapy panels are an excellent way to treat large areas of your body. I have two red light therapy panels in my office that I use in the morning to improve the resilience of my skin.
Mats. Mats (like this one) are great alternatives to panels, and you can make them part of your exercise or stretching routine.
Modules or lasers. Devices in this category are often used in clinical environments for spot treatments. However, some of these devices are now also available for home use. I've been using a device that leverages lasers and LEDs to treat joint pain.
Masks. A bulkier alternative to wands, masks are used to improve the appearance of facial skin.
Wands. Wands are a convenient alternative to masks to make red light therapy a regular part of your skincare routine. My wife uses a red light wand daily.
Belts. Belts offer a convenient way to treat scar tissue or stretch marks, or to mobilize stubborn fat cells around the midsection. I successfully used a red light therapy belt when I tweaked my lower back, and my wife has been using it to mobilize fat cells before exercise.
Helmets or headbands. These devices are often used to improve cognitive function and to increase blood flow in the brain. I'm in the process of testing two such devices and will update this article with my findings in the future.
As with many other things in life, there is no silver bullet. Your specific use cases determine which type of device is best for you.
The good news is there are overlaps between most of these devices. For example, you can improve the appearance of the skin on your face using a wand, a light therapy mask or a panel, and whether one is better depends on your routine and other requirements (e.g., portability).
How to Choose a Red Light Therapy Device
Several factors determine which type of red light therapy device might work best in your circumstances. So I encourage you to consider the following factors before purchasing:
What are your treatment goals?
How much space do you have?
What is your budget?
Do you want to take your device with you when you're traveling?
How often do you anticipate using the device?
What body parts do you want to treat?
How much time can you invest in treatments?
Do you prefer hands-free treatment options?
While the list above isn't in any particular order, I'd argue that your treatment goals are one of the most important factors that should go into your purchasing decision.
That's because light dosing — i.e., how much light the device emits and at what angle — determines the penetration depth of the device.
In other words, a red light therapy panel isn't nearly as effective for treating knee pain as a laser-based red light module. On the other hand, it wouldn't be feasible to use a spot laser to improve your skin's resilience to UV light; for such use cases, a red light therapy panel, a full-spectrum infrared sauna (with red light) or a mat is much more effective.
Your available space can also be an important factor. For example, if you live in a studio apartment, a walk-in sauna probably isn't feasible, and even a large red light panel on a mobile stand (like the one I have in my office) might not work.
Smaller is usually better if you're traveling a lot and want to bring your red light therapy device with you on trips. That's why my wife prefers using a wand rather than a small panel (because it easily fits into any of her purses).
The time required to complete a treatment can also play a major factor in how often you use the device (which can impact its effectiveness). Certain issues, such as osteoarthritis, might require several months of regular treatments. So it's important to pick a device that's convenient to use so you stick with it.
Throughout the article, I'll talk more about those factors and how they relate to my favorite devices.
Best Red Light Device for Skin Health (Small Areas of the Face): Solawave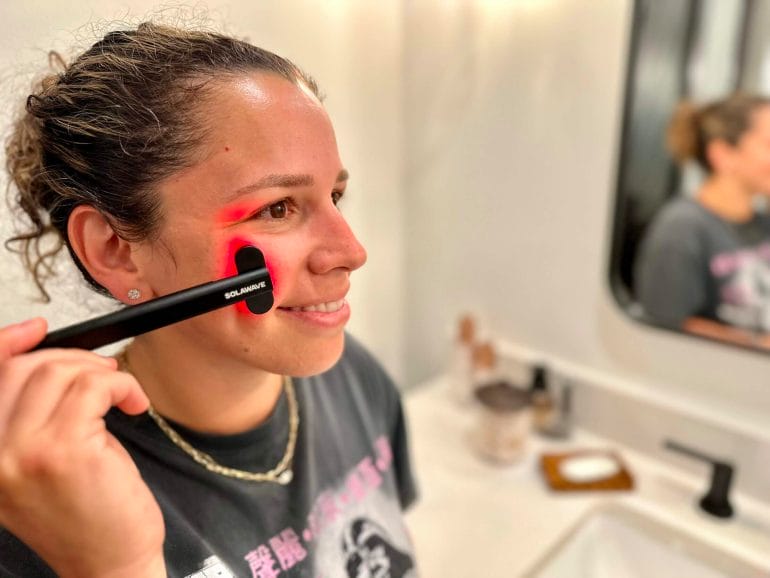 The Solawave 4-in-1 skincare wand combines red light therapy, microcurrent (galvanic current), facial massage and therapeutic warmth to improve your skin's appearance and collagen production and reduce fine lines and wrinkles.
Pros
Combines light, heat, current and vibrations for maximum benefits.
Is small enough to carry in your purse or overnight bag.
Each treatment takes only a few minutes.
Affordable.
Has a rechargeable battery.
Cons
Inefficient for larger body parts or treatment areas.
Ineffective for treating muscles and joints.
My wife is a huge fan of Solawave and has been using it for several years as part of her skincare routine. She loves how little time each treatment requires (about three minutes per area) as well as how effective it is.
In fact, any time the appearance of her skin changes — usually around the time she gets her period, or when she eats something plant-based (we mostly follow an animal-based diet) — she uses Solawave for a day or two, and any redness, discoloration (e.g., pigmentation or dark spots), pimples, or other blemishes quickly disappear.
From a technological perspective, Solawave relies on a combination of treatment modalities, including red light, galvanic current (a safe and non-invasive form of energy that boosts the absorption of topical skincare products), gentle vibrations (akin to a facial massage), and warmth that increases blood flow in the skin.
What's cool about Solawave is its small form factor, which allows you to take the gadget with you when you travel. In fact, the wand comes with a convenient travel case and USB charger, so you don't have to interrupt your skincare routine when you're on the road.
Regarding technical specifications, Solawave includes seven LEDs that emit red light (630 nm wavelength) with an irradiance of 40 to 45 mW/cm2. The wand's battery lasts for 90 minutes (or 18 five-minute sessions) and recharging it takes about two hours. A 12-month warranty covers your wand in the case of any manufacturing defects.
If you want to try Solawave, you can use discount code MKUMMER15 to knock 15% off the regular purchase price ($169).
Solawave is also available on Amazon, but you won't be able to use my discount code.
Premium Upgrade Option: Mito Pro 300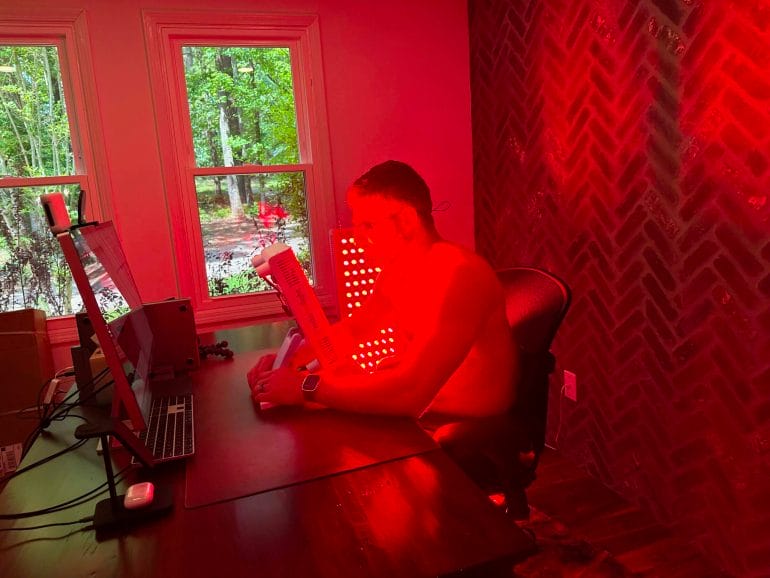 While the SolaWave offers all the same benefits at half the cost, you can use the MitoPro 300 to treat your entire face, including your neck, in one shot. Plus, you can use the panel to treat other areas of your body, such as stretch marks on your stomach. If you aim to treat larger areas in one session and the extra $200 isn't a deterrent, opting for the MitoPro 300 is a smart choice.
Best Red Light Device for Full Face Treatments: Radiant Face Mask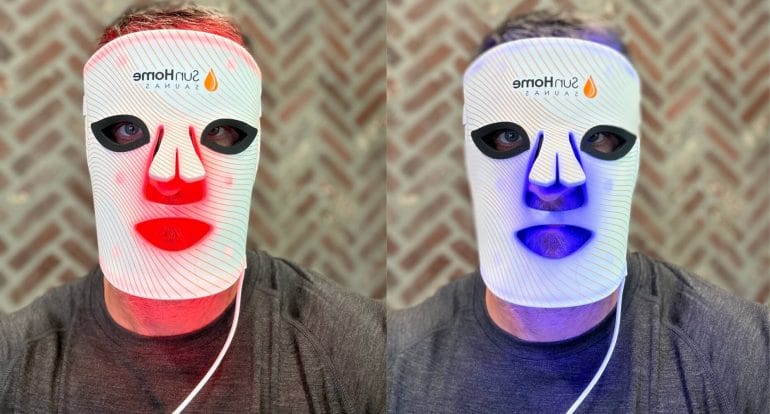 The Radiant Face Mask from Sun Home Saunas features a unique combination of five beneficial wavelengths in the red, deep-red, amber, near-infrared and blue light spectrums, spread across 128 commercial-grade LEDs.
Pros
Combines five wavelengths for maximum benefits.
Can be used while cooking, working or watching TV.
Each treatment takes only a few minutes.
100,000-hour lifespan.
Has a rechargeable battery.
Cons
Price.
Bulky compared to a small wand.
I'm a huge fan of devices that don't get in my way and that I can use while doing something else. The Radiant Face Mask falls into that category because I can conveniently wear it for 10 minutes in the evening while catching up on my favorite Netflix shows, because it doesn't block my view or require the use of goggles.
One thing I really like about this face mask (in comparison to many others on the market) is the wide variety of beneficial wavelengths it emits, including red, deep-red, amber, near-infrared and blue.
Unlike some other masks, the Radiant Face Mask covers your entire face, including your forehead, cheeks, nose, chin and the small area between your lips and your nose, including the philtrum.
A small remote control with a built-in battery powers the mask and allows you to switch between modes (red/infrared or blue), set the session time (10, 15, 20 or 30 minutes), and the light intensity (30, 40 or 55 mW/cm²). The (wired) remote control is connected to the mask via a USB-A cable and has a separate USB-C port you can use to charge the battery.
Thanks to the use of soft silicone pads, a stretch velcro strap and cut outs for your eyes and mouth, the mask is comfortable to wear for sessions up to 30 minutes.
In case you're wondering, the red and infrared wavelengths are best for supporting collagen production and reducing fine lines and wrinkles, while the blue light is great for helping with acne (if you combine light therapy with addressing poor diet, which is almost always the root cause of acne).
The Radiant Face Mask retails for $399 and you can purchase it directly from Sun Home Saunas.
If you use code MKUMMER at checkout, it'll knock 10% off your purchase price.
What About Dr. Gross Facemasks?
If you've been researching the best red light therapy device to reduce wrinkles and fight acne, you've probably come across Dr. Dennis Gross' DRx SpectraLite FaceWare Pro. While those aren't bad devices by any means, there are a few reasons why they're not my top recommendation:
The FaceWare Pro is relatively expensive and doesn't offer more benefits than the less-expensive Radiant Face Mask.
Additionally, I'm not a fan of brands that try to sell devices specifically to treat acne, because acne is 100% caused by dietary and lifestyle factors. In other words, correcting your lifestyle is the only sustainable way to eliminate acne.
The EyeCare Max Pro is limited to treating the area around your eyes — it doesn't cover your forehead or cheeks.
Best Red Light Device for Joint Pain and Injuries: Kineon Move+ Pro
The Kineon Move+ Pro is an advanced red light therapy device that uses a combination of lasers and LEDs to effectively treat joint pain by improving blood flow to the affected area, triggering cartilage tissue regrowth and balancing the body's inflammatory response.
Pros
Uses a combination of lasers and LEDs.
Offers proper light dosing to penetrate tissue deeply.
Clinical-grade technology.
Offers passive (hands-free) treatments.
Cons
Best suited for treating joints and smaller muscle groups.
Move+ Pro is by far my favorite red light therapy device for treating joint pain and injuries. Over the past few years, I've been using it to effectively treat several injuries, including a shoulder injury and knee pain.
What sets Move+ Pro apart from the competition is the combination of LEDs with clinical-grade lasers that ensure much deeper penetration depths than devices that rely on LEDs alone. Additionally, Kineon has spent much time and money on determining the proper light dosing to ensure enough energy gets delivered to the affected tissue.
While Move+ Pro offers different types of flexible and adjustable straps that allow you to treat almost any area of your body, I think the device is best suited for treating joints and smaller muscle groups, because the six emission areas (split across three modules) can only cover so much surface area.
Move+ Pro retails for $499, but if you decide to purchase the device, use code MKUMMERMOVE+ to get 10% off your order.
To learn more about this device, check out my dedicated Kineon Move+ Pro review and the accompanying Move+ Pro YouTube video.
Larger Coverage Option: FlexBeam or Solio Alfa+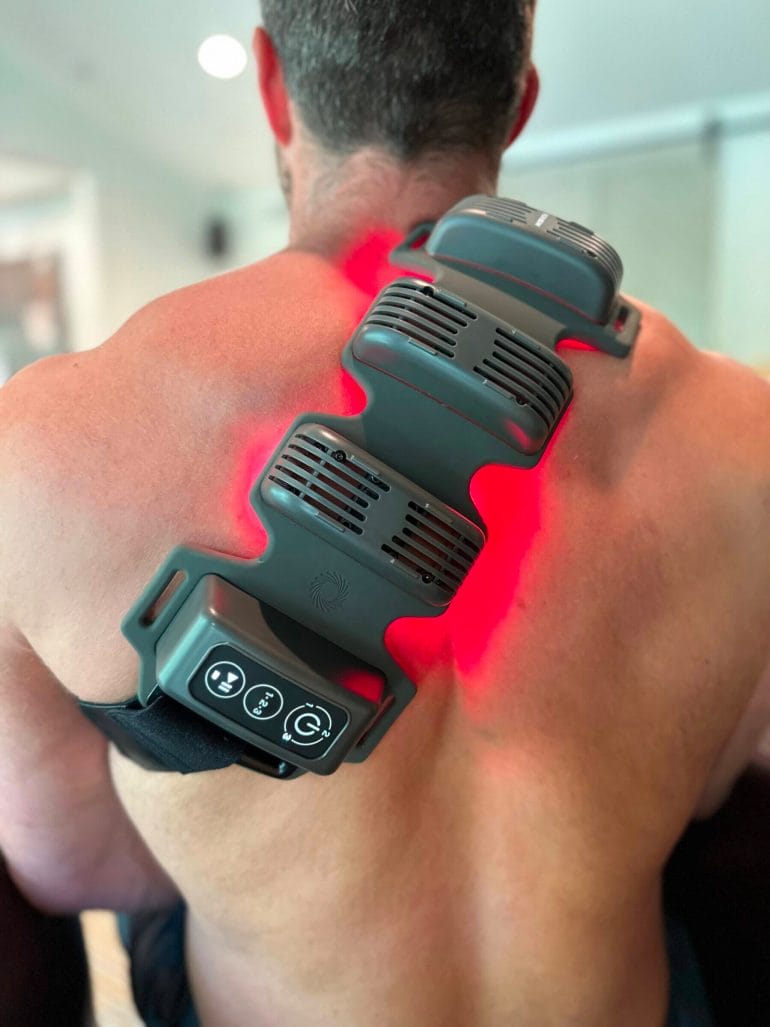 FlexBeam is a bulkier alternative to Kineon's Move+ Pro, which relies solely on LEDs. So I'd argue it's less effective at penetrating joint or large muscle tissue. However, thanks to its deflector domes, FlexBeam can cover a larger area than Move+ Pro.
So if your goal is to treat larger areas but at a shallower depth, FlexBeam might be a reasonable alternative. Pricing-wise, FlexBeam and Move+ Pro cost the same (if you use my discount code). To learn more about the difference between those two devices, check out my detailed Move+ Pro vs. FlexBeam comparison article.
Solio Alfa+ is another alternative if you want to treat larger areas of soft tissue. Instead of lasers and LEDs, Solio Alfa+ combines red and infrared light with radiofrequency to offer deeper penetration than LED-based devices, such as FlexBeam.
The disadvantage of Solio Alfa+ is that it operates like a wand rather than a wearable. So you need to use gliding gel to gently move the device back and forth (or in circles) on the treatment area. Pricing-wise, Solio Alfa+ retails for $495, but using code KUMMER, you can get $50 off your purchase. You can learn more about it in my Solio Alfa+ review.
Best Red Light Device for Full-Body Treatments: MitoPro 1500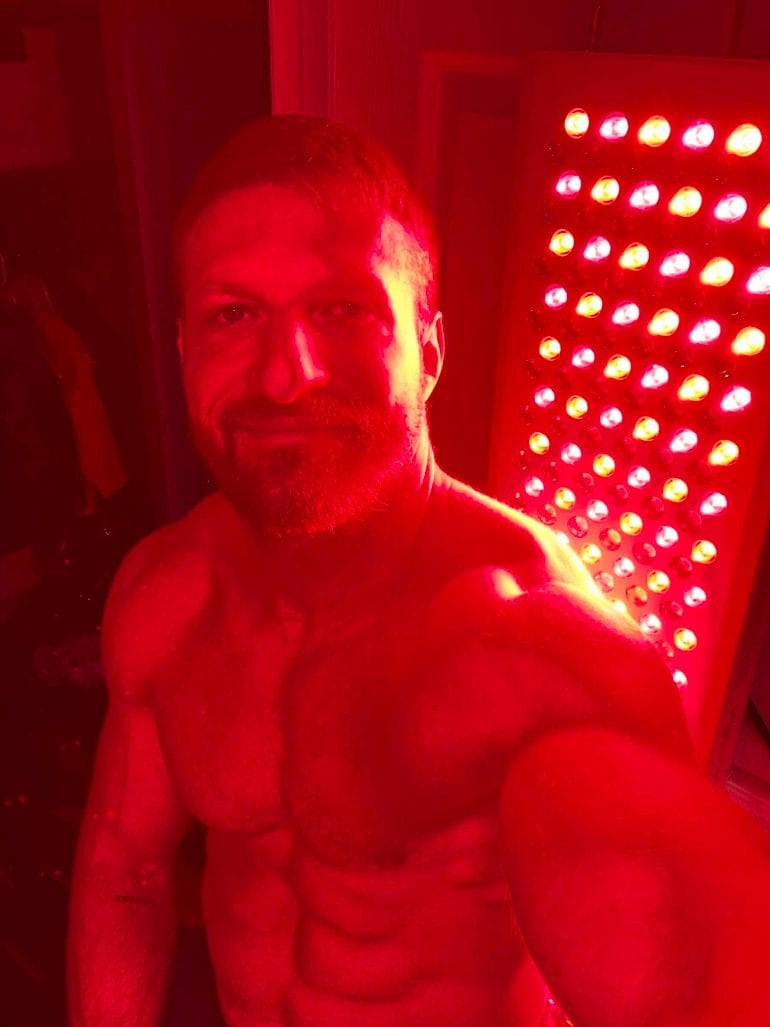 The MitoPro 1500 is a relatively large red light therapy panel that emits red and near-infrared light in various wavelengths (including 660, 830 and 850 nanometers) that can cover almost your entire body.
Pros
Broad wavelength support.
Flexible mounting options.
Modular design.
High irradiance.
Three-year warranty.
Cons
You can't customize wavelengths.
No mobile app to control the panel.
I chose the MitoPro 1500 over some of the other panel manufacturers on the market (e.g., Joovv or TrueLight) because of its relatively high irradiance (130-170 mW/cm2) and its three-year warranty. I also appreciate the flexible mounting options (various stands or wall mounts) and that I can stack multiple MitoPro panels to create an entire red light panel array.
When I first got my MitoPRO 1500 panel, I mounted it to the inside of my office door and I'd stand there every morning for 15 minutes to treat my upper body. A few months later, I decided to add a MitoPro 300 panel by mounting both panels on a horizontal stand with wheels I could move around. I use those panels several times a week for 20 minutes in the morning to make my skin more resilient to UV radiation (which reduces the risk of sunburns) and to increase the collagen and elastin production in my skin.
Red light therapy in the morning has also improved my sleep inertia (grogginess in the morning). I'm usually pretty energetic when I wake up, but when leveraging red light, I start firing out of all cylinders even quicker. That's crucial for me because I usually do most of my creative work in the morning before the kids wake up and the farm animals need my attention.
If you want to try the MitoPro 1500 (or any other Mito product), make sure to use code MKUMMER for 5% off.
You can also read my full MitoPro review to learn more (and why I like it better than the Joovv panels).
Lower-Cost Alternative: Mito Red Original

If you love the idea of using a red light therapy panel to treat your entire body but are on a budget and don't care about stackability or a modular design, I recommend checking out the Mito Red Original series. While these panels emit fewer wavelengths than the MitoPro series, they offer excellent irradiance (115-165 mW/cm2) and come with a two-year warranty.
Pricing-wise, the MitoMAX 2.0 (which has the same dimensions as the MitoPro 1500) costs only $749 instead of the $1,149 the Pro version costs.
Best Red Light Device for Muscle Recovery: Solio Alfa+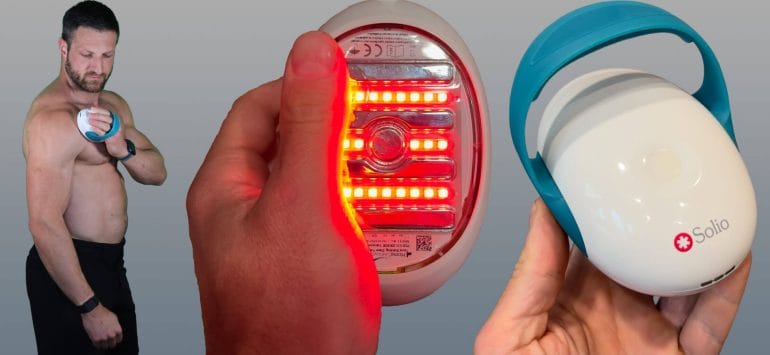 Solio Alfa+ is an FDA-cleared pain relief device that uses red and infrared light combined with radio frequencies to relieve chronic pain and support recovery after sports injuries.
Pros
Uses a combination of three technologies to penetrate tissue at various depths.
The heat the device generates feels good on sore or injured muscle tissue.
Can cover relatively large treatment areas.
FDA-cleared.
Offers a two-year warranty and 60-day money-back guarantee.
Cons
You might need the help of a partner to treat hard-to-reach areas.
Requires "slider gel" (similar to an ultrasound machine).
You have to move the device over the treatment area constantly.
One thing I like about Solio Alfa+ is that it mitigates some of the shortcomings of LED-based red light therapy devices by leveraging radio frequencies to offer deeper tissue penetration.
Both my wife and I have used Solio Alfa+ for various soft tissue issues and we noticed quick pain relief and improved recovery. The main disadvantage of this device is that you need to constantly move it in circles (or back and forth) over the treatment area, because it can get uncomfortably hot if you don't. Additionally, you might need the help of a partner to treat hard-to-reach areas, such as your back.
If you want to give Solio Alfa+ a try, make sure to use code KUMMER to get $50 off your purchase.
Learn more in my in-depth Solio Alfa+ review.
Passive Alternatives: Sunlighten mPulse Smart Sauna and Mito Red Light Belt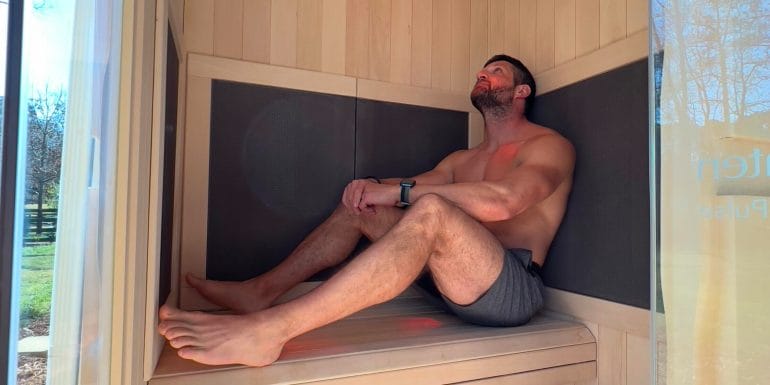 If your goal is to speed up muscle recovery, but you want to cover relatively large areas, you could also consider investing in a full-spectrum infrared sauna, such as the Sunlighten mPulse we have in our backyard.
I realize that you can't really compare a $500 handheld device like the Solio Alfa+ with a walk-in infrared sauna that costs thousands of dollars, but the latter might be worthwhile if you consider the numerous benefits of infrared saunas (including improved muscle recovery).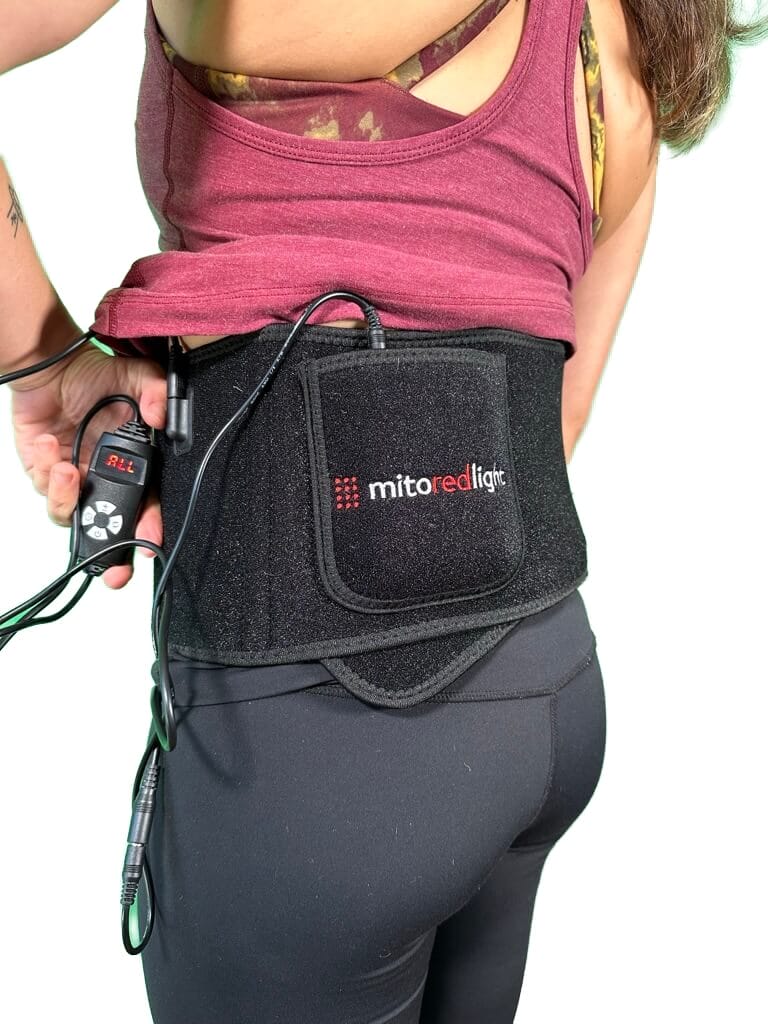 If a sauna is out of reach for you, a small and much less expensive option could be a red light therapy belt. I used a red light belt from Mito to treat lower back pain (caused by poor form during a workout), and my wife's been using it to improve the appearance of her stretch marks (from giving birth twice) and to mobilize some stubborn fat cells on her abdomen.
The advantage of a red light belt (compared to other red light devices) is that the LEDs are in direct contact with your skin. That dramatically improves their effectiveness which degrades with distance.
Frequently Asked Questions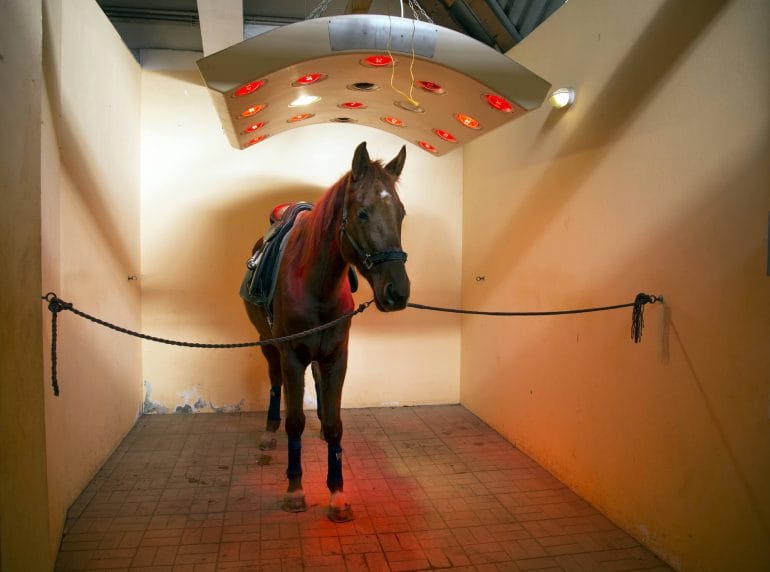 How do at-home red light therapy devices compare to red light therapy offered by dermatologists?
Most at-home red light therapy devices rely on light-emitting diodes (LEDs) and are often underpowered (i.e., with a low irradiance). Medical-grade devices used in-office by board-certified dermatologists and estheticians often use a combination of lasers and LEDs with sufficient power output to provide the proper dosage and strength (light energy).

Lasers offer a much narrower light beam, which translates into better tissue penetration than the wider light cone emitted by LEDs. Additionally, many consumer-grade devices rely on a continuous light beam, which necessitates a lower power output to avoid damaging skin tissue. Medical-grade devices rely on pulsed wave light that allows for a higher light intensity that doesn't damage the tissue.

However, I consider the products mentioned in this article among the best at-home light therapy devices that have been shown to be highly effective.
How long does it take a red light therapy device to produce results?
How long a red light therapy device takes to produce results depends on the issue you're treating. You can expect to see improvements for most treatments, including cosmetic issues, within a few weeks.

Two of the key factors in red light therapy are light dosage and consistency. Pick a red light device from a reputable brand (such as the ones mentioned in this article) to ensure proper light dosing.

I also recommend using your red light device daily for several weeks to achieve optimal results. If you use your device only once or twice a week, you're unlikely to see the results you're hoping for.

I also recommend combining red light therapy with a high-quality topical skincare product, such as OneSkin or Young Goose, to further improve your skin's appearance. 
What makes some red light therapy devices stronger than others?
The emissivity and irradiance determine the strength of a given red light therapy device. Emissivity describes how much of the energy (carried by the light) actually reaches the target area (e.g., your tissue), while irradiance tells you the amount of energy a specific part of your body receives over a set period while using the device. 
Does it matter if a red light therapy device is FDA approved?
That depends on how much you trust the opinion of the FDA. In the realm of red light therapy, FDA approval means that the FDA has tested the device for safety and efficacy to offer a specific health benefit or to cure or treat a disease. 

Most consumer-grade devices aren't being marketed to treat or cure a disease. That's why many devices are merely FDA cleared or FDA registered. Such a label means that the device won't harm you, but it doesn't mean the FDA thinks it's effective (for treating or curing a disease or illness).
What are the risks and potential side effects of red light therapy?
If leveraged correctly, red light therapy has very few side effects. However, it's worth remembering that all light carries energy that can stress the target tissue. While small amounts of stress can help make your tissue (e.g., your skin) more resilient by boosting blood flow and activating the immune system, too much can have the opposite effect.

In other words, if you stress your body too much with light therapy, you could actually increase inflammation and speed up tissue aging. That's why I recommend following the device manufacturer's treatment time recommendations and to remember that more isn't always better.
Will any red light work for red light therapy?
No, because the effectiveness of red light depends on the exact wavelengths (usually expressed in nanometers) and the angle at which the light is emitted. A narrower light beam leads to greater penetration depth than a wider angle. Lasers offer the narrowest cones of light, followed by light-emitting diodes (LEDs) and regular bulbs.
Is red light therapy the same as infrared light therapy?
Red and infrared light fall in different (but adjacent) parts of the light spectrum. Both visible red light and invisible infrared light offer individual health benefits, but depending on the exact benefits you're after, combining both red and near-infrared light at the correct wavelengths and dosage offers the most benefits.
Is red light therapy the same as LED light therapy?
Red light therapy is a form of LED light therapy, which may include additional light colors, such as amber, green or blue.
Can you use red light devices for anti-aging treatments?
Yes, red light therapy is an excellent way to treat your skin's visible (and invisible) signs of aging. Specifically, red light therapy has been shown to boost collagen production in the skin. More collagen in the skin can lead to a reduction of wrinkles, fine lines and even crow's feet. Additionally, red light increases blood flow in the skin, which can lower inflammation, help treat acne and improve the overall appearance of your skin.
Do other colors of light offer health benefits?
Every frequency in the visible and invisible light spectrum carries a certain amount of energy, and energy impacts our tissue on a cellular level. While most people associate red light with health benefits, blue and green light have also been shown to offer certain positive outcomes.

According to the University of California, blue light therapy can boost alertness, helps memory and brain function, and elevates mood. It also regulates your body's natural wake and sleep cycle (circadian rhythm). In the realm of skin care, blue light is also used to treat certain types of skin cancer and precancerous spots known as actinic keratoses.

You can use green light to improve the appearance of your skin by increasing collagen production and reducing inflammation. Green light can also help with treating red blood vessels on the skin's surface.
Can LED light therapy devices help with hair loss?
Yes, studies have shown that red light therapy (using red light helmets) can improve blood flow in the scalp to promote hair growth. Some scientists believe that, in particular, male pattern hair loss is caused by impaired blood flow in the scalp. As a result, improving blood flow may help ensure that enough nutrients reach the hair follicles, encouraging new hair growth.

Based on a study from 2021, low-level 650 nm red light promoted the proliferation of human hair follicles in the experimental cultured-tissue model.
Summary and Final Thoughts
Light is made up of photons, and they carry energy that has been shown to interact with various cells in our bodies. Specifically, light in the visible red and invisible infrared spectrum appears to influence the mitochondria in our cells positively.
The downstream effects of helping our mitochondria work more efficiently include improved tissue health (which often manifests as healthier and more radiant-looking skin, less puffiness and fewer fine lines and wrinkles), increased blood flow, lowered inflammation and reduced pain.
I've become a huge fan of red light therapy and have a dozen different devices at home that I use for specific treatments on a regular basis.
Of course, unless your job is to test different devices and review them (like I do), you don't need a dozen devices to reap the benefits of red light therapy. That's why I hope this article has helped you narrow down your choices and to purchase the device that offers you the most benefits for your individual circumstances.
While I encourage you to click through to the various in-depth reviews and YouTube videos linked throughout this article to learn more about the mentioned devices, don't hesitate to leave a comment if you have a specific question or you would like me to take a look at a device you've been interested in.
Also, don't forget that many skin concerns are rooted in a poor diet. Consuming an appropriate diet, centered around animal-based foods, proper hydration and the avoidance of toxic skincare products, is fundamental to the success of any red LED light treatment.

I'm a healthy living and technology enthusiast.
On this blog, I share in-depth product reviews, actionable information and solutions to complex problems in plain and easy-to-understand language.
Medical Disclaimer
The information shared on this blog is for educational purposes only, is not a substitute for the advice of medical doctors or registered dieticians (which we are not) and should not be used to prevent, diagnose, or treat any condition. Consult with a physician before starting a fitness regimen, adding supplements to your diet, or making other changes that may affect your medications, treatment plan or overall health. MichaelKummer.com and its owner MK Media Group, LLC are not liable for how you use and implement the information shared here, which is based on the opinions of the authors formed after engaging in personal use and research. We recommend products, services, or programs and are sometimes compensated for doing so as affiliates. Please read our
Terms and Conditions
for further information, including our
privacy policy
.