SuperFat makes paleo, keto and vegan-friendly nut butter. I've been using SuperFat as a healthy snack option since I discovered the brand at Paleo f(x) in early 2019, and I wanted to write a review that explains why this product has become one of my favorites.
To learn more about how SuperFat stacks up against other nut butter brands, check out my list of the 10 best nut butters for keto and low-carb diets.
SuperFat Nut Butter Keto Snacks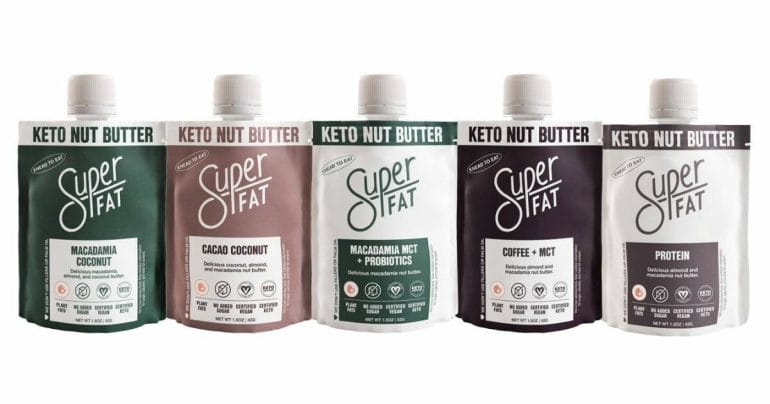 Pros
Keto, paleo and vegan certified
Gluten-free
Convenient packaging
No added sugar
Low net carbs
Cons
Some flavors contain sugar alcohol
Not all ingredients are organic
Packaging can't be recycled
SuperFat Nut Butters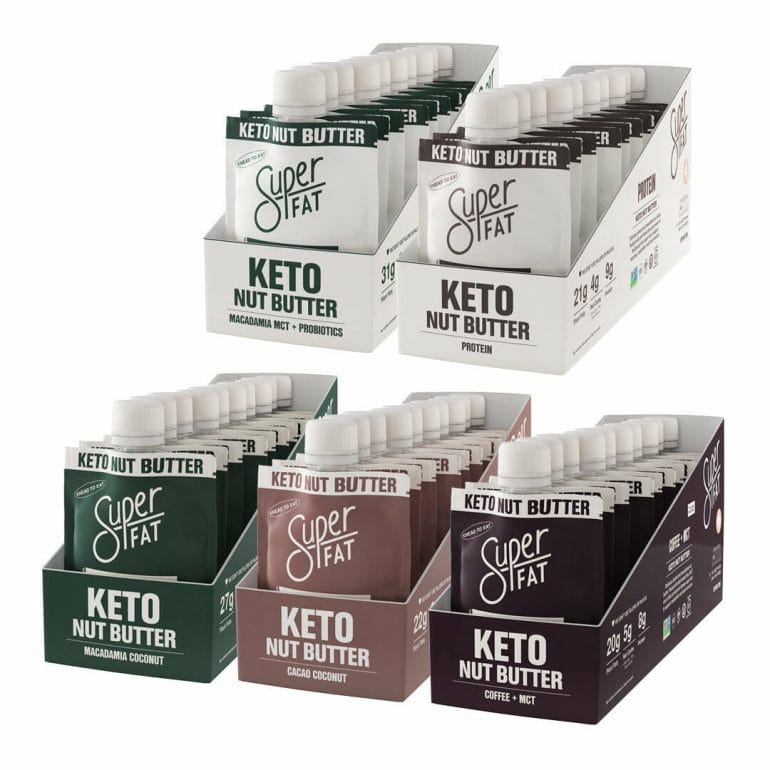 What I really like about SuperFat nut butter is that the product is compatible with a variety of diets, including paleo, keto and even vegan. I'm a carnivore who follows a Paleolithic keto diet, and very few of the products I use are suitable for my vegan and vegetarian readers.
The other thing I like about SuperFat is that the company tries hard to use only simple and clean ingredients for its nut butter.
Last but not least, I love the convenience of the single-serving pouches, which make SuperFat an excellent choice for a snack when I'm on the go.
SuperFat Flavors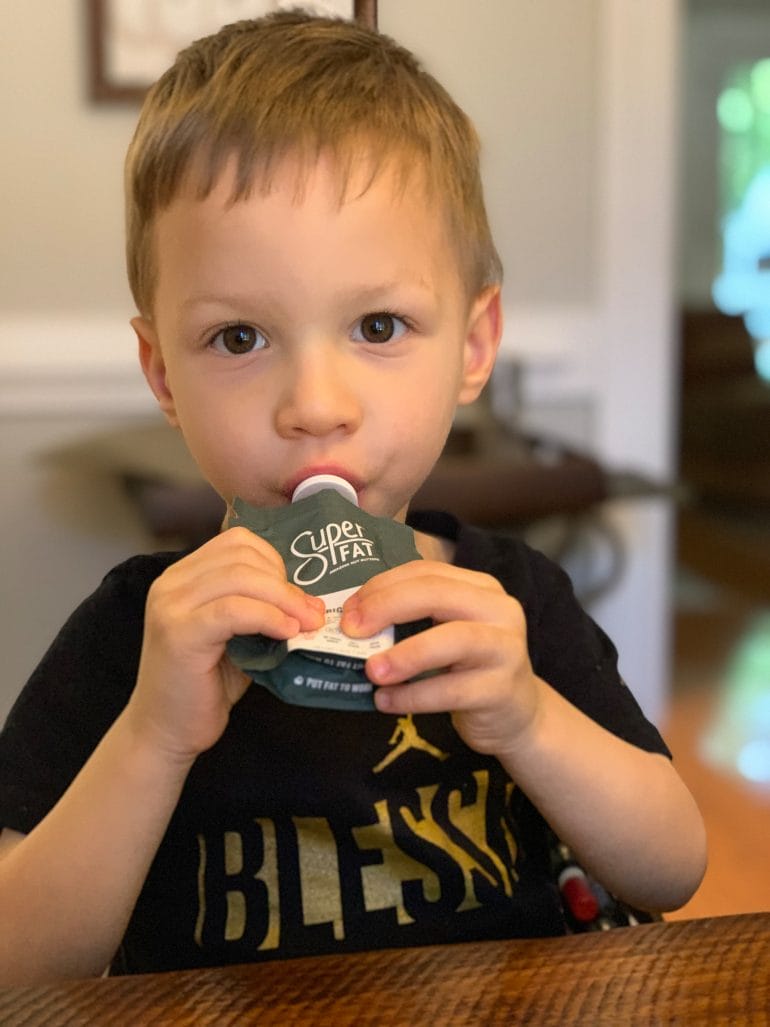 As of this writing, SuperFat is available in five delicious flavors (plus a limited-edition holiday flavor). The table below reflects the rating of each flavor based on my dietary lifestyle and personal taste preferences.
| Flavor | Taste | Ingredients |
| --- | --- | --- |
| Macadamia Coconut | ★★★★☆ | ★★★★★ |
| Protein | ★★★★☆ | ★★★★☆ |
| Cacao Coconut | ★★★★★ | ★★★☆☆ |
| Coffee + MCT | ★★★★★ | ★★★★☆ |
| Macadamia + MCT | ★★★★☆ | ★★★★★ |
| Cacao Mint | ★★★☆☆ | ★★★★☆ |
Note that I gave extra points to the flavors that don't contain erythritol, a sugar alcohol and natural non-caloric sweetener. That's because some people get bloated when consuming sugar alcohol, as the body can't metabolize it.
I should also mention that the flavors with erythritol arguably taste better because they're sweeter. Although, personally, I'm perfectly fine with nut butter that doesn't contain any sweeteners — natural or otherwise.
Additionally, I gave extra points to the flavors that contain little or no almond butter, as I prefer macadamias for numerous reasons (keep reading for more on why).
And finally, the Cacao Mint flavor has a lower taste rating because I'm not a fan of mint in such products. If you love mint, you might give it five stars. So don't let my taste rating discourage you.
With that said, let's take a closer look at each of the flavors.
Macadamia Coconut Nut Butter
This is one of my two favorite flavors because it contains the second-highest amount of fat and calories with the least amount of ingredients — and no sweeteners.
Plus, most of the fat comes from macadamia nuts, which have a very favorable omega-3 to omega-6 fatty acid ratio.
For the sake of this review, you should understand that the fat in macadamia nuts is healthier than the fat in other nuts (such as almonds).
| Nutrition Facts | Macadamia Coconut |
| --- | --- |
| Calories | 270 |
| Fat | 27g |
| Net Carbs | 3g |
| Sugar (Added) | 2g (0g) |
| Protein | 6g |
| Ingredients (4) | Macadamia Nuts, Almonds, Coconut Butter, Pink Himalayan Salt |
| Sweeteners | None |
| Cost Per Serving | $3.50 |
As you can see, the macadamia coconut nut butter contains only four simple ingredients and no sugar alcohols.
SuperFat is able to omit the sweetener because macadamia nut butter is naturally sweet. However, you should know that if you're used to sweetened nut butter, "plain" macadamia nut butter might taste a bit bland.
I think unsweetened SuperFat tastes delicious, but I don't eat sweets very frequently, so my taste buds might be more sensitive to sweetness than yours.
Cacao Coconut Nut Butter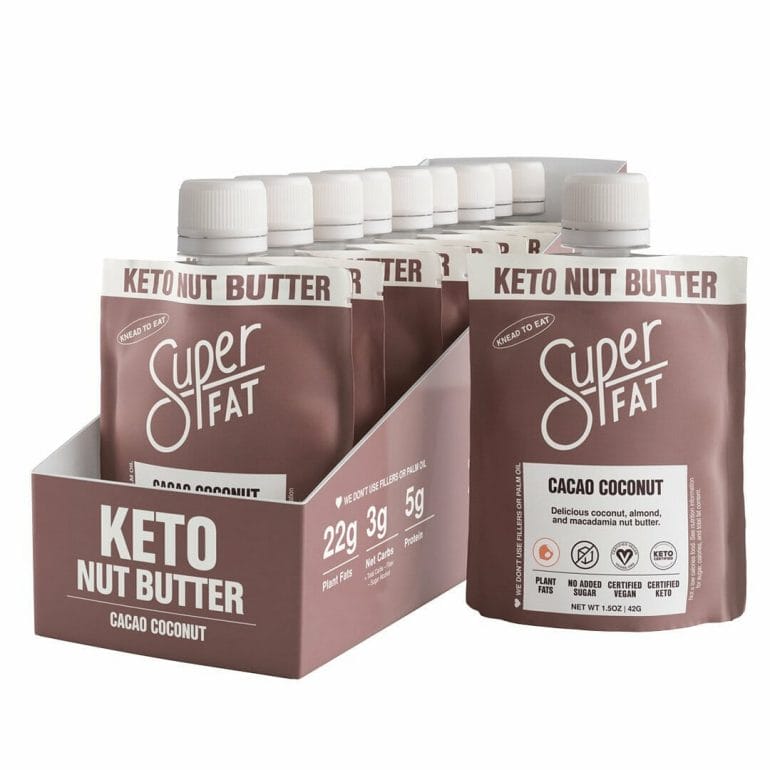 I love cacao, dark chocolate and everything that's related to those ingredients. That's why I really like the taste of SuperFat's cacao coconut, which offers a perfectly delicious combination of the two.
Like some of the other SuperFat flavors, this nut butter uses both sugar alcohol and stevia as sweeteners. In fact, this is the only flavor that has three grams of erythritol, which is two grams more than some of the other sweetened flavors.
As a result, I consider this flavor an occasional treat. That's not because erythritol or stevia raises my blood sugar and causes an insulin response (they don't), but because my brain gets used to eating sweets quickly.
I try to avoid going down that path. Once I start eating sweets, I tend to want more — and that gets in the way of my ancestral eating habits. So I consider all sweet foods, including fruits, a treat.
| Nutrition Facts | Cacao Coconut |
| --- | --- |
| Calories | 240 |
| Fat | 22g |
| Net Carbs | 3g |
| Sugar (Added) | 2g (0g) |
| Protein | 5g |
| Ingredients (8) | Coconut Butter, Almonds, Erythritol, Cacao Powder, Macadamia Nuts, Cinnamon, Pink Himalayan Salt, Steviol Glycosides (Stevia) |
| Sweeteners | Erythritol, Stevia |
| Cost Per Serving | $3.50 |
Other than that, the Cacao Coconut flavor has a lower amount of calories (compared to the macadamia flavors) because it also has fewer grams of fat. So if you're looking for a lower-calorie snack and you like cacao, this might be a good choice for you.
Coffee + MCT Nut Butter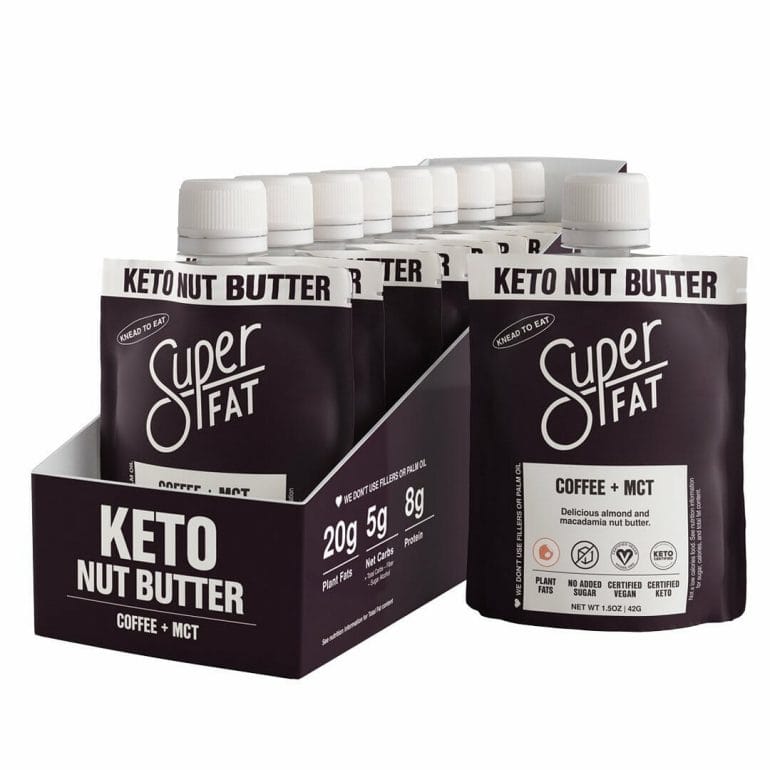 Coffee + MCT is the only SuperFat flavor with caffeine, which is present thanks to the inclusion of freeze-dried coffee powder.
I have a special relationship with coffee, in the sense that I love its taste but can't have it too close to bedtime because it impairs my sleep. That's why I usually get my black coffee fix in the morning, during my fasting window.
Once I break my fast (at around noon on most days) I stop drinking coffee and consuming products that contain caffeine.
As a result, I barely get a chance to enjoy this flavor of SuperFat, unless I sneak it in as a dessert right after lunch.
| Nutrition Facts | Coffee + MCT |
| --- | --- |
| Calories | 240 |
| Fat | 20g |
| Net Carbs | 5g |
| Sugar (Added) | 2g (0g) |
| Protein | 8g |
| Ingredients (8) | Almonds, Macadamia Nuts, MCT Oil Powder, Freeze Dried Coffee, Erythritol, Cinnamon, Pink Himalayan Salt, Steviol Glycosides (Stevia) |
| Sweeteners | Erythritol, Stevia |
| Cost Per Serving | $3.50 |
By the way, each pouch has about 40 milligrams of caffeine, which is equivalent to half a regular cup of coffee.
Macadamia MCT + Probiotics Nut Butter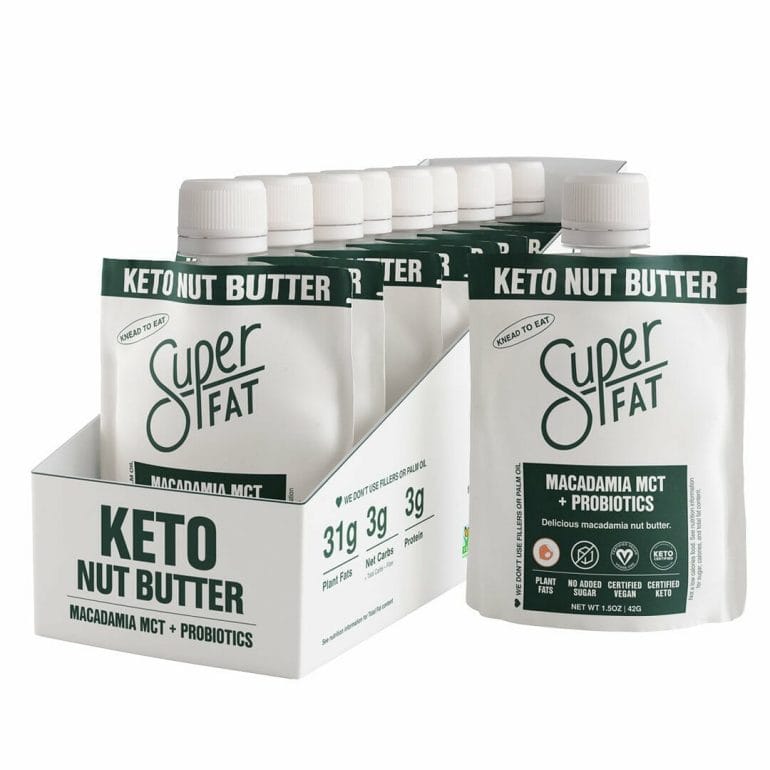 This is my absolute favorite SuperFat flavor! Not because it's the most delicious (it's not, because it doesn't have any sweeteners), but because it has the most grams of fat, the highest calorie count, and no nuts other than macadamias.
So in a way, it's probably the healthiest flavor if you look at it from a Paleolithic perspective. I also appreciate that each pouch contains half-billion probiotic cultures.
| Nutrition Facts | Macadamia MCT + Probiotics |
| --- | --- |
| Calories | 300 |
| Fat | 31g |
| Net Carbs | 3g |
| Sugar (Added) | 2g (0g) |
| Protein | 3g |
| Ingredients (5) | Macadamia Nuts, MCT Oil Powder, Cinnamon, Pink Himalayan Salt, Bacillus Coagulans GBI-30 6086 (Probiotic) |
| Sweeteners | None |
| Cost Per Serving | $4.00 |
As I mentioned before, this isn't the sweetest nut butter in SuperFat's lineup. So if you like sweet stuff, it might not be your favorite in the mix.
But as your taste buds get used to unsweetened food, you'll appreciate the creamy texture and nutty flavor of this super-clean nut butter.
Try Macadamia MCT + Probiotics
Cacao Mint Nut Butter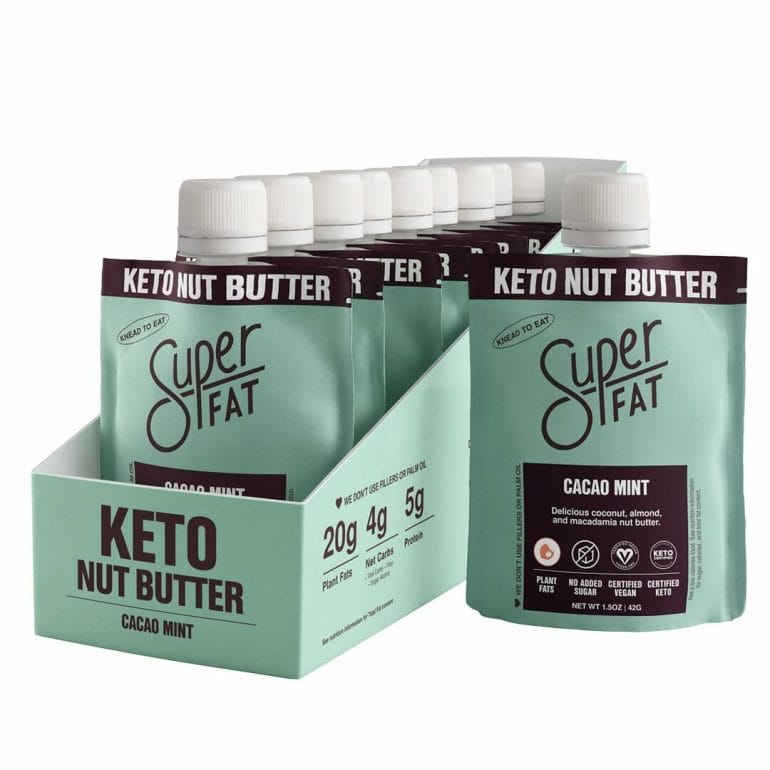 I haven't had a chance to try this limited-edition holiday flavor yet, so I only have second-hand experience based on feedback from my workout buddy. He loves the Cacao Mint Brownie Bites his wife makes with this nut butter.
I usually only like mint in a Mojito, but I know there are many people who appreciate the decadent combination of chocolate and peppermint.
If you're one of them, I recommend you give this nut butter a try. Chances are, you'll love it.
| Nutrition Facts | Cacao Mint |
| --- | --- |
| Calories | 230 |
| Fat | 20g |
| Net Carbs | 4g |
| Sugar (Added) | 2g (0g) |
| Protein | 5g |
| Ingredients (9) | Coconut Butter, Almonds, Erythritol, Cacao Powder, Macadamia Nuts, Peppermint Extract, Cinnamon, Pink Himalayan, Glycosides (Stevia) |
| Sweeteners | Erythritol, Stevia |
| Cost Per Serving | $3.50 |
Since this is a limited-edition flavor specifically made for the holidays, I don't know how long it'll stay in stock. If mint is your cup of tea, I'd order a box sooner rather than later.
Variety Bundle and Variety Box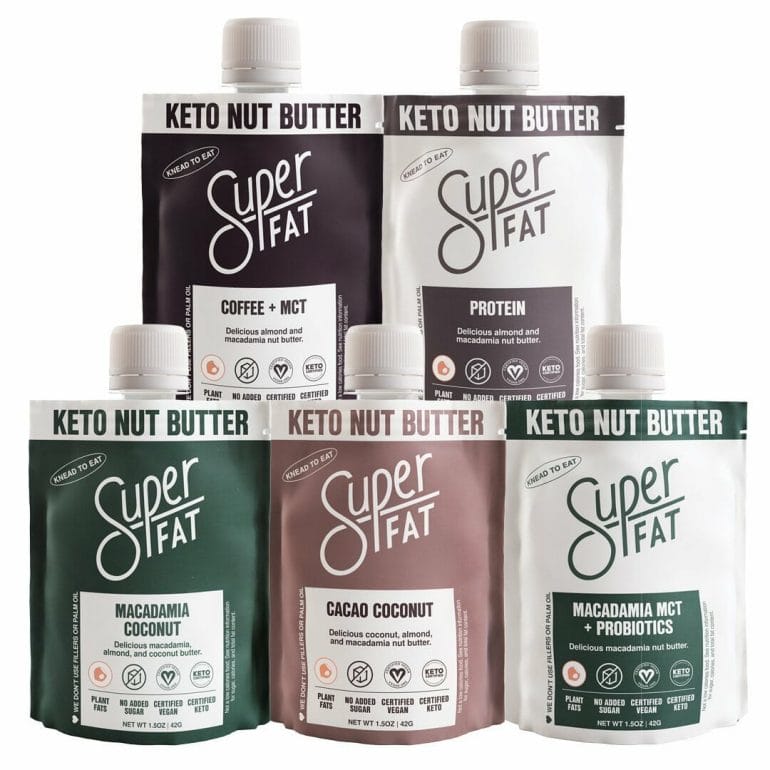 In addition to the individual flavors above, you can also get "variety bundles" and boxes.
The variety bundle contains five boxes of 10 pouches each, with each box containing one flavor. The variety box has two pouches of each of the five flavors.
If you're a first-time buyer and want to try each flavor before committing, try the variety box. If you already know you like all five flavors and want to save money by buying in bulk, consider the variety bundle.
SuperFat Ingredients

If you look at the label of each flavor you can see that the nut butter contains only four to nine ingredients.
In the following section, I'll tell you what you need to know about each ingredient and provide useful links to further information.
Macadamia Nuts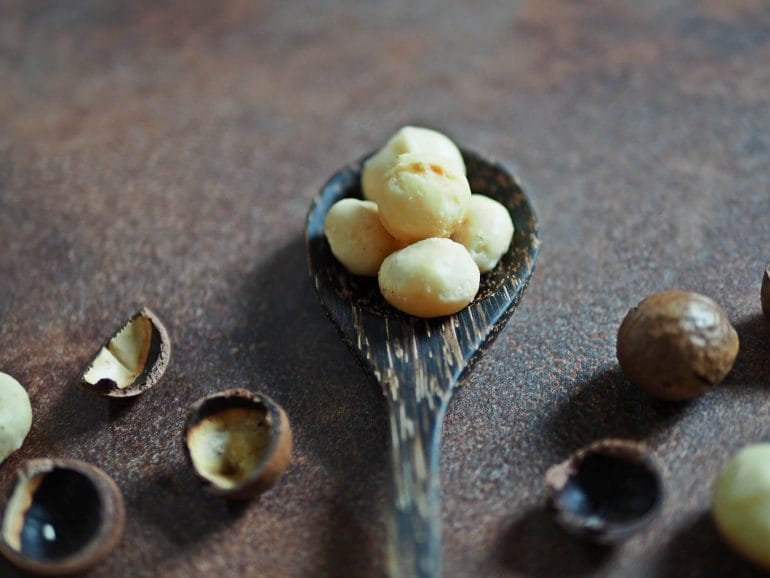 Macadamia nuts are arguably one of the healthiest (and most expensive) nuts you can buy.
They're healthy because macadamias are naturally low in carbs and they have relatively low amounts of inflammatory omega-6 fatty acids.
All SuperFat flavors contain macadamia nuts, but in varying amounts. Unsurprisingly, the two flavors with "Macadamia" in the title have the most — which is why they're my favorites.
Almonds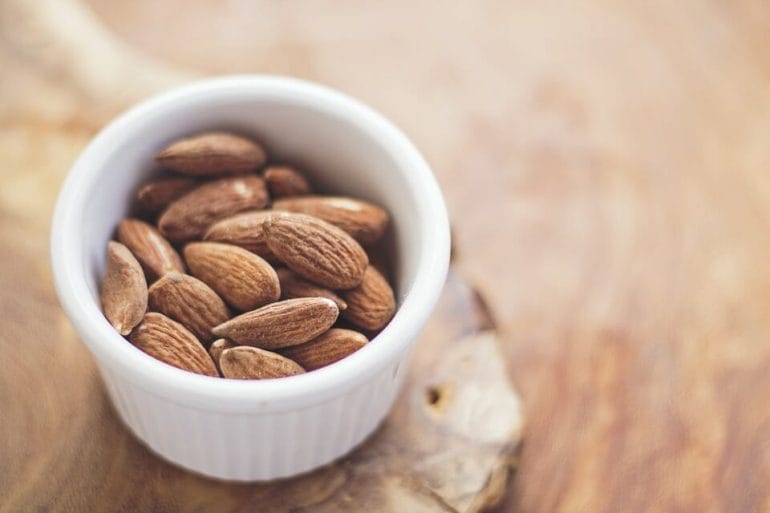 Besides peanuts (which are actually legumes, not nuts), almonds are among the most consumed nuts in the United States.
The problem with almonds is that they have about 10 times as much omega-6 as macadamias. Plus, they also have more carbs and less fat. So from a paleo/keto perspective, they aren't as healthy as macadamias.
On the bright side, almonds taste good and they're less expensive — two of the reasons why they're so popular among consumers and manufacturers alike.
Coconut Butter
Unlike coconut oil or coconut fat, coconut butter is made from ground coconut flesh. Besides giving products a distinctive coconut taste, coconut butter has a lot of fiber, is high in fat, and is rich in certain minerals.
MCT Oil Powder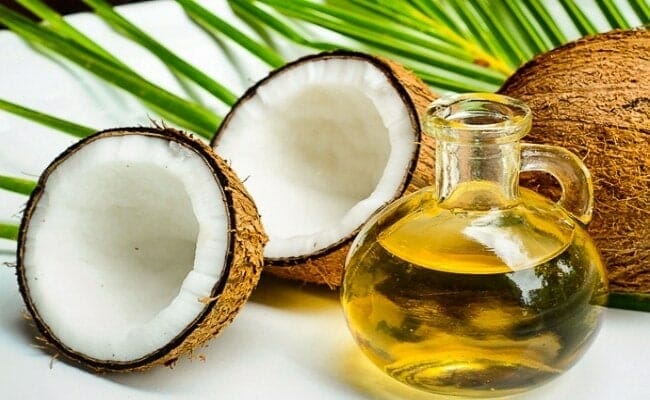 MCT stands for medium-chain triglycerides, which are fatty acids you can find in coconut fat and other products.
Some MCTs, such as caprylic acid (C8), your body can rapidly absorb and use for energy. That's why MCTs are so popular within the keto community.
I love the idea of combining nut butter with MCTs to improve the snack's fatty acid composition. If you're on a ketogenic diet, I know you'll appreciate that too.
The MCT oil powder in SuperFat includes the following MCT ratios:
50-65% caprylic acid (C8)
34-45% capric acid (C10)
Additionally, it has small amounts of caproic acid (C6), lauric acid (C12) and myristic acid (C14).
The latter two are less beneficial from a ketogenic perspective because they have longer carbon chains and require a pit stop in the liver to get metabolized. In contrast, C6-C10 can be metabolized by the body without the help of the liver.
If you want to learn more about MCTs, Bulletproof has an excellent article you should read.
Cacao Powder
Cacao is one of my favorite foods because, in raw form, it contains over 300 different chemical compounds, including vitamins, minerals and other antioxidants.
Sunflower Protein Powder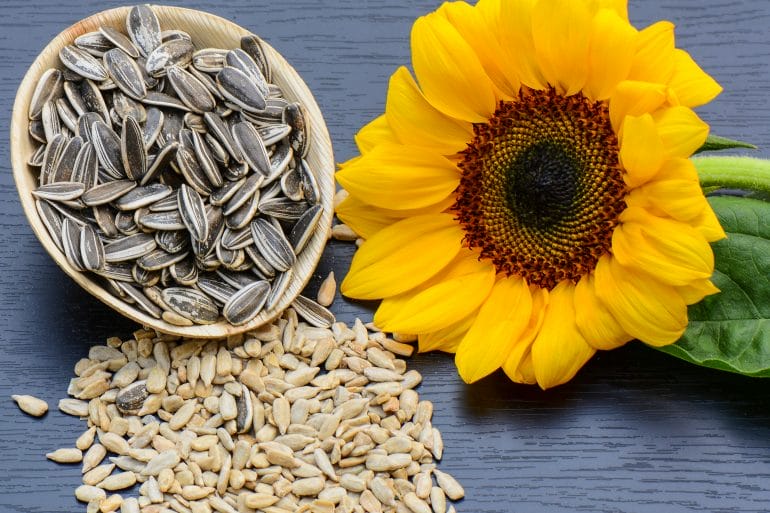 Sunflower protein is the new kid on the block of vegan protein powders, and because of that the scientific research surrounding its efficacy is still limited.
So I don't have a firm opinion on sunflower seeds as a form of protein yet.
However, considering that all other forms of plant-based protein are inferior when it comes to bioavailability and amino acid profile — compared to pastured beef, fish and egg protein — I wouldn't get my hopes up.
Of course, that's unless you're a strict vegan and animal protein isn't an option. In that case, sunflower protein might be a reasonable choice for you.
Either way, there doesn't seem to be a major downside to protein from sunflower seeds —even if the body can't use it as effectively as protein from animal sources.
My take on the inclusion of sunflower protein in nut butter is simple: don't worry about it, but don't rely on it as a significant source of your daily protein intake.
Erythritol
Erythritol is a sugar alcohol. While that is an appropriate term chemically speaking, it's also confusing. Why? Because sugar alcohols don't make you drunk and they don't raise your blood sugar levels in any meaningful way.
In other words, erythritol is a non-caloric sweetener that's popular in the keto community. The problem with this ingredient is that it's made from corn starch, which makes it a highly-processed ingredient that's not paleo-friendly at all.
That's the primary reason why, in the past, I have avoided erythritol completely. Since then, I've softened my stance on this sugar alcohol a bit and I'm OK consuming it on occasion (if it was made from non-GMO corn starch).
The good news is that the erythritol in SuperFat is derived from non-GMO sources — as are all the ingredients.
Stevia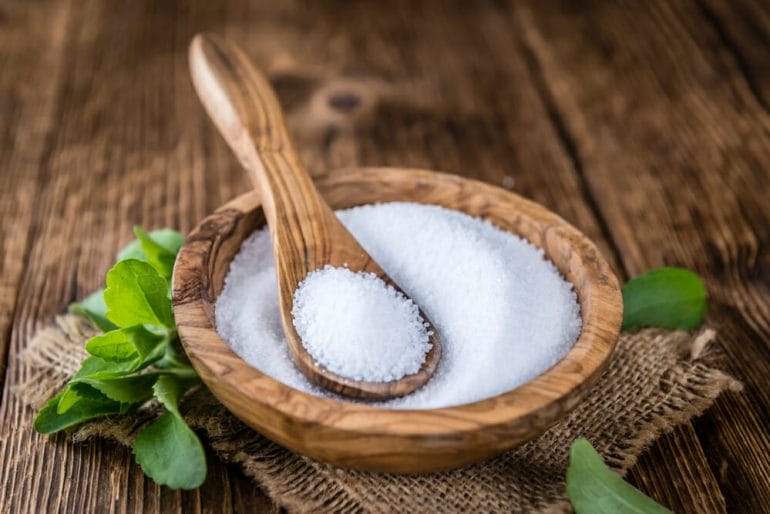 Stevia is a non-caloric sweetener that's derived from the stevia rebaudiana plant, which is native to Brazil and Paraguay.
It's arguably the most popular sweetener among the paleo and keto community. I like stevia because one could argue that our Paleolithic ancestors (at least those who lived in warmer climates) could have had access to it.
Peppermint Extract
Much like vanilla extract, peppermint extract adds peppermint flavor to the Mint Cacao nut butter.
Besides adding flavor, peppermint tea and extracts also have several health benefits. Check out this Healthline article for more information.
Freeze Dried Coffee
Freeze-dried coffee is like instant coffee. As a result, it adds flavor and is a source of caffeine.
Depending on the processing method used, freeze-dried coffee can retain many of the antioxidants and other chemical compounds found in coffee beans.
Cinnamon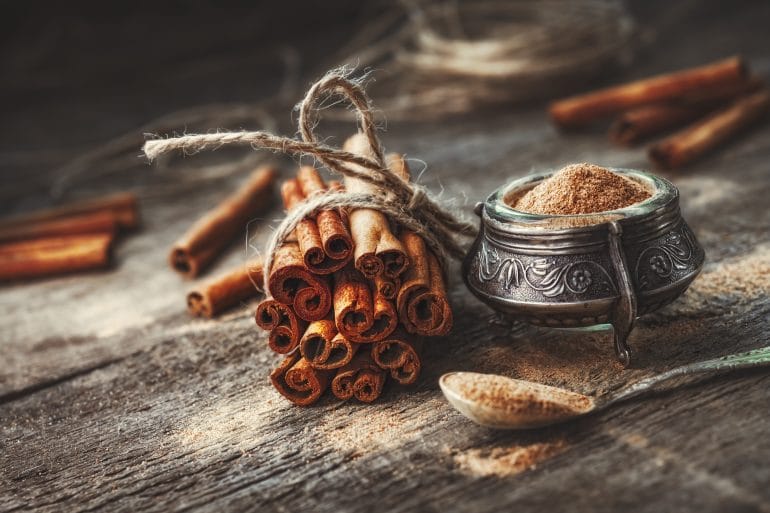 Cinnamon is another incredibly healthy spice that we usually don't eat enough of. At the Kummer house, we add cinnamon to as many dishes as possible, especially during wintertime.
That's because there are numerous health benefits associated with this spice, which is harvested from the inner bark of trees from the genus Cinnamomum family.
All of the SuperFat flavors, except for the Macadamia Coconut flavor, contain this delicious spice.
Pink Himalayan Salt
Contrary to what you've been told, we don't eat enough high-quality salt.
You read that right — the government recommendation of keeping your daily sodium intake below 2,000 milligrams isn't based on any reliable scientific research.
In fact, the current research suggests that you should be getting approximately 5,000 mg of sodium (from high-quality salt sources, not processed food) each day to reduce your risk of cardiovascular disease.
As a result, I appreciate that SuperFat uses pink Himalayan salt as its primary source of sodium.
Bacillus Coagulans GBI-30 6086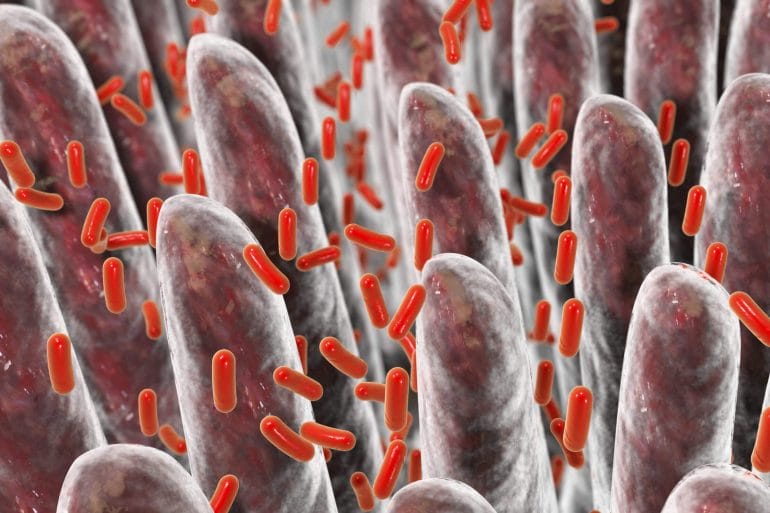 Bacillus coagulans GBI-30 6086 is a probiotic strain that can support the microbiota in your gut.
Additionally, a study from 2016 discovered that this particular strain can reduce exercise-induced muscle damage and increase recovery.
Participants of that study were given 1 billion CFUs, combined with 20 grams of casein (milk protein). Each pouch of Macadamia MCT + Probiotics SuperFat contains only 500 million CFUs. So you might need two pouches to replicate the study's effects.
Pricing and Promo Code
Get 10% Off SuperFat
Use code MKUMMER10 and get 10% off your one-time purchase or subscription.
Much like most other high-quality dietary supplements, products and snacks, SuperFat isn't cheap. The price per serving for most flavors is just shy of $3.50.
That's not terrible if you use this nut butter as an occasional snack — while traveling, for example. But if you indulge in several SuperFat pouches daily, it adds up.
If that's the case, I highly recommend a subscription, which knocks 15% off the price. The good news is that subscribing doesn't lock you into anything — you can change or cancel it at any time.
Additionally, you can use my discount code (MKUMMER10), which gives you an additional 10% off. Plus, by using this code, you support my blog and the work I'm doing here.
Non-Recyclable Packaging
As I mentioned above, I truly appreciate how convenient the single-serving pouches are. You can easily throw a few of them into your purse or backpack, and can even take them through airport security.
Unfortunately, that convenience comes at a cost for the environment. At the Kummer household, we try hard to reduce plastic waste by not buying single-use products, using steel instead of plastic straws at restaurants, etc.
SuperFat doesn't really support that effort because each 42-gram pouch comes with a lot of packaging material that ends up in a landfill. So what do we do?
We've decided as a family to not eat individually-wrapped nut butter — or other individually-wrapped snacks, for that matter — at home. Instead, we reserve those products for when we're out and about or when we're traveling.
For cooking, baking and snacking at home, we simply rely on nut butter that comes in a jar. (Check out my list of the best keto-compatible nut butters for recommended products.)
Frequently Asked Questions
SuperFat has a lot of fat — isn't that bad for your cholesterol?
Unless you're already familiar with the ketogenic or low-carb high-fat movement, you may be wondering what the emphasis on fat is all about.

Over the last few decades, we've been told that consuming (saturated) fat and cholesterol are bad because they clog your arteries and increase your risk of developing cardiovascular disease.

Well, it turns out we were wrong about that. Certain fats are actually good for your health and won't increase your risk of developing a chronic disease — no matter how much of them you eat.

But, long story short, SuperFat is an appropriate name for a product that contains predominantly nut butter because nuts are a pretty good source of fat (more on that later).
Is plant-based fat better than animal fat?
Neither plant-based fat nor protein is healthier than their cousins from animal sources. That's just based on how humans have evolved over millions of years — by hunting and eating animals and filling dietary gaps with plant-based sources of food.

But that doesn't mean you should avoid all plant-based food. While it's true that protein from plant sources has an incomplete amino acid profile and is less bioavailable than animal protein, there are no significant downsides to consuming it in moderation.

The above statement is also broadly applicable to plant-based sources of fat. Most plant-based fats have an unfavorable omega-3 to omega-6 ratio. That's why you should consume nuts only in moderation. However, macadamia nuts, in particular, have a very reasonable ratio of 1:6, which makes them a great snack option for high-fat diets.

Combine all of the above and you'll see why you don't have to worry about the protein or fat in SuperFat —in particular, if you use SuperFat nut butter as a healthy snack alternative and not a replacement for half of your regular meals.
How can you get all the nut butter out of the pouch?
If you want to get the last bit of nut butter out of each pouch, you have to tear it open. If you don't do that, you'll leave some of the nut butter in the pouch and it'll go to waste. The good news is that each pouch has a perforated corner that makes it easy to open it up.
Can you use SuperFat in recipes?
Yes, you absolutely can. In fact, SuperFat has a dedicated blog with lots of delicious recipes.

Most of the recipes I've looked at require one or two pouches of SuperFat, which is reasonable. However, if you want to make larger batches, I think it's more reasonable, cost-effective and environmentally-friendly to get a large jar of your favorite nut butter, instead of tearing through half a dozen individual pouches.
SuperFat Nut Butter Review – Final Words
SuperFat is proof that nut butter doesn't have to be loaded with sugar to be delicious and packed with flavor.
I've always considered nut butter a yummy treat, and I would often consume a few tablespoons of it after dinner, maybe paired with a glass of wine.
Until a few years ago, the only way to turn nut butter into a travel-friendly snack was to smear it on sandwich bread. Fortunately, the days of me eating peanut butter sandwiches are over!
These days, I can grab a few SuperFat pouches and enjoy them on-the-go (even if I have to go through airport security).
As with all snacks — and that includes nut butters — make sure to consume them in moderation and don't use snacking as a way to replace a meal made with fresh ingredients.
Have you tried SuperFat before? If so, let me know what your favorite flavor is. And if you have questions or concerns before pulling the trigger, feel free to leave a comment below or shoot me an email!

Michael is a healthy living enthusiast and CrossFit athlete whose goal is to help people achieve optimal health by bridging the gap between ancestral living and the demands of modern society.
Medical Disclaimer
The information shared on this blog is for educational purposes only, is not a substitute for the advice of medical doctors or registered dieticians (which we are not) and should not be used to prevent, diagnose, or treat any condition. Consult with a physician before starting a fitness regimen, adding supplements to your diet, or making other changes that may affect your medications, treatment plan or overall health. MichaelKummer.com and its owner MK Media Group, LLC are not liable for how you use and implement the information shared here, which is based on the opinions of the authors formed after engaging in personal use and research. We recommend products, services, or programs and are sometimes compensated for doing so as affiliates. Please read our
Terms and Conditions
for further information, including our
privacy policy
.