If you Google "Fresh n' Lean review," you'll find a lot of articles focusing on vegan meal delivery. Since I'm not a vegan, I decided to focus this review more on the paleo and keto meal choices the company offers.
But even if you are a vegan, hopefully this article will provide you with some valuable information about the service that you didn't know before.
Fresh n' Lean is a fresh meal delivery service and one of the various brands under the California-based Nutrition Corporation umbrella. I've had a chance to try their meals on several occasions, and I wanted to share my experiences with you.
The company offers five different meal plans that it splits into meat-based and plant-based options. That means Fresh n' Lean caters to both carnivores and herbivores (which means tons of options if you're an omnivore), and the company uses quality ingredients for its meals, including organic, locally-grown seasonal fruits and vegetables, pastured meat, and wild-caught fish.
Additionally, each entree is a gluten-free meal with no dairy, soy, artificial ingredients or added sugars.
The bottom line is this: if ingredient quality is important to you — and it should be — Fresh n' Lean is a top choice. Besides the quality Fresh n' Lean offers, I'm pleased to say that their meals also taste delicious. I sampled a couple of their ready-made meals, bulk protein choices and paleo snacks, and loved them all.
You might have noticed that Nutrition Corporation, the company behind Fresh n' Lean, is going to market under different brands, including IONUTRITION. I don't know what the reasons for that are, but I wanted to mention it.
I should also note that the company has received mixed reviews from other customers who have complained about poor customer service, fake reviews, and cumbersome subscription management. I'll address those issues towards the end of my review.
Fresh n' Lean Meal Plans

Pros
Premium ingredients
Omnivore, carnivore, keto and herbivore-friendly
Free nationwide delivery over $105
Cons
Price
Mixed reviews from other customers
Fresh n' Lean offers breakfast, lunch and dinner across five different meal plans:
Performance Protein +
Standard Keto
Performance Paleo – Low-Carb (the one I tested)
Standard Plant-Based
Low Carb/Low Cal Plant-Based
Fresh n' Lean's menu doesn't offer a lot of variety in the sense that you can't pick from multiple meal options for a given day. Instead, the company has a menu that changes weekly.
However, there is an option to tell Fresh n' Lean about any food allergies you might have, and they'll try to accommodate you. Additionally, you can add snacks and extra meals during the checkout process.
When I first reviewed Fresh n' Lean, the company didn't have a dedicated ketogenic meal plan available. That's why I sampled their low-carb paleo plan at the time.
The good news is that Fresh n' Lean recently added a standard keto plan as an option for those who follow a very low-carb high-fat diet.
Performance Protein +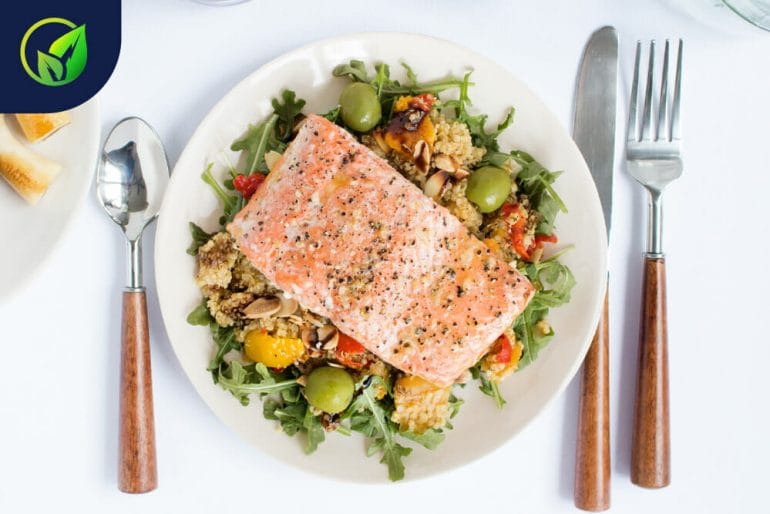 The ION Performance Protein + meal plan includes high-quality animal protein, such as wild-caught salmon, poultry and grass-fed beef or bison. As a side dish, you get organic vegetables or grains. On average, this plan delivers 39 grams of protein, 68 grams of carbs, 14 grams of fat, and has 500 calories.
As part of my Paleolithic ketogenic lifestyle I've learned to look for pastured and wild-caught animal protein. I know pastured meat and wild-caught fish are more expensive than their grain-fed and farmed counterparts, but the health benefits outweigh the cost in my opinion.
For example, meat from grain-fed cattle is inflammatory because it has a higher omega-3 to omega-6 fatty acid ratio and inflammation is the root cause of many metabolic diseases.
That's one of the reasons why I like Fresh n' Lean so much — they use only the best animal products available.
Standard Keto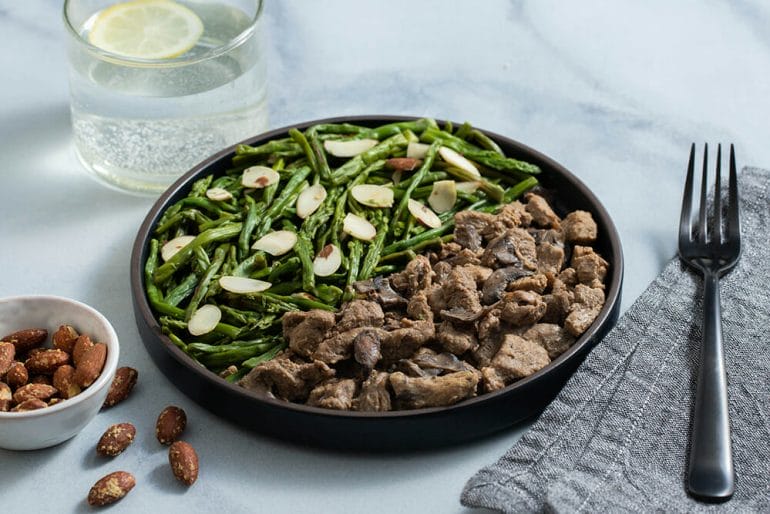 The Standard Keto meal plan features meals that are very low in carbohydrates and relatively high in fat.
For example, the grass-fed beef stroganoff in the picture above has 41 grams of fat, 33 grams of protein and 14 grams of total carbs, but only 9 grams of net carbs.
In case you didn't know, there's an important distinction between carbs and net carbs. On the ketogenic diet you have to watch your net-carb intake because those are the ones that can raise your blood sugar levels and, thus, kick you out of ketosis.
Other carbs, such as fiber or non-caloric sweeteners, don't cause a spike in blood glucose and insulin and so you can ignore them for the most part.
To calculate the net carbs, simply subtract fiber and non-caloric sweeteners from the total carbs. In the meal example above, I subtracted 5 grams of fiber from the 14 grams of total carbs to get to my 9 grams of net carbs.
One thing that's worth noting is that not all keto meals are also paleo-friendly. So if you're on a ketogenic paleo diet — like I am — review the ingredients of each meal before you order (or go with the bulk protein options instead).
Performance Paleo (Low-Carb)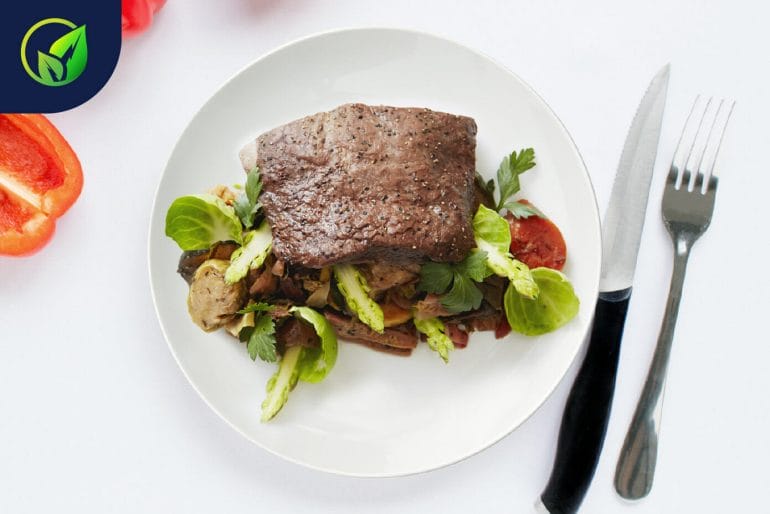 This plan is similar to the high-protein plan, except that instead of grains and legumes you'll get fresh vegetables. To give you an idea of the ingredients and macro-nutrients of meals in this category, here's more information on two of the dishes I received.
Tomato Coconut Potato Curry with Steak Kabob
Ingredients: Grass-fed beef, red onions, carrots, celery, sweet potato, cauliflower, kale, garlic, coconut oil, curry paste, coconut cream, tomato paste, cumin, parsley, turmeric, cardamom, sea salt and pepper.
| Nutrients | |
| --- | --- |
| Calories | 390 |
| Total fat | 11 grams |
| Total carbohydrates | 38 grams |
| Total sugars | 12 grams |
| Protein | 36 grams |
Fall Cranberry Creamy Mash Bowl with Chicken Thighs
Ingredients: Cage-free chicken thighs, sweet potato, cremini mushrooms, portobello mushrooms, spinach, onions, cranberries, broccoli, garlic, parsley, olive oil, coconut milk, thyme, rosemary, sea salt and pepper.
| Nutrients | |
| --- | --- |
| Calories | 510 |
| Total fat | 27 grams |
| Total carbohydrates | 38 grams |
| Total sugars | 9 grams |
| Protein | 29 grams |
On average, this plan delivers 30 grams of protein, 26 grams of carbs, 16 grams of fat, and has 375 calories.
Standard Plant-Based (Vegan)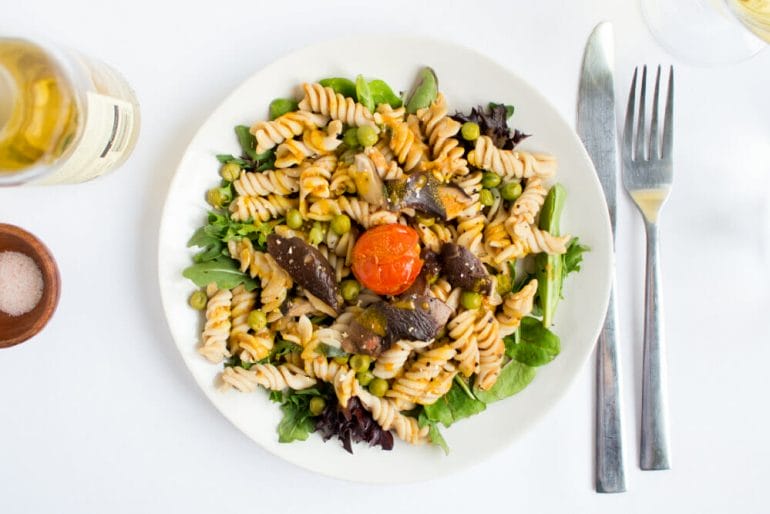 This vegan meal plan features plant-based entrees rather than animal protein, but is otherwise similar to the Protein + plan. Meals in this category, on average, have 19 grams of protein, 75 grams of carbs, 11 grams of fat, and 475 calories.
I'm not a fan of plant-based diets because they go counter to what humans have evolved on — a predominantly animal-based diet with some seasonal fruits and veggies here and there.
So I haven't tried Fresh n' Lean's vegan options but I could imagine they taste good, just based on the meals that I did try.
Low Carb/Low Cal Plant-Based (Vegan)
The other of the two options for vegan meals is the same as the standard plant-based plan with fewer calories and carbohydrates. On average, each meal has 14 grams of protein, 41 grams of carbs, 10 grams of fat, and 330 calories.
Try the Low Cal Plant-Based Plan
A La Carte (Bulk Orders)
Fresh n' Lean also offers a la carte orders. That means you can pick individual breakfast meals, entrees or snacks.
Additionally, the company offers protein and certain dishes in bulk. I love that, because it allows me to quickly prepare simple meals that fit my dietary requirements perfectly.
For example, a few weeks ago I ordered grass-fed beef patties, wild-caught salmon, chicken breast, steak, venison and elk in bulk and then simply reheated the meat with a side of my choice.
Preparing meals that way doesn't take much longer but it gives me full control over the ingredients and side-dishes. My meals are usually simple because I focus more on the nutritional value than the taste.
Maybe that's why I've enjoyed the bulk protein from Fresh n' Lean so much. Prepping a meal is as simple as warming up the meat and adding an avocado, mayo or another source of healthy fats.
Reheating Instructions
Fresh n' Lean's meals come vacuum-sealed in BPA-free, recyclable trays that you can stick into a microwave for two or three minutes after peeling off the label and puncturing a few holes in the plastic cover. Alternatively, you can also reheat the food on the stove, in the oven, or in a steamer (which is what we did).
Fresh n' Lean Delivery
Fresh n' Lean has a nationwide delivery area, but to qualify for free shipping, your order amount has to exceed $105. The company uses FedEx to ship all meals, and they usually arrive on Friday in a cardboard box with ice packs.
A few days before, you also receive a menu in the mail so that you know what you'll be getting. Note that Fresh n' Lean ships its meals fresh and not frozen, so you'll have to consume them within 7-10 days. If you stick the sealed meals in your freezer after receiving the shipment, you can extend their shelf-life to 6-8 weeks.
How Much Is Fresh N' Lean?
Fresh n' Lean isn't among the cheapest delivery services, but I consider their pricing fair given the premium ingredients the company uses. Also, keep in mind that the company offers a free nationwide delivery area. That means you pay for shipping and packaging as part of the meals.
When you sign up for a weekly meal plan, Fresh n' Lean charges a fixed amount per meal, regardless of whether it's breakfast, lunch or dinner. The only factors that determine the cost are the number of meals you order and the plan you choose.
| Meal Types (Subscription) | Price |
| --- | --- |
| Protein + | $11.03 |
| Keto | $11.42 |
| Paleo | $11.42 |
| Vegan Standard | $8.40 |
| Vegan Low Carb | $10.00 |
The pricing above is valid if you order three meals per day, including breakfast, lunch and dinner. Alternatively, you can also order individual meals a la carte, and the more meals you order, the lower the price per meal is. To qualify for free shipping on individual meal orders, the order amount has to be above $105.
From there, you can do the math by multiplying the price per meal times the number of meals per day (three) and the number of days per week.
For example, a five-day plan of paleo meals would cost you $190.35 per week. Keep in mind that if you order less than three meals per day, the price per meal increases.
Other (Bad) Reviews
Like most consumers, I look at reviews before making purchasing decisions. The problem with reviews is that you can't always trust them. Some companies pay reviewers to leave them good ratings. The other extreme is trolls, sometimes paid by the competition, who intentionally leave bad reviews.
Nutrition Corp has 64 reviews on Yelp and three stars. If you scroll through the individual reviews, you'll find mostly five-star and one-star ratings, with very few in between. That's odd, and a sign that not all of those reviews are from real customers. The major complaints among the one-star reviews are that the meals taste bland, it isn't possible to manage your subscription online, and that customer service is horrible.
To be honest, I never had to manage my subscription because I got a single shipment with a week's worth of meals, and my communication was limited to their media relations department. From that perspective, I had no complaints about how they handled supporting this review.
I also genuinely liked how the meals tasted. I will say, however, that not being able to view and manage my order online would be an inconvenience for me.
Frequently Asked Questions
Is plant-based protein healthier than animal protein?
Following a vegan or plant-based diet is trendy right now because of all the purported health benefits of a plant-based lifestyle.

While a vegan diet might be healthier than the standard American diet (SAD), which is usually rich in added sugar, processed carbs, industrial (vegetable) oils and low-quality animal products, the human body hasn't evolved on (and doesn't thrive on) plants.

Without going into too much detail on the subject, because it's outside the scope of this article, you should know that the human body absorbs animal protein much better than plant-based protein, and that you can get all the nutrients (vitamins and minerals) you need from animals, without the side effects of a plant-based diet.
Why is grass-fed meat sometimes more chewy?
Grass-fed meat, or the meat from wild animals (such as venison or elk), often has less fat and is thus harder to chew. That's the primary reason why many cattle farmers feed their cows grains instead of grass. It fattens up the animals quicker and improves the taste.

Unfortunately, feeding cows an unnatural diet (grains) leads to damaged fatty acids, a higher ratio of inflammatory omega-6 to anti-inflammatory omega-3 fatty acids, and other problems. That's why I recommend buying only grass-fed meat.
Are all Fresh n' Lean meals gluten free?
Yes, all their meals are prepared with ingredients that do not contain gluten, soy or other, potentially, irritating ingredients.

However, if you have celiac disease, I recommend contacting Fresh n' Lean before placing an order because I don't know if the company uses a shared kitchen that might cause cross-contamination.
Does Fresh n' Lean use organic ingredients?
Yes, all ingredients the company uses are organic and locally sourced.
Can Fresh n' Lean's meals help with weight loss?
Weight loss should always be the by-product of a healthy (dietary) lifestyle. Fresh n' Lean's keto meals are certainly an excellent way to get on a path to better health and to lose weight in the process.

I've always had low body fat — around 15% — but since starting keto, paired with intermittent fasting, I've dropped to 12% body fat. If you have significantly more body fat to begin with, you'll likely notice dramatic changes in your body composition when starting with keto.
How's Fresh n' Lean different from Green Chef?
Fresh n' Lean is a prepared meal delivery service, whereas Green Chef is a meal kit delivery service. In the case of the latter, you do the prepping and cooking at home.

As a side note, Green Chef was acquired by HelloFresh in 2018.
Final Words: Fresh n' Lean Review
Fresh n' Lean's delivery service offers nutritious and delicious meals for a variety of different dietary lifestyles, including paleo, keto, vegan and more.
All the meals I've received for this review were easy to prepare and they tasted great. Since taste is much less of a priority than the nutritional value for me, I included my wife and two kids in the tasting process. They all agreed that the meals (as well as the bulk protein) were delicious.
So if you don't have the time, skills or desire to prepare healthy meals at home, I would seriously consider Fresh n' Lean as your meal delivery service.
If you've tried Fresh n' Lean before, or if you have any questions before placing an order, please don't hesitate to leave a comment below and I'll respond as soon as I can!

I'm a healthy living and technology enthusiast.
On this blog, I share in-depth product reviews, actionable information and solutions to complex problems in plain and easy-to-understand language.
Medical Disclaimer
The information shared on this blog is for educational purposes only, is not a substitute for the advice of medical doctors or registered dieticians (which we are not) and should not be used to prevent, diagnose, or treat any condition. Consult with a physician before starting a fitness regimen, adding supplements to your diet, or making other changes that may affect your medications, treatment plan or overall health. MichaelKummer.com and its owner MK Media Group, LLC are not liable for how you use and implement the information shared here, which is based on the opinions of the authors formed after engaging in personal use and research. We recommend products, services, or programs and are sometimes compensated for doing so as affiliates. Please read our
Terms and Conditions
for further information, including our
privacy policy
.