Have you ever noticed dark-brown or black slime on faucets, spouts, aerators, shower heads, in toilet bowls or other bathroom fixtures? Harmless manganese bacteria causes it, and in this post, I will tell you how to get rid of the black gunk. I will also list methods that do not, or only temporarily, work.
Water Quality in Atlanta
I was born and raised in Salzburg (Austria), which is not only known for The Sound of Music and Mozart but also for excellent water quality. OK, maybe the last part isn't commonly known unless you are from there.
In Alpharetta, Georgia, water smells and tastes different. The first thing I noticed when moving here was the chlorine taste in tap water. I keep joking with fellow Europeans, who live in the US, to bring a small bottle of chlorine on trips back to Europe so we can make the water there taste like what we got used to here in the US.
Besides taste, I have noticed another nuisance with our drinking water. Black slime or gunk was building up around bathroom fixtures. On faucets, this nasty stuff seems to accumulate around spouts and aerators and form black flakes or slime. In toilet bowls, you may notice it as dark stains.
What Is Causing Black Slime in Faucet Aerators?
I've found myself removing that black gunk on faucets and spouts a lot lately, so I searched the internet for answers. Unfortunately, there isn't a lot of factual information available. Unless you already know what it is, so you can use the proper search terms.
Keywords like "pink shower mold" often lead to ridiculous answers, such as "call the health department" or "sue your landlord." So I decided to dig a bit deeper and soon discovered oxidized manganese and harmless bacteria feeding off of it to be the cause of this black slime.
Interestingly enough, the problem doesn't occur on every faucet or appliance, but it could manifest as:
A black shower head or faucet
Pink or black stains in toilet bowls
…
Manganese, as well as iron bacteria in water, can stain drinking water, fixtures or even laundry. Most drinking water has traces of dissolved iron and manganese. When these minerals come into contact with oxygen (from water or air), they oxidize. Iron can tint water (and things it comes in contact with, such as fixtures) red, and manganese can tint water black.
Manganese is a naturally occurring metal that can be found in different types of rocks, soils, and sediments; and typically occurs in lakes, rivers, and underground water supplies.
The black slime that accumulates on spouts is bacteria that feed on oxidized iron and manganese in the water.
Is Manganese (Bacteria) Harmful?
Neither manganese nor the bacteria are considered dangerous or a risk to your health in levels as they occur in our drinking water. The WHO recommends maintaining a concentration of 0.05mg/l in drinking water. Lower levels can be easily achieved by filtration.
Unfortunately, manganese bacteria isn't the only contaminant reducing the quality of tap water in the United States. There are a host of toxins, such as pesticides and birth control hormones, in your drinking water that make you sick and infertile in the long run.
That's why I highly recommend filtering your drinking water with a high-quality water filtration system (such as the one we use*), regardless of whether or not you're plagued by manganese bacteria.
Manganese and Iron in Drinking Water
You have different options depending on the concentration of manganese in your drinking water. Unfortunately, Fulton County doesn't spell out manganese levels in its annual Water Quality Report. That is because there are no federal drinking water standards for manganese. So if you want to know how much manganese is in your drinking water, you have to get it tested.
I called our water provider, the Fulton County Water & Sewer Billing and Collection Division. The gentleman on the phone told me that the problem of black slime in water pipes could be resolved by flushing the main line.
Our house was built in 1989, and if the main line was never flushed, I could imagine that mineral deposits, including manganese, built up over the years.
He came out the same day, flushed the main line, and told me that the problem should be fixed. Unfortunately, flushing the main line did not resolve the problem; we still have the black slime and gunk.
I called the county, and someone from the water department came out to run some tests. All ad-hoc tests confirmed that the water quality was within the county guidelines, but the gentleman admitted that he had never seen this issues before.
That statement made me wary because I was surely not the only one who was affected. But maybe I was the first one complaining to the county.
Besides the most obvious reasons mentioned above, black gunk can also be caused by oxidizing pipes (ours are PVC) and dissolving rubber seals in your water heater (ours is brand new). To rule out manganese, you can get a test kit from Amazon* and check the levels. If you are concerned that the black slime in your home could be mold, call an expert or use a DIY test kit* to confirm.
How to Get Rid of Black Slime on Faucets
In summer of 2017, we decided to remodel our kitchen and install a reverse osmosis drinking water filter for the kitchen sink. I didn't expect it would solve our manganese problem, and frankly, I didn't even think about it.
Up until that point, we used a Britta water pitcher* with replaceable filter cartridges to filter tap water. But refilling and cleaning that pitcher became a bit of a chore.
As a result, we wanted something more convenient that could produce clean and good-tasting drinking water on-demand. I did a lot of research, and we finally decided to invest in an RO-90 – Ultimate 5-Stage 90 GPD Reverse Osmosis Drinking Water System* from APEC.
The problem with that (and most other RO systems) is that the filtered drinking water tastes flat and is devoid of any beneficial minerals, such as magnesium, calcium and sodium. RO-filtered water not only tastes different, but it's also potentially detrimental to your health because water attracts minerals. If minerals are not present in the water you drink, that water may absorb them from the food you eat, leading to nutritional deficiencies.
As a result, we later replaced the old APEC system with a 14-Stage Biocompatible Water Purification System from Radiant Life*. It was much more expensive but definitely worth the money. Not only is the black slime problem from our kitchen sink gone, but the water tastes great and is (chemically) as close to natural spring water as possible.
Reverse Osmosis Fixed the Black Slime Problem
Shortly after installing an under-the-sink RO system, I poured a glass of water from the filtered water faucet (the one that came with the RO system) before sitting down to write on my blog when it occurred to me that I had not seen a speck of the black slime that I see everywhere else in the house. So I unscrewed the aerator of the faucet to see if there was any buildup, but there wasn't!
If you think about it, that makes perfect sense because reverse osmosis filtration systems remove all minerals and other contaminants from the water, including iron and manganese.
While that might sound like an advantage because it means you won't have to descale your coffee maker or steam oven anymore, drinking demineralized water isn't great for your health.
That's why I recommend only using RO systems that contain a remineralization cartridge. Better yet, look for systems that restructure the drinking water to make it as similar to fresh spring water as possible.
What About Whole House Water Filtration Systems?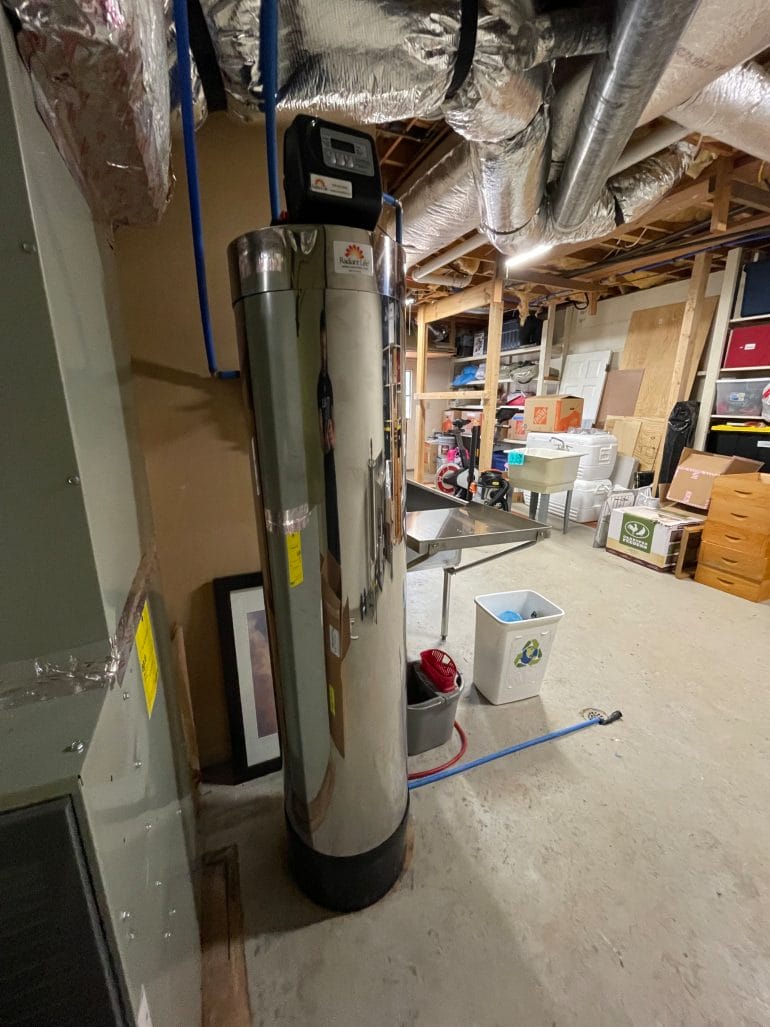 Technically, you could apply the same principle and install a whole house water filtration system. But there are some caveats to consider:
Make sure to get a filtration system that effectively removes a wide array of contaminants.
Be prepared to increase your water bill.
You can find different types of water filtration systems on the market. Most of them do not use reverse osmosis to filter all of your water. Instead, they soften your water by adding salts that bind to the minerals that cause hard water, such as calcium and magnesium.
There are two reasons for that:
You need high water pressure to apply reverse osmosis. The pressure from the filtration system back into your water supply line is lower than the intake pressure. That's usually not a problem for an individual faucet, but it likely is if you try to filter the water from the main supply line.
It wastes a lot of water. An RO-based system uses on average three gallons of tap water for every gallon of filtered water it produces.
As a result of the above factors, a typical whole house water filter (water softener) may not be able to remove manganese, and thus it will not solve your black gunk problem. Consequently, it is likely the better and more affordable option to install an under-the-sink filtration system where you need it.
However, if you want to go all-in and remove problematic contaminants from the water in your whole house, you can do what we did and install a high-quality water filtration system at the point where the water supply line enters the house.
To remove most toxins (including chlorine) from our entire water supply, we installed a whole house filtration system from Radiant Life*. By doing so, we got rid of manganese and most other contaminants.
What Does Not Permanently Fix the Problem?
When you google for terms like "how to get rid of the black gunk on faucets or toilet bowls" you will find a lot of suggestions from well-meaning folks that don't work or that only temporarily solve the problem, including:
Regularly cleaning affected areas.
Using chemicals or natural remedies to clean the affected areas.
Flushing the main water supply line.
Replacing pipes.
Installing a water softener or other cheap whole house filter that does not have the required filtering capacity.
Toilet bowl cleaner (which may damage the valves and rubber seals in the tank).
The root of the problem is particular minerals (manganese and iron) in your water supply. As a result, the only way to permanently address the issue is by removing those minerals from your water. One of the few ways to accomplish that is by using a high-quality filter or reverse osmosis system.
What Causes Black Slime on Bathroom Fixtures?
Manganese-feeding bacteria (black slime) looks nasty, and while I haven't found any evidence that it can make me sick, I certainly don't want to ingest it when taking a shower or taking a sip of water from the tap.
Additionally, knowing that most tap water in the United States is contaminated with all kinds of toxins (and even birth control hormones), installing a good water filtration system was a no-brainer for us.
By combining a whole house filtration system with an under-the-sink RO system that remineralizes our drinking water, we can rest assured that we have access to clean water throughout the house and won't be bothered by black, nasty-looking stains or slime.
Have you noticed manganese in your drinking water and if so, how did you get rid of it?

I'm a healthy living and technology enthusiast.
On this blog, I share in-depth product reviews, actionable information and solutions to complex problems in plain and easy-to-understand language.
Medical Disclaimer
The information shared on this blog is for educational purposes only, is not a substitute for the advice of medical doctors or registered dieticians (which we are not) and should not be used to prevent, diagnose, or treat any condition. Consult with a physician before starting a fitness regimen, adding supplements to your diet, or making other changes that may affect your medications, treatment plan or overall health. MichaelKummer.com and its owner MK Media Group, LLC are not liable for how you use and implement the information shared here, which is based on the opinions of the authors formed after engaging in personal use and research. We recommend products, services, or programs and are sometimes compensated for doing so as affiliates. Please read our
Terms and Conditions
for further information, including our
privacy policy
.