Have you ever noticed black slime on your faucets, spouts, aerators, shower heads, toilet bowls and/or other bathroom fixtures? This gunk is often not caused by mildew or black mold, but by potentially harmless manganese bacteria.
In this article, I'll explain:
I'll also list some common methods for dealing with black slime that either don't work or only solve the problem temporarily.
What Causes Black Slime on Faucet Aerators?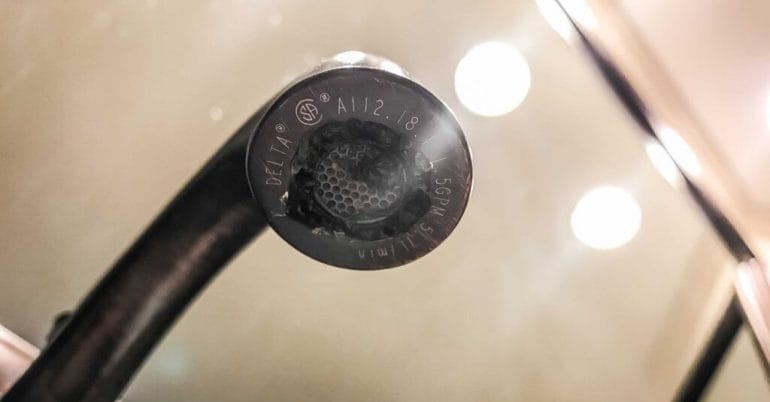 A few years ago, I found myself constantly having to remove black gunk from our faucets and spouts. After spending a number of hours researching the topic and sifting through ridiculous answers like "call the health department" and "sue your landlord," I finally came across a reliable study from the State of Connecticut which explains that most instances of black slime are caused by oxidized manganese and the potentially harmless bacteria that feeds off of it.
Interestingly enough, the problem doesn't occur on every faucet or appliance, but it could manifest as a black shower head or faucet, or pink or black stains in toilet bowls.
The picture below shows black residue on one of our sink faucet's aerators: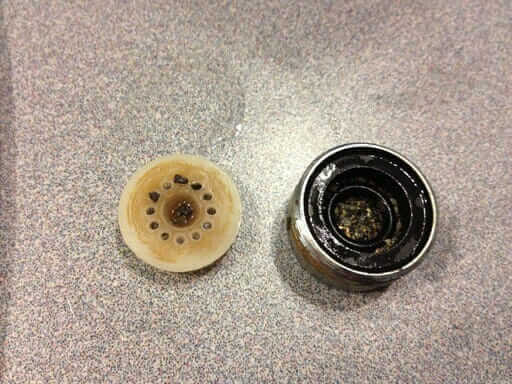 Manganese, as well as iron bacteria in water, can stain drinking water, fixtures or even laundry. Most drinking water has traces of dissolved iron and manganese. When these minerals come into contact with oxygen (from water or air), they oxidize. Iron can tint water red (as well as things that water comes in contact with, such as fixtures), while manganese can tint water black.
Manganese is a naturally occurring metal that can be found in different types of rocks, soils and sediments. It's often found in lakes, rivers and underground water supplies.
The black slime that accumulates on spouts is bacteria that feed on oxidized iron and manganese in the water.
Pro tip: The best way to clean the black gunk off your faucets and fixtures is by using a non-toxic cleaner. We use HypoAir's TotalClean, which is 100% effective yet completely free of harmful toxins such as volatile organic compounds (VOCs). Just keep in mind that removing the black gunk provides only temporary relief if you don't fix the underlying issue (the manganese in your water supply).
Is Black Slime on Faucets Dangerous?
Manganese, much like iron, is an essential mineral that's important for maintaining optimal health.
"Manganese helps the body form connective tissue, bones, blood clotting factors, and sex hormones. It also plays a role in fat and carbohydrate metabolism, calcium absorption, and blood sugar regulation. Manganese is also necessary for normal brain and nerve function."
However, more manganese is not necessarily better. For example, a study published in the journal Frontiers of Microbiology suggests that ingesting too much of certain metals, such as manganese and iron (from drinking water), "may cause mild symptoms such as anorexia, weakness, apathy and learning and/or understanding problems, but can also cause serious diseases such as Parkinson's or Alzheimer's disease."
That's why the study's authors recommend filtering drinking water to reduce the levels of those metals. Additionally, the WHO recommends maintaining a concentration of 0.05 mg/l in drinking water. Lower levels can be easily achieved by filtration.
As far as manganese bacteria is concerned, it's unclear how these microorganisms may impact our health.
Keep in mind that not all bacteria are harmful. In fact, the human body (especially our skin and gut), is covered in trillions of microorganisms, and most of them are crucial for maintaining a healthy existence.
However, since there's limited research into whether or not manganese bacteria are commensal (good) or opportunistic (bad), I err on the side of caution and try to avoid consuming them by filtering my drinking water.
Unfortunately, manganese bacteria isn't the only contaminant reducing the quality of tap water in the United States. There are a host of toxins, such as pesticides and birth control hormones, in drinking water that can make you sick and infertile in the long run.
That's why I highly recommend filtering your drinking water with a high-quality water filtration system, regardless of whether or not you're plagued by manganese bacteria. You can learn more about the one we installed in my Radiant Life whole house water filtration system review.
How to Determine if Your Black Slime Is Caused by Manganese
Aside from manganese bacteria, black buildup can also be caused by oxidizing pipes (ours are PVC) and dissolving rubber seals in your water heater (ours is brand new).
There is also a slim chance that what you're seeing is mold, although this is rarely the case. Mold typically grows in damp places that see little to no water movement; as a result, it's unlikely for mold to grow on the aerator of a faucet, unless it hasn't been used in a long time.
If you're concerned that the black slime in your home could be mold, call an expert or use a DIY test kit to confirm.
Unfortunately, there are no federal drinking water standards for manganese and most municipalities omit manganese levels from their annual water quality report. You can get test kits on Amazon, but reliable ones cost upwards of $200, so it may be worth a call to your city or county water authority to see if they have any recent data on manganese levels in the water supply.
In our case, I called our water provider, the Fulton County Water & Sewer Billing and Collection Division. The gentleman on the phone told me that the problem of black slime in water pipes could be resolved by flushing the main line. Our house was built in 1989, and if the main line was never flushed, I could imagine that mineral deposits, including manganese, had built up over the years.
He came out the same day, flushed the main line, and told me that the problem should be fixed. Unfortunately, flushing the main line did not resolve the problem; we still had black slime and gunk.
How to Get Rid of Black Slime on Faucets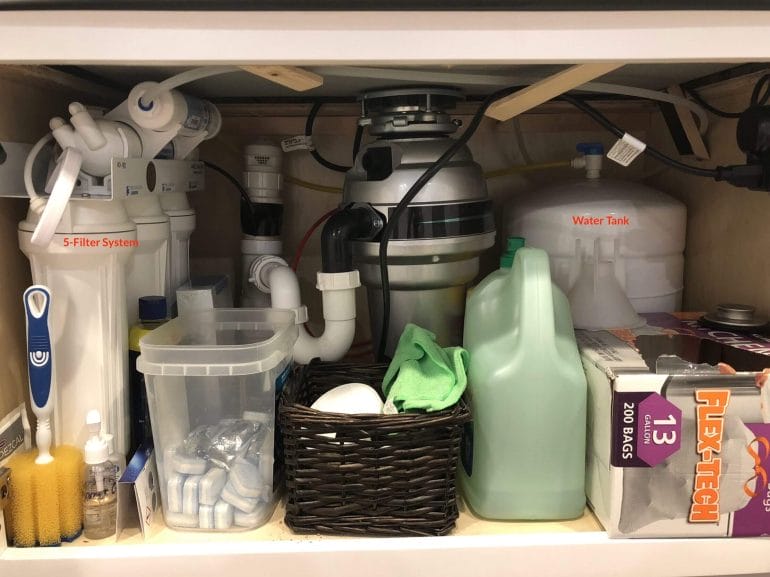 When it came time to remodel our kitchen, we decided to install a reverse osmosis drinking water filter for the kitchen sink.
Up until that point, we had been using a Britta water pitcher with replaceable filter cartridges to filter tap water. But refilling and cleaning the pitcher became a bit of a chore, and we wanted something more convenient that could produce clean and good-tasting drinking water on-demand. So while we weren't sure that a reverse osmosis system would solve our manganese problem, it still seemed like a good investment.
I did a lot of research and decided to invest in an RO-90 – Ultimate 5-Stage 90 GPD reverse osmosis drinking water system from APEC (shown in the picture above).
The problem with that system (and most other RO systems) is that the filtered drinking water tastes flat and is devoid of beneficial minerals such as magnesium, calcium and sodium.
That's a problem because water attracts minerals; if minerals are not present in the water you drink, that water may absorb them from the food you eat, leading to nutritional deficiencies.
As a result, we ended up replacing our APEC system with a 14-Stage biocompatible water purification system from Radiant Life.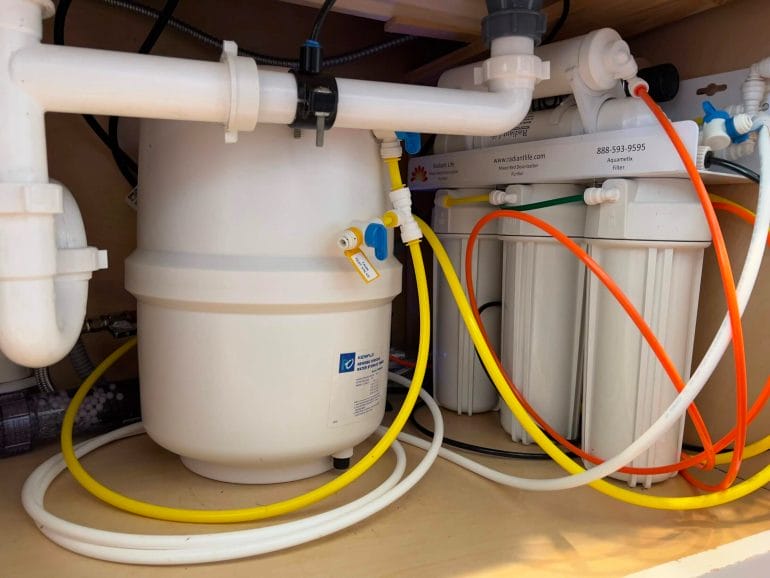 It was much more expensive but definitely worth the money.
Today, our kitchen sink no longer accumulates black gunk. Plus, the water tastes great and is (chemically) as close to natural spring water as possible.
If you decide to purchase a system from Radiant Life, use code MKUMMER10 for 10% off any of their products.
Reverse Osmosis Fixed our Black Slime Problem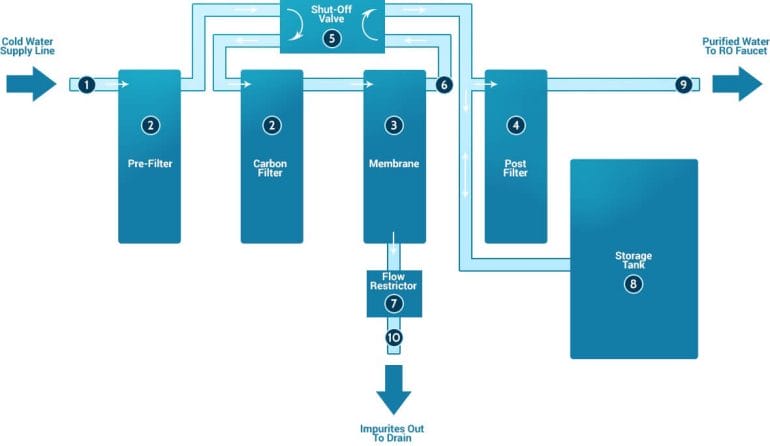 Shortly after installing our under-the-sink RO system, I poured a glass of water from the filtered water faucet in the kitchen (the one that came with the RO system) and it occurred to me that that faucet did not have a speck of the black slime that was present everywhere else in the house.
So I unscrewed the faucet's aerator to see if there was any buildup. There wasn't!
If you think about it, that makes perfect sense because reverse osmosis filtration systems remove all minerals and other contaminants from the water, including iron and manganese.
While that might sound like an advantage because it means you won't have to descale your coffee maker or steam oven anymore, as I noted in the previous section, drinking demineralized water isn't great for your health.
That's why I recommend only using RO systems that contain a remineralization cartridge. Better yet, look for systems that restructure the drinking water to make it as similar to fresh spring water as possible.
What About Whole House Water Filtration Systems?
Technically, you could apply the same principle and install a whole house water filtration system. That's ultimately what we decided to do.
But there are some caveats to consider:
Make sure to get a filtration system that effectively removes a wide array of contaminants. Most whole house water "filtration" systems on the market are just water softeners that don't remove enough contaminants to be effective.
Be prepared to increase your water bill if you go with an RO system because they produce a lot of wastewater as part of the filtration process. (The membrane that catches contaminants needs to get flushed out, which the system does automatically; this process requires significant water usage.)
You can find different types of water filtration systems on the market. Be aware that most of them do not use reverse osmosis to filter all of your water.
Instead, they soften your water by adding salts that bind to the minerals that cause hard water, such as calcium and magnesium.
There are two reasons for this:
You need high water pressure to apply reverse osmosis. The pressure from the filtration system back into your water supply line is lower than the intake pressure. That's usually not a problem for an individual faucet, but it can be an issue if you try to filter the water from the main supply line.
It wastes a lot of water. An RO-based system uses on average three gallons of tap water for every gallon of filtered water it produces.
As a result of these factors, a typical whole house water filter (i.e., a water softener) may not be able to remove manganese, and thus it will not solve your black gunk problem.
Consequently, installing an under-the-sink filtration system where you need it is likely the better and more affordable option.
However, if you want to go all-in and remove as many contaminants as possible from the water in your whole house, you can do what we did and install a high-quality whole house filtration system at the point where the water supply line enters the home.
The system we installed uses an advanced media (filter) blend of mixed bed carbon, zeolite and sediment base to remove a wide array of contaminants, including many metals.
Doing so will remove most toxins (such as chlorine) and impurities (such as the manganese that causes black slime) from the water supply.
Strategies That Will Not Permanently Fix Black Slime
When you search for terms like "how to get rid of the black gunk on faucets or toilet bowls" you will find a lot of suggestions from well-meaning people that either don't work or that only temporarily solve the problem.
Remember, the black slime is caused by minerals (manganese and iron) in your water supply. So the only way to permanently address the issue is by removing those minerals from your water.
One of the few ways to accomplish that is by using a high-quality filter or reverse osmosis system. The ideas below will not get rid of black slime for good.
Regularly cleaning affected areas.
Using chemicals or natural remedies to clean the affected areas.
Flushing the main water supply line.
Replacing pipes.
Installing a water softener or other cheap whole house filter that does not have the required filtering capacity.
Toilet bowl cleaner (which may damage the valves and rubber seals in the tank).
Summary: Black Slime on Faucets and Fixtures Is Usually Caused Manganese and Iron in the Water Supply
Manganese-feeding bacteria (black slime) looks nasty, and while the evidence about whether it's harmful to your health is inconclusive, I would prefer not to ingest it when taking a sip of water from the tap.
Additionally, knowing that most tap water in the United States is contaminated with all kinds of toxins (and even birth control hormones), installing a good water filtration system was a no-brainer for us.
By combining a whole house filtration system with an under-the-sink RO system that remineralizes our drinking water, we can rest assured that we have access to clean water throughout the house and won't be bothered by black, nasty-looking stains or slime.
Have you noticed manganese in your drinking water and if so, how did you get rid of it?

I'm a healthy living and technology enthusiast.
On this blog, I share in-depth product reviews, actionable information and solutions to complex problems in plain and easy-to-understand language.
Medical Disclaimer
The information shared on this blog is for educational purposes only, is not a substitute for the advice of medical doctors or registered dieticians (which we are not) and should not be used to prevent, diagnose, or treat any condition. Consult with a physician before starting a fitness regimen, adding supplements to your diet, or making other changes that may affect your medications, treatment plan or overall health. MichaelKummer.com and its owner MK Media Group, LLC are not liable for how you use and implement the information shared here, which is based on the opinions of the authors formed after engaging in personal use and research. We recommend products, services, or programs and are sometimes compensated for doing so as affiliates. Please read our
Terms and Conditions
for further information, including our
privacy policy
.