Diet-to-Go is a meal delivery service that focuses on a sustainable, common-sense approach to healthy eating. In this review, I'll take a closer look at how compatible the company's nutritionally balanced meals are with my dietary habits (and how good they taste).
I should mention that I follow a relatively strict ketogenic paleo diet with a high-fat and low-carb focus. Diet-to-Go is not a paleo delivery service, but they offer what the company calls Keto-Carb30 meals that are somewhat compatible with the foods I usually eat. The company sent me a week's worth of Keto-Carb30 meals to sample for this review.
About Diet-to-Go
Diet-to-Go's Chief Executive Officer Hilton Davis founded the privately-held company in 1991 as a diet food delivery service in the greater Northern Virginia area.
Today, the company is based out of Washington D.C. and Los Angeles, and is one of the leading makers of prepared meals for people who are looking to lose weight — or for those who just want to eat a more nutritious, well-balanced diet with less sugar, lower carbs and fewer processed foods.
Unlike meal kits like Blue Apron, there's no assembly or cooking with Diet-to-Go. All of their meals are fully-cooked and then frozen. As such, you can eat them hot or cold (although the company does say they need to be thawed before heating).
Even though eating healthy sounds simple, it can be quite difficult to put healthy eating habits into practice. That's due in part to the many complex layers and aspects that you need to consider when buying and preparing food.
As a result, many consumers get overwhelmed and give up. Of course, it doesn't help that we often hear what seems to be conflicting information about what's healthy and what's not. Yesterday, saturated fat was bad; today, you're encouraged to get on a ketogenic, high-fat diet. So which is it?
[Side note: the answer to that question is that fat is mostly good for you.]
| Overall Rating | (4/5) |
| --- | --- |
| Nutrition | (3.5/5) |
| Variety | (4/5) |
| Taste | (5/5) |
| Value | (4/5) |
What I like about Diet-to-Go's approach is that they try to change the perception of what it means to eat healthy by limiting complexity and leaning on common sense.
Of course, when I look at that strategy through my paleo glasses, I can't help but notice some gaps. However, it's important to put those gaps in perspective. I know many people who are struggling with the basic principals of healthy eating, like avoiding highly processed foods, fast food and added sugar. If you're one of those people, Diet-to-Go offers a significantly healthier alternative to your current eating habits.
Plus, they help you gain an understanding of how to make healthy eating a part of your lifestyle, which will set you up for long-term success. And if you're struggling with losing weight, you might even shed a few pounds in the process. So, keep that in mind when reading the rest of this review.
Diet-to-Go Review

Pros
Offers a custom diet meal plan
Meals feature a reasonable macronutrient balance
Low shipping costs
Free access to a health coach, a registered dietitian and other support resources
Delicious meals (at least the ones I tried)
Cons
A mix of organic and conventional ingredients
Many meals have ingredients I try to avoid, such as wheat, soy and dairy
Meal Plans
Diet-to-Go offers four different diet plans:
Balance — the company's most popular menu has been helping dieters reach their long-term weight loss goals for 25 years. Digital food and cooking magazine Epicurious rated the Balance the #1 weight-loss program that also tastes good. You'll find entrees like chicken pizza, a black bean & feta cheese wrap, and harissa salmon.
Balance-Diabetes — offers diabetes-friendly dishes that can help manage blood sugar and pre-diabetes, and reduce the risk of developing this common disease. Some of the dishes on this menu include porcini mushroom chicken, waffles with blueberry cream cheese, and shrimp with Spanish style rice and sauce.
Keto-Carb30 — an Atkins Diet style high-fat diet menu with few carbohydrates. This is the diet plan I tested. It includes things like chipotle flat-iron steak, quiche lorraine, and beef casserole.
Vegetarian — a plant-based diet version of the Balance meal plan. Options include items like vegetable quesadillas, vegetable ravioli, and Spanish stuffed peppers.
To further customize your meal plan, you can choose whether you'd like food for five or seven days of the week, and whether you want breakfast as well as lunch and dinner. (Note that at this time there's no option to receive only dinner.)
You can also pick the daily calorie goal of the Balance plan, depending on if you're a man (up to 1,600 calories) or a woman (up to 1,200 calories). Additionally, some programs allow you to remove seafood and/or red meat.
Menu and Variety
Diet-to-Go utilizes a five-week meal rotation that includes breakfast, lunch and dinner. The neat thing about the menu is that you can easily customize it by swapping out meals you don't like.
For example, the sample pack I received had meals that contained wheat and soy (which I don't eat). But if I wanted to continue with a meal subscription, I could just replace dishes containing ingredients with other options that do not. Of course, that limits the available food choices, but since Diet-to-Go offers 75 different meal options per five-week rotation, I feel like there's enough variety to choose from.
Even with that large number of meals options, they can tend to get repetitive. For example, here's the lunch schedule for Week 5 of the Balance plan:
Tuscan Boats with Turkey
Monterey Turkey Salad
Turkey Swiss Sandwich
Chicken Burger
Hungarian Turkey
In other words, I hope you like poultry! It's a little bit perplexing why anyone would make a lunch menu with 80% turkey dishes; that they've done so makes customizing you meal sequence more of a necessity than a perk.
The other plans are a little bit more varied. For example, here's lunch for Week 5 of the Vegetarian plan:
Portobello Meltover
Vegetable Quesadilla
Ciabatta Bake
Zucchini and Potato Cakes
Vegetarian Portobello Lasagna
One unfortunate fact about Diet-to-Go, when it comes to menu variety, is that you can only customize your order after you've placed it. That means you have to choose one of the four menu options and are then limited to the choices within that particular menu.
Since each menu has a different per-meal price, you're not able to mix and match them. Thus, you can't swap out those turkey boats for a portobello meltover.
Macronutrients and Ingredients
Depending on the type of meal plan you choose, Diet-to-Go's meals offer a balanced macronutrient count. Of course, the Keto-Carb30 plan I tested only has 30 net carbohydrates per day, and is thus compatible with the ketogenic diet (a high-fat diet that limits carb intake).
Below is a table that shows the macronutrients of the meals I received. Depending on your screen size, you might have to scroll horizontally.
| Meal | Calories | Fat | Saturated Fat | Cholesterol | Sodium | Total Carbs | Fiber | Protein |
| --- | --- | --- | --- | --- | --- | --- | --- | --- |
| Vegetable and Cheese Omelet | 290 | 18g | 8g | 155mg | 950mg | 17g | 4g | 17g |
| Vegetable Quiche | 480 | 40g | 13g | 170mg | 1050mg | 13g | 2g | 17g |
| Pork Chop Breakfast | 370 | 20g | 8g | 205mg | 290mg | 6g | 3g | 39g |
| Greek Mushroom | 310 | 21g | 11g | 40mg | 640mg | 8g | 1g | 21g |
| Old Fashioned Pot Roast | 490 | 36g | 16g | 110mg | 540mg | 14g | 4g | 23g |
| Tuna Salad | 490 | 32g | 7g | 60mg | 570mg | 19g | 3g | 30g |
| Meatloaf with Tomato Sauce | 460 | 28g | 9g | 120mg | 670mg | 25g | 6g | 30g |
| Hamburger Pizza | 420 | 26g | 9g | 150mg | 520mg | 15g | 3g | 35g |
| Blackened Salmon | 420 | 21g | 5g | 90mg | 360mg | 19g | 9g | 39g |
| Chicken Italiano | 580 | 30g | 11g | 170mg | 1270mg | 13g | 4g | 66g |
| Beef Tenderloin with Red Wine Sauce | 450 | 27g | 11g | 120mg | 720mg | 11g | 3g | 36g |
| Chicken Marsala | 330 | 17g | 4g | 80mg | 710mg | 15g | 2g | 29g |
Unfortunately, you can't see the nutritional information of meals on the company's webpage until after you've signed up for the service. I hope Diet-to-Go changes that and makes this important information easier to find for potential customers.
Where Diet-to-Go falls short, in my opinion, is in the area of excluding certain ingredients (such as wheat and soy). There's no scientific evidence that either is particularly healthy, and eliminating them would improve the overall health score of the meals without altering their taste or texture.
For example, the Chicken Marsala I received contains the following ingredients: chicken breast, mushrooms, marsala wine sauce, broccolini, olive oil, garlic, crushed red pepper flakes, parmesan cheese, red bell peppers, onions, wheat, and soy.
That would be a perfectly healthy meal if it weren't for the wheat and soy. Sure, the parmesan cheese is technically not paleo-friendly, but it has only residual amounts of lactose (if any) and a little bit of sodium. Wheat, on the other hand, contains gluten that may irritate your gut, even if you don't have celiac disease. Plus, soybeans are a source of anti-nutrients and phytoestrogens that I want to stay away from.
I asked Diet-to-Go about these ingredients. Here's their response:
The trace ingredients of wheat/soy are due to the sauces- used to stabilize and thicken, especially since our meals have to hold for a few days and aren't eaten immediately upon preparing. We are working on these to see if we can offer the same quality sauces that will hold up their consistency and still keep costs and value in line. I'm confident we'll get there and over time (but not too long) these will be even yet improved!

Diet-to-Go
That said, I don't know how much wheat and soy is in those meals. Maybe the label mentions them because of potential cross-contamination from a shared kitchen where Diet-to-Go prepares its meals. And as I said above, you should put these ingredients into perspective with your current dietary habits. Chances are, switching to meals from Diet-to-Go will significantly improve the overall quality of the food you're eating.
Taste
Everybody has different tastes and preferences, so you can expect a highly-subjective answer when asking someone how a meal tasted. To me, food is fuel and taste is only a secondary priority. That's why I always let others try the meals I receive to get their input. For this review, I asked my wife to sample a dish, and I gave some of the meals to friends who recently had a baby and would benefit from already prepared meals.
In my opinion, the meals I tried were delicious. And according to my wife, they were the best frozen meals she has ever had.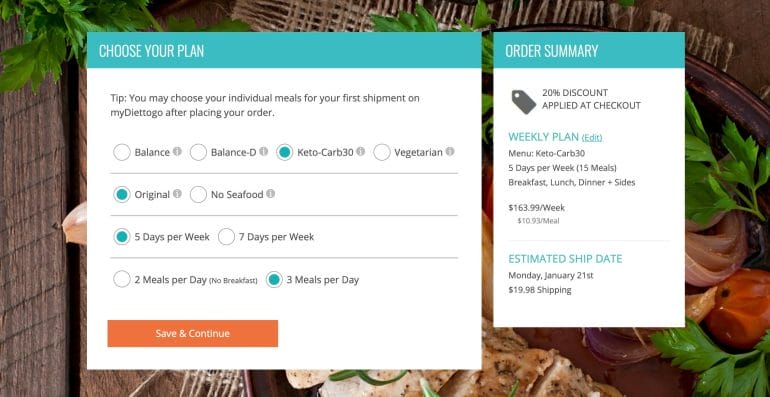 How Much is Diet-to-Go?
As with most meal delivery companies, Diet-to-Go's price-per-meal depends on how many meals you order. That said, you can expect to pay somewhere between $8.50 and $14.00 (plus shipping).
Balance and Balance-D
| Meals | Price |
| --- | --- |
| 10x 1,200 cal meals | $12.20 |
| 14x 1,200 cal meals | $11.64 |
| 15x 1,200 cal meals | $9.57 |
| 21x 1,200 cal meals | $8.57 |
| 10x 1,600 cal meals | $13.00 |
| 14x 1,600 cal meals | $12.50 |
| 15x 1,600 cal meals | $10.13 |
| 21x 1,600 cal meals | $9.48 |
Keto-Carb30
| Meals | Price |
| --- | --- |
| 10 meals | $13.80 |
| 14 meals | $13.36 |
| 15 meals | $10.93 |
| 21 meals | $9.74 |
Vegetarian Meals
| Meals | Price |
| --- | --- |
| 10 meals | $12.20 |
| 14 meals | $11.64 |
| 15 meals | $9.57 |
| 21 meals | $8.75 |
Weight-Loss Diet Meals Delivered
I started planning for this review at the end of 2018, but since we spent the holidays in Costa Rica, I asked Diet-to-Go if they could deliver the meals on Friday, January 4th — the day we would return home. The FedEx shipment was scheduled to arrive by 10:30 a.m., at which point we weren't home yet. I figured FedEx would leave the package at my doorstep and that we'd have something to eat when we arrived.
Unfortunately, FedEx required a signature. Since nobody was home, they took the shipment back to their warehouse. I was able to pick it up the next day, but I wasn't sure if the meals had already thawed. To my surprise, they were still fully frozen, thanks to how well Diet-to-Go wraps its meals before shipping them out.
The moral of the story is that you should authorize the release of the shipment if you're not home. But even if you don't, it's good to know that the food won't immediately spoil.

Shipping Costs
Frozen food, combined with ice packs, is heavy. In my case, we were talking about a 25-pound box that Diet-to-Go only charged $19.98 to ship. That's an incredibly low shipping fee, considering that I would have paid over $176.00 for the same package using my FedEx account.
I understand that larger companies have better shipping rates than I do, so Diet-to-Go is likely paying much less than what FedEx quoted me. However, I also know from an industry insider that the cheapest overnight shipping rates for packages of 25 pounds or more start at around $60.
That tells me that Diet-to-Go absorbs roughly $40 worth of shipping fees in its meal prices, thus lowering what they can spend on sourcing and preparing the dishes. Keep that in mind when comparing pricing.
Whole30 vs. Carb30
I had never heard about Carb30 before, which appears to be a term that Diet-to-Go coined. Unlike Whole30, which is a more restrictive version of the paleo diet and the base of a 30-day meal plan, Carb30 doesn't exclude individual ingredients, but instead focuses on delivering 30 net carbs or less per day.
If you're unfamiliar with the term "keto" and unsure why cutting down your carbs is important, not only for weight loss but also for general health and disease prevention, then I would encourage you to read my guide to the ketogenic paleo diet, which I follow (almost) religiously.
In short, adhering to a nutrient-dense, low-carb diet that features a healthy (but not overwhelming) amount of lean protein, low-GI fruit and non-starchy vegetables helps your body alter its primary fuel source from sugar to fat.
This has a number of important implications, including weight loss (for obvious reasons). But you might be surprised to learn that the biological process of utilizing fat for fuel (which is called ketosis) has a host of other valuable benefits.
Frequently Asked Questions
Below are some of the questions readers and friends have asked me about Diet to Go and my experience with the company. I'll update this section as readers contact me, so please feel free to reach out or leave a comment.
How does Diet-to-Go compare with the competition?
In general, my wife and I have found Diet-to-Go to be the food delivery service that offers the best-tasting fully-prepared frozen meals. However, the company is a little less focused on ingredient quality than some of the alternatives, and it lags behind its competitors when it comes to paleo-compatible options.

In my view, Diet-to-Go is one of the best options for people who are generally struggling to change their eating habits for the better. If you're having trouble cutting down on junk food and hitting your weight-loss goals, you might be inclined to try one the more well-known diet products and systems, like Weight Watchers or the South Beach Diet.

Systems like those promise big results, but often come with questionable or downright dangerous foods and ingredients. Compared to those options, Diet-to-Go is a far better choice. Additionally, the fact that the meals are ready-to-eat is a big perk if time is one of the obstacles stopping you from improving your diet.

On the other hand, if you're already eating healthy and following a keto or paleo diet, you may find that other services offer more specialized products that better align with your goals.
What do you eat on a typical day with Diet-to-Go?
That depends on both the plan you order and your personal preferences. Diet-to-Go allows you to customize your weekly meals by mixing and matching from all of the available options within your chosen menu. In general, I would say that the company offers fairly traditional (and fairly conservative) American fare — you're going to be eating classic comfort foods and staples rather than anything particularly edgy or experimental. Below is a photo showing the weekly menu that's being offered at the time of this writing.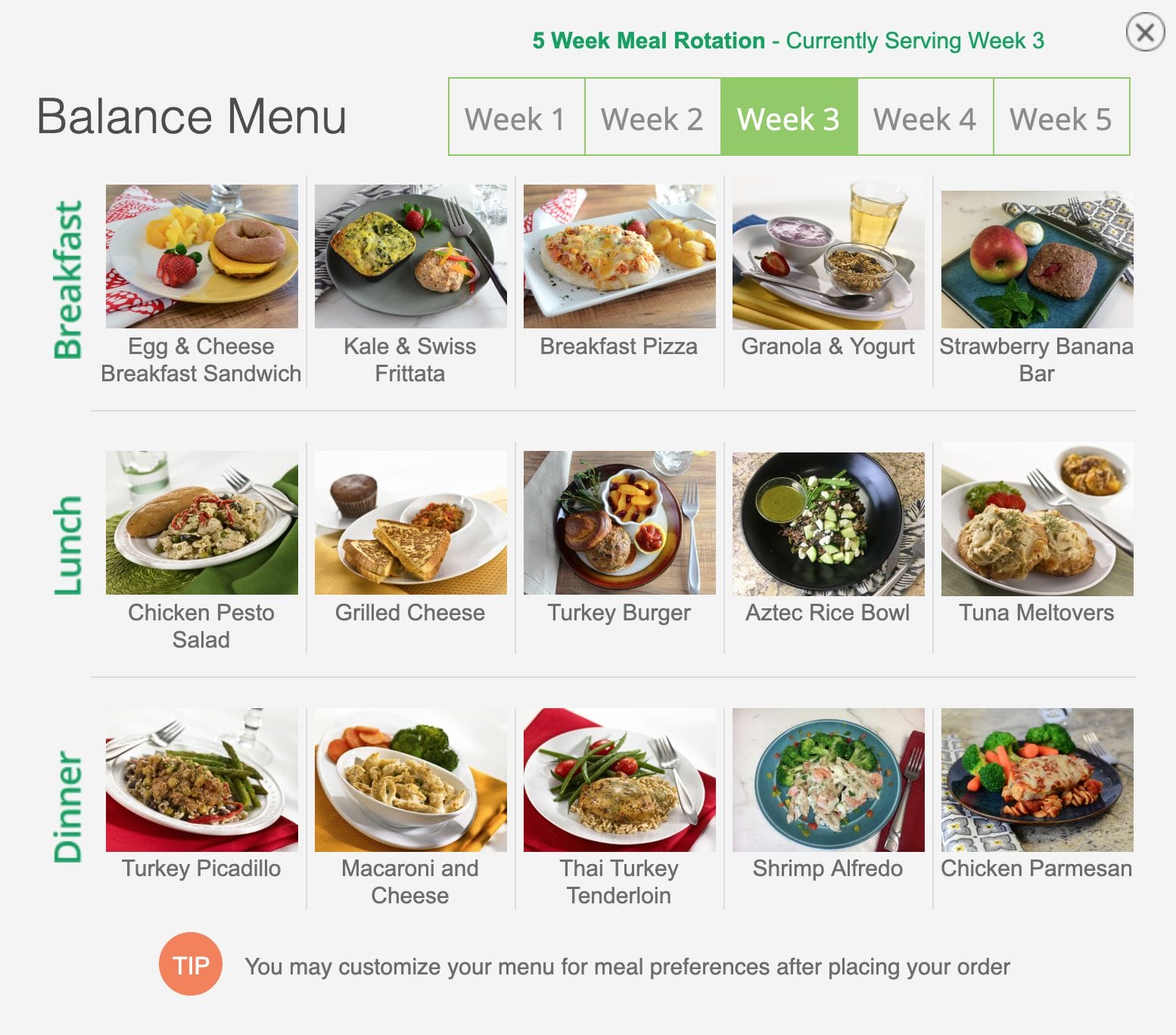 What are the types of meals you can get with Diet-to-Go?
Diet-to-Go offers four different types of meals: Balance, which offers a generalized menu with no dietary restrictions; Balance-Diabetes, which is a version of Balance that's focused on foods with low GI; Keto-Carb30, for people who follow low-carbohydrate diets; and Vegetarian, for those on a plant-based diet. At this time, the company does not offer paleo, vegan or gluten-free meals.
If you have a large family, is there a plan that will satisfy everyone?
Unfortunately, no. Each order is for one person. There are no family plans or discounts for multi-person orders.
How are the meals packaged?
All the meals are frozen, and are packaged in recyclable plastic trays. They're sent to you in insulated styrofoam shipping coolers (which are also recyclable).
How long does shipping take?
Orders are shipped on Monday and take one to three days to arrive. If you live in Baltimore, New Jersey, Los Angeles or Washington D.C., you can also pick your order up from a designated location.
How long does it take to cook your meal?
All of Diet-to-Go's meals arrive fully-cooked, so you only need to heat them up. That takes about two minutes in a microwave or 20 to 30 minutes in a regular oven. However, note that the company recommends you completely thaw the frozen meals before heating them up.
What is the return policy?
For obvious health and safety reasons, the company does not accept returns. However, it does offer a very liberal refund policy which essentially promises that you'll get your money back if you're unhappy with your food or their service.
Where is Diet-to-Go available?
Diet-to-Go's delivery area used to be limited to strips along the east and west coasts, as well as some select major cities. However, today their products are delivered anywhere in the contiguous U.S. that has a FedEx-accessible address.
How much weight can you expect to lose?
There's no way to say for sure how much weight you can expect to lose on this diet plan. In fact, you might not lose any weight at all. There are many factors that determine the success of any particular weight-loss program, such as how well you stick with it, how disciplined you are about avoiding processed snacks and junk food, and how much you exercise. So, the results will vary from person to person.

More importantly, you need to come to the understanding that long-term weight loss isn't something you can achieve by going on one particular diet for a relatively short period of time. Chances are that even if you love Diet-to-Go, you're not going to continue ordering prepared and delivered meals forever. What happens then? If you haven't developed better eating and lifestyle habits, whatever weight you lost will start to creep back up on you.

That's why I think you should begin to re-frame your question. Instead of thinking about how much weight you can lose, start thinking about the types of lifestyle changes that will promote weight loss.

Choosing portion-controlled meals with better ingredients can help get you on the right track, but it's just one step in what needs to be a life-long commitment to living healthy.
Do Diet-to-Go meals come with snacks and sides?
Meals don't come with snacks, but some do come with side dishes such as yogurt, fruit cups or vegetable portions. However, one thing I andwill say is that those side portions tend to be rather small (especially compared to the size of the main dish). As part of your journey to healthy eating, you should be focused on consuming fresh fruits and vegetables — especially non-starchy vegetables that grow above the ground.

In my opinion, Diet-to-Go's meals are sometimes a little imbalanced. For example, one entree on the Balanced menu is mac and cheese. The dish comes with a few broccoli florets and a small portion of sliced carrots. Mac and cheese contains both grains and dairy, and thus it isn't paleo-compatible — which means I wouldn't eat it, and I don't think you should either. But even if you're not following a paleo diet and are just trying to eat a bit better, the ratio of "bad" food to "good" food on that particular plate is concerning.

That's not a reason to avoid the service! As I said earlier, this is about perspective: Diet-to-Go's mac and cheese is certainly better for you than the highly-processed Kraft glop you'd get from a box. However, you should keep in mind that you might want to add a few more healthy fruits and vegetables into your dietary mix.
Is Diet-to-Go expensive?
That depends on how you look at it. First of all, the per-meal prices are right in the ballpark of competing services, some of which (like Jenny Craig) also have upfront and/or subscription fees. Second, while it's true that you could save money by purchasing and preparing your own food, that's often easier said than done. If you think you're going to go grocery shopping but don't actually get around to it, you'll end up paying for expensive restaurant foods (or opting for low-quality, low-priced junk) when you get hungry.

And you have to add other costs into the equation. Preparing a meal plan, shopping, prepping and cooking takes a lot of time; that can impact how much time you get to spend on your hobbies or with your friends and family. More indirectly, eating poorly can affect how you feel — both now and in the future. If you eat poorly enough for long enough, you'll pay for it down the road in the form of increased health care costs.

So, it's really a yes and no question. Yes, because it costs more than making your own food. No, because if you're not already doing that (or if you're giving up other important things to find the time it takes to cook), then the savings are likely to outweigh the costs.
Diet-to-Go Review and Conclusion
Diet-to-Go offers flexible meal plans and chef-prepared meals that the company delivers directly to your doorstep. That way, you don't have to worry about going to the grocery store, taking time to find good recipes, and cooking.
I value Diet-to-Go's approach to healthy eating as a great start on a journey towards a better and more sustainable dietary lifestyle. And considering the delicious meals, I'm convinced you'd be encouraged to learn more about the food you eat and to make better food choices than you might have in the past.
As I noted in this Diet-to-Go review, I view the service as a great way for people to begin the transition to healthier eating, and as a valuable tool that can help you become conscious of your portion sizes and ingredient choices.
In many cases, utilizing the service will benefit your weight-loss program. Just keep in mind that you're not going to get all of your meals delivered for the rest of your life. If you want to lose weight and keep it off, take the time to learn about proper exercise and fitness, as well as healthy diet and lifestyle habits like low-carbohydrate diets (such as the keto diet) and intermittent fasting.
Diet-to-Go Discount Code
If you're interested in trying the service, I have an exclusive Diet-to-Go coupon code that the company has provided for my readers, which allows you to save 10% off your purchase. Rather than having to enter the coupon code at checkout, it's built into my link to their website — so all you have to do is click it, and the promo will be automatically applied to your order.
If you've already tried Diet to Go or other weight-loss diet food delivery services, please share your experience by leaving a comment below!

Michael is a healthy living enthusiast and CrossFit athlete whose goal is to help people achieve optimal health by bridging the gap between ancestral living and the demands of modern society.
Medical Disclaimer
The information shared on this blog is for educational purposes only, is not a substitute for the advice of medical doctors or registered dieticians (which we are not) and should not be used to prevent, diagnose, or treat any condition. Consult with a physician before starting a fitness regimen, adding supplements to your diet, or making other changes that may affect your medications, treatment plan or overall health. MichaelKummer.com and its owner MK Media Group, LLC are not liable for how you use and implement the information shared here, which is based on the opinions of the authors formed after engaging in personal use and research. We recommend products, services, or programs and are sometimes compensated for doing so as affiliates. Please read our
Terms and Conditions
for further information, including our
privacy policy
.