I've been using Ubiquiti's UniFi networking equipment in my home for several years now, after migrating from AmpliFi, the company's consumer brand.
You can learn more about the latter in my in-depth AmpliFi review.
After recently adding the brand-new UniFi Dream Machine to my network, I decided it was time for an in-depth review that discusses the pros and cons of UniFi as a high-performance networking solution for my home.
My goal with this article is to give you sufficient information to judge whether UniFi is the right technology for your networking needs. If you're interested to learn more about how UniFi compares to AmpliFi, check out my AmpliFi vs. UniFi comparison article.
Note that Ubiquiti has positioned UniFi as technology for businesses of various sizes. However, due to UniFi's attractive pricing model and advanced feature set, it has become incredibly popular among the so-called "prosumer" community.
Ubiquiti UniFi: First Impression
When the package with all the UniFi equipment arrived, I placed the individual boxes on my dining table. At that point, I realized that getting everything set up and running would be no small task — at least not compared to setting up the three AmpliFi routers and two meshpoints that had provided my family with perfect WiFi coverage up until that point.
I had never worked with UniFi devices before, and I hadn't worked with commercial networking equipment for over a decade. In retrospect, the set-up process was much easier than anticipated, once I figured out how to connect each device.
My UniFi equipment (provided by Ubiquiti) originally consisted of the following components:
1x UniFi Security Gateway (USG)
2x UniFi 8-Port Switch (US-8-150W)
1x UniFi Cloud Key (UCK)
1x UniFi Access Point HD (UAP-AC-HD)
2x UniFi Access Points PRO (UAP-AC-PRO-US)
About a year after my initial UniFi deployment, I replaced the UniFi Cloud Key Gen1 with a second-generation Cloud Key that came as part of my UniFi Protect setup.
In November of 2019, I took possession of the new UniFi Dream Machine (UDM), which combines the capabilities of a router, switch and access point. I'll talk more about that integration and what to look out for further down, so stay tuned.
In May of 2020, I migrated from the UDM to the UniFi Dream Machine Pro (UDM PRO). Check out my full review here.
UniFi Components I Deployed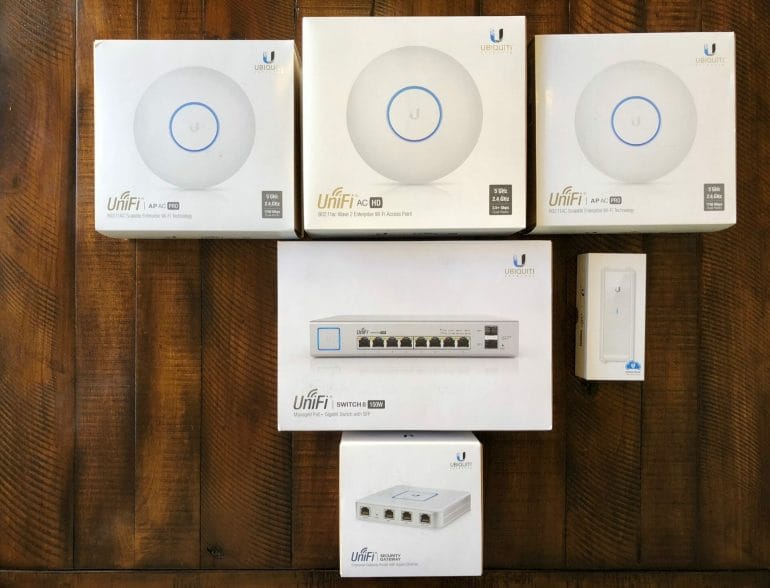 Below is a quick rundown of the all UniFi equipment that I had originally deployed and/or later added to my network. I'm neither a network engineer nor an electrician, but I managed to get everything up and running with ease.
So if you know how to crimp an Ethernet cable or aren't afraid to learn it, deploying UniFi in your home or place of business shouldn't pose an insurmountable challenge.
UniFi Security Gateway (USG)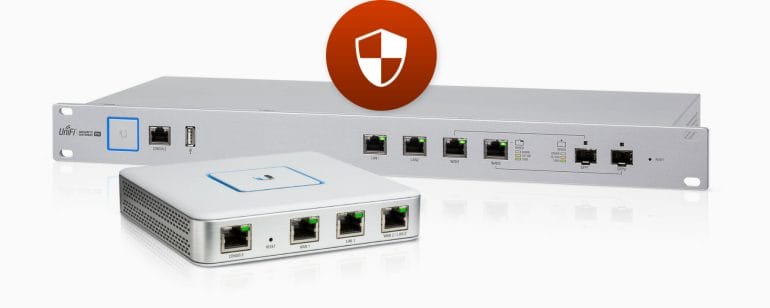 The USG is a three-port enterprise gateway router with gigabit Ethernet. Before adding the UniFi Dream Machine, the USG was the heart of my network.
To deploy the USG, I connected it directly to my AT&T modem via its WAN port, and I connected the LAN port to one of the UniFi switches.
In comparison to AmpliFi's all-in-one device, which I had before jumping on the UniFi bandwagon, the USG does not have a built-in wireless radio.
As a result, enabling bridge mode does not negatively impact or disable wireless guest networks or other significant features. Plus, thanks to the USG's hardware acceleration, you can expect WAN speeds of up to 3 Gbps — assuming your ISP upload is that fast.
The features of the USG I find most useful include:
Hardware acceleration with 3 Gbps line rate.
Various VPN modes, including VPN client, VPN server, site-to-site VPN, etc.
Ability to bridge two or more of its Ethernet interfaces.
Console and shell (SSH) access.
VLAN support.
What I think is missing from the USG is:
Hardware-accelerated bridging to achieve Gbps speeds over bridged ports.
Built-in VPN client with support for X.509 (certificate)-based authentication.
Aside from those two shortcomings, I've been more than happy with the performance of my security gateway.
UniFi Switch (US-8-150W)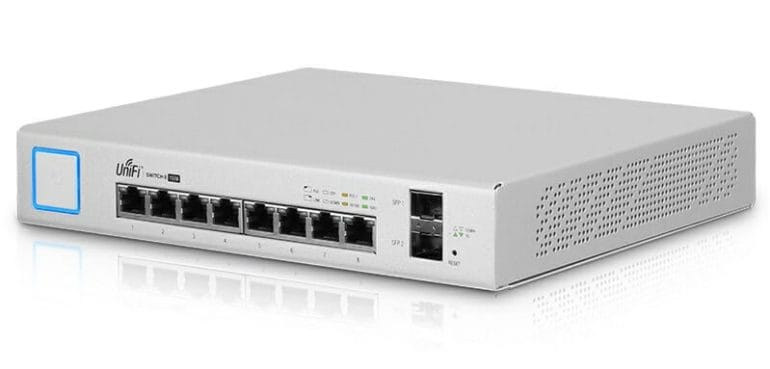 Ubiquiti also sent me an eight-port gigabit switch that supports power-over-Ethernet (PoE).
The advantage of PoE is that I can connect the access points with only an Ethernet cable, as they do not require an additional power source (i.e., they don't need a wall outlet).
If you don't need the two SFP ports or more than four PoE-enabled Ethernet ports, you could also consider the less expensive US-8-60W switch, which is half the price of the US-8-150W.
Much like the USG, both of my UniFi switches have performed flawlessly. I originally had one switch in my office, mounted to the wall behind my desk. Later, I purchased a second switch and placed it in our attic because I ran out of ports when I started adding additional UniFi security cameras around the house.
UniFi Cloud Key (UCK)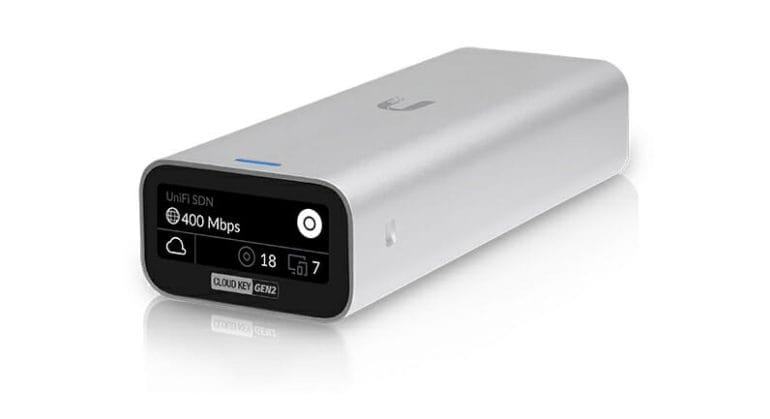 The Cloud Key is a device that contains the UniFi controller software, and it connects directly to your UniFi switch via Ethernet. It doesn't require a separate power supply; it's powered over Ethernet — if your switch supports it. If it doesn't, you'll have to get a separate PoE injector.
In the beginning, I was not entirely sure what the Cloud Key was for, but I figured it would come in handy for (remote) management. Later I learned that all the UniFi devices work best if you manage them through the UniFi controller software.
While you can download and install the controller software on an existing server (running Windows, macOS or Linux), it comes pre-installed on the Cloud Key.
The first-generation Cloud Key didn't have a display or built-in battery that would protect it from a loss of power. Fortunately, the second-generation Cloud Key has both, and it's four times as powerful as the Gen 1.
Both the older and newer generation Cloud Keys have a micro-SD card slot to store configuration data and backups. You can find the matching SD card in the box, and I would recommend you insert it before beginning the setup.
I never had the chance to use Cloud Key G2 because a few months ago, I upgraded from UniFi Video 3 to UniFi Protect. The latter comes with the second-generation Cloud Key built in. That made the UCK that came with my UniFi networking equipment obsolete.
With the introduction of the UniFi Dream Machine, I will yet again migrate all my UniFi equipment (except for the security cameras) to the UniFi controller that's built into the new device. That move will also make my USG obsolete, unless I decide it to use it in some other capacity.
UniFi Access Point HD (UAP-AC-HD)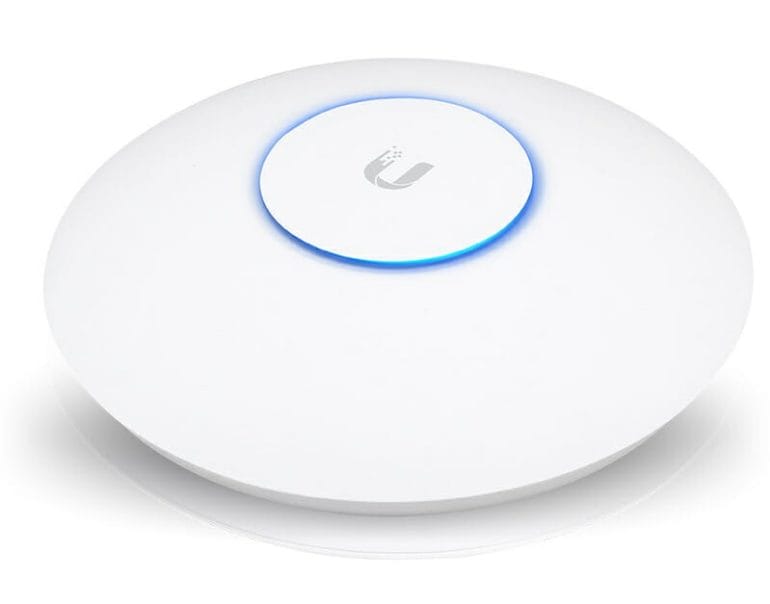 Highlights
800/1733 Mbps 2.4/5 GHz speed
(2) 10/100/1000 Ethernet ports
Support for 500+ Wi-Fi users
Multi-user MIMO with 4×4 chains
The UniFi 802.11ac Wave 2 Enterprise Wi-Fi Access Point was Ubiquiti's flagship product prior to the introduction of the UniFi XG Access Point. It's still an impressive piece of hardware that features:
2.53 Gbps maximum throughput.
Radio Hardware Acceleration: Independent 2.4 GHz and 5 GHz dedicated hardware offload for maximized multi‑user throughput and reduced latency.
CPU Hardware Acceleration: Dedicated hardware offload for quality of service (QoS), guest control, and client management.
Simultaneous Dual-Band 4×4 Multi-User MIMO.
Four-Stream 802.11ac Wave 2 Technology.
Beamforming: Data is sent and received using multiple antennas to increase throughput and range.
I installed the UAP-AC-HD in our family room, where the family spends most of its time and where we also watch TV. Streaming performance on the Apple TV is essential to me because I hate when Apple TV buffers or playback stops intermittently.
Since publishing the first version of this review, UniFi released a slew of additional wireless access points. I don't have hands-on experience with all of them, but I have covered them in my AmpliFi vs. UniFi comparison article for reference.
UniFi Access Point Pro (UAP-AC-PRO-US)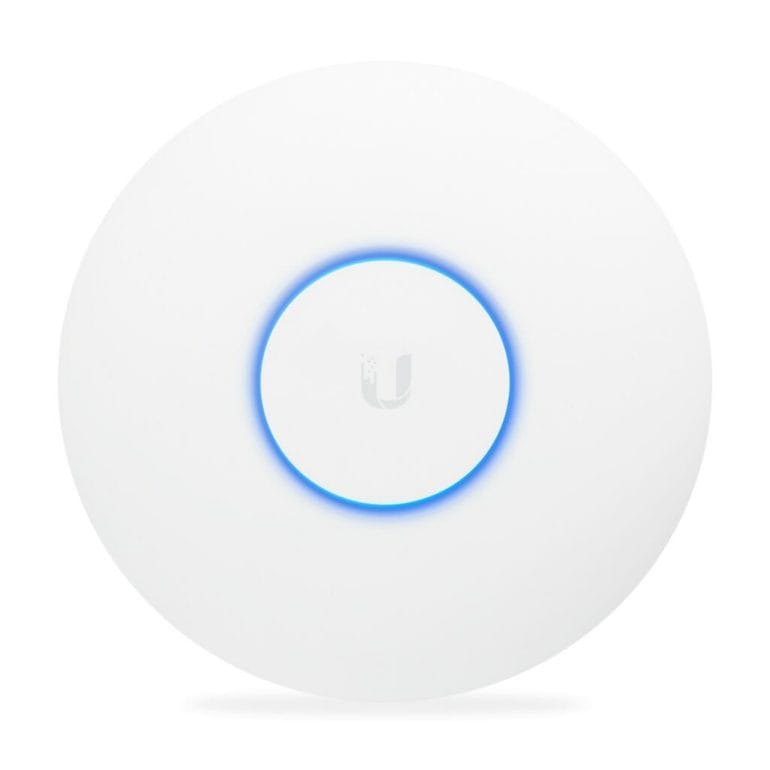 Highlights
450/1300 Mbps 2.4/5 GHz speed
(2) 10/100/1000 Ethernet ports
Support for 200+ Wi-Fi users
Single-user MIMO with 3×3 chains
Ubiquiti also sent me two UniFi 802.11ac PRO Access Points, which provide relatively basic features that are in-line with what I was used to from my AmpliFi HD infrastructure.
What makes these access points more attractive to me, compared to AmpliFi, are the following features:
Power-over-Ethernet (PoE).
The secondary Ethernet port.
I installed one of the access points in my home office and the other one in our living room, which is located in the middle of our ranch-style home.
UniFi Dream Machine (UDM)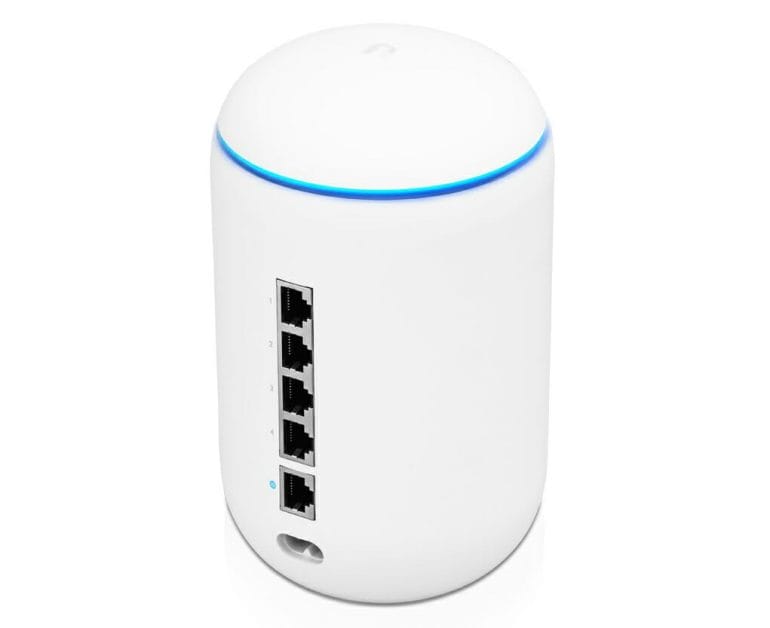 Pros
Built-in 802.11ac Wi-Fi
4-port gigabit switch
Advanced routing featuring
IDS/IPS with support for near-Gigabit speed
Built-in UniFi controller software
The UniFi Dream Machine is UniFi's first all-in-one device, and it makes UniFi's technology even more accessible to customers who aren't incredibly tech-savvy.
The device is a combination of an 802.11ac wireless access point, an advanced router, and a four-port gigabit switch. Additionally, the UniFi Dream Machine has a UniFi Cloud Key and matching controller software built-in.
The only downside to the UniFi Dream Machine is the lack of Wi-Fi 6 support. I really wish Ubiquiti had added support for the latest wireless standard, much like they did in their AmpliFi Alien. However, that would have measurably increased the price of the UDM.
UniFi Dream Machine vs. USG
Before getting the Dream Machine, I already had a fully-functioning UniFi networking infrastructure. So you might be asking why I decided to add a UDM.
Besides the desire to try out the latest and greatest technology and write about it, I also had a practical reason.
We're about to move to a new two-story home with a finished basement, and I'd like to use one of the three access points in the basement.
In other words, I can move the access point that I currently have in my office to the basement because the UDM has Wi-Fi antennas built in.
Plus, I'm always short on switch ports, so the extra three ports that I gain by adding the UDM are an added benefit.
| | | |
| --- | --- | --- |
| Features | USG | UDM |
| Wi-Fi | N/A | Dual-Band 802.11ac 4×4 Wave 2 |
| Switch Ports | N/A | 4 Gigabit |
| CPU | Dual-Core 500 MHz | 1.7 GHz quad‑core |
| Memory | 512 MB DDR2 RAM | 2 GB DDR RAM |
| Switching Performance | N/A | ? |
| Routing Performance | 3 Gbps | ? |
| IDS/IPS Performance | 80 Mbps | 850 Mbps |
The question I asked myself before ripping out the old USG was if I'd be missing out on any features or performance. Based on what I've seen so far, I'm not missing out on anything and Ubiquiti has confirmed via email that the UDM is superior to the USG.
After the initial adoption, I configured the following features based on my USG config:
Primary WLAN.
Isolated guest network with a captive portal.
VLANs to isolate guest network and IoT WLAN.
VPN server with RADIUS authentication.
Deep packet inspection (DPI).
Comparatively, it looks like I'm getting more features and performance than I had before.
Specifically, I can now finally enable intrusion detection (IDS) and intrusion prevention (IPS) without degrading performance. I guess, that's thanks to the more powerful quad-core CPU of the UDM.
How I Originally Set Up My UniFi Infrastructure
Before starting the configuration, I placed all the devices, except for the three access points, on my desk and performed the following steps:
(1) Prepare the UniFi Devices
Disable WiFi on the iMac.
Unplug Ethernet cable from the iMac.
Connect the UniFi Security Gateway (USG) and Switch to power.
On the USG, connect the WAN port to the LAN port on the Arris modem, and the LAN port to the UniFi Switch.
Plug the Cloud Key in to an empty port on the UniFi Switch.
Connect the iMac via Ethernet to the UniFi Switch.
I did not disconnect my AmpliFi equipment because my wife was using the internet. As a result, the only device I took "offline" was my iMac.
Based on its factory settings, the WAN port of the USG is configured as a DHCP client. My Arris modem was acting as a DHCP server.
As a result, when I connected the USG to the Arris modem, the WAN port automatically received an IP address in the 192.168.1.x/255.255.255.0 subnet. Unfortunately, that's the same subnet that the USG uses by default on the LAN port, which is configured as a DHCP server.
So both interfaces used the same IP subnet and that messed up the routing. To solve this, I logged into the administrative interface of my Arris modem, which had the IP address 192.168.1.254, and changed the LAN subnet to 192.168.2.0/255.255.255.0.
Then I restarted the USG to force it to obtain a new IP address.
(2) Configure the Cloud Key
The next step was logging into the UniFi Controller running on the Cloud Key. According to the documentation, the default IP address of the Cloud Key was 192.168.1.30. So I opened a browser and tried to connect to https://192.168.1.30.
Unfortunately, that didn't work. So I opened a terminal window and started pinging IP addresses in the 192.168.1.0-10 range to see which one would respond. One of the first ones to respond was 192.168.1.8, so I tried to connect to it via the browser.
Bingo! It turned out that the Cloud Key got 192.168.1.8 from the DHCP server and only used 192.168.1.30 as a fallback address. Once connected, I logged in with the default username and password combination (ubnt/ubnt) and followed the wizard to configure the Controller.
(3) Adopt All UniFi Devices
Next, I added all UniFi devices that the Controller had discovered to the management console.
Ubiquiti calls that process "adoption," so I adopted the UniFi Switch and then clicked my way through the management console to find out what else it could do.
(4) Install Access Points
The last step of the set-up process was to install the three UniFi access points at strategic locations around the house, including:
Home office: UniFi Access Point PRO.
Kitchen/Family room: UniFi Access Point HD.
Living room: UniFi Access Point PRO.
#1 Home Office
I didn't bother to install the more powerful UAP-AC-HD in my office because I've connected my iMac directly to the switch via Ethernet, and for all other devices (such as my iPhone, the printer or my ScanSnap document scanner) the UAP-AC-PRO provides more than enough performance.
#2 Kitchen/Family Room
Instead, I decided to install the most powerful access point UniFi makes in our family room, where we have the Apple TV and where the rest of my family spends the most time.
#3 Living Room
The second UAP-AC-PRO I installed in our formal living room, which is located in the middle of the house. I positioned the access point on one end of that room (away from the other two access points) so that it could cover the kids' bedrooms and any IoT devices (i.e., Ecobee thermostats) that are in range.
I had previously laid CAT6 Ethernet cables from my office through the exterior wall and into the attic, where they would terminate in a patch panel. From that patch panel, I ran additional cables to outlets throughout the house that I had used for my AmpliFi routers.
With the UniFi access points, I was no longer bound to specific outlets. Instead, I could install them anywhere I wanted.
So I picked three spots in the house and made sure that I could access those areas from the attic. Then I installed the ceiling mounts and drilled a small hole that I could push an Ethernet cable through.
Thanks to the pre-existing patch panel in the attic, I just had to connect an Ethernet cable to each access point and the corresponding port on the patch panel that, in turn, was connected to an outlet in my office.
Once I had successfully mounted the access points, I caulked the hole through which I ran the Ethernet cable so as not to make the house any less energy-efficient.
It took me a few hours to patch everything together because during the installation I noticed that one of the outlets in my office had a faulty wire. I discovered that when one of the three access points showed up as "Connected (wireless)" in the UniFi web interface.
The two others just said "Connected." That was an indication that the Ethernet connection was faulty. Interestingly enough, the one open "pin" did not seem to negatively impact power-over-Ethernet.
The Spouse Factor
Although installing the UniFi access points throughout the house was neither a mechanical nor a technical challenge, getting approval from your spouse has the potential to be.
Fortunately, the UniFi access points blend nicely into the environment, and so my wife did not have any objections. More precisely, she didn't even notice them at first. If your spouse is hesitant to give you the approval to accessorize your home with these gadgets, you should know that you can turn off the blue status LEDs.
I like to keep them on to immediately see that the AP is active and has power, but if the LED is a visual nuisance, you can indeed turn it off.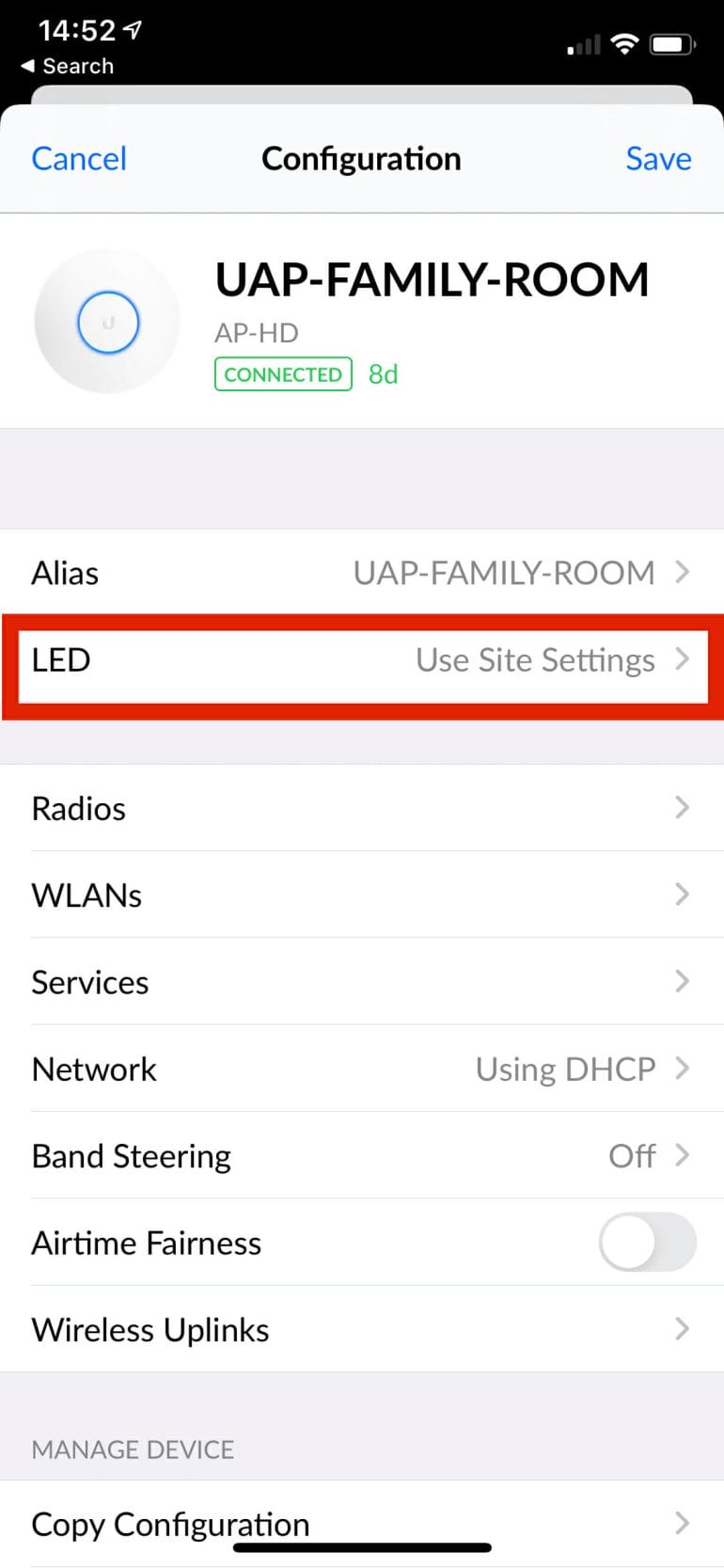 (4) Migration From USG to UDM
The final step I accomplished while I was still working on updating this article was to migrate from the UniFi Security Gateway to the UniFi Dream Machine.
I've had the UDM standing on a shelf behind my desk for a couple of days already because I shied away from messing with my perfectly working network infrastructure.
However, the migration process turned out to be completely painless and involved only a few simple steps that I was able to accomplish in less than 15 minutes.
Here's what I did:
Plugged in the UDM to the secondary Ethernet port of my ISP's modem.
Completed basic configuration, which included setting up a Wi-Fi network that I later deleted.
Removed all UniFi devices from the old controller (which triggers a factory reset of each).
Logged into the UDM controller and adopted all devices.
Re-created my wireless networks using the same SSIDs and passwords, so that all clients could automatically reconnect.
Finalized the remaining config, including VPN access, enabling IDS/IDP, etc.
That was it!
UDM Speed Issue
After deploying the UDM, I noticed that I wasn't getting anywhere near the speed supported by my AT&T fiber connection. In fact, I wasn't getting more than 100 Mbps when testing with fast.com and other speed tests (even on a wired connection).
After playing around with the configuration settings, I noticed that the uplink port of the UDM reported a detected line speed of 100 FDX (indicated by an orange icon), instead of 1 Gbps (indicated by a green icon).
So I replaced the Ethernet cable that I used to connect the UDM to my AT&T modem and that fixed the issue.
What's Next?
As I mentioned earlier, we'll be moving from our current ranch-style home into a two-story home (two stories if you count the finished basement, that is). The room layout and the location of my home office — in comparison to where the internet uplink enters the home — is going to be completely different than what I have today.
I'm sure that'll pose unique challenges for my network infrastructure. However, I'm confident that I'll be able to successfully overcome those challenges with UniFi.
My plan is to move all the switches into a dedicated area of the unfinished part of the basement, so that they're out of sight. I've also planned on placing the UDM in my office for both wireless and wired access.
I'll strategically position the three remaining access points around the house, and I might even add some additional ones — perhaps one of the in-wall APs. I might even add a UniFi AC Mesh Pro AP to cover our new and fairly large backyard.
The other thing I'm super excited about is getting some UniFi LED panels for my new home office. My current home office has a pretty high but angled ceiling because I'm directly under the roof. But in my new home office, I'm under the loft area with a regular/flat ceiling — a perfect opportunity to put in those LED panels!
Frequently Asked Questions
Why can't I just use a single WLAN router?
In the past, most people used just one WLAN router in their home, which either connected to an internet modem or had one built in. But the problem is that in many cases, one router doesn't provide sufficient coverage for your entire house.

Over the past few years, router companies have added an increasing number of antennas to their devices in an attempt to provide better coverage.

However, a Wi-Fi signal is simply an electromagnetic wave, and the laws of physics still apply (no matter how many antennas a device has). As such, the further away the router is from its communication partner — whether that's a phone, a computer or a smart TV — the weaker the signal strength will be. And any obstacle between the two devices will further weaken the signal.

That's why having only a single router to cover a large area that has plenty of obstacles (like walls, wiring and appliances) will almost certainly result in poor Wi-Fi coverage in certain parts of the structure.
What is a mesh network?
Mesh networking replaces a single router system with a network (or mesh) of connected routers and antennas that are placed strategically throughout the house. Together, they all operate as a single wireless network, empowering you to move freely between them without having to reconnect each time you cross over into a new coverage area.

In a mesh network, each of the mesh nodes covers a specific area. When a connected device leaves that area, the mesh node hands it off to another node can provide better service. This roaming capability is the same technology that provides nearly seamless Wi-Fi coverage at airports and convention centers.

The same concept can be applied to home networks. Mesh networking means that as you move around in your house, your devices will hop back and forth between the routers with the strongest signal.
What's MIMO?
MIMO stands for "multiple-input-multiple-output" and is part of a wireless standard that describes how Wi-Fi routers with multiple antennas can handle data streams for optimal performance when various devices are connected. Manufacturers denote a typical configuration as 3×3:3.

The first number indicates the number of transmit antennas, the second number represents the number of receive antennas, and the last digit represents the maximum number of spatial data streams the radio can use.

As is so often the case, more antennas and data streams results in higher performance.
What's the difference between the UniFi USG and the EdgeRouter Lite?
Ubiquiti offers both a UniFi and EdgeMAX product line. I've never used any EdgeMAX devices, including the EdgeSwitch, EdgeRouter Lite or EdgeRouter X, so I don't have any hands-on experience.

However, from what I've read, the EdgeMAX line offers more advanced and command-line interface (CLI) based configuration. UniFi, on the other hand, is primarily GUI-based (even though it also has a CLI).

If you're a seasoned networking engineer and are used to working on the CLI — perhaps because you've used Cisco's OS before — consider EdgeMAX. For people like me, who know enough to be dangerous, UniFi is probably the better choice.
Does UniFi offer a mobile app?
Yes, UniFi offers several mobile apps, including an app that allows you to adopt new devices and view reports and configuration settings.
UniFi Review: Conclusion
I've been incredibly satisfied with my UniFi equipment for two main reasons: it has performed exceptionally well, and it has never caused me problems.
With consumer-grade devices, and with ISP modems in particular, you might be used to rebooting them from time to time when they stop working. In all my years of using UniFi, I've never had to reboot anything. The devices are virtually maintenance-free.
The only thing I have done from time to time is update their firmware, which causes a brief outage. These days, I've set them to auto-update so that I don't have to worry about it.
Note: Don't use auto-update and test each update before deploying it, if you use UniFi in a business-critical environment! I automatically deploy updates because, if something went wrong, it would only affect my home network and I'd have plenty of time to fix it.
The other thing I love about UniFi is that I haven't outgrown the technology yet. It can do so much more than what I need right now, and it allows me to easily replace individual components without having to rip out the whole infrastructure.
For example, when UniFi releases access points with Wi-Fi 6 support, I can add or replace one without affecting my switches or routers. I really like that because it future-proofs my investment.
Last but not least, while UniFi is geared towards commercial use, their devices are so easy to deploy that anyone who is a bit tech-savvy can do it — especially if you don't need to worry about laying cables and patching them up. For our new home, I'm considering letting our electrician put in all the CAT6 cables before we move in. That way, I don't have to worry about it.
Have you used UniFi before, or are considering investing in it? If so, let me know if you have any questions or feedback by leaving a comment below. You can also reach out to me directly via email or Instagram.

I'm a healthy living and technology enthusiast.
On this blog, I share in-depth product reviews, actionable information and solutions to complex problems in plain and easy-to-understand language.