AmpliFi and UniFi are two brands owned by networking specialist Ubiquiti. I've used the mesh networking technologies from each brand in my home for several years, and decided to write a detailed AmpliFi vs. UniFi review and comparison.
Both brands offer excellent technology, and determining which one is the better fit for your home or business ultimately boils down to your specific requirements. My goal with this article is to equip you with enough knowledge about each brand and the major differences between them to make an informed buying decision.
How My Network Infrastructure Evolved
I used to have several Apple AirPort Extreme base stations to support my network infrastructure. But when Apple decided to exit the router business, I had to look for alternatives.
After doing intensive research and looking at a dozen different options, I decided to go with AmpliFi. Later I switched to UniFi, and I'll explain the reasons behind that decision in this article.
In a nutshell, AmpliFi is incredibly simple to install and configure, requiring on average five minutes or less. UniFi devices require a little bit of networking expertise — or at least a little bit of tech-savviness — for a successful deployment. In return, they offer great flexibility and expandability. We'll talk more about all that in a bit, so stay tuned.
The One-Router Problem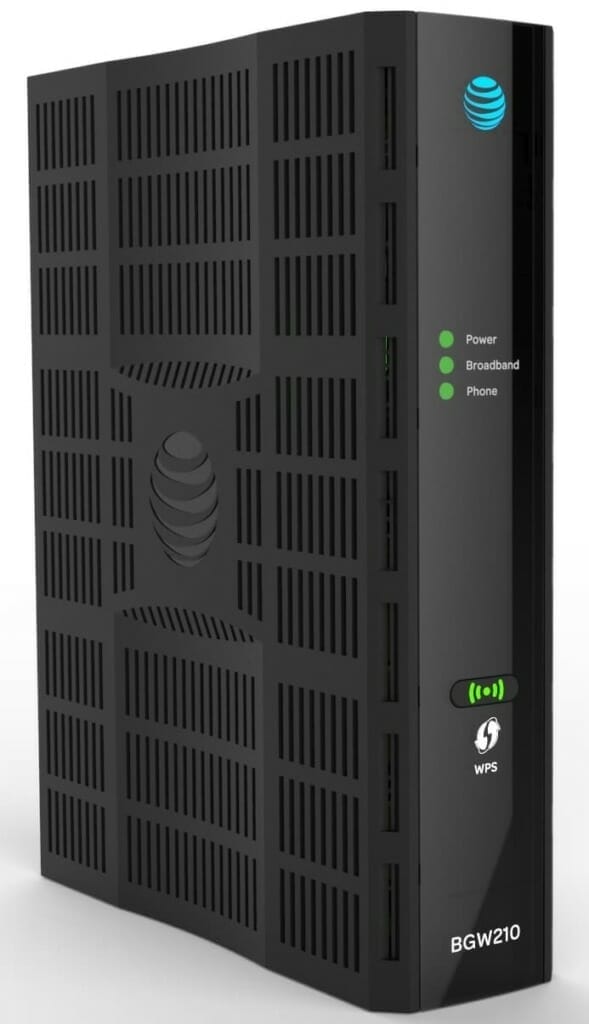 We currently live in a 3,300-square-foot ranch-style home with a rectangular layout. As soon as we moved into this house, in February of 2013, I realized that a single wireless router wouldn't be able to sufficiently cover the entire space.
That's particularly true because my internet uplink enters the house at a corner, which makes it virtually impossible to position a wireless access point somewhere in the middle of the home.
Initially, we tried the single-router setup. But when constant buffering while streaming movies and TV shows to our Apple TV in the family room became the norm — despite my AT&T fiber-optic internet connection that supports speeds of nearly a gigabit per second — I decided to reevaluate our networking infrastructure.
As a result, I decided to run CAT 5e/6 Ethernet cables from my office — where I've placed the ISP modem — through our unfinished attic and into almost every room of the house.
That was long before I discovered AmpliFi's mesh-networking technology. That's why I deployed four of the now-obsolete Apple AirPort Extreme base stations and daisy-chained them via Ethernet.
You can read more about how I had set up and configured those base stations in this article.
The advantage of wiring everything via Ethernet was that each AirPort Extreme offered optimal Wi-Fi performance in its respective coverage area.
And since I had joined my AirPort base stations via Ethernet, there was no performance loss when transferring data from one to the other. I had one AE in my office (the master), one in the guest room (behind my office), and another one in our family room (close to the Apple TV).
I kept the fourth base station in our master bedroom, until it broke and I decided not to replace it. When it became apparent that Apple would exit the networking device business, I looked for an alternative and stumbled upon Ubiquity — the company behind AmpliFi and UniFi.
So let's start with an overview of my previous AmpliFi infrastructure before we take a closer look at UniFi. Then, we'll dive into how the two brands compare and contrast.
My Requirements
When I decided to get rid of my Apple AirPort Extreme base stations, I thought long and hard about my requirements for the new infrastructure. I eventually settled on the following features and key performance indicators that I wanted my new technology to meet or exceed:
No Wi-Fi dead zones anywhere in the house.
Excellent Wi-Fi coverage in our family room and my home office.
Ability to add additional access points, if necessary.
Possibility to connect the most important access points via Ethernet to my main router.
Automatic handover of devices to the strongest access point.
Speeds in excess of 100/100 Mbps anywhere in the house.
My Original AmpliFi Infrastructure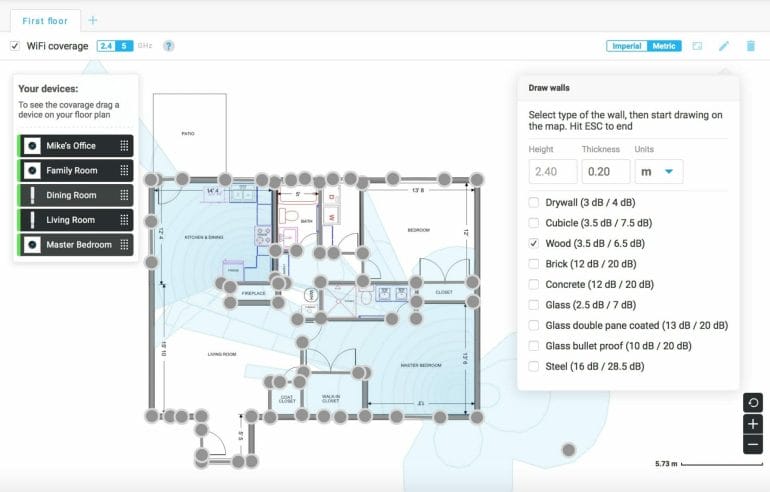 Based on the above requirements, I decided to go with the following AmpliFi hardware:
Note that at the time I first implemented AmpliFi, there was only AmpliFi HD and none of the other options that are available now, including AmpliFi Instant, Gamer's Edition and AmpliFi Alien. Check out the link below for a detailed comparison!
I situated the primary AmpliFi HD router in my office. From there, I had CAT6 Ethernet cables running via the attic to different outlets in my house, where I had plugged in the two additional AmpliFi HD routers. In other words, I had Ethernet backhaul enabled on both of the secondary routers for the best possible performance.
Additionally, I had two wireless MeshPoints positioned in the middle of the house for additional coverage. In reality, the three AmpliFi routers provided sufficient coverage, rendering the two mesh points somewhat unnecessary. But since I owned them, I decided to use them.
The spots where I had positioned two of the AmpliFi routers were pre-determined by the availability of the Ethernet and power outlets in the house. And while those locations weren't bad, from a coverage perspective, they weren't perfect either.
But despite the less-than-perfect positioning of my AmpliFi HD routers, I was able to successfully blanket my home in Wi-Fi and everything worked as expected.
Why I Replaced AmpliFi With UniFi
I'm a huge fan of Ubiquiti's AmpliFi mesh networking technology because it provided almost spotless Wi-Fi coverage throughout my home.
So you may be wondering: if AmpliFi was working so well, why did I decide to replace it with UniFi, Ubiquiti's business-class product line?
I did not decide to abandon AmpliFi because I was dissatisfied with the technology or its performance! I consider AmpliFi the best mesh networking technology for consumers that's out there, and I have recommended it to friends and family many times.
The main reasons why I decided to move from AmpliFi to UniFi were because UniFi offers:
Greater control over advanced network settings that I can geek out on.
Better handover and roaming capabilities, so that devices — such as mobile phones — quickly connect to the access point with the strongest Wi-Fi signal.
Access points that I can wall-mount and that don't require a dedicated power source.
Integration with UniFi's security cameras, which are installed in my home.
Better scalability and upgradeability, leading to a higher return on investment.
Additionally, I was trying to remove the Arris BGW210 gateway provided by my ISP (AT&T) from my network because of its technical limitations.
Unfortunately, AT&T does not officially support customers in replacing the Arris modem with third-party routers. I was hoping that I could coerce the UniFi Security Gateway (USG) to bridge between AT&T's network and my modem, but that didn't turn out to be feasible because the USG doesn't support hardware-accelerated bridging.
Hardware acceleration in bridge mode is a requirement to achieve gigabit speeds.
My Original UniFi Infrastructure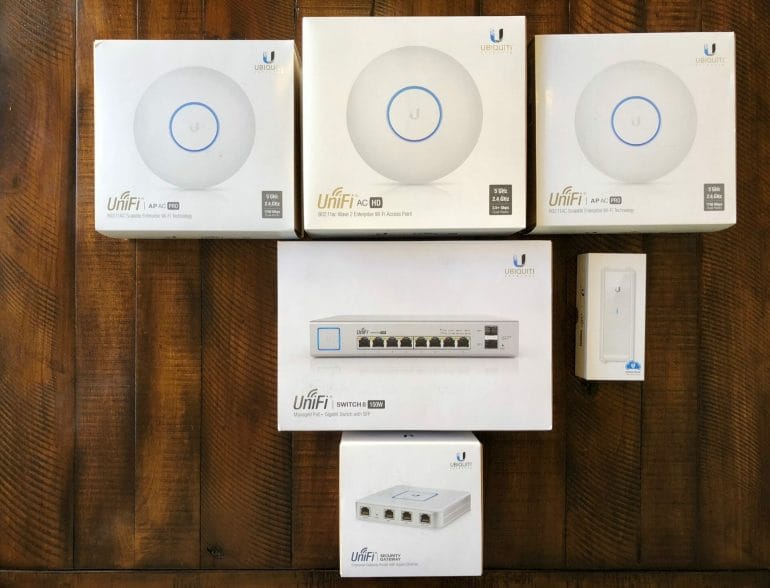 Below is a list of some of the UniFi hardware that I currently have deployed in my home. We'll be moving to a new house in a few weeks, and I intend to add additional UniFi components as part of that move.
1x UniFi Dream Machine (UDM) — recently replaced my UniFi Security Gateway (USG).
2x UniFi 8-Port Switch (US-8-150W).
1x UniFi Access Point HD (UAP-AC-HD).
2x UniFi Access Points PRO (UAP-AC-PRO-US).
1x UniFi Cloud Key Gen 2 Plus (UCK) — replaced my Gen 1 Cloud Key.
Initially, I had a UniFi Security Gateway (USG) and a Gen 1 UniFi Cloud Key. However, when UniFi introduced UniFi Protect and the UniFi Dream Machine, both devices got replaced by their newer and more performant counterparts.
AmpliFi vs. UniFi Comparison
To view a larger version of the comparison chart above, simple click on it.
The rating below is based on my specific needs and requirements — for example, the ability to mount wireless access points on the ceiling and to power them over Ethernet (PoE).
Your requirements might be entirely different, potentially making AmpliFi the better choice for you.
| Technology | My Rating |
| --- | --- |
| Apple Airport Extreme cluster (for reference) | ★★★☆☆ |
| Amplifi HD Home Wi-Fi System | ★★★★☆ |
| UniFi Wi-Fi | ★★★★★ |
I should also note that both AmpliFi and UniFi have released new hardware since I initially published this review.
AmpliFi released its first WiFi 6 router (the AmpliFi Alien) and UniFi released the Dream Machine (an all-in-one router and access point). The remainder of this article has been updated to reflect the latest hardware from both brands.
I'd also like to point out that I've published dedicated reviews of both AmpliFi and UniFi, which each go into more detail on their respective technology than space allows for in this post. Check them out using the links above.
Below is a high-level, side-by-side comparison of AmpliFi and UniFi based on the hardware that both brands offer as of December 2019 (and that are in the price range of the equipment I've used).
Update: Since publishing this article, I've migrated from the UniFi Dream Machine to the UniFi Dream Machine Pro (UDM PRO). Check out my full review and migration experience here.
Note that UniFi offers more expensive, and thus more capable, hardware than I had the opportunity to test. As a result, my comparison focuses on the entry-level and non-rack-mountable UniFi hardware.
I've excluded higher-end hardware on purpose because I presume that readers who are trying to decide between AmpliFi and UniFi are unlikely to invest thousands of dollars in networking equipment.
| Feature | UniFi | AmpliFi |
| --- | --- | --- |
| Wi-Fi Standard | Up to 802.11ac Wave 2 | Up to Wi-Fi 6 |
| 5 GHz Speed (Per Node) | Up to 1.75 Gbps | Up to 6.5 Gbps |
| 2.4 GHz Speed (Per Node) | Up to 800 Mbps | Up to 1.15 Gbps |
| Switching Performance | 10+ Gbps | 4 Gbps |
| Routing Performance | 3+ Gbps | 1 Gbps |
| Power-over-Ethernet | ✔︎ | ✘ |
| Advanced Routing Features | ✔︎ | ✘ |
| IPS/IDS (Speed) | ✔︎ (Up to 1 Gbps) | ✘ |
| Deployment Complexity | Moderate | Very easy |
| Central Management | ✔︎ | ✘ |
| Scalability | ★★★★★ | ★★★☆☆ |
| Flexible Mounting Options | ✔︎ | ✘ |
| Upgradability | ★★★★★ | ★★★★☆ |
| Concurrent Users Per Node | 1,500+ | 128 |
| Hardware Acceleration | ✔︎ | ✔︎ |
In a nutshell, UniFi offers the following advantages over AmpliFi:
A powerful and centralized management console.
Better wired network performance.
Advanced routing and firewall features, such as intrusion detection (IDS) and intrusion prevention (IPS).
Detailed reporting and statistics.
Flexible installation, configuration and set-up options.
As a regular consumer, you will likely never need all of those features to achieve excellent WiFi coverage in your home. I consider most of what UniFi offers "nice-to-have," except for the following "must-have" features — again, based on my individual requirements:
Scalability and upgradeability: adding additional access points, or replacing existing access points, is incredibly easy and cost-efficient.
Advanced routing features: while my network topology is relatively simple, I appreciate the advanced features UniFi offers. For example, I can stick my IoT devices into a separate VLAN for added security.
Power-over-Ethernet: Having dedicated Ethernet connections for each access point not only ensures maximum performance, but it also allows me to mount the UniFi access points anywhere, without having to worry about a dedicated and uninterruptible power supply.
Now that you have a basic understanding of how both technologies compare, let's take a closer look at the main differences.
Ease of Use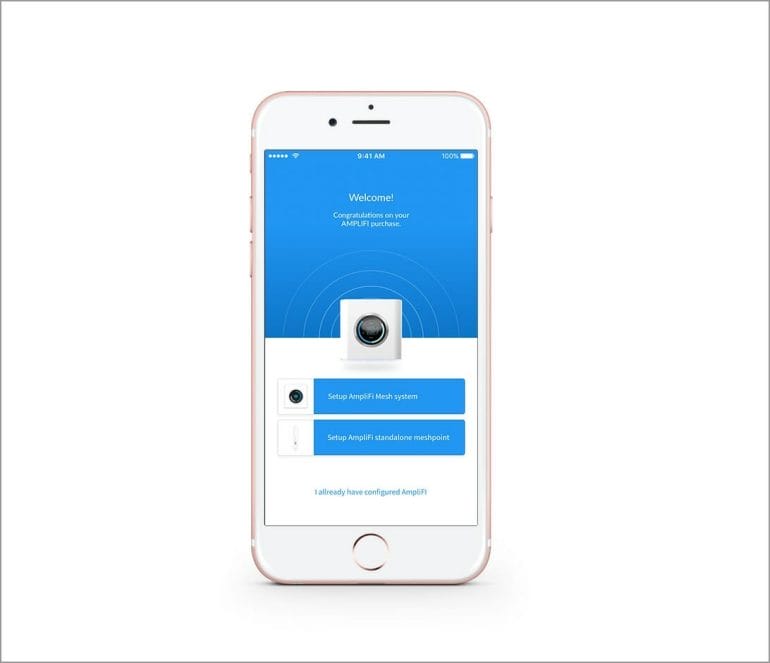 If you know how to plug in a power and Ethernet cable, and you know what a wireless network is, you can deploy AmpliFi — it's that simple.
But don't let that simplicity fool you. AmpliFi comes packed with advanced technology that you can fine-tune and configure using the mobile app.
In contrast, while you don't need to be a network engineer to deploy UniFi, you may need some understanding of how IP networks function (depending on the hardware you choose). I have a technical background, so I consider UniFi easy to use. Your mileage may vary.
My recommendation: If you're like my parents or grandparents, and you call your child or grandchildren for help every time your computer "doesn't work," I recommend sticking with AmpliFi or making sure you get the help you need to deploy UniFi (just don't call me). If you're leaning towards UniFi, but you don't want to mess around with multiple networking components, the UniFi Dream Machine (UDM) is your best bet to get started.
Wi-Fi Standard
As of this writing, Wi-Fi 6 is the latest and greatest wireless standard, and it provides significant improvements over the older 802.11ac Wave 2 (Wi-Fi 5) standard — even aside from the less-confusing naming convention.
Some of those improvements include:
4x better throughput per user in dense or congested environments.
Up to 40% higher peak data rates for a single device.
Over 4x increased network efficiency.
Extended battery life (in client devices).
TechSpot published an excellent article explaining the technical details behind those improvements, so check it out if you'd like to learn more.
For now, it's important to understand that UniFi doesn't yet provide support for Wi-Fi 6, while AmpliFi does via its Alien all-in-one device.
While I do have around 50 client devices scattered across my home, I'm nowhere near the limit of what my UniFi infrastructure can handle. What I'm trying to say is, while I'd love to introduce Wi-Fi 6 to my network, I'm not terribly upset that I can't do so yet.
My recommendation: If you're deciding between AmpliFi and UniFi for your home or small business, I don't think Wi-Fi 6 support needs to be a deciding factor. Unless, of course, you're trying to get away with using a single networking device. In that case, the AmpliFi Alien is likely a better choice than the UniFi Dream Machine.
Wireless and Wired Performance
When it comes to per-node data throughput, you can find AmpliFi and UniFi on different sides of the spectrum.
UniFi routers and switches easily outperform any AmpliFi hardware on wired connections, but the AmpliFi Alien undoubtedly offers the best wireless performance of any access point in Ubiquiti's lineup.
For me, either technology offers sufficient wired and wireless performance. In fact, I'm mostly concerned with latency. For example, I don't want to wait for a webpage to load or a device to respond.
On the other hand, I don't operate any network-connected file servers in my landscape. All my storage is connected via Thunderbolt — because it's much faster than Ethernet — or I use cloud storage. In the latter case, my ISP uplink is the limiting factor and not my LAN.
Funnily enough, since installing the UniFi Dream Machine, I've been limited to 100/100 Mbps because of a faulty Ethernet cable. If it wasn't for a screenshot of a speed test I happened to run, I wouldn't have even noticed.
My recommendation: If raw LAN performance is your primary concern, stick with UniFi. If you need the best-possible wireless performance and you can't use Ethernet, the AmpliFi Alien is currently your best bet — at least until UniFi releases its first Wi-Fi 6 access point.
Expandability and Upgradeability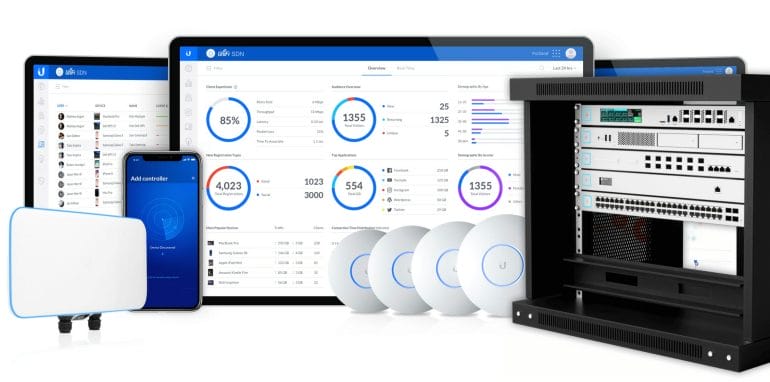 While you can expand and upgrade an AmpliFi system relatively easily, there are some limitations. When I started with AmpliFi, I initially got an AmpliFi HD kit consisting of one router and two meshpoints.
When I realized that the wireless meshpoints wouldn't give me the performance I was looking for, I added two more AmpliFi HD routers and connected them via Ethernet backhaul to the main router. That was easy and fairly straightforward, and I was only limited by the location of my power outlets and Ethernet jacks.
The primary issue with AmpliFi is that there are limitations on what devices you can mix and match. For example, if you start your setup with an AmpliFi Alien router, you can only extend that network with more Alien routers or the newly introduced Alien MeshPoint.
In other words, you can't mix AmpliFi HD with AmpliFi Alien in the same mesh network.
UniFi, on the other hand, offers much more flexibility because it allows you to mix and match any UniFi router, switch and access point. Plus — and this is a biggie for me — you aren't limited by the availability of power outlets.
Thanks to Power-over-Ethernet (PoE), you can install UniFi access points anywhere you have an Ethernet connection, including the ceiling, walls or a piece of furniture.
That also means that as long as I have my UniFi switches connected to an uninterruptible power supply (UPS), I don't have to worry about my Wi-Fi shutting down when I temporarily lose power.
My recommendation: If you're looking for deployment flexibility and want to be able to upgrade individual components over time, UniFi is the way to go.
Advanced Features
Over the years, AmpliFi has added a lot of advanced features (such as a VPN server) that used to only be available in business-grade equipment.
While that has certainly closed the gap a bit to what UniFi offers, there is still a major difference between the two technologies.
The scope of this article isn't big enough to compare every single feature, so I'm picking a limited set of related features to illustrate what UniFi offers over AmpliFi.
Deep Packet Inspection (DPI), Intrusion Detection (IDS) and Intrusion Prevention (IPS) are advanced security features that the UniFi Dream Machine can deliver at speeds of up to 1 Gbps, thanks to its powerful hardware.
I value those features because they give me better insight into what's going on in my network, specifically as I keep adding more devices that act like a blackbox. I'm talking about smart home devices, such as light switches, door locks, etc.
Since I don't necessarily trust all manufacturers with implementing best-practice network security in their devices, I appreciate that I can isolate them from my main network and use DPI and IDS to understand what they're doing and to get notified if they're doing something fishy.
My recommendation: This one is easy. If you know what you're doing and you need detailed control over advanced networking features, go with UniFi. If you don't know or don't care what a VLAN is, stick with AmpliFi.
Central Management
If your goal is to deploy two or three wireless access points throughout your home or business, you probably don't need a central management console.
I have seven UniFi devices on my network and I don't really need a central management dashboard. But I like having it — especially because of the reporting features. It's cool to see how much traffic I produce and what devices and apps transfer the most data.
Again, it's not something I couldn't live without but I appreciate having a visual representation of my network.
My recommendation: If you plan on deploying dozens of access points, switches and routers, you want UniFi and its central management capabilities. If your network won't need more than a handful of devices, the AmpliFi mobile app is likely more than enough for you.
Frequently Asked Questions
Does UniFi work with AmpliFi?
That depends on your definition of "work." You cannot mix and match UniFi and AmpliFi devices to create a mesh network. But you certainly could use a USG and UniFi switch in combination within an AmpliFi Alien.

However, you won't be able to manage the Alien using the UniFi Controller. So while such a mixed scenario is possible, it's clunky and has some technical limitations.
Can AmpliFi act as a DHCP server?
Yes, AmpliFi routers can act as both a DHCP client and DHCP server. Needless to say, so can UniFi.
Can I create a mesh network with UniFi?
Yes, you can certainly create a mesh network using UniFi access points. In fact, the handover and roaming capabilities outperform those you can find in AmpliFi.
What's the best AmpliFi or UniFi Wi-Fi router?
The best AmpliFi Wi-Fi router is the AmpliFi Alien and the best (and only) access point/router combination UniFi offers is the UniFi Dream Machine.
Can both AmpliFi and UniFi create a guest network?
Yes, with AmpliFi you can create one guest network. UniFi offers support for multiple Wi-Fi networks — including guest networks. You're only limited by the number of networks each access point supports.
Do both AmpliFi and UniFi have a mobile app?
Yes, both brands offer mobile apps but there are differences as far as capabilities are concerned. The AmpliFi app is your main configuration tool because AmpliFi doesn't have a powerful web interface.

With UniFi, you make all configuration changes using a web interface and the app is simply a reporting and viewing tool that doesn't allow you to make configuration changes.

Both apps work on iOS and Android devices.
Is a mesh network better than a Wi-Fi extender (or range extender)?
Yes, Wi-Fi or range extenders reduce the performance of your wireless network. Mesh networks don't have that problem, and are thus superior as far as performance and reliability are concerned.
How does AmpliFi compare to other mesh networking technologies?
Check out my dedicated AmpliFi review for more information about how the technology compares to Eero, Linksys Velop and others.
How does the UniFi Security Gateway compare to Ubiquiti's EdgeRouter Lite?
Check out my dedicated UniFi review for more information about how UniFi compares to EdgeMax.
Does UniFi offer parental controls?
While you can create your own firewall rules that mimic the parental controls that AmpliFi provides, there are no pre-defined rules or parental controls in UniFi.
AmpliFi vs. UniFi: Conclusion
Ubiquiti's AmpliFi line of products offers excellent performance and reliability to get spotless WiFi coverage in your home.
But if you're tech-savvy and enjoy pushing your equipment to its limits, I highly recommend taking a look at Ubiquiti's reasonably-priced UniFi product line.
UniFi offers business-class performance and flexibility that you usually don't see in products at that price point. While the configuration of UniFi devices is a bit more involved than that of AmpliFi, it's not rocket science and you'll appreciate the additional reporting, analytics, and control it provides.
What's your take on AmpliFi vs. UniFi? Do you have experience with both? Let me know by leaving a comment below.

I'm a healthy living and technology enthusiast.
On this blog, I share in-depth product reviews, actionable information and solutions to complex problems in plain and easy-to-understand language.