If you live in the Atlanta area and are looking for a food delivery service that offers fresh, local, and paleo-compatible chef prepared meals at a reasonable price, consider giving Fresh 'n Fit Cuisine a try.
After I published a review of Factor 75, Nadyne, one of my loyal readers, reached out to me. Nadyne has been a satisfied customer of Fresh 'n Fit Cuisine, and she recommended that I try their service. So I sent them an email, and they agreed to hook me up with a week's worth of meals to sample and review.
Of course, I picked the paleo meal plan and the so-called "Beast" option. The latter ensures each meal has at last 650 calories as compared to the 350 calories of a regular paleo meal.
I'm not sure if that makes me a beast or just a pig, but in retrospect, it was the right choice for me. My wife Kathy, on the other hand, would have been OK with the smaller portions.
Fresh 'n Fit Cuisine Review
I had never heard of Fresh 'n Fit Cuisine, but they've been creating and delivering healthy, chef-prepared gourmet meals for customers in the Atlanta area since 2003.
You've probably heard of national brands like Blue Apron and Hello Fresh, which deliver meal kits that you have to assemble and cook. Then there are options like Diet-to-Go, a food delivery service that offers healthy frozen prepared meals that just need to be thawed and heated.
But Fresh n Fit meals are — as the name suggests — fresh: they're fully-cooked, ready to heat-and-eat, and delivered in pre-portioned sealed containers that are kept cold during transit by special insulated bags and ice packs.
Fresh 'n Fit is an employee-owned company that has the goal of supporting local farmers and food producers by sourcing local ingredients and taking the guesswork out of healthy living.
The fresh, gourmet meals prepared by your Fresh 'n Fit Cuisine™ chefs are an affordable way to eat well every day—for a fraction of the cost of having a personal chef. When you add in the convenience that comes from never having to shop, prep, cook or clean up, it's the smartest way to enjoy mouthwatering meals and still meet your nutrition and wellness goals.

Fresh 'n Fit Cuisine
How Fresh 'n Fit Cuisine Works
Fresh n Fit Cuisine offers a variety of meal plans and options to customize your meals. You can choose between pickup and delivery, as well as the calorie count per meal.
Getting started is straightforward:
Pick your meal plan start date and number of weeks
Choose from one of their five menus or create a custom menu
Select the number of meals per day, calorie count and days per week
Choose a pickup location or shipping method
Meal Options
Fresh n Fit Cuisine offers five menus and an option to customize your meal plan.
Healthy Mix: As the name implies, it's a mix of traditional, nutritious food made with fresh ingredients that include lean protein and seafood.
Vegetarian: Includes house-made meatless meals that are low in fat and cholesterol. Sounds like the opposite of what I would get…
Low Carb: These meals contain approximately 15% net carbs. Three meals add up to only 40 net grams per day.
Paleo: My obvious choice of entirely organic, naturally gluten free and dairy-free meals made with grass-fed, cage-free meats, wild-caught seafood, and organic fruits and vegetables.
Gluten Free: These meals are naturally gluten free, but since cross-contamination cannot occur, they're not recommended for those with Celiac disease.
Custom: Build your own menu from over 300 individual meals.
Additionally, Fresh 'n Fit Cuisine offers individual meals that cater to users following keto or hCG diets.
How Much Is Fresh 'n Fit Cuisine?
Fresh n Fit meals start at $7.50 each, but can go up to $14.99 if you only order one individual 600-calorie dinner meal. You can see all the pricing options on their website, but in a nutshell, you pick your meals based on the following matrix:
How many meals per day: For example, you can select breakfast, lunch and dinner, breakfast and lunch, lunch and dinner, etc.
Days per week: Depending on the plan, you can choose between three, five and seven days per week.
Calorie count: Options include 400 and 600 calories per meal.
Individual meals: You can order as little as a single meal.
If you don't want to bother with grocery shopping and cooking at all, you can sign up for the seven-days-per-week, three-meals-per-day plan. That plan would cost you about $155 or $177 per week, depending on if you choose the 400 or 600 calories per meal option.
Per month, that would add up to $620 and $708, respectively (plus sales tax and distribution or delivery fee).
Get 10% off Fresh 'N Fit Cuisine on their website
It's important to note that some of the plans, including the paleo choice, have a $9.50 per week additional charge. In return, you get the healthiest and highest-quality food Fresh 'n Fit Cuisine offers.
As a result, 21 meals (500 to 600 calories each) per week on the paleo plan would cost $745.96 per month, plus $26 in sales tax and distribution fee, (if I chose to pick up my meals at a nearby pickup location).
If I wanted my meals to be delivered instead, I would have to pay $15 per shipment and a $9.95 handling fee per week, per meal plan.
Fresh 'n Fit Pickup and Delivery
One advantage of Fresh 'n Fit Cuisine is that they offer over 100 pickup locations in the Atlanta Metro area. By picking your meals up instead of having them delivered, you can save a substantial amount of money.
For most plans, you can pick up your freshly-prepared meals on Monday and Thursday, between 4 and 7 p.m. For us, the closest pickup location was less than two miles away. That made picking up our meals a convenient and cost-saving option.
Fresh 'n Fit Taste
To me, food is first and foremost fuel, and taste is only a secondary priority. But I appreciate that for most people, those priorities may be more equal (if not completely reversed). The good news is that Fresh 'n Fit Cuisine successfully delivers on both fronts.
Their paleo meals are prepared with high-quality ingredients that taste delicious and are completely satisfying.
I truly enjoyed all of the meals I tried and didn't have a favorite. Kathy, my wife, liked the salmon best and highly recommends it. She kept talking about how good it was, even days after she had it.
Fresh 'n Fit Cuisine can take that as a well-deserved compliment, as I know Kathy as a somewhat picky eater when it comes to meals she didn't prepare herself.
Fresh 'n Fit Menu Choices
Fresh 'n Fit's menu options rotate weekly, and you can always review the upcoming weeks' meals via the website. You can also filter them by diet plan — so if you're only interested in paleo meals, you don't have to sort through all the plant-based options to find them.
When it comes to the specific types of food on offer, I found Fresh 'n Fit's menu to be slightly more adventurous than some of its competitors. For whatever reason, companies in this space have a tendency to offer fairly conservative entrees that focus heavily on healthier versions of traditional American comfort food.
That's also true for Fresh 'n Fit, but at least they mix things up a little. For example, you'll find meatloaf on the Healthy Mix menu, but at least it's paired with caramelized shallots. Similarly, the low-carb plan features an entree of pork sausage patties paired with spiced peaches. Those are thoughtful tweaks to the standard formula that make the meals more enjoyable.
However, there's still an unfortunate lack of menu diversity. You'll definitely want to customize your meal plan — especially if you're going for the seven-day subscription. For example, eight out of 21 of this week's low-carb meal choices are either chicken or turkey:
Caribbean coconut chicken
Spanish spice rubbed chicken
Mediterranean chicken thighs topped with cucumber relish
Roasted and pulled turkey
Turkey marinara over spaghetti squash
Turkey caesar burger with sweet potatoes
Lemon chicken breast
Like I said before, I care more about how food fuels my body than how it tastes. But even I can recognize that that's a lot of poultry. (I had the same criticism of another meal delivery service, Factor 75.)
On the plus side, you'll find many delicious entrees that feature eggs, cream and other nutritious foods that some companies unnecessarily avoid — plus more fruits and vegetables than are typically included by delivery services.
Pictures of our Fresh 'n Fit Breakfast Dishes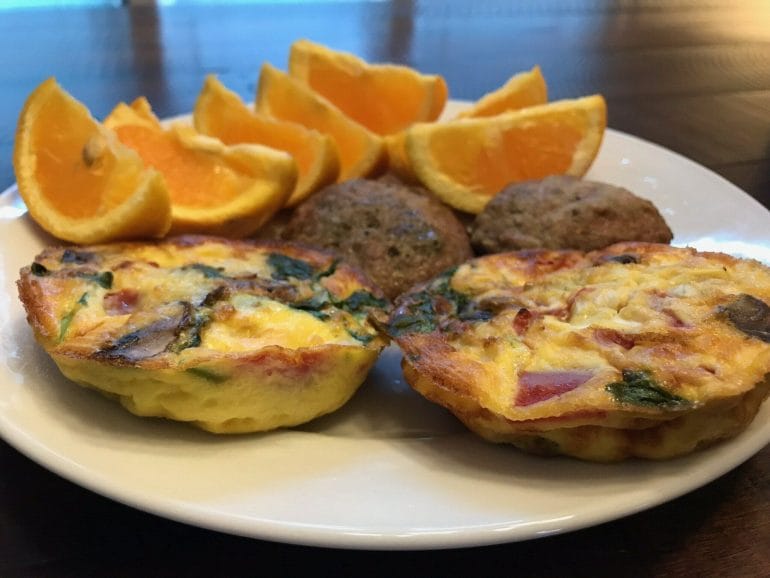 Pictures of our Fresh 'n Fit Lunch and Dinner Dishes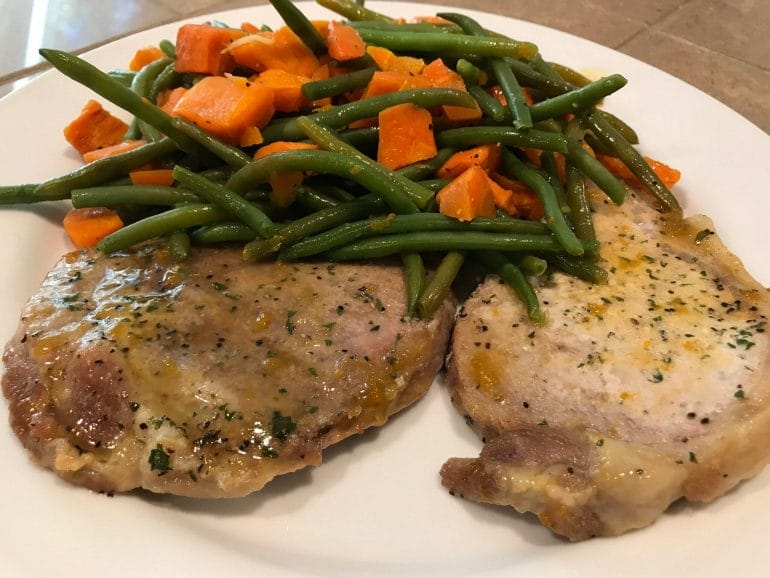 Fresh 'n Fit Snacks and Desserts
Another thing that distinguishes Fresh 'n Fit from some of its competitors is that the company offers tasty snacks, desserts, and other non-meal items that can be ordered along with your entrees. I follow a fairly strict ketogenic paleo diet, and typically avoid snacks that I haven't carefully vetted to make sure they comply with my dietary preferences. So, I didn't try any of the items listed below and can't speak to their taste.
Snack Packs
Each snack pack costs $9.99 and comes with five snacks that have a calorie count of 150-200. You'll get a mix of snacks that include things like yogurt with fruit, "chef inspired house made protein," snack and granola bars (like Kind Bars), cheese, nuts, and fruits.
Protein Bars
Fresh 'n' Fit's protein bars come in packs of 10 for $19.99, and there are six options to choose from (as listed below). The bars average about 200 calories and 10-12 grams of protein each.
Peanut butter, date and walnut
Garbanzo bean and chocolate
Pumpkin and chocolate chip
Chocolate, coconut and walnut
Oatmeal, banana and walnut
Dark chocolate chip peanut butter
Desserts
The dessert pack costs $11.99 and comes with five items clocking in at about 150 calories each, with no artificial sweeteners or preservatives. Typical items you'll find include brownies, cobblers, puddings, mousse and tarts. If you're following a paleo, keto or low-carb diet, I'd carefully review the ingredients of each of these items.
Fresh Extra
Fresh 'n Fit's "Fresh Extras" are side items to accompany your entrees. However, keep in mind that like the desserts above, these items may not be paleo or keto compliant.
Banana walnut bread: $12.99 per loaf for 12 slices
Banana bread (paleo): $12.99 per loaf for 12 slices
Lemon poppy seas bread: $12.99 per loaf for 12 slices
Pumpkin spice bread: $12.99 per loaf for 12 slices
Zucchini bread: $12.99 per loaf for 12 slices
Cheddar garlic biscuits: $7.99 per dozen
Nutella crapes: $12.99 per dozen
Paleo curry chicken salad: $19.99 per pound
Southern-style chicken salad: $14.99 per pound
Why You Should Consider a Meal Delivery Service
For many, being a stay-at-home wife/mom or husband/dad isn't their first career choice. For some, it's just not fulfilling; for others, it would be financially challenging.
Whatever the reasons may be, having a career significantly limits the time you have left for things like grocery shopping and cooking. But it's not just about the time it takes to buy food and prepare it; it's also about the time it takes to figure out what's truly healthy.
Or you may be single, with no desire to cook. Whatever the circumstances may be, meal services like Fresh 'n Fit Cuisine are a viable option you should consider.
Fresh 'n Fit Cuisine not only saves you a ton of time, but it also takes the guesswork out of healthy eating. Even if you don't care about the paleo diet, why gluten is bad for you, or why grass-fed is better than corn-fed beef, rest assured: they do. And letting them make the right choices for you will benefit your health in the long run.
Frequently Asked Questions
One thing I noticed while reading other Fresh 'n Fit Cuisine reviews is that readers often ask a few common questions. For whatever reason, those questions seem to go largely unanswered, and the information can be difficult to find on Fresh 'n Fit's website. So, I decided to write this FAQ section. I'll update this with more answers based on reader requests.
Is Fresh 'n Fit Cuisine available outside of Atlanta?
Yes. Fresh 'n Fit is available for pickup or home delivery in the following Georgia counties: Barrow, Cherokee, Cobb, Dekalb, Fayette, Forsyth, Fulton and Gwinnett. Additionally, Fresh 'n Fit meals can be shipped via FedEx to all of Georgia and Alabama, as well as parts of Tennessee, Florida, North Carolina and South Carolina. You can visit the company's website and enter your zip code to see if they ship to your specific address.
How much does shipping cost?
Each FedEx overnight shipment costs $15, plus a $9.95 per week handling charge. So if you're on a seven-day plan, you're going to pay an extra $25 per week on top of your total.
How do you heat Fresh 'n Fit meals?
Each Fresh 'n Fit meal has heating instructions printed on a label affixed to the packaging. Most were designed to be microwavable and only take a few minutes to heat up.


How long do Fresh 'n Fit meals stay good in the refrigerator?
Some meal delivery services list a specific "shelf life" for their meals. For example, Factor 75 — another company that offers fresh, never-frozen chef prepared meals — says their meals will stay good in the fridge for up to seven days. Fresh 'n Fit does not provide a standard shelf life. Instead, each meal has a "best used by date" sticker affixed to the packaging. On its blog, Fresh 'n Fit says this is because they use fresh ingredients and limited preservatives.
Can my unused meals be frozen?
Yes, your Fresh 'n Fit meals can be frozen. However, since they were not designed to be frozen, they may have a poorer texture and taste after being thawed.
Are Fresh 'n Fit meals good for weight loss?
This question always comes up when discussing meal delivery services. I suspect that the desire to lose weight is one of the main factors that motivates people to consider a prepared meal plan: they're looking for convenient meal options that feature healthier ingredients and which come in reasonable portion sizes.

Plus, over the past few decades we've all been conditioned to think that that the key to achieving our weight loss goals is to pick the right product or follow the right diet (I'm sure you've seen Slimfast ads on TV). Choosing a service or product to do the hard work of picking better food to eat seems like an easy win.

And maybe it is! If you're someone who struggles to make healthy choices and stick to a nutrient-dense diet, then utilizing a service like Fresh 'n Fit very well might help you lose weight. But it's just one small part of the equation. If you want to lose weight and keep it off — not to mention live a longer and healthier life, aside from your weight — then you need to focus on building sustainable healthy eating habits that become a lifestyle rather than a short term exercise.
How do I use your Fresh 'n Fit Cuisine discount code?
Just enter MK10 during the final stage of the checkout process. You'll see a field that prompts you to enter a coupon code, and all you have to do is click that field and paste the code into the box. When you use my code, you'll receive 10% off of whatever products you buy.
Fresh n Fit Cuisine Review Summary
I spend countless hours reading and researching wellness, fitness and healthy eating. But I understand that not everyone shares my passion for those topics. I'm fortunate to have a wife who chooses to stay at home with the kids and to embrace a paleo-centered lifestyle. I also work from home and enjoy a home-cooked meal every day, unless I'm traveling.
The chances are that your circumstances may be different. If so, I would encourage you to take a closer look at how much time you and your partner spend on grocery shopping and meal preparation. If you'd rather spend that time on something else, give Fresh 'n Fit Cuisine a try.
There's no commitment, and you can cancel at any time. If you decide to give them a try, use Fresh 'n Fit Cuisine promo code MK10 to get 10% off your order!
If you've tried any Fresh 'n' Fit or any of the other food delivery services mentioned in this article (like Factor 75 and Diet-to-Go), please share your thoughts by leaving a comment below.

I'm a healthy living and technology enthusiast.
On this blog, I share in-depth product reviews, actionable information and solutions to complex problems in plain and easy-to-understand language.
Medical Disclaimer
The information shared on this blog is for educational purposes only, is not a substitute for the advice of medical doctors or registered dieticians (which we are not) and should not be used to prevent, diagnose, or treat any condition. Consult with a physician before starting a fitness regimen, adding supplements to your diet, or making other changes that may affect your medications, treatment plan or overall health. MichaelKummer.com and its owner MK Media Group, LLC are not liable for how you use and implement the information shared here, which is based on the opinions of the authors formed after engaging in personal use and research. We recommend products, services, or programs and are sometimes compensated for doing so as affiliates. Please read our
Terms and Conditions
for further information, including our
privacy policy
.