The Apple Watch is an excellent fitness tracker and workout companion. In this article, I'll review some of the best sports bands for working out, including my favorite watch bands from Apple, Meridio, Monowear, Nomad, Twelve South and WsC.
I have been a satisfied Apple Watch owner since back in 2015, when I purchased the product shortly after it was introduced. Since then, I've worn the watch every day to track my activity, my burned calories and my steps taken. Somehow, there's a certain satisfaction in closing all three activity rings every day (and I feel bummed on days when I don't).
Before the Apple Watch, I didn't wear watches because I felt restricted and uncomfortable. The Apple Watch Sport was the first watch that I didn't mind wearing all day, thanks to the incredibly comfortable fluoroelastomer Sports Band the watch came with.
With the Apple Watch Series 3, Apple introduced a new band, called the Sport Loop, which is even more comfortable and adjustable.
Additionally, third-party accessory makers (such as Monowear) have launched fitness bands that are more affordable than Apple's straps. So after five years of using the Apple Watch as my primary timekeeper with different watch bands, I thought it would be time to share my experience.
Top 8 Apple Watch Straps for Sports
For a sports band to earn a spot in my top drawer, it has to meet the following requirements:
Comfortable to wear all-day.
Easy to take on and off.
Dries quickly, even if completely submerged in water.
Adjustable, to make sure the heart rate sensor maintains close contact with the skin.
So let's see how well the eight bands I've tested live up to those requirements.
1. Apple Sport Loop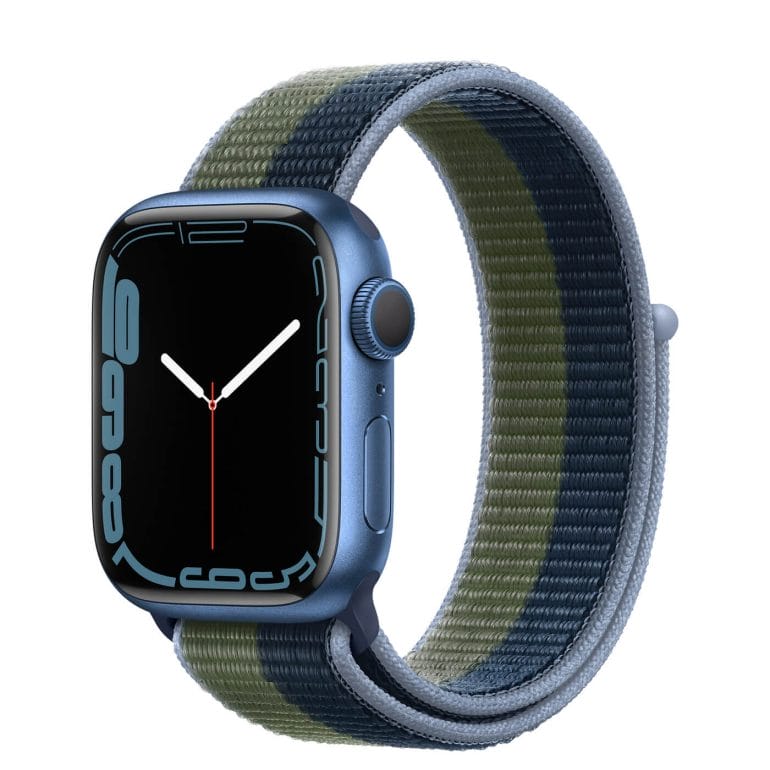 When I got the Apple Watch Series 3, I was able choose between the Sports Band and the new Sport Loop. I chose the latter because I figured the hook-and-loop fastener would make it easier to adjust for a perfect fit during a workout.
The only concern I had was the material that Apple chose for the strap. I was worried that the nylon would take longer to dry if the band got wet.
After a few months of testing the new watch band, I can confirm that it dries incredibly quickly, thanks to the moisture-wicking properties of the nylon weave. Additionally, the strap is incredibly comfortable to wear because it stretches a bit (but not enough to prevent close contact with the skin during intense workouts).
I have also noticed that the extra layer of dense loops on top of the nylon band make it less likely for the edges of the watchband to "cut" into your skin when you tighten up the strap.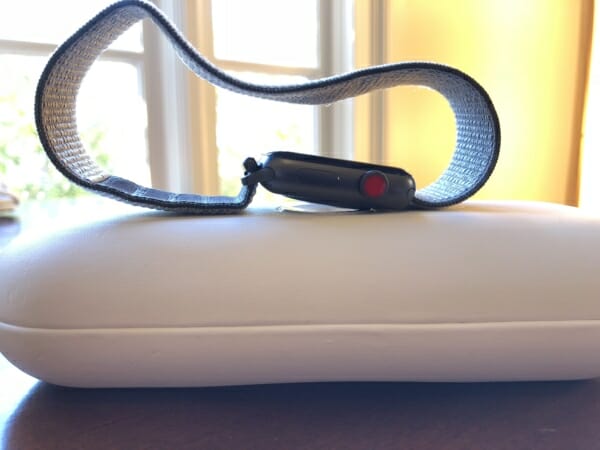 The only minor disadvantage to the Sport Loop is that you cannot put the watch flat on a charging disc without "turning" the strap inside out or disconnecting the strap from one side of the watch.
I first noticed that problem while traveling and using my Twelve South TimePorter to charge the watch overnight. It still recharges in nightstand mode, but it doesn't sit as tight on the charger as it would with a regular watch band.
2. Apple Watch Braided Solo Loop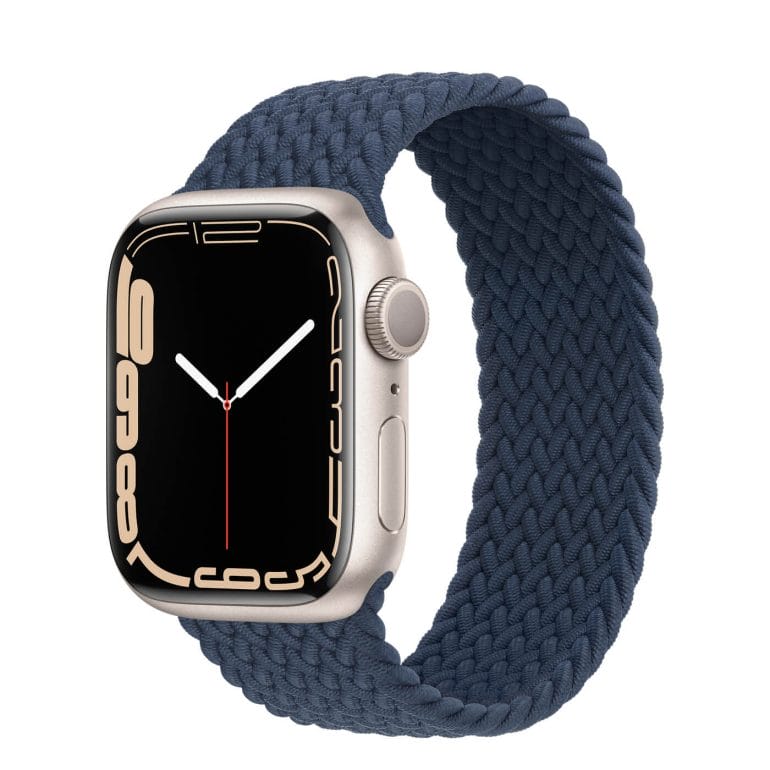 As of this writing, I'm using Apple's Braided Solo Loop together with my Apple Watch Series 5. I have to admit that I didn't like the Solo Loop at first, after my sister-in-law told me that it stretches over time, thus negatively impacting how much contact the Apple Watch's heart rate sensor has with the skin.
But a few months ago, I decided to give the Solo Loop a try and I've been wearing it ever since. Unfortunately, I do have to report that my Solo Loop stretched and that my watch now feels looser around my wrist. As a result, I have to move it up my wrist a bit during workouts to ensure the sensor stays in close contact with my skin.
Outside of the gym, the slightly loser fit isn't a problem and it actually makes the Apple Watch even more comfortable to wear.
The major downside of the Solo Loop is that you can't tighten it. So I recommend trying the strap in an Apple Store (if possible) or going with the smaller size if you're between sizes.
Besides that, the Solo Loop is incredibly comfortable and dries quickly after being exposed to sweat or water. Also, the strap stretches enough to make it easy to take the watch on and off.
I should also mention that the Solo Loop is available in two materials, including silicone rubber and a combination of recycled yarn and silicone threads.
3. Monowear Nylon Active Band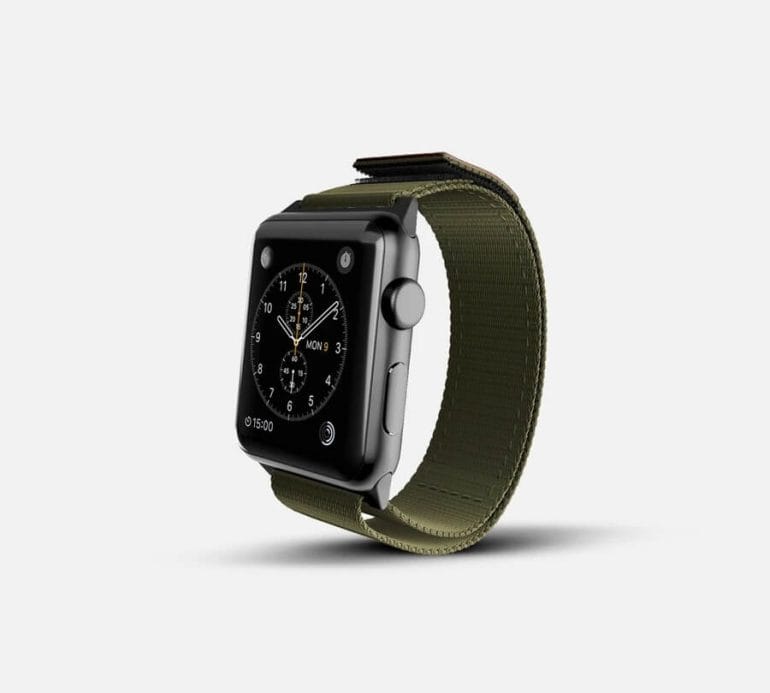 Less expensive than comparable bands from Apple.
Allows for precise adjustment.
Monowear makes third-party Apple Watch bands and other premium accessories at attractive prices, compared to what Apple charges. I have been using watch bands from Monowear since I discovered their excellent leather bands in 2017.
Besides the price, what I like most about the Nylon Active Band is that it's precisely adjustable for just the right fit during workouts. Monowear also uses nylon as its primary material, which means the band dries quickly when it gets in contact with water.
In comparison to Apple's Sport Loop, the Nylon Active band doesn't stretch, and it doesn't have the dense loops that add extra padding and make Apple's band slightly more comfortable to wear.
On the other hand, the lack of stretch gives you more control over just how tight you would like the band to be.
I haven't done any exact measurements, but I could imagine that the Active Nylon Band might have a slight edge regarding the accuracy of the heart rate monitor over Apple's Sport Loop.
Make sure to use discount code MK15 to get 15% off the retail price!
4. Twelve South ActionSleeve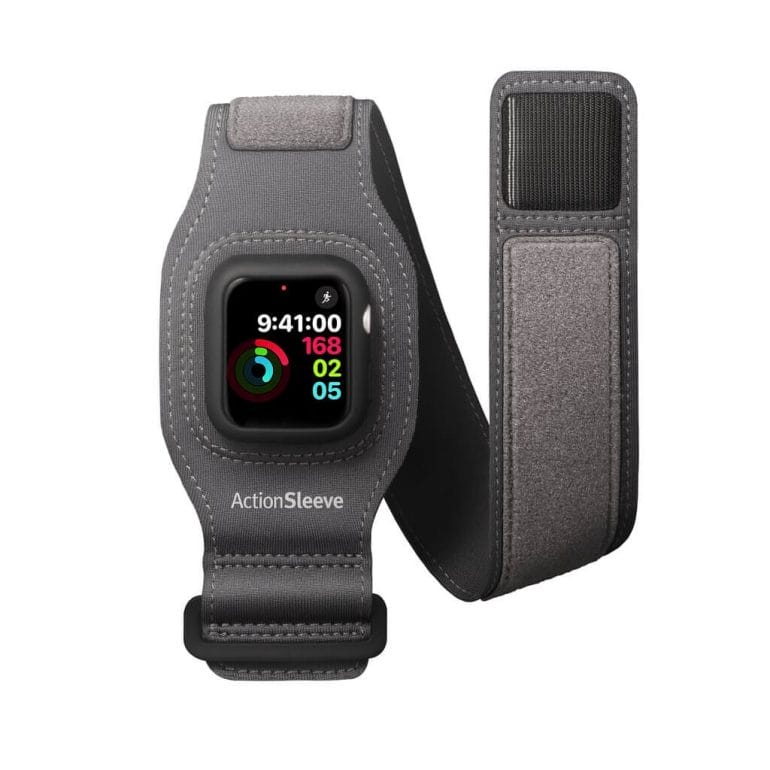 Long before Twelve South released ActionSleeve, I noticed an issue with wearing the Apple Watch for particular types of exercises, such as during CrossFit-inspired exercises like weightlifting and push-ups.
On more than one occasion, I accidentally pushed the digital crown of my Apple Watch while bending my wrist. In other instances, I banged a kettlebell against the watch.
More importantly, every time I bent my wrist the Apple Watch's heart rate sensor would lose contact with my skin, resulting in an unreliable reading.
Heart Rate Monitor: Wrist vs. Bicep
The Apple Watch monitors my heart rate to count the calories I burn during an exercise. Generally speaking, the higher my heart rate, the more calories I burn.
The problem with weight exercises is that my heart rate goes down relatively quickly once I complete the set. So if the Apple Watch doesn't get a good reading during the exercise, it may not catch my increased heart rate. As a result, my calorie count will be way off.
The only way to solve this problem is to move the Apple Watch away from the wrist. That's precisely what the ActionSleeve does (by allowing you to strap the Apple Watch to your bicep or upper arm).
I should also mention that Twelve South recently released an ActionBand. It looks like a sweatband but with a sleeve for your Apple Watch. I haven't tried ActionBand yet, but it looks like an excellent alternative to regular watch straps.
Best Workouts for ActionSleeve
I haven't used the ActionSleeve for running or jogging. For me, it's more comfortable while running to glance at the screen of my Apple Watch on my wrist (rather than on my bicep). Instead, I think the ActionSleeve is best-suited for workouts that involve bending your wrists, wearing gloves, or using weights (such as kettlebells).
That's where ActionSleeve shines: by protecting the Apple Watch against nicks and scratches while ensuring a reliable heart rate reading.
Also, right after Apple released the Apple Watch, reports transpired of unreliable heart rate readings in combination with tattoos. I don't have a tattoo, but if your wrists are inked and you have an empty patch of skin on your bicep, the ActionSleeve may be for you.
5. Apple Sports Band
When you buy a new Apple Watch, the Sports Band is one of the two strap options you can choose from (unless you buy the Nike or Hermès edition). Apple's classic strap is a solid watch band that I have enjoyed wearing for years.
What I like most about the Sports Band is its comfort and the water repellent properties of the fluoroelastomer (rubber) it's made from. After taking a shower or washing my hands, I can dry my hands with a towel, and that will be enough to dry the watch band too.
Plus, taking the Apple Watch on and off is easy — once you've figured out how to do it with one hand by holding down one side of the band with your thumb and using your index finger to move the hole over the pin to push it down.
The downside of the original Sports Band is the pin-and-tuck closure. While I didn't have any issues tightening up the watch band for regular use, I always felt that it could stand to be just a tad tighter for working out.
What makes the Apple Watch more accurate than many other fitness trackers is its reliable heart rate monitor. But it's only reliable if it has good contact with the skin. During a workout — and especially with exercises that involve a lot of wrist movement (like lifting weights or CrossFit) — the watch can lose contact with the skin if the strap isn't tight enough.
With the pin-and-tuck closure, I always felt like the watch was either a tiny bit too loose or too tight. It was like I needed an extra hole in the strap.
What about the Nike band, you may be wondering? Well, I've never owned a Nike Sport Band, but considering that it also uses a pin-and-tuck closure, I assume it has the same "problem."
6. Nike Volt Sport Band
The Nike Sport Band is the best looking watchband I have seen so far. I fell in love with the perforated design when Apple announced it during a keynote presentation a few years ago.
Other than that, the Nike Sport Band shares many of the characteristics of the original Apple Sports Band. That means Apple and Nike use fluoroelastomer as the primary material and a pin-and-tuck closure for a secure fit.
You can purchase the Nike band for $49 in all Apple retail stores. Unfortunately, Amazon only sells cheap knockoffs of this band, so beware.
7. Nomad Sport Strap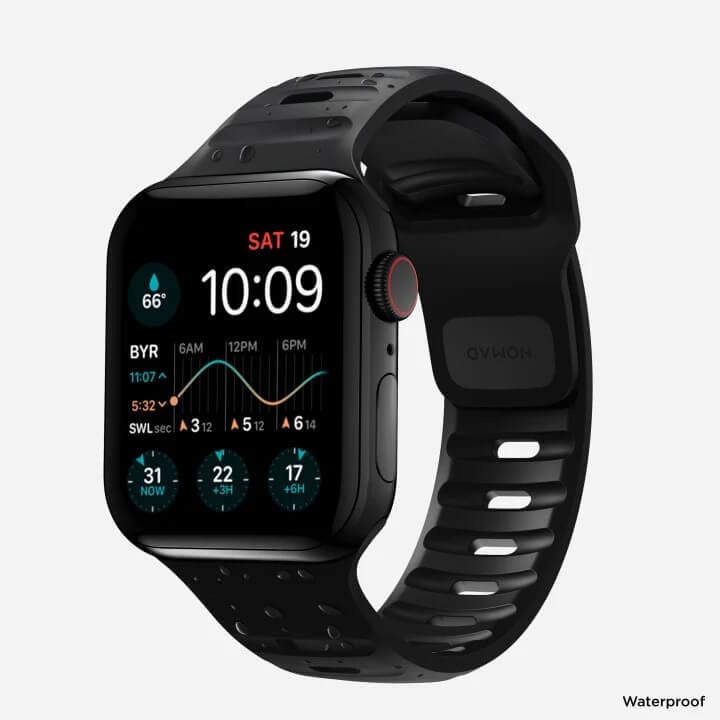 The Nomad Sport Strap is the latest sports band in my collection, and I have grown rather fond of it. The vulcanized silicone used by Nomad is incredibly comfortable because it stretches. As a result, you can wear the watch relatively tight without feeling uncomfortable.
Additionally, the strap's silicone has antimicrobial properties, which reduces the chance of bacterial growth from your sweat and dead skin cells. I have also found the watchband to be easy to adjust, but it takes some getting used to closing the loop with one hand.
8. Meridio Caoutchouc Collection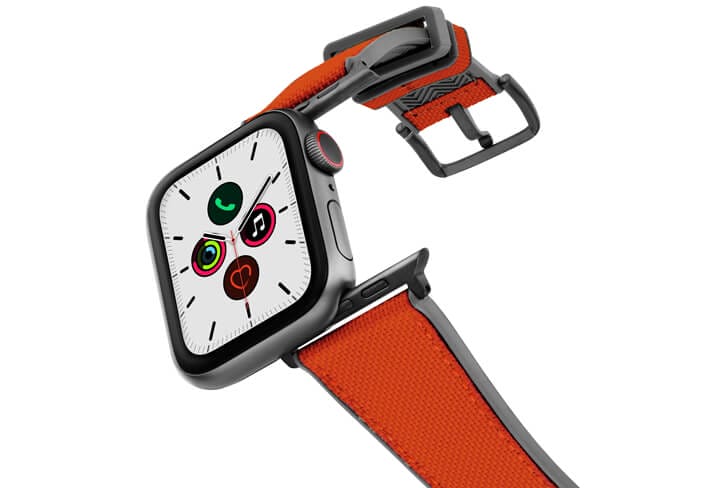 Meridio is an Italian company that makes premium Apple Watch bands, and for the Apple Watch Series 4, the company released a brand-new fitness collection.
What I like most about Meridio's sports bands is their design. They don't look like the average fitness band, thanks to the thin layer of cotton on top of the strap and the matching stitching. The bands are also relatively thick, adding to their premium look and feel.
Caoutchouc (kou`cho͝ok) is a natural rubber obtained as a latex from various tropical plants, such as the Pará rubber tree.
The only negative thing I can say about Meridio's Caoutchouc collection is that the bands are relatively stiff. That's not an issue for most activities, but if you wear gloves or other protective hand gear during exercise (such as during CrossFit), adjusting the position of the Apple Watch is more involved than with Apple's Sport Loop.
Based on my experience with Meridio's fitness bands, I'd recommend them to anyone who is looking for an Apple Watch band they can wear every day without having to go back and forth between a fitness band and a regular band.
The Electric Blue and Summer Cloud rubber bands Meridio sent to me look great with any outfit, and I don't have to worry about taking them off during workouts or when taking a shower.
Make sure to use discount code kummer_10 to get 10% off the retail price!
Best Apple Watch Bands for Sports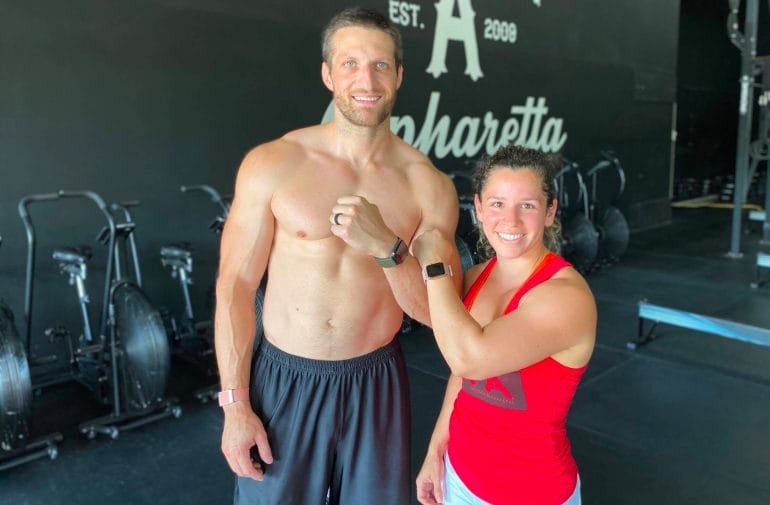 My wife has been happily using the original Apple Sports Band for CrossFit since she got her Apple Watch, though she sometimes complained about the watch being too loose. The fit depends a little bit on the thickness of your wrists and how that matches up with the pinholes on the strap.
That's why I prefer the Sport Loop — it's infinitely adjustable and I can achieve exactly the right fit. Plus, when I wear gloves or gymnastics grips, I can quickly move the Apple Watch up my forearm and out of the way by opening the strap with one hand.
Occasionally, I use the Twelve South ActionSleeve when I know I'll be bending my wrists or using kettlebells.
In conclusion, all the Apple Watch sports bands in this review are comfortable and do an excellent job of keeping the Apple Watch and its heart rate sensor in close contact with your skin.
If you're in the market for a new fitness watch band, or if you're just looking for different Apple Watch Sport band colors, I hope you found this review useful. If you know of another Apple Watch sports band that I should include in this review, please let me know by leaving a comment below.

Michael is a healthy living enthusiast and CrossFit athlete whose goal is to help people achieve optimal health by bridging the gap between ancestral living and the demands of modern society.
Medical Disclaimer
The information shared on this blog is for educational purposes only, is not a substitute for the advice of medical doctors or registered dieticians (which we are not) and should not be used to prevent, diagnose, or treat any condition. Consult with a physician before starting a fitness regimen, adding supplements to your diet, or making other changes that may affect your medications, treatment plan or overall health. MichaelKummer.com and its owner MK Media Group, LLC are not liable for how you use and implement the information shared here, which is based on the opinions of the authors formed after engaging in personal use and research. We recommend products, services, or programs and are sometimes compensated for doing so as affiliates. Please read our
Terms and Conditions
for further information, including our
privacy policy
.