I've been on a Paleolithic ketogenic diet since the spring of 2019, and one of my favorite desserts is fat bombs. They're easy to make (no baking required), they're very high in fat, and they taste absolutely delicious.
For the past two weeks, I've been working on fine-tuning a recipe I found on the internet. And after much trial and error, it's finally time to share the modified recipe with you.
What I like about this recipe is that it's incredibly forgiving and great for people like me who don't know much about cooking or baking.
In other words, there isn't much you can do to screw it up. Additionally, you only need a handful of ingredients to get started — although there are numerous ways to modify it based on your tastes and preferences.
Keto Fat Bomb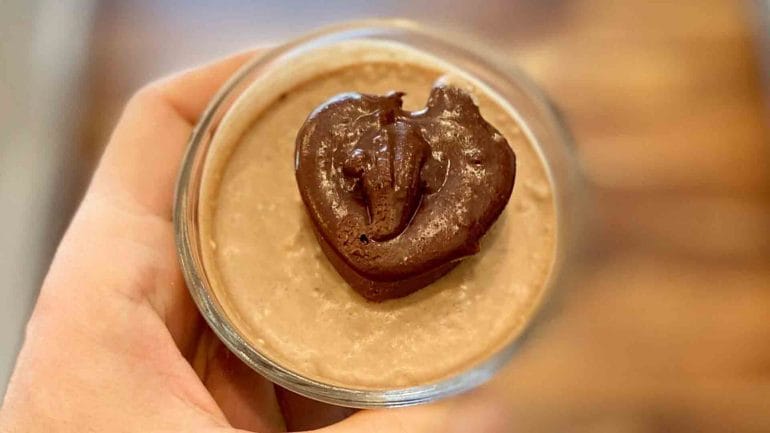 These keto-friendly (low-carb) fat bombs take less than ten minutes to prepare but they are decadently delicious and one of my favorite desserts.
Diet: Diabetic, Gluten Free
Equipment
Stand mixer
Measuring spoons
Spatula
Pastry bag
Ingredients
1 cup almond butter unsweetened, roasted, organic
¼ cup cocoa powder raw, unsweetened
1/64 tsp monk fruit extract granulated
¼ tsp sea salt
2 tbsp coconut oil extra-virgin
3 tbsp butter pastured
Instructions
Melt the coconut oil and butter if they're not already at room temperature.
Add all the ingredients into a bowl.
Mix with a stand mixer or food processor until you get a creamy consistency.
Scoop the batter into a silicone baking pan or small cups, and place it into the freezer for at least one hour.
Video
Notes
Farmers use a lot of pesticides when growing almonds. So it's best to look for organic options. Unfortunately, they're sometimes difficult to find. But I can tell you that many Costco and Whole Foods locations carry organic roasted almond butter.
When you buy monk fruit, try to pick pure monk fruit extract instead of blends that contain erythritol (sugar alcohol). Pure monk fruit comes in two versions: 25 or 50% mogroside v.
Mogroside is the chemical compound that gives monk fruit its sweetness. So the higher its concentration in the powder, the sweeter it is and the less you need.
Either one is fine, but the recipe above is based on the 50% version. If you have the 25% version, just double the amount of monk fruit you add. If you only have a monk fruit/erythritol blend, use 4 to 5 tablespoons.
Nutrition
Serving: 1fat bomb | Calories: 91kcal | Carbohydrates: 2g | Protein: 3g | Fat: 8g | Saturated Fat: 3g | Cholesterol: 4mg | Sodium: 36mg | Fiber: 1g | Sugar: 1g | Calcium: 2mg | Iron: 1mg
What Equipment Do You Need?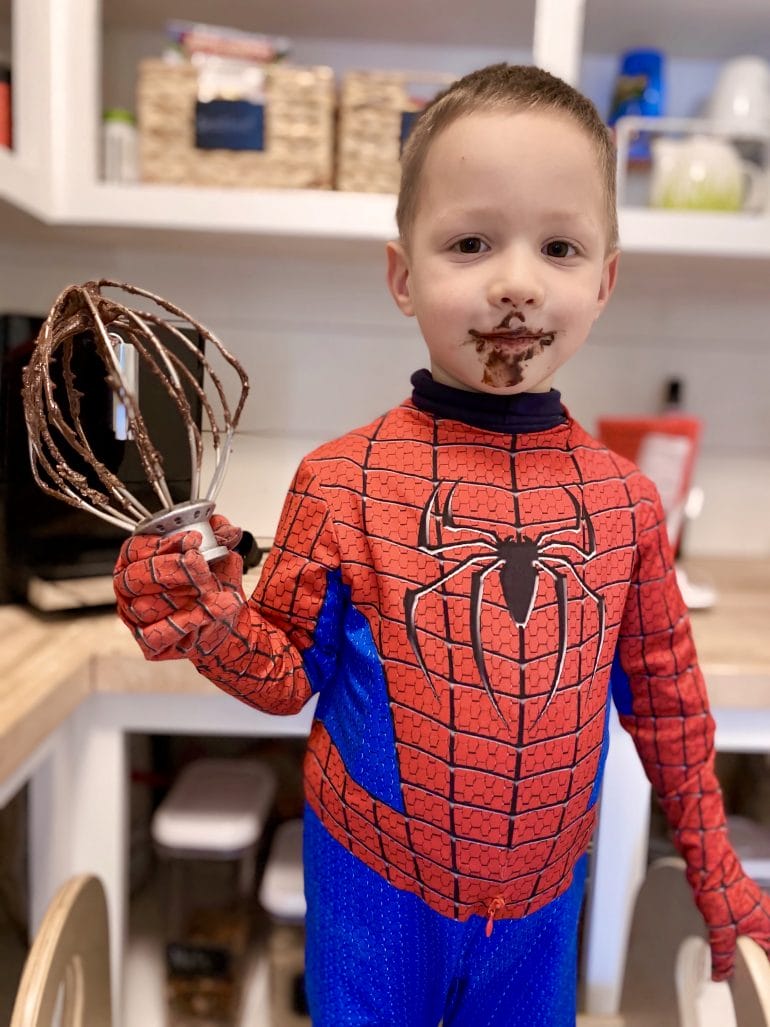 The most important piece of equipment for making this recipe is a mixing bowl. While this is a no-bake recipe, I recommend using a stand mixer or food processor so that you don't have to mix the ingredients by hand. Such an appliance will be particularly useful if you decide to add fats that might be solid at room temperature, such as butter or coconut oil.
The other piece of equipment that can save you some time is a heavy-duty pastry bag, which is also sometimes called a decorating or piping bag. That will make it easier to squirt the finished fat bomb dough into its final form. I've been using a teaspoon for that part of the process, and while it works, it's messier and it takes much longer.
Besides the two pieces of equipment mentioned above, you also need measuring cups, measuring spoons and a spatula.
If you don't have measuring spoons, you can also use a kitchen scale — or you can just wing it. As I mentioned above, the recipe is pretty forgiving and you don't have to get the measurements exactly right to enjoy the final outcome.
The Main Ingredient: Nut Butter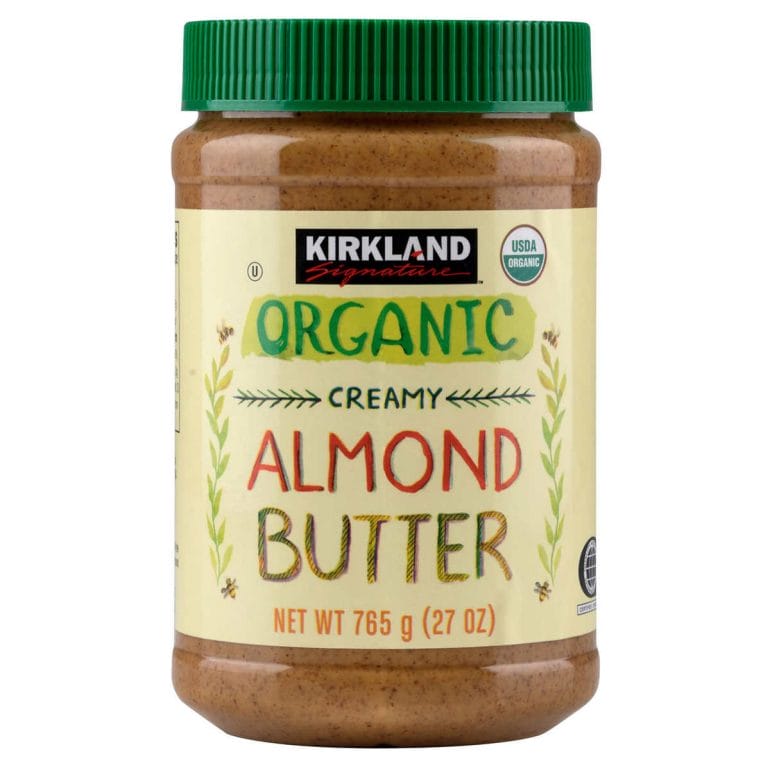 The primary ingredient in this keto fat bomb recipe is nut butter. You can choose which one to use, but my recommendation is almond butter because it's readily available and not super expensive.
If you can, try to find organic, roasted and unsweetened almond butter.
Why?
Growers tend to use a lot of pesticides when growing almonds, and you don't want to consume most of those chemicals. I know that organic almond butter is harder to find, but both Whole Foods and Costco carry it.
The reason why you should stick with roasted instead of raw almond butter is that all nuts, including almonds, have antinutrients. These are chemical compounds that bind certain-positively charged minerals, such as magnesium and calcium, thus preventing the body from absorbing them.
The heat that's produced during the roasting process destroys many of those antinutrients.
The reason why you should stick with unsweetened almond butter is that most brands use sugar as a sweetener, which is counterproductive if your goal is to make a low-carb fat bomb that won't kick you out of ketosis.
If you don't like almond butter, an even better choice is roasted macadamia nut butter. Unfortunately, nut butter made from macadamias is expensive and not readily available.
I would stay as far away from peanut butter as possible, because peanuts are legumes and rich sources of both antinutrients and carcinogens (such as aflatoxins).
Cashew nut butter could also be an option, but keep in mind that cashews have a lot of carbs, which doesn't make them a great choice when you're on keto.
The good news is that you don't have to choose pure nut butter. Instead, you can use nut butter mixes from brands such as Fat Fit Go, Perfect Keto and Super Fat. If you do, you can probably skip the extra sweetener in the recipe as each of those products is already sweetened.
Sweeteners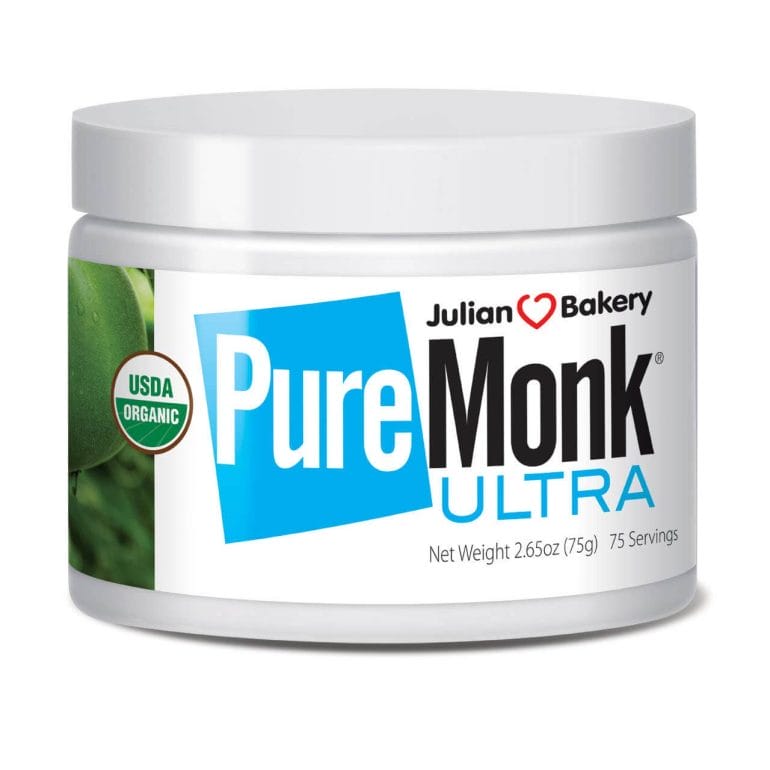 I've made this recipe without any sweeteners and it tasted good. However, using a non-caloric sweetener like monk fruit or stevia extract turns these fat bombs into a decadent and irresistible keto dessert.
Non-caloric sweeteners are often available in liquid or granulated form. I recommend going with a granulated option because it tends to yield a better texture.
When we purchased our first bag of monk fruit extract, we accidentally ordered a blend of monk fruit extract and erythritol (sugar alcohol). If you make the same mistake, you'll have to use four tablespoons of it to achieve the desired level of sweetness.
If you opt for pure monk fruit extract, you only need 1/64 of a tablespoon (or less) to achieve the same sweetness.
Other Ingredients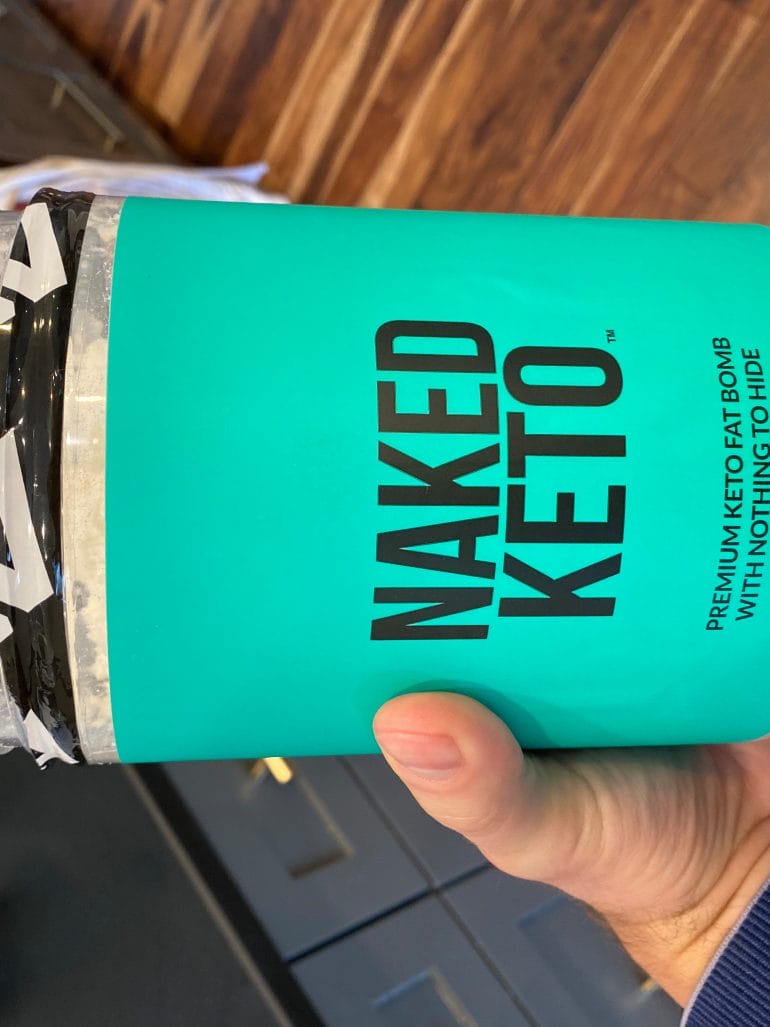 Besides nut butter, these fat bombs also contain raw unsweetened cacao powder, coconut oil, pastured butter and sea salt.
Don't go overboard with the cocoa powder as it's the main source of carbs in this recipe. I even use a little less cocoa powder than the recipe calls for — especially when I add a scoop of Naked Keto (see below).
My original recipe called for 2/3 of a cup of cocoa powder. I've since reduced it to 1/4 of a cup, which reduces the net carbs and improves the taste.
To further increase their fat content, I also like to add a scoop of Naked Keto, a fat bomb powder from Naked Nutrition that contains MCT oil and high-oleic sunflower seed oil.
Preparation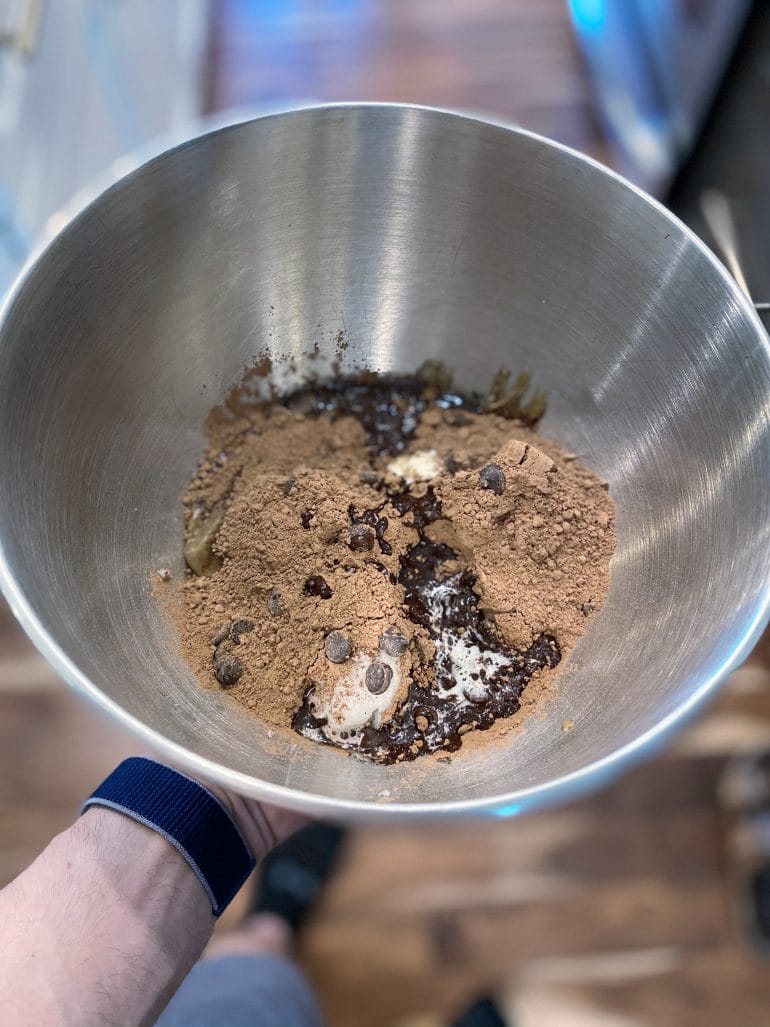 The preparation is fairly simple. All you have to do is to mix the ingredients using a stand mixer, food processor or by hand.
If you decide to mix the ingredients by hand, I recommend warming up the coconut oil and butter in a saucepan over low heat. It's much easier to integrate the fat while it's in liquid form than trying to do it by hand while it's solid.
But even if you use a mixer, I recommend allowing the fats to warm up to room temperature (if you store them in the fridge). That makes it easier to blend them with the rest of the ingredients.
While I don't think you can over-process the ingredients, I always mix them on low speed for 10-20 seconds, or until all the cocoa powder is integrated with the nut butter.
Then I switch to high speed for another 10-20 seconds to make sure the fats are properly integrated (i.e., until I no longer see large chunks).
Don't make the mistake of blending on high speed from the get go because you'll end up with cocoa powder all over your face!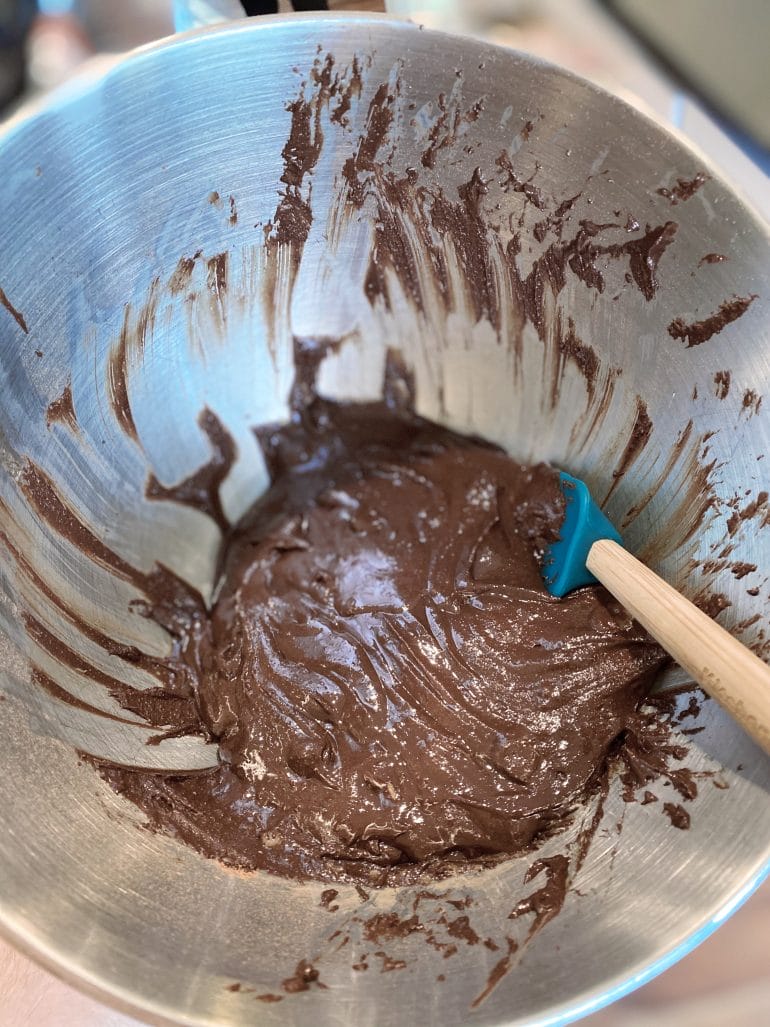 Once you've blended all the ingredients into a smooth paste, use a pastry bag, teaspoon or spatula to transfer it into a cupcake or muffin pan.
Using a pastry bag significantly reduces the total time it takes to prepare this recipe.
We like to use a silicone baking pan because it makes it easy to get the fat bombs out without making a mess.
How to Store Fat Bombs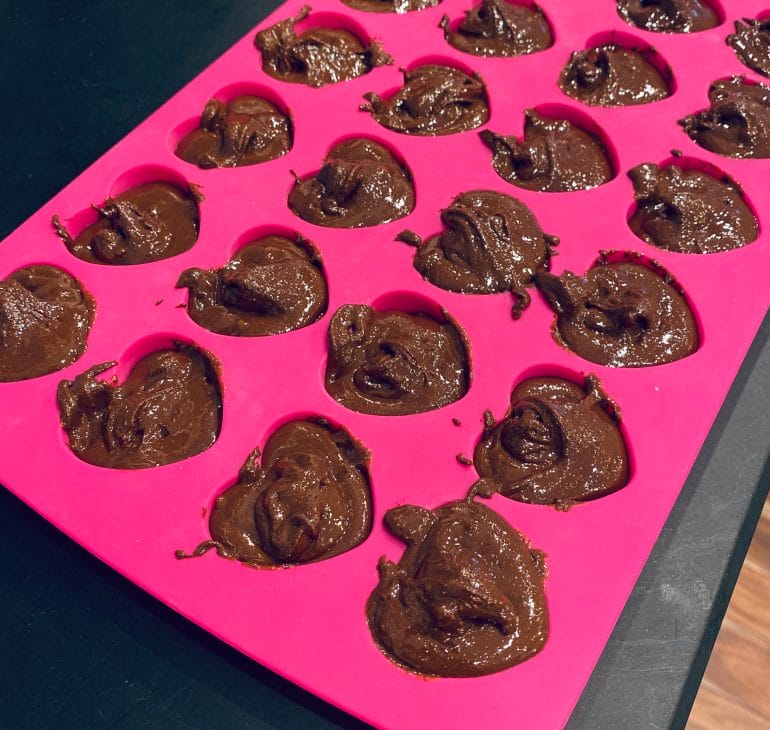 Once you've filled the pan, I recommend placing it in the freezer for about an hour. That solidifies the fat inside the fat bombs and gives them a chocolate-like texture and density.
Once solid, you can transfer the pan from the freezer to the fridge (but we usually just keep it in the freezer).
Modifications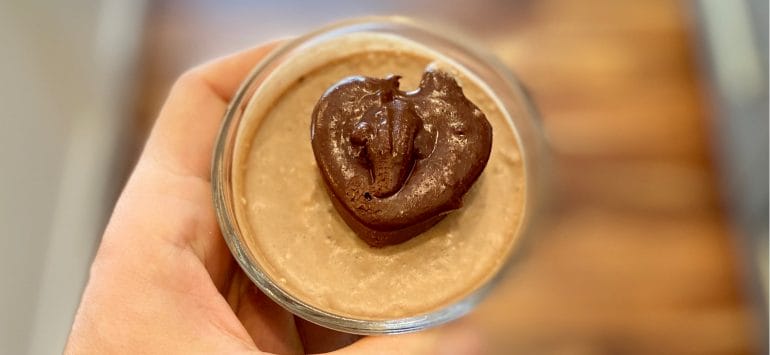 With this recipe, you have numerous ways to change things up and make the fat bombs exactly to your liking.
Besides picking a nut butter and sweetener of your choice, you can also try ghee instead of butter. When I recorded the video of me making this recipe, I didn't have any butter left in the house, so I used ghee instead. The resulting fat bombs tasted pretty much the same as the ones I had made using butter.
Additionally, you can also add keto-friendly, unsweetened or dark chocolate chips, vanilla extract, chia seeds or ground nuts. The possibilities are almost endless!
Frequently Asked Questions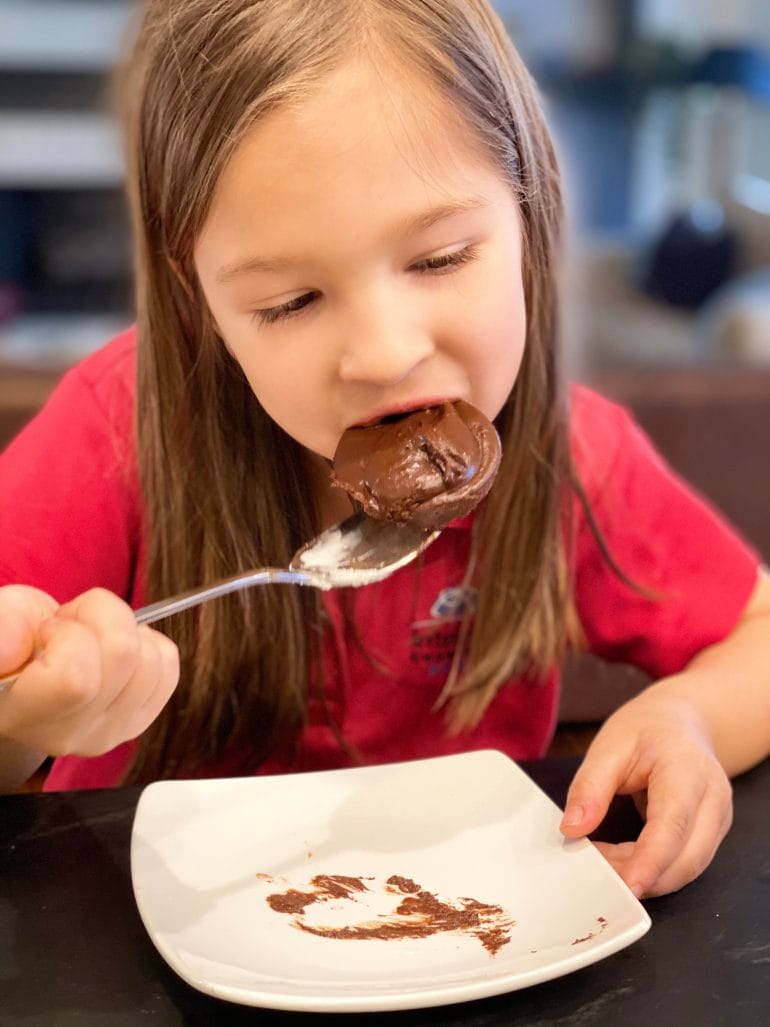 Isn't eating so much fat unhealthy?
No. Eating healthy fat, even in the amounts prescribed on the keto diet, isn't detrimental to your health. In fact, quite the opposite is true. If you're concerned about blood lipid levels (cholesterol, LDL and triglycerides) you should know that it's carbs (not fat) that negatively influence those key health markers.
Should I eat fat bombs even if I'm not on a keto diet?
There's no harm in eating fat bombs, even if you don't follow a high-fat keto diet. However, I don't recommend eating fat and carbs at the same time because the body will use the carbs for fuel first and then store the fat (instead of using it for energy).
Can I eat these fat bombs if I follow a paleo diet?
Yes, my recipe is also paleo-friendly.
Can I use this recipe to make fudge?
I suppose if you don't freeze or refrigerate the mixed ingredients, it has a fudge-like texture and you could certainly use it as such.
Where do you buy the ingredients?
We usually buy most of the ingredients at Whole Foods, and some at Costco. You can also get them on Amazon (see the links above), either through regular shipping or via their Whole Foods delivery service.
Can I lose weight eating fat bombs?
Believe it or not, you can. That is, if you follow a ketogenic diet without overeating. You don't have to count calories — I don't do that either — but you can't eat 5,000 calories a day if you only burn 2,000 and expect a massive weight loss.
How can I make these fat bombs vegan-friendly?
To make them vegan and dairy-free, omit the butter and ghee and just stick with coconut oil or another source of fat, such as avocado oil, cocoa butter or coconut butter.
What impact do the carbs in cacao powder have on blood sugar?
Cacao powder doesn't have a lot of net carbs because most of its carbs are fiber. As a result, those carbs don't have a huge impact on blood sugar (unless you overindulge).
Is peanut butter keto?
Many people eat peanut butter as part of their ketogenic lifestyle, and there are even brands marketing their products as keto peanut butter. But while peanut butter has keto-friendly macronutrients, it's an inflammatory food that you should stay away from.
Is nut butter gluten-free?
Nut butter is naturally free of gluten, but there is a chance of cross-contamination due to shared production facilities. So if you have celiac disease, carefully check the label of your nut butter (or call the manufacturer).
Wrap-Up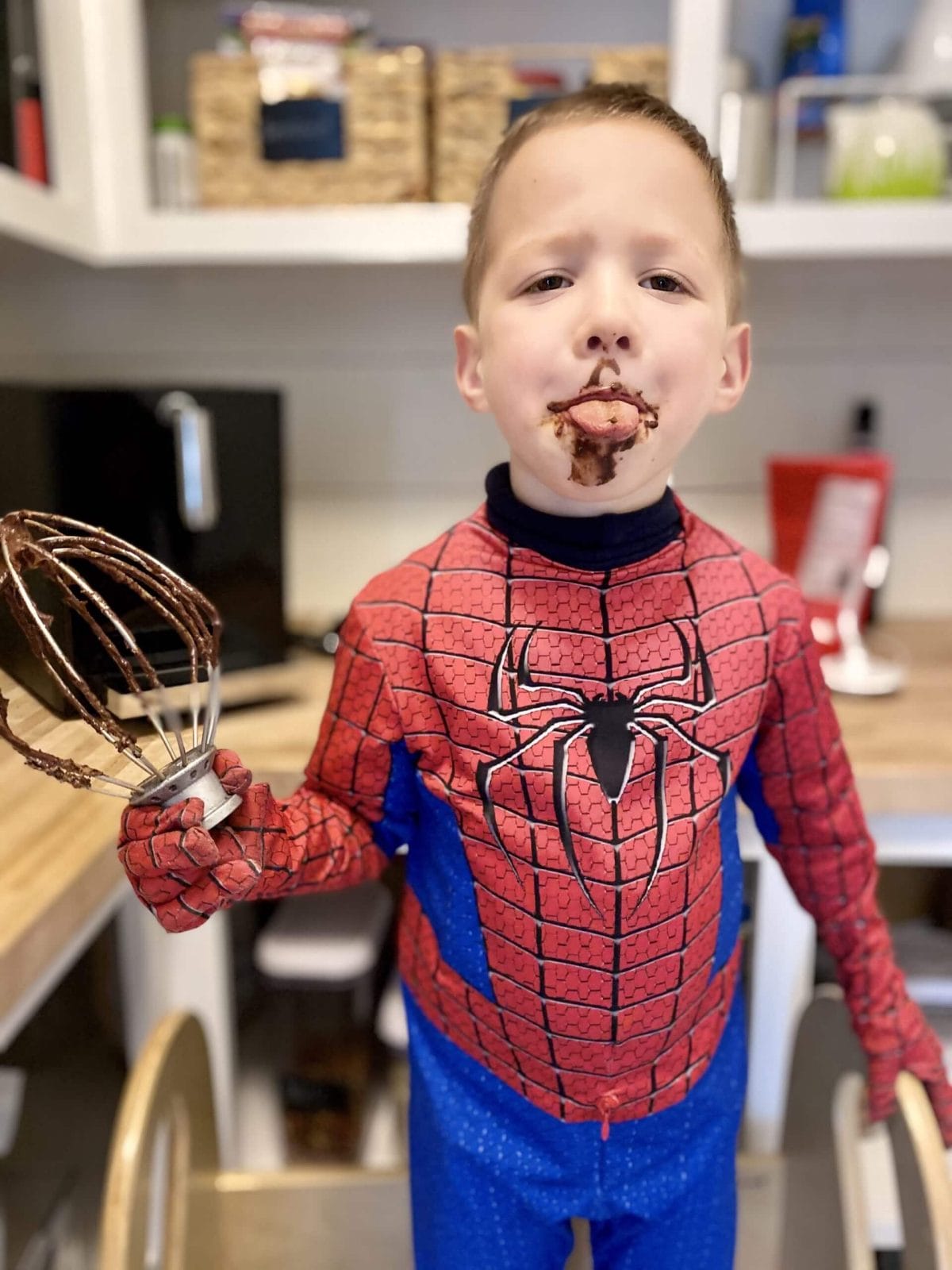 Most of us have a sweet tooth and enjoy indulging from time to time. That's probably because our parents fed us plenty of sweets and other carbs, and our gut bacteria and brain are trained to crave sweet stuff.
The good news is that even if you're on a low carb diet, there are plenty of keto recipes to satisfy that sweet tooth.
So go ahead and give these chocolate fat bombs a try. If you do, let me know how you liked the results by leaving a rating and comment below.

Michael is a healthy living enthusiast and CrossFit athlete whose goal is to help people achieve optimal health by bridging the gap between ancestral living and the demands of modern society.