Young Goose offers science-based skincare products to aid in anti-aging and skin repair. The company claims that unlike many other skincare products, its topical treatments are backed by decades of research, making them highly effective in rejuvenating the skin on a cellular level.
I bumped into Young Goose at a biohacking conference, got intrigued by some of the ingredients the company uses (specifically, NAD+ and resveratrol), and decided to test two of their most popular skincare products (the C.A.R.E. Moisturizer and the Hyperbaric Mask) for eight weeks to determine if they could change my skin's appearance. I also invited my wife to join the experiment for a side-by-side comparison.
In this article, I'll share the following:
How I conducted the review.
Before and after photos using a professional camera and studio lighting.
The pros and cons of Young Goose's skincare products.
I'll also share a discount code you can use to get 5% off your first Young Goose order.
Young Goose Skincare
Summary
Young Goose offers a line of premium skincare products that use scientifically-proven active ingredients to improve the appearance of the skin on a cellular level. My wife and I used Young Goose's C.A.R.E. Moisturizer and Hyperbaric Mask for eight weeks and noticed significant improvements, including more radiant-looking skin and fewer visible signs of aging.
How I Conducted the Review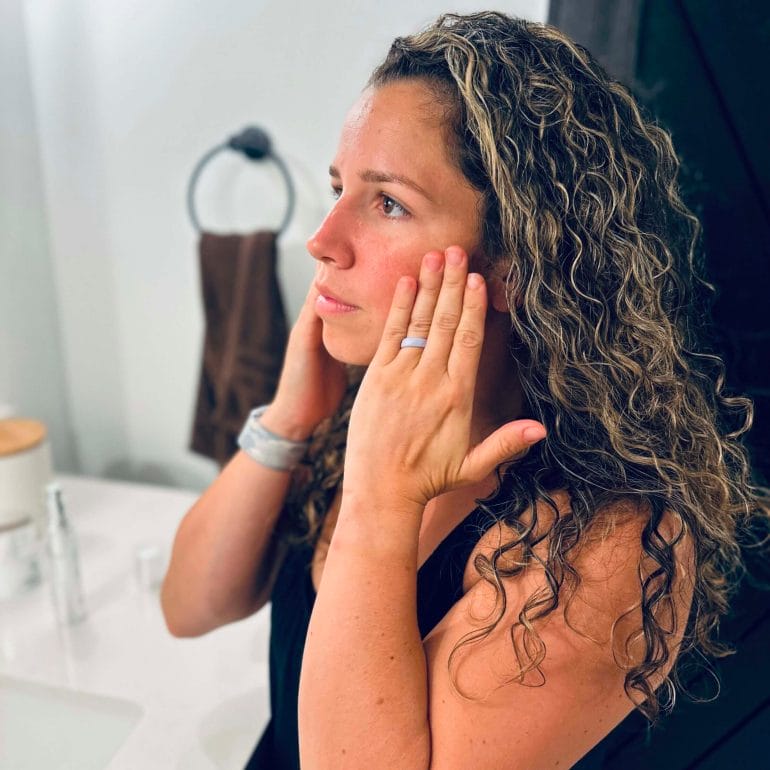 Since I don't have access to a scientific lab for analyzing skin samples on a cellular level, I decided to leverage my YouTube studio equipment, including a Canon Rebel T7i camera with a Sigma 35mm f/1.4 prime lens and a professional ring light.
To get consistent exposure with every shot, we selected the camera's manual mode and the following settings:
Image capturing mode: RAW.
Light sensitivity: ISO 400.
Aperture: f/8.
Shutter speed: 1/125 sec.
We also tried to keep a consistent distance between the subject, lens and studio light.
To get the best possible results, we followed Young Goose's recommendation to use the products for eight weeks before taking the "after" photos.
As mentioned above, my wife also participated in the experiment. For reference, I'm 41 and my wife is 35, and one of our goals was to determine how effective these skin care products are for different age groups. Considering that my skin has taken several more years of abuse, I expected to see greater improvements than my wife. Continue reading to find out if that assumption was true.
Young Goose Skincare Review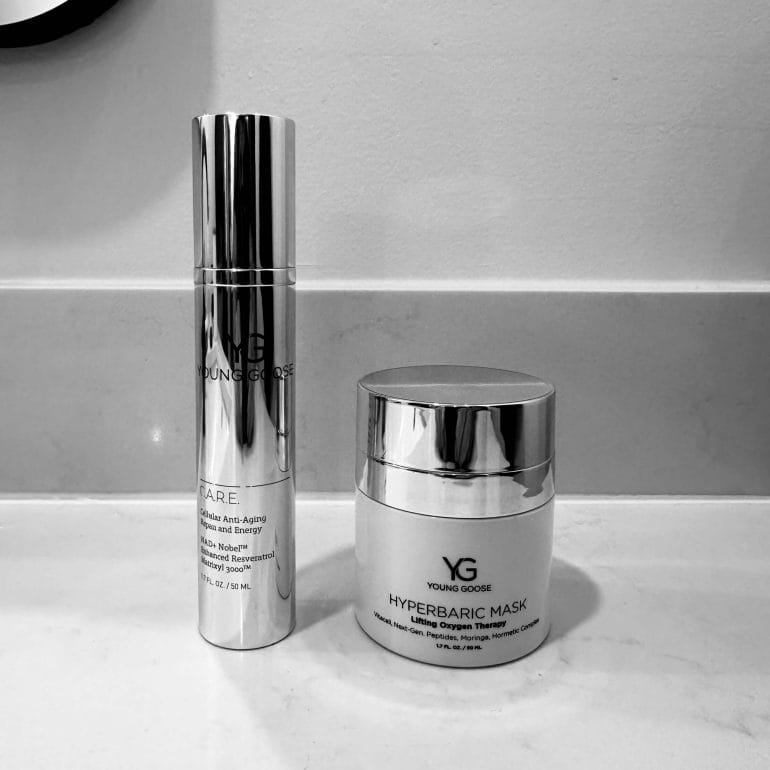 Young Goose offers a range of skincare products including general moisturizers, masks, serums, boosters, mists, mineral-based sunscreens and adaptogenic cleansers.
While some of these products can be used on their own (including the C.A.R.E Moisturizer I tested for this review), others are meant to be used in combination with each other to treat specific areas of your face, or to help improve the effectiveness of other skin treatment modalities.
For example, Young Goose's Green Tea Phyto-Serum can improve the effectiveness of red light therapy treatments, while the EyeC.A.R.E. eye cream is great for treating the delicate skin around your eyes.
As I mentioned in the intro, this review focuses predominantly on two of the most popular Young Goose treatments: the C.A.R.E. (with NAD+ Nobel) NAD+ Boosting Moisturizer and the Hyperbaric Mask – Lifting Oxygen Therapy. So let's take a closer look at these products.
C.A.R.E. (with NAD+ Nobel) NAD+ Boosting Moisturizer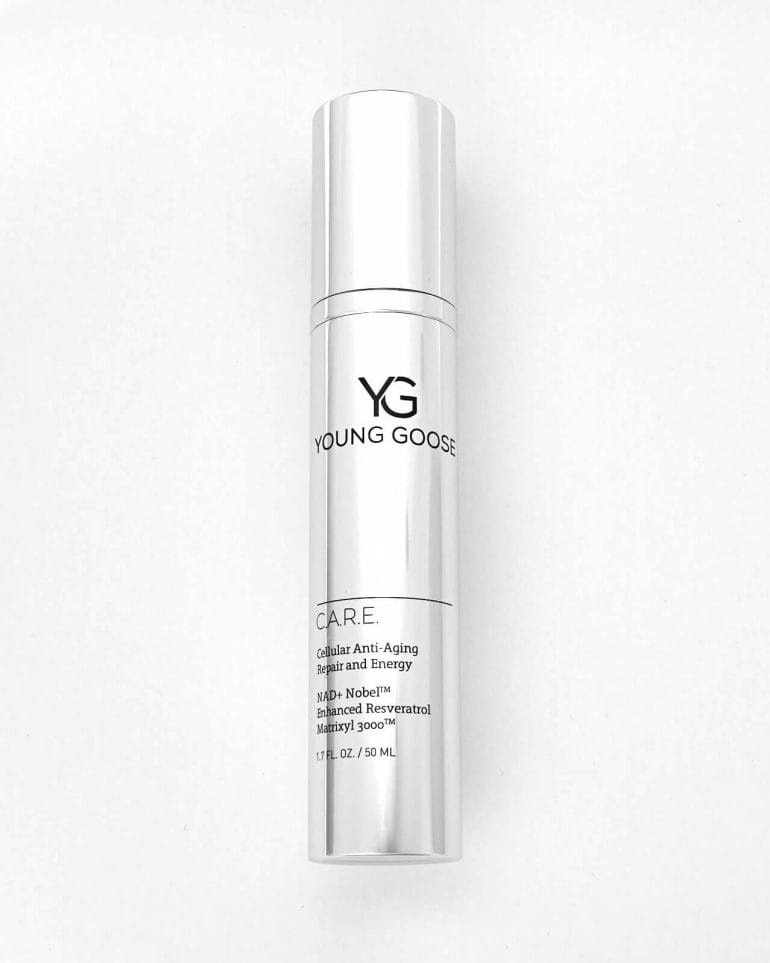 Pros
An excellent all-in-one facial treatment.
Easy to apply (e.g., feels lightweight on your skin).
Combines the most effective anti-aging ingredients in a single product.
Can be used to speed up recovery after micro-needling and similar facial procedures.
Cons
Contains the preservative phenoxyethanol, which studies have shown is safe for skincare products but can be toxic when consumed orally. There may be some risk of absorption into the bloodstream when applied topically.
As I mentioned in my article about the steps I take to slow down aging, there are several compounds that researchers believe can positively influence the hallmark signs of aging, including the coenzyme nicotinamide adenine dinucleotide (NAD) and resveratrol, a plant-based compound that reactivates anti-aging genes that normally become dormant as you get older.
Young Goose's C.A.R.E Moisturizer contains four key ingredients, including NAD+ Nobel (a proprietary NAD compound), resveratrol, Matrixyl 3000 (a combination of peptides aimed at reducing wrinkles) and astragaloside IV (an antioxidant that boosts collagen production and decreases the rate of environmentally-induced collagen breakdown in the skin).
Combined, these ingredients may offer the following benefits:
Lessen the appearance of lines and wrinkles.
Activate sirtuins (the body's anti-aging genes).
Raise cellular NAD+ levels to further support sirtuins activation in skin cells and ameliorate the damaging effects of UV exposure, DNA damage and aging.
Shield from environmental toxins and free radicals.
Lessen blackheads and breakouts, and improve pore appearance.
Help to calm redness and rosacea (a long-term inflammatory skin condition that causes reddened skin and a rash, usually on the nose and cheeks).
My wife and I used this moisturizer in our twice-a-day skincare routine, applying the product first thing in the morning and again before bed. One pump was enough to cover my wife's face, but I had to use one and a half pumps, considering that I have more area to cover and that my beard made it difficult to get the moisturizer onto the skin around my cheeks, jaw and throat.
We both liked how easy it was to apply the moisturizer and how lightweight it felt on our skin. However, I did notice that if I exercised right after applying the product, I'd feel oily, as the product would mix with sweat. As a result, I started waiting to apply the product until I had taken a shower on days I worked out in the morning.
C.A.R.E. Moisturizer Pricing
Young Goose's C.A.R.E. Moisturizer retails for $98.00, which isn't exactly pocket change. However, it's worth noting that each bottle lasts three to four months, so you'd be paying approximately $25 to $33 per month.
My wife and I used this moisturizer for over eight weeks and did not finish the bottle. So depending on how much product you use per application, you might get several more weeks out of each bottle than advertised.
Additionally, you can sign up for a subscription to get a new bottle every few months and save 10%. And if you use my discount code (MKUMMER), you get an extra 5% off your first purchase.
If you combine my affiliate code with a subscription, you can get your first bottle of C.A.R.E. Moisturizer for a reasonable $83.79 (after your first shipment, you pay $88.20 because my code is only applicable for the initial order).
Hyperbaric Mask – Lifting Oxygen Therapy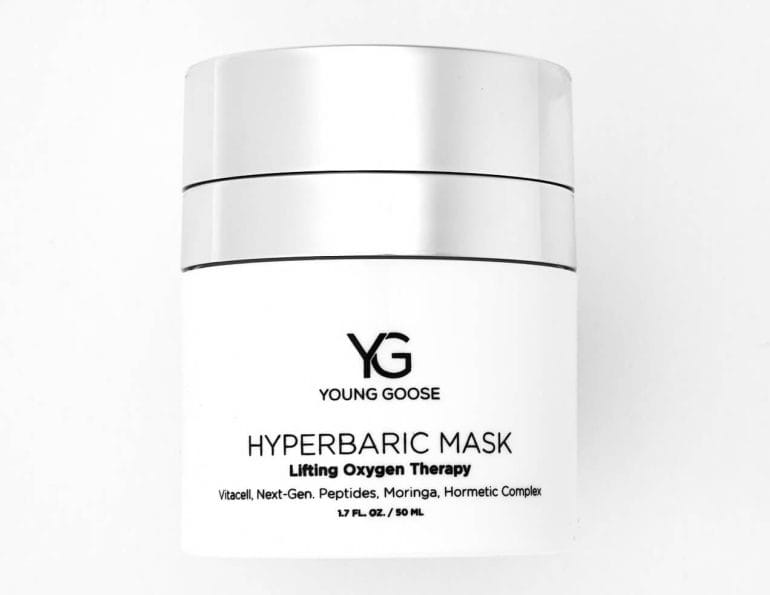 Pros
Perfect travel companion to keep your skin hydrated.
Very easy to apply.
Can be used before applying makeup to improve the appearance of your skin further.
Each tub lasts a long time.
Cons
Contains phenoxyethanol, which studies have shown is safe for use in skincare products but can be toxic if consumed. There may be some risk of absorption into the bloodstream when applied topically.
Young Goose's Hyperbaric Mask contains five key ingredients, including vitacell (an extract derived from yeast that significantly enhances oxygen metabolism within the skin), peptides, marine algae, strawberry seed extract and moringa oleifera seed oil.
Combined, these ingredients may offer the following benefits:
Restore fatigued skin and improve complexion.
Reduce fine lines and wrinkles by restoring depleted elastin and collagen.
Reduce the impact of the harmful effects of blue light.
Improve skin firmness (especially around the eyes) and safeguard against environmental pollution).
Restore the skin's protective barrier and improve skin hydration.
Activate the NRF2 pathway to increase the expression of host cell-protective genes that regulate important compounds, including glutathione, heme oxygenase-1, quinone reductase, metallothionein, and peroxisome proliferator-activated receptor — all of which have anti-inflammatory, antioxidant and immune-regulating properties.
My wife and I used the Young Goose Hyperbaric Mask every night before bed. What I like about this product is its gel-like consistency, which makes it incredibly easy to apply to your skin. A small amount (the size of a pea) was enough to cover my entire face and neck, so I used less than one pump. In fact, my wife and I could share one pump without sacrificing coverage.
The only downside to this mask is that it doesn't get absorbed completely (after all, it's a mask, not a lotion). That hasn't bothered us because we use it overnight, and it's gone by the morning. But if you want to use the product before putting on makeup (for example), Young Goose recommends washing it off after 30 minutes.
Hyperbaric Mask Pricing
One tub of Young Goose's Hyperbaric Mask retails for a whopping $150 ($135 if you sign up for a subscription). Even though it contains the same amount of product (1.7 ounces) as the moisturizer, it will likely last much longer, considering how little product you need to cover your face.
As with the moisturizer, we used the Hyperbaric Mask for over eight weeks and still have plenty of product left in the tub.
Of course, you can also use my affiliate code MKUMMER to get 5% off your first shipment.
Test Results: Our Before and After Photos
Of course, the million-dollar question is how effective those products have been for my wife and me over the past few weeks.
I think the before and after photos below speak for themselves. We both noticed improvements in the appearance of our skin within the first eight weeks. As expected, my skin's appearance improved slightly more than my wife's. That's likely because I'm several years older and didn't know how to care for my body (and my skin) for the first three decades of my life.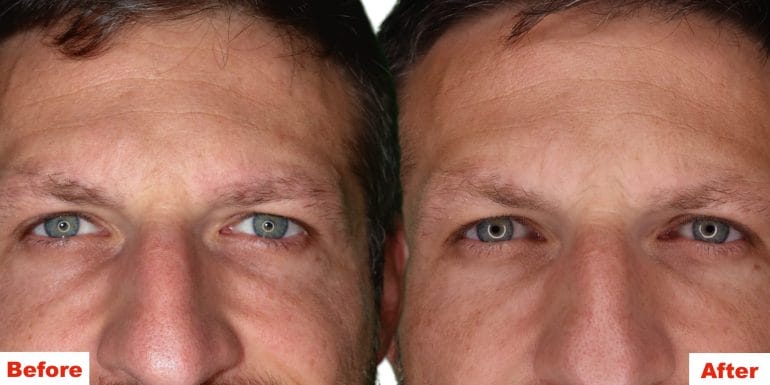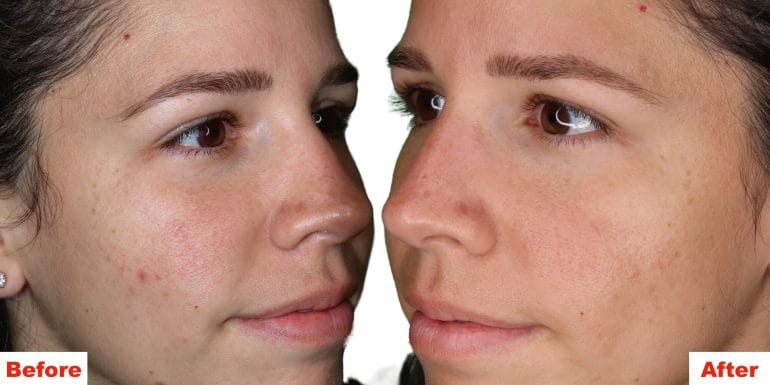 Overall, we both were impressed by the results of using Young Goose's skincare treatment for only two months.
What Young Goose Could Improve
The only downside to the two skincare products we tested for this review is one of the ingredients they both share: phenoxyethanol, which is a preservative with potentially toxic side effects under certain circumstances (that you likely won't encounter with normal use).
Specifically, studies on animals have shown that phenoxyethanol can be toxic to the meibomian gland epithelial cells located in your eyes. Additionally, phenoxyethanol is suspected to have endocrine-disrupting properties when ingested. Some people have also reported allergic reactions (including skin irritation, rashes, eczema and hives).
Unfortunately, the evidence on whether or not phenoxyethanol is safe is mixed. The FDA thinks it is, but that doesn't mean much to me. On the other hand, the European Commission on Health and Food Safety thinks so, too, when used at a 1% concentration or less. Both Young Goose products I tested contain between 0.15-0.25% phenoxyethanol (much less than the safe limit).
Additionally, independent reviews of the safety of phenoxyethanol from 1990 and 2019 both concluded that when applied topically in concentrations of 1% or less, there is no safety concern.
Even though phenoxyethanol appears to be safe when used topically by adults in low amounts, I hope Young Goose considers replacing this preservative with a healthier alternative. That's because there is always a residual risk of side effects that might only come to light in a few years or even decades.
Young Goose vs. OneSkin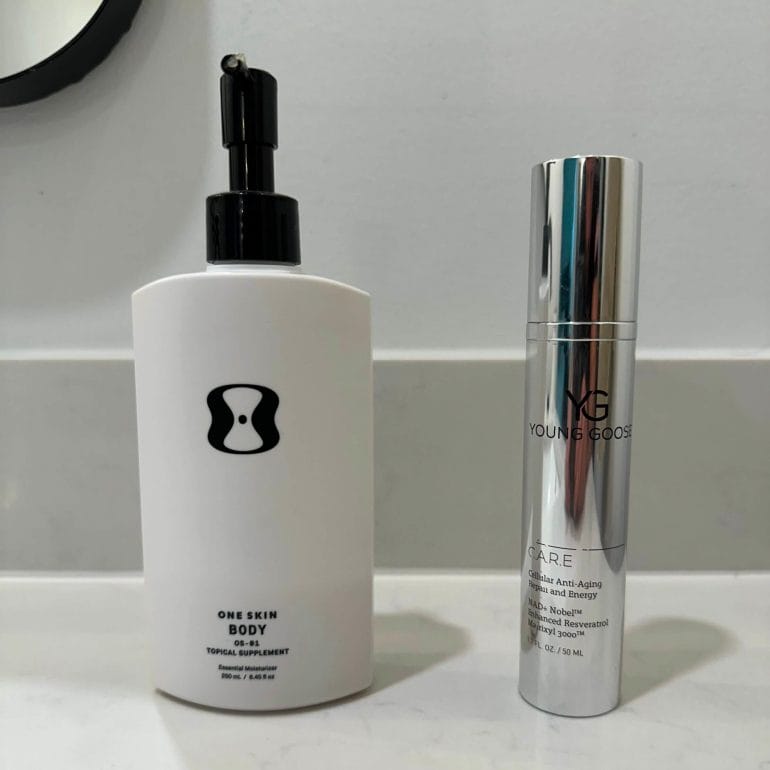 If you've been following me for a while, you might remember that I also reviewed OneSkin, another premium skincare brand.
The good news is that you can't go wrong with either brand. Based on my research and testing, the products I tried from both brands lived up to my expectations. Their individual effectiveness may boil down to your skin type, age and condition, though there are a few differences that I wanted to illustrate in the table below.
| | Young Goose | OneSkin |
| --- | --- | --- |
| Product portfolio | 12 products | Four products |
| Primary ingredients | NAD+ Nobel, Resveratrol, Matrixyl 3000, Astragaloside IV, Vitacell | OS-01 Peptide |
| Effectiveness | ★★★★★ | ★★★★☆ |
| Applications | 60-90 days | 30-90 days |
| Price Range | $98 – $150 | $99 – $120 |
| Do you feel the product on the skin? | Yes | No |
| Does the product have a scent? | Yes | No |
| Potentially irritating ingredients | Phenoxyethanol | Phenoxyethanol |
Young Goose vs. OneSkin
As you can see, Young Goose has a more robust product line, which might make it easier (or more difficult) to find a product you like, depending on how easily you get overwhelmed by having too many choices.
Young Goose also leverages a combination of key ingredients in most of its products, whereas OneSkin solely relies on its OS-01 peptide.
Based on my testing and the before and after photos I took, it appears that Young Goose was slightly more effective at reducing my skin's visible signs of aging. But in fairness, I used different camera settings and lighting for the tests, which could have skewed the results.
Pricing-wise, both brands offer similar value, but I'd argue that Young Goose's products last a bit longer than those from OneSkin.
It's also worth pointing out that I never felt OneSkin topicals on my face (unless I worked out and sweated right after applying them), but I did feel both of Young Gooses' products — especially the mask (which is supposed to be thicker).
Young Goose's products have a subdued scent that I liked, but whether or not something smells good is a relative argument. In contrast, I couldn't smell either of the OneSkin products.
Both brands use phenoxyethanol as a preservative, as I mentioned above.
Frequently Asked Questions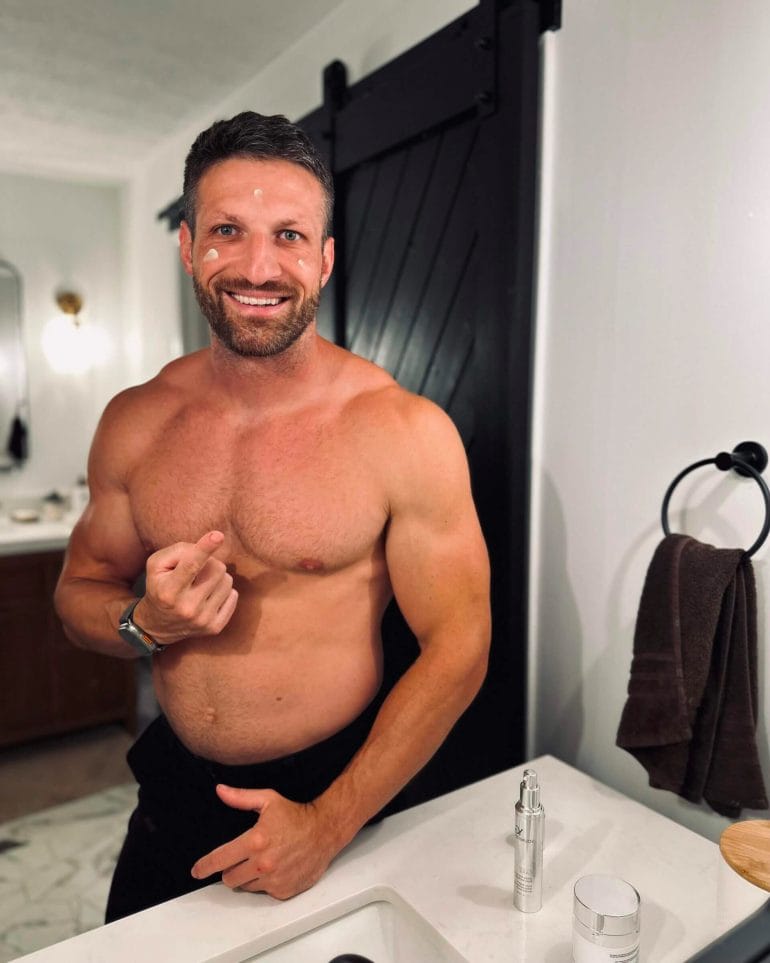 Young Goose Skincare Review: Summary and Final Thoughts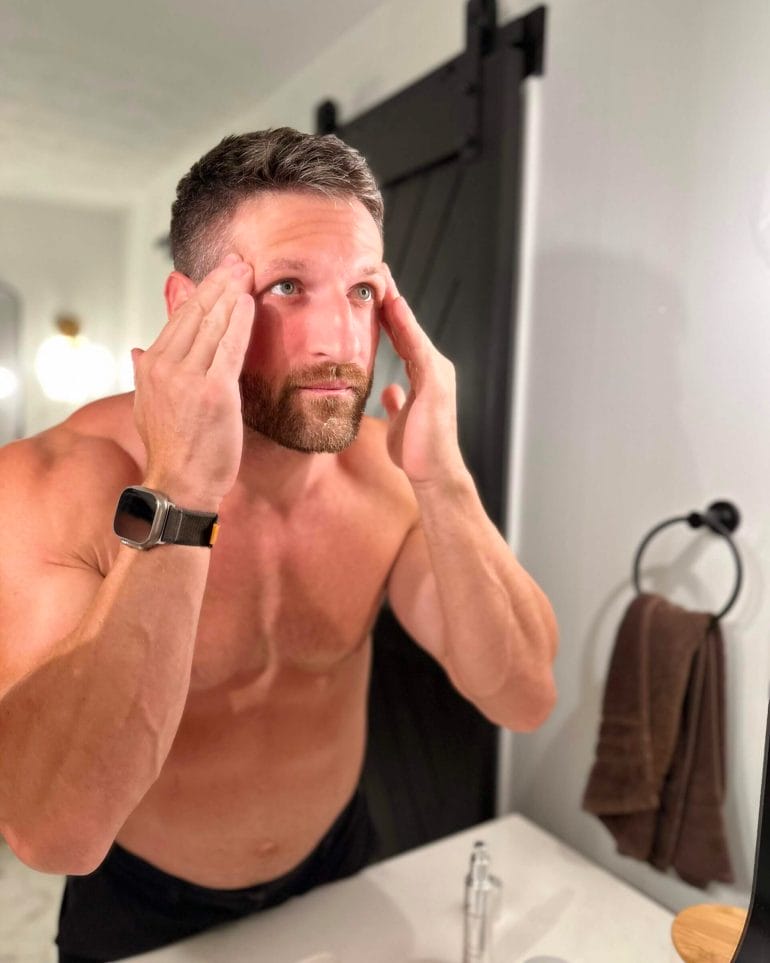 I think of skincare products as being in the same category as dietary supplements: I don't use them as shortcuts or to make up for poor lifestyle choices. Instead, I protect my sleep, avoid inflammatory foods and beverages, reduce my exposure to environmental toxins and avoid most traditional skincare products (that contain toxic ingredients). In other words, I try to avoid anything that could negatively impact my skin health.
On top of that, I leverage high-quality skincare products to help actively counter the natural effects of aging and give my skin an extra edge.
That's where skincare supplements from Young Goose come into the picture. I use them strategically to mitigate some of the environmental factors that are difficult to avoid in our modern world, including certain toxins in our food and water supply.
What I love about Young Goose is the company's commitment to using only ingredients that have been scientifically proven to be effective. Additionally, I appreciate how long each product lasts, making them much more budget-friendly than some of the expensive (yet less effective) brands you might find at a department store.
So if you're trying to improve your skin's appearance and health and are committed to making the appropriate lifestyle choices, using Young Goose's products can speed up your progress and improve the results.
To learn more about how I keep my skin healthy as I age, subscribe to my monthly newsletter and my Primal Shift podcast, which is available on Apple Podcast, Spotify and YouTube.

I'm a healthy living and technology enthusiast.
On this blog, I share in-depth product reviews, actionable information and solutions to complex problems in plain and easy-to-understand language.
Medical Disclaimer
The information shared on this blog is for educational purposes only, is not a substitute for the advice of medical doctors or registered dieticians (which we are not) and should not be used to prevent, diagnose, or treat any condition. Consult with a physician before starting a fitness regimen, adding supplements to your diet, or making other changes that may affect your medications, treatment plan or overall health. MichaelKummer.com and its owner MK Media Group, LLC are not liable for how you use and implement the information shared here, which is based on the opinions of the authors formed after engaging in personal use and research. We recommend products, services, or programs and are sometimes compensated for doing so as affiliates. Please read our
Terms and Conditions
for further information, including our
privacy policy
.