When blue light blocking glasses started to surge in popularity, I jumped on the bandwagon and purchased a pair for each member of the Kummer family (including the kids) to help support our circadian rhythm.
Unfortunately, we stopped wearing them almost immediately because they simply didn't work.
We didn't fall asleep faster or sleep any better, and we didn't notice any reduction in eye strain. In fact, none of us felt any different at all.
So I chalked all the buzz about blue light glasses up to the hype, concluding that they aren't worth the money. And I maintained that opinion until I tried a pair of glasses from BON CHARGE.
BON CHARGE Blue Light Blocking Glasses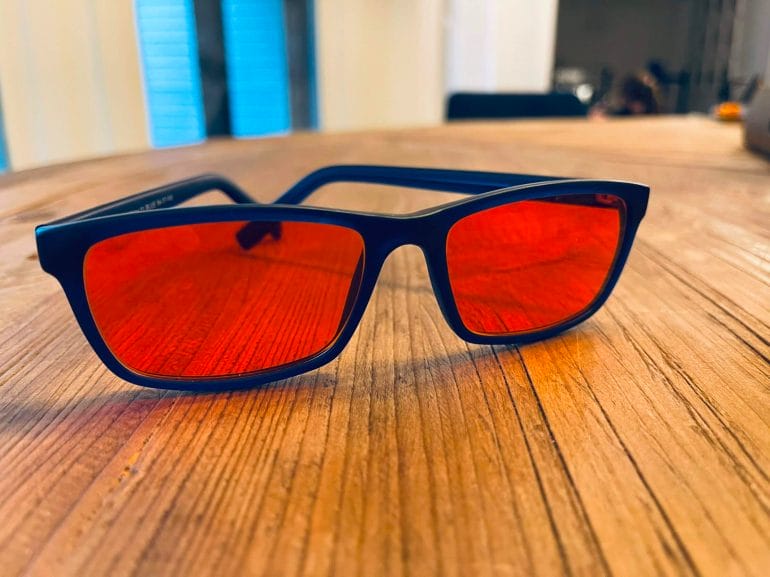 In this article, I'll explain why I think BON CHARGE (formerly known as BLUblox) makes the best blue light blocking glasses on the market. I'll also explain how you can test the blue light glasses you already own to see if they block the right frequencies of light.
To learn more about how certain light frequencies impact the human body, as well as the pros and cons of blue light, make sure you check out my article on the benefits of blue light glasses.
BON CHARGE Review
Pros
Scientifically proven to block the right light frequencies.
Available in three different types to support a variety of use cases.
Made in Australia from high-quality materials.
Available as non-prescription lenses or prescription glasses.
Available as reading glasses with magnification options.
Available in adult and kid sizes.
Cons
Price.
The glasses are shipped from Australia, which can lead to extended shipping times, depending on where you live.
Most of the blue light blocking glasses available on the market today don't actually filter the appropriate wavelengths of light to make a real difference in any aspect of your health and well-being. In other words, they're a waste of money.
That was certainly my experience with the cheap blue light blockers I purchased on Amazon: they did nothing whatsoever.
However, I learned about how blue light blocking glasses are supposed to work (and why they often don't work) from a podcast episode that BON CHARGE co-founder Andy Mant was a guest on, and I wanted to give them another try to see if using a higher-quality product could help me optimize my body's sleep cycle and melatonin release process.
This review details my experience with BON CHARGE and highlights some of the key factors that make these blue light blockers substantially different from other options.
BON CHARGE Material Quality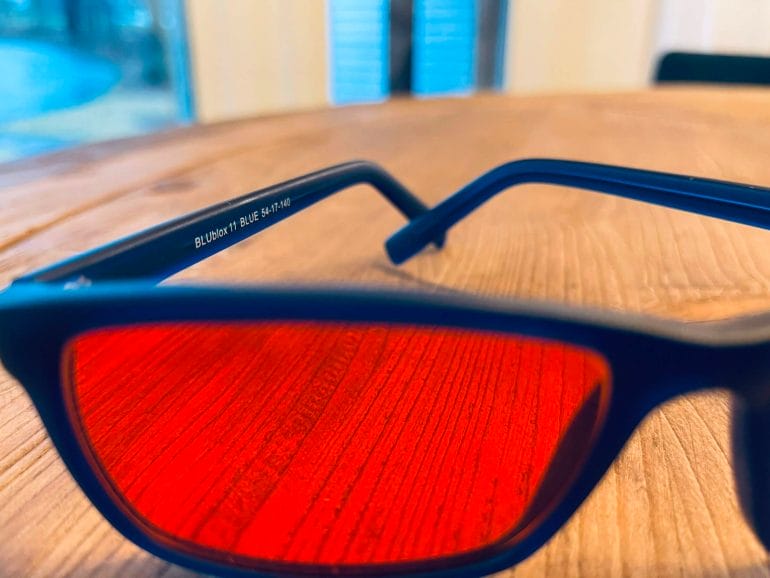 BON CHARGE frames are made from high-quality acetate, a type of plastic that's sturdy yet lightweight. It's also incredibly smooth, which makes the glasses feel comfortable on your skin.
As far as the lenses are concerned, you should know that the transparent lenses BON CHARGE offers — which they call their Computer Glasses — feature an anti-glare coating that ensures minimal color distortion.
Obviously, the colors of all objects do look distorted when you view them through tinted lenses (such as the company's Light Sensitivity Glasses or their standard Blue Light Blocking Glasses). But as I explain below, that's a key factor in whether or not the glasses actually work.
BON CHARGE Lenses vs. Cheap Lenses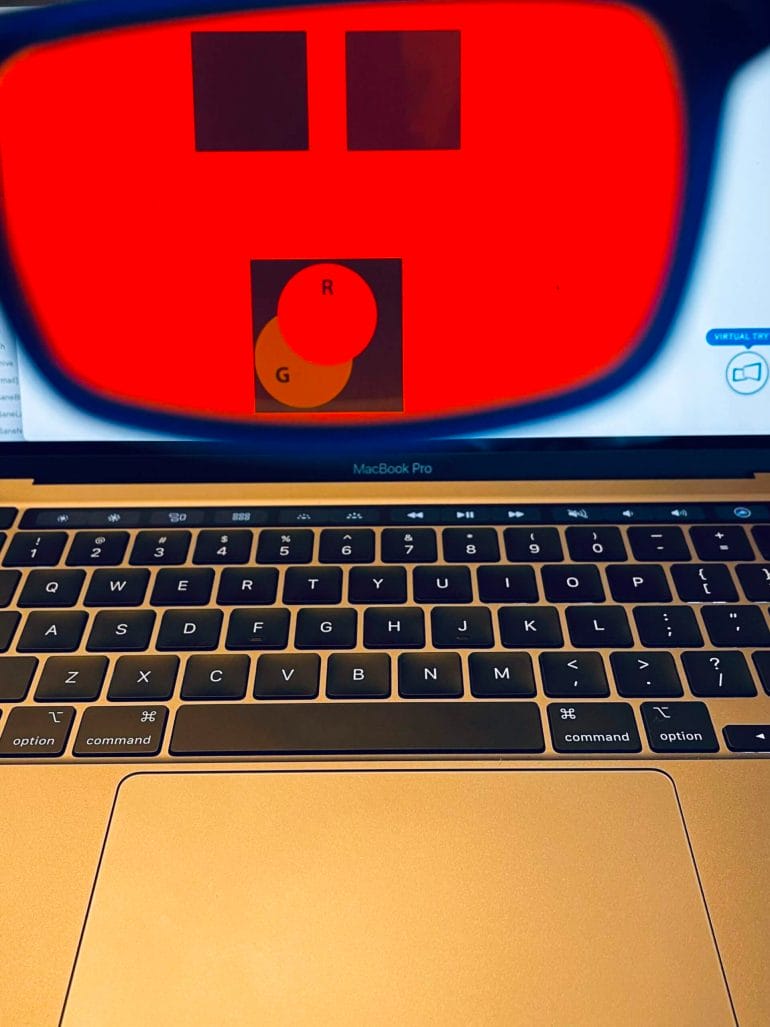 The second difference between BON CHARGE and the cheap glasses I purchased off Amazon is the color of the lenses. More specifically, the first (cheap) glasses had transparent lenses, while the pair of BON CHARGE glasses I now use has orange lenses.
Here's the thing: you need tinted lenses in order to block the frequencies of light that can disrupt your melatonin production. There's no way around that.
The problem is that these lenses take some getting used to, because they give everything you see a tint. I got used to it after a few days, and it no longer bothers me.
Are BON CHARGE Glasses Worth the Price?
There's no other way to say it: BON CHARGE glasses are more expensive than most other blue light glasses. Depending on the type of lens and frame you choose, they cost anywhere from $90 to $240 per pair.
The good news is that unless you need prescription lenses or magnifying lenses, you'll "only" spend between $90 to $150. But that's still more than the cheap glasses you can find on Amazon.
With that said, I think BON CHARGE glasses are worth the asking price for several reasons.
First of all, BON CHARGE glasses actually work, thanks to the fact that they filter the proper wavelengths of blue and green light. Most other glasses on the market only filter a subset of those frequencies, thus making them much less effective (or not effective at all).
The second reason why BON CHARGE glasses command a higher price tag is because they're manufactured in Australia under proper optics laboratory conditions, instead of in a mass-production facility in China.
Last but not least, I prefer the high-quality materials BON CHARGE uses for their frames and optics. They look better and feel better, which means I'm more likely to wear them. And the premium build quality means they're probably the only pair of blue light blocking glasses I'll have to buy for a very long time.
If you decide to give them a try, make sure to use my BON CHARGE discount code MK15 to get 15% off your purchase.
Unfortunately, BON CHARGE doesn't sell its glasses on Amazon or other online retailers; you can only buy them directly from the BON CHARGE website.
How BON CHARGE Has Improved Our Sleep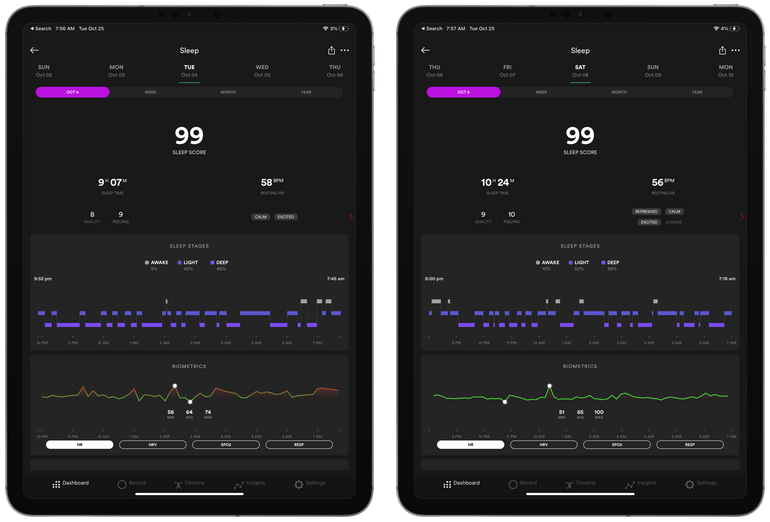 As I mentioned in my article about the benefits of blue light glasses, after wearing my BON CHARGE glasses for a few days, I began noticing how sleepy I felt around bedtime. Previously, I would usually only feel that sleepy when supplementing with melatonin.
That was a clear sign that my body was doing what it was supposed to: release sleep-inducing hormones, including melatonin, to encourage me to go to bed.
It was also a sign that I wasn't disrupting that process by bombarding myself with wavelengths of light that wouldn't occur in nature after sunset. As a result, I started falling asleep quicker and getting more slow-wave (deep sleep) every night.
One of my good friends noticed something similar. Here's a note he sent me about his experience with BON CHARGE, after using the glasses for several months:
I'm what you consider a night person. 10 p.m. is early for me, and because of that, I often spend part of my evening looking at a screen. The problem was that I would often force myself to sleep, even though I was not sleepy.

That problem went away thanks to BON CHARGE glasses. Now I enjoy my evening and go to sleep when my body naturally feels the need.

FYI — not all blue light blocking glasses are created equal. I first purchased a $20 pair that didn't work!

Juan David
Friend of the Blog
As far as our kids are concerned, we've noticed improved sleep patterns since they started wearing blue light protection, especially with our daughter, who has been intermittently struggling with falling asleep quickly.
On the other hand, our son (who is two years younger than our daughter) is an excellent sleeper and rarely has issues falling asleep in the evening. Coincidentally, he hasn't been very consistent with wearing his pair of blue light blocking glasses, because he says he doesn't like how the nose bridge feels on his face. (We're considering adding some padding to make the glasses more comfortable for him.)
In addition to reducing our kids' artificial blue light exposure after sunset, we've also worked on increasing their exposure to sunlight in the morning, which is an important factor in supporting their circadian rhythm.
Combined, these two strategies has noticeably improved their sleep patterns.
Frequently Asked Questions
How does BON CHARGE compare to brands like Warby Parker and Zenni?
The primary difference between BON CHARGE's blue light glasses and the products offered by other brands is the amount of blue light the lenses filter.

Many popular brands, including Warby Parker, offer what are called computer glasses with transparent lenses. Such glasses can help filter certain blue light frequencies emitted by digital screens to reduce eye strain and other minor issues, but they don't filter the proper wavelengths to ensure the timely release of melatonin at night. 

For that, you need tinted glasses, such as the ones BON CHARGE offers.

You can learn more about why tinting is so important in my article about the benefits of blue light glasses, which goes into the science of blue light.
Does BON CHARGE offer a virtual try-on?
No, unfortunately, BON CHARGE doesn't offer a virtual try-on. But the company does have a face shape guide, which you can access via this link. Additionally, you can return or exchange glasses if they don't fit you, as per the company's return policy. (More details below.)
What is the BON CHARGE return policy?
You can return any glasses within 30 days for an exchange, refund or store credit. BON CHARGE will pay for return shipping on your first exchange, and you're then responsible for the return shipping on any subsequent exchanges.
Does BON CHARGE offer prescription options?
Yes, BON CHARGE also offers prescription blue light glasses and magnifying lenses.
Final Thoughts: Why We Keep Using BON CHARGE
If you lived a truly Paleolithic lifestyle with no artificial sources of light, you wouldn't have to worry about blue light blocking technology. However, most of us can't avoid being exposed to artificial blue light on a regular basis, and chronic exposure to artificial blue light from computer and phone screens can lead to eye strain, headaches, dry eyes and other symptoms.
Plus, exposure to blue light from light bulbs after sunset can negatively impact your circadian rhythm and disrupt your sleep.
That's where high-quality blue light blocking eyewear can help. The kids and I have been using blue light blocking glasses with orange lenses from BON CHARGE and have noticed a dramatic improvement in sleep latency and sleep quality (especially deep sleep).
While glasses from BON CHARGE aren't the least-expensive options on the market, they're reasonably priced considering the quality of frames and lenses the company offers.
I've had my pair of BON CHARGE glasses for several years and they still look like brand-new.
If you're struggling with falling asleep quickly due to a disrupted circadian rhythm, or if you suffer from eye strain caused by too much screen time during the day, I encourage you to give BON CHARGE a try.

I'm a healthy living and technology enthusiast.
On this blog, I share in-depth product reviews, actionable information and solutions to complex problems in plain and easy-to-understand language.
Medical Disclaimer
The information shared on this blog is for educational purposes only, is not a substitute for the advice of medical doctors or registered dieticians (which we are not) and should not be used to prevent, diagnose, or treat any condition. Consult with a physician before starting a fitness regimen, adding supplements to your diet, or making other changes that may affect your medications, treatment plan or overall health. MichaelKummer.com and its owner MK Media Group, LLC are not liable for how you use and implement the information shared here, which is based on the opinions of the authors formed after engaging in personal use and research. We recommend products, services, or programs and are sometimes compensated for doing so as affiliates. Please read our
Terms and Conditions
for further information, including our
privacy policy
.