Kineon Move+ Pro is an advanced red light therapy device that uses a combination of lasers and LEDs (also known as photobiomodulation) to effectively treat joint pain by improving blood flow to the affected area, in turn triggering the regrowth of cartilage tissue and balancing the body's inflammatory response.
Over the past few months, I used Move+ Pro to effectively treat a persistent shoulder injury I sustained last year while doing bench presses.
In this Kineon Move+ Pro review, I'll explain why the device is more effective than most other red light therapy products on the market, as well as how it can help you treat common joint issues like knee and elbow pain (as well as inflammation caused by arthritis, including osteoarthritis and rheumatoid arthritis).
Note: When I first tested the Kineon Move+, it was called the Reviiv Knee+. The company rebranded in September 2022, and I updated this review to reflect the new name. Kineon then introduced the successor to Move+ (the Move+ Pro) in April 2023. This review includes information about my experience with the new device, and touches on some of the important changes and updates.
Kineon Move+ Pro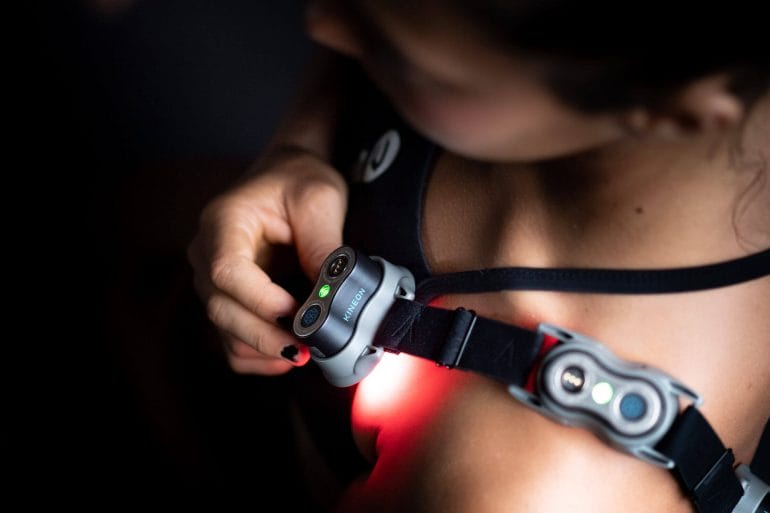 Effectiveness
Ease of use
Battery life
Value
Summary
Kineon Move+ Pro is an advanced red light therapy device that uses a combination of lasers and LEDs (also known as photobiomodulation) to effectively treat joint pain by improving blood flow to the affected area, in turn triggering the regrowth of cartilage tissue and balancing the body's inflammatory response.
Benefits of Photobiomodulation for Joint Pain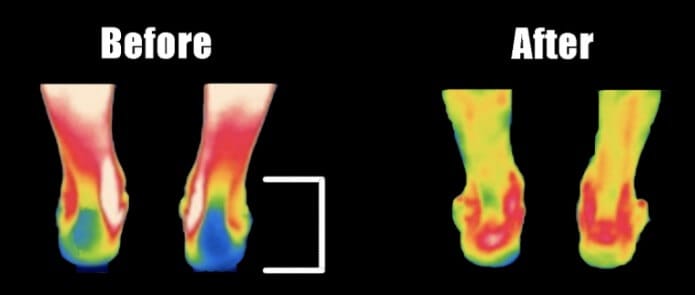 Photobiomodulation (PBM) is scientifically proven to be an effective treatment method for a variety of joint-related issues, including (but not limited to):
Sports injuries (such as ACL or meniscus issues).
Excessive wear and tear (such as osteoarthritis).
Chronic inflammation (such as rheumatoid arthritis).
Photobiomodulation is effective because it increases oxygenated blood flow to the treatment area, thus speeding up the body's natural healing process. Additionally, PBM triggers the regrowth of damaged cartilage tissue, which is crucial for the treatment of osteoarthritis and other degenerative joint issues.
PBM also balances the body's inflammatory response without impairing acute inflammation, which is a critical mechanism for the body to heal.
You can learn more about why inflammation is crucial for optimal tissue healing, as well as the science behind photobiomodulation, in my article about the benefits of red light therapy for joint pain and arthritis.
If you don't have time to read that article right away, here are the top four benefits of photobiomodulation:
Heals cartilage by increasing stem cell production.
Reduces inflammation by decreasing the expression of pro-inflammatory factors.
Increases blood flow to the treated areas by dilating blood vessels and triggering the growth of new blood vessels.
Reduces pain by suppressing pain signaling molecules.
Kineon Move+ Pro is an advanced wearable photobiomodulation device that delivers all of the above benefits.
If you'd like to take an even deeper dive into the topic, read my article on the health benefits of red light therapy, which goes further into the science.
Kineon Move+ Pro Review
Pros
Effective.
Easy to use.
Great battery life.
Clinical-grade technology.
Affordable.
Cons
Kineon's documentation (treatment protocols) lags behind the capability of the hardware.
Kineon (the company behind Move+ Pro) developed this red light therapy device out of a crowdfunding campaign on Indiegogo to help people treat acute and chronic knee pain caused by injuries, wear and tear (sometimes resulting from excess body weight), and chronic inflammation (which can lead to autoimmune issues such as rheumatoid arthritis).
What most people don't know is that poor dietary choices often cause chronic inflammation. Check out my article about plants vs. meat to learn how the toxins in plant foods increase your risk of developing gout, rheumatoid arthritis and other issues.
Move+ Pro can be used to help treat virtually all joints and muscles — including ankles, calves, thighs, hips, shoulders and elbows — thanks to its adjustable and elastic straps.
For the past few months, I've been using several generations of Move+ (including the Move+ Pro) to treat the strained ligament that attaches my left bicep to my left shoulder and other minor exercise-induced injuries.
Dual-Light Therapy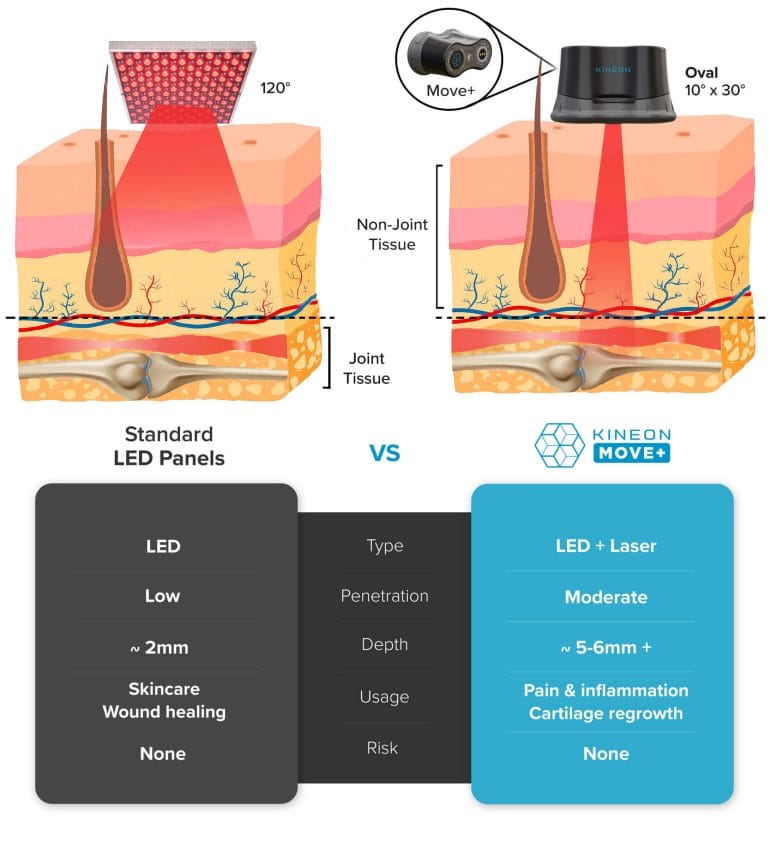 Move+ Pro leverages dual-light technology that combines medical-grade laser technology with traditional LED lights to improve the light's penetration depth. The latter (combined with proper dosing) is important for effectively treating both injured tissue around joints and larger muscle groups.
Most red light therapy devices on the market rely solely on LEDs, which don't offer the same focus, dosing and penetration depth of laser light.
Another thing that differentiates Move+ Pro from similar devices on the market is its pulsed wave (PW) technology. Most competing devices leverage constant wave (CW) technology and, as I explain in my article about the benefits of red light therapy for joint pain, "PW uses short pulses of light at a relatively high energy level, whereas CW uses a constant stream of light at a relatively lower energy level. Thus, the benefit of using pulsed light devices is that they allow for the use of higher energy (which improves penetration depth) without inflicting tissue damage."
Use Cases (Modular Design)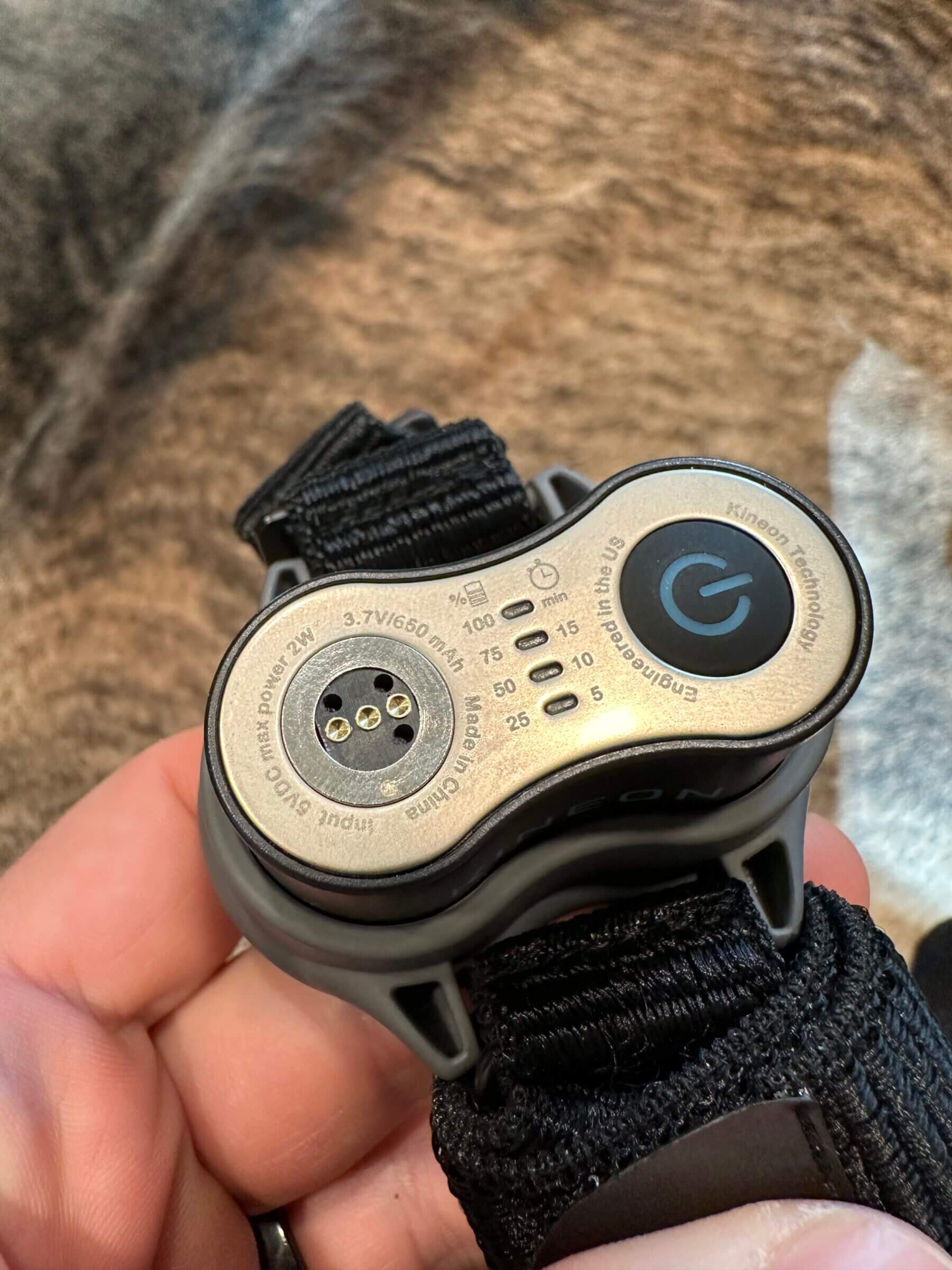 One of the things I love most about Move+ Pro is its versatility, which is thanks in large part to its modular design. Out of the box, Move+ Pro comes with three light modules that are attached to adjustable elastic straps, forming a circle. Each of the three straps also features a clip that makes it easy to wrap the light modules around your knee, thigh or other body parts.
Note: Kineon will soon launch additional strap options to make the treatment of certain body parts (such as the lower back) more convenient. The image below shows the new extender strap I've been using to treat a tight upper back muscle.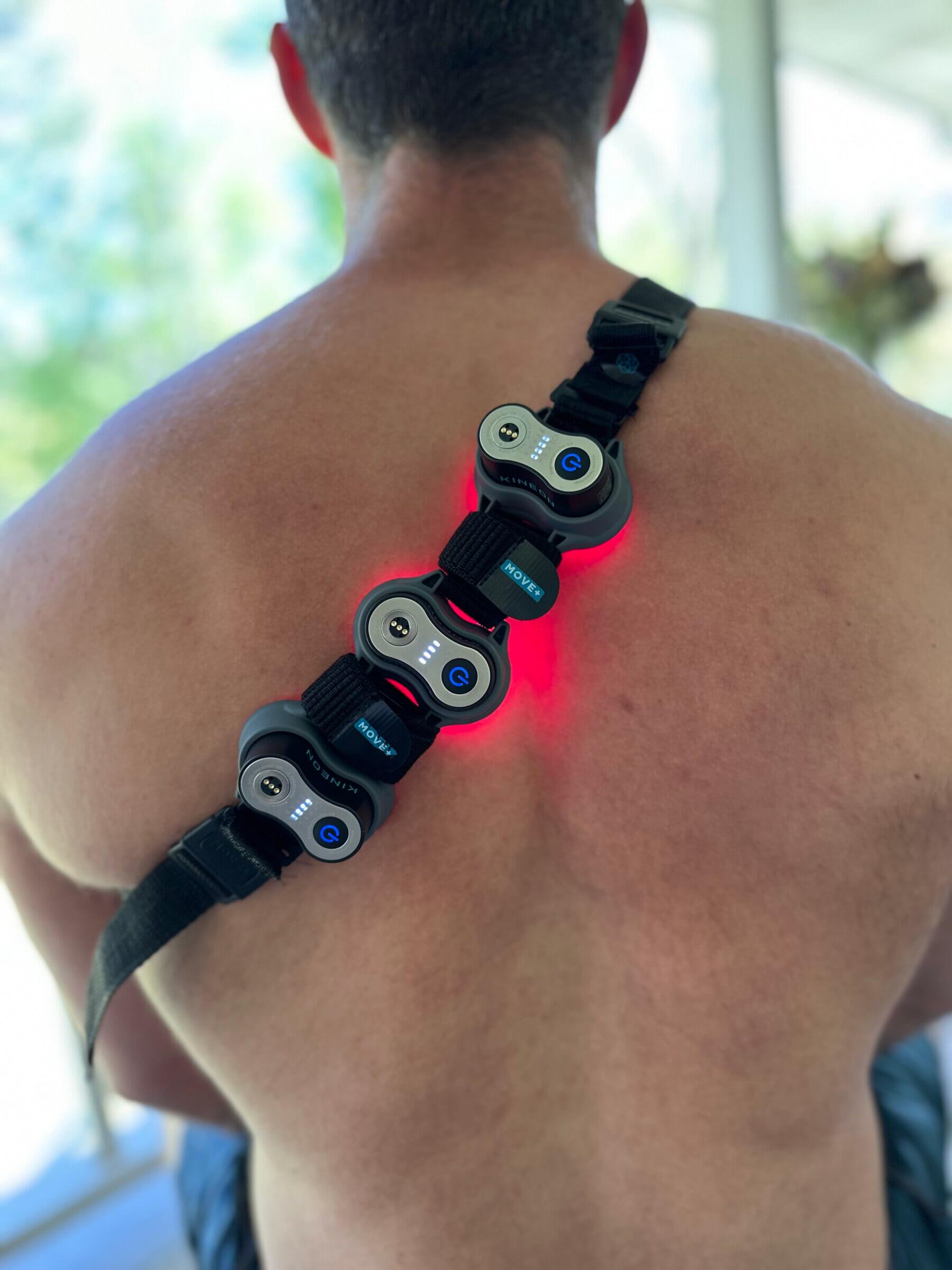 What's neat about the light modules is that they're all linked together via Bluetooth. If you turn one on, the other two will also turn on. The same is true when you turn one of the modules off or change the session time.
The latter is a new feature Kineon introduced with the Move+ Pro. I anticipated that Kineon would introduce a companion app to set the desired session time, but I'm glad the company decided to implement this feature into the new hardware.
To change the session time, you can hold the power button for two seconds to cycle between 5, 10 and 15-minute sessions. (15 minutes is the ideal session time for many of Kineon's treatment protocols).
How to Use Move+ Pro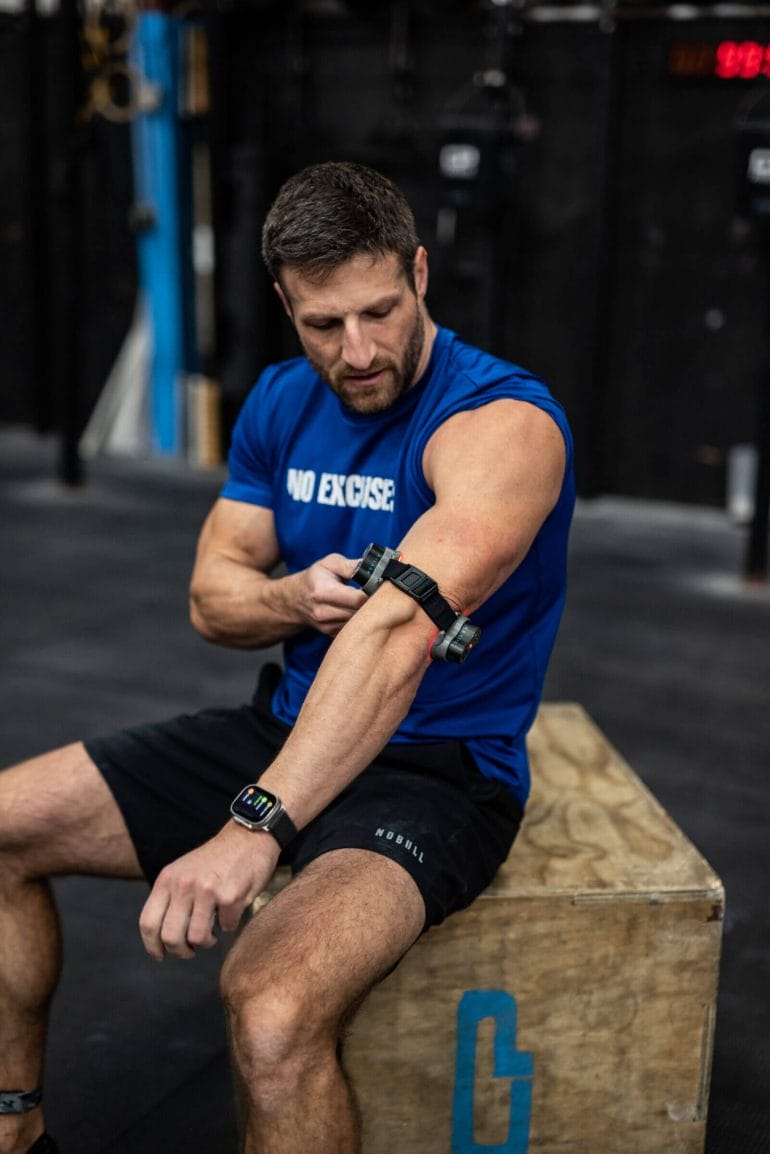 Move+ Pro is a passive treatment device. All you have to do is wear it around the joint or muscle group you want to treat and turn it on.
I usually treat my shoulder while watching an hour of TV in the evening with my wife. From my perspective, the passive nature of Move+ Pro is a major differentiator from the other red light therapy devices I've used in the past (including Solio Alfa+) because it makes it easy to keep using it.
If I have to do something beyond wearing the device — like massage the affected area — I'm much more likely to stop the treatment regimen before the issue is fully healed. That's a problem because many joint issues require a certain treatment length (several weeks to several months) to be effective.
I noticed significant improvements in pain and shoulder mobility after about a week of using Move+ Pro for 15 minutes per day. If you suffer from knee pain due to a degeneration of cartilage tissue or an ACL tear, you'll likely need several weeks of treatment to allow your body to repair (or regrow) the damaged cartilage tissue.
Battery and Charging
When I started writing this review, I was testing the original version of the device (the Move +), and I had no idea what its battery life would be. I just started using the device for up to 30 minutes a day, several days in a row, before recharging it using the magnetic charging dock it comes with.
I never ran out of battery during that period, and because the light modules didn't have a battery life indicator (the updated Move+ Pro modules do), I had no clue what the charge level was at any given time. Out of curiosity, I asked Kineon and the company told me that the battery of each light module lasts for more than four hours of continuous use (or 24 10-minute sessions).
The device comes with a wireless charging dock, but you need to connect it to a power source with a USB-C cable. One thing I've noticed is that it will only charge when using a USB-A to USB-C cable (which is the type of cable that comes with Move+ Pro). In other words, the charger won't work with a USB-C to USB-C cable (and a matching USB-C power adapter).
As a result, I had to hunt down an old five-watt iPhone charging brick, as Kineon does not include a wall plug with the device (just the USB-A to USB-C cable).
I experienced this issue with a pre-production model, and had hoped the problem would be ironed out by the time the final Move+ Pro device hit the market. Unfortunately, it still has not been addressed.
As far as charging speed is concerned, the modules take between four and five hours to charge from 0% to 100%. I usually charge them overnight so they're ready for use the next day.
The Move+ Pro has LED battery light indicators on each module as well as on the charging dock, so you can easily verify if you have 100%, 75%, 50% or 25% battery life remaining.
Pricing
Move+ Pro retails for $499 and is worth every penny.
If you decide to purchase the device, use code MKUMMERMOVE+ to get 10% off your order.
My Experience With Kineon Move+ Pro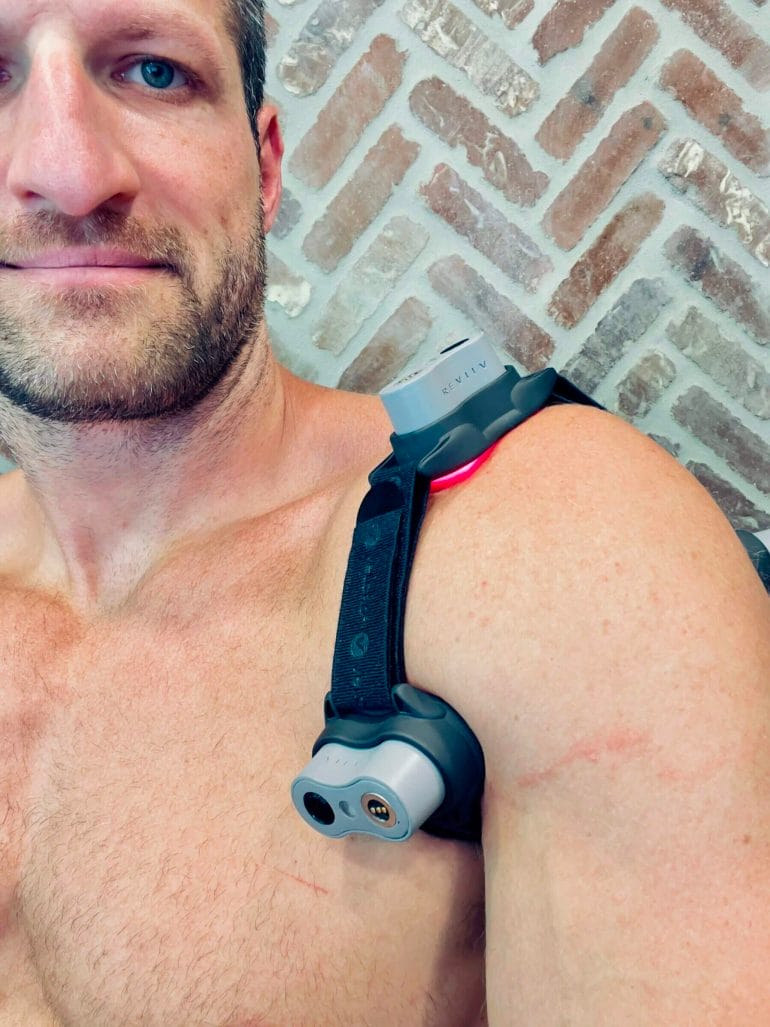 I've been dealing with shoulder pain since the summer of 2021. And up until recently, I did not dedicate sufficient time to healing the damaged tissue.
I want to make it clear that I'm not talking about taking a break from working out. After all, not using injured joints or muscles for an extended period is counter-productive, because it limits blood flow (which is an important aspect of the healing process) and causes the affected tissue to weaken even more.
Instead, I'm referring to the use of the recovery tools I already had, as well as consistent execution of the movement exercises prescribed by my physical therapist.
To be honest, my shoulder issue wasn't debilitating enough to encourage me to make the required recovery efforts a high priority. After all, I could still perform most workouts with little to no pain.
That's why I got so excited when I learned about Move+ Pro: it's a passive treatment device that doesn't take time away from everything else I want to do, allowing me to treat my shoulder for 15-30 minutes each day while watching TV, reading a book or hanging out with my family. As a result, I used the device every day for the past few weeks and I'm seeing incredible results.
Before I started using Move+ Pro, my shoulder pain would stay at relatively low levels when I wasn't using my shoulder and bicep muscles. But as soon as I started doing push-ups, overhead presses or muscle-ups, the pain would intensify in the days following the workout.
Since I started using Move+ Pro, I can perform any type of movement without further aggravating my shoulder. Instead, my pain has been gradually receding and my shoulder's range of (pain-free) motion has increased.
I completely attribute these improvements to using Move+ Pro and, as a result, I've started making the device a regular part of my recovery routine. In other words, I'll use the device to increase oxygenated blood flow to joints and muscle groups that are sore or fatigued from previous workouts, even though they are not injured.
I should also mention that I received two Move+ prototype units because I thought one was defective when I couldn't get it to charge using a standard USB-C cable (see the Battery and Charging section above for more details on what I mean by that). Once I started using a USB-A to USB-C cable (like the one that came with Move+ Pro), the charger worked just fine and so I had an extra unit to play with.
Considering that one of my friends who is a workout buddy has had bad knees for many years, I decided to loan him one of the two units to see if it could help him regrow some of the damaged cartilage tissue he's had for decades.
He reported significant improvements within a short period and recorded a video (below) to share his experience with the device:
Side-By-Side Comparison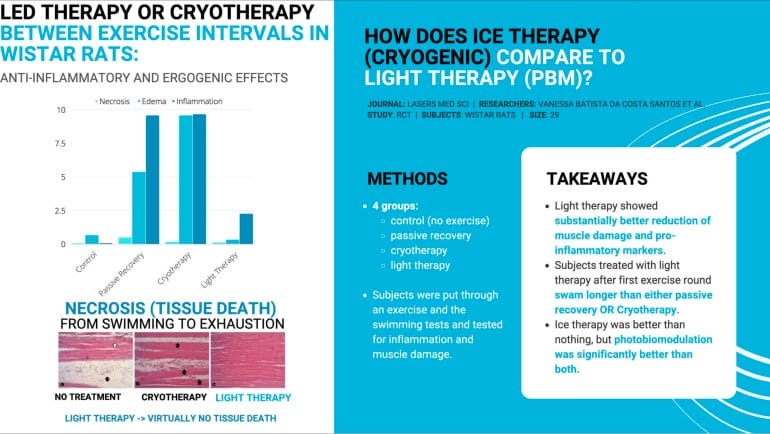 Since I've tested and used a variety of recovery and pain-relief strategies as part of my active lifestyle, I created the table below to give you an overview of how those strategies compare.
| | Photobiomodulation (PBM) | Red Light (LED) | Transcutaneous Electrical Nerve Stimulation (TENS) | Percussion Therapy |
| --- | --- | --- | --- | --- |
| Increases blood flow | ★★★ | ★★☆ | ★☆☆ | ★★★ |
| Deep tissue penetration | ★★★ | ★☆☆ | ★☆☆ | ★★★ |
| Blocks pain signals | ★★★ | ★☆☆ | ★★★ | ☆☆☆ |
| Triggers cartilage regrowth | ★★★ | ☆☆☆ | ☆☆☆ | ☆☆☆ |
As you can see, PBM is superior to most other strategies as far as pain relief and improved recovery are concerned.
On a side note, I also leverage cold plunging (aka cold therapy) regularly, but not to treat acute inflammation.
Acute (short-term) inflammation is an important mechanism that allows the body to heal faster. More importantly, I don't use ice packs or cryotherapy to treat sore muscles or reduce inflammation, because it's less effective than photobiomodulation and, in some cases, even counter-productive.
Dr. Aaron Horschig, a doctor of physical therapy, explains in this blog post why you should "walk it off" instead of putting ice on an injured or fatigued muscle or joint.
Move+ Pro vs. PBM Treatment at a Clinic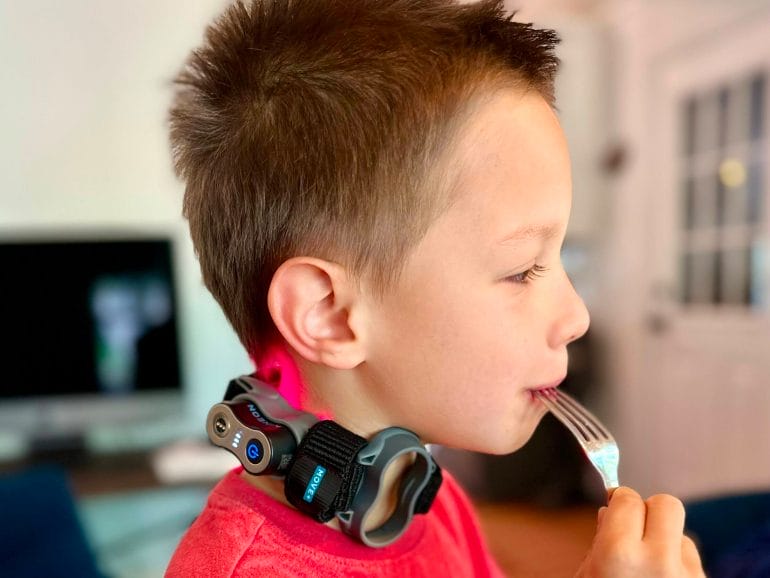 One of the key advantages of Move+ Pro is that you can take the device with you to treat your joints wherever you are, instead of having to travel to a treatment facility.
Additionally, treating chronic joint issues at a clinic or doctor's office is significantly more expensive. A year's worth of laser or red light therapy treatments can easily cost you hundreds or even thousands of dollars.
Frequently Asked Questions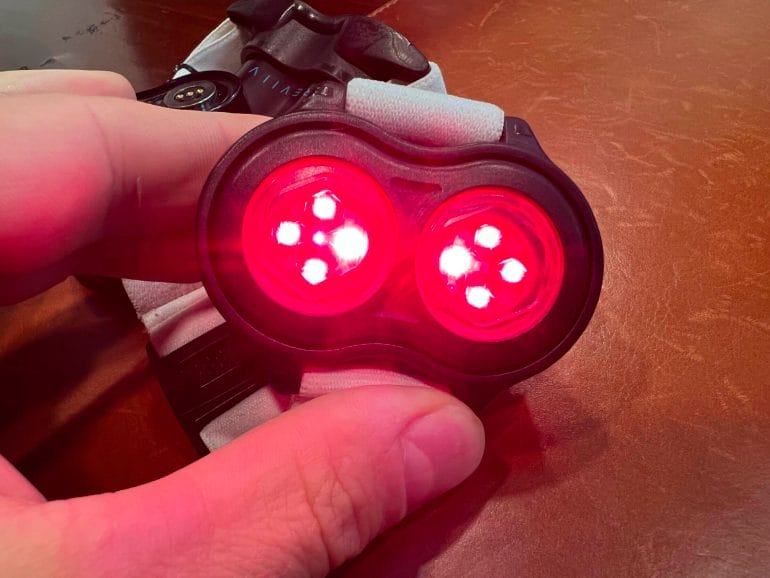 Move+ vs. Move+ Pro
As I mentioned at the beginning of this article, Kineon recently released a new generation of its red light therapy device called Move+ Pro. The updated device comes with several great features that make the device even more valuable, including:
Session length selection (five, 10 and 15 minutes) by holding the power button for two seconds.
Percentage-based battery life indicators on both the modules and the charging dock.
A soft silicone coat on each module that feels more comfortable on the skin than the hard plastic Kineon used to use.
An improved strap that's more comfortable and easier to adjust than the previous generation.
The ability to quickly re-sync modules (so they turn on and off at the same time) if they get out of sync (e.g., if you use only a single module to treat a specific area).
Additionally, Kineon will soon offer a flexible extender strap to treat hard-to-reach areas such as your lower back.
What issues can Move+ Pro help treat?
Move+ Pro can help treat various acute and chronic issues, including injuries (MCL, ACL, meniscus, muscle tears and sprains), as well as inflammatory conditions including osteoarthritis, rheumatoid arthritis and gout. Additionally, you can use Move+ Pro to speed up your recovery after surgery or intense workouts (muscle fatigue or soreness).
Why is Move+ Pro better than other red light therapy devices?
Move+ Pro is an advanced photobiomodulation device that leverages both laser diodes and LEDs (dual-light technology) to deeply penetrate tissue. Most red light therapy devices on the market use only LEDs that can't penetrate the tissue deep enough to provide optimal benefits.

Additionally, the light-emitting elements of Move+ Pro have been engineered to deliver a focused beam of light for optimal penetration.
How long should each Move+ Pro treatment last?
To see results, Kineon recommends using Move+ for at least five minutes twice a day. For optimal results, the company recommends extending your treatment time to 15 minutes twice a day.
How long does Move+ Pro's battery last?
Move+ Pro runs for more than four hours on a single charge. Once the batteries are completely empty, you can recharge them in 4-5 hours using the magnetic charging dock.
Can you share Move+ Pro with your partner or friend?
Yes, you can definitely share Move+ Pro with another person. There are no personalized settings you'd have to worry about.
Does Move+ Pro come in different sizes?
Move+ Pro comes in one size, with straps you can easily adjust for an optimal fit.
Can you use Move+ Pro instead of having surgery?
I always consider surgery a last resort, but there are cases where it can't be avoided. But even then, you can use Move+ Pro to speed up your post-OP recovery.
Is Move+ Pro available for purchase on Amazon?
As of this writing, Move+ Pro is not available on Amazon.
Is Move+ Pro covered by health insurance?
Move+ Pro is FDA certified, so check with your insurance provider to see if it's covered under your policy.
Is Move+ Pro FDA certified?
Yes, Move+ Pro is FDA certified.
Kineon Move+ Pro Review: Final Thoughts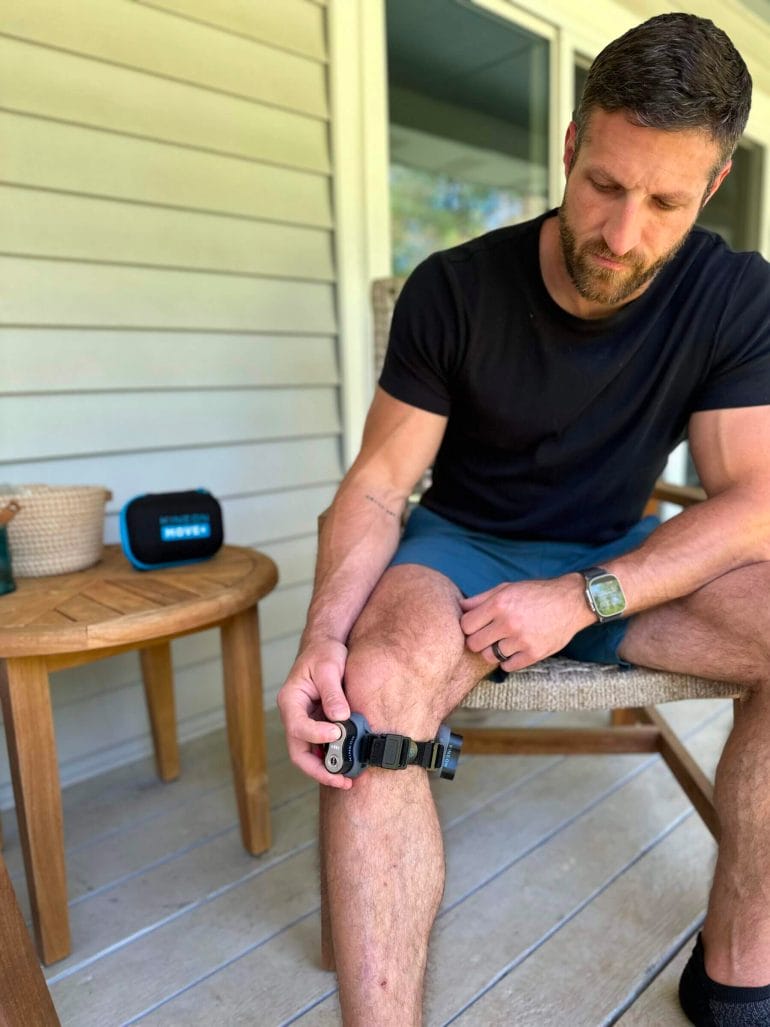 Move+ Pro is an effective laser therapy device that uses photobiomodulation technology (PBM), which has been shown in several studies to effectively treat various types of joint pain (including arthritis) by triggering the growth of new blood vessels (angiogenesis) and cartilage tissue, as well as by balancing inflammation.
I've been using Move+ Pro to successfully treat a stubborn shoulder injury that had been bugging me for almost a year. Together with my Sunlighten infrared sauna, my cold plunge, PowerDot and Theragun, Move+ Pro has become an essential part of my recovery toolkit.
In fact, I ranked as one of the best red light devices out of the many I have tested.
Do you suffer from chronic joint pain or have you sustained a recent injury to your knee? If so, I encourage you to give Move+ Pro a try to speed up your recovery efforts.

I'm a healthy living and technology enthusiast.
On this blog, I share in-depth product reviews, actionable information and solutions to complex problems in plain and easy-to-understand language.
Medical Disclaimer
The information shared on this blog is for educational purposes only, is not a substitute for the advice of medical doctors or registered dieticians (which we are not) and should not be used to prevent, diagnose, or treat any condition. Consult with a physician before starting a fitness regimen, adding supplements to your diet, or making other changes that may affect your medications, treatment plan or overall health. MichaelKummer.com and its owner MK Media Group, LLC are not liable for how you use and implement the information shared here, which is based on the opinions of the authors formed after engaging in personal use and research. We recommend products, services, or programs and are sometimes compensated for doing so as affiliates. Please read our
Terms and Conditions
for further information, including our
privacy policy
.