Yohann, a Swiss manufacturer of premium stands and docks for Apple devices, has released a beautifully crafted wooden iPhone & Apple Watch charging stand with extra room for jewelry or your AirPods.
Some readers of my blog might remember that I reviewed Yohann before when the company released its first product, an innovative iPad stand. It's been two years since its release, but I still consider my Yohann one of the best iPad stands on the market. Since then, Yohann has released a slew of new products for the iPad, MacBook, iPhone, and Apple Watch. In this review, I'll share my experience with Yohann's wooden iPhone & Apple Watch charging stand.
| Product | |
| --- | --- |
| Yohann for Apple Watch & iPhone Walnut | |
| Yohann for Apple Watch & iPhone Oak | |
Wired vs. Wireless Charging
I have fully embraced wireless charging since I started using it with my iPhone X. But there are plenty of users out there who still prefer charging their iOS devices with a cable. And there are good reasons for that:
Wired charging is much faster, in particular, if you use a fast charger instead of Apple's 5W adapter.
You can hold and use your device while it's charging.
You don't have to worry about aligning the device with the charging coils.
If you are one of those users favoring wired charging, the Yohann iPhone & Apple Watch charging stand is for you. If you own an Apple Watch but are otherwise impartial of wired vs. wireless charging, you'll appreciate the ability to charge both devices at the same time.
Messy Wires
Let's face it, most folks who own an iPhone and an Apple Watch end up with two messy-looking charging cables on their nightstand or desk. My wife and I have been there, and we tried various hacks to declutter those cords. Ultimately, we ended up using two separate charging stands/pads for our phones and Apple Watches.
The wireless charging stands for my iPhone and the dock for my Apple Watch are from two different manufacturers, and thus, their design doesn't match. Apple was supposed to provide a solution to this first world problem with a combined wireless charging solution. Unfortunately, AirPower is nowhere to be seen and based on the latest rumors; the company may never release it.
In the past, I have tried various wired and wireless charging solutions, that could simultaneously charge both my devices, but none felt like a premium product. That's the gap Yohann is trying to fill.
Yohann iPhone & Apple Watch Charging Stand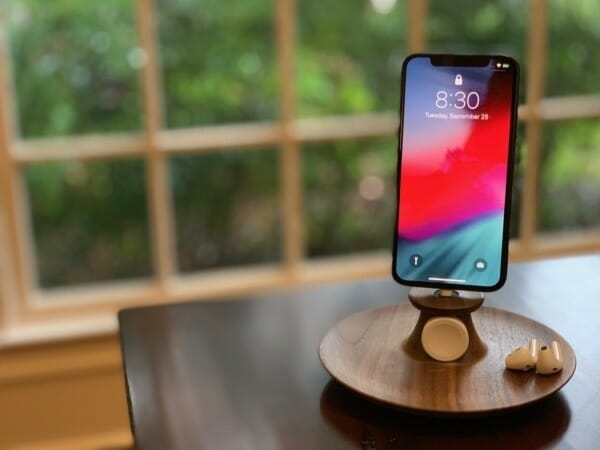 Highlights
Designed in Switzerland, manufactured in Germany and Italy
Responsibly sourced and crafted
Charges iPhone and Apple Watch simultaneously
Reduces cable clutter and fumbling
Provides extra room for jewelry or AirPods
Also charges AirPods case
The good folks at Yohann understood the dilemma and decided to craft a minimalistic dock that the company carved out of a single block of wood.
Yohann's charging solution is available in Walnut and Oak, and for this review, I decided to go with the darker wood, which matches the furniture in our home.
Keeps a clean look
To maintain a neat appearance on your desk or nightstand, Yohann neatly routes the necessary charging cables underneath the dock. As a result, you won't have to worry about fumbling with cables or dropping them when unplugging the phone. I can't tell you how many times I had to go fishing for a charging cable when it fell behind the nightstand.
Adds versatility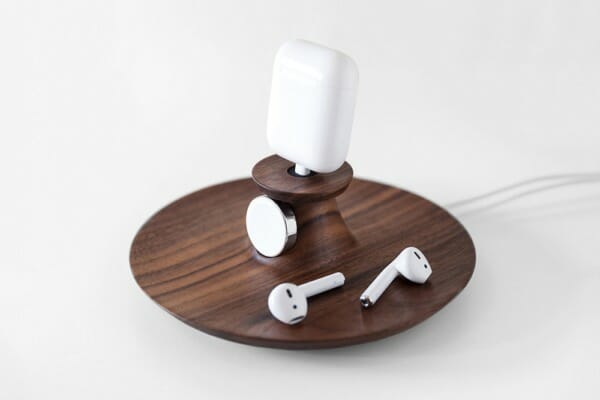 The other thing I like about Yohann's design is the circular plate, which offers space for additional items, such as jewelry, keys, or AirPods. For example, my wife doesn't take her earrings off in the bathroom because she accidentally dropped them a few times and they almost fell into the sink. That's why keeps them on until before she goes to bed and then puts them on a decorative tray on her nightstand.
Sustainably manufactured
With every new iPhone or MacBook release, Apple makes it a point to inform us of how sustainably they built their products. To some consumers that may sound irrelevant, but my wife and I have made it a priority to be more aware of how our actions as consumers impact the environment. For example, we buy and use less plastic, use biodegradable trash bags, decline plastic straws at restaurants, etc.
So it's refreshing to know that Yohann has also made a social commitment to help the environment and to include disabled people in the manufacturing process.
How to use Yohann?
Frankly, I still have not decided how to best use the Yohann iPhone & Apple Watch charging stand yet. On the one hand, it could replace the multi-vendor charging solution on my nightstand. On the other hand, I could also use it on my desk to charge the case of my AirPods and the Apple Watch during those times when I wear it overnight and thus need to charge it sometime during the day.
For now, I have placed Yohann on my nightstand, but I'll probably also use it on my desk until I have rendered a final decision on where to put it.
Frequently Asked Questions (FAQ)
Below are answers to questions I expect to get asked by readers. I'll keep adding on to the list as questions come in.
What devices is Yohann compatible with?
You can use Yohann with all versions of the Apple Watch, including Series 0, 1, 2, 3, and 4. Yohann is also compatible with all iPhone models that have a Lightning port, including the latest iPhone Xs, iPhone Xs Max, and iPhone Xr. Additionally, you can charge the case of your AirPods and probably any other device with a Lightning port that has a similar weight and dimensions of an iPhone.
Is Yohann compatible with iPhone cases?
According to the company, Yohann is compatible with iPhone cases that are up to 2 mm thick. Thicker cases should work as well as long as the cutout on the bottom is sufficiently wide.
Does Yohann come with charging cables?
Nope, you'll have to provide the cables for the iPhone and Apple Watch.
Does Yohann hold the iPhone in place securely?
Yes, the Lightning connector is tall enough and provides enough friction for the iPhone to stay in place when docked.
Also, the Yohann charging stand is super stable, and it comes with self-adhesive rubber buttons that prevent the dock from sliding on flat surfaces. However, you'll need to hold down Yohann with one hand while un-docking your iPhone. Otherwise, you'd lift up your phone including the stand due to the friction between the Lightning port and the connector.
How to "assemble" Yohann?
Yohann consists of 3 parts: the wooden dock, a rubber insert and four self-adhesive buttons you can place on the bottom of the stand. When putting the pieces together, I recommend inserting the disc of the Apple Watch charger first, before pushing the Lightning connector of the iPhone charger through the opening in the center of Yohann. Then grab the rubber insert, insert the Lightning cable and gently pull on the cord to seat the Lightning connector. Note that when properly seated, the Lightning connector is angled backward. Also, make sure to gently pull down on the charging cables before inserting them into the "cable routing slots" on the bottom of Yohann. That way, they stay in place securely when you dock and un-dock your devices.
Conclusion
Yohann's wooden iPhone & Apple Watch charging stand is arguably the slickest looking multi-device dock on the market. It looks like a high-end piece of decor, but at the same time, it's a functional piece of wood that makes the hearts of tech-enthusiasts beat higher. I love it, and I'm confident, so will you.

I'm a healthy living and technology enthusiast.
On this blog, I share in-depth product reviews, actionable information and solutions to complex problems in plain and easy-to-understand language.