Workflow, a productivity app that Apple recently acquired makes iOS automation incredibly easy. In this article, I would like to share how I automate tasks and workflows with the Workflow app.
One of the things I love about macOS is the ability to automate tasks, such as filing receipts. iOS was pretty limited in this regards due to Apple's application sandboxing. The latter prevented applications from sharing data with each other. With the introduction of iOS 8, Apple lifted some of those restrictions, thus allowing developers to create apps that can effectively communicate and share data with each other.
As part of the acquisition, I am hoping that Apple will give the developers behind Workflow additional access to the iOS internals to bring iOS automation to the next level.
Shop mentioned products
Download Workflow app (iTunes)
iOS automation with Workflow
Workflows connect apps and actions together to automate things you do on your device. To build a workflow, just drag and drop. Alternatively, you can download ready-to-use workflows from the Gallery.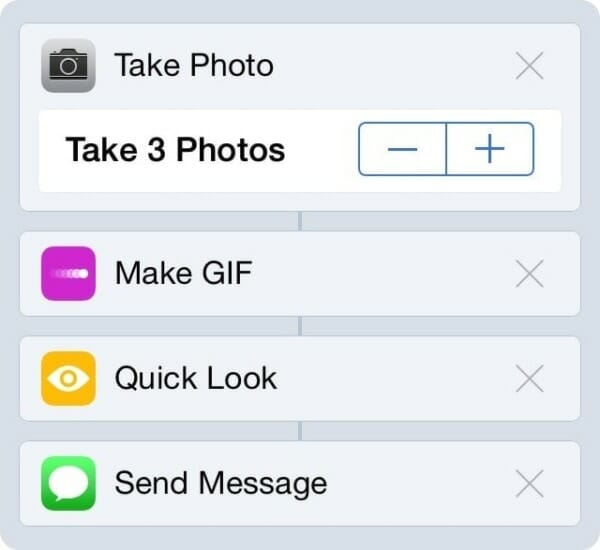 When you first launch the app, it walks you through a simple workflow to create a GIF out of 3 photos. It's a neat way of showing the simplicity of this app but only scratches the surface of what you can do with it.
Tasks I wanted to automate
I'm on the road a lot, and I have found myself manually repeating certain tasks over and over. That sounds like a perfect job for Workflow, doesn't it?
To get started, I downloaded a bunch of workflows from the Gallery and started modifying them to fit my needs. Some of the workflows I find very useful include:
Add blood pressure to Health
I don't have a HealthKit-enabled blood pressure monitor, but I would like to keep track of it via the Health app. So I created a workflow that allows me to quickly enter my blood pressure readings on my iPhone or Apple Watch. You can download the workflow from here.
Add weight and body fat to Health
Similar to above, my Fitbit scale doesn't integrate with HealthKit, so I wrote a simple workflow to add my weight and body fat to the Health app. You can download the workflow from here.
Home ETA
So my wife knows when to expect me home, I usually send her an iMessage as soon as I get into the car to head home. It's always the same message, so I created a text replacement for it. However, the Home ETA workflow makes that task even easier by just calculating the remaining driving time based on my current location and sending my wife a message with my exact ETA.
Just Arrived
As the name implies, this workflow sends my wife a message with my current location (typically the airport I just landed in) and a virtual kiss.
PDF to Dropbox
This workflow I'm particularly proud of because I created it myself. It simulates some of the receipt archival workflows I have on macOS via Hazel. Before Workflow I used an app called PDF Printer to convert receipts, I got via email or web link into PDF's before saving them to Dropbox. Workflow allowed me to streamline this task by performing the following steps automatically: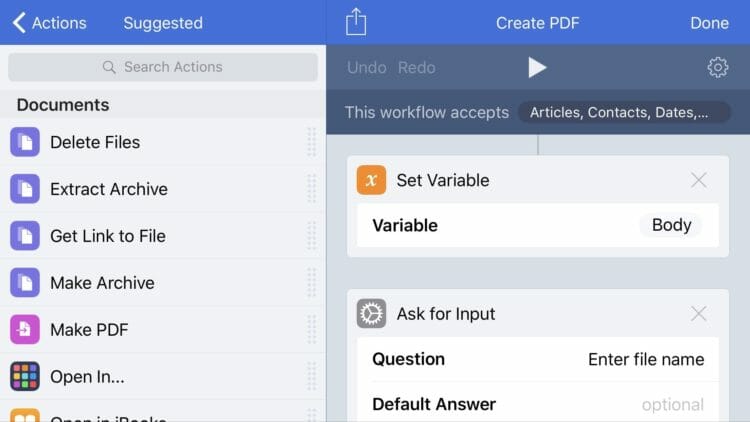 Check if input is an URL or content in clipboard
Depending on the input type, fetch the contents of the URL or clipboard
In case of an URL, take the name of the web page and use it as part of the file name
In case of clipboard content, ask for file name
Ask to select the file type via preconfigured prefixes (TAX for tax-deductible expenses…)
Assemble the final file name using the following format: PREFIX-FILE NAME.pdf (i.e. TAX-gas_receipt.pdf)
Convert the URL or clipboard content to a PDF
Upload the PDF to a predefined folder in Dropbox that is monitored by Hazel for further processing
Return a Dropbox link to the uploaded file
You can download the workflow here. Newer versions of iOS natively support printing to PDF, so I have stopped using this workflow.
Workflows that I'm struggling with
Due to limitations of Workflow or my lack of expertise I'm struggling with automating the following workflows to fit my needs:
Running Late
This is another potentially useful workflow, which calculates the driving time left from my current location to the next calendar event. For the workflow to work, the location must be part of the event's location field, and in most calendar invitations I receive, the location field isn't formatted as an address Workflow could use.
How to automate tasks with Workflow
Workflow is an incredibly useful app allowing me to automate many tasks that required manual steps in the past. It's yet another step towards being more productive on iOS. I can only imagine what Apple can do with that technology in future iOS releases.

I'm a healthy living and technology enthusiast.
On this blog, I share in-depth product reviews, actionable information and solutions to complex problems in plain and easy-to-understand language.