Ubiquiti's UniFi Video Camera platform offers professionals and prosumers a compelling alternative to consumer-grade home security camera systems. In this review, I'll tell you all about UniFi Video 3 (UV3) and UniFi Protect (UP). Plus, I'll share with you how I migrated from UV3 to UP, and what the differences are between these two video surveillance platforms.
Background: I have used UniFi Video around my house since mid-2018, but in 2019 I decided to upgrade to Ubiquiti's next-generation video surveillance platform UniFi Protect.
This article is split into three major parts, including an overview of both platforms as well as a side-by-side comparison.
UniFi Video Platform Overview
The UniFi Video camera system strikes a reasonable balance between flexibility and ease of use. Ubiquiti designed UniFi Video to provide advanced continuous monitoring capabilities with a ton of options to fine-tune and customize both the cameras and network video recorder.
Where consumer-grade systems such as Arlo or Nest are better is in the area of bridging the gap between home security cameras and alarm systems. For example, UniFi Video 3 does not yet support advanced motion detection that can differentiate between a person vs. an animal.
However, unique features — such as support for Power-over-Ethernet (PoE), on-premise video storage, and flexible multi-user support — make UniFi Video a favorite among tech-savvy users.
Getting Started With UniFi
If you're new to products from Ubiquiti, and especially their UniFi brand, I'd recommend taking a peek at my AmpliFi vs. UniFi comparison<. That will give you a sense of what the differences are between Ubiquiti's consumer-grade hardware, such as AmpliFi, and their commercial offering (UniFi).
Note that you don't necessarily need UniFi networking infrastructure to use UniFi video cameras, but I think it makes the deployment a bit easier. Below is a list of the hardware I already owned before I installed the camera equipment.
UniFi Networking Equipment
UniFi Video 3 Equipment
All the UniFi video camera equipment I owned was third-generation (G3), as you can tell by the naming convention of the products listed above.
With the upgrade to UniFi Protect, Ubiquiti provided me with the following hardware additions:
I started out with a single UniFi switch but decided to purchase a second one. The reason was that I wanted to leverage ethernet to deliver power to most of the cameras — especially the ones I had planned to install outside of the house.
My existing switch only had one Ethernet port left, so I needed additional ports via a second switch.
UniFi Video 3 Review
In a nutshell, the UniFi Video platform consists of a network video recorder (NVR), cameras, and optional accessories. Below is a list of the devices that I have already installed and will be testing shortly.
One of the primary advantages of the UniFi Video system is what Ubiquiti calls Hybrid Cloud Technology. Most consumer home security camera systems require a paid subscription to provide services such as:
Continuous monitoring and recording
Management of more than five cameras
Remote streaming of live and recorded footage
Plus, most of the camera systems I had tested in the past store video footage in the cloud, which raises privacy concerns. Ubiquiti goes a different route with its UniFi Video solution by offering local video storage combined with secure, cloud-based remote access.
To manage the UniFi Video infrastructure, Ubiquiti offers a web-based management console as well as mobile apps for iOS and Android.
UniFi NVR
The UniFi NVR (network video recorder) is the central hub of the UniFi Video system, and it comes pre-installed with UniFi's video software to deploy and manage your cameras. Additionally, the UniFi NVR has a 2 TB hard drive that can store up to 700 hours of video at 1080p, and more if you use a lower resolution.
Ubiquiti recommends the device for up to 20 UniFi Video cameras. If you have more than 20 cameras, you need the UAS-XG device ($1,999 on Amazon), which features an Intel Xeon CPU and 32 GB of DDR4 memory to handle the load.
Specifications
It's worth noting that Ubiquiti has disabled many of the additional ports and interfaces on the UniFi NVR. Specifically, the following ports do not work:
However, the USB ports on the front and back do work, and you can use them to add additional video storage. Note that adding an external hard drive is not a plug and play operation. That means you'll have to SSH into the NVR and partition/format the external drive before you can use it. Ubiquiti has published a help article that explains how to do it.
UniFi Video 3 Cameras – Download Comparison Sheet
At the time of this writing, Ubiquiti has five UniFi cameras in its lineup. All of them feature a 1080p Full HD resolution, but they differ in the image sensor and lens they use, among other things.
If you'd like to receive a PDF copy of this table, you can download it here.
UniFi Video Camera G3 (UVC-G3-AF)
The G3 is a reasonably priced HD video camera suitable for both indoor and outdoor use. It offers flexible mounting options (thanks to Ubiquiti's ball joint mount design), and while the camera offers reasonable night vision performance, I would recommend getting the optional LED IR ranger extender (Amazon) to enhance its performance in complete darkness.
The disadvantage of the UVC-G3-AF is its relatively narrow field of view, which is 85 degrees (horizontally). After applying lens distortion correction (LDC), the FOV drops to an even smaller 72 degrees.
If you're not using a switch that supports Power over Ethernet (PoE), such as the UniFi US-8-150W (Amazon), you have to purchase a separate PoE adapter (Amazon) to supply the camera with power.
Specifications
Specifications
UniFi Video Camera G3 Dome (UVC-G3-Dome)
The pancake-style G3 Dome features a sleek design and numerous indoor and outdoor mounting options. Note that while you can mount the camera outdoors, you have to do so under an overhang because of its limited weather resistance.
I have mounted the G3 Dome under the overhang next to our garage to monitor the driveway and the area surrounding the garage. You can swivel both the lens (vertically) and the base (horizontally) after installing the camera to fine-tune the viewing angle, but I'd recommend testing the swivel of the mounting plate before you fasten the screws. That way, you know the direction you can swivel the base. In my case, I didn't realize that I could rotate the camera towards the house but not away from it (which is what I wanted) until I had already locked the mounting ring.
I have little to complain about when it comes to the G3 Dome's video quality, except for its performance in complete darkness. In my opinion, the camera would benefit from an IR range extender. Unfortunately, Ubiquiti doesn't sell one for this model.
Specifications
UniFi Video Camera G3 Micro (UVC-G3-Micro)
The G3 Micro is the only video camera in Ubiquiti's lineup that does not have an ethernet port. Instead, it supports WiFi. That means you don't need to run an ethernet cable, which gives the device more flexible mounting options. Of course, if you don't leverage PoE, you have to connect the G3 Micro to a conventional power outlet.
Note that the G3 Micro is an indoor camera because it's not weather-resistant. On the bright side, this camera features two-way audio, a relatively wide field of view of 124 degrees, and an image sensor that supports Wide Dynamic Range (WDR).
WDR is similar to High Dynamic Range (HDR), which improves image quality in challenging lighting conditions.
What makes the G3 Micro particularly flexible indoors is its magnetic base that you can connect to a variety of mounting options. For example, we have mounted the camera on its desktop stand and placed it on top of the mantle of our chimney in the family room.
Specifications
UniFi Video Camera G3 PRO (UVC-G3-PRO)
The G3 PRO is Ubiquiti's flagship camera, featuring a professional-grade lens and Sony image sensor that results in better image quality, especially in low-light and no-light conditions.
Ubiquiti has achieved this significantly improved low-light performance, compared to other UniFi cameras, by adding high-power infrared LEDs, a larger image sensor, and larger lens aperture.
The wider aperture (lens opening) allows more light to reach the sensor, and the larger sensor means less digital noise and thus sharper images. If you're a photographer, you can surely relate to that.
Besides the improved image quality and 3x optical zoom, the G3 PRO also features an IP67 weather-resistance rating. As I explained in my review of workout headphones, the acronym IP stands for ingress protection and the numbers 6 and 7 indicate how well the device is protected from dust (6) and water (7).
Specifically, IP67 means that the camera is dust-tight and that it can withstand immersion in water of up to 1 meter for up to 30 minutes.
Specifications
UniFi Video Camera G3 FLEX (UVC-G3-FLEX)
The UniFi G3 FLEX is one of the most versatile video cameras Ubiquiti has to offer, thanks to its flexible mounting options. The indoor mounting options include:
Desktop mount
Wall mount
Hard-ceiling mount
Ceiling mount
Conduit mount
The outdoor mounting options include:
In addition to the numerous ways you can mount the camera, you can horizontally adjust the lens by 63 degrees and the swivel base by 60 degrees (vertically). That means you can place the G3 FLEX almost anywhere, and then adjust the viewing angle accordingly. That's a good thing because of the camera's relatively narrow field of view, which is wider than that of the G3 but below the G3 Micro and G3 PRO.
The other thing I like about the G3 FLEX is the option to customize the camera's look to better blend it into the environment. Ubiquiti will soon start selling skins that will allow you to change the camera's appearance.
Specifications
Installing the UniFi Video 3 System
Installing the UniFi Video system isn't rocket science, but it doesn't hurt if you know a thing or two about technology and networking. For example, you should be familiar with terms like IP address and ethernet ports. If those terms mean nothing to you, it won't prevent you from installing UniFi products, but I would probably ask for assistance from someone who works with computer networks.
As mentioned earlier in this article, I already had the necessary network infrastructure in my house to "plug" the UniFi Video equipment right into. Specifically, I had CAT6 ethernet cables running from a UniFi switch in my home office, through the outside wall and into the attic, where they would terminate on a patch panel. As part of the initial setup, I added a second UniFi switch, positioned it in the attic, and connected it to my primary switch.
In case you're wondering, an attic without air conditioning usually is too hot for electronics, but we have a stairwell leading up to the attic. At the bottom of the stairs, the temperature is only ~10 degrees Fahrenheit higher than in the house, and is thus suitable for the switch.
Setting up the NVR
To set up the UniFi NVR, I connected the device to my ethernet switch and a nearby UPS, so it would continue working in the event we lost power.
Then I logged into the UniFi management console and verified what IP address the UniFi Security Gateway (USG) assigned to the NVR via DHCP. At this point, I opened a web browser and navigated to the NVR's IP address.
In my case it was https://192.168.1.155:7443, but your IP address might be different, depending on your network configuration. However, the port (7443) should be the same.
You may get an SSL certificate warning because the NVR uses a self-signed certificate, which you can replace later on.
For now, just accept the notice and proceed. Ubiquiti has a support article explaining how to replace the self-signed certificate. Additionally, I found these step-by-step instructions, posted by another user.
If you can't figure out the IP address of your NVR, you can download and install the Ubiquiti Device Discovery Tool, which works on Windows, Mac and mobile devices.
Operating System and Browser Support
I first tried to complete the initial configuration of the NVR using Safari running on macOS 10.14 Beta. When I got stuck, I realized that the UniFi Video management console and Safari aren't the best of friends. So I would recommend using Chrome, which is what I did from that point forward.
Initial NVR Configuration
During the initial configuration, you can give your NVR a name and connect it to a UniFi cloud account. If you don't have a cloud account yet, you can create one. Otherwise, you can use your existing account.
A UniFi cloud account is vital to enable remote access to your UniFi Video system for when you are not connected to your LAN or WiFi network.
Last but not least, I "adopted" the NVR (which is what Ubiquiti calls adding devices) via the UniFi dashboard and upgraded its firmware to the latest release.
Connecting the UniFi Cameras
Once I had successfully set up and configured the NVR, it was time to connect my cameras. I started with the UVC-G3-Micro because it shipped with a regular power plug and I could use WiFi to connect the camera.
One of the easiest ways to add UniFi cameras to the NVR is via "auto-discovery" using the UniFi Video mobile app. All I had to do was select the discovered camera, give it a name, and add it to the management console.
Then I repeated these steps for the other cameras that I had connected via ethernet instead of WiFi.
UniFi Video Features
Before we get into the weeds of how you can customize your UniFi cameras, let me highlight the key features of UniFi Video.
Highlights
Here's an overview of the key features of the UniFi Video camera platform.
Hybrid Cloud With Local Video Storage
UniFi video stores all of your footage locally on the NVR. That means that unlike Google Nest and others, Ubiquiti does not get a copy of your footage. Connecting your NVR to your UniFi cloud account for easier remote access and streaming is optional. If you don't feel comfortable exposing your devices to Ubiquiti's cloud, you can configure your network for remote access using a DMZ or VPN.
Besides privacy, the other benefit of storing all footage "on-premise" is that you don't have to pay a subscription fee and you can expand the storage by plugging in an external hard drive to the NVR.
Seamless Integration
Since I already owned UniFi networking equipment to power my LAN and WiFi network, being able to integrate the video cameras seamlessly was a huge benefit.
In the corporate world, "integration" is highly valued. I've been selling enterprise software for over a decade, and anywhere I go, customers ask for integration with their existing solutions. Consumers usually don't care as much about that, but I started appreciating the concept when I realized how well everything in the Apple ecosystem fits together.
That's why I couldn't possibly imagine changing from an iPhone to an Android device or from a Mac to a PC. Even if the non-Apple device offered better features in certain areas, it would break my integrations.
Long story short, the fact that UniFi Video integrates so nicely with my network is a huge plus.
Support for Power-Over-Ethernet (PoE)
Traditional home security cameras usually require batteries, or you have to plug them into a power outlet. For indoor cameras, that's often not a big deal. You just have to find a nearby power outlet.
For outdoor cameras, many users opt for a wireless model running on batteries because it's a hassle connecting a camera to the home's power supply. Plus, unless you know what you're doing, I'd recommend staying away from doing your own electrical work.
UniFi cameras have an edge because they support Power-over-Ethernet (PoE). That means the camera can draw power from a regular ethernet cable, as long as you connect the cable to a PoE-enabled switch. That's one of the reasons why I like my UniFi switches: they support PoE.
Working with ethernet is much more convenient and significantly less risky than doing electrical work. Plus, you're unlikely to violate any local building codes by adding ethernet wires to your home.
Initially, I didn't see PoE as a significant advantage over battery-powered cameras. But once I started having to replace or recharge the batteries of my Arlo outdoor cameras every few months, I changed my mind. With PoE, you can significantly reduce the ongoing camera maintenance.
Plus, as long as you have your switch connected to a UPS, you don't have to worry about your cameras going offline when the power goes out.
Camera Overview on a Map
Using the UniFi Video management console, you can place your cameras on a satellite map, or you can upload a bird's eye view drawing of your home. That way, you get an overview of where you've placed the cameras and what areas they cover.
Flexible Motion Detection Settings
While UniFi Video does not support passive infrared motion detection, UniFi offers a ton of features to customize how motion detection works. That means you can set up triggers that determine when the camera records, or you can define motion zones that include or exclude certain areas from triggering a motion event.
Additionally, you can set up recording schedules and combine them with flexible, per-user alert settings.
24/7 Recording and Timeline
Alternatively to setting up motion triggers, you can record 24/7 and then use the timeline feature (currently in beta) to scrub through motion events.
24/7 recording works in combination with your alert settings. That means you can limit alerts to specific times of the day, or to when certain conditions are met.
Customizable Picture/Video Settings
For each camera, you can tweak the video and picture settings for when the camera records footage and during the live view. That way, you can configure each camera to fit your specific requirements and the environment the camera is in.
Multi-User Support
UniFi Video supports multiple users and user groups that can have different roles. Additionally, each user can have dedicated permissions and settings, such as a custom alerts profile.
Web and Mobile App
UniFi offers both a web-based interface as well as a mobile app. The web app works best in Chrome (and maybe Firefox), but most of the features also work in Safari and other browsers. What I like most about it is that UniFi doesn't require Adobe Flash or any other (crappy) third-party technology to stream video and watch the recorded footage.
The mobile UniFi application has slightly fewer features than the web app, but it's been working great on iOS 11 and iOS 12, and I have no complaints.
Missing Features
The importance of the items on the "Not Supported" list ultimately depends on how you intend to use your UniFi Video equipment. In my opinion, most of the "missing" features are only crucial for residential use, and you won't miss them in a commercial setting. I'm using UniFi video cameras in my home, and so I wanted to give you an idea of why these features could be useful.
Geo-Fencing
Geo-fencing is a feature that detects the presence of a device (i.e., a mobile phone) based on its GPS location.
I have configured my indoor cameras to record only if they detect motion while we're sleeping, which is between 9 p.m. and 5 a.m. However, it would also be nice to trigger a recording if the camera detected motion during the day while nobody is home. That doesn't happen very often because I work from home and my wife is a stay-at-home mom, but still.
Of course, there are occasions when we're all out, and it would be nice if the camera could detect that via the UniFi Video mobile app. For more extended periods of absence — when we're on vacation for example — I can add a vacation schedule via the UniFi Video console.
Passive Infrared (PIR) Motion Detection
While geo-fencing can help you automatically activate the camera's motion sensors when nobody is home, it's not foolproof, and you may end up with false alarms.
As of this writing, the UniFi Video cameras support only pixel-based motion detection. That means the camera can detect pixel differences between each video frame the camera records. That can result in a lot of false positives because things like leaves or changing shadow patterns (e.g., when a cloud moves in front of the sun) can trigger a motion event.
Most consumer home security cameras (especially battery-powered ones) use PIR sensors to detect the infrared light radiated by a warm object (a person or an animal). Since PIR sensors are passive by definition, they consume much less energy.
An individual PIR sensor detects changes in the amount of infrared radiation impinging upon it, which varies depending on the temperature and surface characteristics of the objects in front of the sensor. When an object, such as a human, passes in front of the background, such as a wall, the temperature at that point in the sensor's field of view will rise from room temperature to body temperature, and then back again. The sensor converts the resulting change in the incoming infrared radiation into a change in the output voltage, and this triggers the detection. Objects of similar temperature but different surface characteristics may also have a different infrared emission pattern, and thus moving them with respect to the background may trigger the detector as well.

Wikipedia
But even with PIR sensors, you may end up with false-alarms triggered by pets or other people, such as their caretakers while you are away.
For that reason, some consumer home security cameras offer intelligent motion detection that can differentiate between a person and a pet or moving object. Google's Nest pushes the envelope even further by using artificial intelligence (AI) to identify the person. So, in theory, it would not trigger an alarm if the camera detected a "trusted" face. Of course, those advanced features come at the cost of privacy, because Google handles the footage analysis in the cloud.
Integration With Home Automation Platforms
Home automation platforms, such as Apple's HomeKit, Amazon's Alexa, Google's Home, or IFTTT can be incredibly convenient. I use them to automatically turn lights or fans on and off based on schedule, voice commands and more. Many consumer home security cameras offer such integrations. For example, you can have a light automatically turn on if the camera detects motion.
Sound Detection
Sound detection is a useful feature for indoor security cameras to detect things like breaking glass. For outdoor cameras, it's less critical as it can lead to a lot of false alarms.
The good news is that Ubiquiti could add most of the missing features via software updates. Only the advanced motion detection features, such as person detection, might require the computing power of a cloud platform.
Using the UniFi Video 3 Camera System
Below is a brief overview of how I have set up and configured my UniFi Video system. Most of the configuration settings I have changed are camera-specific, but there are a few settings that I modified on all cameras, including:
Disable Status LED: The LED may attract insects and give away the camera, so I turned it off.
Override Resolution Settings: I increased both the FPS and bitrate, and turned on adaptive streaming. The former two options increase the necessary storage space, but I appreciate the improved video quality.
To meet my home security needs, I have decided to use different configuration settings for indoor and outdoor cameras.
Outdoor Camera Configuration
For the cameras I have installed outside the house, I monitor 24/7 but only record when they detect motion.
Configuration
Record Mode: Record only motion
Resolution: High (1920 x 1080)
Motion Detection
Minimum Motion Event Trigger: 3 seconds
End Motion Event Delay: 10 seconds
Seconds to Record Before: 10
Seconds to Record After: 10
Initially, I could make sense of three of the four settings just based on their naming. But I wasn't sure what "End Motion Event Delay" would do. Then I found the explanation in the Ubiquiti Community Forum, and figured I'd paste it here.
Minimum Motion Event Trigger (a.k.a. MMET) = The number of seconds must occur before the camera considers something a true motion event. Use Case: helps eliminate false positives like dust, bugs, etc.

End Motion Event Delay = In prior releases, this was fixed at 5 seconds of cool-down after a motion event took place before considering the motion ended. Use case: an environment where there may be a lot of motion with brief instances of no motion. Take retail as an example. There are likely instances where an employee is doing a transaction with a customer. There will be motion when he/she is working with the register, but while entering the order on a keyboard, there isn't enough motion to trip the sensitivity. You can set this value higher so you record the whole transaction in a single motion event rather than missing something because of the cool-down.

Seconds to Record Before (a.k.a. Pre Padding): The number of seconds that is constantly cached on the UniFi Video server. When a motion event occurs, the cached video is prepended to the recording. Use Case: You may want to hear the conversation that is taking place prior to motion within the video frame or in instances where there is sudden and brief motion.

Seconds to Record After (a.k.a. Post Padding): Similar behavior to the above but not to be confused with the End Motion Event Delay. The End Motion Event Delay is the amount of time the camera considers motion to be ongoing while the Seconds to Record After is video taken after motion has ended. Use Case: same as the above, you may want to catch a conversation after motion has ended.

Ubiquiti Community Forum
To learn more about these settings and see some examples, check out this forum post.
You can also configure so-called "zones," which limit the surveillance area of the camera's motion sensor. Here's a screenshot of how I set the zone of my G3 Dome camera that I mounted above the garage.
Indoor Camera Configuration
My indoor cameras record only on a schedule. In our case, that means when everybody is sleeping (between 9 p.m. and 5 a.m.).
Configuration
Record Mode: Record on schedule
Schedule: Night (my custom schedule)
Of course, I could use the same approach as I do for my outdoor cameras and limit motion alerts to a specific schedule (night time). That way, if we're out of the house and someone breaks in, I at least have it on tape, even if I don't get alerted.
I decided against that because any intruder would get caught by the outdoor cameras anyway.
Alerts
With UniFi Video, you can set up alerts on a per-user basis. That means you and someone else could have entirely different alert settings.
I have limited alerts for my user account to an "overnight" schedule, which is a duplicate of the "night" schedule I use to limit when the camera records.
Unfortunately, you cannot share schedules between users, so each one has to set up his or her own schedule.
UniFi Video 3 Troubleshooting Tips
As part of testing the UniFi Video platform, I have run into a couple of minor issues that all had a simple solution. But it some cases, it took me a while to figure it out.
Push Notifications Don't Work
To enable push notifications, make sure you have the UniFi Video app installed on your mobile phone, and allow notifications.
Additionally, verify that you can access your NVR from the mobile app.
Unable to Connect to the NVR
For a while, I was unable to connect to the NVR using the UniFi Video app on my iPhone. I could connect directly to the IP address of the NVR, but I was not able to reach the appliance via the UniFi Video cloud.
To fix the problem, I disconnected and re-connected the NVR from my Ubiquiti account using Chrome.
The UVC G3-Micro Beeps
If you use the G3-Micro in a residential setting, I'd recommend disabling "System Sounds." On one occasion, we noticed a recurring beep coming from an unidentified device in our family room. Later, we realized it was coming from the camera, which had an alert pending.
G3 Dome Image Looks Dirty
If your camera image looks similar to the one in the photo above, it's likely because either the camera's lens or lens cover is dirty. To fix the problem, just clean it with a soft cloth.
UniFi Protect Review
UniFi Protect is an evolution from, and the next generation of, UniFi's video surveillance system (UniFi Video 3).
With Protect, Ubiquiti decided to rethink video surveillance entirely and rewrite the associated software (apps) and services.
With UniFi Protect, Ubiquiti's goal was to deliver users the best-possible video viewing and reviewing experience. Being able to skim through previously-recorded footage quickly is particularly important for video systems that record 24/7, such as UniFi Video.
I have been using and testing other security camera systems, such as the ones Arlo, and they usually record only if the camera detects motion. As a result, you end up with individual clips that you can review and replay.
Protect record all the time (unless you tell it otherwise), so it's important to be able to identify the parts of the video that have motion and rapidly scrub through the timeline.
Prerequisites for UniFi Protect
While UniFi Protect supports a wide variety of older UniFi Video cameras, you need new hardware and software to use that platform.
Hardware
As of this writing, UniFi Protect requires a second-generation UniFi CloudKey Plus or a UniFi Dream Machine Pro (UDM Pro) to work.
The new CloudKey comes built-in with a 1 TB spinning hard drive that you can upgrade to 5 TB if you run out of space. As a result, both the UniFi CloudKey Gen2 and UDM Pro can practically replace both the previous generation CloudKey as well as the UniFi network video recorder (NVR) that you might have used with UniFi Video 3.
When I first wrote this review, I used the UCK2 and later migrated to the UDM Pro (check out my full review here). The rest of this article is based on my experience with the UCK2!
Software
With the new CloudKey hardware, you also get brand-new UniFi controller software and a web interface that currently works best with Chrome or Firefox. Support for Safari, Apple's web browser, is coming as well, pending the support of additional features UniFi Protect relies on.
WebRTC is a free, open-source project that provides web browsers and mobile applications with real-time communication via simple application programming interfaces.
In addition to the web interface, UniFi Protect also has a new mobile app for iOS and Android.
IP Cameras
UniFi Protect supports all second-generation (G2) or later UniFi Video cameras. As of this writing, that means all G2 and G3 models, as well as the latest G4 cameras. UniFi Protect doesn't support the first-generation airCams (and probably never will).
The UniFi Video Camera G4 Pro is the best IP camera I have ever tested. It feels like an expensive lens of a DSLR camera. I used to shoot Nikon cameras and lenses, and the G4 reminds me of the super-fast 24-70mm f/2.8 lens I had back in the day.
Where Can You Buy UniFi Protect Hardware?
UniFi Protect Features
Beyond what I already mentioned, below is an overview of the technical features of UniFi Protect, as of October 2019.
Web Interface
Add/remove cameras
Basic alert configuration
Camera overview (status, IP address, last motion, link state, live feed)
Change the name of the camera
Customizable live view
Detailed camera overview with filtering capability (type, link state)
Enable automatic updates
Factory reset
List of (motion) events with thumbnails and timeframe selection shortcuts
Manage backups
Set geo location
Manage cloud/remote access
Restart camera
Timelapse
Un-manage a camera
User management with rudimentary support for user roles (administrator or view only)
IP Camera Settings
Motion zone configuration (including privacy zones)
Overlay information (time, camera name, logo, bitrate)
Set RTSP settings (high, medium, low)
Turn microphone on/off (if applicable)
Turn status light on/off
Video quality settings (FPS, bitrate)
UniFi Protect Mobile App
The mobile app has numerous features that the web interface doesn't have, and vice versa. I have marked in bold the ones that are only available in the app.
Activity and alerts overview
Add/remove cameras
General settings (time zone, location…)
User management
Watch camera live stream or time-lapse
Camera Settings
Image settings (brightness, contrast, etc.)
Infrared (night vision) settings
Microphone sensitivity
UniFi Protect Missing Features
Ubiquiti's new video platform isn't perfect. At the moment, it doesn't even offer all the features UniFi Video 3 had. However, Ubiquiti built this new offering on what appears to be a solid foundation that can quickly grow into something more.
I have used UniFi Protect for a while now, and love the Apple-like simplicity of both the web and mobile apps. It's a joy to scrub through previously-recorded footage to see when the kids fell asleep or what animals visited our backyard overnight.
Until recently, UniFi Protect didn't support time-based alerts and multi-user geo-fencing. The goods news is that both features are now available.
What I'm missing most with UniFi Protect is the ability to get notifications from motion events only during certain hours of the day, or when we're away from home. As of this writing, you can only turn notifications on or off on a per-camera basis; you can't set custom notification rules.
I turned notifications off completely because, if I didn't, I'd be flooded with them. In the future, I'd like to be able to get notifications only at night or when nobody is home. For the latter to work, UniFi needs to add some sort of multi-user geo-fencing mechanism to its app, similar to that offered by Arlo.
Additionally, I'd like UniFi Protect to get smarter by better understanding what it sees. For example, it makes a difference if the camera's motion sensor detects a person, an animal, or an insect that's flying in front of the lens.
Consumer-grade home security cameras deliver such capabilities already, thanks to machine learning and artificial intelligence.
Unfortunately, pretty much all of those solutions provide such "smart motion detection" features in combination with a cloud backend. In other words, your footage gets analyzed in the cloud and not on-premise.
I'm hoping that UniFi Protect will be able to deliver such advanced features using the hardware and software I already have installed on my network, without the need to send my footage to the cloud.
UniFi Protect: Conclusion
UniFi Protect is a robust security camera system with a ton of potential for future improvements.
While I acknowledge the shortcomings of this new platform, particularly compared to UniFi Video 3, I'm happy with what I have seen so far.
I'm very much looking forward to Ubiquiti delivering more advanced software features that can harness the power of its hardware.
Why I Decided to Migrate
I decided to migrate to UniFi Protect because I'm a technologist and I'm excited about the potential of this new platform. I enjoy being an early adopter of new technology and being able to provide feedback that can help vendors improve their products.
UniFi Protect is an exciting new platform with the potential to grow into a video surveillance station unlike anything that's currently on the market. It's not difficult to imagine what Ubiquiti's video software might be capable of doing, considering the powerful hardware the company already offers.
I'm envisioning UniFi Protect becoming a camera security system for your home or business that:
Records footage 24/7
Doesn't require a cloud subscription
Stores all footage on a local hard drive
Makes it easy to find and view previously-recorded clips
Doesn't require changing or charging the batteries every few weeks or months
Provides advanced recording and notification settings
Offers advanced motion detection capabilities
The cool thing is that the current version of UniFi Protect already provides most of the features listed above. The only two items missing are the last two, which we'll get into more in a moment.
Migration from UniFi Video to UniFi Protect — Step-by-Step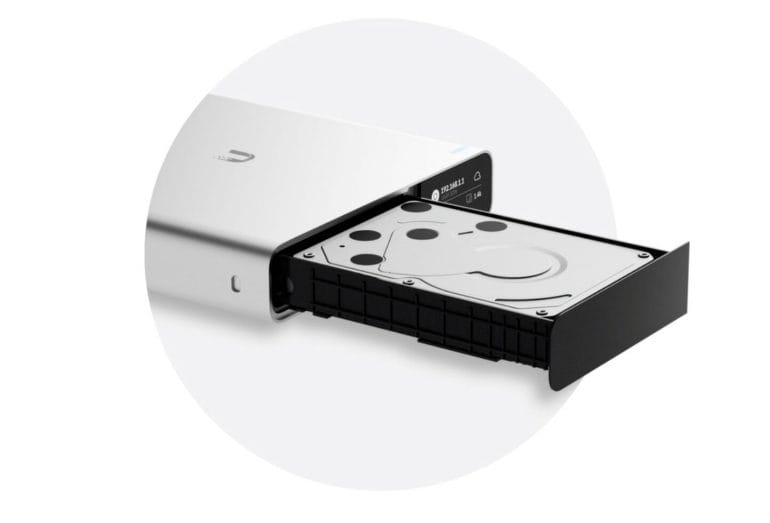 When I realized that I had to replace my CloudKey Gen 1 with the new version, I was a bit concerned because I use CloudKey for more than my video equipment.
Fortunately, replacing the CloudKey and migrating from UniFi Video 3 to UniFi Protect was dead simple and took only a few minutes.
Ubiquiti has the process well documented on its support portal, but below are the top-level steps I took:
Update the firmware and controller software of my old UniFi controller and CloudKey to the latest version.
Download a backup of the configuration file.
Plug in the new CloudKey via ethernet ports (or USB-C) and update its firmware to the latest version (I could do that during the initial setup wizard).
Import the previously-exported configuration file (backup).
Remove cameras from the old UniFi Video recorder (NVR).
Assign cameras to the new CloudKey via the UniFi Protect app.

Note: If you plan on selling the old CloudKey and NVR, don't forget to erase and reset them completely.
UniFi Video vs UniFi Protect
When I first heard about Protect, I thought it was an add-on or update to UniFi Video.
I didn't realize that Protect was an entirely new platform, with a new codebase, that was incompatible with the previous generation NVR and UniFi Video app.
If you're a Mac user, you might remember when Apple decided to relaunch its iWorks suite, replace its professional photo editing app (Aperture) with Photos, and replace Final Cut Pro with Final Cut Pro X.
In each of these examples, Apple launched a new product that had fewer features than its predecessor. The company did that for the sake of building a brand-new framework that would allow it to add new features that the older apps and codebase wouldn't have supported.
Ubiquiti went a similar route with UniFi Protect by releasing a first version that has fewer features than UniFi Video 3. Some of the key features that were missing include:
Advanced notification settings
Recording modes
For example, in UniFi Video 3 you could configure each camera to record continuously, only when it detected motion, or based on a predefined schedule. Additionally, you could set each camera to always send notifications when it discovered movement, or to do so based on a schedule.
The UniFi Micro G3 camera we have in our family room would previously only record at night, and limit notifications of detected motion to that time.
Frequently Asked Questions
Below are answers to questions I have seen users ask a lot. As I get more feedback from readers of this review, I'll update this section.
Conclusion
I have been a satisfied UniFi networking customer for a few months. So, I expected a lot from Ubiquiti's video camera platform. UniFi Video has delivered on my expectations by seamlessly integrating into my network infrastructure and by providing excellent video surveillance technology for my home.
While both platforms are missing a few features, UniFi is heading in the right direction with UniFi Protect.
UniFi's video platform may be too much for the average consumer. But if you're into technology and know a bit about networking, you'll appreciate the flexibility and advanced features that UniFi Video brings to the table.
I hope you've found this UniFi video review informative. If you have experience with UniFi Video or UniFi Protect, or have any questions about these products, let me know by leaving a comment below!