Ubiquiti's UniFi Dream Machine Pro (UDM Pro) is an incredibly versatile all-in-one security gateway and network appliance that I recently upgraded to from the entry-level UniFi Dream Machine (UDM). In this review, I'll share with you why I decided to upgrade and how I migrated the controller configuration from the UDM to the UDM Pro.
Additionally, the new UDM Pro also replaced my UniFi Cloud Key Gen 2 that I used in combination with UniFi Protect, the company's video surveillance system. So I'll talk about that change as well.
If you're contemplating purchasing the UDM, the UDM Pro or the new UniFi Security Gateway Pro 4 (USG Pro 4), but aren't entirely certain which option is best, scroll down to my comparison of these entirely different devices.
UniFi Dream Machine Pro

Pros
Combines multiple appliances into one
Easy to set up and configure
Great value
Incredibly powerful hardware
Cons
No Power over Ethernet (PoE) ports
UDM Pro Review
What's so cool about the UDM Pro is that it combines many features into a unified appliance, thus allowing you to consolidate your networking infrastructure.
Here are some of the highlights of the UDM Pro:
Ethernet router and advanced firewall (including IDS, IPS and DPI).
Eight-port gigabit switch.
Dual WAN ports for redundancy.
Two 10 Gbit SFP+ ports.
UniFi Controller, Protect, Access and Talk.
The only thing it doesn't have is a built-in Wi-Fi radio, because that wouldn't make any sense considering that the UDM Pro is meant to be mounted in a rack and the metal cage would interfere with the radio signal.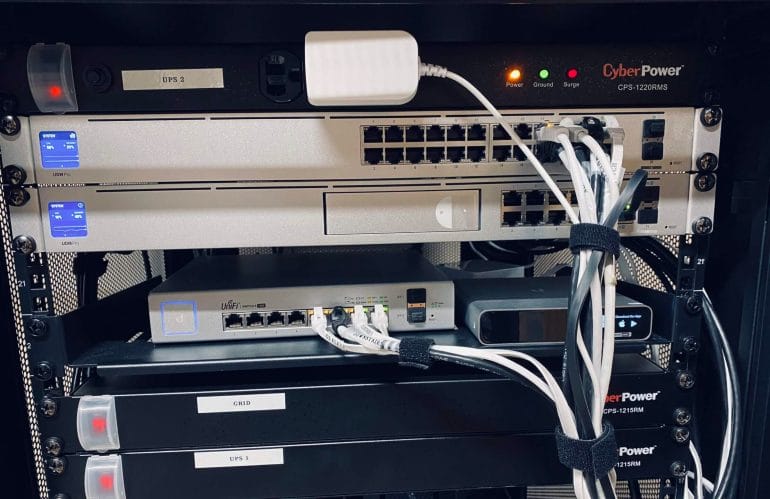 So, who is the UDM Pro for?
I think the UDM Pro is the perfect all-in-one appliance for small or medium businesses and "prosumers" who want more control and flexibility over their networking infrastructure. As I mentioned in the beginning of this article, I chose the UDM Pro because I wanted to consolidate my infrastructure.
Also, I didn't need (or want) a wireless access point (aka the UDM) inside of my network rack. But even if I was just getting started with UniFi, I'd probably buy the UDM Pro and make it my network's command center.
Technical Specifications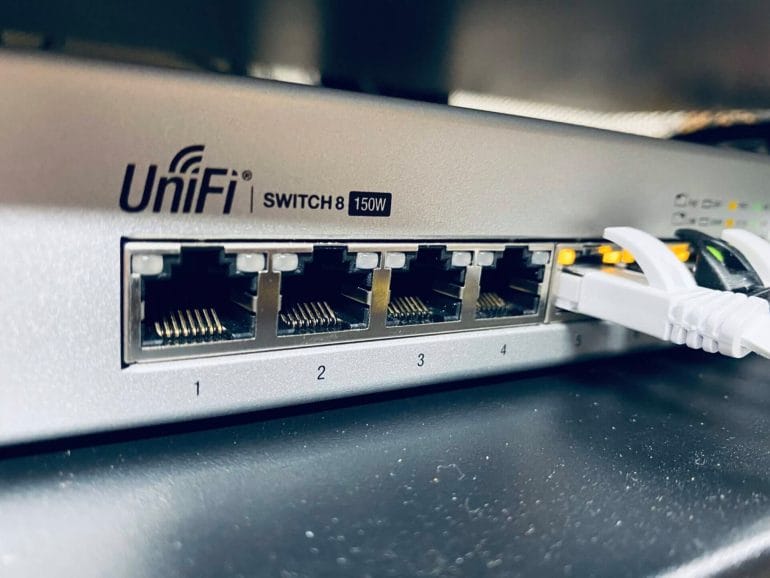 The UDM Pro is a fairly powerful appliance that should be able to handle all of your networking needs and then some. Below is a table with the most important specifications.
| | |
| --- | --- |
| Specifications | |
| CPU | Quad-core ARM Cortex-A57 at 1.7 GHz |
| RAM | 4 GB DDR4 |
| WAN ports | (1) 10/100/1000 RJ45 WAN port(1) 1/10G SFP+ WAN port |
| LAN ports | (8) 10/100/1000 RJ45 LAN ports(1) 1/10G SFP+ LAN port |
| IDS/IPS throughput | 3.5 Gbps |
| NVR storage | 3.5″ HDD Bay (2.5″ HDD also supported) |
| Power supply | Redundant (support for PSU failover) |
UDM Pro technical specifications.
One of the things I didn't like about the old UniFi Security Gateway (USG) was its comparatively weak CPU, which didn't allow the intrusion detection system (IDS) and intrusion prevention system (IPS) to operate without significantly reducing network throughput.
For example, with IDS/IDP enabled on the USG, I got speeds of less than 100 Mbits — just a tenth of what my ISP supports.
The UDM Pro, on the other hand, supports up to 3.5 Gbps — more than enough for my requirements.
I also appreciate the redundant WAN ports and power supply, even if I'm not leveraging those at the moment.
Last but not least, I like that I can simply stick a 4 TB hard disk into the appliance to store all of the video footage my cameras record.
Security Features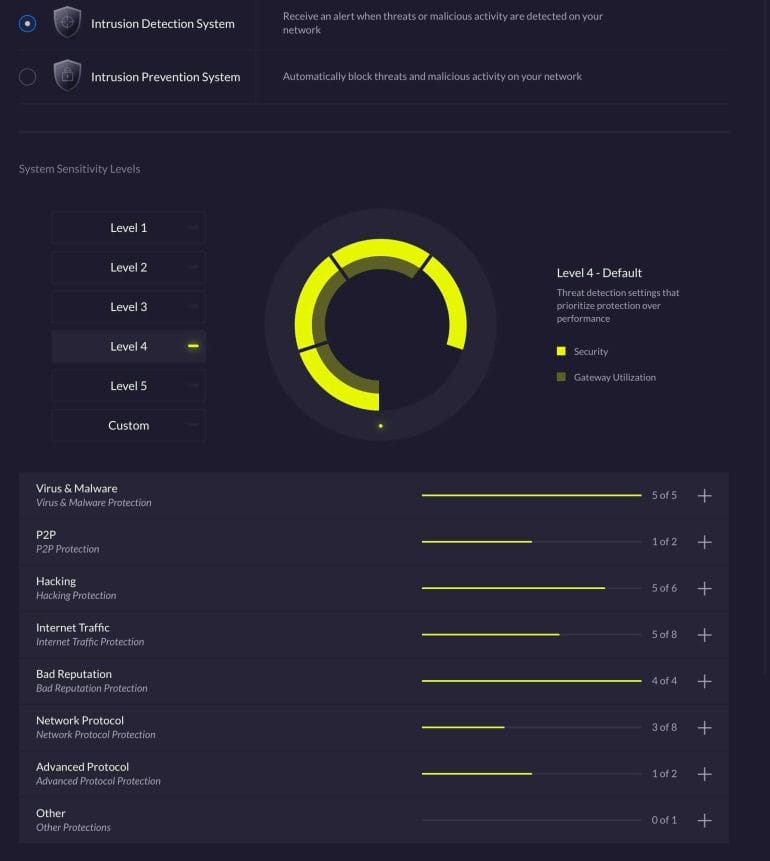 I have over 50 devices connected to my network, most of which exchange data with services on the internet. Most of these devices are a black box to me; I have no clue how they're doing what they're doing.
I don't even know if they use SSL or other security protocols for their data and my network.
That's why I appreciate the fact that the UDM Pro has some great security features built into the appliance, including:
DNS content filtering
Endpoint scanning
GeoIP filtering
Honeypot
Threat management
I currently use threat management to alert me to any potential security issues. You can also have those threats automatically blocked, but I decided to get alerts only.
I also use the endpoint or network scanner to automatically monitor all connected endpoints for potential security issues.
The honey pot acts as an attractive target for malware, worms and other malicious traffic by simulating vulnerabilities.
I have also played with DNS content filtering, but noticed that it blocked some of the affiliate portals I was using. While allowing individual domains by adding them to a whitelist can be done quickly, I decided to disable that feature until I got a chance to do just that.
GeoIP filtering is also an interesting feature, but I couldn't get it to work in Chrome or Safari on macOS.
Price
Despite all of the features that UniFi managed to pack into the UDM Pro, the appliance is surprisingly affordable.
As of this writing, the UDM Pro sells for $379.00 when you buy it directly from UniFi. You can also get it on Amazon, but often at a higher price.
UniFi Dream Machine Pro vs. UniFi Dream Machine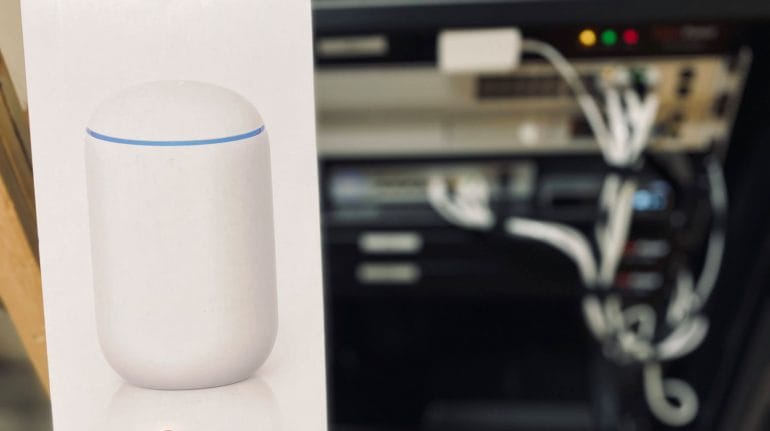 Ubiquiti has created the UDM product line to help new customers get access to advanced networking capabilities without requiring a ton of technical expertise or dozens of appliances.
While those principles apply to both the UDM and UDM Pro, the two appliances are less similar than you might think. Below is a comparison table that illustrates the major differences in features and specifications.
| | | |
| --- | --- | --- |
| | UDM | UDM Pro |
| Form factor | Standalone | Rack appliance |
| Built-in switch | 4-port (gigabit) | 8-port (gigabit) |
| 10 Gbps ports | 0 | 2 |
| WAN ports | 1 Gbps | (1) 1 Gbps, (1) 10 Gbps with redundancy |
| Power over Ethernet ports | 0 | 0 |
| Wi-Fi | Dual-band 802.11ac 4×4 wave 2 | N/A |
| CPU | Quad-core ARM Cortex-A57 at 1.7 GHz | Quad-core ARM Cortex-A57 at 1.7 GHz |
| System memory | 2 GB | 4 GB |
| IDS/IPS throughput | 850 Mbps | 3.5 Gbps |
| UniFi Controller | Built-in | Built-in |
| Application support | N/A | Protect, Access, Talk |
| Power supply | Standard | Redundant (support for PSU failover) |
| MSRP | $299.00 | $379.00 |
Comparison between UDM Pro and UDM.
As you can see, the UDM Pro is better than the UDM in almost every aspect. But that doesn't mean you should get it.
The primary decision points you have to think about are:
Do you need an access point/router combo?
Where do you want to use the appliance?
If you don't have a server rack and have no plans to buy one, the UDM is the much better choice because you can place it almost anywhere. In fact, it looks pretty slick, and your wife is unlikely to complain if you place it in your family room.
However, if you already have a rack full of UniFi appliances and are planning on replacing an older USG, then the UDM Pro is definitely the right choice.
To learn more about how the UDM Pro compares to the new USG Pro 4, scroll down to my comparison at the end of this article.
Why I Chose to Upgrade From the UDM to the UDM Pro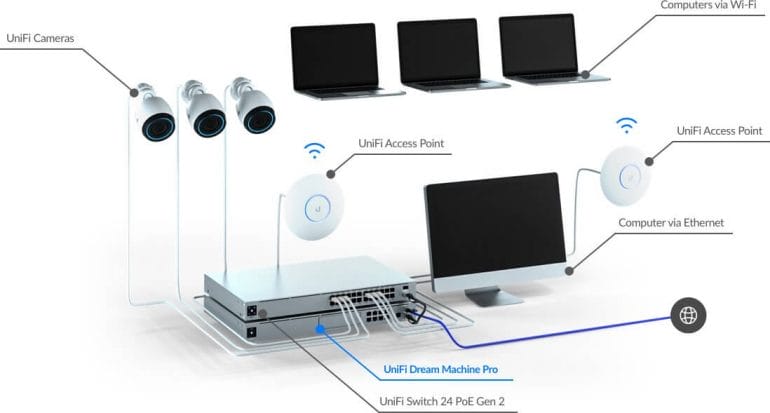 I was introduced to Ubiquiti's UniFi appliances during the deployment of a mesh networking system from AmpliFi, UniFi's sister brand. You can read more about AmpliFi and the reasons why I decided to migrate to UniFi in this post.
In a nutshell, UniFi offers a ton of flexibility, versatility and upgradability. That has allowed me to replace individual components and to consolidate my networking infrastructure, thus making it easier to manage.
For example, I initially had a UniFi Security Gateway (USG) to handle all my routing, paired with a first-generation UniFi Cloud Key (UCK) and a UniFi Network Video Recorder (UVC-NVR).
When I upgraded from UniFi Video 3 to UniFi Protect, I was able to ditch the old Cloud Key because UniFi integrated the NVR with the second-generation Cloud Key. As a result, I had one less device to manage.
Next, UniFi released the UniFi Dream Machine — an all-in-one appliance that would serve as a combination of a router, ethernet switch, access point and controller.
So I ripped out my USG and replaced it with the UDM. Then I realized that I didn't need the Wi-Fi antennas built into the UDM because I had it sitting inside of my server rack. Plus, I still had a separate UCK 2 to power my video surveillance infrastructure.
That's when I decided that replacing the UDM with the UDM Pro would be the logical next step. By doing so, I could get rid of the access point inside of my rack and I could also decommission the UCK 2.
UDM Pro Setup and Configuration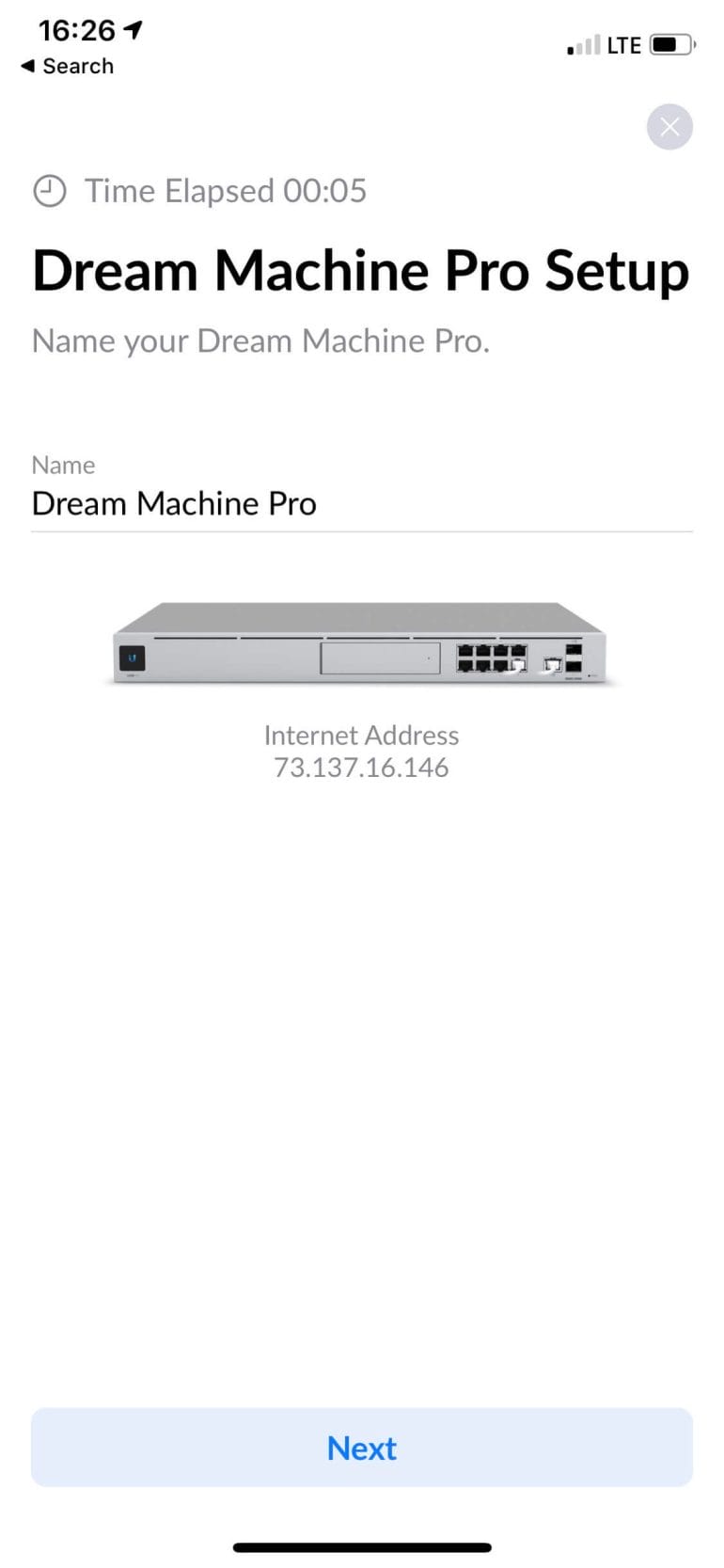 The UniFi brand is geared towards small and medium businesses. So you would expect it to require at least some degree of technical expertise to set up the equipment. While that assumption is true in some cases, a "greenfield" implementation (or fresh installation) of UniFi is dead simple.
If the UDM Pro is the first UniFi controller in your network, you can literally just follow the screens in the UniFi mobile app to get it up and running in a matter of minutes.
Below are the steps I took to set up the UDM Pro as part of a test run (so I could document them):
Install the UDM Pro in my rack and plug in the power cord.
Power down my cable modem.
Connect the RJ45 uplink port of the UDM Pro with my cable modem using an ethernet cable.
Power up the cable modem.
Open the UniFi mobile app and tap on the automatically discovered UDM Pro.
Complete the setup wizard.
Steps two and four are required with some ISPs (i.e., Comcast) to release the public IP address from the previously connected router. When I unplugged the UDM and connected the UDM Pro, I wouldn't get an IP address assigned from Comcast via DHCP.
Rebooting the modem fixed that.
Once I had that figured out, the rest of the setup took less than five minutes to complete.
Migration from UDM to UDM Pro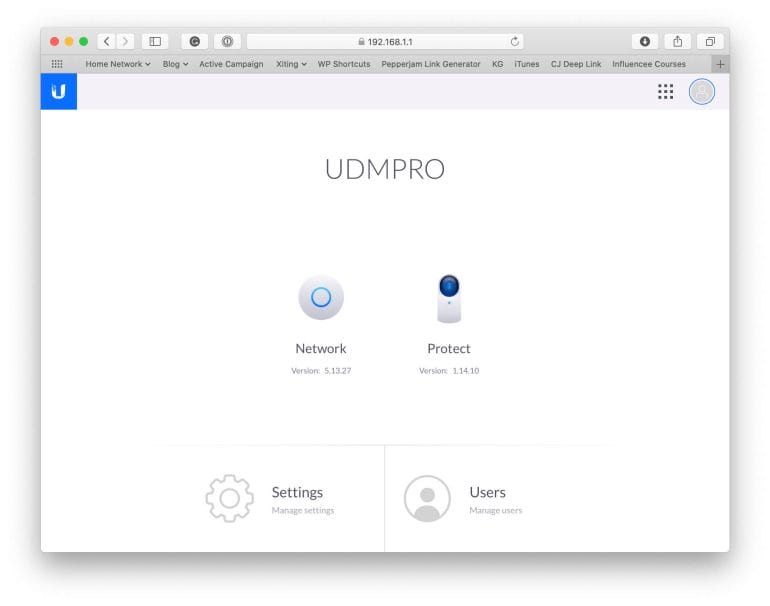 Since I already had a UniFi controller as part of the existing UDM, I wanted to migrate my configuration and swap out the UDM with the UDM Pro.
The issue I ran into was that both my existing UDM and the UDM Pro (by default) use 192.168.1.1 as their IP address on the LAN side. That led to an IP address conflict that confused both the UniFi mobile app and my MacBook.
So if your existing LAN uses the 192.168.1.0/24 network range, I recommend connecting your computer directly via ethernet to the UDM Pro and avoiding any physical connection between the UDM Pro and your existing network.
In my case, that meant disabling Wi-Fi on my MacBook Pro and unplugging the ethernet cable I had used to connect the UDM Pro with my other UniFi switch.
If you prefer using the mobile app, I recommend disconnecting from your existing Wi-Fi and relying on Bluetooth instead to finish the UDM Pro setup.
I found it to be more convenient using Safari on my MacBook Pro to complete the configuration wizard.
Once the UDM Pro was configured and had rebooted, I logged back into the UniFi management portal (via https://192.168.1.1).
Your browser will likely show you a dialog warning you about the self-signed SSL certificate on the UDM Pro. You can safely ignore that warning and later replace that certificate, if you like.
Once I had logged into the UniFi portal, I restored the UDM Pro's configuration using a backup I previously exported from the UDM.
How to Download a Backup of the Configuration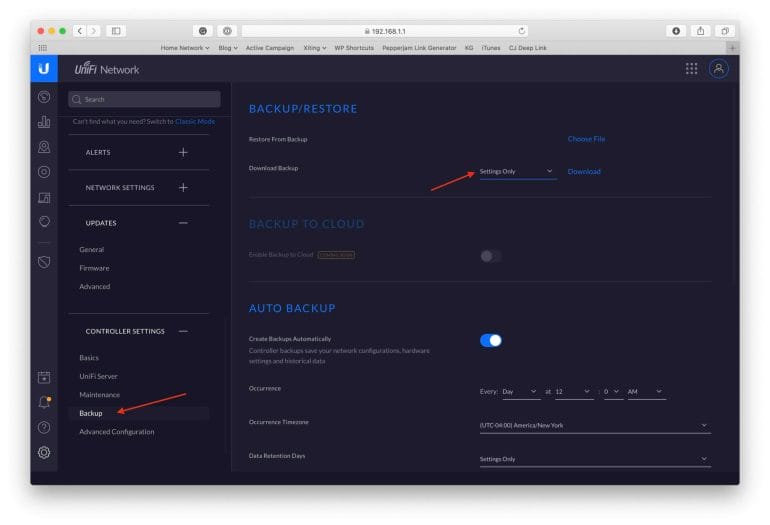 If you have never done it before, you can easily download a backup of your existing UniFi Controller configuration by following these steps:
Log in to the UniFi portal.
Click on the settings wheel on the lower left of the menu.
Scroll down to "Controller Settings" and click on "Backup."
Select "Settings only" in the dropdown menu and click on the download link.
How to Restore a Backup File
Restoring a previously downloaded backup or settings file is just as easy as downloading it. Right above the download section you used before, you'll find a "Restore From Backup" area with a "Choose File" link.
Just click on it and select the backup file you downloaded.
When you do that, the UDM Pro is supposed to load the backup and then reboot, restoring its configuration.
That's exactly what I did, because I wanted to make the new UDM Pro an exact copy (settings-wise) of my existing UDM.
Unfortunately, while the upload of the backup file went through without a hitch, the UDM Pro got stuck upon reboot and, after several minutes, ended up in "diagnostic mode."
I reset the UDM Pro to factory settings several times and tried to restore a backup, but it always failed, leaving the UDM Pro in an undefined state and non-operational.
At first, I thought the UDM Pro couldn't restore a backup from a UDM because the hardware is much different. But based on the information I found in the UniFi community forums, it appeared as if others had been successful with such a migration.
I didn't want to waste a ton of time and ultimately decided to set the UDM Pro up from scratch and manually transfer the configuration data.
How I Manually Migrated the UDM to the UDM Pro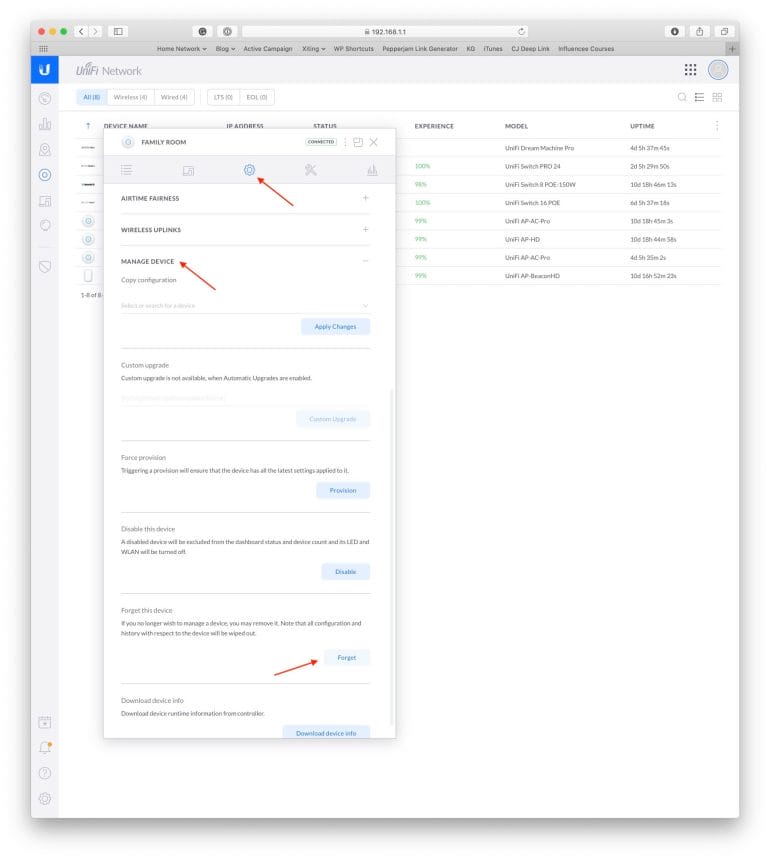 Fortunately, I only own four UniFi access points, four UniFi switches, and a dedicated Cloud Key for UniFi Protect. So re-adopting all of those devices on the UDM Pro wasn't a major effort.
If I had dozens or hundreds of devices, I would have spent more time figuring out why the backup didn't restore.
On a high level, here's what I did:
Take screenshots of the most important configuration settings of the UDM.
Write down what switch ports had "special" profiles assigned.
Remove all access points and switches from the UDM by using the "forget" option.
Unplug the UDM and connect the UDM Pro to one of the UniFi switches.
Manually configure the UDM Pro by leveraging the screenshots.
Adopt access points and switches on the UDM Pro.
Manually update switch port settings to match what they previously were.
All of the above steps took around 30 minutes to complete, so that wasn't a big deal. I have a fairly simple configuration consisting of:
Three Wi-Fi networks (main, IoT and guest).
VPN server.
Threat detection and deep packet inspection.
Dedicated VLAN for guests and IoT devices.
Bandwidth limitation for devices in the IoT group.
Some switch ports are tagged with the IoT VLAN via configuration profiles.
After swapping out the UDM for the UDM Pro, it took a few minutes for all my devices to re-appear in the UniFi management portal so I could adopt them. So don't get nervous if you don't immediately see all of your devices.
Once I completed the configuration and was satisfied that everything was working properly, I cut the power to all light switches and other IoT devices so they could reconnect to the access point with the strongest signal.
I've noticed that most IoT devices, and particularly HomeKit-enabled light switches, stay connected to an access point with a weaker signal even when one with a stronger signal becomes available. Power-cycling those light switches is often the quickest way to fix that — especially if they become unresponsive.
Migration of UniFi Protect

In addition to my network configuration, I also wanted to migrate UniFi Protect from the UniFi CloudKey Gen 2 to the UDM Pro.
To use Protect on the UDM Pro, you need a hard disk drive to store your video footage. So before I installed the UDM Pro in my server rack, I inserted a 4TB NAS drive into the drive bay of the UDM Pro.
On the UDM Pro, UniFi Protect is an app you can install via the UDM Pro landing page (https://192.168.1.1).
On the bottom of that page you can see a settings icon. Click on it and it redirects you to a device-specific page that has an "Applications" section.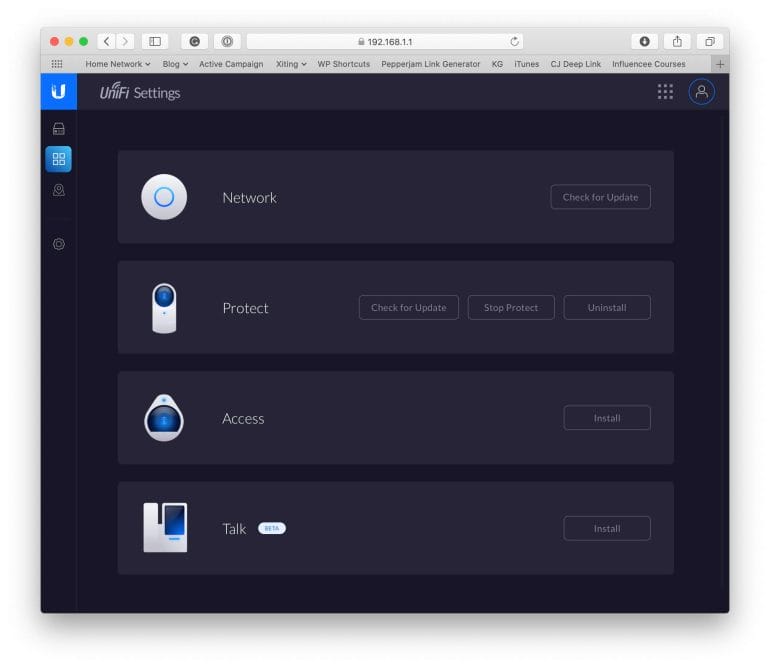 Using the app section, you can install additional apps, such as Protect, Access and Talk (Beta). I don't use Access or Talk, but I installed the Protect app.
Given my experience with restoring backup files, and considering that I have only four UniFi surveillance cameras, I decided to go the manual route again.
So I logged into my UniFi Protect portal and removed all four cameras from the Cloud Key. Once done, I reset the Cloud Key to its factory settings and adopted the cameras via the Protect app running on the UDM Pro.
UniFi Dream Machine Pro vs. UniFi Security Gateway Pro (USG Pro)

UniFi recently also launched the UniFi Security Gateway Pro, a rack-mountable and more powerful successor to the USG I used to have.
I don't have any hands-on experience with the USG Pro 4 yet, so the information below is simply based on the spec sheet of the enterprise gateway router.
| | | |
| --- | --- | --- |
| | USG Pro 4 | UDM Pro |
| Form factor | Rack appliance | Rack appliance |
| LAN ports | 2 gigabit | 8 gigabit (switched) |
| 10 Gbps ports | 0 | 2 |
| WAN ports | (2) 1 Gbps [ethernet/fiber combo) | (1) 1 Gbps, (1) 10 Gbps with redundancy |
| Power over Ethernet ports | 0 | 0 |
| Wi-Fi | N/A | N/A |
| CPU | Dual-core 1 GHz, MIPS64 with hardware acceleration for packet processing | Quad ARM Cortex-A57 core at 1.7 GHz |
| System memory | 2 GB | 4 GB |
| IDS/IPS throughput | 250 Mbps | 3.5 Gbps |
| UniFi Controller | N/A | Built-in |
| Application support | N/A | Protect, Access, Talk |
| Power supply | Standard | Redundant (support for PSU failover) |
| MSRP | $344.00 | $379.00 |
Comparison of UniFi Security Gateway Pro 4 and UniFi Dream Machine Pro.
Based on my personal requirements, the two most striking differences between the USG Pro and the UDM Pro are the IDS/IDP throughput and the built-in UniFi Controller software.
In other words, if you have an internet connection with more than 250 Mbps bandwidth and you want to take full advantage of the network security features UniFiOS offers, you need the UDM Pro or the UniFi XG Server.
If you choose the USG Pro, you also need a separate Cloud Key or controller software because Ubiquiti didn't build that into the appliance.
Frequently Asked Questions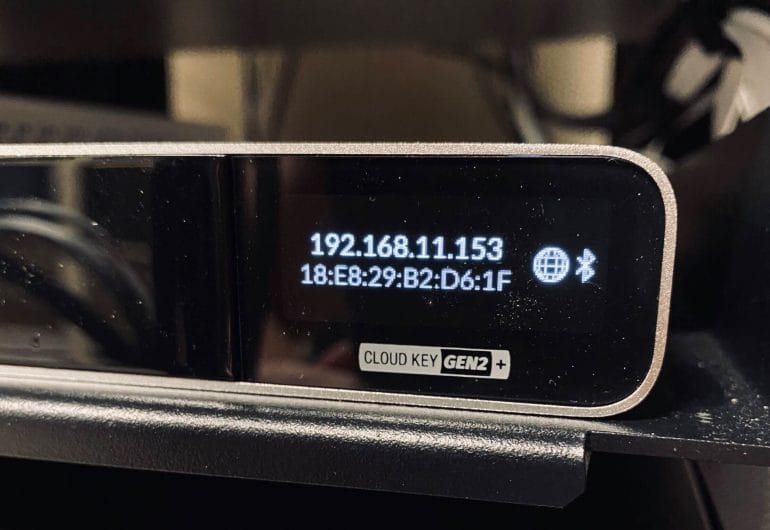 After making changes to my configuration, my internet speed is suddenly super slow. What could be the reason?
There could be dozens of reasons for slow internet speed. In my case, I made an error enabling smart queues. Instead of 30,000 kbit/s, I set it to 3,000 kbit/s, which limited my upstream to 3 Mbit/s instead of 30 Mbit/s.
My ISP modem and home office are on opposite sides of the house. Can I install two UDMs in the same network to connect these two locations?
A reader recently asked me if he could use two UDMs — one connected to the ISP modem and one in his home office (where he needed additional switch ports). He couldn't use ethernet between those two locations, and figured he could use two UDMs to solve that problem "wirelessly."

Unfortunately, you can't install two UniFi controllers in the same managed network — at least not as far as I know. The reader ended up buying the AmpliFi Alien Mesh Kit to address his use case.

When I got the UDM Pro, I thought about ways to reuse the no-longer-needed UDM, and I hoped I could use it in my office as an additional access point. Unfortunately, that doesn't work as UniFi doesn't allow you to adopt the extra network controller.
Does the UDM Pro support PoE?
No! That's the only thing I don't like about the UDM Pro — it doesn't have any Power over Ethernet (PoE) ports. I'm hoping that a future version will get that upgrade.
How do you set up the UDM Pro?
That's easy. The UDM Pro has a Bluetooth chip built-in, so you can use your mobile phone (in combination with the UniFi mobile app) to set it up.

Alternatively, you can use a computer and web browser to walk through the configuration wizard.
What hard drives does the UDM Pro support?
The UDM Pro doesn't come with a hard drive. However, you can add pretty much any 2.5-inch or 3.5-inch HDD. I used one of my 3.5-inch 4 TB NAS drives that I had laying around.

In case you're wondering, you could also use an SSD as long as it has a SATA interface — but it would be overkill to do so because you won't need the fast read/write speeds solid state disks offer.
How many access points (APs) can the UniFi Dream Machine Pro support?
At least 16, but the exact upper limit is unclear because Ubiquiti couldn't complete their internal testing due to COVID-19. The UDM Pro can also support at least 24 UniFi Protect devices. I'll update this section when I get new test results from Ubiquiti.
Ubiquiti UniFi Dream Machine Pro – Wrap-Up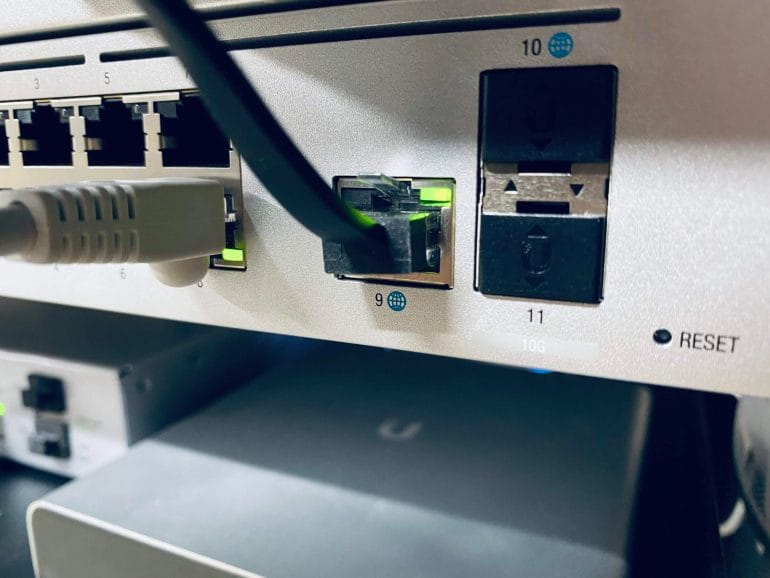 I'm incredibly happy with my UDM Pro because I love its simplicity. Plus, the UDM Pro helped me consolidate my networking infrastructure while making it more capable and powerful at the same time.
The only thing the UDM Pro is missing is PoE ports. I still own two older eight-port UniFi switches that support PoE, and I use one of them in my server rack to power UniFi access points and security cameras. So the lack of PoE ports in the UDM Pro is not a big deal for me.
However, if I just started out with UniFi, I would appreciate not having to buy a separate (PoE-enabled) switch to power my UniFi cams.
What do you think about the UDM Pro? Let me know by leaving a comment below!

I'm a healthy living and technology enthusiast.
On this blog, I share in-depth product reviews, actionable information and solutions to complex problems in plain and easy-to-understand language.