My MacBook Pro is equipped with a 1TB Solid State Disk (SSD), which I figured would offer plenty of space for months to come. When I decided to migrate from Aperture to the new Photos app, I took a close look at my storage requirements, knowing that my photos alone could take up ~400GB of disk space.
I clicked on the Apple logo on the upper right corner, About this Mac and then on Storage. To my surprise, half of the disk space was taken by "Backups", which are so-called local snapshots created by Time Machine.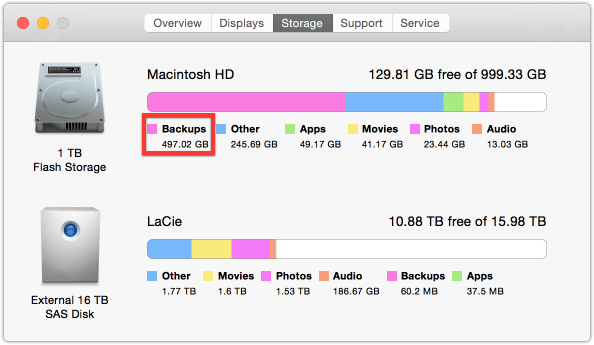 Time Machine's Local Snapshots
According to Apple's Knowledge Base:
Local snapshots complement regular Time Machine backups that are stored on your external disk or Time Capsule by creating a local backup on your startup disk when your normal backup drive is not available. This provides you with a "safety net" for times when you might be away from your external backup disk or Time Capsule but accidentally delete a file. When your normal backup is available again, Time Machine copies the local snapshot contents from your startup disk to your normal backup drive.
I updated my Mac Mini running OS X Server lately, which serves as the backup destination for Time Machine. After the upgrade, the Mini renamed itself to Mini (2) and thus Time Machine on my MacBook couldn't find the backup destination anymore. As a result, Time Machine hasn't been able to backup for about 10 days. I figured because of that, the local snapshots were piling up but should clear once Time Machine completes a successful backup cycle. So my troubleshooting strategy was taking the following steps:
Let Time Machine complete a full backup cycle
Disable and then re-enable local snapshots using the following command line: sudo tmutil disablelocal && sudo tmutil enablelocal
Neither worked but I knew that:
I just upgraded OS X on my MacBook Pro to the latest Beta
Messing around with my huge Photos Library somehow caused the file system of my disk to get corrupted and I had to repair it twice
How to Remove Local Snapshots Folder Manually
Either of those two events could have caused the local snapshots folder to become corrupted, so I decided to clean it up (meaning trash it) manually. Disabling local snapshots leaves a folder called .MobileBackups.Trash at the root of your boot volume and in my case it contained 455G worth of backups.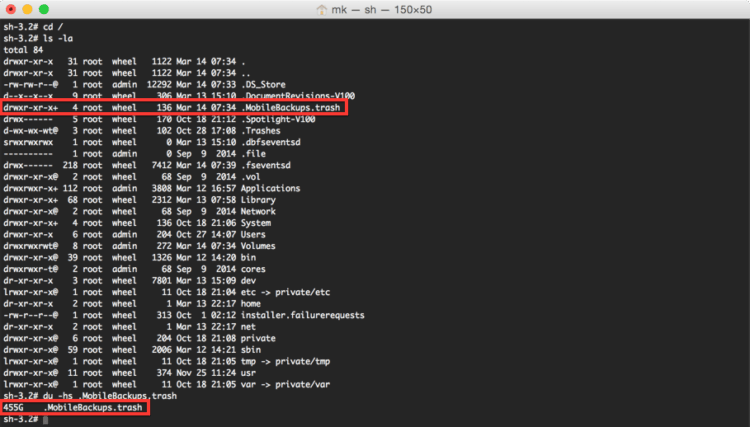 I moved the folder to my Desktop via Terminal (sudo mv .MobileBackups.trash /Useres/mk/Desktop/bla), dragged it into the Trash and then emptied the Trash to get rid of the snapshots. Emptying the Trash may complain about a number of files being in use, you can just skip them, reboot and try again.
Under normal circumstances, local snapshots shouldn't take up 50% of disk space, but something led to abnormal circumstances in this particular case, I suppose.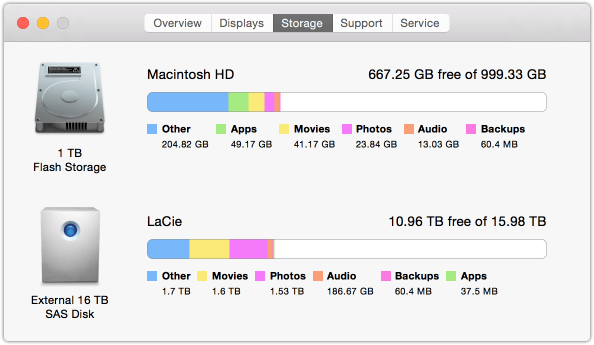 After emptying the Trash, don't forget to make sure you re-enabled both Time Machine and local snapshots. Not having good backups is worse than temporarily running out of disk space. For more on my backup strategy, see My Backup Strategy – Part 3.

I'm a healthy living and technology enthusiast.
On this blog, I share in-depth product reviews, actionable information and solutions to complex problems in plain and easy-to-understand language.