Spotlight is Apple's answer to all your search needs in OS X. With the release of OS X 10.11 El Capitan, Apple has added additional capabilities to make Spotlight more powerful. In this post, I'll share some tricks that make Spotlight even better at finding exactly what you're looking for.
Spotlight in a Nutshell
Spotlight can be invoked using a keyboard shortcut (Command + Space) or by clicking on the hourglass icon in the upper right corner of your Mac.

Once the Spotlight search bar has launched, you can start typing what you're looking for.
Spotlight can find apps, documents, photos, and other files on your Mac, and use Spotlight Suggestions to get news, sports, movies, stocks, weather, and more from the web using sources like Wikipedia, Bing, Maps, and iTunes. Spotlight can even get conversions, calculations, and definitions for you.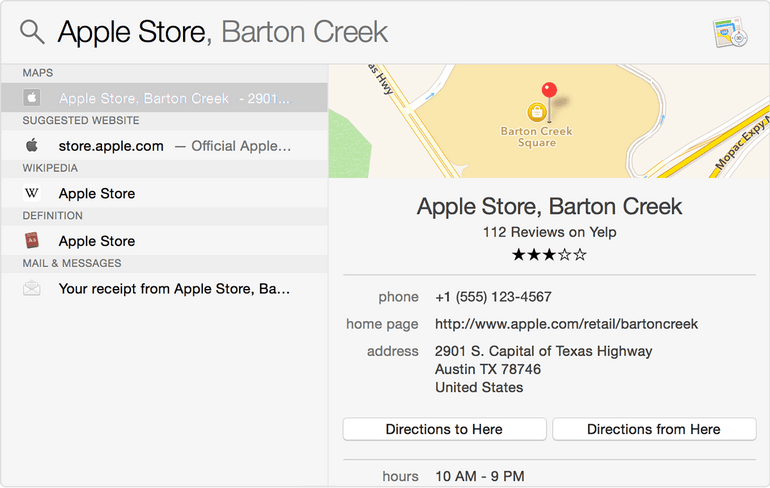 Narrow Search Focus
Spotlight is very powerful and can search for various types of information. For example, searching for "Delta Air" may produce results including:
Internet addresses such as delta.com
Wikipedia entries matching Delta Airlines
Locations of Delta Airlines offices
Emails from Delta Airlines
…
I have encountered various occasions where I wanted to search for a contact in my address book (i.e., Delta Airlines) but Spotlight returned everything but the contact. That's frustrating and often led to me opening the target application (i.e., Contacts) directly instead of opening the contact via Spotlight. The problem is often worse when searching for items that you don't remember the exact name of. The good news is, there is an easy solution to this problem. You can easily narrow the scope of your search by telling Spotlight what type of item you're looking for.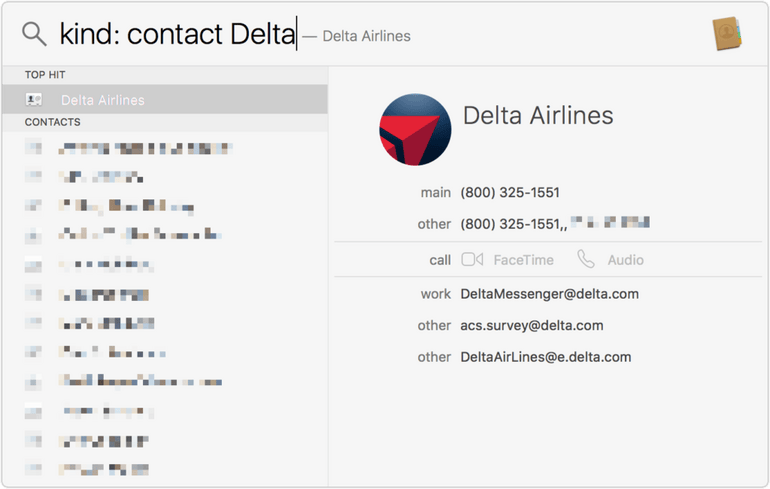 A complete list of supported item types is available on Apple's Support page but here are the most common ones:
Apps
Contacts
Folders
Emails
Calendar Events
Reminders
Images
…
Additionally, you can do Boolean queries (AND, OR and NOT) to further limit the scope of your search. To exclude the contact "Delta Airlines" from the above search you can use the following command:
Delta Air NOT kind:contact
Have you got any other tidbits that are worth sharing? If so let me know by leaving a comment!

I'm a healthy living and technology enthusiast.
On this blog, I share in-depth product reviews, actionable information and solutions to complex problems in plain and easy-to-understand language.