In this article, I will share with you the best SEO strategies and techniques and how to optimize your blog for search engines. Using SEO on WordPress as an example, I will show you a combination of simple and advances techniques to improve the ranking of your blog on Google and other major search engines.
I started blogging in 2012, and at the time, I knew little about how to start a blog, and I knew virtually nothing about Google Search Engine Optimization (SEO). Now that my blog has grown to over 130,000 unique visitors a month, many people ask me how to make a blog SEO friendly so that readers find my content on Google.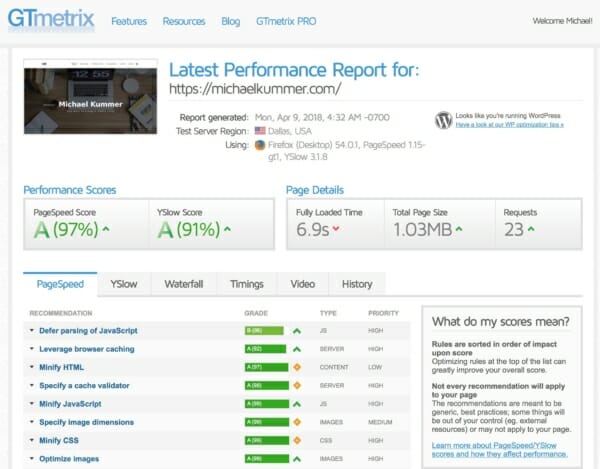 Besides simple SEO tips and examples, I will also demonstrate some advanced techniques to improve page load time and scores on GTMetrix, and Google PageSpeed. I hope that after reading this article, you will be equipped with sufficient information to improve the ranking of your blog articles.
What is Search Engine Optimization?
Search Engine Optimization, as the name implies, has the goal to optimize your blog posts or pages so that users can find them when they search keywords related to your content. For example, if you have written an article comparing Beats vs. Bose noise-canceling headphones and someone searches for "Beats vs. Bose" on Google, you want Google to show your article on top of the search results. To accomplish that, your article has to meet specific criteria that I am covering in this article.
Tipp: Nobody can guarantee that your page or blog posts will rank high on Google. I can only give you tips on how to improve the odds. If you come across someone who offers guarantees (typically for money), walk away.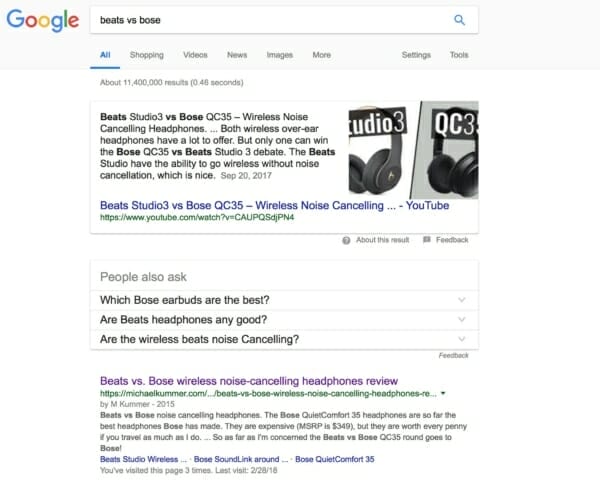 Best SEO tips for bloggers
I had already over 400 blog articles published before I started paying attention to SEO. In retrospect, I wish I had known many of the tips and tricks I am sharing with you below. That would have saved me a lot of time and frustration. So before you publish your first article, I would recommend to familiarize yourself with the search engine optimization basics.
Here is my basic SEO Checklist with the top 15 search engine optimization tips and how to do SEO on your website:
Write exceptional content,
Make sure your articles are "long enough,"
Publish consistently,
Improve the readability of your articles,
Use your keywords and variations throughout your article,
Draft an awesome headline and meta description,
Tell search engines about your site (Sitemap),
Don't try to trick Google,
Help Google understand your content,
Optimize your images,
Regularly update old content,
Remove outdated or thin content,
Improve the load time of your site,
Build backlinks through great content,
Rinse and repeat!
Write exceptional content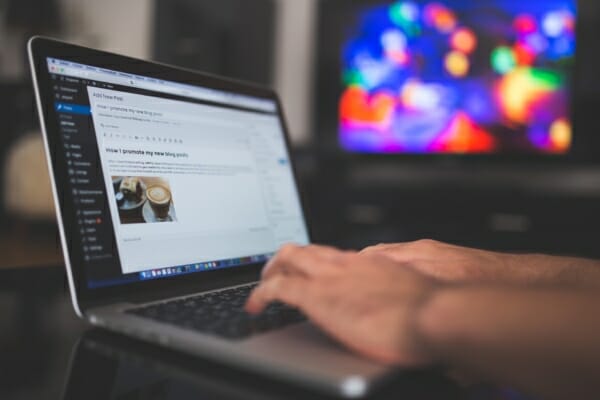 Arguably the most important factor in ranking is the quality of your content. Always attempt to write outstanding content that is unique and worth being published in a major newspaper. To learn more, I recommend reading the Google Webmaster Guidelines, if you haven't already done so.
Before I write a review about a product, I usually test it for a few weeks and keep notes along the way. Documenting my observations while I test, for example, a new gadget helps me to give my review a unique spin that goes beyond listing the features or specifications of it.
When I write about a health-related topic, I read up on the latest studies that help back up my claims, statements, or observations. These two techniques alone often differentiate my reviews from those of others who did not invest that extra time.
Tipp: Write unique and exceptional content instead of repeating what thousands of others have written before you.
I usually spend hours and sometimes days on each of my blog articles before I press the "Publish" button. Of course, writing unique content is easier the more of a niche your blog covers. The broader the topic, the more difficult it is to write something that is not already out there. But with a bit of creativity and passion, you can add a new spin to even the most crowded topics.
Length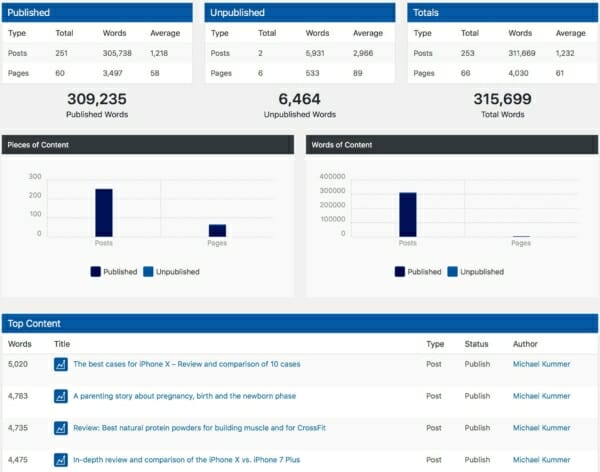 One of the questions many bloggers ask is how long articles should be. Unfortunately, there is no simple answer to this question. The most important factor for Google (and other search engines) is how unique your content is. I blog about topics that thousands of other bloggers cover as well. As a result, I often need 1,000 – 4,000 words to express my thoughts in a unique fashion that provides value to my readers.
If you write about a niche topic, that nobody else covers, you may be able to get away with less than 1,000 words. But even then, I doubt you can add value to the Internet in less than 200-300 words. So if you don't know where to start, I would suggest staying above the 1-1.5k word range.
Tipp: Write articles with at least 1-1.5k words.
The SEO plugin I use to optimize my content, recommends at least 1,000 words per article.
Frequency and consistency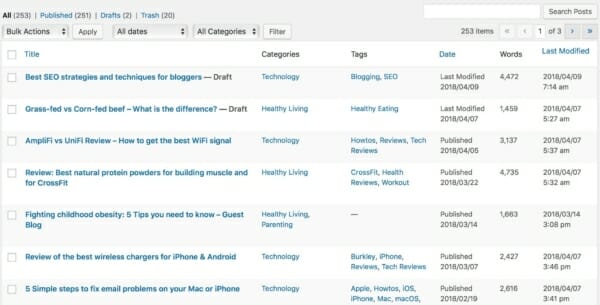 Google takes the freshness of your blog into account when ranking your content. One way to maintain the freshness is to publish frequently and, most importantly, consistently. That doesn't mean you have to publish every day, but you want to maintain a cadence that you can sustain. I used to post shorter articles (less than 1,000 words) multiple times per week. But as I shifted towards longer and higher-quality content, my publishing frequency went down. I wish I could publish three long-form articles per week, but with a day job and two kids, I realized that's not possible.
Right now, my goal is to publish once a week consistently. Sometimes, I manage to publish twice a week and sometimes every two weeks.
Tipp: Pick a schedule that works for you and stick to it.
Most importantly, don't give up if you don't see immediate results. Success in blogging is a product of time, as demonstrated by how my visitor count developed over the years. Note, the dip at the end of the graph marks the end of the tracking period and does not reflect an actual drop in visitors.

Improve readability
Google uses the readability of your content as a ranking factor. As a result, the easier your article is to understand, the better it will rank. You can improve readability by paying attention to the following factors:
Limit the use of the passive voice
Break up long paragraphs
Use headings to structure your content
Use short sentences
Make use of bullet points
Add images
Use easy to read fonts
Fix spelling and grammar issues
Passive voice vs. active voice
Using passive voice is one of the most common mistakes I make. For example, I could say:
Passive voice: My router can be configured to block all incoming traffic.
Instead, I should say:
Active voice: I can configure my router to block all incoming traffic.
Break up long paragraphs
I recommend not to have more than 200 words per paragraph. If you have written longer paragraphs, just add a line break.
Use headings to structure your content
When I write an article, such as this one, I often start with the table of contents. That gives me the opportunity to come up with a suitable structure. In WordPress, you can use so-called Headings to help structure your article.
The title of your article usually is first heading, marked by an H1 tag. Everything else underneath uses a higher number. In this article, I use H2, H3, H4, and even H5 to define sub-chapters. Using those chapter markers makes it easier for your readers and search engines to understand the structure of your article.
To improve readability, try to add chapter markers for every 300 words you write.
Use short sentences
Shorter sentences are easier to read than longer sentences. It's as simple as that.
Make use of bullet points
Bullet points are an incredibly useful tool to improve the readability of your article by breaking up the text. So don't be shy and use them.
Add images
Photos and illustrations are another great way of breaking up your content and adding value to your article. Of course, the images you use should relate to your text.
Use easy to read fonts
Using a fancy but hard-to-read font can quickly turn your otherwise great content into an unreadable mess. So stick with the defaults that WordPress or your theme suggests unless you know what you are doing.
Fix spelling and grammar issues
If you are serious about blogging (or writing in general), I highly recommend investing in a Grammarly subscription* to check your text for spelling and grammar issues. I use Grammarly all the time to detect passive voice, missing or wrong commas, synonyms for frequently used words, etc. You can check out my review about Grammarly here before signing up for the service.
Think about keywords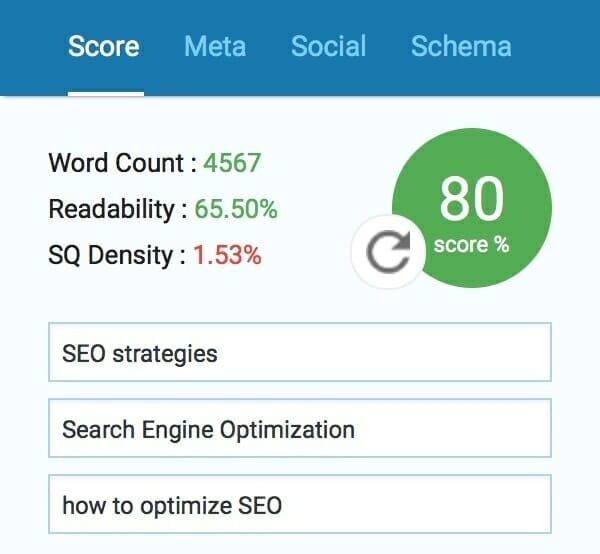 My goal, as a blogger, is for readers to find my content. So when I write an article, I think about what keywords or phrases users would search for to find content like mine. For this article, I came up with the following keywords:
SEO strategies
Search Engine Optimization, and
How to optimize SEO
Those are obviously only just three examples of many variations of keywords that your readers may search for on Google. As a result, your content should not only contain the exact keywords you would like to rank for, but also variations thereof. The SEOPressor plugin I use helps me with suggesting related keywords that I can use in my articles.
Short-tail vs. Long-tail keywords
You may have heard the terms short-tail and long-tail keywords. A short-tail keyword, for example, is "blog" and as you can imagine, it is incredibly difficult to rank for those. That's especially true if you pick a popular word.
Long-tail keywords are something like "How to start a blog on WordPress." Depending on the phrase, those keywords are not only easier to rank for, but they mimic more realistically what users may search for.
Keyword research
Selecting the keywords for your article is about trying to find out what keywords users search for and how difficult it is to rank for them. So you have to do some keyword research to find out what keywords make the most sense for your content.
One of my favorite tools to do keyword research is the Moz Keyword Explorer. Type in the keyword you would like to learn more about, and Moz tells you essential stats, including:
Monthly search volume
Difficulty to rank
Organic Click-through Rate
Priority
Keyword Suggestions
SERP Analysis
In the screenshot below, I searched for "Geeky Toys & Gadgets" to get more information about the monthly search volume and difficulty to rank for it.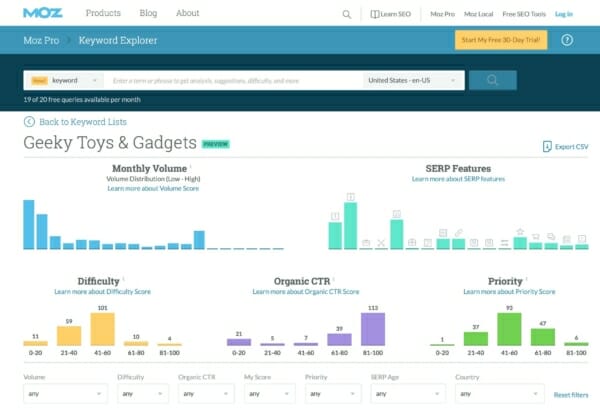 Another tool I often use is Google's auto-complete feature. Go to google.com and start typing in "top SEO tips" and see what recommendations Google predicts you want to type next. Those predictions are also an indication of what other users have searched for.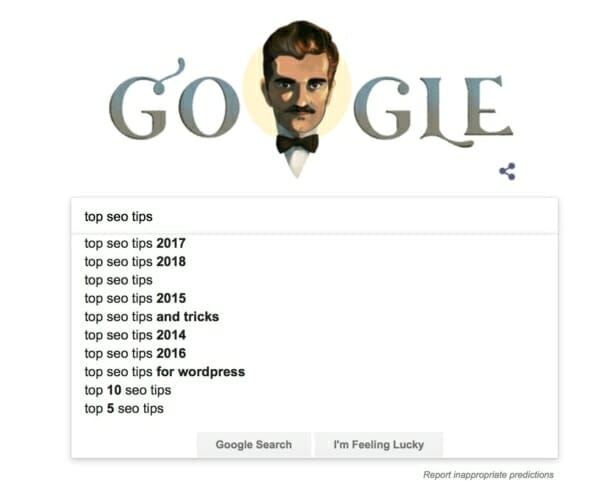 How to work with keywords
Once you have selected up to three (long-tail) keywords you would like to rank for; you have to use them strategically throughout your blog article. Specifically, you want to use your keywords in the following areas:
Title: The headline or H1 of your article. Try to keep the length of your title to 70 characters or less. Otherwise, Google truncates it in the search results.
URL: WordPress automatically generates the URL based on the title of your blog post
Meta Description: Describes your article and search engines may use it as the so-called search snippet. You likely will need a plugin, such as SEOPressor to manipulate this attribute. Until recently the maximum length of the meta description Google could display was 160 characters. Now you can use up to 320 characters.
The images ALT tag: When you insert images into your blog article, you can populate the so-called alternate text (ALT) field to describe the image.
H2 and H3 tags: Use your keywords in some but not all of your chapter titles.
Beginning of your article: Use your keywords in the first paragraph of your blog article. I often use a variation of the meta description as the first paragraph of my articles.
Last 100 words of your article: I often include a summary of my article at the end of it and make sure it contains my keywords.
Additionally, decorate your keywords by making them bold. I do this in the first paragraph of each blog article, to help users quickly understand what the article is about.
Write an awesome headline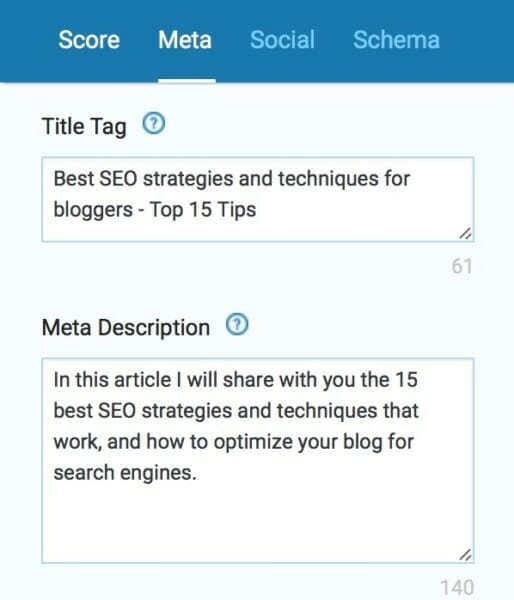 The title or headline of your blog post is what users see first in the search results. And while the "awesomeness" of your headline doesn't directly influence ranking, it very much influences the so-called click-through rate (CTR). That means, how likely a user is to click on your article in the search results.
I cannot stress enough the importance of a catchy title. As a result, I would highly recommend that you spend a significant amount of time on only the headline for your article. The attention span of most users is short, and most of them decide within a split second if your title is interesting enough to warrant a click. So keep that in mind when writing a headline and be creative.
The power of the meta description
Besides the headline, the meta description is the second most important part of your article. Search engines often use the contents of the meta tag as the search snippet. Those are the two lines of text you see under the headline of search results.
The meta description is supposed to tell potential readers what your article is about and why they should click on your link. That's why it is so important to write descriptive meta tags that convince users of opening your article.
It is important to note that if you don't add a meta description to your article, you leave it up to search engines to pick any part of your article and show it as the search snippet. You don't want that!
Sitemap: Tell search engines about your blog
If you want search engines to find your blog, you need to tell them where to find it. You can do that quickly by creating and submitting a so-called sitemap. A sitemap is an index of all of your pages, posts and other content you have on your site.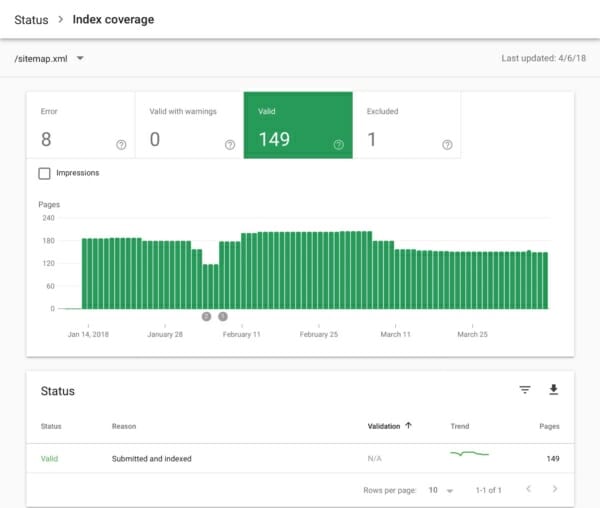 I use the Google XML Sitemaps plugin to automatically create and update my sitemap, anytime I make changes to my blog. Every day, the plugin submits my sitemap to Google and other major search engines, so they know that there is new content for them to crawl. Of course, I cannot force search engines to crawl my page, but unless Google has blacklisted it, it will eventually do it.
I would also recommend using the Google Search Console (aka Google Webmaster Tools). If you already have a Google account, just sign up for it. Otherwise, you will have to create a Google account first. The Google Search Console gives you a lot of insight into the indexing and crawling status of your blog. For example, you can see when Google processed your sitemap last and how many pages and posts it has indexed.
Note: Google just released a new version of its Search Console that also tells you what pages it has not indexed and, sometimes, also why. The new version is not available for all pages yet. If the new console is not available for your page yet, just give it some time and wait for Google to notify you when it becomes available!
Don't try to trick Google
SEO used to be a synonym for trying to trick search engines into ranking your pages higher than others. But over the years, Google has periodically updated its algorithms to crack down on and massively penalize such behavior.
Tipp: Don't try to trick Google. Instead, "make pages primarily for users, not for search engines."
Stick to Google's recommendation and make pages for your readers and not for search engines. If users like your content, so will search engines and you won't risk getting penalized or even blacklisted.
Google made another significant change to its search algorithms in March of 2018. The goal of that change was to surface more high-quality search results to users. Fortunately, Google seems to like my content because my daily visitor count went up from 2.5k to over 4k, thanks to more traffic Google sent my way. That's a massive change that also triggered an increase in revenue from ads and affiliate links!
Help Google understand your content
Search engines use so-called robots (or bots) to crawl the Internet and index what they find. But as smart as bots are, they are not human. As a result, you need to help them understand what "they are looking at" when they crawl your site.
The easiest way to do that is by adding structured data that describes what your content is about. I know of two standards that major search engines use to understand the structure of your page:
The SEO plugin I use supports both, and so I have made it a habit of adding structured data for both standards. The type of data I add includes the following attributes:
Data Type: i.e., Article
Article Type: i.e., Blog Posting
Article Headline
Article Description
Article Image
Publisher Name
Publisher Logo
I make it a point to populate these fields for every blog article I create.
Optimize images
I will talk about more about page load time further down, but images play a major role in how quickly a page loads. Google takes load time into account for ranking purposes. More importantly, users take load time into account and may abandon your page if it loads too slow.
As a result, it is essential to optimize the images you use on your blog. Optimizing usually means compressing them and stripping away unnecessary metadata. You can choose between lossless and lossy compression. The latter will visibly degrade the quality of your images but results in smaller file sizes.
I used to optimize images before uploading them to WordPress using a free Mac app called ImageOptim. It does an excellent job of reducing the size of images, but there is a catch. When you upload an image to your blog, WordPress automatically creates several copies of that image in various resolutions. The problem is that even if you upload an already optimized image, the copies WordPress creates won't be optimized. As a result, I switched to a plugin that would optimize all uploaded images and their automatically created copies.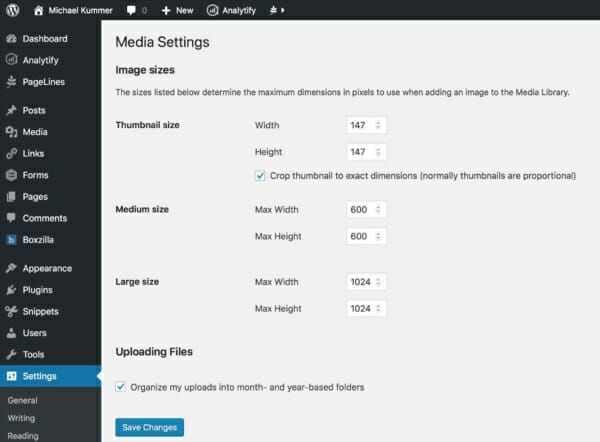 Also, make sure that the images you use in your articles are not wider than the width of your content. For example, the width of my blog articles is about 600 pixels. As a result, I have configured WordPress to created medium-sized copies of my images that are 600 pixels wide. Those resized images are the ones I add to my content, instead of the full-resolution originals. The benefit of doing that is that WordPress doesn't try to load a larger image than what it can display on the screen. If it did, WordPress would load the larger image and then dynamically size it down using HTML or CSS code. Unfortunately, by loading the larger image first, my overall load time would be longer, resulting in less-than-ideal user experience.
Regularly update old content
Depending on what topics you write about, previously published articles get outdated sooner or later. That's why it is important to update old articles regularly.
For many years, I was only focused on generating new content. By having done so, I completely ignored previously published articles. I told myself that I didn't have time to go back and update the old stuff. That view was shortsighted for various reasons:
Updating older articles usually takes less time than writing new content.
Overall, Google takes the freshness of your content into consideration.
You owe it to your readers to maintain your content.
As a result, a few months ago, I started updating old articles that I thought were worth it. That means I looked at how relevant the topic was and how many users read the article every month. If the article was outdated but good and it had traffic, I would update it.
Overall, updating an older article is an inexpensive way of retaining your visitors and letting Google know that you haven't abandoned it.
Tip: If you have written a comparison of various products, make it a point to add new products to your old review as you come across that. That's an easy way to add value to previously published content.
Remove outdated or thin content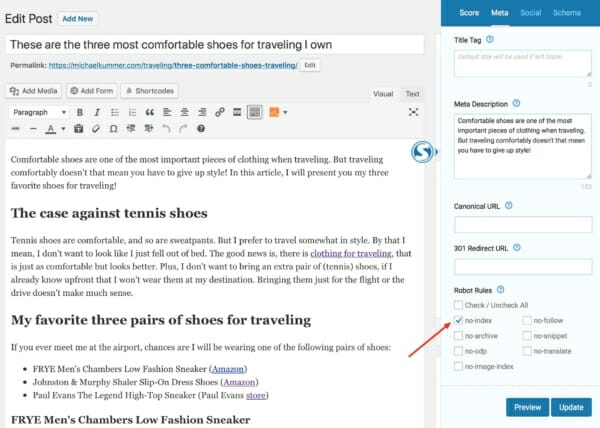 When I started taking SEO more seriously, I took a hard look at all the articles I had published. About half of what I had written was beyond repair, either because the article lacked real value or it was so poorly written and had to be redone. When that was the case, I deleted the article. Of course I was afraid that I would lose traffic, but in fact, the opposite was the case. My visitor count went up after I had thinned out content that no longer met my quality standards.
But you don't have to delete entire articles. Instead, you can set them to "NoIndex" and instruct Google to ignore them when crawling your page. From an SEO perspective, that has the same effect as deleting the article. Of course, if you don't want visitors to find certain articles, no matter what, go ahead and delete them.
In case you wonder, I use my SEO plugin to set individual articles to NoIndex. Additionally, I add them to the "ignore list" in the Google XML Sitemap plugin, so that they don't end up in my sitemap.
Tip: The less "thin" content Google finds on your blog, the more valuable your site gets. Thin content can drag down your whole page, so be brutal and NoIndex or remove content that doesn't add value.
Improve the load time of your blog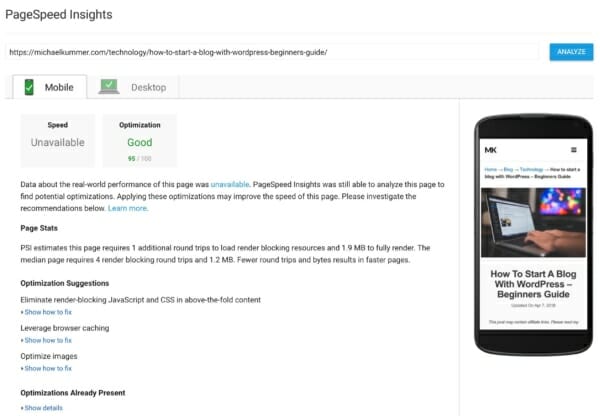 Depending on your skill level the following tips are a bit more advanced but by no means rocket science. The primary goal of the techniques below is to improve the load time of your blog and thus the speed score. The latter you can verify on pages like GTMetrix or Google PageSpeed Insights.
I will go into the details of each of the below techniques in a separate blog article, but here is an overview of what you can do to improve page load time:
Minify HTML, CSS and JavaScript
Defer CSS and JavaScript
Defer CSS and JavaScript
Use a Content Delivery Network (CDN)
Scan for dead links (404)
Once a month, I scan my entire page for dead links and update or remove links that don't work anymore. I use the free Broken Link Check service for that.
Social Media and SEO
Some studies have shown that there is a correlation between higher social activity and better rankings on search engines. While correlation is different from causation, I would recommend you think about how, and if, to include social media in your blogging strategy.
Personally, I recently decided to abandon social media because I did not see a return on my investment (ROI). That means the time and money I invested in publishing to social media, mostly Facebook, Twitter, and LinkedIn, did not significantly impact my visitor count. In fact, from the 550,000 unique visitors who came to my blog in 2017, less than 6,000 originated from social media. That's a rounding error!
Besides, not all those 6,000 visitors came to my blog because the links that I shared on social media. I am certain that the majority are from links that someone else shared. As a result, I decided to use the extra hours I spent on social media on writing new or updating old articles.
Search Engine Optimization Tools
In this section, I'll talk about some of the tools I use to help me with SEO optimization. You could get away without tools, but it would be much more difficult and error-prone.
Yoast
When I first got my feet wet with SEO, I used the popular Yoast plugin. Yoast offers a free and a paid premium version. I started with the free version and later switched to the premium offering because it came with additional features I found useful. You can learn more about the differences between Yoast SEO Free and Yoast SEO Premium here.
Yoast SEO is a robust plugin, but I stopped using it because of a bug that would cause the WordPress editor to become unbearably slow when typing. The bug has been around for over a year, and I got sick of having to disable the plugin constantly when editing large articles. I recently learned that Yoast's "Readability" feature is what was causing the lag and disabling it should fix the problem. I am planning on making a more detailed comparison between Yoast and the plugin I use now in an upcoming article.
SEOPressor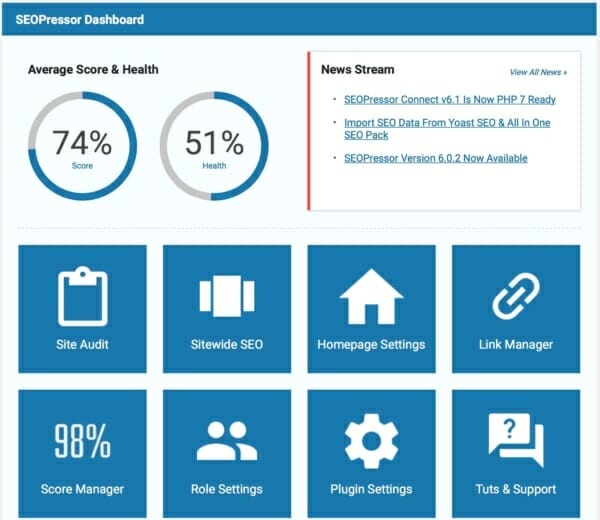 I stumbled across SEOPressor recently, and while it is not perfect, I find it more usable and insightful than Yoast.
SEOPressor provides an incredibly useful analysis of every article or page I create and offers suggestions on what I need to fix to increase the SEO score. In addition to all the standard recommendation that also Yoast provides, SEOPressor offers related keywords that I can use in my article.
Using similar but not identical keywords reduces the chance of Google penalizing you for what is known as "keyword stuffing," and it increases the chance of ranking higher. You can learn more about so-called LSI keywords and keyword density here.
Other factors that influence your ranking
Domain authority
According to Moz, domain authority is a measure of the power of a domain name and is one of many search engine ranking factors. Domain authority is based on three factors: Age, Popularity, and Size.
In other words, the older your blog is, and the more content and backlinks to it you have, the higher your domain authority is. You can check the domain authority of your page using the MozBar, an extension for Chrome.
According to Moz, my domain is 5.8 years old, has about 900 backlinks and according to the MozBar, it has a domain authority of 17. The domain of my blogging pal David Sparks is 10.5 years old, has over 30,000 backlinks and a domain authority of 54. As you can see, the two significant differences between our domains are age and backlinks.
Page authority
The "Page Authority" is similar to the domain authority but applies to an individual page, for example, a blog article.
Backlinks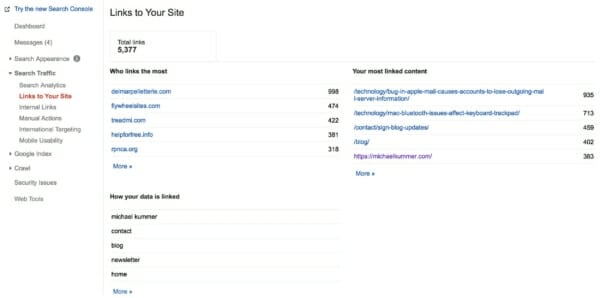 Backlinks are inbound links to your website and an important factor in increasing domain or page authority. Backlinks are an indication of popularity, and that's why search engines use them as a ranking factor.
There are different types of backlinks that carry different value regarding SEO. For instance, the higher the domain authority of the linking site, the more SEO juice the backlink carries. Additionally, search engines see backlinks that link to individual pages (i.e., an article) as more valuable than a link that points to your homepage.
Advice: When you favorably mention another brand or page in one of your articles, let the brand or page owner know and ask if they would share your article on their page. That is an inexpensive but powerful way of building backlinks.
Note that not all links carry SEO value, especially those marked with a "NoFollow" tag, which instructs search engines not to follow those links for indexing. Most online forums automatically mark all links included in user comments as NoFollow. So while commenting on other people's blog and adding links to your comments that point back to your blog, certainly increases your content's visibility, it likely won't have any SEO impact or improve your domain or page authority.
Expertise, Authoritativeness, and Trustworthiness (E-A-T)
Recent updates to Google's algorithm strongly suggest that E-A-T has become a major ranking factor. That means if you can't demonstrate expertise, authoritativeness, and trustworthiness you likely won't rank on Google. Marie Haynes has written E-A-T in a recent blog article, and I'd highly recommend checking it out.
Recommended Reading
Search Engine Optimization is an ever-evolving topic and I highly recommend staying on top of it. I have found the following articles to contain a ton of valuable information that you can easily apply to improve the ranking of your content:
Search Engine Optimization Tips
I hope that you have realized by now that effective search engine optimization is relatively easy and does not have to cost you a lot of money. In fact, most of the SEO strategies I have mentioned above are free, and you don't need to hire an "SEO expert" to help you apply them. But you can make your life a little easier if you used some of the tools I mentioned, such as SEOPressor. Beyond that, my best advice to you is to "measure twice and cut once." For blogging, that means taking the time to write outstanding content and getting the SEO basics right before clicking the publish button. Don't get stressed out, as I did in the past, about getting an article out quickly. If you do, you will start cutting corners that are going to hurt you in the long run. So take your time and do it right and I am confident that Google will reward you by sending visitors your way.
What are your SEO strategies? Let me know by leaving a comment below!

I'm a healthy living and technology enthusiast.
On this blog, I share in-depth product reviews, actionable information and solutions to complex problems in plain and easy-to-understand language.