The SENS8 Light Cam is the first wired home security camera I have reviewed that required drilling a hole into an outside wall of our house. Continue reading to find out how the installation went and if the SENS8 security camera was worth breaking out my tool belt.
The SENS8 Light Cam offers a ton of useful features that you'd typically only find in more expensive cameras. Combined with a built-in siren, a LED-based flood light, and no recurring subscription fees, I think the SENS8 security camera is worth drilling a hole or two.
| Overall Rating | (4/5) |
| --- | --- |
| Video Quality | |
| Motion Detection | |
| Home Automation | |
| Value | |
SENS8 Light Cam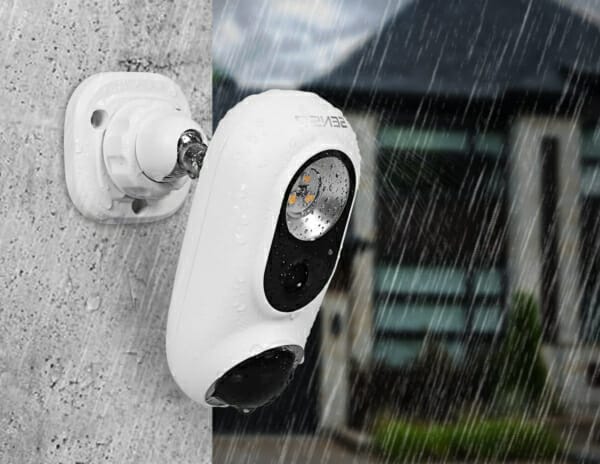 Pros
Built-in Flood Light and Siren
1080p HD Video Resolution
Two-way Audio
IP65 Water- and Dust Resistant
Customizable Motion Zones
Amazon Alexa and Cloud Storage Integration
 Cons
Requires an Indoor Power Outlet
Lacks Apple HomeKit Integration
Installation Requires Drilling a Hole into an Outside Wall
The SENS8 outdoor security camera is kind of a hybrid because it's wired and wireless at the same time. In other words, you have to plug in the camera to an indoor power outlet, but you can connect it to your home's Wi-Fi network.
The reason why SENS8 requires AC power and doesn't use a battery is that the floodlight and siren draw more power than a battery could handle. The good news is that once you have installed the camera, you'll never have to worry about replacing or recharging batteries. I think you'll appreciate that in the long run!
What I also like about all SENS8 home security cameras is that they don't require a subscription or service agreement of any sort. As a result, you won't have to worry about ongoing fees, which drastically reduces the total cost of ownership (TOC) of these cameras.
Technical Specifications

As you can see in the table below, the SENS8 Light Cam is packed with features and offers top-notch specifications, including HD video resolution, a wide field-of-view, customizable motion zones, to reduce the rate of false alarms, and more.
| Feature | |
| --- | --- |
| Video Resolution | 1080p High-Definition with Night Vision |
| Field of View | 140° |
| Motion Detection | Passive Infrared (PIR) |
| Customizable Motion Zones | ● |
| Water-resistance | IP65 |
| Siren | 95dB |
| Two-way Audio | ● |
| Flood Light | 800 Lumen LED |
| Video Storage | 8GB built-in storage & Support for Dropbox and Google Drive |
| Wi-Fi Support | 2.4Ghz only |
| Warranty | 12 Months |
Installation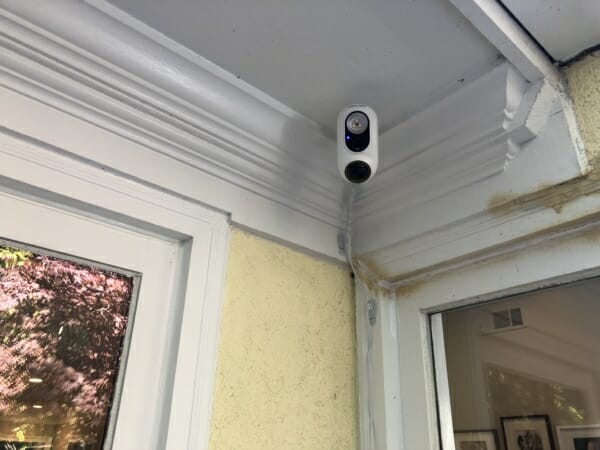 The installation of this outdoor security camera was relatively straightforward but more involved than what I was used to from other such devices, including the completely wireless Arlo Pro 2 or Arlo Ultra.
My primary challenge was to find the right spot for the camera that was close to an indoor power outlet. Fortunately, I could quickly identify an area near our family room that would meet those requirements.
The place where I decided to install the SEN8 cam overlooks a small patio and our vegetable garden on the side of our house, backing up to the garage.
Required Tools
Before I got started, I grabbed the following tools from my toolbox and made sure that the breaker for the power circuit near the outlet where I wanted to drill, was off:
Power drill and drill bit
A thin but sturdy rod that would help me guide the power cable through the hole
Various screwdrivers
Duct tape
Silicone caulk
Wood putty
Drilling a Hole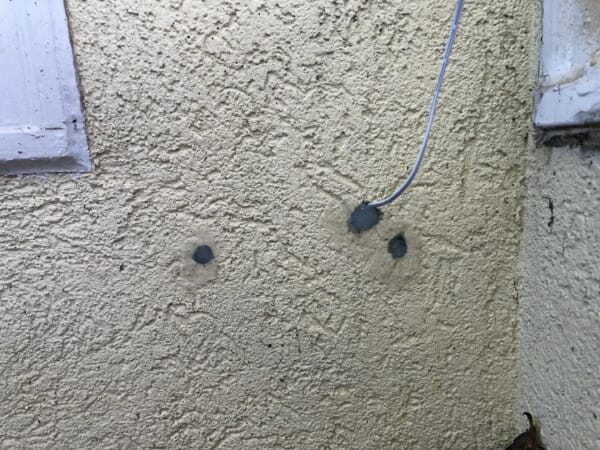 The outside of our ranch-style house is stucco, so drilling a hole shouldn't be an issue I thought. My problem was that I didn't own a drill bit that was long enough to get through the wall in one shot. So I decided to drill a hole from each side and then stick a rod into one hole and come out the other. That didn't work, and so I ended up drilling more holes than necessary.
I finally grabbed a long screwdriver, stuck it into one of the holes on the inside and punched through the stucco. While that worked, it's certainly not the best way of doing it…it's the worst way! So I'd highly recommend you get a drill bit that's long enough before you start the installation!
Then, I routed the power cable through the hole using a rod and plugged in the camera to the power outlet on the inside. Next, I used 3M self-adhesive cord clips to route the cable up the wall to where I wanted to install the camera.
The installation of the camera body was comparatively easy and didn't take more than a few minutes. To assist with drilling the pilot holes, SENS8 put a self-adhesive template into the box you can use.
Tip: Route the power cable through the base of the camera before tightening the screws.
Last but not least, I used silicone caulk to seal off all outside holes, including the one I routed the power cable through. On the inside, I used wood putty to seal off the two holes I drilled into the baseboard.
Configuration
As soon as I plugged in the camera, I noticed a green, flashing LED, indicating that the device has started up and was ready to be configured.
To set up the camera, I downloaded the SENS8 app to my iPhone and signed in to the account I had created for a previous review.
The step where I got stuck was trying to connect the SENS8 Light Cam to my wireless network. SENS8 uses sound frequencies to transmit the Wi-Fi network's SSID and password from the phone to the cam, and that process failed multiple times.
I contacted my SENS8 liaison, and he recommended setting up the camera manually instead. Before I could try that, I updated my iPhone to the latest iOS Beta version, which fixed the issue.
I don't know what the problem was, but it might have been a bug in iOS. Next, I linked the camera to my Dropbox account, configured a custom motion zone and created a schedule for the cam to arm and disarm automatically.
Features & Potential Improvements
Below is a list of the camera's key features and some suggestions on how SENS8 could improve the device and its software.
Cloud Storage Integration
One of the features I have grown fond of is the ability to link the SENS8 Light Cam with a Dropbox or Google Drive account. That way, the camera automatically stores video recordings in the cloud, and I'm only limited by the available space I have there. I have 1TB storage space in Dropbox, and that's plenty to store an almost infinite number of recordings.
What I haven't found is a way to delete old recordings automatically. As a result, my Dropbox will keep filling up until I manually remove them or write a Hazel script to do it for me.
Geo-fencing and Scheduling
I have come to appreciate the flexible arming/disarming settings Arlo provides for its home security cameras. So I was pleased to learn that SENS8 has added geo-fencing in addition to schedule-based arming. Using geo-fencing, the camera automatically arms when I leave the house.
Unfortunately, SENS8 implemented geo-fencing as a single-user feature. So the camera would arm if I left the house, even though my wife and the kids might still be at home. In my opinion, not being able to add multiple users to the geo-fence, renders the feature useless for many households.
Consequently, I decided to automatically arm and disarm the camera based on a predefined schedule.
My recommendation to SENS8 is to add multi-user geo-fencing and the ability to mix and match geo-fencing with scheduling, similar to how Arlo does it.
For example, I'd like to be able to use a schedule while someone is at home (i.e., overnight) but always arm the cam while nobody is home (geo-fencing).
Siren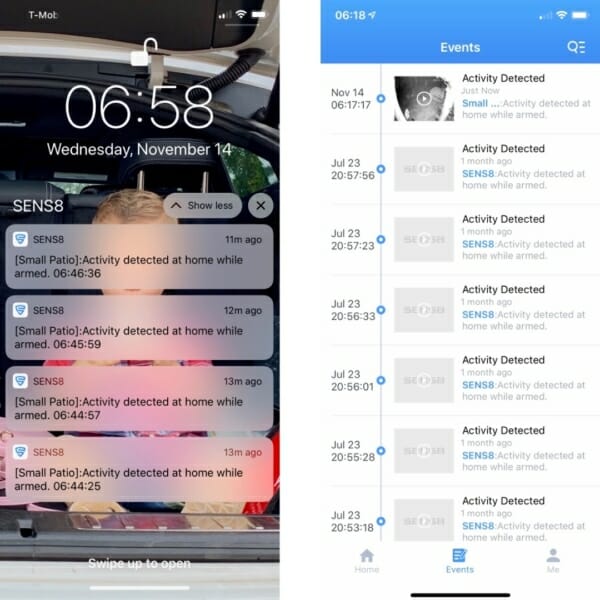 The built-in siren of the SENS8 cam is relatively loud and effective in scaring off potential intruders. But I decided not to enable it.
The truth is that I haven't found a use case for a siren in any home security camera I own or have tested.
The risk of false alarms is too high, especially with cameras that cannot differentiate between persons and animals.
But even if the device could recognize a person, we'd have to add pet sitters and other people who might enter our home while we are gone. The bottom line is, sounding an alarm is usually not worth the hassle. I prefer a notification on my phone.
Custom Motion Zones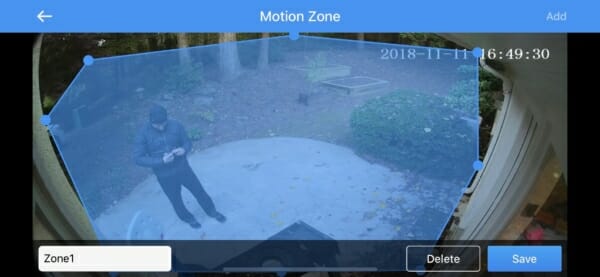 What has worked incredibly well is creating custom motion zones using the SENS8 app. That way, I can exclude certain areas that might increase the chance of false -alarms.
Light Schedule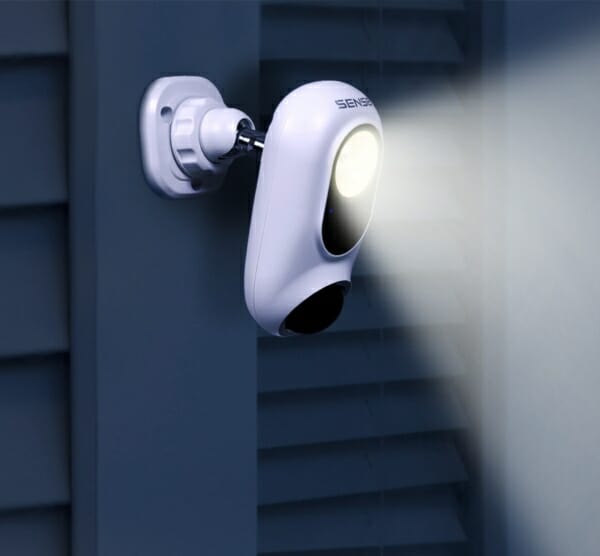 The SENS8 app allows you to set the schedule of the LED flood flight independently of the motion detection. As a result, you could have the lights turn on and off automatically at dusk and dawn. Or, you can have the lights come on only overnight and when the camera detects motion.
Of course, you could also choose to have the floodlight on permanently.
Integration with Home Automation Platforms
While the camera natively supports Amazon Alexa and IFTTT, neither of which I use, I wish SENS8 would add support for Apple HomeKit.
That way, I could turn on the family room lights when the camera detects motion or trigger other, appropriate actions. In the past, supporting HomeKit required dedicated hardware, but these days, manufacturers can do it in software. So there shouldn't be a significant roadblock preventing SENS8 to include support for HomeKit.
Troubleshooting
In case you run into issues during the setup process and need to revert to a manual configuration, you can follow the steps below. Unfortunately, SENS8 hasn't documented those steps its setup guide, and so I decided to share them with you.
In my case the LED on the camera didn't turn BLUE, indicating that it was connecting to my Wi-Fi network. Instead, it kept flashing GREEN (setup mode).
Follow the setup wizard until you get to the screen that says "I can see the solid blue light."
Click on "I can see the solid blue light" even if you see a green (flashing) LED.
Wait for three minutes, until "Add SENS8 manually" shows on the screen.
Push the reset button on the back of the camera with a pin and then click on "Next" in the app. The green LED should be blinking at that time.
Leave SENS8 app and go to the "Wi-Fi Settings" of your mobile phone and choose 'SENS8_XXXX' from the Wi-Fi list. Instead of the letters XXXX, you should see numbers that are specific to your device.
When asked, enter the default password: admin123
Go back to the SENS8 app and enter your regular Wi-Fi password. Then follow the instruction to complete the setup process.
Conclusion
The SENS8 security camera is a well-rounded device that offers a ton of useful features but has some room for improvement. In my tests, the camera performed well, and I appreciate the built-in flood light. It's not as bright and far-reaching as dedicated floodlights but it's pretty close, and it's built into the camera.
Also, I'm not a fan of drilling holes into the outside walls of my home, but I think the benefits of not having to deal with batteries mitigate the disadvantages of doing so.
Let me know what you think by leaving a comment below!

I'm a healthy living and technology enthusiast.
On this blog, I share in-depth product reviews, actionable information and solutions to complex problems in plain and easy-to-understand language.