The Sennheiser HD1 wireless noise-canceling headphones produce excellent hi-fi sound quality, feature premium materials, and boast minimalist yet aesthetically-pleasing craftsmanship.
But they do have a number of limitations in other areas, and I ultimately decided to return them instead of keeping them as a replacement for my trusted Bose headphones, the QuietComfort 35.
| | |
| --- | --- |
| Model | Rating |
| Sennheiser HD1 | ★★★☆☆ |
Sennheiser HD1 Wireless Earphones Review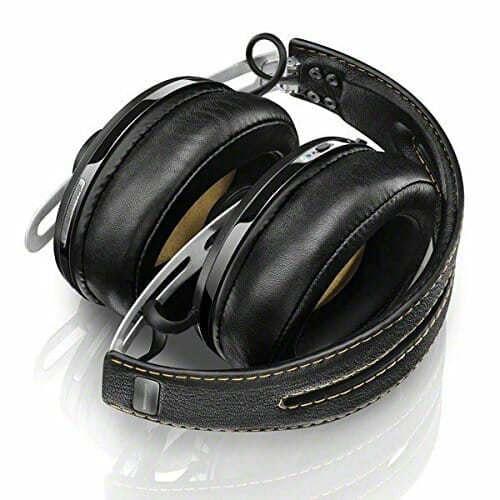 Pros
Premium sound quality
High-quality materials and craftsmanship
22-hour battery life
 Cons
Unimpressive noise cancelation
Oversized storage case
Uncomfortable to wear for long periods
Sennheiser chose a minimalist design for this set of headphones, which features only a single power button and a rocker switch for playback control. I appreciate minimalism, but frankly, I missed the ability to touch and swipe that I got so used to from Sony's headphones.
When I took the HD1 headphones out of their box, I immediately noticed two things:
The device lacks any padding on the headband, and
The large size of the HD1's beautiful storage case
Audio and Sound Quality
The best trait of the Sennheiser HD1 wireless noise cancelling headphones is the immersive sound they produce. Aside from the build quality of the HD1, sound signature and audio quality were among the few things I couldn't complain about.
The bottom line is that if you like music and you can tell the difference between a cheap and premium pair of headphones, the Sennheiser HD1 is the best wireless headphone option for you!
Specifications
| Specifications | |
| --- | --- |
| Type | Over-the-ear |
| Design | Closed |
| Wireless | Bluetooth 4.0 + EDR |
| Battery life (Wireless playback, ANC on) | 22 hours |
| Battery life (Wired playback, ANC on) | 22 hours |
| Battery life (Wireless, only ANC on) | N/A |
| Battery life (Wireless playback, ANC off) | N/A |
| Charging time | 3 hours |
| Quick charge | ✘ |
| NFC | ● |
| Audio | aptX codec |
| Active noise cancelling method | NoiseGuard Hybrid Active |
| Microphone | Four beam-forming |
| Playback controls | Buttons |
| Comfort | ★★★☆☆ |
| Material of ear pads | Genuine leather |
| MSRP | $399.95 |
ANC: Green = Excellent (25db+) | Yellow = Good (21 – 24db) | Red = OK (20db)
MIC: Green = Good | Yellow = OK | Red = Poor
Active Noise Cancelling Technology
With a price tag of almost $400 and four beam-forming microphones, I expected a lot from the Sennheiser HD1 in regards to its ability to cancel ambient noise.
Unfortunately, these over-ear headphones miserably failed in that category. The headphones did suppress a lot of background noise, but their performance was nowhere near the Sony WH-1000XM2 that cost $100 less.
At first, I figured I had forgotten to turn ANC on. However, the HD1 headset doesn't have a button that controls ANC. Then I downloaded Sennheiser's CapTune mobile app (available for iOS and Android) to see if I could tweak the ANC settings.
Ultimately, I realized that Sennheiser doesn't provide any mechanism for customizing ANC in the HD1 and it is what is it. Which is not great.
Comfort
Sennheiser chose a stainless steel headband for the HD1 that is wrapped in British leather. It looks gorgeous and features the same stitching as the storage pouch.
The primary disadvantage of that fancy design is the comfort. While the HD1 felt comfortable on my skull for much longer than I anticipated, because of the lack of padding on the headband I could feel pressure points after 2 to 3 hours of continuous use.
The ear cups, on the other hand, are adequately padded and the leather Sennheiser used for the ear cushions feels soft and is incredibly comfortable. Unlike synthetic material, genuine leather doesn't feel as hot when on your skin if worn over extended periods, which provides a more comfortable overall experience.
Battery Life
The battery of the Sennheiser HD1 wireless Bluetooth headphones is decent but not best-in-class. A full charge gets you up to 22 hours of non-stop listening with active noise cancellation (ANC) turned on. Turning ANC off is not an option while using the HD1 wirelessly, so you cannot use that trick to extend the headphone's battery life.
The good news is that you can use the Sennheiser HD1 in so-called "passive mode" with the provided audio cable (you have to turn the power off for this to work). In passive mode, you can listen to music as long as you want to, without using up your battery. Of course, ANC won't work in passive mode.
What's disappointing for $400 (Amazon) headphones is that Sennheiser doesn't include a power adapter. Instead, you have to use a USB port that provides at least 500 mA of output and the included USB cable for charging your headphones.
For example, you can use the USB port of your computer. Interestingly enough, the HD1 automatically turns off as soon as you plug them into the USB port of a computer, so if you want to listen to music via Bluetooth while charging the headphones, you have to turn them back on manually.
Quality of Microphone
While boarding a flight from Washington D.C. to Atlanta, I replied to an audio message my daughter had sent me. It was relatively windy on the bridge before I stepped onto the plane, which provided a good test environment for the microphones of the HD1. When I played back the message I had recorded, I could barely make out what I was saying.
I did some additional tests at home to simulate quiet and noisy environments, and you can listen to the results using the embedded audio file below.
If the embedded file above doesn't play in your browser, you can download the raw M4A file directly from here.
The bottom line is this: the Sennheiser HD1 microphone performance is OK in quiet environments but is poor if there's a lot of background noise. That means it's not great if you need to make phone calls in busy public spaces.
Playback Controls
As I mentioned above, the Sennheiser HD1 offers only a single, albeit multi-functional button for playback control. If you push/rock the button to the left or right, you can change the volume. Pressing it once plays or pauses a song, or accepts or ends a call.
Pushing the button for one second rejects a call, activates the voice control, or transfers a call. Pushing the button twice skips a song, etc. You can learn more about all the functions of this button in the manual for the Sennheiser HD1.
Mobile App
Sennheiser's CapTune mobile app is somewhat unimpressive because it's more of a media player with a customizable equalizer (EQ) than a companion app for the HD1. In fact, there's nothing in CapTune that would allow you to tweak your headphones and change their settings.
Instead of showing the song that's currently playing via iOS's built-in Music app, CapTune makes you select what music you want to play, and you can only choose from two different sources:
Local library (i.e., songs actually downloaded to your phone)
TIDAL
Those are odd and somewhat unimpressive choices. On my iPhone X running a public beta of iOS 12, the "Local Library" folder was empty, so I couldn't play any of my music via the app. That means I couldn't use the headphones' equalizer. Fortunately, I liked the pre-set sound quality. But not everyone will.
Miscellaneous
What puzzles me is that Sennheiser has not mentioned the ability to update the headphones' firmware. Searching for the terms "firmware" or "update" in the manual returns zero results, and neither Sennheiser's "Public Downloads" page nor the CapTune app offer any updates for the HD1 noise-canceling headphones.
Considering that the device relies on various pieces of technology, such as Bluetooth, that may break or become incompatible with other devices over time, the lack of "updatability" concerns me.
What's in the Box?
In addition to an oversized storage case, Sennheiser also includes the following accessories with its premium headphones:
Soft storage pouch
Audio cable with a 3.5 mm angled and gold-plated headphone jack
USB charging cable
Gold-plated in-flight adapter
Manuals
I appreciate that you get a hard case as well as a soft storage case/pouch so that you can choose either one depending on your needs.
Sennheiser HD1 Wireless Review
After having had a chance to use the Sennheiser HD1 for a while, I wasn't entirely sure how to feel about them. On the one hand, they feature high-quality drivers that produce an impressive sound, and exquisite materials such as genuine leather.
On the other hand, the HD1 disappointed in other areas, such as active noise cancellation, comfort, and microphone quality.
So who are the Sennheiser HD1 headphones for? Well, they're definitely not for me, because I need noise cancelling headphones primarily for traveling and the HD1 are simply not comfortable enough to wear for long periods of time.
However, if you're an audiophile and enjoy listening to music on your leather lounge chair every Sunday morning for an hour or two, you can't go wrong with Sennheiser's premium headphones.
Do you own the Sennheiser HD1 headphones? If so, I'd love to hear about your experience. Please share by leaving a comment below!

I'm a healthy living and technology enthusiast.
On this blog, I share in-depth product reviews, actionable information and solutions to complex problems in plain and easy-to-understand language.