The Sbode M350 is a portable and water-resistant wireless speaker with two 6W drivers and decent audio performance.
To put the ultra-portable Bluetooth speaker through its paces, Sbode agreed to send me a review unit that I could play with.
Sbode M350 Portable Wireless Speaker
From the photos I had seen before receiving the test unit, I expected the speaker to be bigger and heavier. While unpacking the M350, I was shocked about how tiny and light it was, weighing in at only 0.78 lb or 352 grams.
Pros
Small and lightweight
Packed with useful features
Supports stereo sound when paired with a second speaker
Cons
Decent but unimpressive sound
Sbode's portable wireless speaker features a mesh fabric, housing the two drivers and a rugged plastic/rubber combo on the top and the bottom. Overall, the speaker feels and looks like it can take some abuse, making it an ideal companion to bring outdoors. Even better, Sbode made the M350 water-resistant, so you can take it to pool parties without worrying about the speaker getting wet.
Features & Technical Specifications
The Sbode M350 Bluetooth speaker is packed with features that you might expect and some you might not. For example, I was surprised to find an FM Radio receiver and Micro SD Card slot in a speaker of this price point.
Beyond that, the M350 wireless speaker features the following:
Two 6W Speakers for a combined 12W output
A rechargeable Lithium-ion battery with six hours of play- and four hours of charge time
IPX6 water-resistance rating
Built-in microphone
Auxiliary 3.5mm input
Micro-USB port to charge the battery
FM Radio receiver
Arguably the best feature of the Sbode M350 is the ability to pair two speakers for true wireless stereo sound. Unfortunately, I didn't have a second speaker to test the stereo sound, but if it worked as advertised, it would significantly improve the audio quality of this tiny speaker.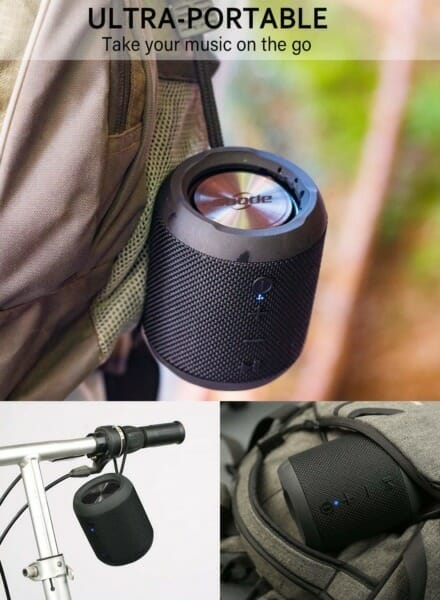 If someone calls you while streaming music from your phone to the speaker, the built-in microphone allows you to take the call and use the M350 as a speakerphone. While using this hands-free audio feature, you can mute or unmute the microphone by short-pressing the Play/Pause button.
Technical Specifications
| | |
| --- | --- |
| Bluetooth Version | 4.2 HSP/HFP/A2DP |
| Output | 6W x 2 |
| Driver | 40mm x 2 + passive radiator x 2 (top and bottom) |
| Impedance | 4Ω |
| Power Input | DC 5V 1A |
| Built-in Battery | 3.7V 2200 mAh [8.14WH] |
| FM Frequency | 87.5MHz – 108 MHz |
| Charging Time | 4 hours (5V 1A adapter) |
| Playback Time | 6 hours at 70% volume |
| Net Weight | 352gr (0.78lb) |
| Micro SD-Card | Max. 32GB |
To conserve battery life, the Sbode M350 speaker automatically turns itself off after 10 minutes of inactivity.
Playback Controls
On the front of the Sbode M350 speaker, you can find four buttons to interact with the device.
The button on top turns the speaker on or off, enables Bluetooth pairing mode, or switches between the various playback modes, including:
Bluetooth playback
FM Radio Mode
AUX IN Mode
Memory Card Mode
In the middle, you can find a + and – button to change the volume or skip tracks. To increase or lower the volume, you have to keep the respective button pushed. What I've noticed is that changing the volume on the speaker does not bring up the volume overlay on iOS as you would see with headphones. That's not an issue, but merely an observation.
Clicking the + once skips to the next track, and clicking the – button skips to the previous track.
The play/pause button on the bottom can also disconnect the paired device, such as a mobile phone if you keep it pressed.
While in FM Radio Mode, you can long-press the Play/Pause button to let the speaker automatically search and store the discovered FM channels. To skip between channels, you can long-press the +/- buttons.
Ports and Connections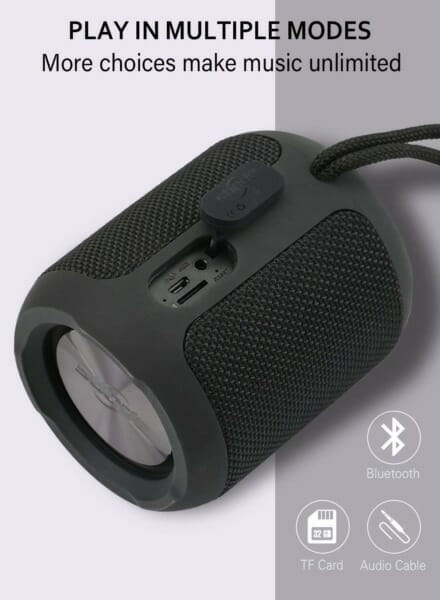 On the back of the speaker, covered by a rubber plug you can find a tiny reset hole, a 3.5mm AUX input, a Micro-USB charging port, and a Micro-SD card slot.
To play music from an SD-Card, insert the card into the slot and short-press the power button to enter the so-called "Memory Card Mode." The Sbode M350 speaker supports memory cards with up to 32GB in size and audio files in the MP3/WMA/WAV/APE/FLAC format.
Sound Quality
The sound quality of a single Sbode M350 wireless speaker is decent, especially considering its size and price. Of course, it can't compete with a Bose SoundLink® Mini Bluetooth® speaker ($189 on Amazon*), which costs over 5x as much as the M350.
In my opinion, the Sbode speaker is a perfect companion for outdoor gatherings, when taking the kids to the pool, or even for the office when you like to have some background music and don't want to use your crappy laptop speakers.
Sbode M350 User Manual
For more information about how to use the Sbode M350, here is a download link to the user manual in PDF format.
Sbode M350 Bluetooth Speaker Review
The Sbode M350 is an incredibly small and lightweight speaker that may not fill a large room with breathtaking audio, but it's versatile, and it packs a bunch of useful features that make it a worthwhile companion for your next trip outdoors or pool party.

I'm a healthy living and technology enthusiast.
On this blog, I share in-depth product reviews, actionable information and solutions to complex problems in plain and easy-to-understand language.