In this post, I'll review the Plantronics Savi W745 wireless headset, which I have used for the past years. To learn how the Savi 745 compares to the newer Plantronics Voyager 6200 UC, check out my comparison.
When I'm not visiting clients, I usually work from home, and one of the most critical tools I rely on include my iMac Pro, MacBook, iPhone, Internet connection, and headset. I'm on the phone a lot, so a high-quality headset is crucial for me.
I have tried dozens of headset over the years, both wired and wireless but ultimately found an almost perfect one in the Plantronics Savi W745 Wireless Headset.
Plantronics Savi 745 lets you easily manage and switch between PC, desk phone, and even mobile calls up to 350 feet from your desk–all from a single wireless headset. Enjoy the comfort of this lightweight DECT headset and experience unlimited talk time with a swappable battery. You can wear the Savi 745 three different ways: over-the-ear, over-the-head, or behind-the-head to suit your personal style.

Plantronics
My Office Headset Requirements
No Cables
I want to be able to move around my office without being tethered to my desk. Besides, wired headsets can often only be connected to a single device at a time. The Plantronics Savi supports multiple devices!
Multiple Device Support
I use various channels to communicate with clients, co-workers, and vendors, including:
Mac: FaceTime, Skype, Comcast Softphone (replaced my desk phone a couple of months ago), Webex, GoToMeeting
iPhone: FaceTime, Phone
Desk phone (was replaced by Softphone)
So I needed a solution that, ideally, could be connected to all three communications channels at the same time. The Plantronics Savi fits that bill. Its base station can be wired to my Mac (via USB) as well as to a desk phone.
Additionally, it can be connected via Bluetooth to my iPhone. Three buttons on top of the base station allow you to switch communication channels on-the-fly.
Excellent Audio Quality
There are many things that can drive me nuts, but poor audio quality (cutting out, background noise, echo…) is one of my top anger-stroke-inducing factors.
The Plantronics Savi offers excellent audio quality, thanks to its microphone and DECT 6.0 support. The latter reduces the chance of interference with other devices operating nearby, such as wirelessly connected devices.
That being said, I did have some issues a couple of months ago with interference and random disconnects.
Plantronics support was tremendous and ultimately sent me a new unit. I often use beta versions of macOS and iOS and the problem could very well have been on Apple's side. For example, the Apple fixed a bug related to USB audio disconnects in OS X 10.11.4.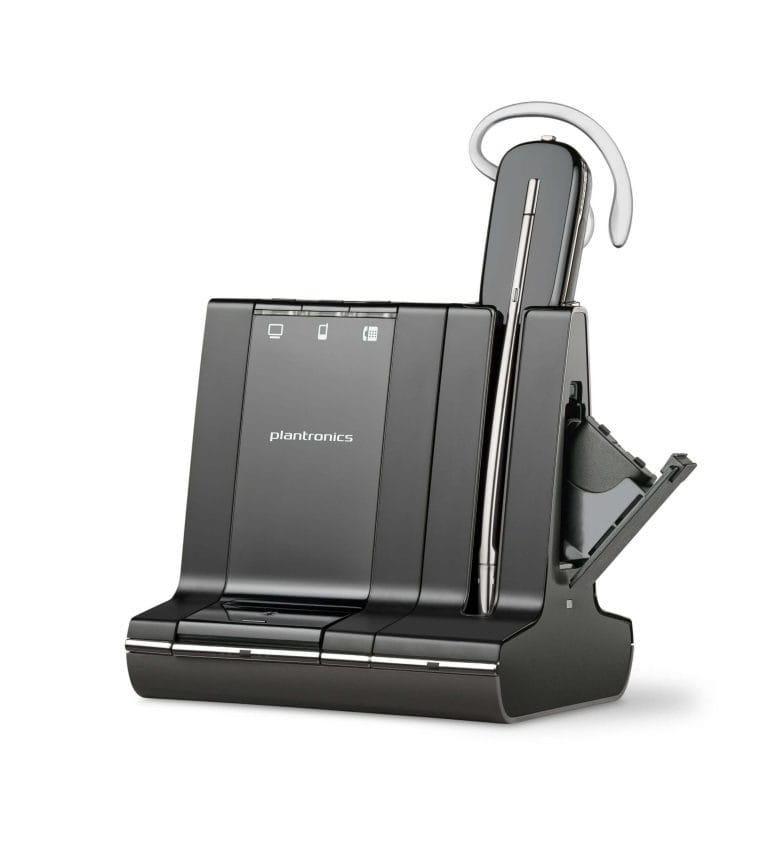 I also noticed that call quality is better when using my Mac than it is when using my iPhone. However, that's not an issue of Plantronics but more related to audio compression of Bluetooth and your wireless provider.
I did notice a vast improvement when AT&T introduced support for Wireless calling and HD-Audio (wideband).
What I Like About the Plantronics Savi
The two features I like best about the Plantronics Savi are audio quality and versatility. Being able to only have a single headset for all my communication needs, significantly improves productivity and reduces clutter on my desk. In fact, the base station requires only two wires: power and USB to my Mac.
Audio quality, as I have mentioned above is excellent, especially when using the Mac. Switching between communication channels is quick, and Plantronics even detects communication channels automatically. For example, when I dial out using the Comcast Softphone, the base automatically switches to the "computer" channel.
From time to time, I'm on conference calls that last multiple hours. So it's convenient that Plantronics offers a hot-swappable headset battery with the Savi W745.
That way, I don't have to disconnect or switch to speakerphone if the battery runs out. I have only had that happen twice, but when it did, I was glad I could just swap the battery and carry on my call.
One thing I almost forgot to mention is the comfort. The Plantronics Savi is comfortable to wear for extended periods of time. I don't wear glasses, so I don't know if that would make any difference, but without glasses, you don't even know it's there.
What I Do Not Like About The Plantronics Savi
Bluetooth Reliability
When I experienced those random disconnect issues, I temporarily lost faith in the headset's Bluetooth reliability. As a workaround, I stopped using the Plantronics headset together with my iPhone and instead started using a Bose Bluetooth Headset*.
Meanwhile, my faith in Plantronics' reliability has been restored and quite frankly, I think the issues were caused by a bug in the beta version of iOS I was using.
Plantronics Hub
To get the most out of the Plantronics Savi, you have to install the Plantronics Hub. You can tell that Plantronics is not a software company because its software lacks the quality and usability of its hardware. The various, albeit minor, issues I have experienced with Plantronics Hub include:
Plantronics Hub is a background service, accessible via a Status Bar icon but it requires an always-on Dock icon as well. For software that I never have to interact with, that's pretty annoying.
Software update regularly fails and claims all components are up-to-date. But checking at plantronics.com, you can see that there is a newer version of the software available.
Bugs that Plantronics has supposedly fixed (according to the release notes) are still present in the latest release
How To Hide The Dock Icon
If you want to get rid of the Dock icon, you can use Finder to go to Applications, then right-click on Plantronics Hub and select "Show Package Contents." Then edit the Info.plist file and add "Application is Agent" and set it to "YES." The best way to do it is by using Xcode, but if you know the exact syntax, you can do it by hand as well. After restarting Plantronics Hub, you will no longer see its Dock icon.
Plantronics Savi W745 Wireless Headset
Despite some of the reliability issues I had in the past and its less than perfect software, the Plantronics Savi is the king of headsets and my #1 choice. It's MSRP of $450 is ridiculously high, but you can get it at Amazon* for less than half the price.
It's still not cheap but worth every dollar if you need a high-quality headset for your job.
I'd love to hear your experience with whatever type of headset you use, so drop me a comment down below!

I'm a healthy living and technology enthusiast.
On this blog, I share in-depth product reviews, actionable information and solutions to complex problems in plain and easy-to-understand language.