Update [8/7/2019]: I still haven't received my PIQO, but others have and disassembled the unit. The findings of those users are shocking and make it relatively clear that PIQO is likely a scam. That's incredibly unfortunate. The lesson I have learned from this experience is to never preview products again, unless they come from reputable companies that have a track record of delivering quality products that meet our expectations.

I decided to keep this article online, so others can find it and be warned.
PIQO is a 2×2-inch 1080p pocket projector promising 200 ANSI lumen brightness, universal connectivity, and 50 hours of battery life. I decided to preview this promising gadget, based on the available specifications, while waiting for my review unit to arrive.
Previous Update [6/4/2019]: There has been a lot of negative feedback about PIQO from its backers because of missing or incorrectly advertised features. Even Bose has reached out and asked me to remove the claim that Bose engineers were involved in the design of PIQO. Additionally, while I'm in communication with PIQO about these issues, I still haven't received my review unit and, as a result, I cannot verify any of the claims of the manufacturer and thus no longer feel comfortable recommending this product.
In my day job, I'm a sales executive, and I give frequent presentations to customers and at trade shows. Most of the meeting rooms I end up in have a somewhat decent projector I can use – but not all the time.
Just recently I was invited to a meeting, and the conference room the customer had reserved didn't have a projector. My client asked me if I had a portable projector by any chance, but I didn't. That made me think that I should, maybe, have one in my backpack going forward.
The main reason why I never bothered to purchase such a device was that my travel bag is already stuffed with gadgets. So I didn't want to add yet another one. After all, most of the miniature projectors on the market today, either lack in performance or would take up too much space in my backpack.
PIQO Review – The World's Most Powerful 1080p Pocket Projector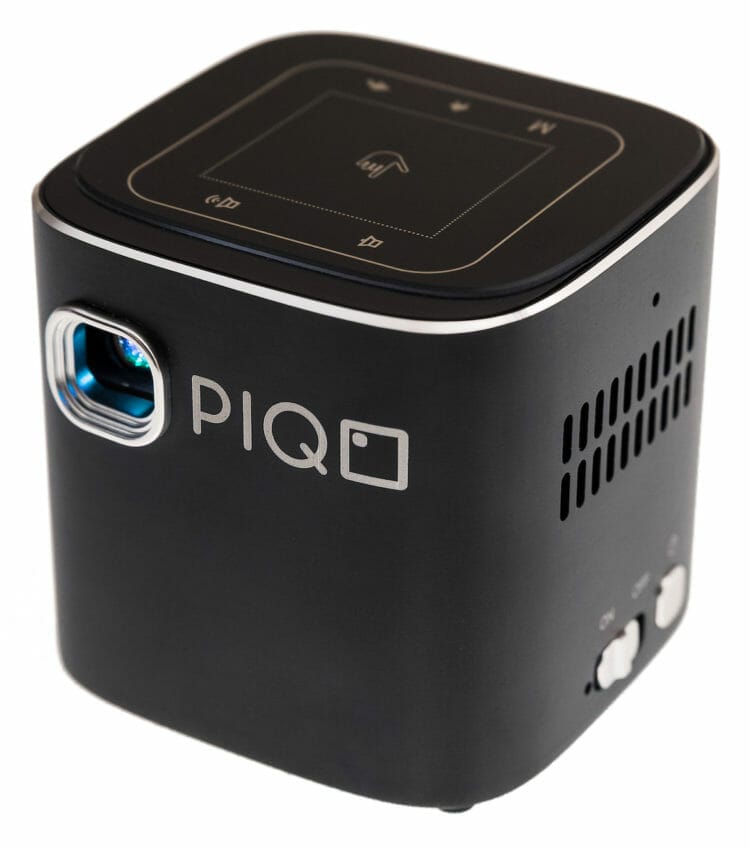 A few weeks ago, I learned about PIQO and its crowdfunding campaign on Indiegogo. The campaign had a funding goal of $100,000, and as of February 23rd, 2019, the campaign has raised over $1,8 million. That's ridiculous and enough to pique my interest in this gadget.
Technical Specifications
| Specifications | |
| --- | --- |
| Measurements | 2.25 in x 2.25 in x 2.25 in |
| Brightness | 200 lumen |
| Resolution | 1080p |
| Projected screen size | 240 inches |
| Play time | 5 hours |
| Battery life | 50 hours |
| Wireless Connectivity | Wi-Fi, Bluetooth 5, Apple AirPlay, Screen Mirroring |
| Physical Ports | HDMI, USB-A, 3.5mm Headphone |
| Operating System | Android |
| App Support | Via Google Play Store (Netflix, YouTube…) |
| Offline Storage | 16GB Internal, USB-A Expansion Slot |
Pricing
PIQO has an MSRP of $700, but it's currently available on Indiegogo for $369.00 plus shipping, with an estimated delivery date of April 2019.
Measurements and Portability
PIQO is not only incredibly small, but it's also light, weighing in at just 7.5 ounces (210g). That makes it super portable, and easy to bring along on business trips.
Brightness and Battery Life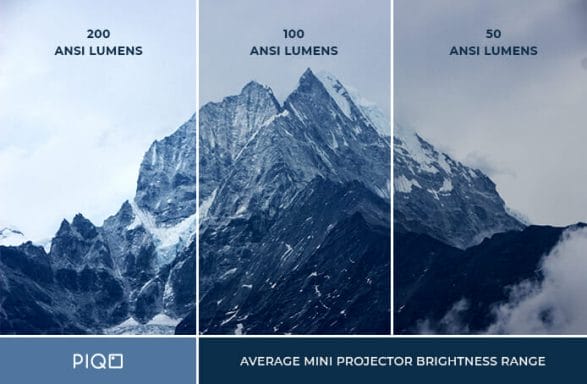 Manufacturers express the brightness of projectors and similar devices in so-called ANSI lumen. Most portable pico projectors, like the Sony MP-CD1 *top out at 105 lumens while offering less battery capacity and smaller screen sizes.
PIQO offers an impressive 200 ANSI lumen and five hours of playtime. Alternatively, you can use PIQO to play music for up to 50 hours using Full HD, quality stereo speakers.
Note: PIQO originally claimed that engineers from Bose and Harman Kardon were involved in the design of the speakers, but that turned out to be a misleading statement.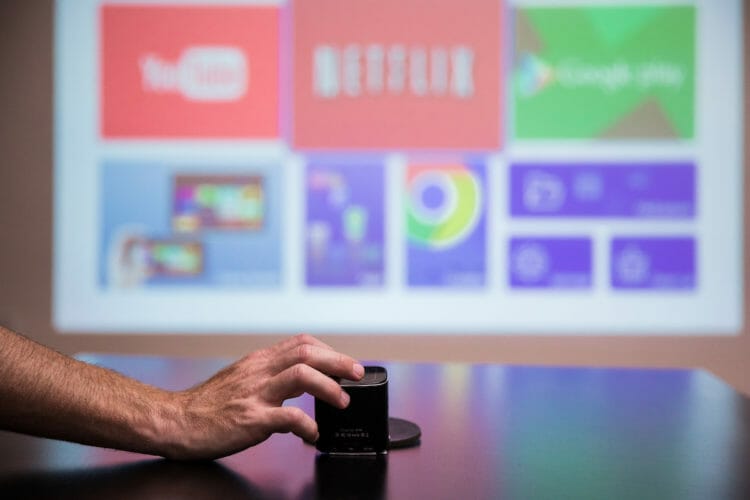 Resolution and Screen Size
When buying a TV or projector, picture quality arguably is one of the most critical factors. These days, most consumers look for 1080p or high-definition (HD), as opposed to standard definition (720p) devices.
PIQO features not only a 1080p resolution but also a massive 240-inch screen size with automatic Keystone Angle Correction. The latter automatically adjusts the projection angle and ensures that you don't see a tilted or warped image if you didn't position PIQO on a perfectly flat surface.
Connectivity Options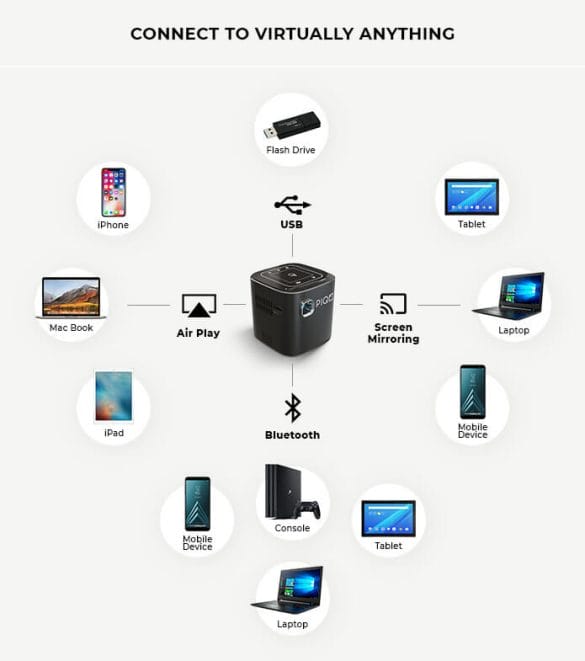 PIQO makes it easy to connect your favorite devices, including smartphones, game consoles, computers, and laptops.
If you don't care for wires, PIQO offers built-in Wi-Fi and Bluetooth 5.0, which also enables Apple AirPlay and screen mirroring. Frankly, I was positively surprised that PIQO supported AirPlay, and I can't wait to try it out.
Additionally, you can hook the tiny capsule up to a game console or computer via a built-in HDMI port.
If you want to watch a movie or play the latest game using PIQO, you can connect external speakers via a 3.5mm headphone jack.
Operating System and Apps
PIQO uses Android as its operating system (OS), which I have never used before. So it will be an exciting experience for me as an iOS user.
The advantage of having Android baked into the projector is that you get access to over 3 million Android apps and games via the Google Play Store. I don't enough about Android security and the Google's submission guidelines for the Play Store, but I'd only download apps and games from trusted sources.
I'm also not a gamer, and I have barely downloaded any apps on my Apple TV. But being able to stream videos, movies, and TV shows via Netflix or YouTube directly to a 240-inch screen, without requiring a separate smartphone or tablet, is super useful.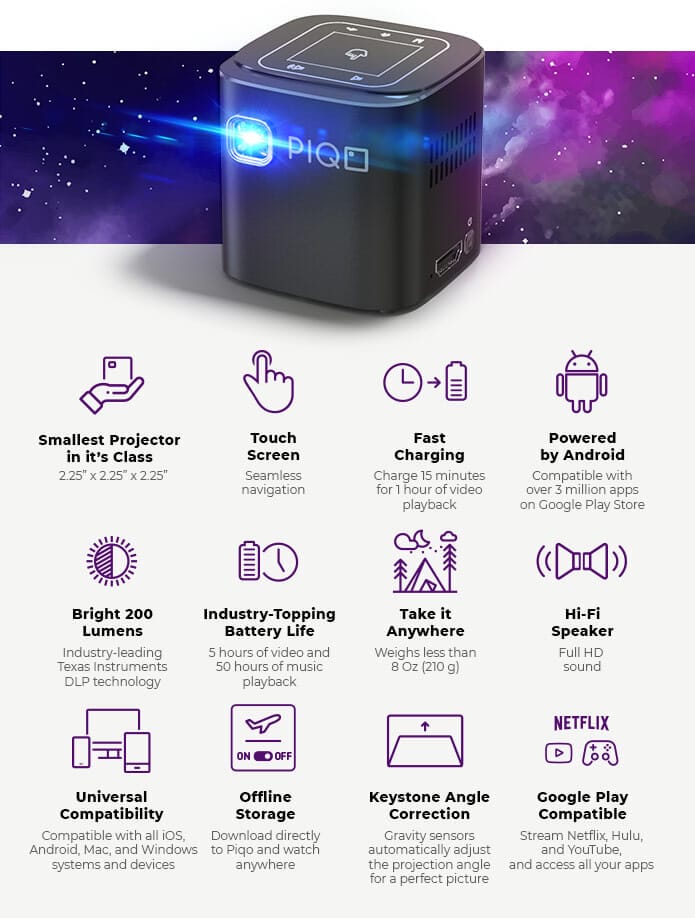 Offline Storage
PIQO offers 16 GB of internal storage that you can further expand via a USB thumb drive to store movies and other media.
So if you are planning on taking PIQO on the road with you, for example on a family vacation where you might not have Internet access, you can still watch your favorite movies or TV shows.
Even streaming services like Netflix and Youtube allow you to download their video content and make them available for offline use. While Netflix offers that feature free of charge for individual videos, you might need a paid subscription to get the same functionality in YouTube.
Compatibility
PIQO features universal platform compatibility with a wide range of devices, including:
For users of Apple devices, including myself, that means they can use AirPlay to wirelessly mirror their device's screens or stream video content to the pocket projector.
Windows and Android feature similar screen mirroring capabilities that PIQO also supports. Additionally, you can use Bluetooth to connect the device to gaming consoles, and other compatible devices.
Last but not least, you can certainly use the built-in 3.5mm headphone jack, USB-A input, or HDMI cable* to plug in additional devices.
Frequently Asked Questions
Below is a list of frequently asked questions that I will keep updating as I learn more about PIQO.
How good is the image quality and contrast ratio?
PIQO claims it delivers "cinema-quality colors and deep blacks" including "strong contrasts." I don't know yet what that means in actual numbers and how the image is going to look in real life.
But once I have received my review unit and had a chance to test it, I'll let you know!
Does PIQO offer an SD Card slot?
No, it does offer a microSD card slot! But it has a USB-A port, so you can plug in a thumb drive and expand its internal 16GB storage capacity.
Can I connect it with any Android device?
Yes, PIQO is fully compatible with most Android smartphone or tablet models.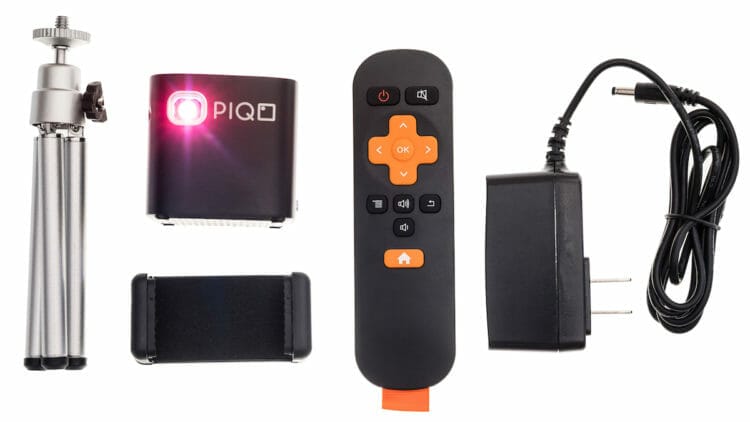 Does the projector have a remote control?
Yes, PIQO ships with a remote control! Additionally, it features a touchscreen interface on top of the device.
Do I need external speakers?
PIQO has built-in stereo speakers, but given the size of the device, I don't expect PIQO to deliver superb sound. So while you don't have to connect external speakers to PIQO, I highly recommend it.
As soon as I get my review unit and I have tested it, I can share more information about the performance of its speakers.
Can I connect headphones or wireless speakers via Bluetooth?
Yes! I just learned that I'll be able to connect my Bose noise-canceling headphones via Bluetooth so I can watch something without being disturbed and without disturbing someone else.
Who was PIQO designed for?
When I first learned about PIQO and pocket projectors in general, I considered traveling salesmen as the primary target market.
Then I thought about the Bose wireless speakers* we often use when we have dinner on the patio. They are convenient to take with us because of their small size and light weight. Pocket projectors fall into the same category.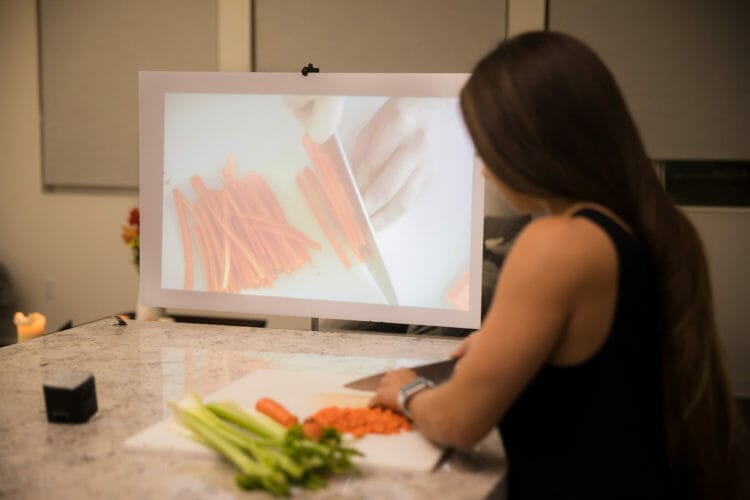 I could imagine sitting on the patio with my wife or guests, having a glass of wine, while the kids watch a movie we would project on the outside wall. But then I remembered that our kids go to bed at 7 and, in summer, it's usually not dark at that time :)
Conclusion – PIQO Review
I have never owned a small projector, and I don't know what to expect. But based on the research I have done, PIQO appears to be an impressive gadget, featuring the latest technology.
Besides its tiny form factor and compatibility with a wide range of gadgets, including mobile devices, I think its image brightness is arguably the most impressive feature. Remember, the brighter the image, the better you can see it, even if there is ambient light.
What remains to be seen is how the build quality of the portable projector is, how it handles contrast and focus, and how long the battery really lasts. But we won't know until the first units arrive in customer's hands.
Other than that, the only thing PIQO lacks is an SD-Card slot, which some users might prefer over USB for easy expansion of the offline storage.
Do you own a pocket projector, or even PIQO? Let me know what you like and dislike about it by leaving a comment below!

I'm a healthy living and technology enthusiast.
On this blog, I share in-depth product reviews, actionable information and solutions to complex problems in plain and easy-to-understand language.