I have used PageLines Platform 5 (pro version) on several of my personal and business sites for years. But a few months ago, I realized that Andrew Powers, the brain behind PageLines, had abandoned the page builder I had so heavily invested in. So it was time to find alternatives.
Based on a recommendation from one of the other users of the PageLines forum, I decided to give Thrive Themes* and the Thrive Architect* a try.
In this blog post, I describe my journey and migration from PageLines to Thrive Themes.
A Brief History of PageLines
I began my journey with what was called the PageLines Framework several years ago. After that, I migrated to PageLines DMS, which offered a JavaScript-based front-end editor for Chrome. I leveraged DMS to build the webpage of the company I used to work for, as well as for this blog.
Then PageLines released Platform 5, a WordPress plugin that would work with any theme and in any browser. That was incredible, because I could finally ditch Chrome and use Safari for making changes to my websites via the built-in front-end editor.

Instead of using a third-party theme, I decided to stick with the new PageLines Framework, a clean and mobile-friendly WordPress theme that PageLines had optimized for Platform 5.
At some point last year it occurred to me that none of the PageLines plugins and extensions had been updated in a while.
Fortunately, I had not run into any major bugs or issues, so the lack of updates wasn't a significant concern. But I kept wondering about potential code vulnerabilities that I didn't know about and that hackers could exploit.
The only issue I encountered was related to the PageLines Custom LESS plugin not saving UNICODE characters correctly.
For example, when I wanted to use font-awesome icons via CSS, PageLines would strip out the leading backslash and break my character code.
content: "\f155\00a0";
As a result, I ditched the Custom LESS extension and loaded my CSS code from a separate file instead. No big deal.
PageLines Was Trying to Keep the Lights On

Many of its customers became impatient and expressed their frustration on PageLine's support forum.
In an attempt to keep up appearances, some folks suggested that Andrew was working on a new project that required all hands on deck, and that PageLines had thus taken a back seat.
Others had hope that a new version was just around the corner.
As a result, customers stuck around for longer than they should have. In October of 2018, I concluded that it was time to move on, cancel my paid subscription, and prepare the migration to Thrive Themes.
PageLines Alternative: What I Was Looking For
Once I decided it was time to move off PageLines, my primary focus was to find a platform or theme that was SEO friendly.
I was willing to give up features and convenience if that meant getting a faster-loading site that would score better on Google's new PageSpeed Insights test.
From a technical perspective that meant:
Minimal use of JavaScript and CSS.
Ability to intelligently load images (lazy-load and optimized for size).
Responsive and mobile-friendly without requiring additional code.
Minimalistic and flat layout.
Ability to use web-safe fonts.
Functionality that I could customize given my limited coding skills.
After trying several products, I settled on Thrive Themes and its page builder, Thrive Architect.
Thrive Themes and Thrive Architect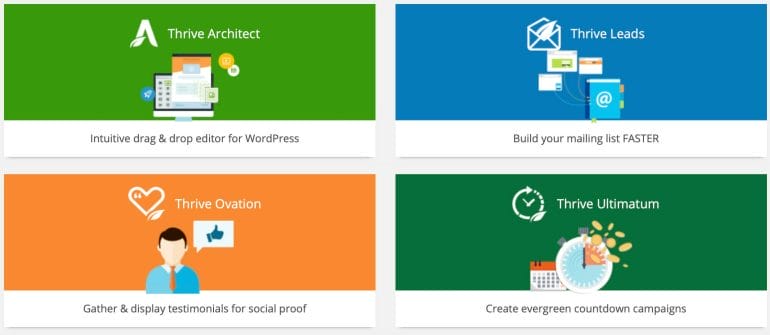 Pros
Well maintained and frequently updated
Incredibly easy to use, with a low learning curve
Flexible enough for web developers and novices alike
Conversion-focused
Replaces several third-party plugins
Cons
Thrive Architect is a plugin and thus has limitations on what you can edit on the front-end
Shortcomings in the area of SEO
Requires a paid subscription
Thrive Themes is a platform that consists of multiple products, including the ones I use:
Various premium themes: I use the Rise premium theme.
Thrive Architect: A drag-and-drop page builder.
Thrive Leads: Mailing list builder.
Thrive Comments: Improves the standard WP commenting system.
Thrive Clever Widgets: Allows you to customize how, when and where widgets are shown.
The other reason I decided to go with Thrive was that the company is working on an entirely new theme builder.
The new platform allows you to make global changes to all elements of the page (not just the WP content). Additionally, the new product will enable you to create child themes for your clients, if you're a web agency.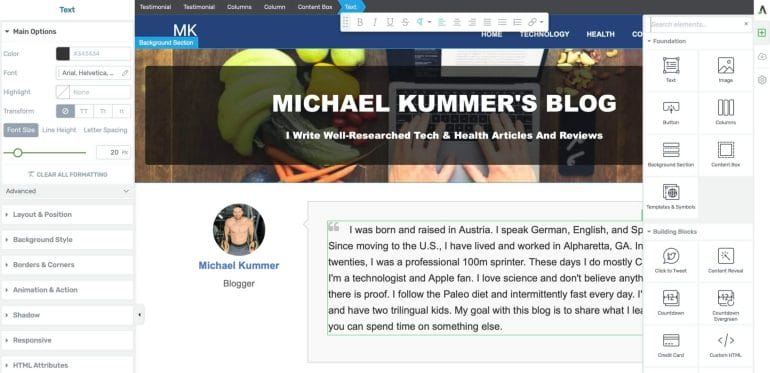 What I Like About Thrive Themes
Overall, I'm quite happy with my platform choice because it fulfills most of my needs.
Well-Maintained and Frequently Updated
Thrive regularly updates its themes and plugins. While that's something you should expect from a premium product, it's in stark contrast to what I was used to with the PageLines theme framework.
Thrive frequently publishes tips and tricks on how to improve your webpage. Additionally, they have a ton of documentation, including examples, to help you get the most out of their platform. Plus, their video tutorials and knowledge base are indeed a treasure trove of information.
Last but not least, Thrive has an active support and customer community in case you get stuck or have additional questions. The only thing I don't like about the forum is its abysmal search feature. Unlike, Google, the Thrive forum does not understand user intent and rarely surfaces the results I'm looking for.
Ease of Use
All Thrive products are incredibly easy to use for novices and more experienced web developers alike.
For example, you can build a new landing page or add content elements, such as a button, in Thrive Architect via drag-and-drop with no coding required.
Of course, you can add your own CSS code to further tweak the design and layout of the pages you build.
If you have never used an editor like Thrive Architect before, I'm confident you'll appreciate the front-end-editing experience it offers. It's a lot better than what PageLines provided.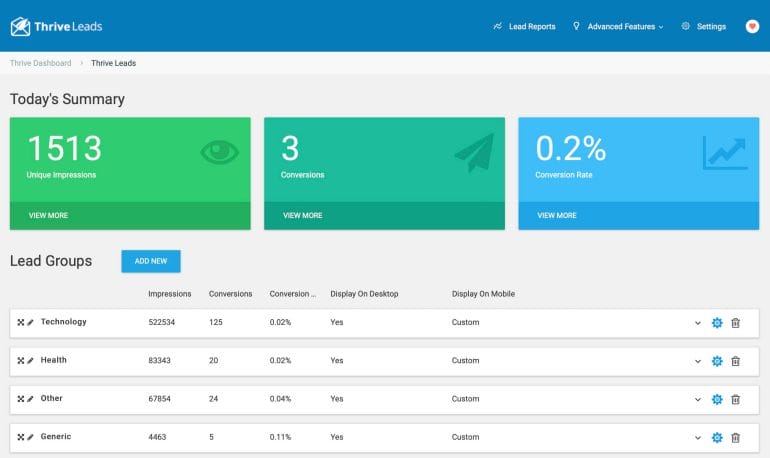 Conversion-Focused
While I don't sell any products on my website other than my blog content, I do offer visitors an option to sign up for my mailing list.
Thrive Architect and Thrive Leads make it easy to create incredible-looking sign-up forms and landing pages to increase your conversion rate.
Replaces Other Plugins
One of the major contributors to a slow WordPress page is having too many plugins. So as part of my migration, I was also trying to remove unused plugins and replace third-party plugins with features built into Thrive Themes.
Here are some of the plugins I was able to get rid of thanks to Thrive:
Gravity Forms (Thrive Leads)
Gravity Forms MailChimp Add-On (Thrive Leads)
A dozen PageLines plugins and extensions (Thrive's Rise Theme and Thrive Architect)
MailChimp for WordPress (Thrive Leads)
Custom Sidebars (Thrive Clever Widgets)
What I Dislike About Thrive Themes
Overall, I'm satisfied with the functionality Thrive Themes delivers. However, there is room for improvement!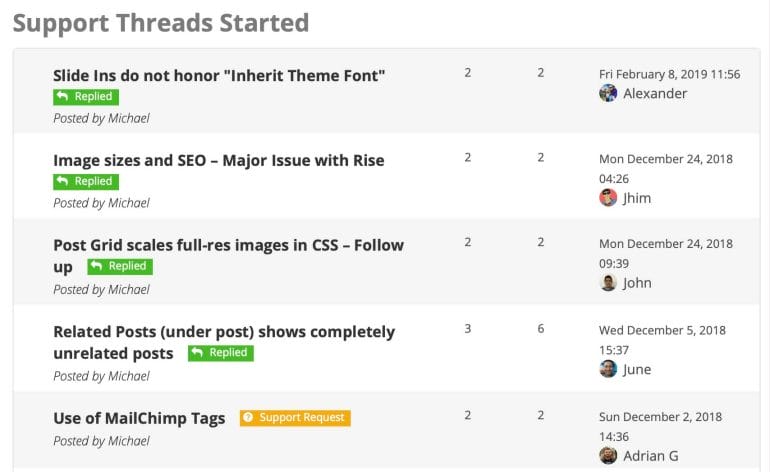 Limitations of Thrive Architect
Thrive Architect is a page builder plugin and, due to its nature, it's limited in what it can do.
In general, you can edit the content of pages with Thrive Architect, but not elements outside of that scope.
For example, you cannot easily create page-specific headers and footers, or design archive pages (category and tag pages). With PageLines, I was able to do all of that.
The good news is that Thrive is working on a Theme Builder that will bridge all of those gaps.
Search Engine Optimization (SEO)
While Thrive's solutions are pretty lightweight and well-optimized for mobile, they do a few things that don't help with SEO.
For example, the Post Grid element in Thrive Architect loads full-sized featured images and then resizes them in HTML/CSS to fit the defined grid size.
Also, the way Thrive Architect loads those images is not compatible with many lazy loading plugins or Content Delivery Networks (CDNs).
Additionally, Thrive loads external fonts via @import statements, which is also not compatible with speed optimization plugins that could otherwise load fonts asynchronously.
I had to revert to a web safe font and change the code of the plugin to work around those issues.
Thrive is aware of these problems, and I'm hoping they'll do a better job in the all-new theme builder the company is working on.
In the meantime, I'll publish patches to Thrive Architect that re-enable support for lazy-loading and CDNs in an upcoming blog post, so stay tuned.
Pricing
To use any of the Thrive products, you have to purchase a subscription to the Thrive Suite. While I appreciate free stuff, I'm happy to pay for a premium product that is under active development.
The complete suite of Thrive products costs $228 per year (if paid annually) or $90 per quarter, and it includes all of the plugins and themes for use on up to 25 webpages. That's a pretty good deal, in my opinion.
This reflects a new pricing model that was introduced in early 2021. As of that date, you can no longer purchase individual plugins or themes — you can only subscribe to the full suite.
Migrating From PagesLines to Thrive
I use Flywheel* as my hosting provider, and they offer a staging environment. It's basically a copy of my live website that I can make changes to and then push them to the live page.
I started the migration by installing Thrive Themes on my staging site and tweaking everything to my liking. I run a relatively simple blog with merely a dozen or so pages that I had to update or redesign.
That process took me a few days before I went live with Thrive Themes. Then, throughout the following weeks, I made minor adjustments directly to the live page.
PagesLines vs. Thrive Themes
I'm not a professional web designer or developer, but I felt the migration was incredibly painless.
That was mostly due to two factors: the simplicity of my page structure and the intuitive drag-and-drop features of Thrive Architect.
If you have a more complex website, the migration might be more time-consuming (but not more difficult).
The cool thing about Thrive Themes is that it enables both beginners who know nothing about coding and experienced web designers to use and be productive with it.
I don't regret the switch, and I'm looking forward to learning all the features in Thrive that I haven't even had a chance to try out yet.
Most of the other sites I used to manage are now maintained by someone else. However, I'll definitely send them a link to Thrive Themes and have them check out the platform.
Have you used PageLines in the past, and have you started your migration to another platform yet? If so, what theme framework or page builder did you migrate to? Let me know by leaving a comment below.

I'm a healthy living and technology enthusiast.
On this blog, I share in-depth product reviews, actionable information and solutions to complex problems in plain and easy-to-understand language.