The Onelink Environment Monitor by First Alert monitors a room's temperature and humidity and doubles as a carbon monoxide (CO) alarm. It is ideal for nurseries or kids rooms, but you can use it in any other room. In this review, I will explain the benefits the Onelink Environment Monitor provides in our home.
Infant and a Toddler
We have a toddler and an infant who used to sleep in the same room. But for reasons of convenience and because they go to bed at different times, we decided to move the baby into the guest room. In the past, the guest room was unoccupied most of the time, unless, we had guests over. As a result, we didn't equip it with a dedicated temperature sensor or a CO alarm. The Onelink Environment Monitor offered a reliable, yet an inexpensive solution to this problem.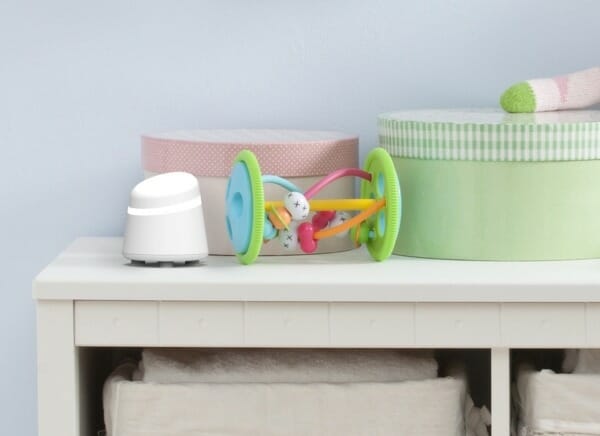 Heating and cooling
It is important to provide a safe and comfortable environment for kids to nap and sleep. That can sometimes be a challenge if your home has more than one room. That criteria probably applies to most of you. The issue is that the thermostat that controls your HVAC system is often installed in a central location, such as a hallway and not in your child's bedroom. So at night, your thermostat may register 62 degrees Fahrenheit and start heating, while the room the baby sleeps in, may be much warmer or cooler.
So it is incredibly difficult to keep individual rooms comfortable. And since babies usually don't speak, they cannot tell you if their room is too warm or cold in the middle of the night. For the most part, we have mitigated that issue in our house by investing in ecobee wireless thermostats with remote sensors.
We placed one of those sensors in the toddler's room, and I configured the thermostat to only use that remote sensor for measuring the temperature at night. That way, we know exactly what the temperature in the room is overnight.
The guest room, in which the baby sleeps, doesn't have a remote sensor but it is covered by the same HVAC unit. The good news is that both rooms are of similar size. So as long as we keep the bedroom doors closed, the two rooms remain approximately at the same temperature. But that balance gets out of whack when, for example, someone leaves one of those doors open.
To ensure the baby's room doesn't get too warm, cold, or humid, we put the Onelink Environment Monitor into it. If the temperature or humidity get out of range, we get a notification on our phones. That works incredibly reliable, thanks to Onelink's integration with Apple HomeKit.
Carbon Monoxide – the silent killer
Carbon Monoxide (CO) is a color- and odorless gas that can quickly cause serious harm, including death. Infants and elderly are especially vulnerable. That's why you should have multiple CO detectors in your home. We have one in almost every room of the house, except for the guest room.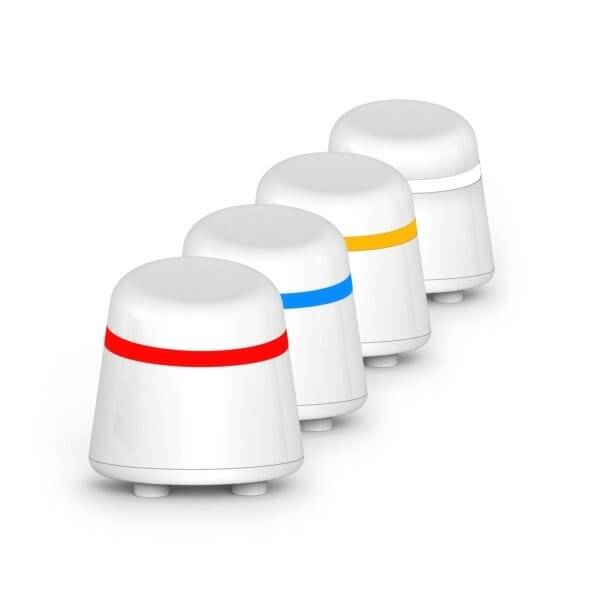 The baby used to sleep in the same room as our toddler, so the guest room used to be unoccupied most of the time. As a result, we didn't add a CO detector in the room but instead installed one in the adjacent hallway.
When we moved the baby's crib into the guest room, we contemplated buying a CO alarm. The Onelink Environment Monitor perfectly filled that role, and also, it keeps tabs on the temperature and humidity.
Onelink Environment Monitor
I showed my wife photos of the Onelink even before the package arrived. She didn't mention it at the time, but she was concerned about another gadget taking up counter/shelf space.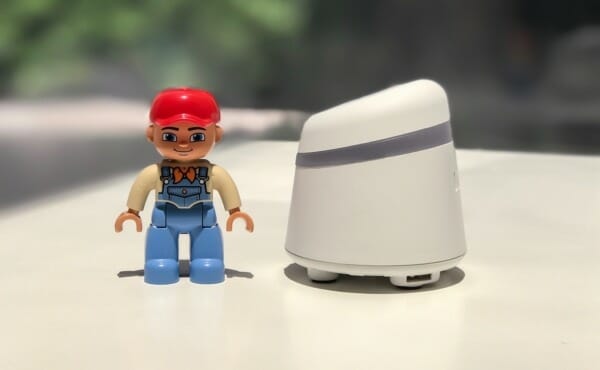 To be frank, I had the same concerns. Based on the photos on First Alert's web page, I mistakenly got the impression that the Onelink would be the size of the Apple AirPort Extreme wireless router*. But when we unpacked it, it looked more like the size of a shot glass. So we were both positively surprised, and all concerns faded quickly.
Key features and benefits
The Onelink is an easy-to-setup, HomeKit-enabled environment monitor that keeps track of carbon monoxide- as well as temperature and humidity levels. It also doubles as a nightlight, and it has a built-in battery in case you experience a power outage.
Thanks to its HomeKit integration, it can send push notifications if it detects carbon monoxide or changes in temperature or humidity.
Easy, simple setup. Simply plug-in, download the app and start monitoring your home's environment
This monitor will alert you to low-level CO, especially harmful to infants and elderly
When extreme dangerous levels of co are detected, a loud siren will sound
LED ring indicates immediate shifts in the room's environment
Plug-in with battery backup to help ensure the monitor is still working during power outages
You can easily move it between rooms
Installation
The installation is straightforward, so don't worry about the "expert installation service" Amazon offers when you purchase the device. All you have to do is plug in the device, download and open the Onelink app from the App Store and follow the wizard.
Onelink Environment monitor for the nursery or kids room
If your home is already equipped with a CO alarm in every room, do you still need the Onelink Environment Monitor? Well, it depends on your circumstances! The advantage of the Onelink is that it can detect low levels of CO that your existing CO alarm may not. That's particularly helpful if the room in question is occupied by a baby or elderly. Both are more sensitive and vulnerable to lower levels of CO than you and me.
The other benefit is that you can move the Onelink close to your baby's crib. Just make sure to keep it out of your baby's reach. Moreover, the Onelink has a built-in temperature and humidity sensors that can warn you if either is out of range. Of course, you can define temperature and humidity ranges in the Onelink app.
Last but not least, you can just unplug the Onelink monitor and move it to another room if your circumstances or requirements change. That's not as easily possible with other CO alarms. Bottom line, I can highly recommend the Onelink Environment Monitor for situations and circumstances that are similar to ours. If you have any further questions, don't hesitate to leave a comment or to shoot me an email.

I'm a healthy living and technology enthusiast.
On this blog, I share in-depth product reviews, actionable information and solutions to complex problems in plain and easy-to-understand language.