The Nomad Base Station Apple Watch Edition is an advanced wireless charging dock that can wirelessly charge your iPhone, Apple Watch and AirPods (or AirPods Pro) at the same time. Additionally, it features both a USB-A and 18W USB-C port with Power Delivery (PD) to charge additional devices, such as an iPad.
Nomad Base Station Apple Watch Edition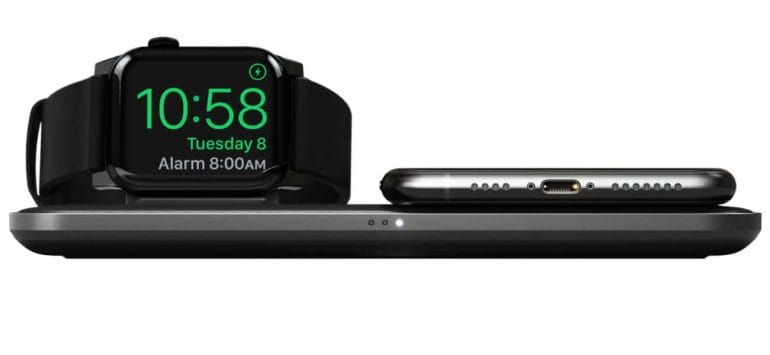 Pros
Wirelessly charges three devices simultaneously
Additional USB ports, including an 18W USB PD port
Premium look and feel
Supports all generations of Apple Watch models
Cons
USB-C port not powerful enough to charge a MacBook at a reasonable speed
Device alignment on charging mat is a bit finicky
Nomad Base Station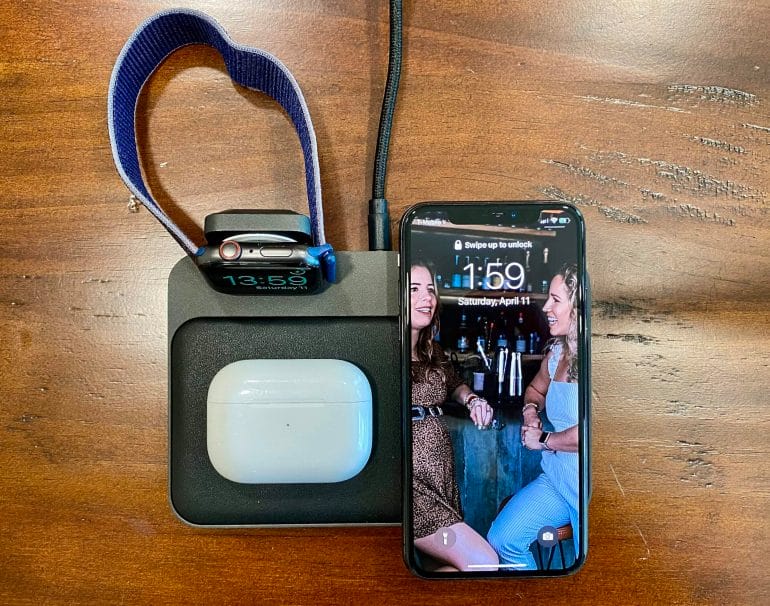 Nomad offers the Base Station in three variants including the Hub Edition, a desk charger, and an Apple Watch Edition. The latter is the subject of this review.
The Hub Edition looks like the Apple Watch Edition, but without the charging disk for the Apple Watch. In other words, you only get the charging mat and two USB ports. My wife owns the matte black Hub Edition and uses it on her nightstand.
The Base Station Stand (desk charger) is a classic charging stand that props up the iPhone at an angle, so that you can easily glance at the screen and see notifications.
Now that you know what other Base Station options Nomad offers, let's get back to the Apple Watch Edition.
Technical Specifications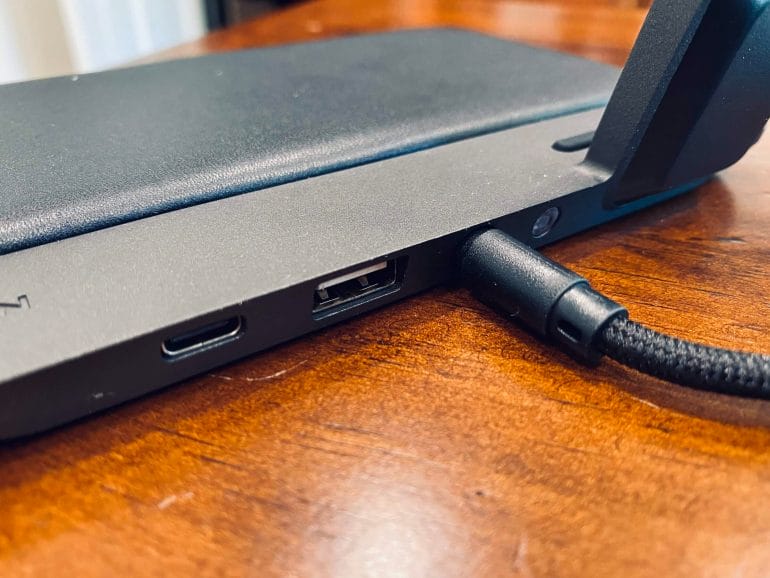 The Base Station offers the following technical specifications that should cover most, if not all, of your wireless charging requirements:
Dual 7.5 watt fast wireless charging (up to 10 watt for single devices)
Three wireless charging coils
Integrated Apple Watch charging disk (works with all Apple Watch sizes)
LED charging indicators that dim at night (but can't be turned off completely)
Dual USB output with USB-C 18 watt Power Delivery (enough to charge an iPad Pro)
Precision-molded, aircraft-grade aluminum body
Premium leather top with micro padding
Molded rubber feet to provide a no-slip grip
Braided power cable
U.S., EU and U.K. power adaptors included
The three built-in wireless charging coils allow you to charge an iPhone 8 or newer with up to 7.5 watts. Some Android devices allow for even faster charging speeds of up to 10 watts, and the Base Station can support them as well.
Three Charging Coils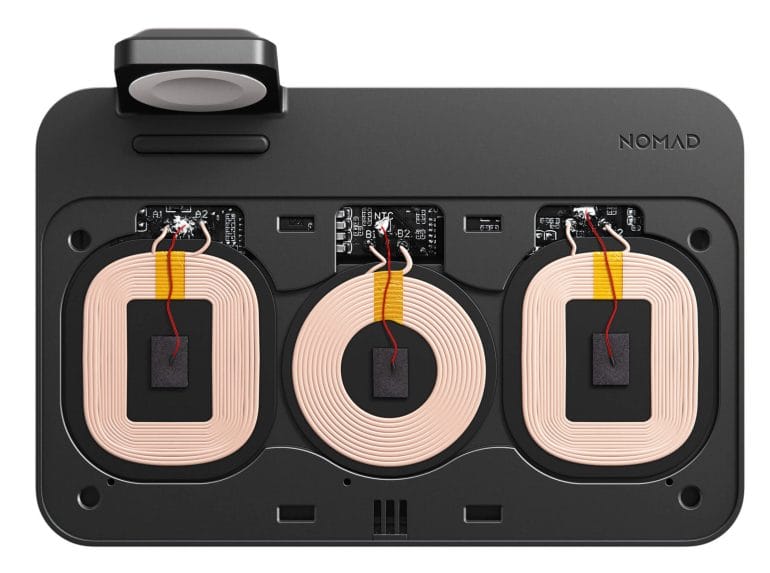 Besides phones, the Base Station can also charge the AirPods Pro charging case and the second-generation AirPods case.
Note: You can buy the new AirPods case that supports wireless charging and use it with your first-generation AirPods.
To make it a little easier (but not fool-proof) for you to align a device with a charging coil — a requirement to enable charging — Nomad added three coils underneath the micro-padded leather cover. Nomad strategically positioned these coils on the sides and center of the dock.
Charging Indicators With Ambient Light Sensor
An easy way to confirm if you've aligned your device(s) properly is by looking at the LED charging indicators on the front of the Base Station. There are three LEDs, each representing a charging coil, and they light up when they're actively charging.
The Base Station also has an ambient light sensor to dim the LEDs at night. It's located on the back, right next to the round power port. If you place your finger over the sensor, you can see how the LEDs dim.
Unfortunately, there's no way to completely turn the LEDs off at night. If you prefer nearly complete darkness for sleeping (which can improve melatonin production), you have to use tape to cover them.
Apple Watch Charger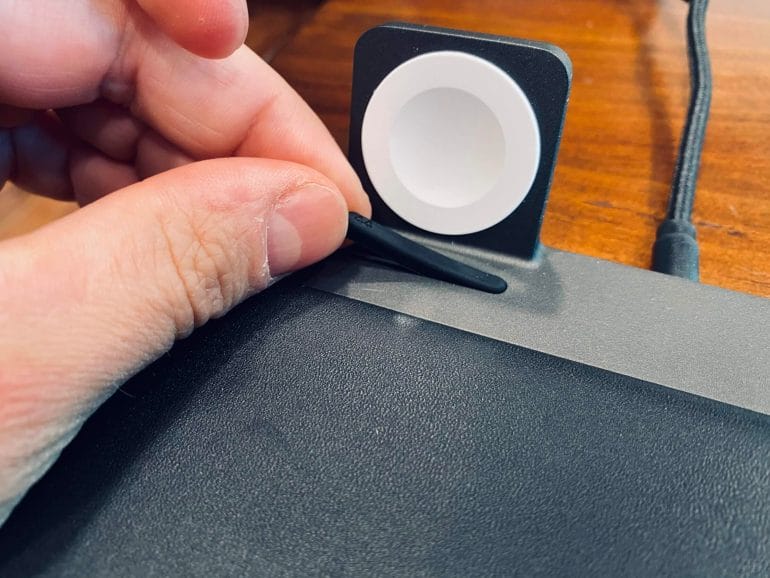 To charge an Apple Watch, you have to use the included charging disk (or puck), because the smartwatch doesn't support the Qi wireless charging standard. In other words, you can't just lay the Apple Watch flat on the mat to charge its battery.
What's nice about the Base Station is that Nomad provides different rubber inserts that you can use to properly align the Apple Watch with the charging puck in nightstand mode. In other words, the Base Station supports charging any size and generation of Apple Watch.
The default rubber insert the Base Station ships with works perfectly with the 44mm Apple Watch Series 5, which is the one I currently have.
Dual USB Output With USB-C 18 Watt Power Delivery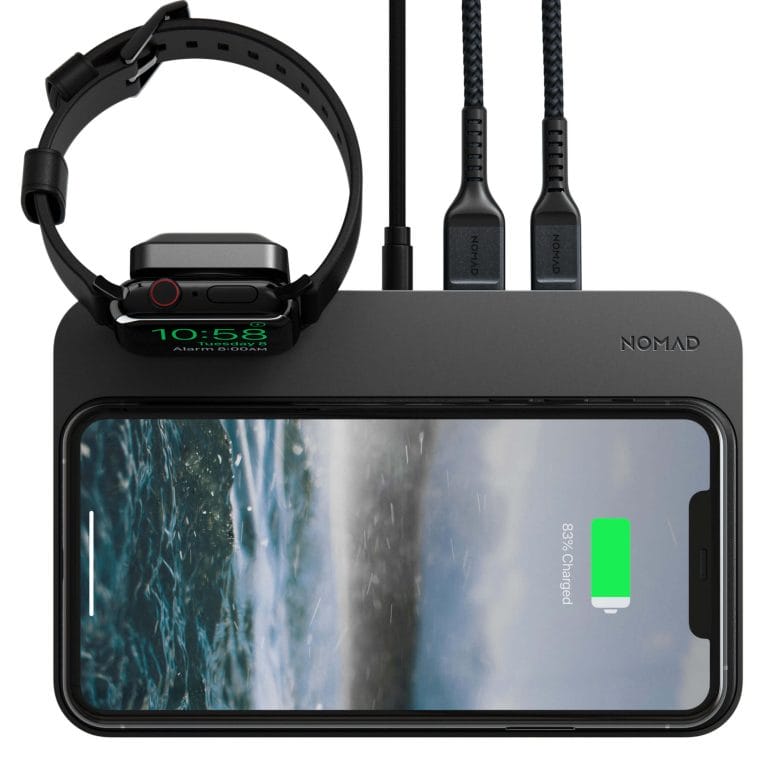 Besides being able to simultaneously charge up to three devices wirelessly, the Base Station can also charge up to two USB-connected devices at the same time.
The two ports on the back include a standard USB-A port that delivers 5V/1.5A (7.5W) of power and the USB Type C port delivers 18 watts of power output and supports Power Delivery fast charging.
In other words, you can use the USB-C port to charge an iPhone at the fastest possible speed. Plus, you can charge an iPad, iPad Pro or other tablet or netbook at native speeds.
Unfortunately, you can't charge a MacBook or laptop at a reasonable speed, even if it has a USB-C charging port — 18 watts is simply not sufficient power for that.
For reference, the charger that came with my 13-inch MacBook Pro provides 61 watts of power — much more than the Base Station can deliver.
Aluminum Body and Padded Leather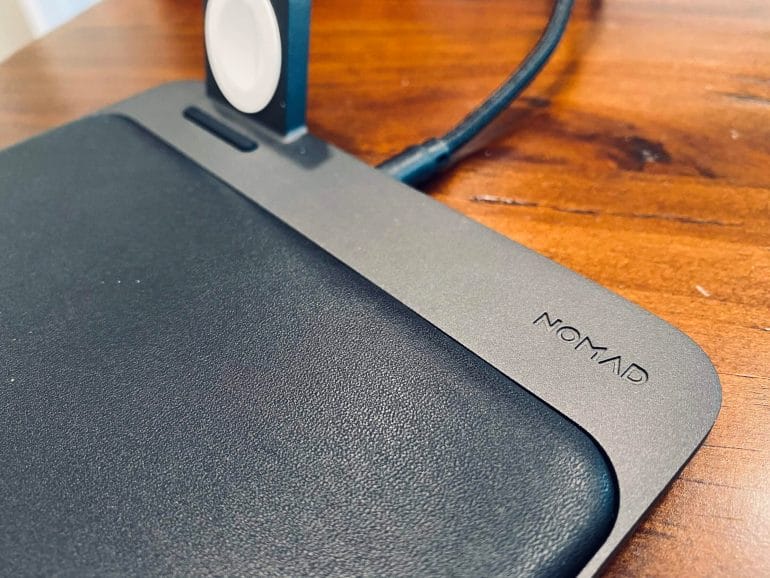 What I've always liked about Nomad products is their material and build quality. The Base Station is no different. The body is made from precision-molded, aircraft-grade aluminum and the charging surface is padded and covered with leather to protect your devices and prevent scratching.
Another nice touch is the braided power cord Nomad includes with its wireless charging dock. It's so much more robust, less likely to break, and easier to handle than a regular plastic-covered cable like the ones you get with most other products.
The bottom of the Base Station has two full-width rubber feet that prevent the gadget from slipping, even on smooth surfaces such as an office desk or a nightstand.
International Power Plugs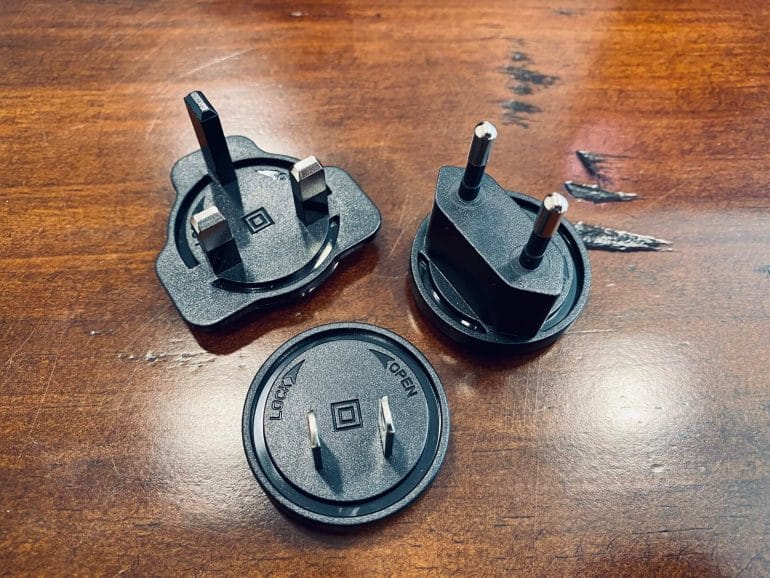 If you plan on traveling with the Base Station, you'll be glad to hear that Nomad includes a total of three power adapters in the box, including one for the U.S., one for the EU, and one for the U.K.
Changing the adapter is as easy as twisting the prongs to lock or unlock it.
Price
Nomad's Base Station – Apple Watch Edition retails for $149.95. That's more than other wireless chargers you can find online (especially from Asian brands). However, considering the features and the high quality of materials used, I consider that a fair price.
Base Station vs. AirPower
If you follow Apple's product announcements, you probably heard about AirPower — Apple's vision of a wireless charging mat that could simultaneously power-up multiple devices, regardless of how you positioned them.
To allow you to place a device anywhere on AirPower, without having to worry about precisely aligning the device with a charging coil, Apple wanted to include anywhere between 21 and 24 charging coils in the mat.
Unfortunately, Apple ended up calling off the project when they couldn't figure out how to dissipate all the heat those coils would produce.
The good news is that the Base Station comes relatively close to Apple's vision for a versatile wireless charging dock. Nomad basically implemented what's possible using today's technology by offering some workarounds to the features that Apple failed to deliver.
For example, the Nomad Base Station has only three charging coils, so you have to align your device properly or it won't charge. While that's not an issue if you place your iPhone on the charger horizontally, it sometimes takes some moving around when I place more than one device on the Base Station.
The second limitation is that you can't place an Apple Watch directly on the charging mat. Instead, you have to use the provided charging disk. Personally, I don't think that's a big deal because I prefer my Apple Watch to be charged in a position that allows me to see the screen (Nightstand Mode).
Plus, some Apple Watch bands — such as the Sport Loop I use — would get in the way and prevent the back of the watch from lying flat on the surface anyway.
Overall, I'm hoping that Apple and others can figure out how to include more overlapping coils in future wireless chargers so that device placement becomes less of an issue.
Frequently Asked Questions
Is the Base Station also available on Amazon?
Yes, you can find the Base Station on Amazon — see here.
Does the Base Station support all smartphones or only iPhone?
The Base Station supports any smartphone that's compatible with the Qi wireless charging standard, including Android devices from Google, Samsung and others.
Do I have to remove my phone case before charging?
Probably not, unless your case is made out of metal, has magnets built-in, or contains credit cards. Most other cases, unless they're too thick, can be used while charging.

I currently use a case from Twelve South that works perfectly fine with the Base Station if I place the phone on it horizontally. It doesn't work (or only works sporadically) if I place the phone on the charging mat in portrait orientation. 

I think that's because the charging coils on the left and right are less powerful than the one in the center.
Can Nomad Base Station Apple Watch Edition charge two phones?
Technically, yes. But it's not practical (see the photo below).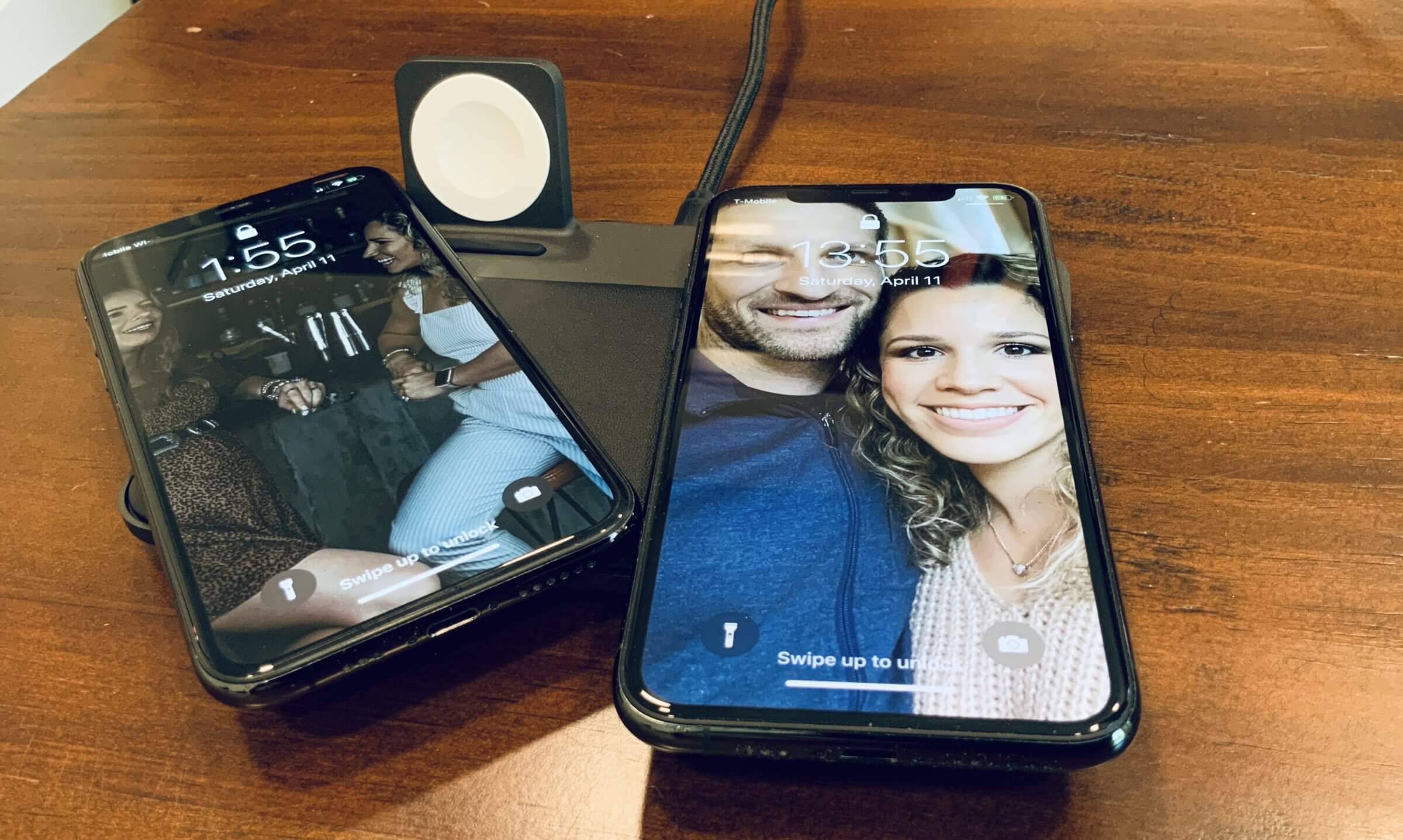 Do you have a Nomad Base Station coupon code?
Unfortunately, I don't know of any discount codes for this product.
Wrap-Up
Nomad's wireless charging pad makes it easy to charge most of your Apple devices simultaneously and at the fastest speeds those devices support.
The modern design of this wireless charging hub makes it easy to use it anywhere you want — whether that's on your office desk or on your nightstand.
I'm a huge fan of Nomad's products and I own several of them. If you're looking for an exceptional charging solution for your Apple devices, look no further than the Base Station!
If I was in charge of product development at Nomad, the only two things I'd try to improve would be adding more charging coils and upgrading the USB-C port to deliver more power. That said, I don't know that either of those requests is technically feasible. But you can always ask, right?

I'm a healthy living and technology enthusiast.
On this blog, I share in-depth product reviews, actionable information and solutions to complex problems in plain and easy-to-understand language.