A potential bug in early versions of iOS 8 and OS X 10.10 causes the appearance of fake missed FaceTime call notifications. I noticed that first when missed call notifications from my colleague Anne Marie appeared on my iPhone. Upon returning the call, she told me that she never called. I was puzzled but didn't think much of it. Then I noticed a pattern. Every time I missed a FaceTime call, iOS logged an additional missed call from Anne Marie. Both missed calls had the same timestamp. The screenshots below show the fake missed FaceTime call notifications.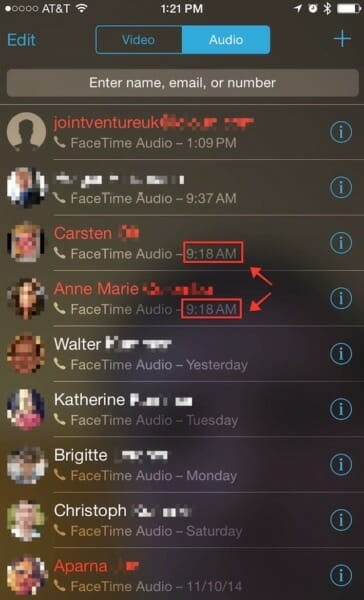 Fake missed FaceTime call from my alter ego
Yesterday I returned home from a meeting, and while chatting with my wife, I heard my computer ring. I didn't answer the call, but when I later looked who had called, I saw my name in the missed call tab. I clicked on my name and noticed that apparently, I called myself from my landline.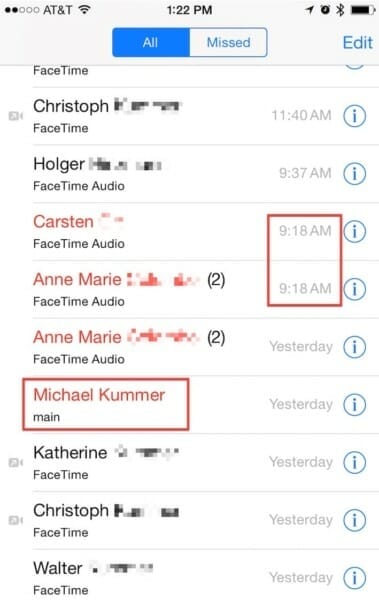 That was enough reason to do what I enjoy most, schedule a call Apple's Joint Venture Genius support. While on the phone with Apple we couldn't reproduce the problem. As far as I remember the issue so far only occurred when I missed calls while all my devices were idle and not in use. During the call with Apple, I was on my Mac, which could have affected the testing.
Temporary fix
To further isolate the first problem, we decided it would be best if I deleted Anne Marie's contact card from iCloud and Exchange completely and then re-entered it manually. The second issue was a one-time occurrence so far, and there isn't much I can do to isolate it. The call logs of my landline don't show any incoming, outgoing or missed calls.
Removing Anne Marie's contact completely and re-adding it manually seemed to have solved the issue. The missed call notification associated with my name turned out to be a marketer spoofing his caller ID with my number to get me to pick up.
Missed FaceTime call notifications returned
Yesterday fake missed FaceTime call notifications started re-appearing. This time I show missed FaceTime audio calls from my brother. Plus, a friend of mine told me, ironically during a FaceTime call, that he has missed FaceTime audio calls on his wife's iPhone with random caller ID's from countries he doesn't know anyone from. So this appears to be more widespread than I thought and I guess I'll file a bug report with Apple.
Fixed: Fake missed FaceTime call notifications
Since updating all my devices to iOS 8.3 and OS X 10.10.3, I have not seen the issue occur again. Not sure what caused it but it seems to be finally fixed.

I'm a healthy living and technology enthusiast.
On this blog, I share in-depth product reviews, actionable information and solutions to complex problems in plain and easy-to-understand language.