macOS offers multiple options to print to PDF. In fact, you can save almost every file as PDF, regardless of if the application supports saving to PDF or not. In this article, I will show you how to quickly print to PDF using a keyboard shortcut and automatically save the PDF in a particular folder. My special folder is called "Scans, " and I save most PDFs to it for further processing via an app called Hazel.
Export as PDF
Some applications for macOS natively support exporting or saving data as PDF. iA Writer, which I use for drafting new blog articles, is such an example. If I wanted to save the draft of this article as a PDF, I would go to File –> Export and choose PDF as the file format.
Safari and Mail are examples of native macOS apps that support exporting emails or web pages as PDFs via the "Export to PDF…" Menu.
But not all apps have that ability. Plus, it takes up to several extra clicks to navigate to my "Scans" folder to save the file.
Print to PDF
macOS has supported printing any file to PDF for several years. So don't worry if the application of your choice doesn't support the PDF format.
To print any file as PDF, just open the File –> Print dialog (or COMMAND + p), click on the drop-down on the lower left of the screen that says "PDF" and then select "Save as PDF…". From there, you can select the folder you would like to save the PDF to. That feature is available in every application that supports the macOS print framework. The problem is, I still need to click a couple of more times to select my "Scans" folder.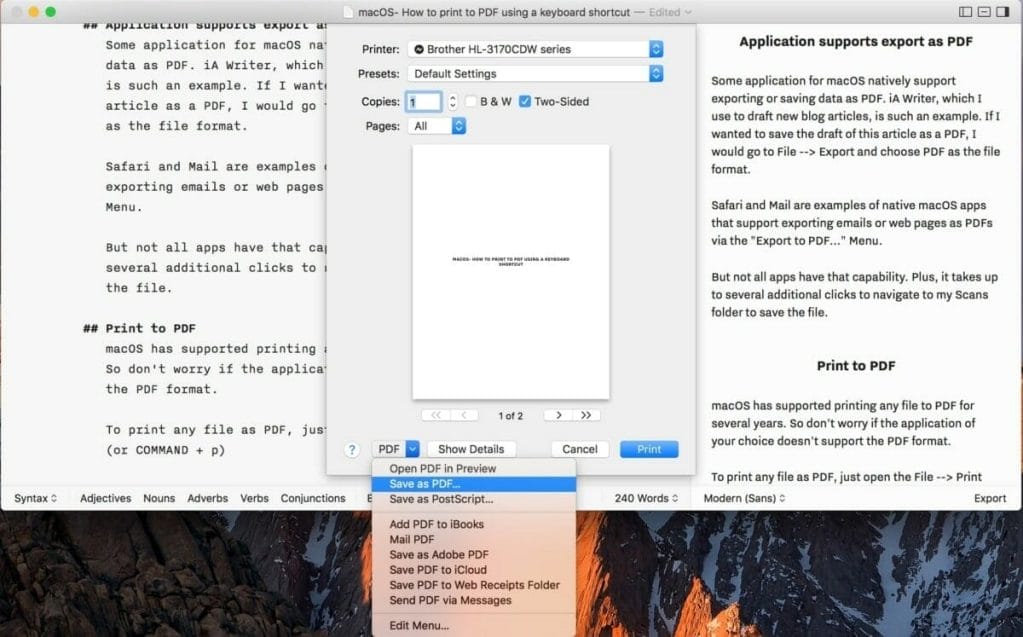 Print to PDF and automatically select a folder
The good news is that Apple allows you to change the list you have seen in the Print –> PDF dialog. As you may have noticed, there is an "Edit Menu…" entry at the bottom of that list.
If you click it, another dialog opens that allows you to add (+ sign) a target folder to that list. In my example, I have added my "Scans" folder. As a result, I can now see my "Scans" folder in the drop-down list of the Print –> PDF dialog.
Going forward, if I want to print anything to PDF and save it to my "Scans" folder, I do the following:
Select File –> Print or better yet, COMMAND + p
Click on the PDF drop-down and select "Scans."
Without any further interaction, macOS saves the selected file as PDF and stores it in the "Scans" folder. That's already a huge timesaver, but why stop there?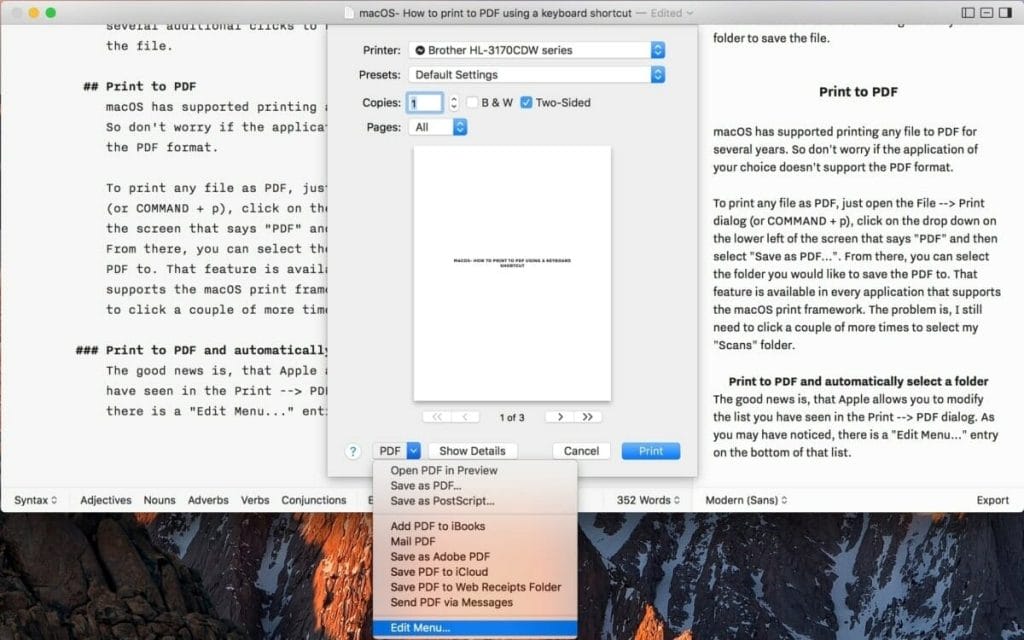 How to add a keyboard shortcut
We already have established that you can print anywhere in macOS using the COMMAND + p keyboard shortcut. But isn't there a way to also use a shortcut for selecting the "Scans" folder? The good news is, there is and here is how it works:
Open System Preferences
Select Keyboard
Go to "Shortcuts" and select "App Shortcuts."
Click on the + button to add a new shortcut
Leave "All Applications" in the Application drop-down
Add a "Menu Title" that matches the name of the folder you added to the Print –> PDF menu. In my case, that's "Scans" (without the quotes)
Select the Keyboard Shortcut text field and type COMMAND + p (the shortcut) on your keyboard.
You can use any other keyboard shortcut of course, but there is a reason why I chose COMMAND + p. You may think that this is a reserved shortcut and it may conflict with the standard print command. But that is not the case and here is why:
When you use the COMMAND + p shortcut, macOS tries to match it to the "Scans" menu item. Unless the app in question has a menu entry called "Scans," it won't find it because it is tucked away in a sub-dialog of the print menu. As a result, it looks for the next best match, and that's File –> Print. That shows the print dialog. If you now tap COMMAND + p again, it doesn't find "Print" anymore, but instead, it finds "Scans" and triggers it.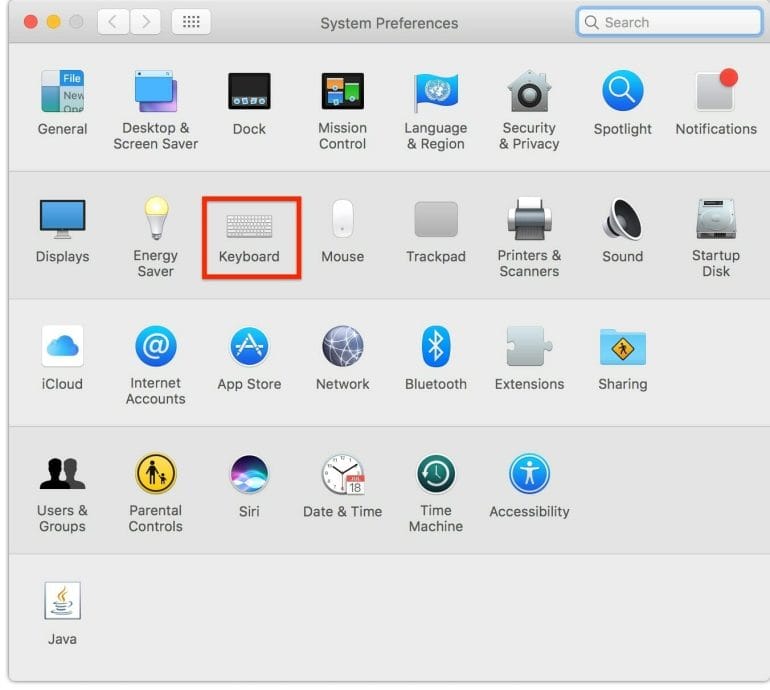 In other words, overloading, or reusing the COMMAND + p keyboard shortcut works to our advantage, so we don't have to remember two different keyboard shortcuts.
From a productivity perspective, that means that I only have to tap COMMAND + p twice to print any file to PDF and store it in my "Scans" folder.
How to print to PDF via keyboard shortcut from any application
The method I presented above is the fastest and most efficient way I have found to accomplish this task. It works for virtually any application in macOS and requires only a single keyboard shortcut.
The beauty of macOS is that there are a thousand ways to execute a certain task. So if you know of a better, faster and more efficient way to print to PDF, let me know by leaving a comment below. If you find my article useful, please share it on social media so that others can enjoy it too. And if you want to see a screencast of how all the above is done, check out the blog of my fellow blogger and excellent Mac resources MacSparky.

I'm a healthy living and technology enthusiast.
On this blog, I share in-depth product reviews, actionable information and solutions to complex problems in plain and easy-to-understand language.