I'm always working on improving my productivity, so I can get things done more quickly and efficiently. That pays off with frequently recurring tasks and technologies I use every day. In this post, I share with you my top Mac productivity tips and app recommendations. Many of the tricks below I learned from David Sparks (MacSparky), a fellow Mac enthusiast and business attorney.
Productivity and Getting Things Done (GTD)
I'm a huge fan of the Getting Things Done method, which according to its inventor David Allen is "a total work-life management system that transforms overwhelm into an integrated system of stress-free productivity." One of its fundamental principles is to get ideas, to-dos, and reminders out of your head, so you can instead use your brainpower for being creative. Many of the areas I talk about below are very much compatible with GTD.
Your mind is for having ideas, not holding them.

David Allen
Notifications
As useful as notifications sometimes are, they can quickly become a huge distraction. When I look at the home screen of my iPhone and see apps with unread items, such as new emails, missed calls or Facebook notifications, I can't help it but open each app to clear them out. That's distracting.
As counterintuitive as it may sound to some people, the solution is to turn off badge icons and notification for most apps, except a few important ones. I turned off notifications and badge icons for the following apps:
All social media apps
Mail (except for VIPs and Thread Notifications)
Bank of America (Badge icons only)
YouTube
Photos
Anything else that's not on the list below
I have notifications and badge icons enabled for the following apps:
Reminders
OmniFocus
App Store
Skype
Mail (VIPs and Thread Notifications only)
Phone
FaceTime
Messages
Disabling notifications for Mail and social media apps have been a very rewarding decision. Now I don't waste time anymore on opening Mail just to see an irrelevant message waiting in my Inbox, while still getting notified if an email from a VIP or thread I set an alert for comes in. Instead, I set time aside during the day when I don't have anything else going on that requires my full attention, to check my emails or Twitter feed. Email is abused as a real-time communication medium (which it wasn't designed for), and this is one way to break away from that madness.
To turn off notifications in iOS go to Settings —> Notifications and then disable them individually for each app. I did the same in OS X under System Preferences —> Notifications.
MacSparky speaks at length about the problem of email notifications in his book "Email", which is part of the MacSparky Field Guides series.
My Email Workflow
I use Apple Mail on both iOS, and OS X and below are some steps that have helped me be more productive and efficient:
Disable notifications (see above)
Keep your Inbox clean
Filter spam
Add keyboard shortcuts for often used menu items
Inbox Management
You can read more about Inbox management in MacSparky's book, but the gist is to get emails out of your inbox as soon as possible. I do that through an extensive ruleset that automatically filters emails that I don't need to process immediately.
For example, purchase notifications from American Express or balance statements from my bank, are automatically moved to a mailbox called "Clutter." Newsletters go into a mailbox called "Newsletter."
Every email I want to keep goes into a mailbox called "Archive" as soon as I'm done processing it. Any email I cannot process right away goes into the "Later" mailbox. That way, my inbox only shows messages I can process at the moment.
In addition to rules, I also use two plugins that help me manage my inbox:
Mail Act-On makes applying rules and moving messages to individual folders using keyboard shortcuts easier, especially if you have the same "Later" folder on multiple accounts.
For example, using the keyboard shortcut Fn + F2 brings up the rules dialog and keyboard shortcut L moves the selected messages to the Later folder in their respective account – if I have multiple messages selected that are spread out across multiple accounts (i.e., iCloud and Exchange).
MailTags I use for labeling outgoing messages that I expect a reply to. Once tagged, MailTags shows me all messages I haven't received a reply to yet and automatically removes the tag once I receive a response. It also automatically archives messages that I respond to, saving me a click.
Both plugins do much more, and I'd encourage you to check out their developer's web page. MacSparky also talked about both plugins and more in his book.
Filter Spam
I can't say enough good things about SpamSieve, and I don't know how I could ever live without it. SpamSieve is an incredibly powerful spam filter for OS X, and it works with various email clients, including Apple Mail and Outlook.
Setup and configuration are easy, and you can even create keyboard shortcuts to training SpamSieve on spam it didn't catch or on false positives. To use SpamSieve from my iOS devices, I created two mailboxes on each account called TrainGood and TrainSpam.
If I encounter a spam message while I'm on the go, I can quickly move it into the TrainSpam folder and SpamSieve, running on my Mac, will pick it up from there. The same principle works for messages that SpamSieve incorrectly labeled as spam.
Keyboard Shortcuts
As part of my paperless workflow, I convert a lot of emails (i.e., Receipts from Uber) to PDFs. That can be easily done by using the Command + P keyboard shortcut and by selecting "Save as PDF…".
But it is even easier to create a keyboard shortcut in System Preferences —> Keyboard —> Shortcuts (under App Shortcuts). By using the shortcut, you can quickly export the selected message as PDF. I assigned Control + Option + Command + P to this action.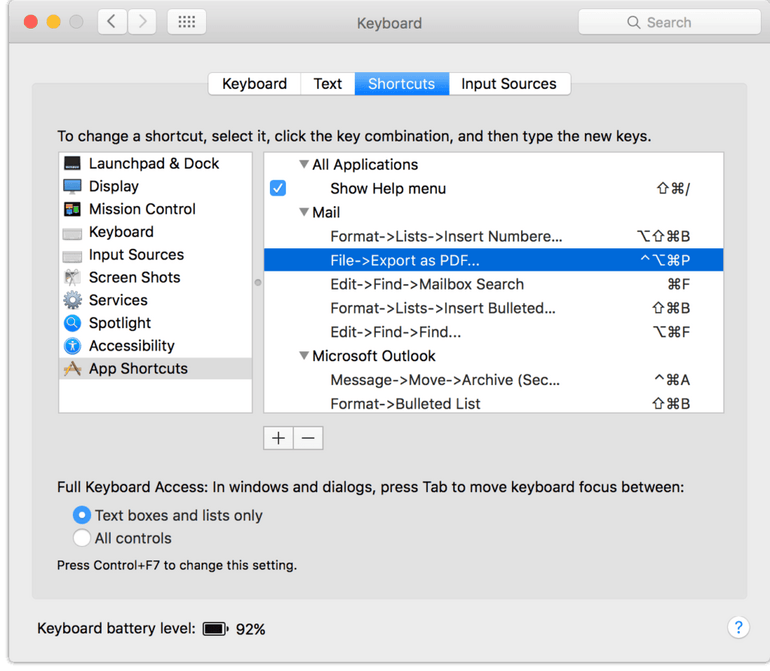 Reminders and Project Management
To get stuff out of my head quickly, I use Siri and Reminders a lot, especially when I'm on the go. All it takes is to say "Hey Siri, remind me to call Joe tomorrow at 11 am" and I no longer have to worry about remembering to call Joe.
On my Mac, I used to use Automator and AppleScript to help me create reminders from Emails or through a global keyboard shortcut.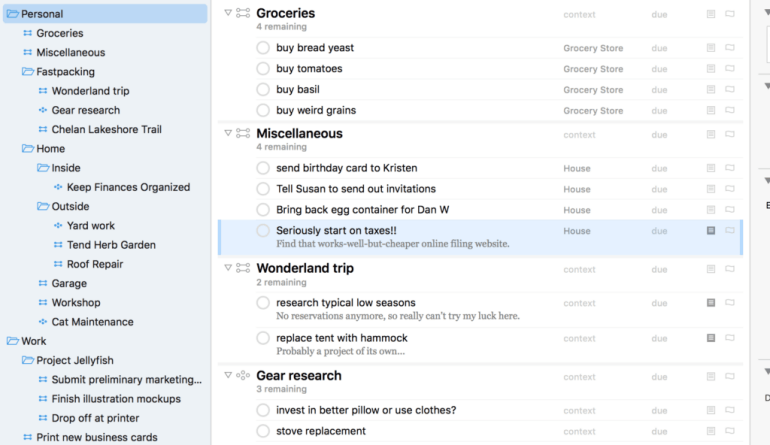 Unfortunately, the Reminders app is not meant to be a project management solution. While it is fine for simple tasks like "Call Joe," it fails with more complex tasks that may be part of a bigger project. After watching MacSparky's OmniFocus Video Field Guide, I decided to move a lot of my task and project management into OmniFocus.
Keep work and play separated with contexts, perspectives, and focus. Ignore the irrelevant, focus on what you can do now, and accomplish more. And do it all much faster than before. (OmniFocus)
I have only been using OmniFocus for a couple of weeks, but I like what I have seen. The key features I use most include:
Setting a Defer Date instead of a Due Date
Organize tasks into Projects and Contexts
Sync my database across all my Macs and iOS devices
Global keyboard shortcut to add a task from any application
Automatic import of all reminders from a predefined Reminders list. That way I can still use Siri to add Reminders, and they get automatically imported into OmniFocus.
Turn Apple Mail messages into tasks in OmniFocus through Clip-o-Tron
I haven't abandoned Reminders entirely as I still use it for shared reminder lists I have with my wife.
Automatic File Management Through Hazel
I have used Hazel since 2014 and have written about how I use it in the past. But after watching MacSparky's Hazel Video Field Guide, I realized that I was only scratching the surface of what Hazel could do for me.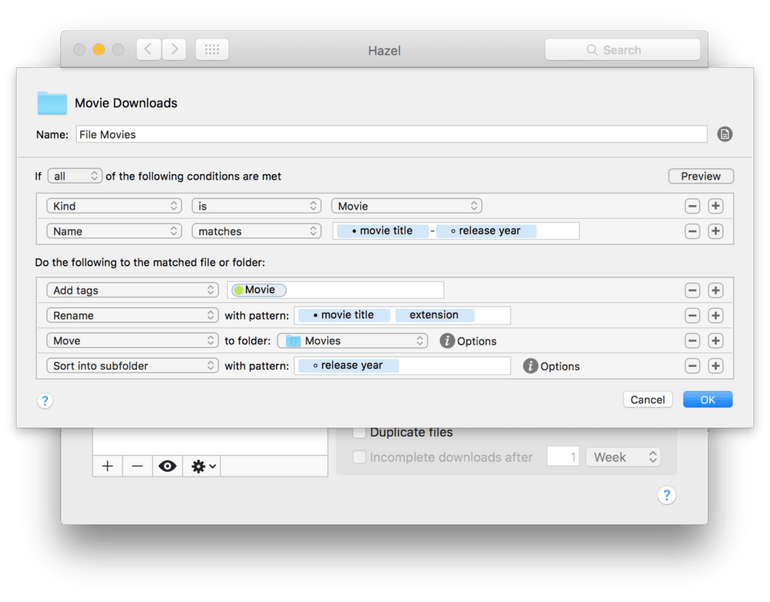 So I took a good look at my paperless workflow and the Hazel rules I had and pretty much re-did them from scratch. The one Hazel feature I now use a lot is to act on file contents. Like MacSparky, I scan every document that's worth keeping with my beloved Fujitsu ScanSnap iX500*.
As part of the scanning workflow, I apply Optical Character Recognition (OCR), so the resulting PDF files can be searched for text. Hazel can leverage OCR to act on file contents, like keywords and dates.
For more information, I highly recommend the Hazel Video Field Guide as well as the Paperless Field Guide.
About MacSparky
David Sparks is an Orange County, California business attorney and a geek. He is also a podcaster, blogger, and author who writes about finding the best tools, hardware, and workflows for using Apple products to get work done. David also writes for Macworld magazine and speaks about technology.
Recommended Reading/Watching
Below are some of MacSparky's Field Guides and Video Field Guides I can highly recommend. I read and watched them during my recent vacation in Austria and couldn't wait to get back to my Mac to implement everything I had learned.
Paperless (Book): Paperless takes the mystery (and fear) out of going paperless with your Apple technology.
Email (Book): The Email Field Guide covers both why email has become such a problem for everyone and how to manage it more effectively.
Markdown (Book): Markdown started as a clever way to write for the web but has become so much more.
Hazel Field Guide (Video): The Hazel Video Field Guide is a two-and-a-half-hour video screencast that teaches you everything you need to know about Hazel, one of the best tools available to automate using your Mac.
OmniFocus Field Guide (Video): 2.5-hour video that takes you, soup to nuts, through the Omni Group's supremely bad-ass task manager.
MacSparky has two more Video Field Guides that I haven't had a chance to look at yet:
Since I use both applications extensively, I'll check them out soon too.
If you know of tips, tricks, books or videos that have helped you to improve your productivity, let me know by leaving a comment below.

I'm a healthy living and technology enthusiast.
On this blog, I share in-depth product reviews, actionable information and solutions to complex problems in plain and easy-to-understand language.