Here is a list of the best productivity apps for Mac users, based on my personal experience. Since I continuously stumble across new applications and services, I'll keep adding to it. So bookmark this post and check back from time to time.
While you can download or purchase all of the apps I mentioned below individually via the App Store or the developer's webpage, I got some of them via Setapp. Setapp is an app subscription.
Think of it as Netflix for Mac apps. As a result, I can download any of the dozens of apps the service offers for the price of two lattes.
Below the description of each app, I also list alternatives that I have used or heard good things of. If an app is available for other platforms, such as iOS, Windows, or Android devices, I indicate that as well.
In case you wonder, the list below is not in any particular order. I just wrote the apps down in the order as they popped into my head.
SaneBox (Web)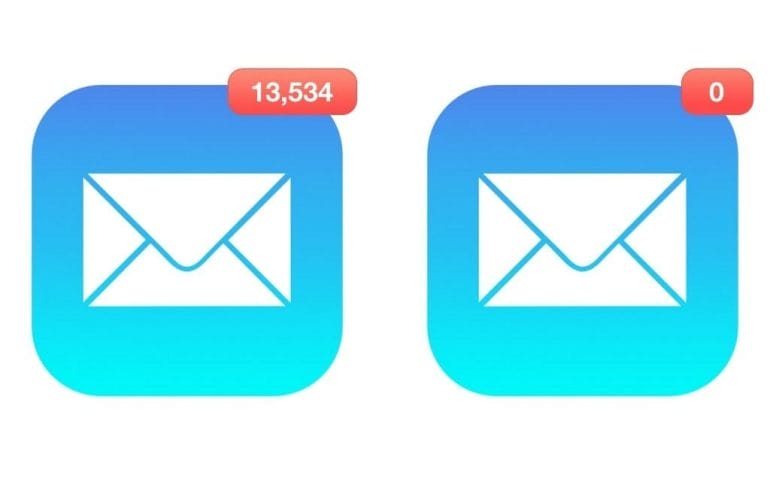 SaneBox isn't, technically, an app but a service that helps me manage my inbox. In recent years, the (ab)use of email has increases, which has turned communication medium from a useful tool to send letters quickly, into a time-draining and distracting task manager.
"My emails went from 98,000 to about 25 in the blink of an eye.
You gotta try it… Patrick Lynn"
SaneBox monitors my inbox and automatically declutters it by moving emails that don't require my immediate attention into separate folders. In addition to this essential but incredibly useful feature, SaneBox can also automatically notify me when someone hasn't replied to my emails, it enables me to snooze emails for a later date, and much more.
If you haven't heard about SaneBox before, check out my separate article about email productivity tools for more information. If you'd like to give SaneBox a try, use this link to get $5 off.
TextExpander (Mac, iOS, Windows)
TextExpander is an app I use every day, and it saves me hours of typing every month. In a nutshell, TextExpander automatically expands abbreviations, such as ".me" –> Michael Kummer.
TextExpander lets you instantly insert snippets of text from a repository of emails, boilerplate and other content, as you type – using a quick search or abbreviation.
As a result, I never have to type out my name, address, phone number, the URL to my blog, my company's tax ID or dozens of other static pieces of text I frequently use. But TextExpander can do so much more!
I use the app to draft complete emails using placeholders and dynamically generated content. The cool thing is that TextExpander works both on macOS and iOS. Similar to Grammarly, Smile, the company behind TextExpander, implemented support for iOS via a keyboard extension. If you use Windows, you'll be glad to hear that TextExpander is available for Microsoft's operating system as well.
If you want to give TextExpander a try, use the below link and get 20% off your subscription.
Alternatives: Keyboard shortcuts in macOS or iOS
NotePlan
NotePlan is the latest addition to my productivity tool belt. What I like about it is how it merges my calendar events, to-dos and notes into a single app.
That makes it incredibly easy to plan out my day or week, or to take meeting notes. I give a lot of presentations in front of customers and partners and, in the past, I would take meeting notes in Drafts, Notes or another app.
With NotePlan, I can easily and visually attach those meeting notes to my calendar and include to-dos and action items.
In addition to all the useful features that come with NotePlan, such as mentions and hashtags, the app is available for Mac, iPhone and iPad and it syncs all your information using iCloud and iCloud Drive.
Keyboard Maestro
Keyboard Maestro is the Swiss Army Knife of Mac productivity tools. It can do so much more than I can cover in this roundup. So I'll tell you what I use the app for, and I encourage you to check out its webpage for more information.
I use Keyboard Maestro to search Amazon, my blog, OmniFocus, and Maps based on dedicated keyboard shortcuts. For example, when I press Option + A, a dialog pops up asking me to enter a search term. When I press Enter, Safari opens, navigates to Amazon.com and submits the words I entered as a search query.
When I type the string ;demo, GoToMeeting and SAP GUI launch, my VPN connects to my demo system, and my solution presentation (PowerPoint) opens to get me ready for a remote product demo in front of clients.
Whether you are a power user or a just getting started, your time is precious. So why waste it when Keyboard Maestro can help improve almost every aspect of using your Mac. Even the simplest things, like typing your email address, or going to Gmail or Facebook, launching Pages, or duplicating a line, all take time and add frustration. Let Keyboard Maestro help make your Mac life more pleasant and efficient.
Additionally, I have created a macro that parses contact information from a CSV file to draft follow-up emails to potential customers. That's useful when following up with leads after a trade show. The cool thing is that the macro works in combination with TextExpander to leverage canned replies that I would use when drafting such emails manually.
I also leverage Keyboard Maestro for managing the window layout of my apps using keyboard shortcuts. For example, to position any app (i.e., Apple Mail) on the right half of my screen, I press Command + Control + Right Arrow.
I know that there are dedicated tools for that, but since I already use Keyboard Maestro, I figured I didn't need another app.
The possibilities with Keyboard Maestro are virtually unlimited, and I'm only scratching the surface with what I'm doing.
Milanote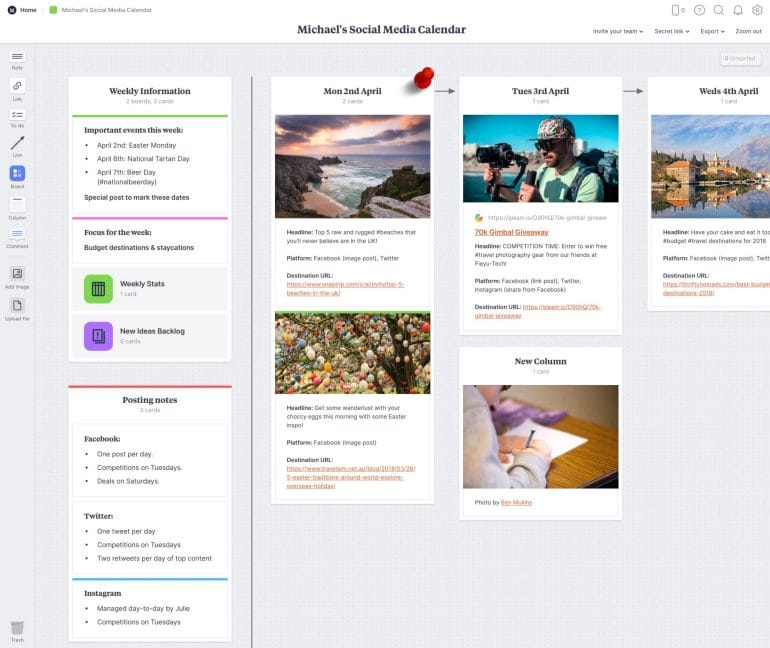 Milanote is a cool note-taking app that's different to anything you might have seen before. Bryan Clark from The Next Web called it the "Evernote for Creatives".
What's cool about Milanote is that you can easily add graphical elements, such as cards, images and links to your canvas via drag and drop.
So if you're a visual person, you'll appreciate the flexibility, simplicity and pleasing design language of Milanote's interface.
Milanote is available as a web and native Mac app and I can't wait to explore how I can use it for my blogging workflow.
Pastebot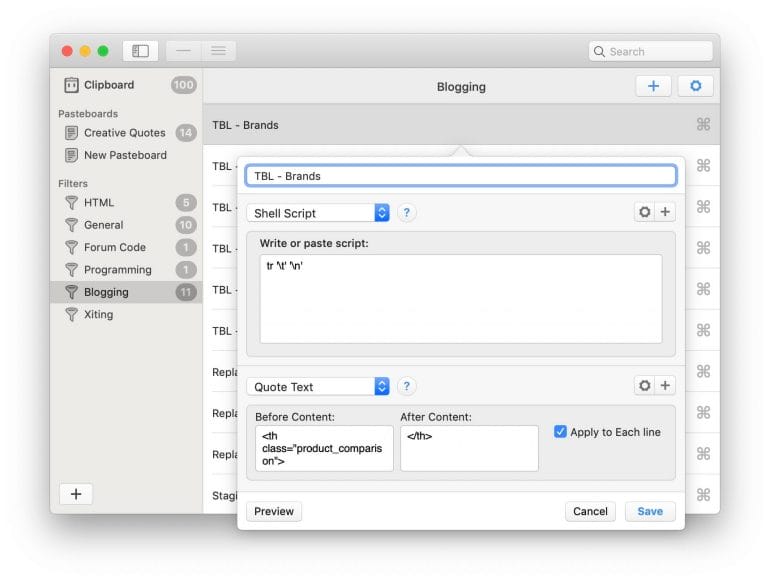 Pastebot is my favorite clipboard manager, and I use it numerous times a day. Like any other copy/paste tool, Pastebot keeps a clipboard history of items you copy, and it allows you to paste them. So for example, if I copy ten items to the clipboard, I can paste any of those ten items in any order.
However, the primary reason why I like Pastebot so much is that it has built-in filters that make advanced text manipulation possible.
If copy & paste is a part of your workflow, Pastebot is an indispensable tool to improve your productivity. Quickly recall clippings that you have copied before, and apply powerful text filters to format before pasting. Queue up multiple clippings to paste in sequence. Pastebot is always running and only a keyboard shortcut away to command copy & paste.
For example, I often copy text that has styling, but I need to paste it without formatting (plain text). Pastebot has a filter that enables me to do that, in addition to tons of other text transformation scripts, including:
Convert to Titlecase
Replace space with an underscore
Remove Emoji
Convert Markdown to HTML
Encode URLs

I also use Pastebot a lot while blogging. For example, it helps me to convert comparison tables I created in Excel into, specially formatted, HTML tables. Let's say I copy a row of data from Excel and want to wrap it in a <TD> tag with a specific CSS class. To do that I wrote a shell script in Pastebot that replaces every TAB with a NEWLINE symbol and wraps each line in "<td class="product_comparison product_comparison_text"><td>"
That saves me a ton of time when creating pretty HTML tables for my review articles.
Alternatives: Keyboard Maestro, Copied, Paste (Setapp)
Alfred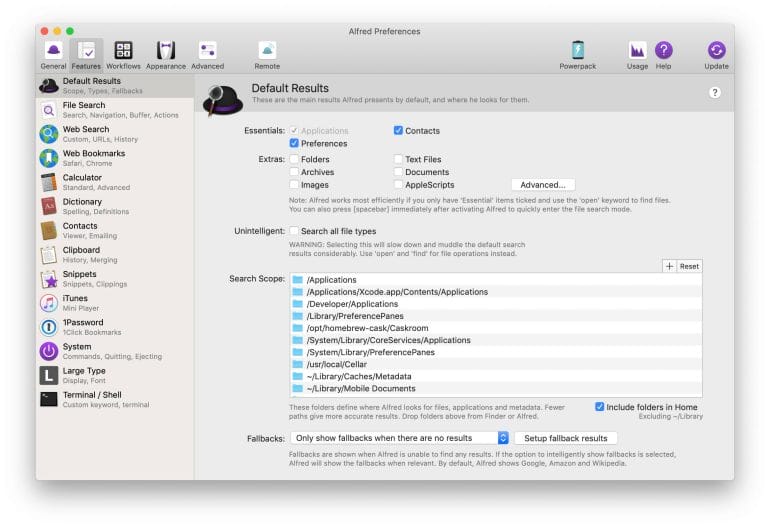 Alfred is Spotlight on steroids and similar to Keyboard Maestro, I only use a fraction of its key features.
The main reason why I decided to use Alfred instead of Spotlight is that it's more powerful and extendable via scripts. For example, besides being better at searching my Mac, Google, Amazon, and Wikipedia, I can also use Alfred to issue commands that make my Mac go to sleep, force-quit an app, lock the screen, or empty the trash.
Alfred is an award-winning app for macOS which boosts your efficiency with hotkeys, keywords, text expansion and more. Search your Mac and the web, and be more productive with custom actions to control your Mac.
I can also use it to spell words, even if I completely butcher their spelling. I generally try to stick to native tools in macOS, but Alfred made a convincing case to replace Spotlight by changing its default keyboard shortcut in System Preferences.

PS: Alfred is a free app, but to get the most out of it you can buy the optional Powerpack.
Alternatives: Spotlight, Quicksilver, LaunchBar
BetterTouchTool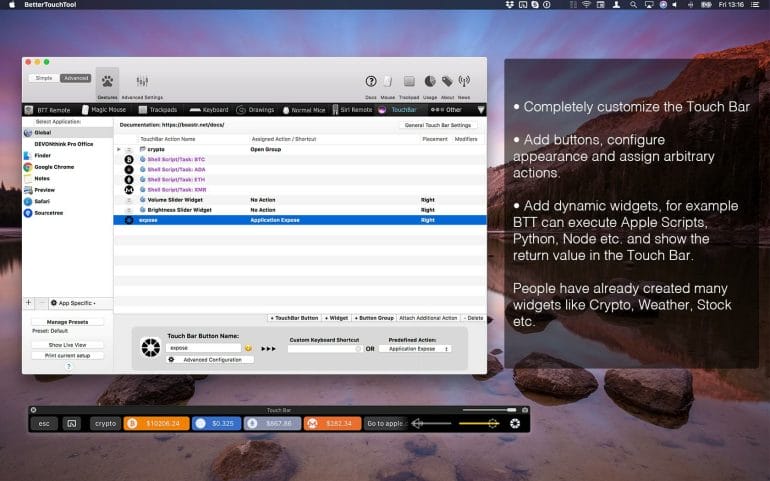 BetterTouchTool (BTT) is another one of those productivity apps that can do more than you can remotely imagine. At its core, the app can automate actions based on triggers or input types.
For example, you can create custom swipe gestures on your trackpad to automatically position windows, launch apps, type text, or anything else you can imagine.
I stumbled across BTT when I first got a MacBook Pro with Touch Bar. Apple and macOS didn't allow me to customize the Touch Bar the way I wanted and BTT filled that gap. You could even write a script that fetches the current value of your favorite cryptocurrency and displays it on your MacBook's Touch Bar.
If you want to give BetterTouchBar a try, you can get a free 45-day trial license or download it from Setapp!
Magnet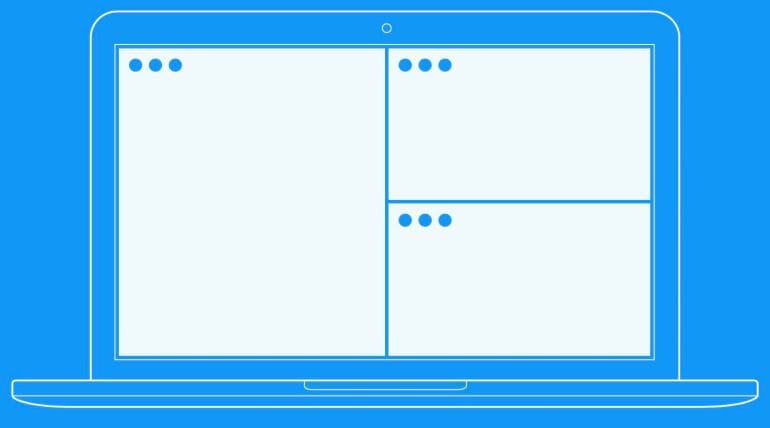 The Magnet menubar app is a classic window manager that allows you to organize your workspace. I had used Magnet extensively before I realized I could do my window management in Keyboard Maestro.
Activated by dragging, customizable keyboard shortcuts or via the menu bar, Magnet declutters your screen by snapping windows into organized tiles.
What I like about Magnet is that it's dead-simple and it works with horizontal and vertical screen setups. Out of the box, Magnet comes preconfigured with popular layout options and matching keyboard shortcuts that you can change to your likings. It's also worth noting that Magnet supports up to six external displays, in case you're lucky enough to own that many screens!
Alternatives: BetterSnapTool (App Store), Keyboard Maestro
Trello (Mac, iOS, Android, Windows, Web)
Trello has been around for a while, but I just stumbled upon it a few weeks ago. Since then, it has become my favorite app to manage the sales opportunities in my day job, and the editorial calendar for my blog.
Trello's boards, lists, and cards enable you to organize and prioritize your projects in a fun, flexible, and rewarding way.
Using Trello, you can organize projects and tasks as so-called boards, lists, and cards. For example, for each of the topic clusters on my blog (i.e., Healthy Eating), I have created a corresponding list with individual cards representing the related blog articles.
Using labels, I can visually tag each card based on the status of the article, including "Idea," "Optimized," etc.
I also use Trello to work with external editors and content creators. For example, I have a separate Trello board that I share with my editor and guest bloggers to keep tabs on what they are currently working on. So think of Trello as a task management platform.
Alternatives: Asana
1Password (Mac, iOS, Android, Windows, Linux, ChromeOS, Web)
Are you still keeping all of your passwords stored in clear text in an email you regularly send to yourself or a contact card on your phone? Or, even worse, have them written down on a PostIt note? And do you use the same password for every account?
If you answered any of these questions with "Yes," it's time to start using a password manager!
My wife and I have been using 1Password for years, and I have close to 1,500 passwords and credentials stored in it. Every online account I have has a unique, randomly generated password. Of course, there is no way for me to remember them all. The good news is, I don't have to!
All I remember is one password that unlocks my 1Password vault, which gets automatically and securely synchronized and backed up in the cloud, and all of my devices (Mac, iPhone, iPad, Apple Watch…).
Additionally, my wife and I share private vaults that contain credentials we both need access to from time to time. For example, the kids' social security numbers, passport information, etc. By sharing those credentials, we prevent maintaining duplicates.
What makes 1Password so incredibly convenient is its integration with all major web browsers and even operating systems, such as iOS and Mac. For example, when you create an account in an app on your iPhone, 1Password can automatically generate a secure password and store it in your vault.
You can learn more about everything the tool has to offer in my in-depth 1Password review.
Alternatives: Dashlane, LastPass
Bartender
Almost every application these days has its own menu bar icon. As a result, the more apps you install, the quicker your Mac's menu bar gets cluttered, thus reducing the available space for application menus.
Bartender 3 lets you organize your menu bar icons, by hiding them, rearranging them, show hidden items with a click or keyboard shortcut and have icons show when they update.
I have a 27-inch iMac Pro in my office, so screen space is usually not a big concern. However, the menu bar on my 13-inch MacBook Pro is so full of icons, that I never find the ones I want to use.
That's where Bartender can help by decluttering the menu bar and hiding icons you don't (frequently) need. You can even hide icons from apps and services that come with macOS, such as WiFi, volume control, etc.
I have used Bartender for over a year and couldn't imagine a Mac without it. Bartender is available via Setapp or direct download.
AppleScript Editor / Automator
You might not have known that your Mac comes pre-installed with a couple of incredibly powerful automation tools:
Apple Script Editor
Automator

Apple Script is a simple and intuitive scripting language to automate tasks, applications, and processes in macOS. Automator is a tool that simplifies the creation of workflows and services, and you can use it without knowing how to program in Apple Script.
Over the years, I have used both Apple Script and Automator to create many shortcuts and little helper programs to do such things as:
Convert images to another format
Copy the path of selected files and folders in Finder
Create a Dropbox link via a keyboard shortcut
Created a reminder from a selected email via a keyboard shortcut
I have also used it in combination with Hazel to apply optical character recognition (OCR) to scanned documents and file them automatically, based on keywords in the documents.
Hazel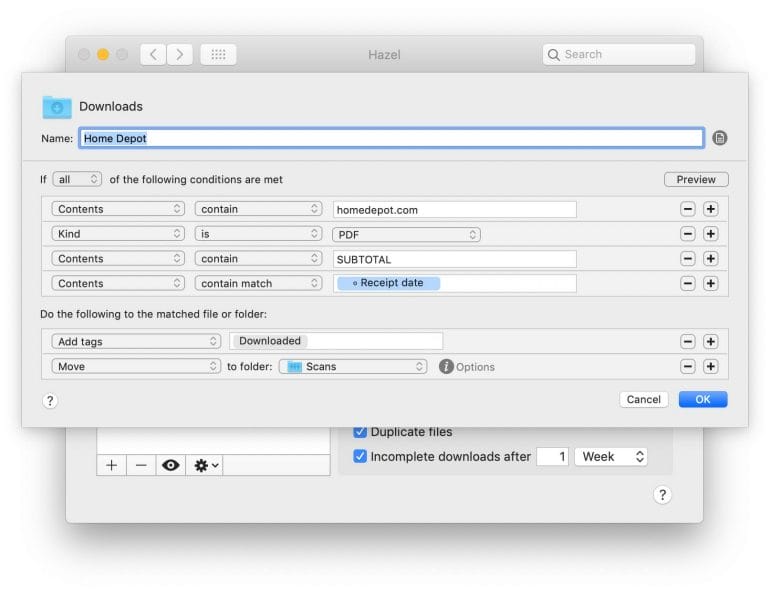 I scan and digitalize every paper document or receipt I get and file it electronically. For most of those documents that process happens automatically:
Scan via my ScanSnap iX1500 or the Scanbot app on my iPhone
Copy a scanned document into a dedicated "Scans" folder in Dropbox
Hazel monitors the "Scans" folder and decides if the scanned PDF already has an OCR layer. If not, it invokes PDFpenPro to apply optical character recognition.
Hazel moves the scanned PDF into another folder.
Based on keywords inside each of the scanned documents, Hazel automatically renames each PDF based on the current date and sorts them into their target folders.
The whole process happens automatically and without my input. In some cases, where the original document isn't legible, or Hazel comes across a new receipt it has never seen before, I intervene.
For documents that I regularly receive, such as gas receipts, the bill of my dental insurance, or the monthly statement from my rental management company, I don't have to do anything.
I have even configured SaneBox to copy PDF attachments in emails into a particular Dropbox folder that Hazel monitors. As a result, if I receive a PDF receipt, for example, from Home Depot, Hazel can automatically file it for me.
Grammarly (Mac, iOS, Android, Windows)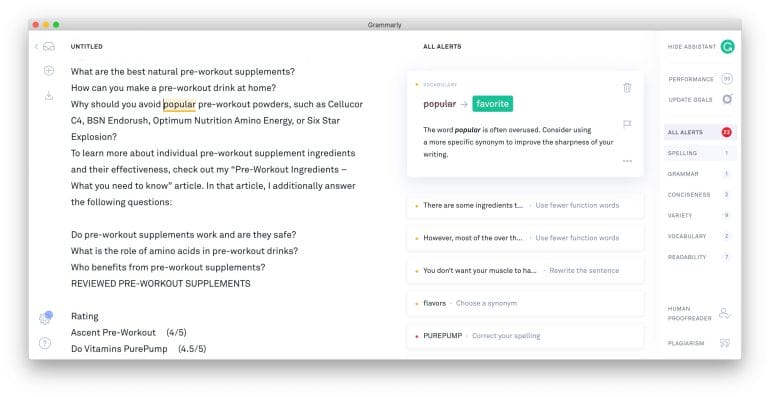 While English isn't my first language, I produce a lot of text in it. That shouldn't come as a surprise, considering that I'm a blogger.
However, even for my day job as a sales executive, I create a ton of content and communicate with customers via email. To help me polish the text I create and to reduce the chance of spelling and grammar errors, I use Grammarly Premium.
From grammar and spelling to style and tone, Grammarly helps you eliminate errors and find the perfect words to express yourself.
I know that every popular word processor and the operating system has built-in spell checkers. But let's be honest – they usually all suck. Grammarly's AI-powered writing assistant can help you to take your writing to the next level by fixing advanced spelling and grammatical issues and recommending changes in style and tone.
What makes Grammarly so useful is its integration into major operating systems, apps and browsers, including:
iOS (via a third-party keyboard extension)
Microsoft Office (Windows)
Safari, Chrome, Firefox, Edge
Grammarly also has a native app for Mac and Windows that I use a lot on my iMac Pro. If you write a lot and have, so far, relied on the built-in spell checker in macOS or Word, I highly recommend you give Grammarly a try and see the difference!
Ulysses (Mac, iOS)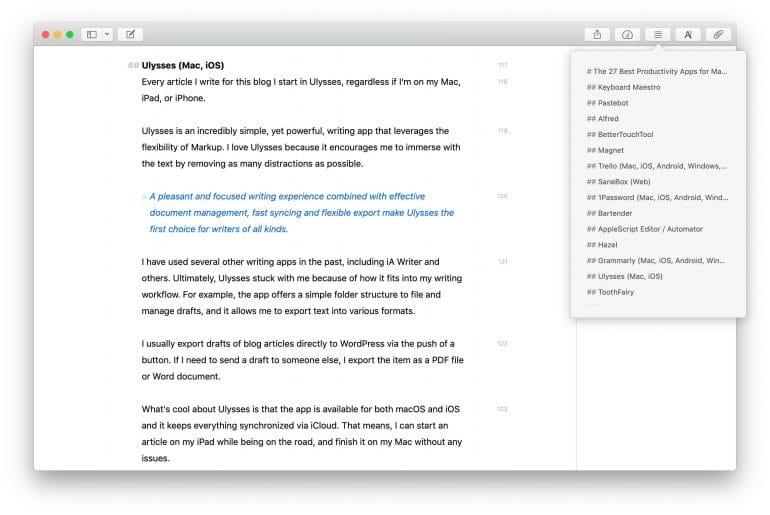 Every article I write for this blog I start in Ulysses, regardless if I'm on my Mac, iPad, or iPhone.
Ulysses is an incredibly simple, yet powerful, writing app that leverages the flexibility of Markup. I love Ulysses because it encourages me to immerse with the text by removing as many distractions as possible.
A pleasant and focused writing experience combined with effective document management, fast syncing and flexible export make Ulysses the first choice for writers of all kinds.
I have used several other writing apps in the past, including iA Writer. Ultimately, Ulysses stuck with me because of how it fits into my writing workflow. For example, the app offers a simple folder structure to file and manage drafts, and it allows me to export text into various formats.
I usually export drafts of blog articles directly to WordPress via the push of a button. If I need to send a draft to someone else, I export the item as a PDF file or Word document.
What's cool about Ulysses is that the app is available for both macOS and iOS and it keeps everything synchronized via iCloud. That means, I can start an article on my iPad while being on the road, and finish it on my Mac without any issues.
The latest version of Ulysses also supports WordPress 5 and the new Gutenberg editor, which I had tested during the Beta phase and loved it. Ulysses is available via Setapp or the App Store.
Alternatives: iA Writer (App Store), Drafts (App Store), Marked (Setapp)
ToothFairy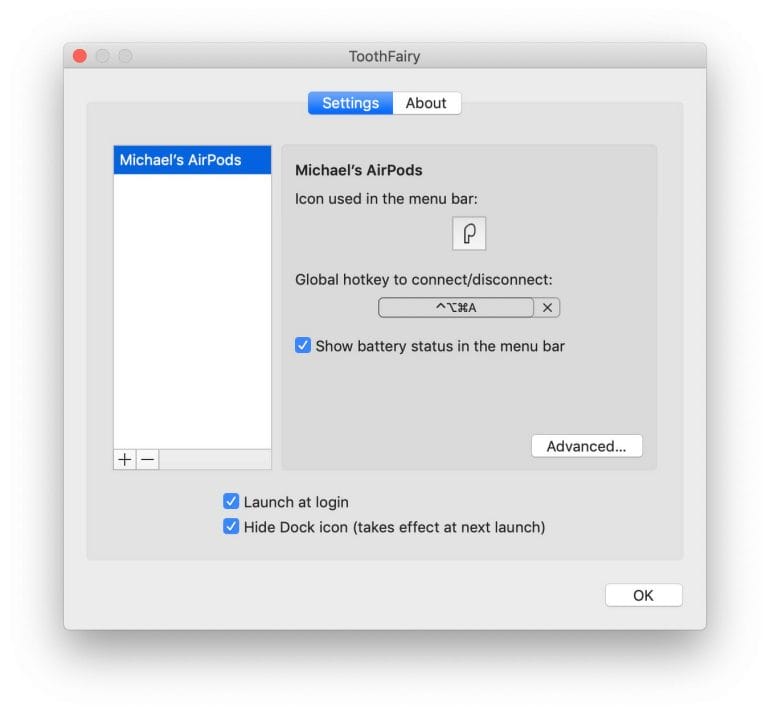 If you have ever tried using Bluetooth headphones with your Mac, you probably understand what hassle it is, especially with Apple's own AirPods.
ToothFairy makes connecting your headphones to your Mac via Bluetooth as simple as pressing a keyboard shortcut.
AirPods are great, but they don't work quite as smoothly with Macs as they do iPhones. You can't tell at a glance whether audio will play from the AirPods or your Mac's built-in speaker, you have to dig into a Bluetooth submenu to connect, and then you have to go back to the menu to see when the AirPods are ready for use. ToothFairy streamlines this: just click an icon in the menu bar (or press a hotkey) to switch to the AirPods, and the icon always shows whether they're connected.
I love my Plantronics Savi 745 wireless headset while I'm in the office, but while traveling, I usually rely on my AirPods. That's why I have installed ToothFairy on my MacBook Pro.
The cool thing about ToothFairy is that it works with almost any BT device, not just AirPods. The app is available for purchase from the App Store or via Setapp.
Alternatives: AirBuddy
Lungo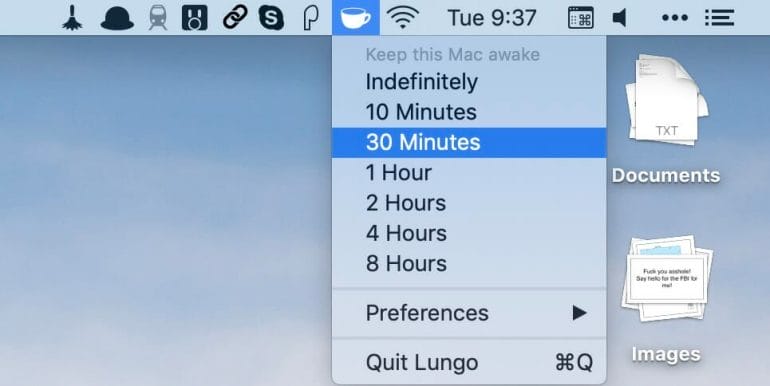 Have you ever been annoyed by your Mac's display going to sleep or your screensaver coming on while reading a long article or while attending a telephone conference?
Like a shot of espresso, Lungo stops your Mac from going to sleep.
I have had that happen plenty of times until I stumbled across Lungo, an app, that keeps my Mac awake and prevents it from going to sleep. Lungo sits in the menu bar, and I can quickly activate it by clicking on it.
You can even set a default duration or configure Lungo to activate at startup. For more advanced configuration scenarios, the app supports custom URL schemes. So for example, I can use Keyboard Maestro, or even Automator to run the following shell command, based on a keyboard shortcut, that enables Lungo for ten minutes:
open -g 'lungo:activate?minutes=10'
You can get Lungo from the App Store or via Setapp.
Alternative: Amphetamine (App Store).
OmniFocus (Mac, iOS)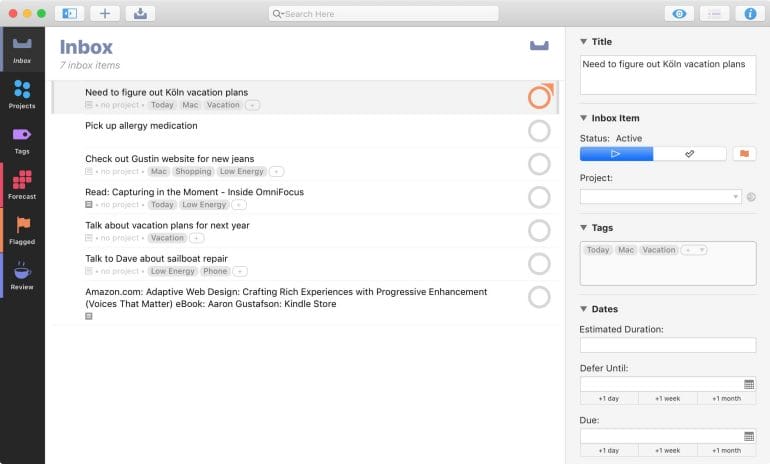 The OmniGroup markets OmniFocus as a to-do list app. While that's a correct description, I feel like OmniFocus can be so much more.
Everything I have to do, be it a simple task like "Buy an anniversary gift for my wife" to complete projects that have to do with how I plan to attend a trade show, I manage with OmniFocus.
Use OmniFocus to accomplish more every day. Create projects and tasks, organize them with tags, focus on what you can do right now – and get stuff done.
What makes OmniFocus so powerful for my workflow is a couple of things:
Cross-platform availability (macOS, iOS, watchOS)
Siri integration
Mac keyboard shortcuts to quickly enter tasks or emails from Apple Mail
I have configured OmniFocus on my iPhone to monitor a particular list of the native Reminders app. So anytime I use Siri on my iPhone, Apple Watch, Mac, or HomePod to remind me about something, OmniFocus automatically moves the task from the Reminders app into OmniFocus.
While I'm working on my Mac, I can use the keyboard shortcut CTRL + OPTION + SPACE to enter a new task into OmniFocus quickly. When I'm working in Apple Mail, SHIFT + COMMAND + O adds the currently selected email (with a link back to the email) to OmniFocus.
There is so much more to OmniFocus than what I room for to describe in this roundup. So I recommend checking out the OmniGroup's webpage and David Spark's (MacSparky) video courses on the subject.
If OmniFocus is not enough for your needs, the OmniGroup also has OmniPlan, a full-featured project management suite.
Alternatives: Things (App Store), Todoist (App Store)
CheatSheet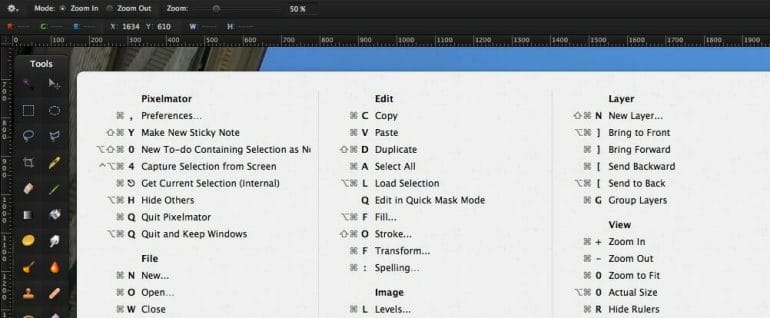 To get the most out of your Mac and the apps you use every day, you have to remember the most important keyboard shortcuts.
Unfortunately, there are hundreds of keyboard shortcuts in macOS and every app you have installed, and it's impossible to remember them all.
Just hold the ⌘-Key a bit longer to get a list of all active short cuts of the current application. It's as simple as that.
That's where CheatSheet comes in handy. If you have an iPad with an external keyboard, you might now that holding down the ⌘ key shows you a list of all the keyboard shortcuts the active app supports. CheatSheet provides the same functionality on the Mac.
Once installed and authorized for Accessibility via the Security & Privacy pane in System Preferences, holding down the ⌘ key reveals an overlay with an apps keyboard shortcuts. That's useful because it enables you to use your apps more proficiently.
BBEdit
BBEdit is an incredibly powerful text editor that I massively underutilize. I love it because it makes performing the few text transformation and editing tasks I have super easy. At the same time, I know that it can do much more and I continuously discover new and useful features.
BBEdit is the leading professional HTML and text editor for macOS. This award-winning product has been crafted to serve the needs of writers, Web authors, and software developers, and provides an abundance of features for editing, searching, and manipulation of prose, source code, and textual data.
I use BBEdit mostly for HTML, PHP, and CSS editing as well as writing plain-text content. To learn more about BBEdit and all its advanced features, check out its product page on barebones.com.
Alternatives: Coda
Drafts (Mac, iOS)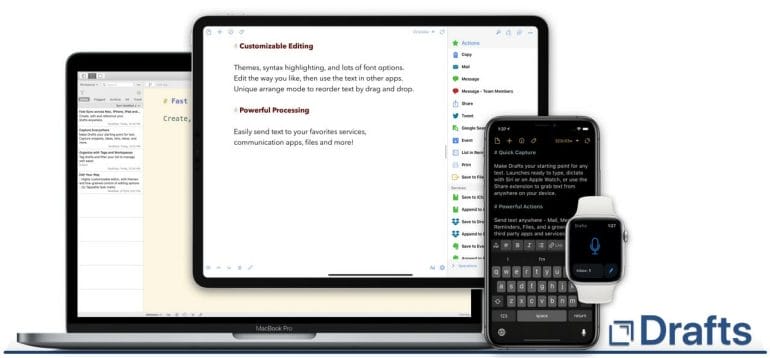 Drafts is another powerful tool that I love, but I don't use enough. Originally developed for iOS, Drafts recently also launched on macOS.
Drafts lets you turn text into action – it's a quick notebook, handy editor, and writing automation tool, all in one.
Unlike traditional text editors, Drafts enables you to enter text quickly and then do something with it. When you open the app, the cursor is ready for you to type. When you are done typing, you can do any number of things, including triggering other apps.
I know some users who start every email, note, text message, or calendar entry in drafts. Think about it, when you want to draft an email, what's the most critical piece of it? I would argue that it's the subject and the body of the email. So why not start with that first before worrying about who you want to send it to.
If you have never heard about drafts before, I highly recommend to check it out and give it a try. Force yourself to use it for a few days for every task that includes entering text into your phone or Mac. I promise you; it'll change how you think about working with text. MacSparky also offers a free field guide on his online course platform, so check it out!
Alternatives: Bear (App Store)
Timing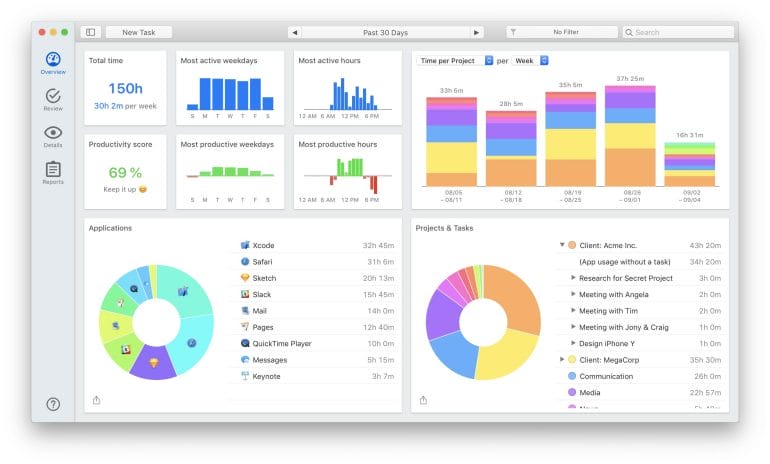 Timing is the best time management and time tracking app I have come across so far!
If you are a consultant or work in a job that requires you to keep track of hours spent, Timing is the app you want. It monitors your every activity and automatically categorizes them based on the apps you use.
Timing observes how you use your Mac and categorizes your activities. You see how you spent your time and how productive you were, and the timeline shows when you did what. It even automatically recognizes blocks of time that belong together!
While Timing does great things out of the box, it also gives you a lot of flexibility on how the app tracks your activities. For example, I could set up a filter that categorizes my web browsing behavior based on the URLs I view. Or I could tell Timing that if the path of the file or folder I'm working on contain a specific keyword (i.e., blog) to categorize the activity as blogging.
However, even if your job doesn't require you to keep track of time, I'd encourage you to give Timing a try. That way, you can see where you spend most of your time on. So next time you feel like that you don't have "time" to read that book you always wanted, look at Timing and see how much of it you wasted on social media or other non-productive tasks.
If you want to give Timing a try, use the link below and get 15% off. Timing is also available via Setapp!
CircleUp (Web)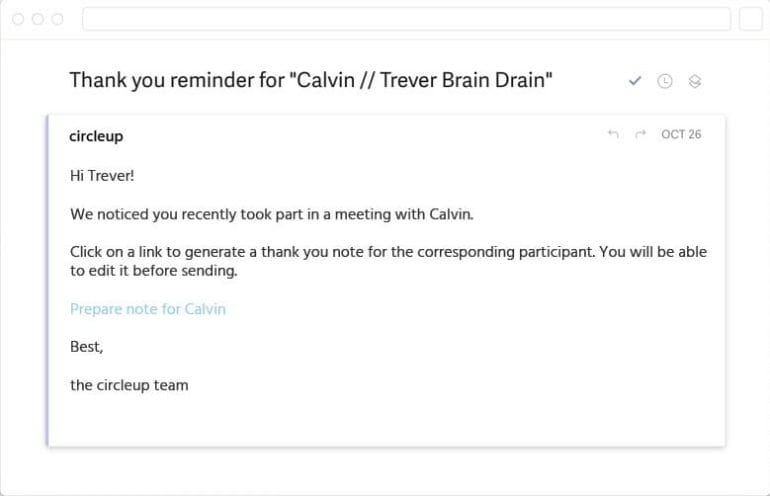 CircleUp is a service that monitors your calendar and sends you automatic reminders to follow up with the attendees of the meetings you had.
If you're in sales, you know the drill: After a meeting or call with (potential) clients, you often have to follow up with next steps. The problem for me is that if I don't take meeting notes and add a reminder to OmniFocus right away, I might forget.
CircleUp makes sending personalized email thank-you notes to participants of meetings, dinners, and get-togethers easy.
That's where CircleUp can help. At the end of the day, the web app sends me a summary of all the meetings I had so I don't forget to plan any follow-up items. Additionally, I get an email the next day with a link that, when clicked, drafts a new email with a "thank you" note.
I follow up on most of my meetings immediately, so I have the "thank you" note reminder disabled. Instead, I rely on the daily summary to ensure that I'm not forgetting anything.
Dropshare (Mac, iOS, Windows)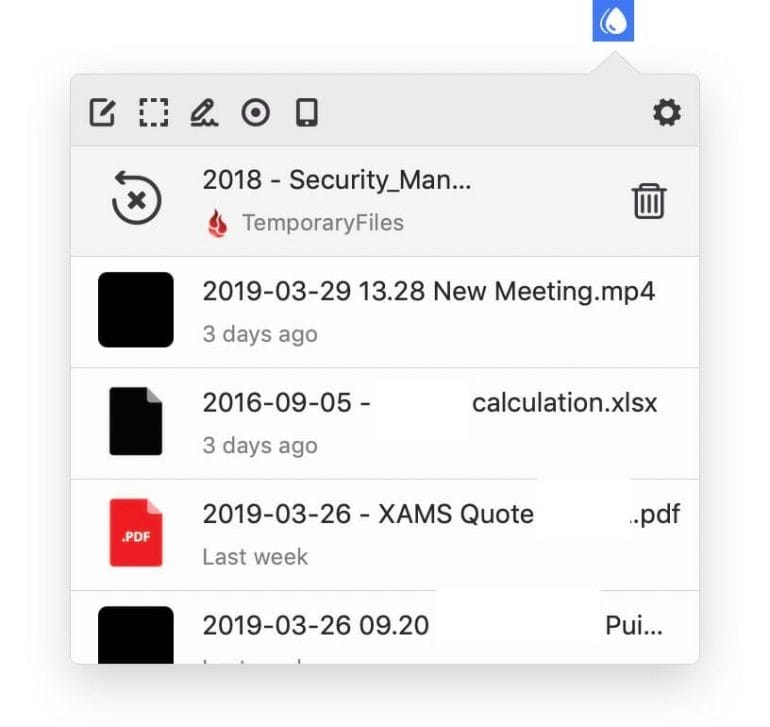 I'm a huge fan of Dropbox and iCloud Drive, but the former often gets blocked in the business world, and the latter doesn't make it easy (yet) to share individual files or folders.
That's why I have started using Dropshare for my day job as a sales executive. The app makes it easy to quickly share files with anybody using a backend storage provider of my choice.
For example, I have created two storage containers in Backblaze, my go-to cloud backup provider. One container automatically deletes any files I add to it after 30 days, and the other one keeps them until I remove files manually. When I need to share a quote or presentation with a client, I press a keyboard shortcut on my Mac, which uploads the selected file from Finder and generates a link for me that I can send out.
In comparison to Dropbox, Box, and other popular consumer cloud storage providers, Backblaze links rarely get blocked by corporate firewalls.
Dropshare is available for macOS, iOS, Windows, and via Setapp.
Calendly (Web)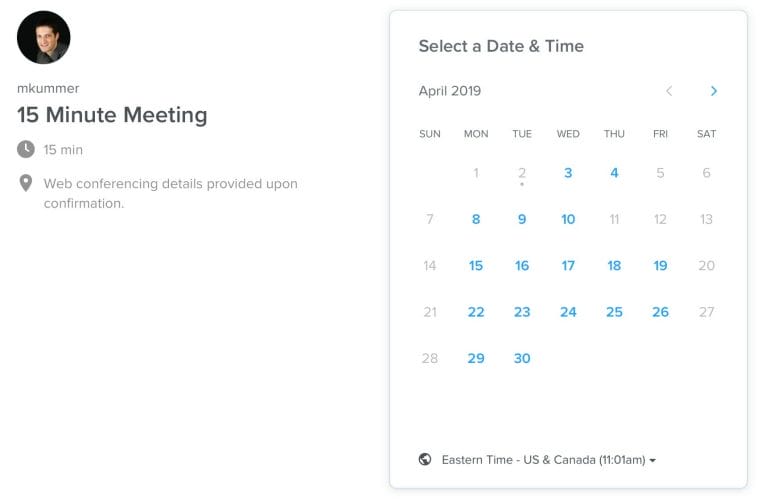 Calendly is one of my favoriting scheduling apps because it takes the hassle out of that process. If you're in sales, be honest, how much time does it take you to schedule a meeting with a group of people? Unless they're in your organization, you can't see their availability in Outlook or whatever calendaring tool you are using.
As a result, you often have to send multiple emails back and forth before everyone can agree on a day and time to meet. With Calendly, I merely send my clients a link that gives them access to my availability (not my calendar), from which they can pick a slot. It's so easy, and it has saved me a ton of time.
I also use WhenWorks (now discontinued) for iOS because it better supports my personal calendars and thus more accurately reflects my availability. You can check out this article to learn more about the differences between WhenWorks and Calendly.
Alternatives: Cogsworth
Fantastical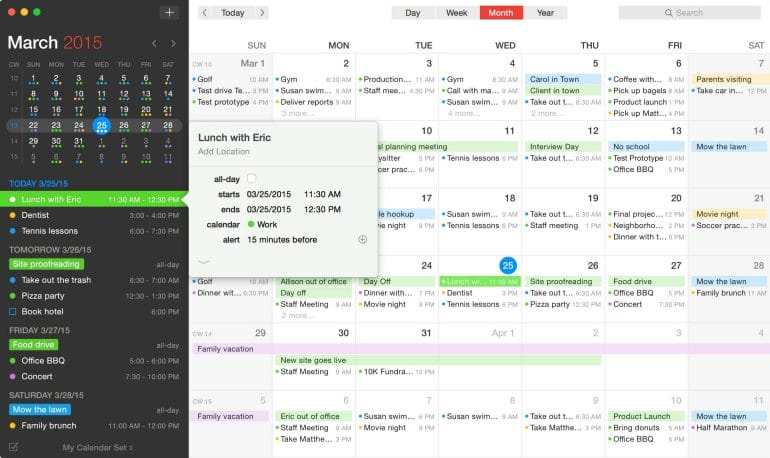 Fantastical is an excellent calendaring app that supports natural language input. So when creating a new event, I can type something like "Meeting with Tim tomorrow at 9-11 at Whole Foods," and Fantastical would generate an event that meets those specifications.
Fantastical's natural language engine is expressive and intelligent so you can write in your own style. Fantastical automatically recognizes the location of your event and can even invite people from Contacts to your event.
I have used Fantastical a lot over the years, but every so often, I switch back to the native Calendar app, to see how robust it has become.
Overall, Fantastical still has the edge over the built-in Calendar.app, but the gap is getting narrower with every release of macOS.
Alternatives: Calendar, BusyCal (Setapp)
PDFpenPro (Mac, iOS)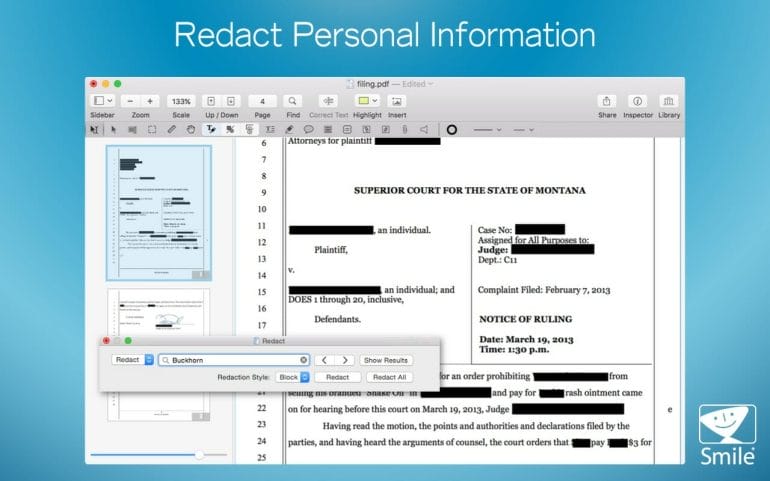 macOS has an app called Preview, which allows you to view and edit/markup PDF documents. While Preview is what I use 99% of the time to view and combine PDF files, it lacks some features that I need for my paper-to-PDF workflow using Hazel.
Add signatures, text, and images. Make changes and correct typos. OCR scanned docs. Fill out and create forms. Export to Microsoft® Word, Excel, PowerPoint.
That's why I rely on PDFpenPro to automatically apply optical character recognition (OCR) to all scanned, and AES-256 encryption to some (sensitive) documents.
PDFpen is available as a free and paid version (PDFpenPro).
TripMode (Mac, Windows)
TripMode is one of the many menu bar apps I have come to rely heavily on when traveling with my MacBook. The app monitors my Mac's WiFi connection and automatically limits certain apps from accessing the Internet to conserve bandwidth.
Easily prevent unwanted background apps and updates from downloading data when using a mobile hotspot or slow public Wi-Fi
For example, if I use the hotspot feature on my iPhone or iPad, TripMode automatically blocks most bandwidth-hungry apps, based on a configuration profile. That allows me to use Mail and Safari without having Photos or Dropbox eat up all available bandwidth with their background synchronization processes.
I have added similar profiles for weak WiFi connections, for example when I'm connected to the wireless network aboard an airplane.
Best Productivity Apps For Mac
I have a demanding job as a sales executive, a family with two kids, I'm a blogger, and I workout 4-5x a week. Doing all that requires dedication and brutal efficiency. The tools and apps I mentioned above help me to stay productive while in front of my computer or mobile device, so I can be more efficient and get more things done.
To learn more about automation on the Mac, check out the Automators podcast, hosted by fellow tech geeks and Apple enthusiasts Rosemary Orchard and David Sparks.
What about you? What apps and services do you have in your tool belt to stay productive? Let me know by leaving a comment below, and I'll add them to my list above so that others can benefit from your experience.

I'm a healthy living and technology enthusiast.
On this blog, I share in-depth product reviews, actionable information and solutions to complex problems in plain and easy-to-understand language.