Have you ever used the Help menu in macOS? Until a few weeks ago, I did not, missing out on a powerful feature I didn't even know existed.
Pretty much every application in OS X has its dedicated help menu. It's usually the last menu in the menu bar, on the upper edge of your screen. With some exceptions, the items in the Help menu vary by application, but most have a Search field. I have used Macs for about eight years, and until a few weeks ago, I never used the Search field or even thought about what it would do beyond searching for help topics.

As it turns out, Search cannot only be used to search for help topics, but it can also be used to search for menu items. For example, if you are trying to copy the style of a cell in Numbers but don't remember the keyboard shortcut or command to use, just bring up Help and search for "copy."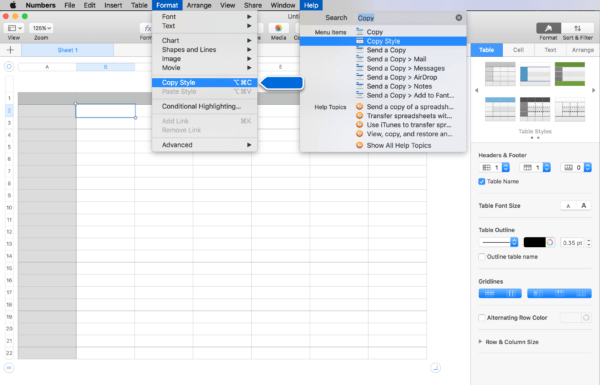 Then move your mouse over the search result that matches the command you were looking for and Help automagically shows you where the command can be found within the app menu.
Help Menu (Mac Help)
In the Help menu, you can search for menu items and help topics.
See how the Help menu works: Click the Finder icon in the Dock, open the Help menu, then enter "clipboard." The results include the Show Clipboard menu item and help topics about the Clipboard.
See a menu item: Open the Help menu, enter the menu item you're looking for, then place the pointer over the menu item result.
For example, in the Finder, enter "clipboard" in the Help menu, then place the pointer over Show Clipboard. The Edit menu opens with an arrow pointing to the command.
See help topics: Open the Help menu, enter a search term, then choose a help topic, or choose Show All Help Topics to see more topics related to the search term.
Show more topics: Open the Help menu, then choose Mac Help (if you're in the Finder) or [App] Help, if you're in an app, such as Mail. Click Overview to see an overview of OS X or the app, or click Show Topics to see more topics about OS X or the app.
The hidden power of the Help menu
Conveniently, the Help menu has a global keyboard shortcut you can use to within any application: Command + Shift + ?. When using the keyboard shortcut, the Search field of the Help menu has the focus, which means you can start typing immediately without any extra clicks. More information about the Help menu is available on help.apple.com.

I'm a healthy living and technology enthusiast.
On this blog, I share in-depth product reviews, actionable information and solutions to complex problems in plain and easy-to-understand language.